Food you HAVE to try in Bali [2023]
Food you HAVE to try in Bali [2023]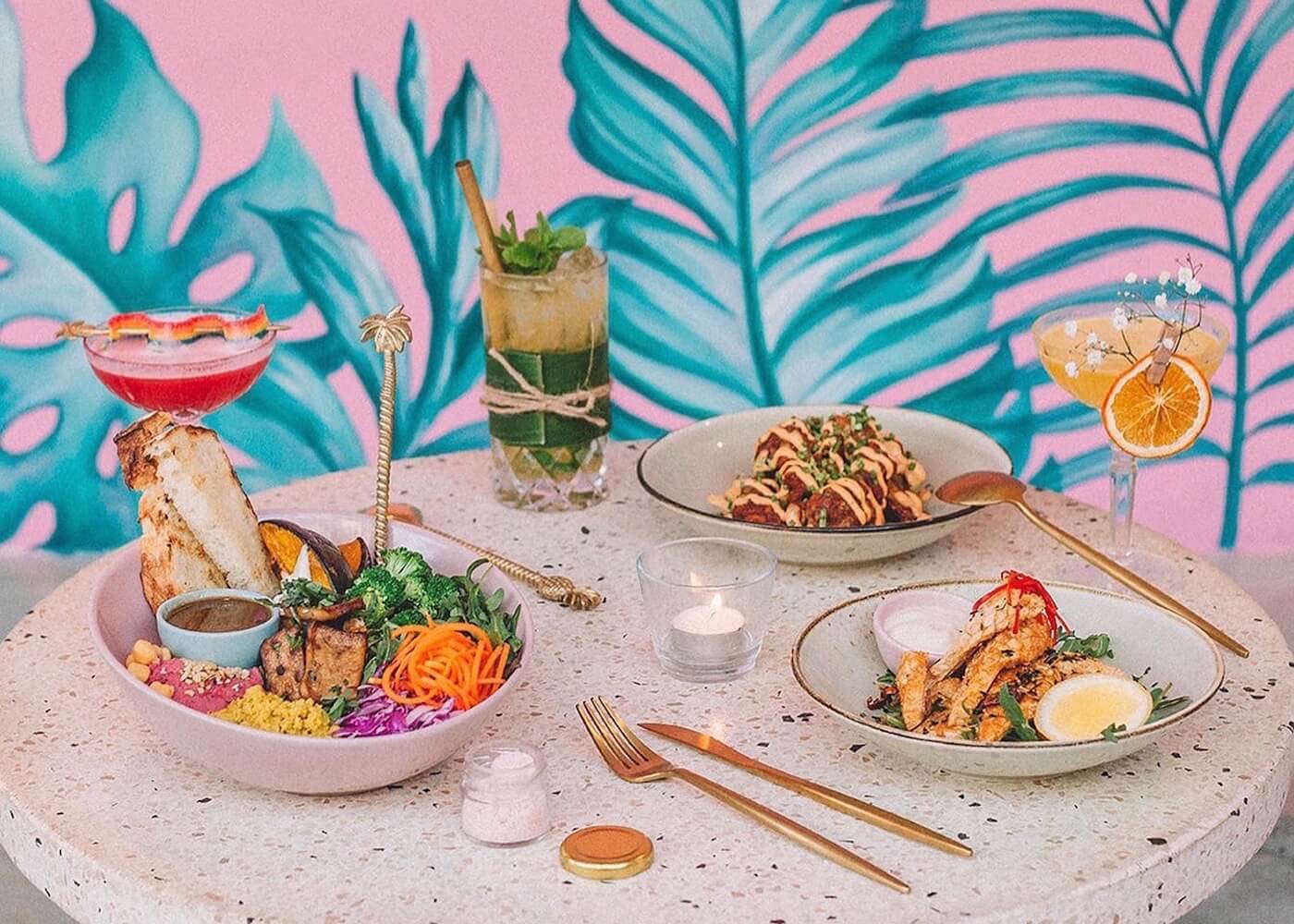 One of the best things about exploring a new country is getting to try the local food. Food says so much about a culture and each place has its own specific food identity according to its history and the local produce. The best food in Bali tells a story about the culture of the local area and uses local produce.
And the food in Bali does not disappoint. With so much incredible produce thriving in Bali's tropical climate, you're in for a real foodie treat here!
Our Best Selling Tour
All-Inclusive
If you're looking to try the best food in Bali, make sure to try out exotic fruits and veggies, sip coconut water from a freshly picked young coconut, spice things up with organic crushed chili sambal and of course, eat lots of rice!
The Bali food scene has A LOT to offer and in this post, I walk you through what you can expect from the food in Bali, what you just HAVE to try, as well as my top cafe and restaurant recommendations throughout our favorite paradise island of Bali! We also offer multiple tours in Bali centered around food so you can try it out for yourself!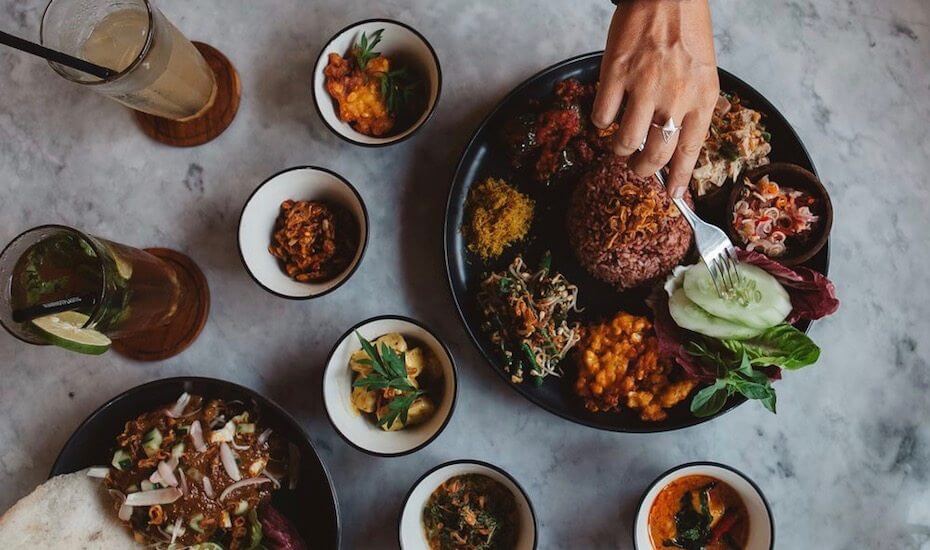 What to expect from the local Indonesian food
With so much amazing produce growing natively in Indonesia, its cuisine is one of the most vibrant and colorful in the world. Every local dish will be full of flavor due to the array of fresh local herbs and spices that are used - Indonesia was actually nicknamed 'the spice islands' in the 1500s due to the amount of spices that are native here.
Indonesian cuisine has been influenced by many different ethnic groups and cultures over the years including Chinese immigrants, Spanish/Portugese traders and Dutch colonists. Cooking methods also vary greatly across Indonesia, for example, Javanese food is often sweeter because palm sugar (gula jawa) grows a lot in Java, so it is used liberally there.
The one thing that doesn't change though is that no meal is complete without a large helping of nasi (rice). It's so important to Indonesians that there's even a rice/fertility goddess called Dewi Sri. Indonesia is one of the world's leading rice producers, with the highest national rice yield in Tropical Asia.
If you've done any research about Bali, the famous rice terraces in Ubud are probably on your to-see list and for good reason! These lush green rice fields make for a great photoshoot backdrop as well as producing yummy rice to enjoy!
Local Balinese food you HAVE to try
Nasi/Mie Goreng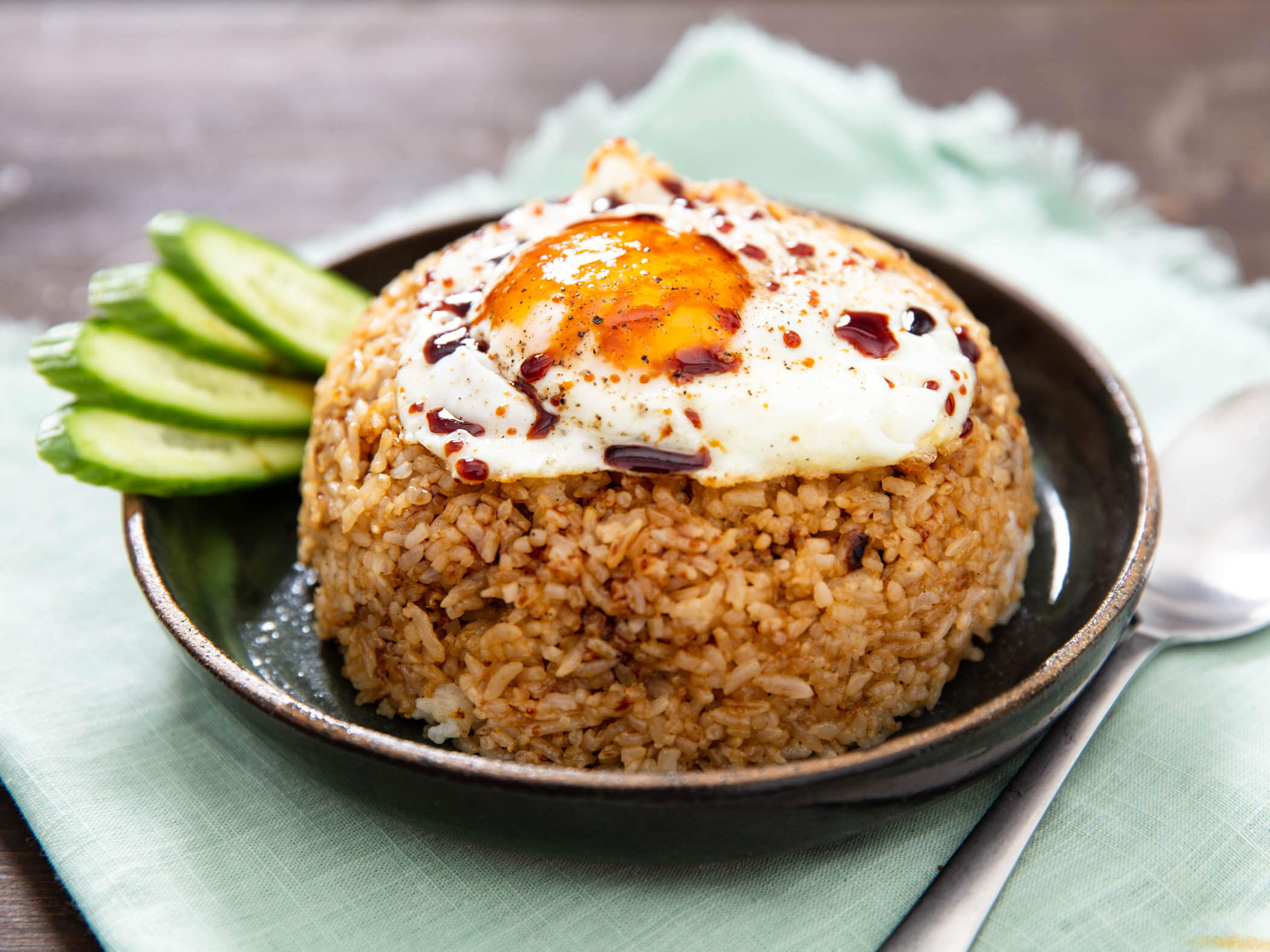 In Indonesian Bahasa (the language spoken in Bali), nasi = rice, mie = noodles and goreng = fried. So nasi goreng = rice and mie goreng = fried noodles. This is the most common local dish in Bali and you will see it on the menu pretty much everywhere - whether you're in a local warung or a fancy restaurant.
This is Balinese food at its most simple, noodles or rice fried with vegetables and your choice of meat, usually topped with a fried egg. Simple yet delicious and not to be overlooked if done right!
Babi Guling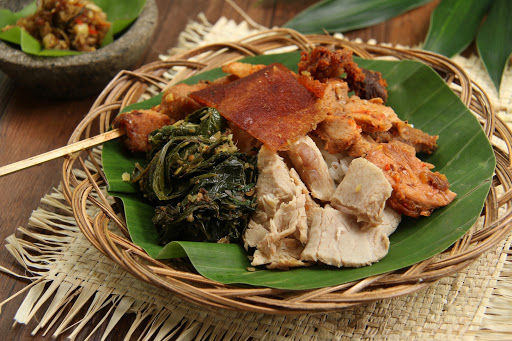 This is one of the most famous foods in Bali, the suckling pig. Pork is rubbed with turmeric, stuffed with a spice paste (usually coriander seeds, lemongrass, lime leaves, salam leaves, chillies, black pepper, garlic, red shallots, ginger and lesser galangal) and then roasted on a spit over coconut husks or wood until super tender.
Beware when ordering this – it's nose-to-tail dining, so you might receive an obscure piece of pork on your plate, but it'll be delicious. Enjoy!
Sambal Matah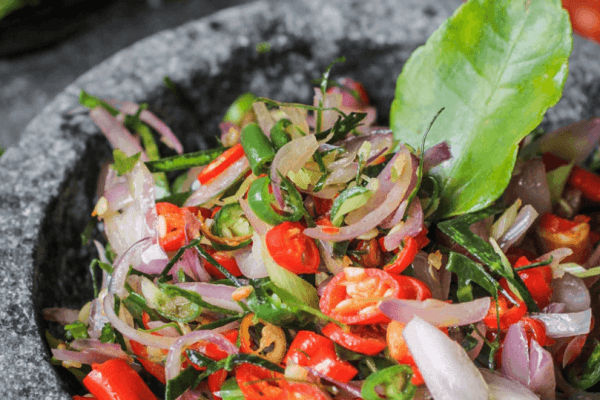 Sambal is a classic Balinese accompaniment to any dish. It's made by finely chopping raw shallots, lemongrass, garlic, chili and lime, then kneading it all together with hot oil, salt and sugar. It's best enjoyed on fresh fish or chicken, or you can just dig in with a spoon.
It's said there are over 300 variations of sambal in Indonesia, but so far, sambal matah is my ultimate fave. It's Bali's own version of sambal, and a delicious, spicy staple for any Balinese dish.
Sate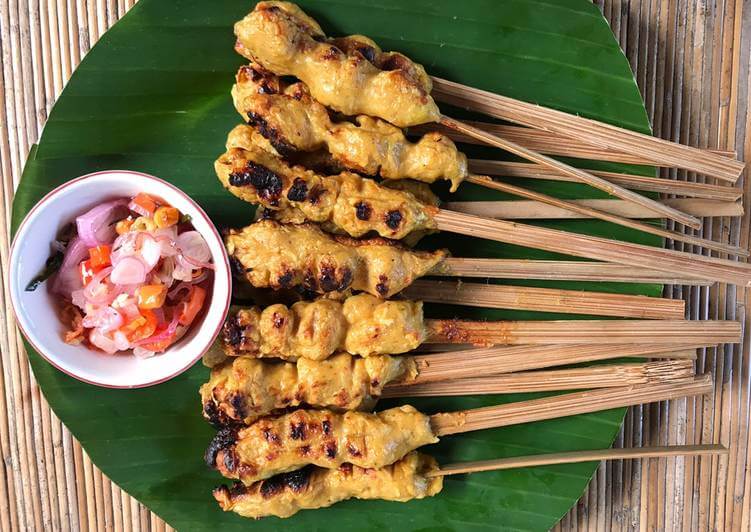 Unlike its Malaysian counterpart, Indonesian sate is not 'satay'. Mashed chicken is blended with an array of spices, melded onto a stick (usually lemongrass), barbecued and often served with homemade peanut sauce. Indonesia also specializes in fish sate (lilit ikan).
Gado Gado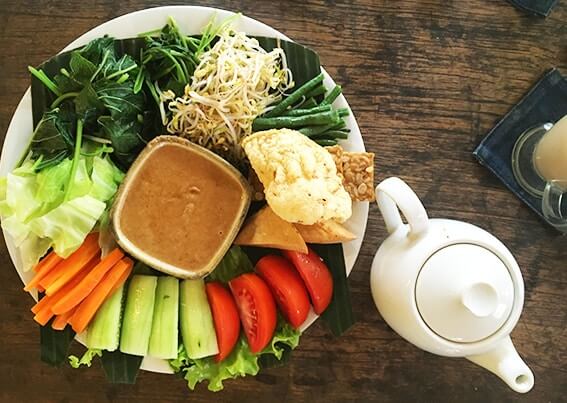 'Mix-mix' is another of Bali's famous foods. Essentially it's a vegetable salad bathed in a classic peanut sauce. While it's usually a cold salad, it tastes awesome warm too. At its base are boiled long beans, spinach, potato, corn, egg and bean sprouts coupled with cucumber, tofu and tempe.
Tropical fruits
When you visit Bali, I can almost guarantee you'll come across some tropical fruits you never even knew existed, let alone tried! Some personal favorites include:
Snake Fruit (Salak) - peel off the brown snake-like skin to reveal segments of crunchy, sweet fruit. A perfect afternoon snack and no mess!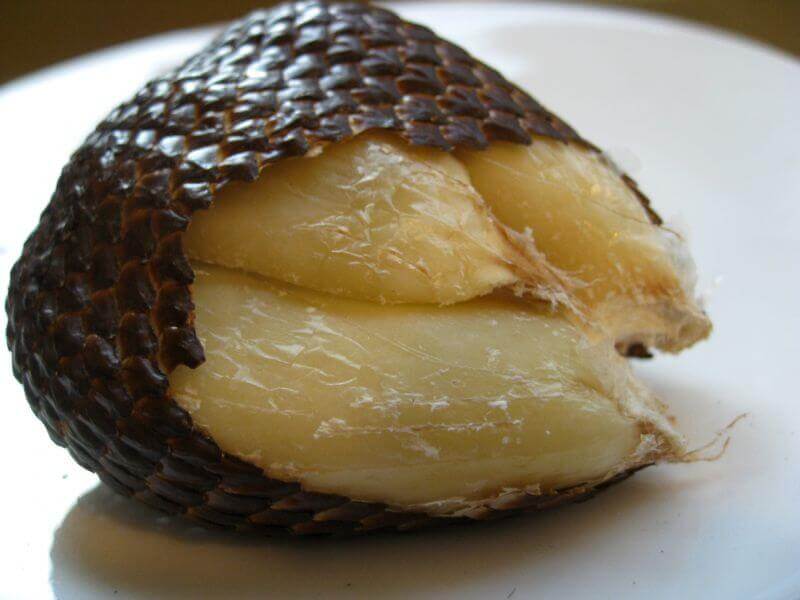 Mangosteen (Manggis) - break the thick soft skin and enjoy segments of the sweetest fruit you've ever tasted! It can be a bit slimy and full of stones but trust me, it's so worth it!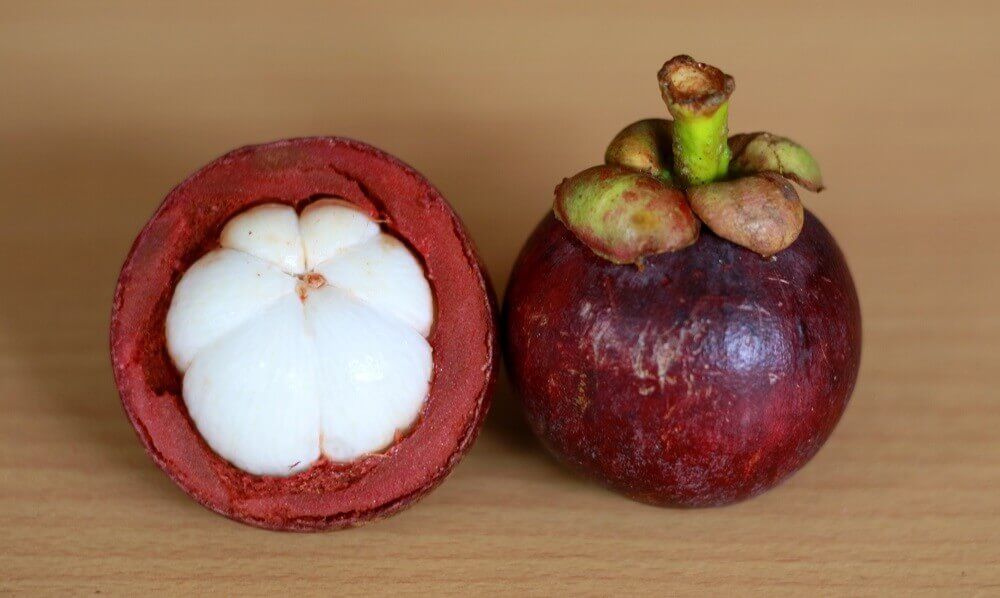 Durian - this one is a bit of a crowd divider. The locals say you either love it or hate it! A huge spiky fruit (definitely designed to be shared amongst a big group) that contains segments of soft creamy fruit, unlike anything you've ever tried before. It has quite a strong smell which often lingers and there is also such a thing as a Durian hangover so if you do get a taste for it, beware of eating too much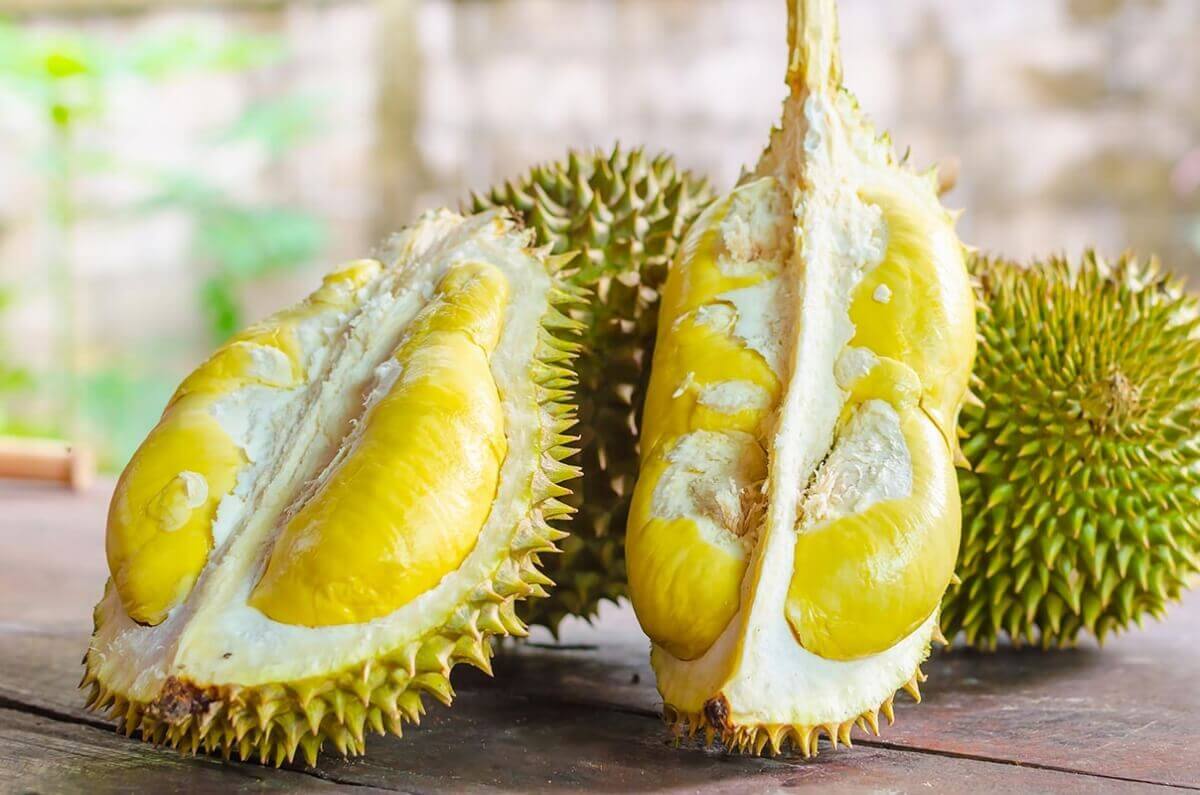 Food in Bali prices
The prices of food in Bali is exceptionally low compared to that of the Western world and you'll be surprised at how much you can get for your money here, especially if you're eating local food!
The local warungs (small family-owned restaurants/cafes) are definitely the cheapest option and you will get a large meal for around 10,000-75,000IDR (0.70-5USD).
A great option to reduce the cost of food in Bali is to get Nasi Campur which means 'mixed rice'. A lot of the local warungs will offer this and it's essentially a buffet-style meal. You get a serving of rice then choose from an array of toppings usually displayed in a glass cabinet. Toppings will include things like sautéed vegetables, fried tempe and tofu, fish, meat, egg and curry.
This is an amazing way to try lots of the local dishes and you can usually get a huge plate for around $2-4! I couldn't recommend it enough.
Another good tip to keep the Bali food prices down is to buy fruit at a local produce market rather than one of the supermarkets. It will be much cheaper and likely better quality and more fresh!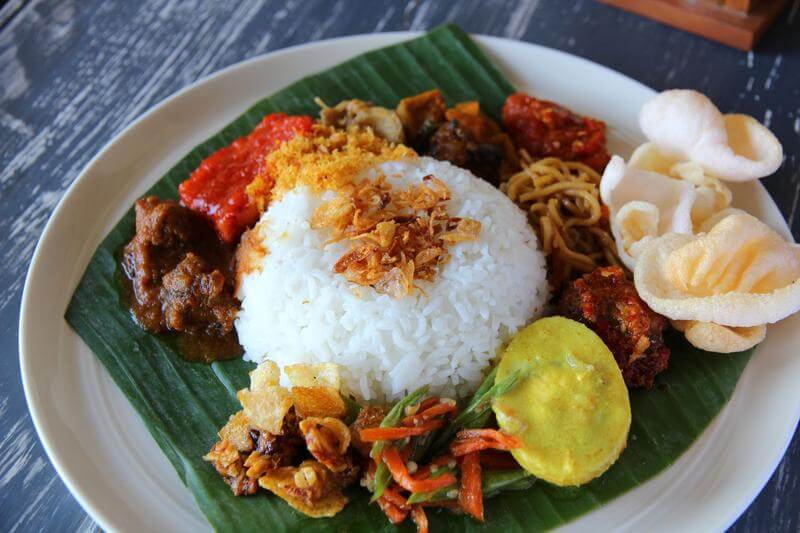 Local Warung recommendations
Varuna Warung, Canggu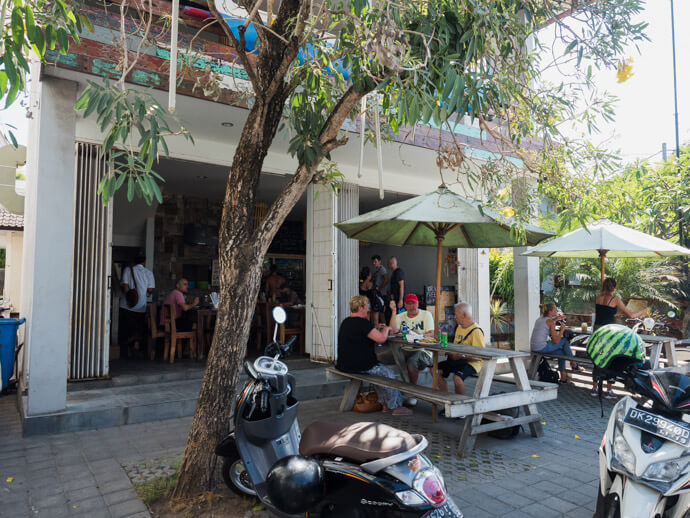 The best deal for great local Bali food close to the beach, Varuna combines excellent Balinese fare with a surfer sensibility. It offers Nasi Campur, and the Nasi Goreng comes in several creative variations; there are also juices, smoothies and jaffles.
Anita's Warung, Canggu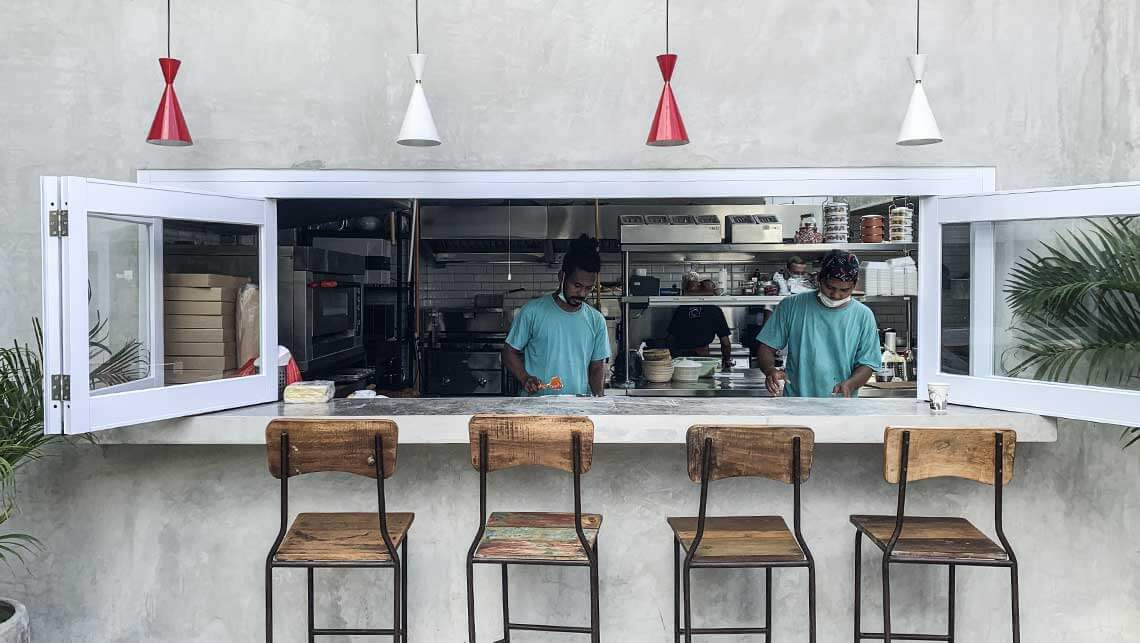 Authentic Indonesian home cooking by Anita away from the hipster crowd of Canggu beach at super affordable prices! Simple food, cooked brilliantly.
Warung Nia, Seminyak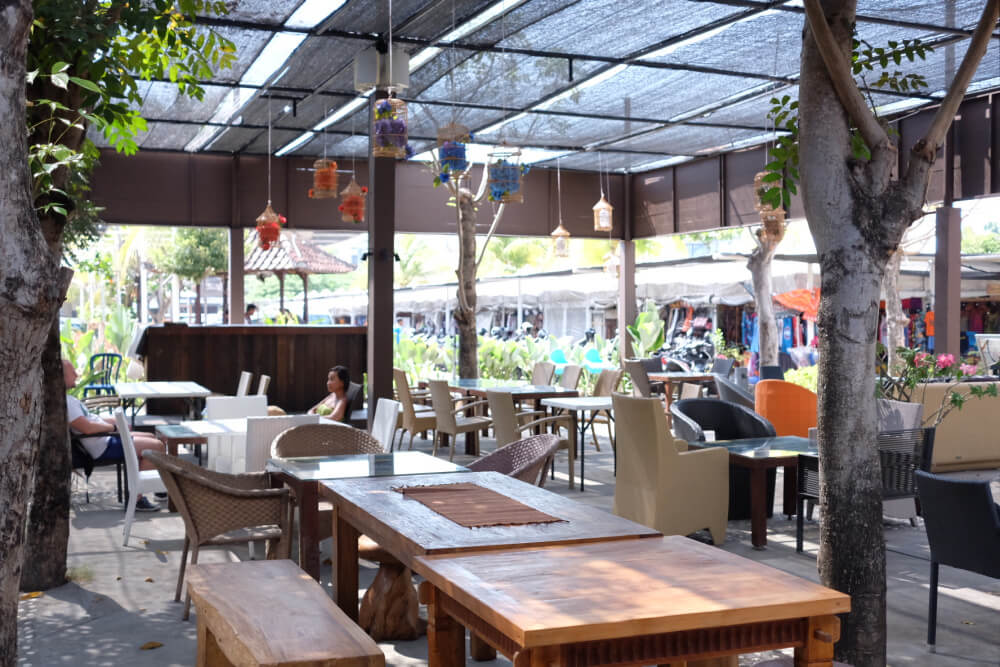 Fresh, tasty local classic dishes at budget friendly prices. Expect fresh salads, and meat dishes including the specialty pork ribs, one of the most famous foods in Bali. A must-visit.
Froggy's Warung, Balangan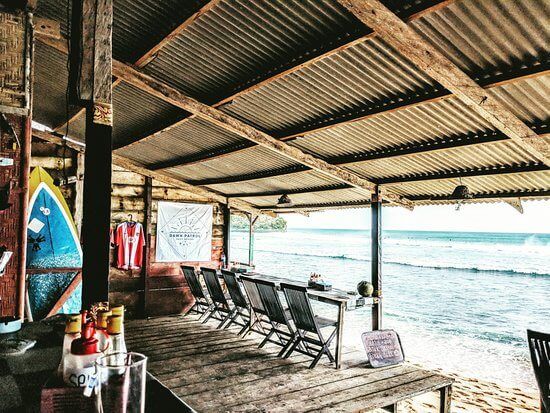 Offering an extensive made to order breakfast menu as well as Nasi Campur featuring a wide variety of local dishes cooked daily, Froggy's is the best spot for some after-surf 'makan'! It's known for having the best BBQ chicken in town but also has great options for vegetarians and vegans!
Warung De Dusun, Pecatu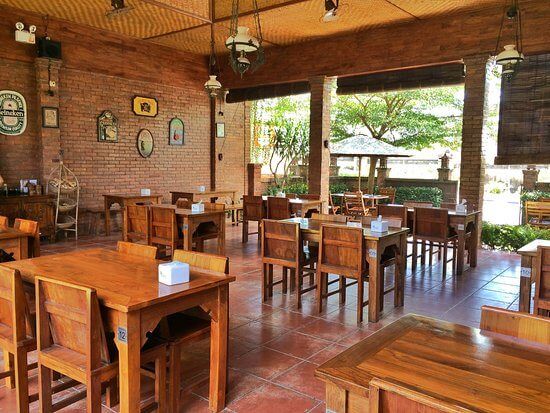 You can get pretty much any Indo-Chinese dish possible here. The menu is like a whole book so get creative and order a mix of anything you fancy! Some of my favorites include the stir-fried tempe and beansprouts, the fried eggplant and wok-fried broccoli.
Our Top Trending Tours
All-Inclusive

Magical Ubud Rice Terrace Tour

All-Inclusive

Lovina Dolphin Watching & Snorkeling Adventure

All-Inclusive

Bali Traditional Silver Jewelry Making Class & Temple Visit
Best Western restaurants in Bali
While trying the local Indonesian food is a right of passage when you come to Bali, the rapid growth of Bali over the past few years means an incredible modern food scene is now also thriving.
There are SO many incredible modern cafes and restaurants popping up, it's hard to narrow these recommendations down to just a few - I could write a whole blog post purely on health-focused vegan cafes in Canggu alone!
But here are some of my all-time favorites you have to visit if you fancy a more luxurious dining experience in Bali, experiencing a combination of different flavors from some of the best food in Bali with more modern flavors.
Ginger Moon, Seminyak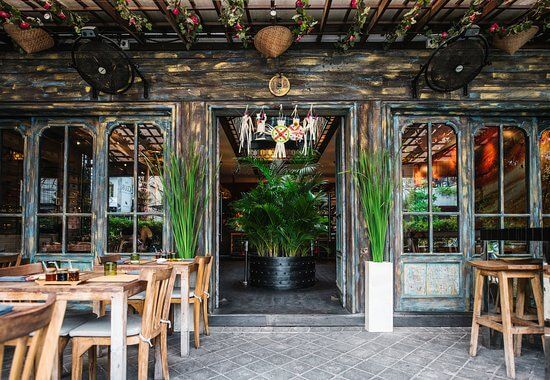 The creation of first class chef Dean Keddell, Ginger Moon uses regional flavors and ingredients and presents them in fun and exciting ways. A creative list of locally-inspired alcoholic and non-alcoholic cocktails, and several icy cold beers, are on offer to complement Ginger Moon's cuisine. Top tip: order lots of small plates from the menu to share!
Bikini Restaurant, Seminyak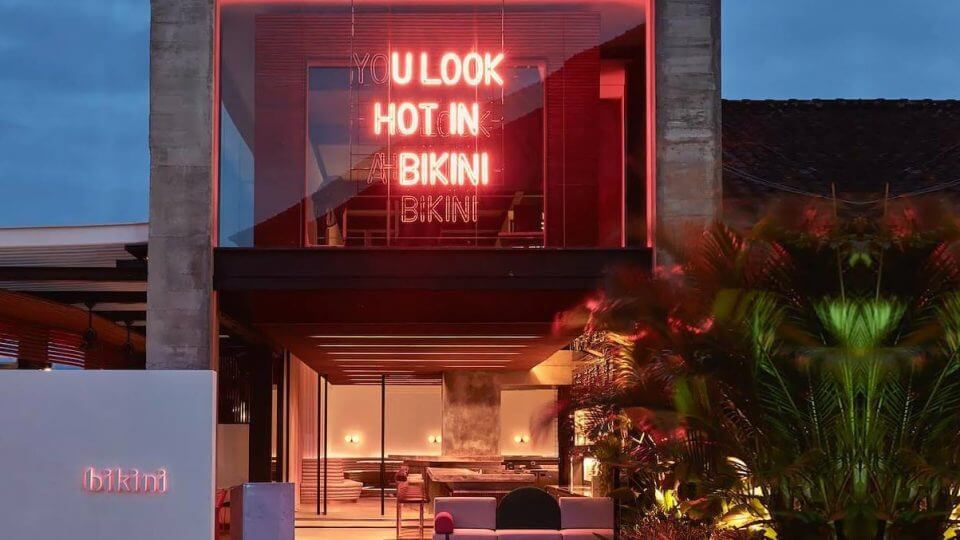 Designed to share, the menu of delicious Bali food at Bikini is a roller coaster of flavors and texture. Inspired by the seasonal produce of the island, their inventive dishes are a celebration of contrast, artful plating and pocket rocket flavors. Their menu takes diners on a journey from delicate bites and moreish mouthfuls to theatrical share plates, before finishing with decadent desserts.
The Shady Shack, Canggu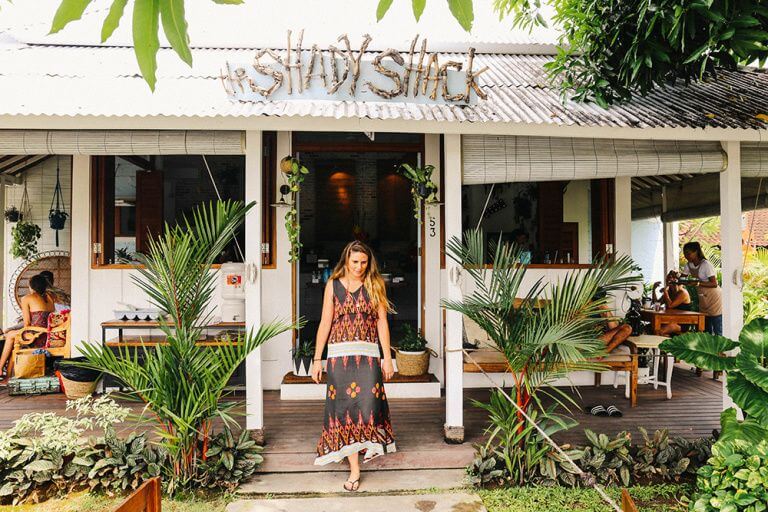 Overlooking Canggu's lush rice fields, this hidden gem near Echo Beach is the place to escape and have a moment of peace while indulging in some healthy Balinese food. The Shady Shack is a cute and cozy space and the completely vegetarian/vegan menu offers all-day dining but I think it's definitely best for breakfast/brunch. Amazing coffee, juices, smoothies and savory and sweet breakfast options. My personal favorite is the 'Cacao Dreams' smoothie bowl - banana, chocolate and tons of peanut butter - what's not to like?
Lola's Cantina Mexicana, Canggu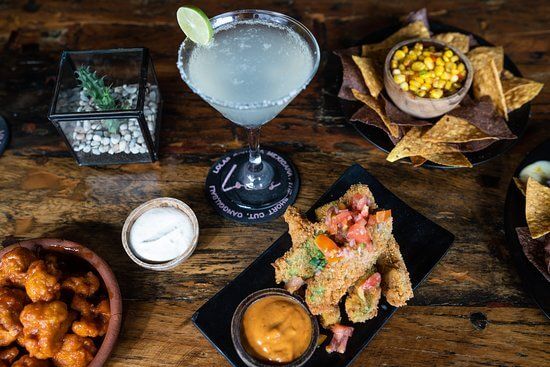 Lola's Cantina is heaven for those craving for authentic and flavorful tacos and burritos overflowing with fresh ingredients. Alongside cheesy quesadillas, homemade sauces and guacs, as well as the popular Buffalo Cali wings, this vibrant Mexican restaurant also offers an abundance of vegan options so there's always something for everyone.
Mana, Uluwatu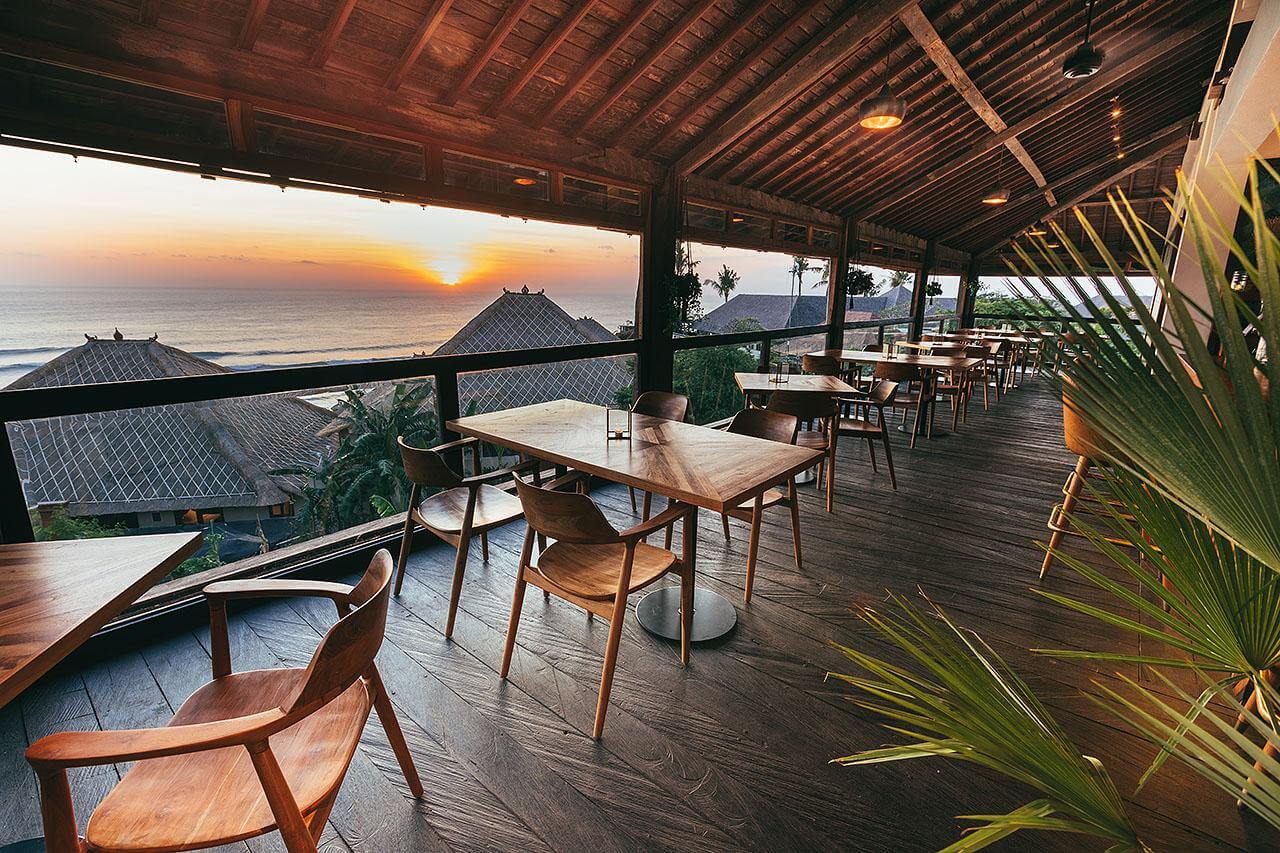 Mana Uluwatu is a new addition to the iconic clusters of breath-taking dwellings, all overlooking enchanting cliff views, world-class waves and golden horizons. Mana Uluwatu is the heart of Uluwatu Surf Villas. Come to enjoy the spectacular views, and hang for soulful meals and top-tier cocktails. Their menu features eclectic selections from both land and sea. Built with true Surfer style and Balinese tradition, the magic of the Mana will be leaving you coming for more.
Drifter Surf Shop Cafe, Uluwatu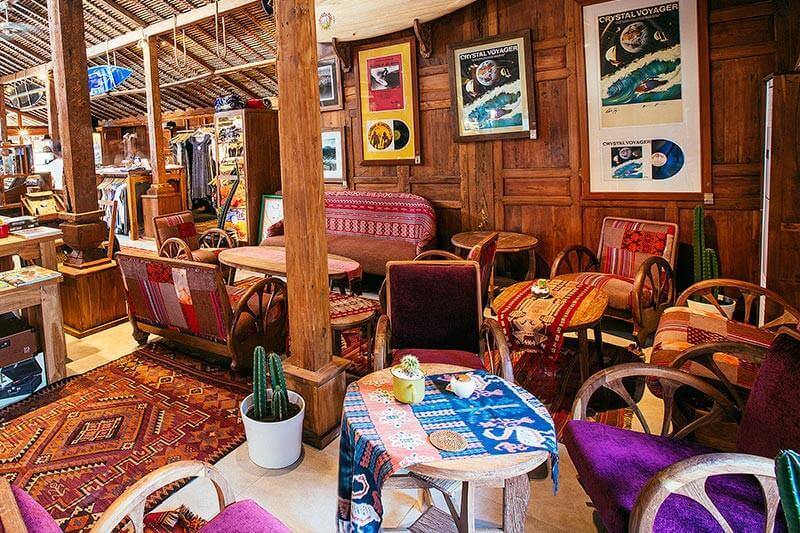 Drifter Cafe Uluwatu serves fresh healthy Bali food for breakfast and lunch daily from 8am to 3pm. With a focus on clean fresh local ingredients that fuel surfing and active lifestyle needs, there are organic whole foods options for everyone. The cafe also brews up some of Indonesia's finest coffee from Mandailing in Sumatra. They also serve a selection of nutritious cold pressed juices and a range of other specialty drinks.
Moksa Plant-based Restaurant & Permaculture Garden, Ubud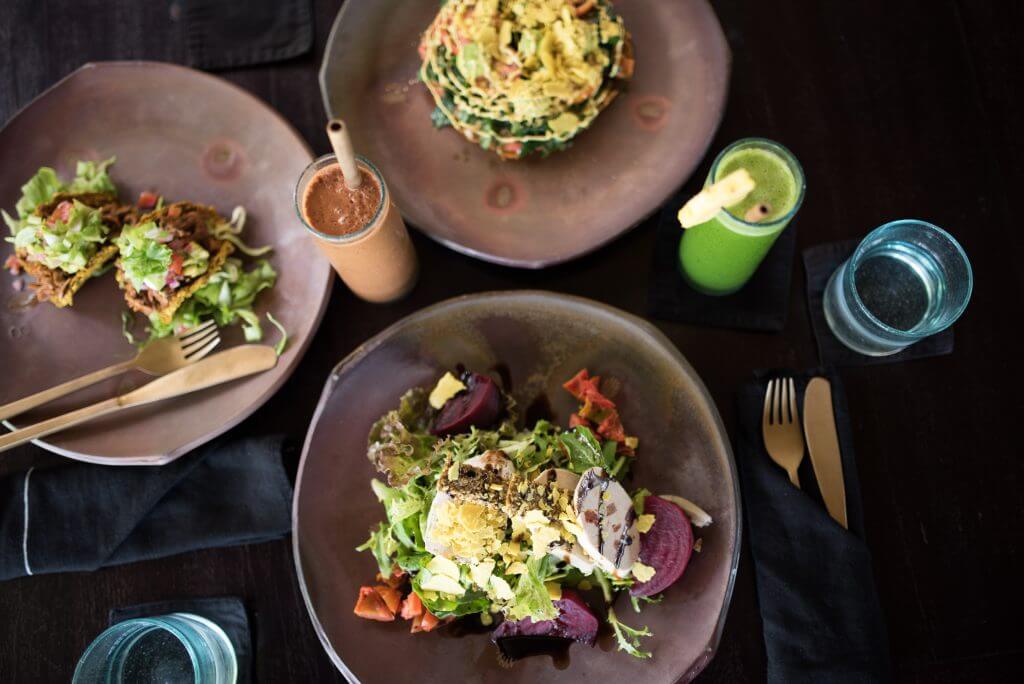 An absolute gem of a place located in Sayan, Northwest Ubud. The mission at Moksa is to offer "food that loves you back." Well, they do: everything they prepare is 100% plant-based and locally sourced from their permaculture garden. Also, they have a yoga studio named the Moksa Dojo, meaning 'place of enlightenment', surrounded by lush tropical nature. What could be better than a yoga class followed by a mouthwatering vegan meal?
Hujan Locale, Ubud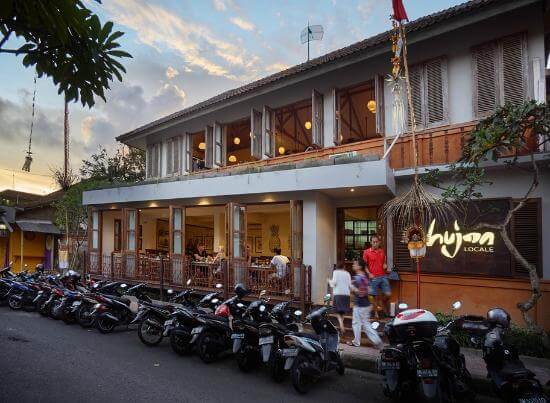 At Hujan Locale, chef Will Meyrick enchants his guests with an elegant fine dining experience intertwined with local tastes and cuisine. There's also a dedicated cocktail bar area, with super comfy armchairs overlooking the buzzing little street. Here, the talented bartenders create unique mixes of happiness, like the Bali-famous and delicious Coconut Mojito.
Want the full Bali Foodie Experience? Check out our Bali tour based all around (you guessed it) FOOD!
Get your VACATION on!
Expertly curated emails packed full of vacation inspiration, travel tips and more!