 Lempuyang Temple
The Gates of Heaven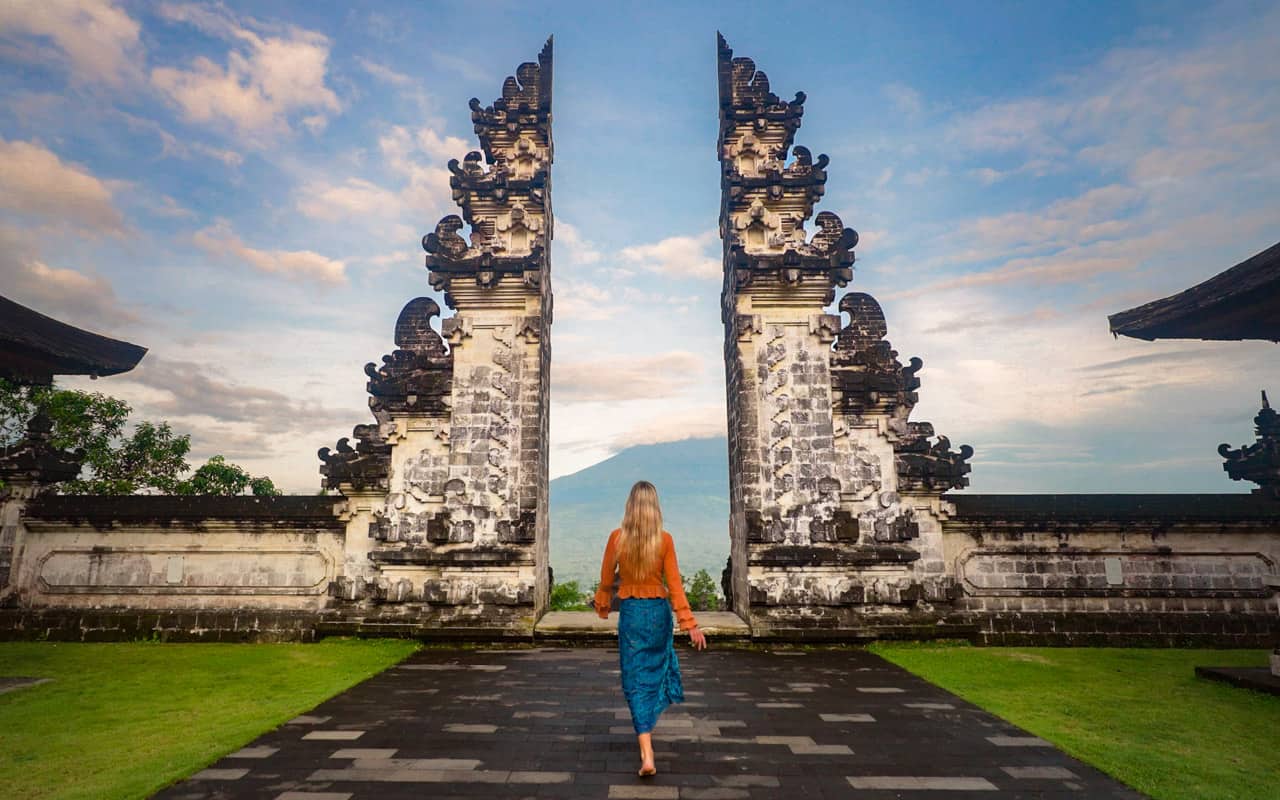 Details
Address:
Jl. Pura Telaga Mas Lempuyang, Tri Buana, Kec. Abang, Kabupaten Karangasem, Bali 80852
The Lempuyang temple is probably one of the most photographed temples in Bali, located in the slope of Mount Lempuyang in Karangasem, east Bali.
The temple complex, consisting of 7 temples, is considered to be one of the six holiest worshipped places in Bali and definitely one to add to your Bali bucket list! Most people don't visit all 7 temples, but if you are up for the challenge, it will take you around 3 to 4 hours to complete the whole circuit.
Visit Lempuyang Temple on Our:
All-Inclusive

Bali Instagram Tour: The Most Famous Spots

From famous rice terraces, stunning waterfalls and breathtaking views of Mount Agung, our Bali Instagram Tour is perfect for travelers who want to experience the best of Bali's beautiful landscapes, as well as its other natural and cultural offerings. Visit a local coffee plantation, have fun on a jungle swing and enjoy a delicious lunch - all whilst being transported in a private car! Voted as our best tour in Bali 3 years in a row, this is must-take tour on your Bali vacation!
One temple in particular is very popular amongst tourists, well known as the 'Gateway To Heaven', as it became famous due to countless photos posted on social media.
Although most of the 7 temples are easily accessible, the Luhur Temple will kick your ass, as there are 1440 steps to conquer! It's an intense workout and the steps are pretty steep.
Why you should go to Lempuyang Temple:
When visiting this attraction, you'll get to see 7 temples, most of which are walking distance to each other! And if you go an a clear, sunny day, you'll get a glimpse of Mount Agung in the backdrop!
How to get to Lempuyang Temple:
The temple complex is far from the touristy areas as it's located in East Bali. From Ubud City Center, the temple is 73-76km one way and depending on traffic it will take over 2 hours to get there. It can be easily reached by car or even easier, book a tour with a guide/driver!
Our Top Trending Bali Tours
Best time to visit Lempuyang Temple:
Pretty much all day is a good time to visit, but if you want to escape the crowds and/or the afternoon heat, it's better to come early!
Best photo spot:
There are many photo opportunities but 1 spots in particular: 'The Gateway To Heaven temple': probably the most photographed attraction in Bali, with views on Mount Batur.
You've probably seen a lot of pictures all over the internet of this temple, and many people assume there is a lake in front of the gate, because of its reflection showing in many photos. Note sure what I mean? A quick google search will help u understand! But like any magic trick, it is smoke and mirrors! Most of the local tour guides have a clever photography hack using a mirror under their cell phone camera. In real life, there isn't a lake in front of the gate!
Tips:
Visitors must wear a sarong which can be rented at the temple for a small amount
Respect the rules of the temples
Make sure to check the weather forecast before you go. If it's a cloudy day, you won't be able to see Mount Agung.
No drones are allowed at the temple
No kissing or PDA allowed
Details
Address:
Jl. Pura Telaga Mas Lempuyang, Tri Buana, Kec. Abang, Kabupaten Karangasem, Bali 80852