 Mount Agung
Mount Agung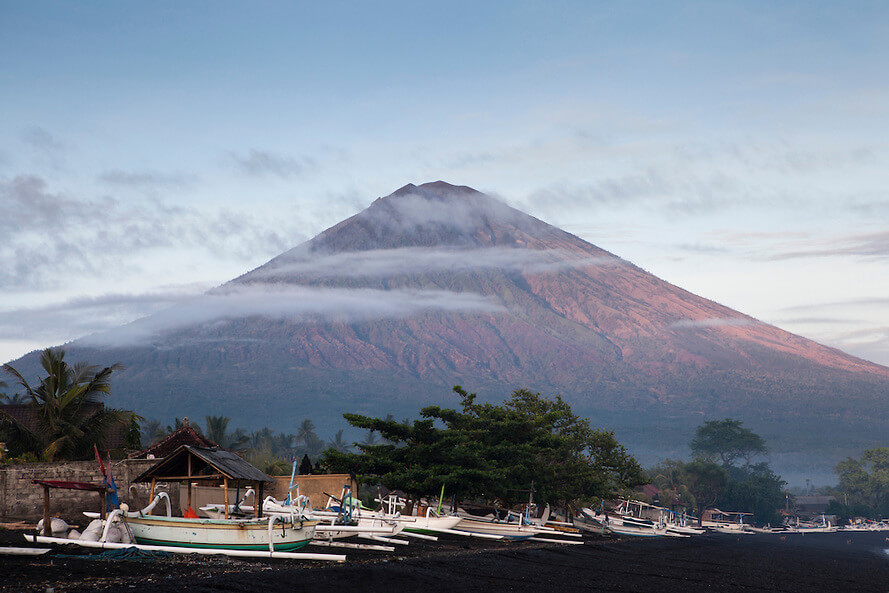 Mount Agung, is an active volcano located on the highest point in east Bali at an elevation of 9944 feet (3131 metres) above the sea level. Balinese people believe that Mount Agung is the most sacred place on the island, and that's why you'll also find the oldest and mother temple Besakih built on the slope of this volcano.


Get Beautiful Views of Mount Agung on Our:
All-Inclusive

Bali Instagram Tour: The Most Famous Spots

From famous rice terraces, stunning waterfalls and breathtaking views of Mount Agung, our Bali Instagram Tour is perfect for travelers who want to experience the best of Bali's beautiful landscapes, as well as its other natural and cultural offerings. Visit a local coffee plantation, have fun on a jungle swing and enjoy a delicious lunch - all whilst being transported in a private car! Voted as our best tour in Bali 3 years in a row, this is must-take tour on your Bali vacation!
Fun fact
: did you know that Mt. Agung affects its surrounding climate? Its western slopes catch the rain clouds, making the west side lush and fertile, while its eastern slopes remain dry and barren. At lower parts of the mountain, most areas are covered in lush green forest, but as you go up, it will be replaced with a desolate landscape of barren volcanic rock and ashes.
While hiking Mt Agung is a popular tourist attraction, it is also known to be one of the hardest hikes you can do in Bali! There are two main hiking routes: an 'easy' one and an advanced one, depending on you fitness level:
The Pura Pasar Agung Trail (4-5 hours)
The trek starts at 1,700 meters above sea level and ends at Mount Agung crater rim, which is 2,866 meters above sea level. Out of the two trails this is the more popular route as it is the 'easier' and shorter climb.

The Pura Besakih Trail (6-8 hours)
The trail starts at 1,200 meters and takes you to the absolute summit of Mount Agung (3,131 meters above sea level). As this hike is pretty brutal, it's only recommended for people who are physically fit and well prepared. The bonus of this route is that there will be almost no other tourists at the summit.


If this all sounds too much for you, consider climbing Mount Batur, it's way easier compared to Mount Agung!

Best time to visit:
The best months for good weather in the Mount Agung area are June, July, August, September and October. If you want to catch the sunset from the top of the mountain, you'll have to start your hike VERY early (probably around 1AM, depending on which trail you take)

How to get there:
The best way to get to Mount Agung and do a sunrise hike, is by booking a guided tour. Your guide will pick you up at your hotel, bring you to the crater, will join you on the hike while explaining everything you need to know! Trust us, this is the easiest and best solution!
While it is technically possible to do it under your own steam, it's better not to :)

How to get the best picture:
If you are brave and fit enough to reach the summit, you will be greeted by stunning views overlooking Bali during sunrise!

Tips:
While it is possible to hike Mt Agung without a guide, we strongly recommend you do book a guide or a guided tour as it is too dangerous to tackle it on your own
Bring warm clothes and decent hiking shoes
Bring enough water and snacks, your body will need fuel to be able to complete the hike