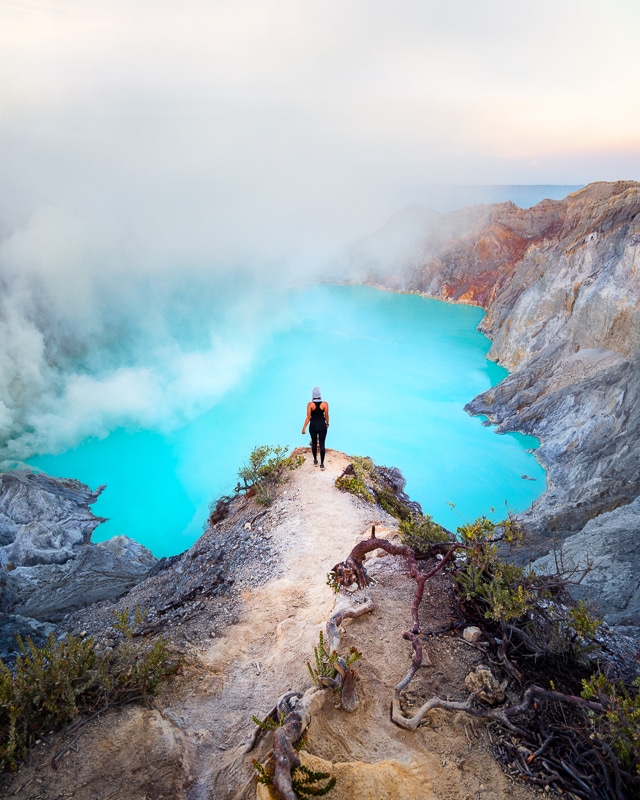 Mount Ijen
Insider's Guide - What to do and Where to go in Mount Ijen
The beautiful island of Bali has so much to offer, it can be nearly impossible to fit everything in. One of the most exciting things it has to offer are its famous active volcano hikes.
Among them are Mount Batur, Mount Bratan and Mount Agung - which has caused quite a few disruptions over the past few years.
But if you're looking to be blown away, we recommend booking a Mount Ijen tour. Also known as the Kawah Ijen Crater, it really is spectacular, featuring the largest acid lake in the world and the only natural 'blue fire' on earth! Here's everything you need to know before you go.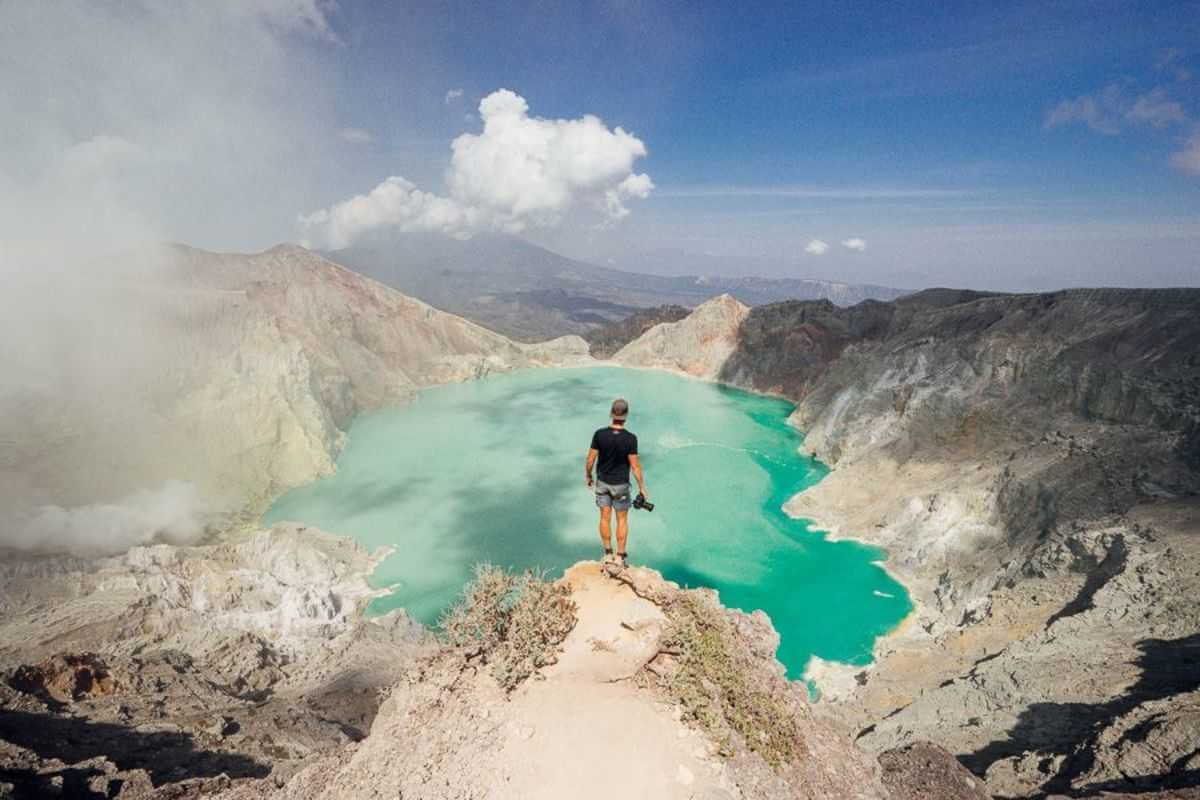 How to get there and when to go
Mount Ijen is actually situated in East Java, away from the hustle and bustle of central Bali. The nearest airport to Ijen is Surabaya, so you may wish to fly there and stay in the area for a few days before and after completing your hike.
However, it is worth noting that Java is quite different to Bali, there are much less tourists and local transportation is modest to say the least.
Many Javanese do not speak English well and facilities and restaurants are much more limited here.
Don't get us wrong, this is all part of Java's charm and why I love it so much but it is definitely something to consider when planning a trip to Mount Ijen.
It's actually fairly easy to drive to Java directly from Bali (via ferry) and many tours will pick you up directly from your hotel in Bali - the ForeverVacation Mount Ijen tour includes pick up from your hotel.
The drive will take around 6-9 hours, depending on your exact location in Bali.
In terms of when to go, the dry season in Bali is April-October. This is probably the best time of year but it is also the busiest so you may consider going outside of these months.
To be honest, it's perfectly fine to visit all year round, there's just a slightly higher chance of a shower if you go in the wet season.
But you might actually be thankful for the opportunity to cool down when you're halfway through your hike!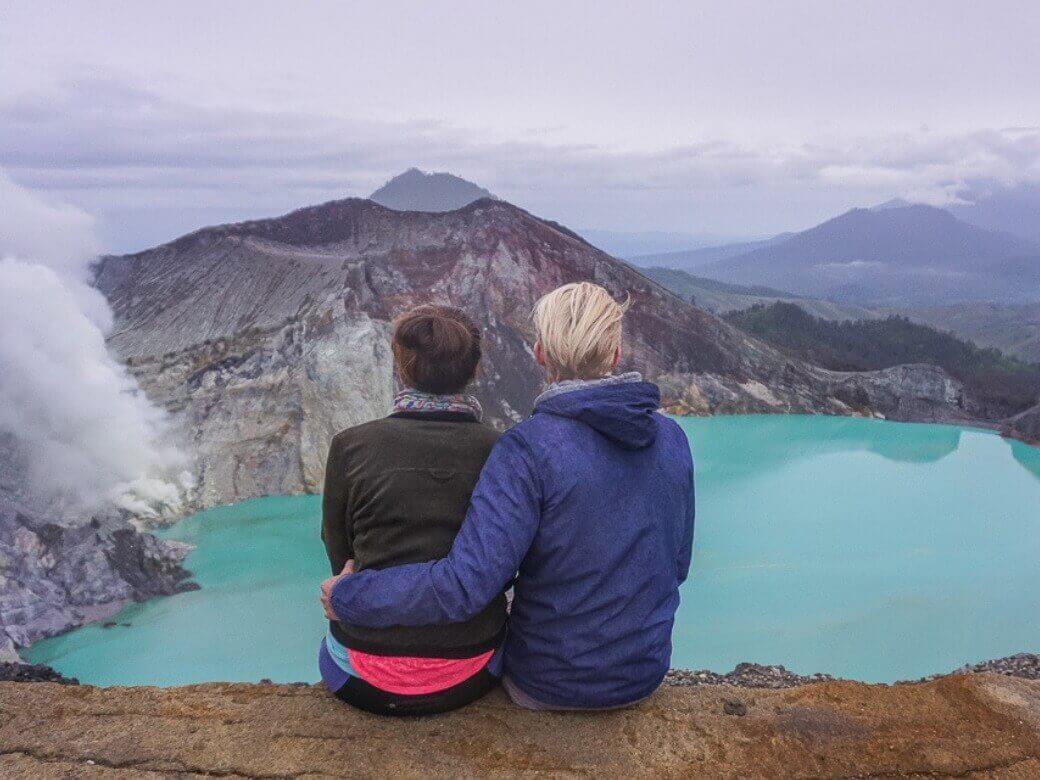 Kawah Ijen Crater
Kawah Ijen is most famous for its one of a kind blue fire and for being home to the world's largest acid lake. But it's so much more – the area is home to many other volcanoes and hills which are absolutely breathtaking.
The hike is beautiful but it's not for the faint hearted. From the starting point of the hike, it takes around 1 hour to reach Kawah Ijen base camp; and from there it takes around another 2 hours at a moderate pace to reach the peak.
You don't have to be super fit to undertake the hike, but do keep in mind that it's quite steep. Once you reach the peak your guide will instruct you to put your gas mask on to protect your lungs from the sulfuric gas.
After reaching the top, you can actually walk down into the crater, but again, it is steep! Around 4am is the best time to reach the acid lake for a chance to witness the natural show of the blue fire.
The sun usually starts to rise at about 5:30am so be sure to grab yourself a nice little viewing spot and prepare to be amazed!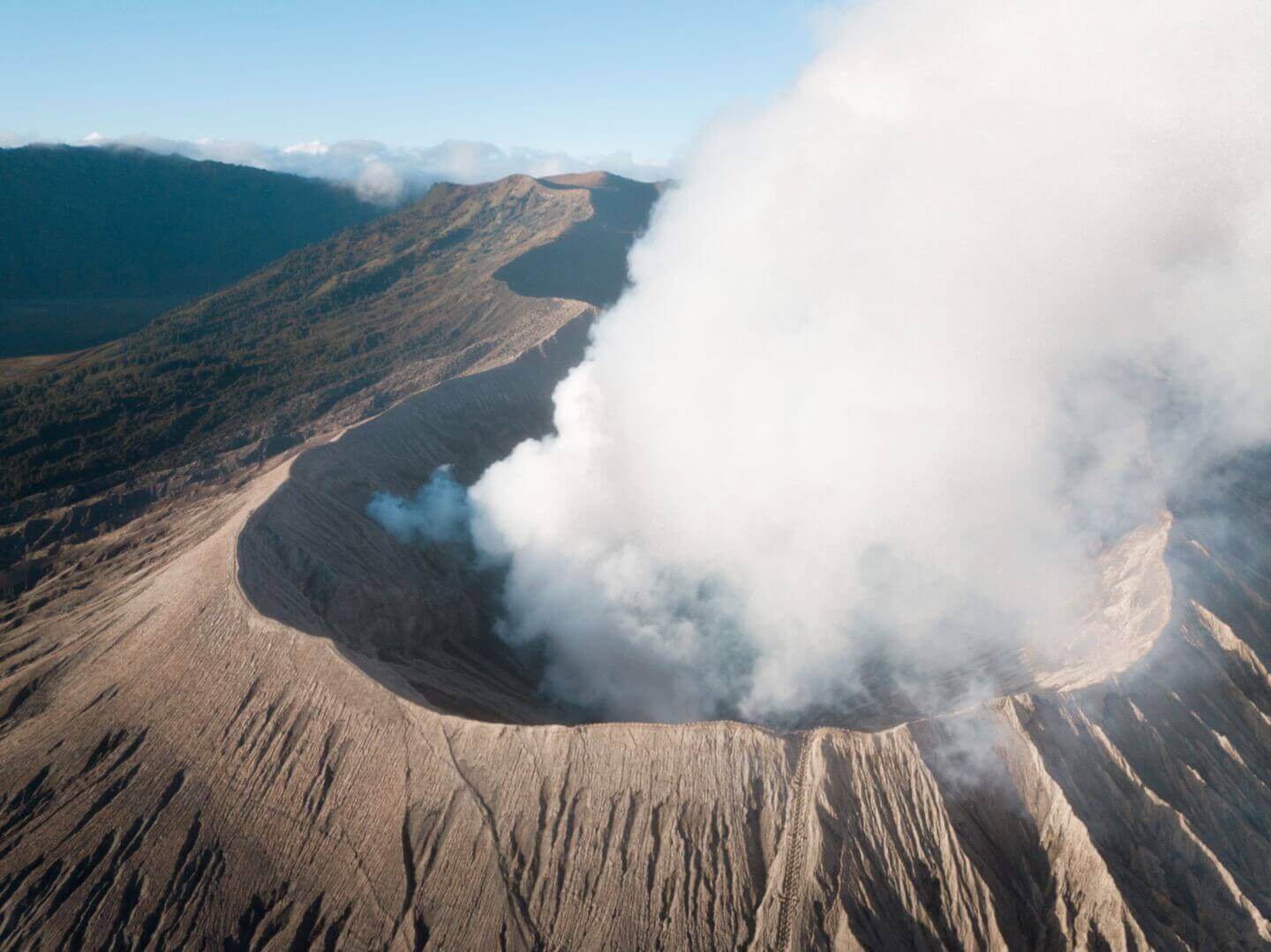 Blue Fire
The Ijen crater is actually a well known sulfur mining site. You will see many miners carrying heavy loads (between 75 and 90 kg!) all the way up to the crater.
The blue fire derives from the mining activity and is ignited sulfuric gas, which emerges from cracks. As with every natural sighting its height and intensity depends on various conditions and cannot be predicted. The flames have been known to reach more than 5 meters in height but this is not always the case.
No matter what, it is always a unique experience and you are guaranteed to get some pretty amazing photographs!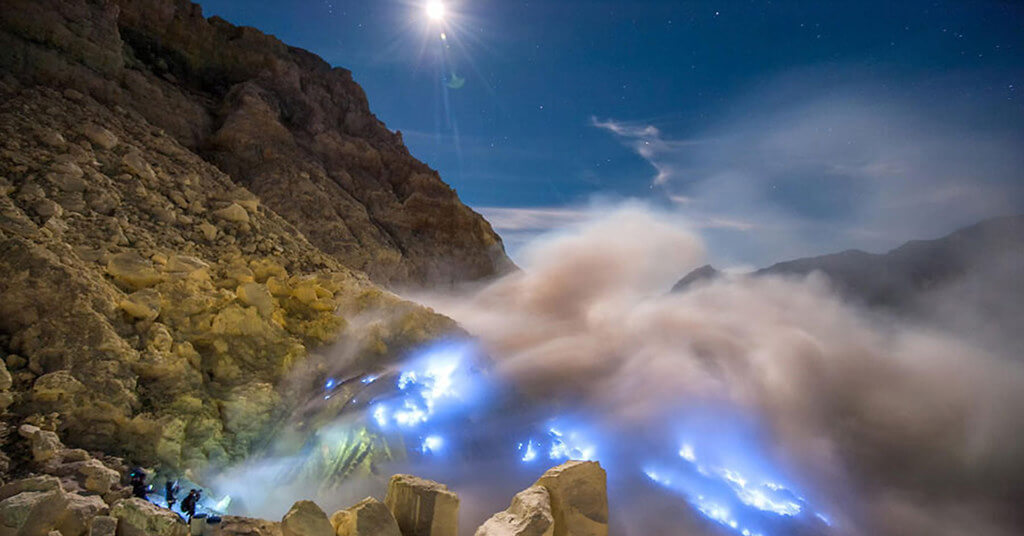 Acid Lake
Do not be fooled by its pristine exterior, this lake is one of the deadliest there is! The high acidity of the lake starts decomposing your skin after 15 seconds so better not swim there.
You can put your hand in the lake for a few seconds, under a guides supervision without it being harmful, but be careful not to touch your eyes afterwards as there may be some tears!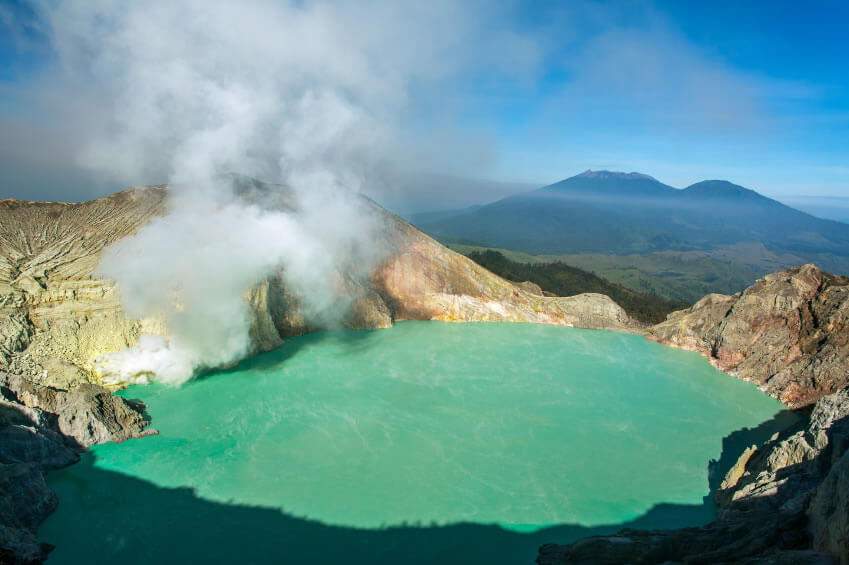 Example Itinerary
Here is the schedule for our Mount Ijen tour so you know what to expect:
12:00 PM – Pick up at your the hotel (exact time may vary depending on your location)
6:00 PM – Dinner!
7:00 PM – Arrive at the hotel for a rest
12:00 AM – Start the tour to Mt. Ijen
1:00 AM – Arrive at Mt. Ijen and start hiking up to the top of the volcano
2:00 AM – View of the world's largest acidic crater lake
4:00 AM – Experience the mesmerizing electric blue fire
5.30 AM – Watch the incredible sunrise from the top of the volcano of Mt. Ijen
9:00 AM – Breakfast!
10:00 AM – Start the return back to your hotel
12:00 PM – Lunch time!
4:30 PM – Arrive back at your hotel (exact time may vary depending on your location)
Times and attractions can usually be customized to fit requests, and remember exact timings can change due to local conditions. As you can see, the tour involves a very early wake-up call but trust me, it will be so worth it when you are witnessing the most spectacular sunrise you've ever seen!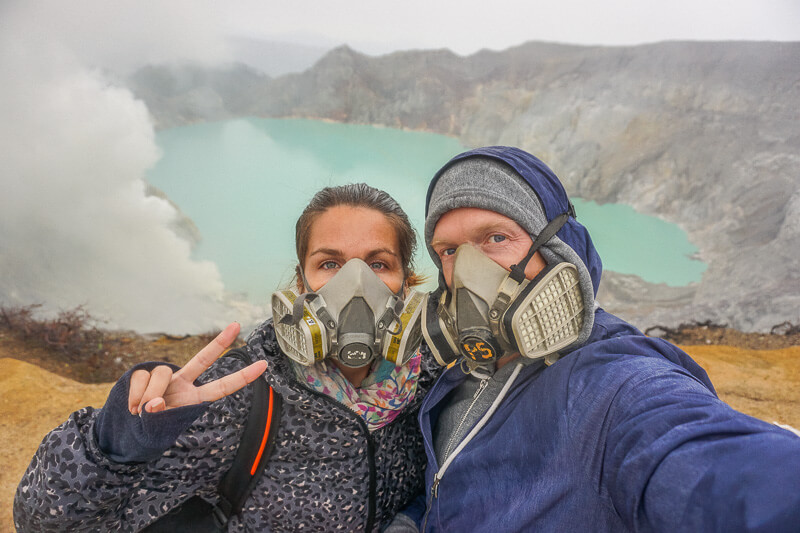 What to bring
Warm clothes! Indonesia might be tropical, but it gets very chilly at night at 2,300 m. It's best to wear a few layers of clothing, so you can take some off when the sun comes up. I'd suggest a pair of comfy and supportive sneakers or walking boots, thick-ish socks, leggings or tracksuit bottoms, a vest, a t-shirt, a jacket and a lightweight waterproof jacket. You may also want to wear a hat. These are all items of clothing you may not necessarily think to pack for a trip to Bali, so it pays to be organised if you're planning to complete the hike!

Water. This is essential for staying hydrated on your hike and throughout the day, as it will be quite a long day! Bring a large reusable water bottle that you can carry with you at all times and refill throughout the day.

Sunscreen. Although it will be cold at night, once the sun comes up it will warm up rapidly and you'll be very exposed to the sun on your way down.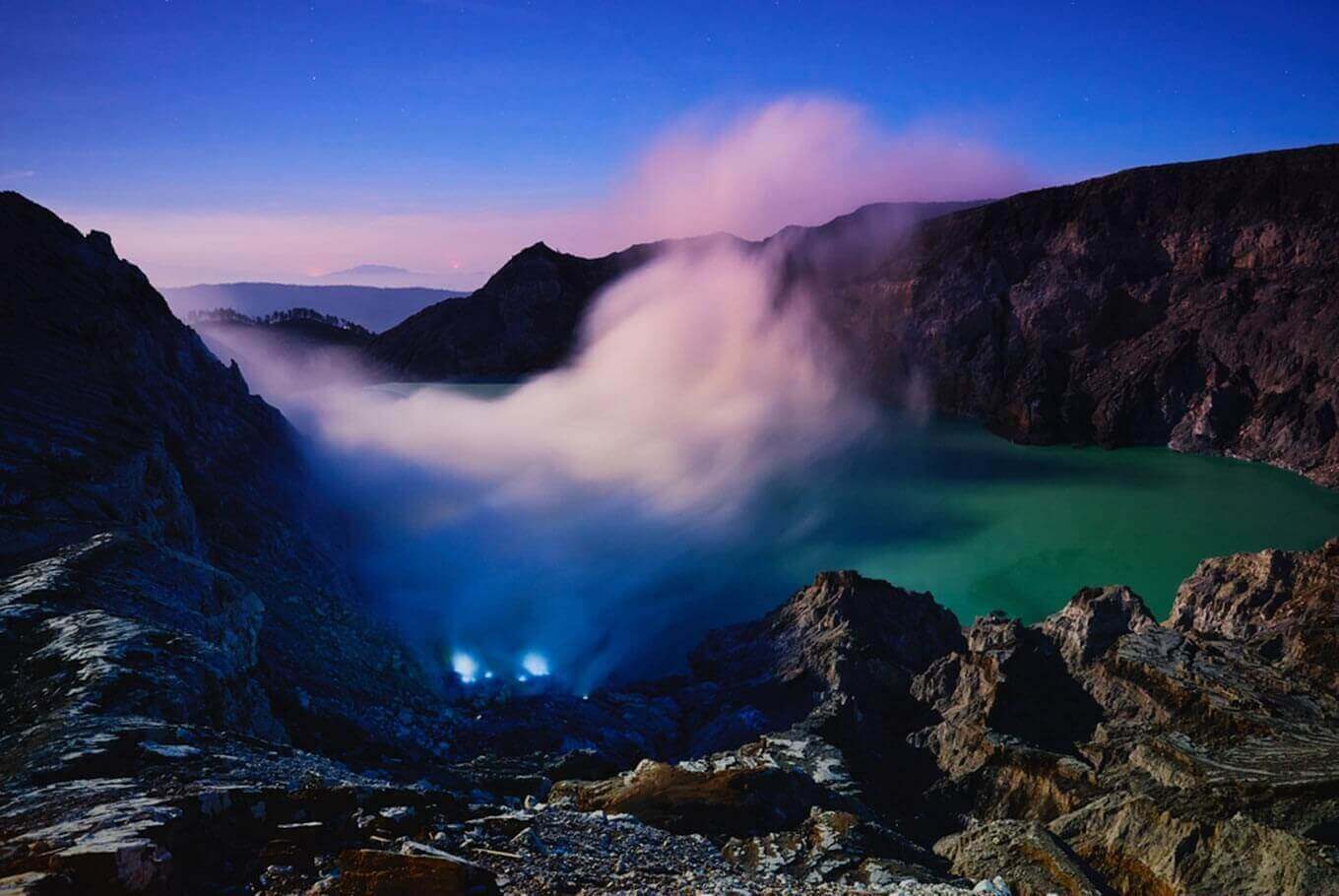 Other tips:
Make sure you eat enough. Since it will be a really long day, and the climb is quite strenuous, you'll want to make sure you have enough energy! Be sure to eat plenty at meal times and snack throughout the day. Our Mount Ijen tour is all inclusive so dinner, breakfast and lunch are included as well as snacks and mineral water.

Don't worry too much about the sulfuric gas! Your guide will instruct you when you need to put your mask on, and this is just a safety precaution so you have nothing to worry about!

Stay close to your guide. The trail can be very busy with many different groups embarking on the hike in the middle of the night. Just be aware of this and try to keep an eye on your guide, they will take care of you.

Go to the toilet whenever you have the chance, as options can be quite limited!

Enjoy it! Undertaking a Mount Ijen tour will not be the easiest thing you've ever done but it will be so rewarding and it will stay in your memory forever!