Bangkok on a budget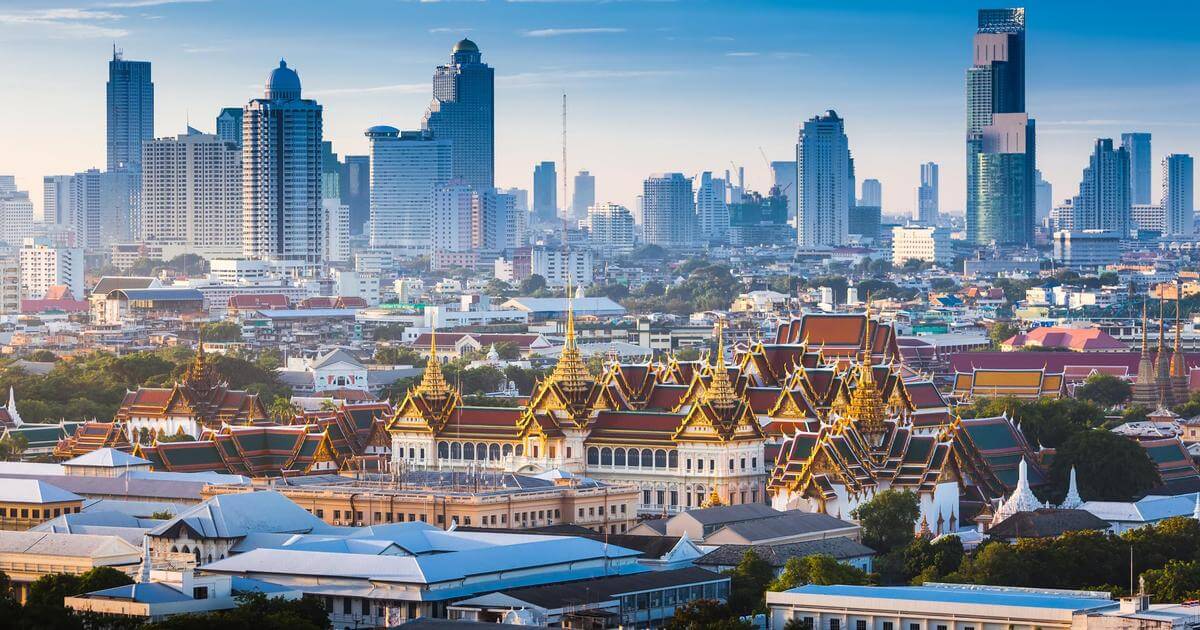 Despite Bangkok being the largest and wealthiest metropolitan city of Thailand, it's very possible to enjoy Bangkok while travelling on a budget! In fact, compared to other Southeast Asian cities like Singapore or Kuala Lumpur, Bangkok is a bargain. However, if your point of reference is the rest of Thailand, Bangkok tends to be a bit more expensive than other parts of the country.
Generally speaking, traveling in Southeast Asia is very cheap compared to traveling to other parts of the world. No wonder so many people make their way down here every year. You don't have to count your pennies and hustle at every step of the way in order to enjoy a beer or a famous Pad Thai!
Our Best Selling Tour
All-Inclusive

Bangkok Thrilling Tuk Tuk Tour

Is there any better way to see Bangkok than by tuk-tuk? We don't think so! Our Bangkok Thrilling Tuk-Tuk Tour is an exciting way to see Bangkok at night. This Bangkok tour is packed full of culture, delicious food with an added element of excitement thrown in. This all-inclusive tour in Bangkok starts with the beautifully illuminated Wat Pho temple, followed by the Giant Swing, dinner at Mit Ko Yuan where you'll find all of your favorite Thai dishes and a visit to a legendary dessert spot.
While Bangkok offers a perfect package for every traveler, it's good to be proactive about planning a budget trip to Bangkok. This is where we come in: in this blogpost we will break down all the costs and tell you exactly how you can save money while still getting the best bang for your Baht! We will go over cheap things to do in Bangkok, where to stay, and how to get around, all while ballin' on a budget!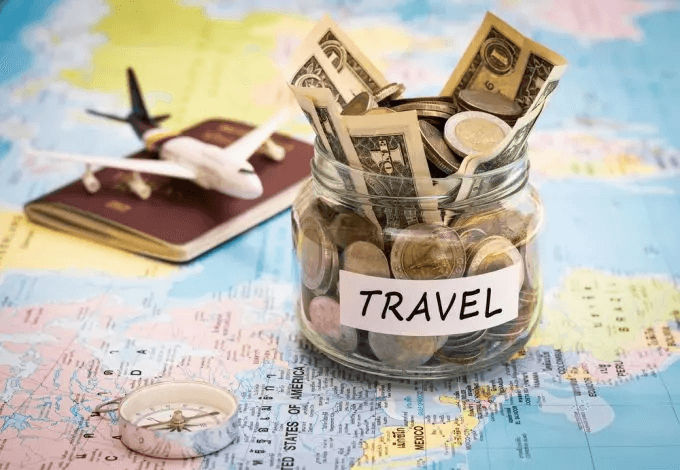 Travel during low season
First things first: regardless of which month of the year you want to go to Bangkok: it will always be hot and humid year-round, there's no escaping this! Yes, some months might be more enjoyable than others, but keep in mind Bangkok has a tropical monsoon climate! The coolest and driest months are December and January, with almost no rainfall and an average low of 22°C (72°F) and high of 31°C (88°F). The hottest month is April, with an average high of 35°C (95°F) and low of 27°C (80°F).

While most travelers tend to visit Bangkok during December to March, when the heat and humidity are at their lowest, they are also the most expensive months! This also means crowds will be at their peak, and this particularly around the Christmas and New Year's holidays.

If you want to save some money, it's better to go during the off-peak months being from July to October. So if you don't mind a casual rain shower, this is a great time to go as there will be many good deals on hotels and flights.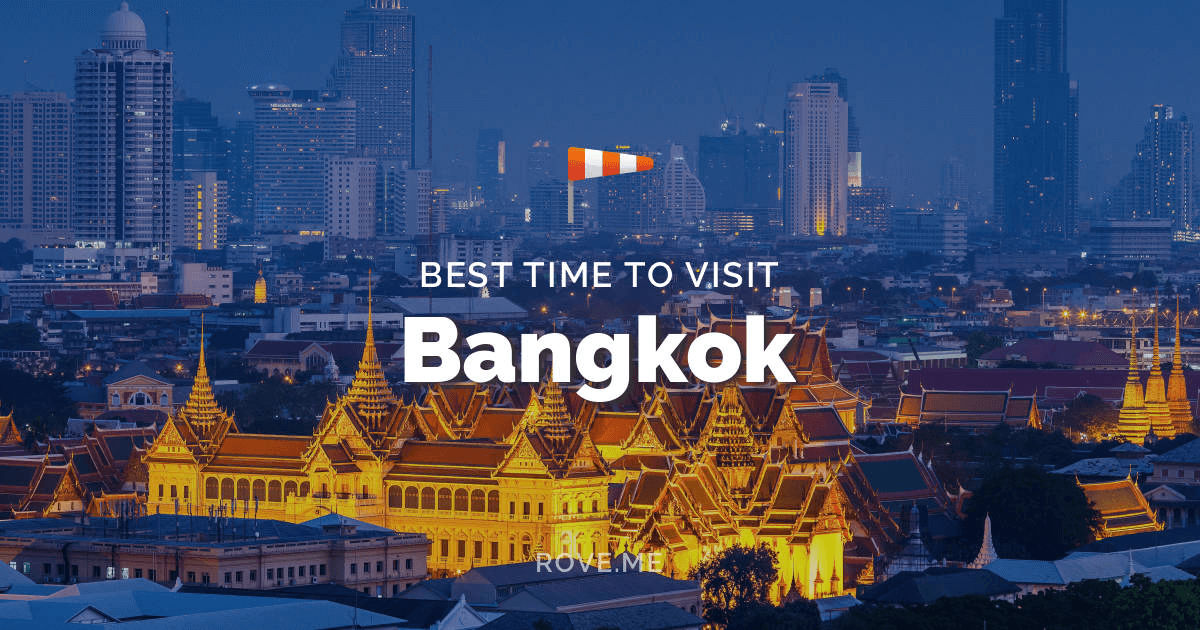 Pick the right accommodation and area
We got some good news for you: even the most budget-priced hotels in the city offer clean and comfortable rooms with all the amenities travelers need, such as air conditioning, cable TV and WiFi and can be found for as little as $20 per night!
Needless to stay, staying at hostels will always be the cheapest option when traveling on a budget. We know that hostels may not always have the best reputation but you can find plenty of high standard, beautiful hostels and dorms that offer amazing service all around Bangkok!
When it comes to choosing your accommodation, make sure to pick the right neighborhood, as some areas might be more expensive than others! But whatever area you pick, know that you have plenty of cheap options and you will never break the bank while staying at a hotel in Bangkok, unless you choose to ;)
To make things easy for you, we wrote down some of the Bangkok areas:
Siam Square and Sukhumvit: although this is an area where luxury shops, higher-end hotels and restaurants can be found, it's also the perfect place for first-time Bangkok visitors as a number of historic and cultural attractions to be found there.
The Khao San Road area is popular among younger backpackers and budget travelers, as it contains a very active nightlife, cheap accommodations and inexpensive restaurants.
Silom is the business district during the day, but has a party atmosphere at night as there are many trendy nightclubs and bars.
Rattanakosin is where most of the attractions and sights are to be found, as this is the older part of Bangkok and you can find plenty of restaurants and shops.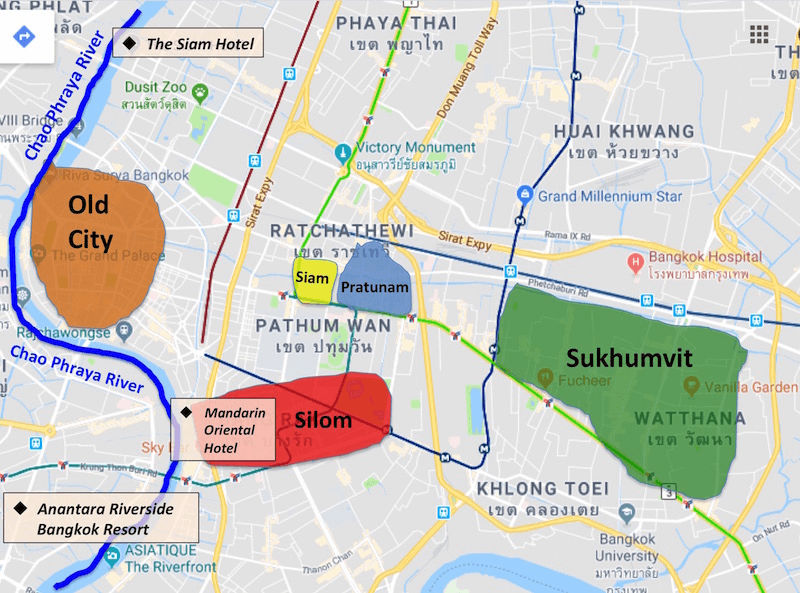 Eat like a local
As you'll probably know, Bangkok is paradise for foodies! The options are endless and prices range from super cheap to extra expensive! If you want to save a buck or two, we suggest to go where the locals go and get some food at some good old-fashioned street stalls or markets.
Street food is literally everywhere and it's delicious! We understand if you're a bit hesitant but don't be scared! Just look for popular stall with a lot of people waiting and you will not be led astray. You can eat a plate of Pad Thai from the street vendors for as little 40 baht ($1.33 USD)!
Other Thai delicacy being sold by the street vendors- from fruit shakes to BBQ to egg rolls- can be purchased for $1 or less!If you choose to have nice sit down meal at a local restaurant it will only cost you around 250 B ($8.30).
Another good and affordable option is to go to food courts, which can be found in every shopping mall in Bangkok!
It's only when it comes to wanting to eat Western food (especially red meat), drinking wine and hard liquor, things get pricier! Fun fact: did you know that Thailand is the 4th most expensive country in the world to drink wine?
Top tip: Stick to beer when you want to have a drink. Cocktails and wine are mostly imported with high taxes and therefore cost a lot more than the local beer.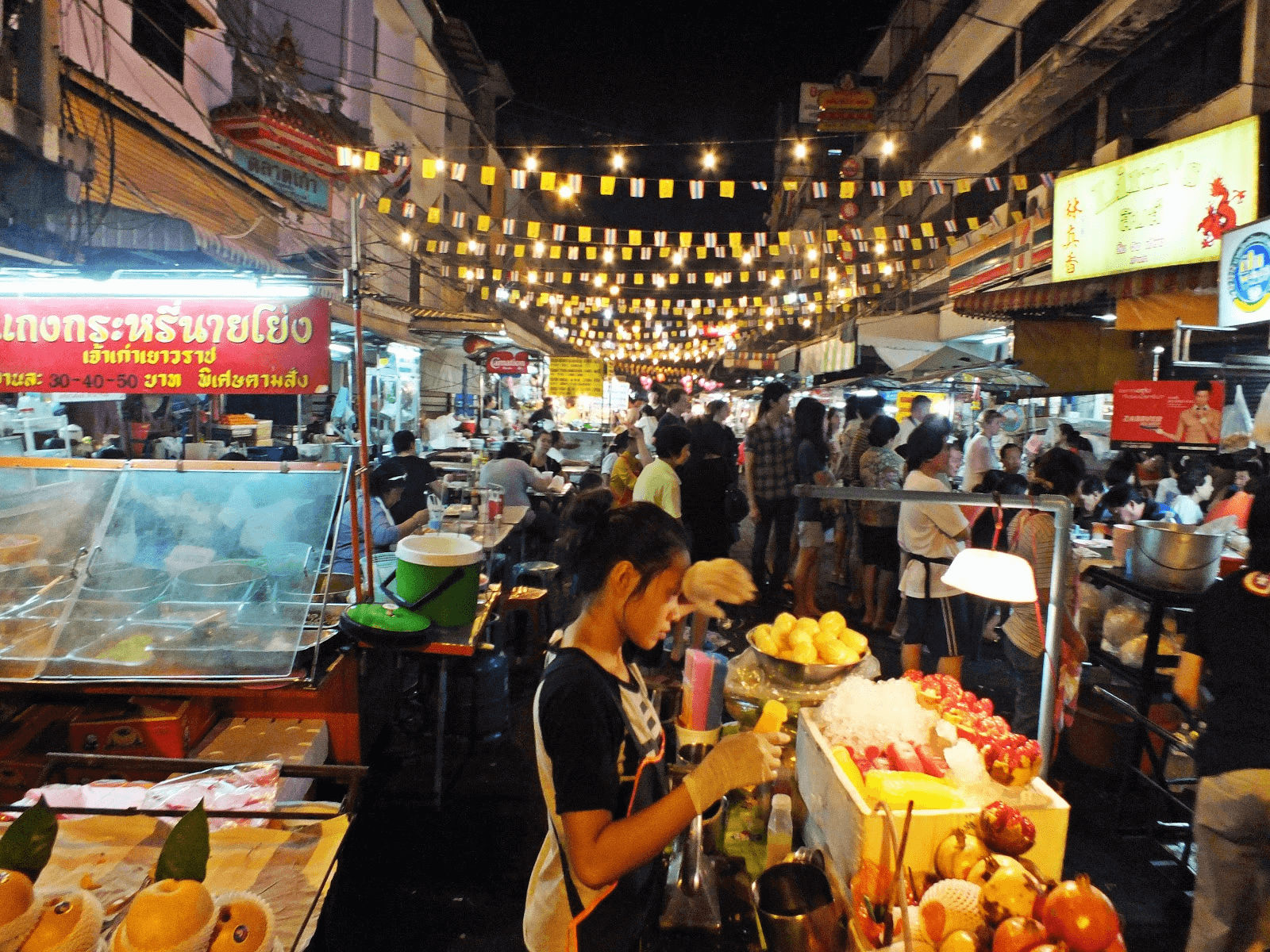 Visit free sites
Many of Bangkok's attractions charge entrance fees. However, a lot of under-the-radar temples and sites let you take in the scene for free!
We've listed some spots for you that are not to be missed and are free of charge (or have a ridiculously low entrance fee):
Chinatown: Bangkok is home to the world's biggest Chinatown! Plenty of things to see and walk around without a price tag
Jim Thompson House: Visit the beautiful garden and museum (former house of Jim Thompson, an American entrepreneur credited with repairing the Thai silk industry). Entrance fee 200 Bath (5 USD) and even less for students!
Wat Arun: The Wat Arun Temple is a must see when in Bangkok! The temples have been decorated with recycled Chinese porcelaine and especially at night, the view on the temple is unlike any other! Entrance fee: 100 Bath (2,5 USD).
The Giant Swing: This famous and popular attraction can be found at the entrance of the Wat Suthat Temple. Aside from the swing, the temple features a magnificent traditional roof, ancient murals, and hand-carved teak door panels. The huge complex includes multiple large temples on the property as well as smaller statues and courtyards. Entrance fee is 20 Bath (0,55 USD)
The Railway Market: for this market you need to be willing to travel a bit outside of Bangkok, but boy is it worth it! But what makes this market so special? That's mainly the location. The market is located ON a railway line.The train arrives and departs from the Maeklong train station. As a result, the train regularly runs right through the market, up to eight times a day! No entrance fee!
Lumpini Park: If you want a break from the busy city centre, you can go and relax and Bankok's 'Central Park' named Mumpini Park. You'll see plenty of people enjoying light workouts, aerobics, and leisure activities throughout the day. There are plenty of sheltered niches where you can read, meditate or have a picnic. Free of charge!
Wat Sam Phan: also known as the 'Dragon Temple', is also located a short taxi ride out of Bangkok, but you will not be disappointed! The huge pink temple, with a dragon wrapped around it, has an Alice In Wonderland- like garden surrounding it! The good thing is: you will hardly see any tourists and there is no entrance fee ( a small donation to the monks who live and work there is appreciated tho!)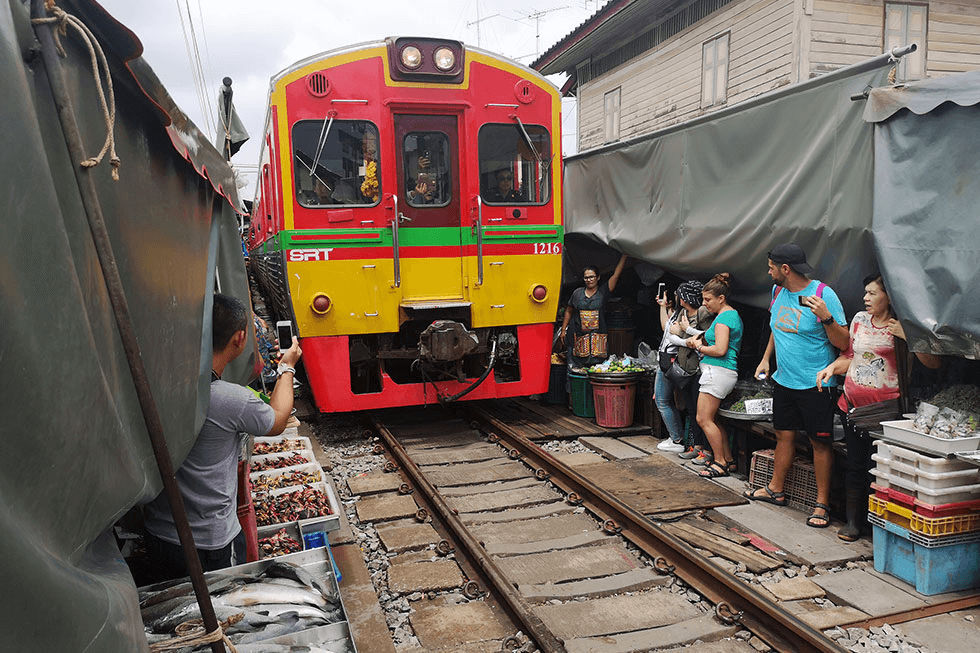 Public transportation
You are in luck because public transportation in Bangkok is extremely cheap, well organized and the options are pretty much endless! In fact, we have another blogpost about 'How to get around in Bangkok' that will explain every option in detail!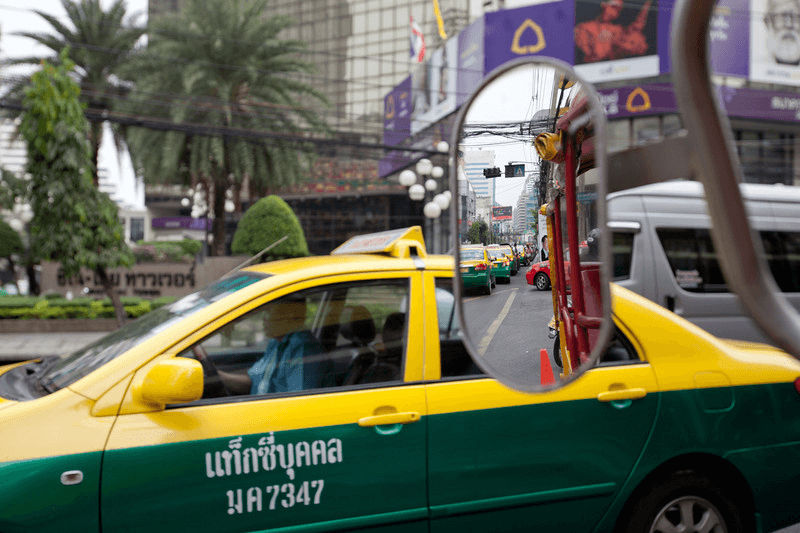 Shopping
If you are a shopaholic, try exploring the local (flea) markets of the city instead of visiting the (more expensive) malls.
Try going to the famous Chatuchak Weekend Market: The size of Chatuchak is really the main selling point – it's so huge that you really can find anything you're looking for, along with many things you never knew you wanted! Altogether there are around 8,000 stalls and, size-wise it t is the largest market in Thailand!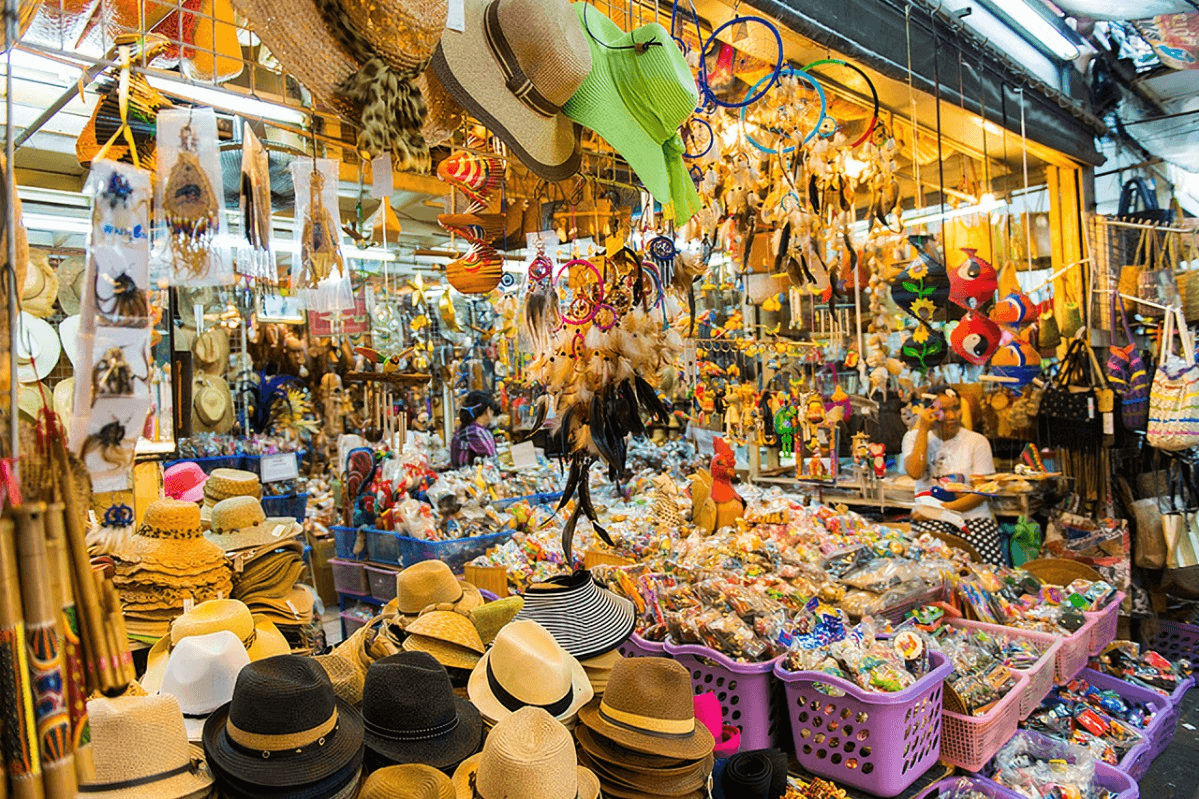 Get Your Teeth Done
Thailand is known for cheap yet very high standard dental care. Even if you're just visiting Bangkok for a few days, it's worth getting your teeth cleaned, a checkup or even some more involved procedures.The cost savings can be huge compared to other countries!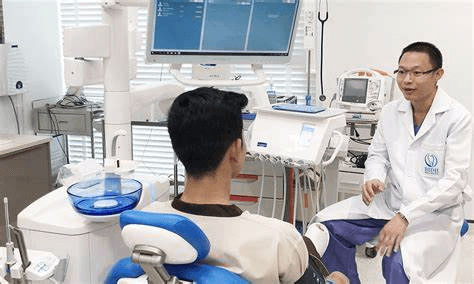 Book a guided tour
If it's your first time in Bangkok and you have no idea how to tackle the city on your own, your next best option is booking a guided tour in Bangkok. Although it might not seem like the cheapest option, it will for sure save you from getting overwhelmed by everything there is to see and do. That's why we feel like this shouldn't be something you save your money on.
Booking a private Bangkok tour has a lot of advantages and although you might end up paying a little extra, it will make your life so much easier! Everything will be taken of for you: the driver, the guides, the entrances fees, boat tickets, food, parking etc. One of our most popular private tours in Bangkok is our all-inclusive Bangkok Instagram tour. A fantastic English-speaking tour guide will take you to see all of the famous Bangkok Instagram spots on the island, including: Wat Benchamabophit, Wat Arun, Loha Prasat, Chinatown and the Flower Market.
If you want to explore more than only Bangkok, we got you! Because we also offer some of the best tours in Thailand!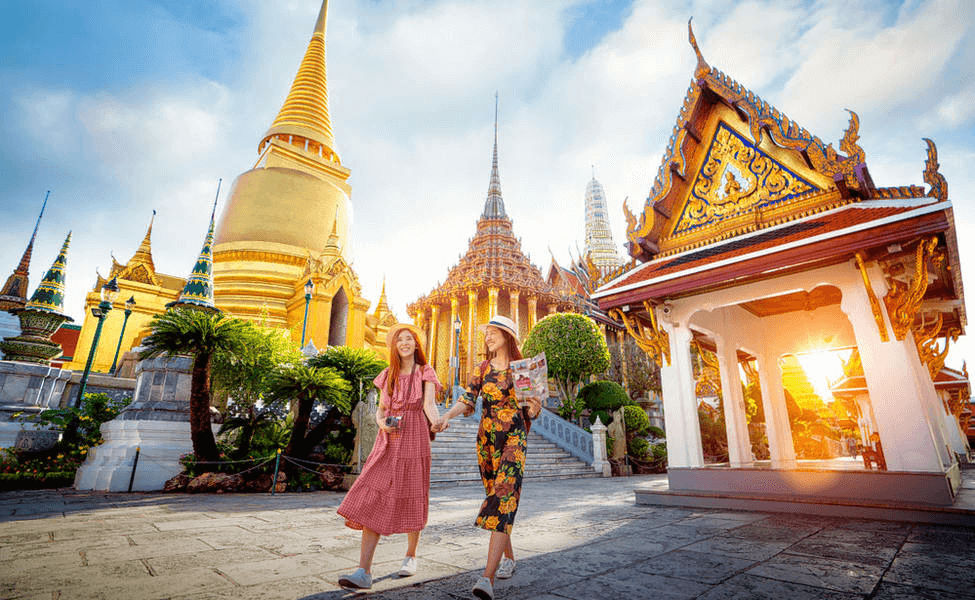 Breakdown:
If you are on a backpacker budget: expect to spend more or less 950 Bath (26 USD) a day. This includes a room at a hostel, eating street food, a few temple visits, and taking public transportation.
If your budget is slightly bigger, expect to spend about 1,925 Bath (53 USD) a day. This covers a private room in a two-star hotel/guesthouse, eating at more local sit-down restaurants, temple visits and taking a few taxi's instead of using public services.
There is nothing left for us to wish you an amazing holiday in Bangkok! Whether it is splurging or traveling on a budget, we can guarantee you'll have the best time!
Get your VACATION on!
Expertly curated emails packed full of vacation inspiration, travel tips and more!