 Best Time of Year to Visit Bangkok?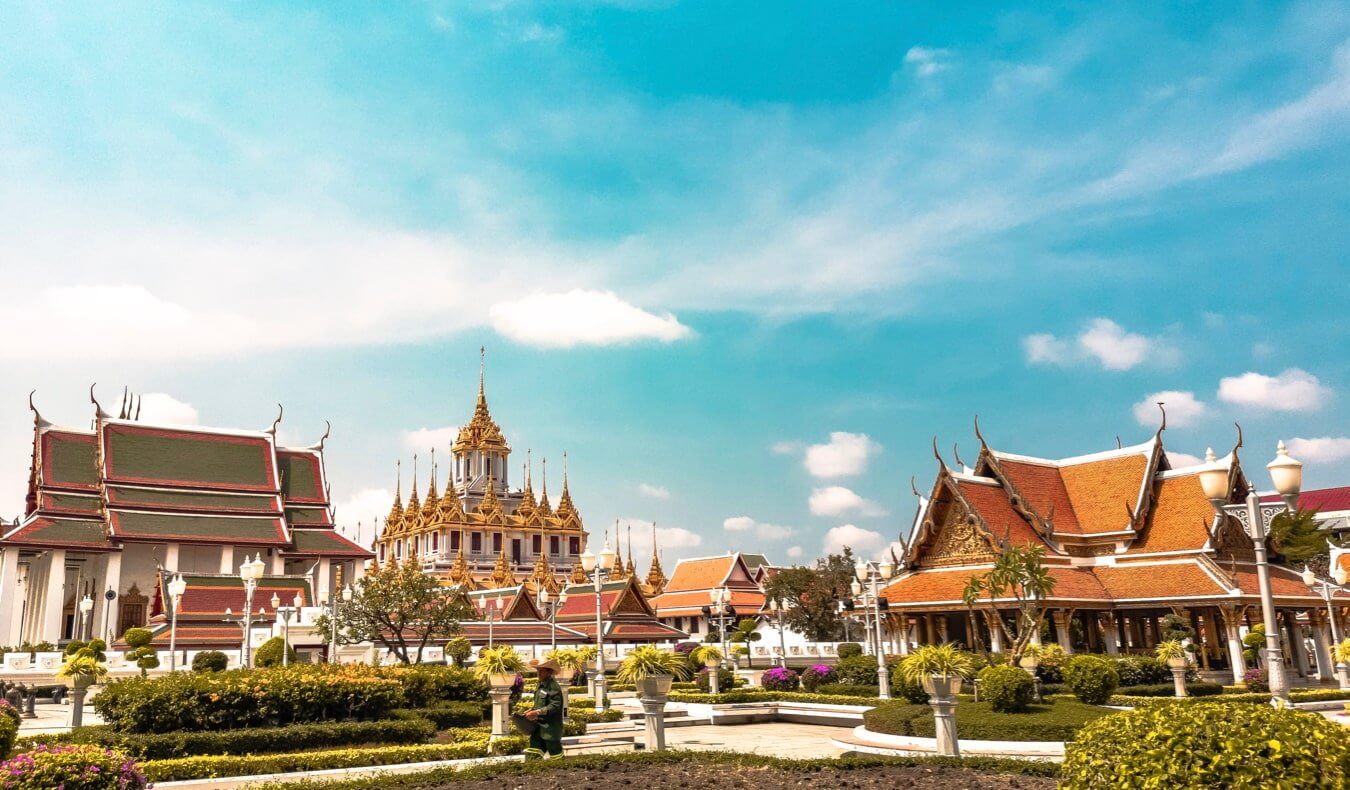 Destinations
Destinations
Blog detail
Our guests are always asking us "what is the best time to visit Bangkok?" The answer varies a bit depending on what you're looking to do in Bangkok so we have put together some advice below so you can plan the perfect time to visit Bangkok.
Bangkok enjoys a tropical monsoon climate, meaning that it has 3 main seasons: hot season from March to June, rainy season from July to October, and cool season between November and February. In one of the hottest cities in the world, expect daytime temperatures to be over 30°C for most of the year. An exception to this is when you visit in late December and early January, so the best time to go to Bangkok is completely dependent on your plans for your vacation.
The 2 periods – April to May and September to October – are when Bangkok is at its most humid. The southwestern monsoons arrive between May and October, bringing unsettled, cloudy skies. For many people, this is a welcome respite, though flash floods often occur in the outskirts and low areas of the city. Whether you're going for sightseeing or want to take some of the best tours in Bangkok, it's important to decide the best time to visit Bangkok for your trip.
Overview
Coldest month: December
Rainiest month: September
Driest month: December
Most crowded months: November - March
Least crowded months: December - February
Hot season (March - June)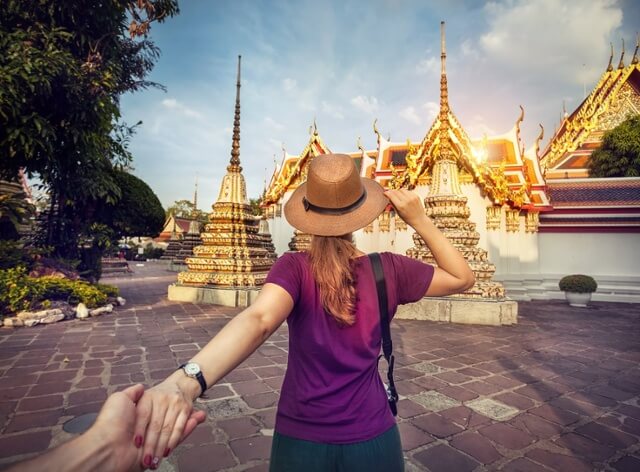 The hottest time in Bangkok is between March and May. Daytime temperatures can soar as high as 40°C during this time. Thailand's New Year, Songkran, takes place at this time of the year – the country celebrates this annual event with a 3-day-long water fight.
Bouts of rain offer relief from the sweltering heat. Boat cruises, shopping malls, and rooftop bars are some of your best options to escape the intense Bangkok summer. The hot season is probably the best time to visit Bangkok for shopping!
Hot season months
March: The amount of rain in March is average with temperatures staying quite hot throughout the month. During the night it can be very warm and sticky. If you enjoy looking at a blue sky and like sunbathing then this month is a great period to visit Bangkok.
Average temperature: 26-34°C
April: April sees the hottest average temperature of the year in Bangkok with plenty of sunshine and little chance of rain.
Average temperature: 27-35°C
May: May starts to feel extremely humid, though the temperatures are slightly cooler than April. The sun normally shines for around eight hours per day with little chance of rain.
Average temperature: 26-35°C
June: June in Bangkok, sees weather that is almost identical to May. The sun usually shines for around six hours per day and temperatures are very high.
Average temperature: 26 - 34°C
Pros of visiting Bangkok during the hot season
Very little rain
Mosquitoes aren't as big of a concern
Great weather for sunbathing
Less busy
Cons of visiting Bangkok during the hot season
Temperatures can get really hot, especially in the middle of the day, which can be tiring if doing a lot of exploring on foot
Humidity can get quite high
Rainy season (July - October)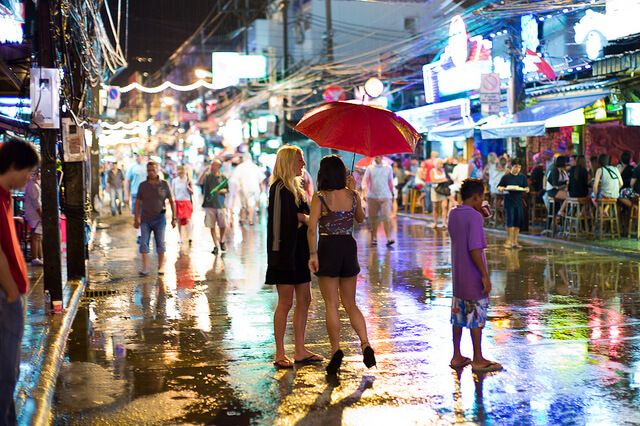 Bangkok's low season is usually between May and October when the monsoon period often discourages some travelers from visiting the city. This is the best time of year to visit Bangkok for budget-conscious travelers, many hotels and tours often offer attractive discounts during this period.
The city is prone to rainy days, but you can find plenty of indoor activities to keep you occupied throughout your holiday. Typical characteristics of low season in Bangkok include light rain, torrential downpours, as well as a mix of clear skies and overcast days.
Rainy season months
July: In July, the sun normally shines most of the time and temperatures stay high. Expect higher humidity and a higher chance of rain.
Average temperature: 26-33°C
August: Similar weather to June and July, with temperatures staying high, but there is a much higher chance of rain. Make sure you pack a raincoat, as you'll likely encounter a few showers during your visit to the city.
Average temperature: 25-33°C
September: Humidity is high in this month with high rainfall and high temperatures. The wettest month of the year in Bangkok.
Average temperature: 25-33°C
October: Rainfall is still quite high but humidity starts to ease off a bit.
Average temperature: 25-33°C
Pros of visiting Bangkok during the rainy season
Less expensive
Landscape is lush and green
Cooler temperatures
Less other tourists around
Cons of visiting Bangkok in the rainy season
Mosquitoes!
Some business will close during the rainy season
A lot of rain
Cool season (November - February)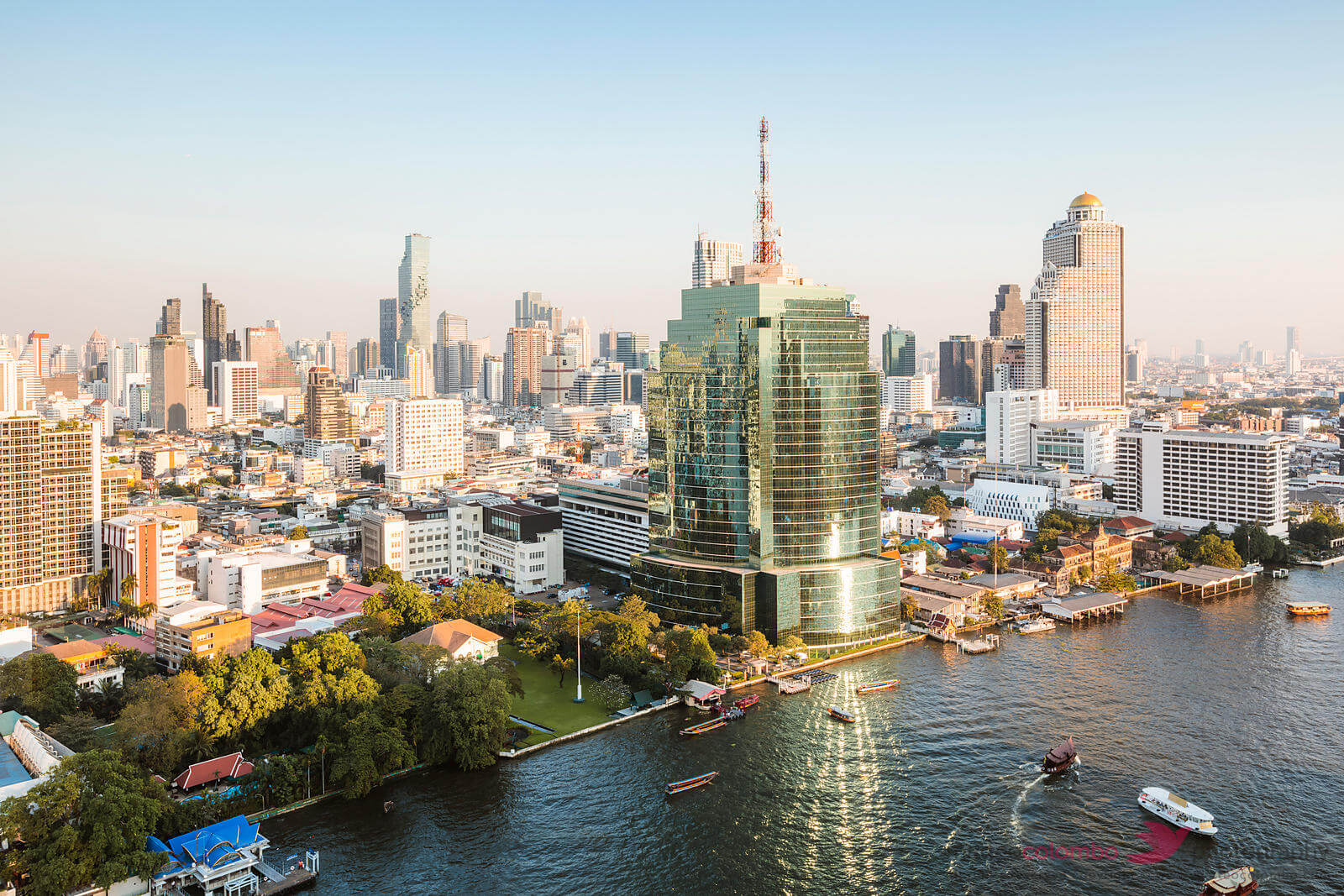 Bangkok enjoys the best weather conditions from December to February. You'll enjoy blue skies almost every day, along with cool temperatures averaging at 24°C.
You can explore the city on foot without resulting in sweat-soaked clothes. In the evenings, temperatures can even drop to below 20°C. Many people would consider this to be the best season to visit Bangkok, a perfect compromise between the hot and the rain!
Cool season months
November: November is an enjoyable month to visit Bangkok Thailand because the city is drying out from the rainy season and it's not stiflingly hot.
Average temperature: 24-32°C
December: December: It's winter in Bangkok, however, it's still a tropical paradise compared with the UK or Northern Europe at this time of year! Despite December being the coldest month of the year, it's still hot and humid with an average daily temperature of 26°C - a great time to visit Bangkok if you want to avoid the humid temperatures.
Average temperature: 22-32°C
January: January is the middle of the high season for Bangkok and the weather is hot and dry - though compared with usual temperatures in the city it's slightly cooler than usual.
Average temperature: 22-32°C
February: The weather in Bangkok in February is pleasantly hot which makes it a favorite winter sun destination for people in colder climates. Chances of rain are pretty low.
Average temperature: 24-33°C
Pros of visiting Bangkok during the cool season
Little chance of rain
Temperatures are pleasantly warm
All attractions are open
Cons of visiting Bangkok during the cool season
Conclusion
In our opinion, Bangkok is an amazing place to visit year round and it's actually great to experience all seasons if you can. All seasons have their pros and cons, but you'll still have a great time no matter what time or season you visit Bangkok!
If you have specific reasons for visiting Bangkok e.g. to see some of the most famous attractions, then maybe the cool season is the best season to visit. But Bangkok is a truly amazing place whenever you choose to go and we'd love to show you around! With a wide variety of sightseeing activities, tours and other places to see, any time of year is a great time to visit Bangkok.
1 year ago
Get your
Vacation on!
Vacation more, get inspired
Expertly curated emails packed full of vacation inspiration, travel tips and more!
Expertly curated Emails for travel inspiration, vacation tips and hacks and much more! Subscribe and upgrade your traveler skills with Forevervacation.