Currency in Bangkok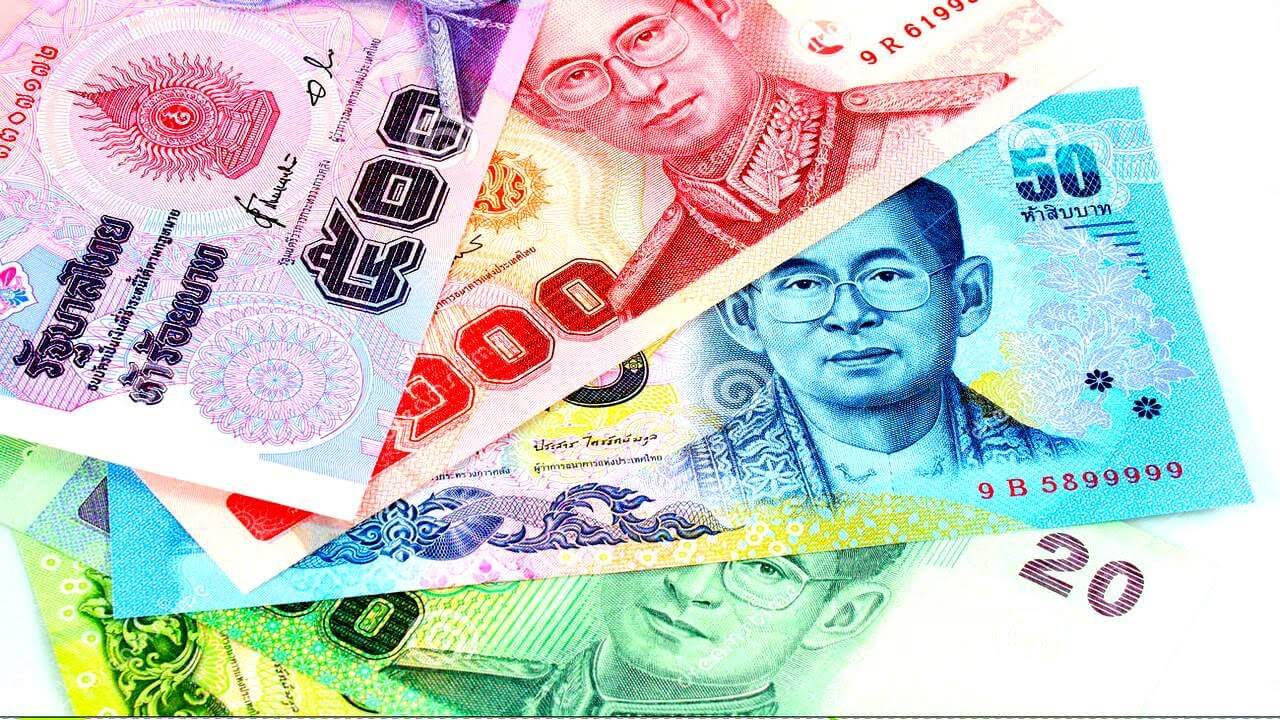 So you decided to book that much deserved getaway to Thailand, also known as 'The land of the Smiles'? We couldn't agree more! Not only is Southeast Asia a beautiful and cheap travel destination, it's also home to crystal clear beaches, colorful nightlife, a magnetic culture and rich historical ruins! No wonder many tourists find their way down here every year!
Your first stop should definitely be Bangkok, Thailand's notorious capital! Bangkok is a city of extremes, it is both busy, chaotic and overwhelming – as well as surprising, unique and bustling. Although the city might not be every traveler's cup of tea, one thing is for sure: Bangkok is a city you will never forget! Every year, more than 16 million people visit the city – and you'll soon be one of them!
Walking around the streets of Bangkok is an experience in itself, but the Thai city is home to countless sights that should not be missed during your trip to Bangkok. The best way to discover the city and its highlights is by taking a private Bangkok tour. This experience will take you deep into the culture and daily life of the local population, while strolling through the many small streets that the city is known for!
If you have never been to Bangkok (or Thailand), it can be overwhelming to figure out what you can all fit into your travel schedule or what the best spots are worth visiting, that's why you should definitely take one of the many tours in Bangkok! We at ForeverVacation offer some of the best tours in Thailand, including Bangkok, and our local guides will take you to the bést possible spots, all wrapped up in a VIP service so you won't have to worry about anything during your day trip!
So if it wasn't clear already, you are in for one hell of a ride when visiting this extremely interesting city! Not to mention, you probably won't even break the bank by doing so because Thailand is known to be a pretty affordable country to visit. However, even though it's cheap, picking the right travel money can make your trip even more affordable!
This blog post is a quick guide to what you can expect. You'll find an overview of Thailand's currency, money saving tips, exchange rates etc..so you'll get a head start for when you land on Thailand's sunny shores.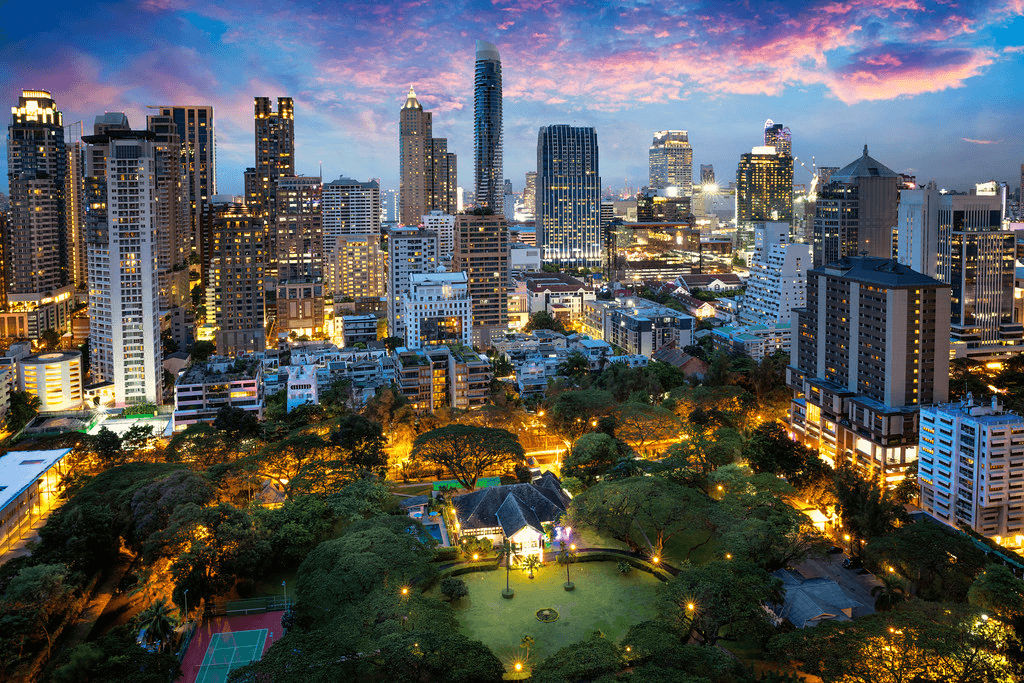 What currency is used in Bangkok?
Since 1902, the official currency of Thailand has been the Thai Baht, both coins and bills are being used, and it is the only currency accepted when making payments in the country (so no US dollars!).
One baht contains 100 satang (1 Baht is divided into 100 Satangs, i.e 1 Baht = 100 Satangs) and currently coins of 25 satang, 50 satang and coins of 1฿, 2฿, 5฿ and 10฿ are circulating. Old coins only feature Thai numerals, while newer coins feature both Thai and Arabic numerals.
You can pay with the following banknotes: 20฿ (green), 50฿ (blue), 100฿ (red), 500฿ (purple) en 1000฿ (beige). All currency — paper and coin — portray an image of His Majesty the King or a deceased relative.
So be sure to exchange your money at the airport or at a local Thai bank, as USD is not accepted anywhere!
Some history of the Thai Bath:
The Thai baht rate was based on the silver price until 1902. This price was a lot less stable than the gold price. The Thailand bath disappeared during World War II and the Japanese yen became the official currency. Later, the currency came back and was pegged to the U.S. dollar. Thailand was hit hard by the economic crisis of 1997 in Asia, but the economy has since recovered. The value of the Thailand bath is also now strongly dependent on the dollar exchange rate.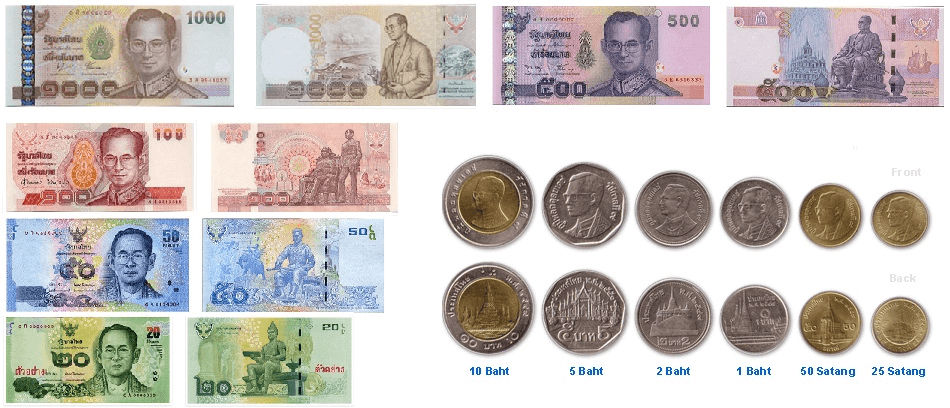 What is the exchange rate?
At the time of writing this 1 USD= 36,65 THB, but please remember exchange rates are constantly changing, so it's best to check it yourself again before traveling to Thailand.
Best tip we can give you: Never purchase Thai money in your own country as it will be unnecessarily expensive. You always get a much better rate at the local Thai banks and exchange booths!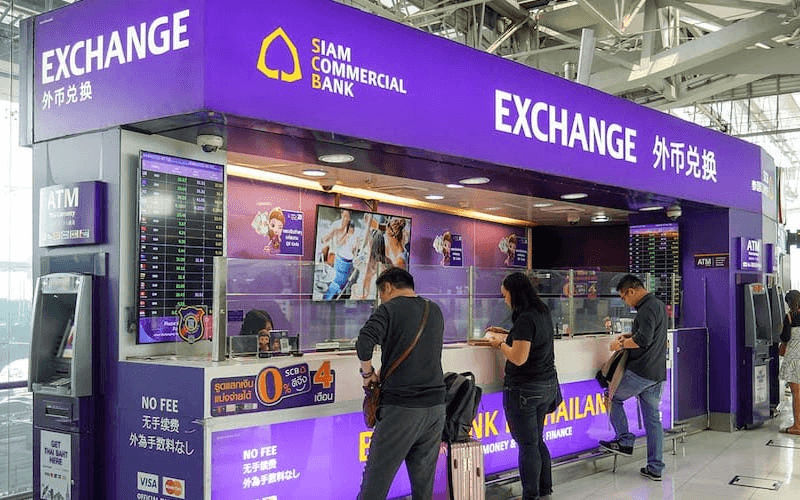 How much do things cost in Bangkok?
You can make your holiday as expensive or cheap as you like but as we mentioned before, Thailand is considered to be a cheap destination and you'll get great value for your money here. Going out for dinner in Bangkok? The options are unlimited: from street food to luxury rooftop bars, you want it? You got it! Your average daily expenses in Bangkok will come to around 2000 Thai Baht (54USD) per person per day (all in). However, if you choose to live like a local, you can even go lower, it's completely up to you!
To give you an idea, please find below an overview of some costs you frequently come across:
Food and drinks:
Street food + drinks: 120 THB (3,27 USD)
Dinner at good restaurant + drinks: 400 THB (11 USD)
Bottle of water : 12 THB (0,33 USD)
Westen breakfast + drinks: 250 THB (6,81 USD)
Beer in a Local Bar: 80-120 THB (2,45 USD)
Pack of cigarettes: 20 THB (0,55 USD)
So the food and drink expenses in Bangkok are roughly 850 Thai Baht (23 USD) p/p, per day.
Transportation:
Getting around in Bangkok isn't very expensive, you need to make smart choices and try to avoid getting ripped of when going near tourist traps. Always make sure to ask the price before getting in the transportation of your choice.
Taxi: Taxi's operate on a starting rate of 35 Thai Bath
Tuk Tuk: This is a tricky one because you might get scammed sometimes when not being aware of the prices. Seeing the main sights of the city will generally cost about 150 Thai Baht (4 USD) per person.
Boat: Going by boat is cheap and you can avoid the heavy street city traffic
Scooter taxi's: 15 Thai Bath (0,40 USD) per km.
Skytrain/metro: Between 15 and 58 Thai Bath (0,40 USD & 1,58 USD) per person, depending on how far you need to go
Grab: A cheaper version of Uber
Accommodation:
Again, this all depends on the level of luxury you want. But let's assume you would like to stay in a good area, in a standard clean, double room with a private bathroom, air conditioning and a Wi-Fi connection. You can find one of these for around 1000 Thai Bath (27 USD) per night.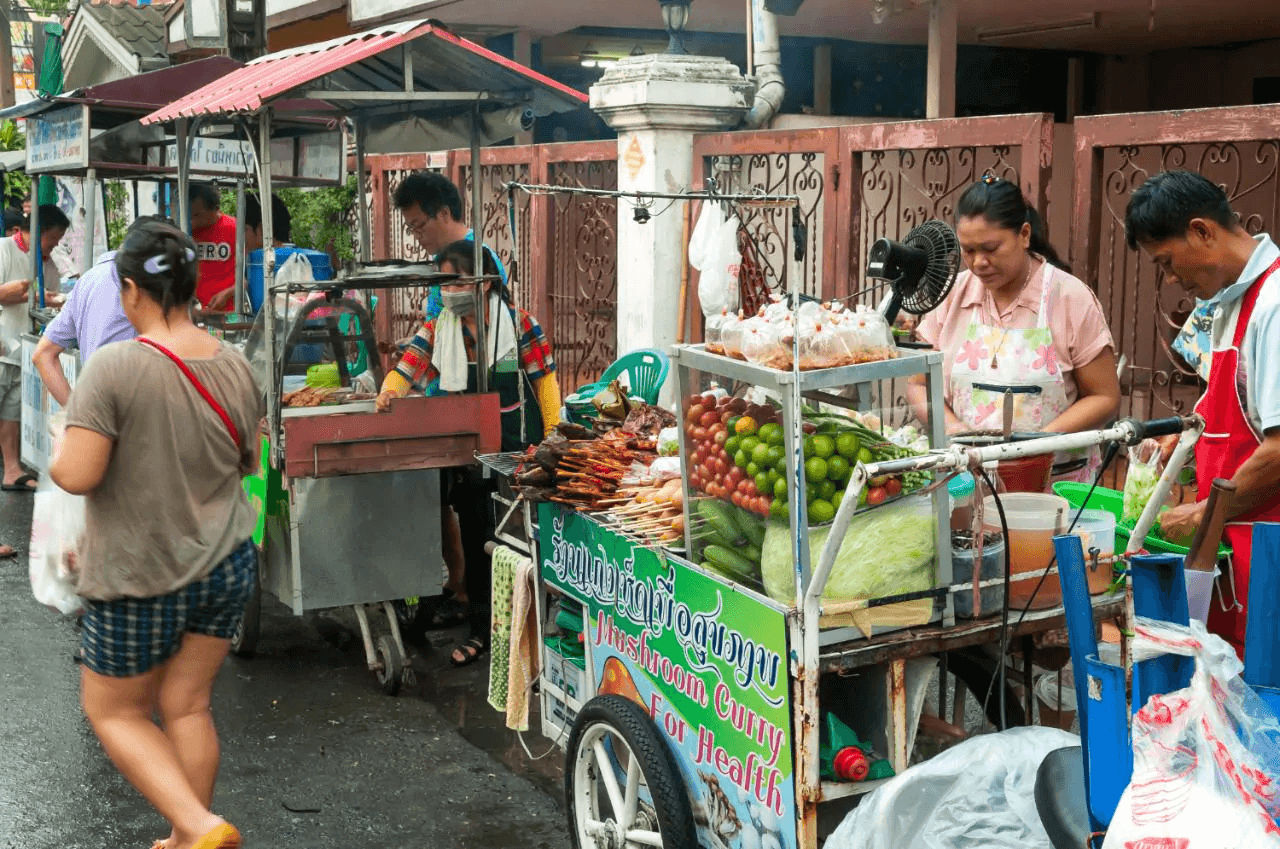 Our Best Selling Tour
All-Inclusive

Bangkok Iconic Tour: The Legendary Spots

The Bangkok Iconic Tour: The Legendary Spots allows you to visit all of the highlights Bangkok has to offer. Your private Bangkok tour guide will take you to all of the most popular sights around the city. The Grand Palace with the Emerald Buddha Temple and Wat Pho Temple, home of the most beautiful giant reclining Buddha, are an absolute must-see so why not visit them in style on an all-inclusive tour on your once in a lifetime Bangkok vacation? Experience views of the entire city from the rooftop of the Maha Nakorn Building where the 314-meter-high tower is the 2nd tallest building in Thailand.
Cash or card?
As Bangkok is a cosmopolitan city, you won't have any problem paying by card in the majority of the shops, restaurants and hotels. It's only when you go to smaller shops and more local places like street food stalls, a local market or getting tuktuks, it's useful to have cash in your pocket. It's also possible that in some shops they'll charge a small commission to pay by card, so it's always best to ask.
Major brands such as Visa and Mastercard are widely accepted in Bangkok and money can easily be withdrawn at ATM's (you can find them literally EVERYWHERE: at the airport, banks, department stores or supermarkets.)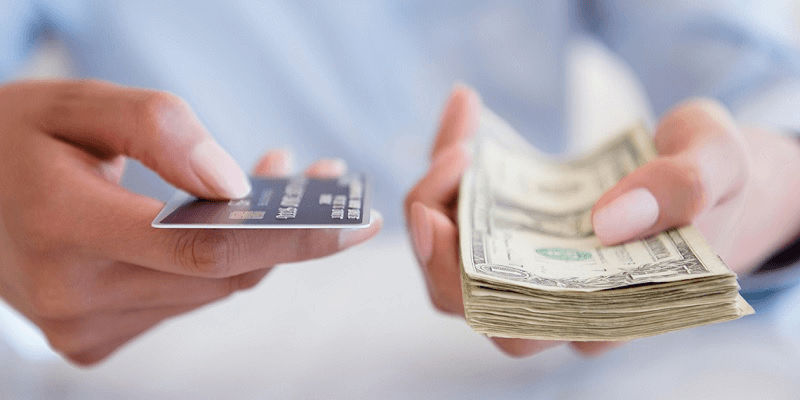 Tipping in Thailand
There is no really such thing as exact 'tipping rules' but let's just say it like this: tipping is not mandatory but always appreciated. Especially when you hire a tour guide, get a massage or go to a restaurant. However, high-end restaurants are in the habit of adding a 10% charge to the bill. In that case, tipping is not necessary. As far as we know, It's not common to tip street food vendors.
Suggested tips:
100 baht bill = 10-20 THB tip
177 baht bill= 23 THB tip
830 baht bill= 70-100 THB tip
1900 baht bill= 150 THB tip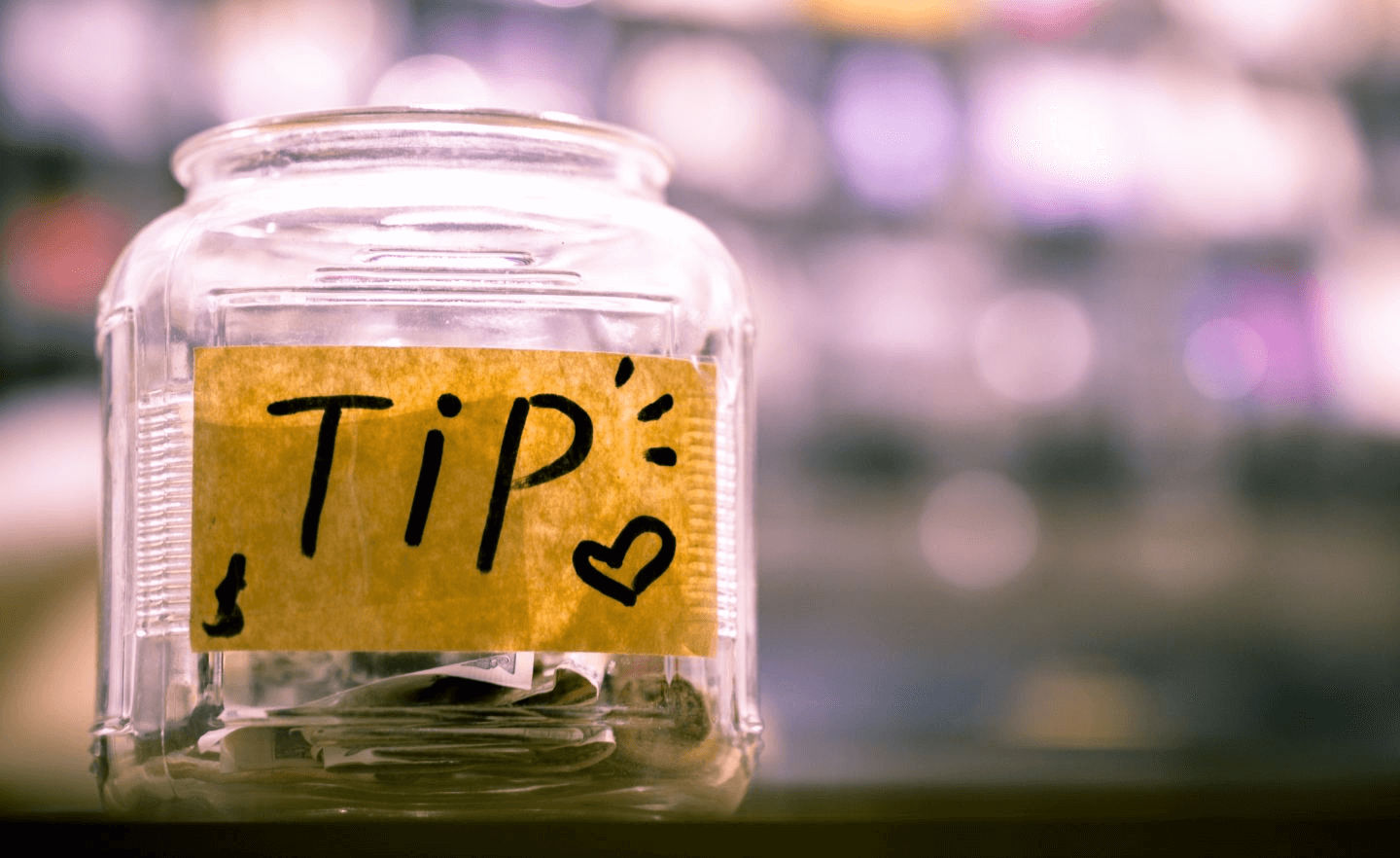 Our top money tips for Thailand
When withdrawing money, always choose the option "Without Conversion", and not "With Conversion". This way you'll get a better exchange rate.
Thai ATMs first give you the money, then your card.
ATMs almost always give out 1,000 baht notes. Many shops and taxi drivers won't have change if you pay with a 1,000 baht note, because it's a large amount for local people.
As the king is sacred in Thailand, it's considered offensive to 'sit' on the notes (with the king's face on it), while carrying money in your back pockets. So try to put your money in a handbag or a pocked in your jacket.
We hope that we have given you some insight on Bangkok/Thailand and the way money is handled there! With all these points in mind, an amazing trip to Thailand awaits you! We hope to see you soon on one of our guided tours in Bangkok! And remember, what happens in Bangkok, stays in Bangkok 😀
Get your VACATION on!
Expertly curated emails packed full of vacation inspiration, travel tips and more!