Getting around in Bangkok
Getting around in Bangkok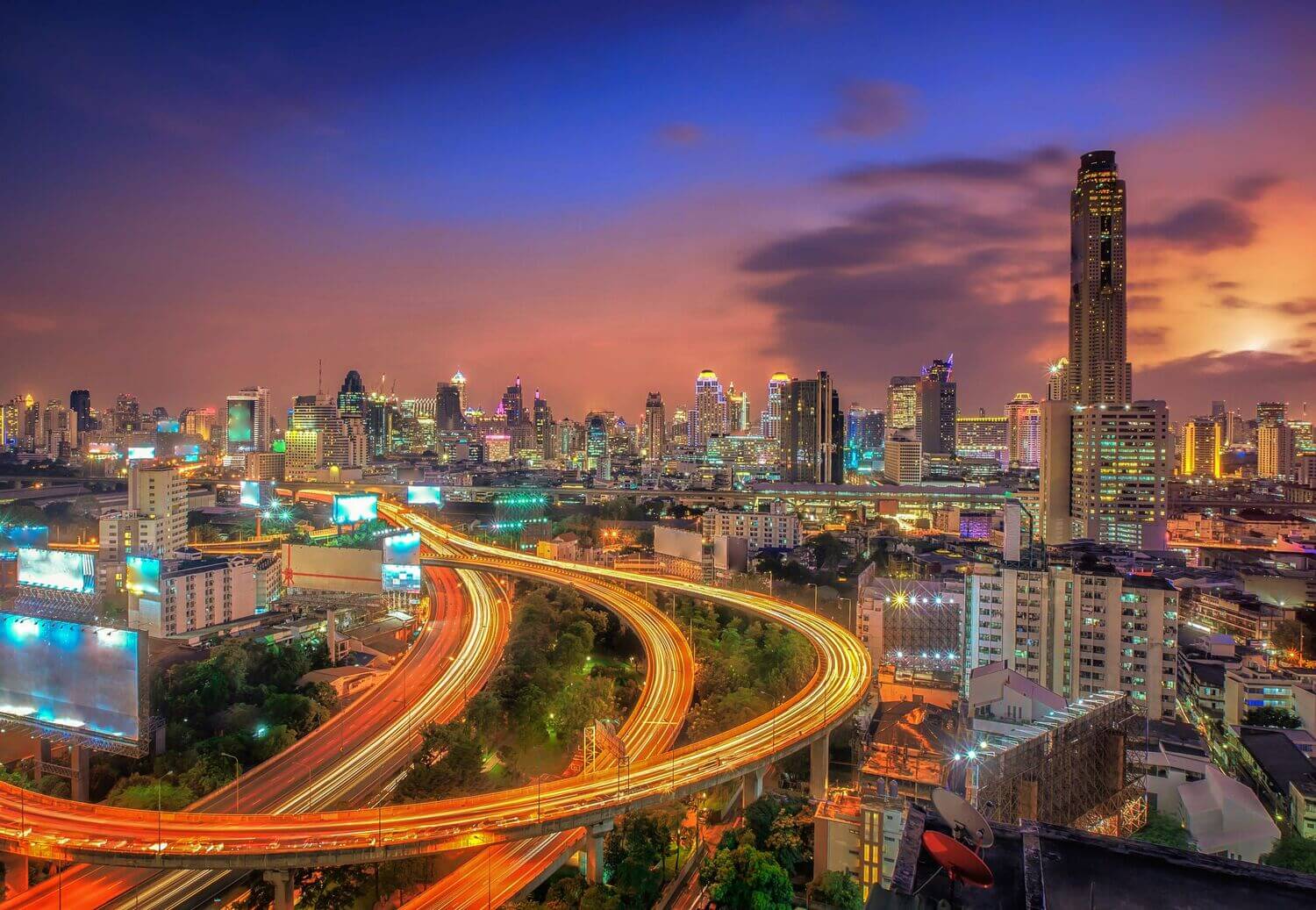 Bangkok is Thailand's biggest and busiest cities and the rumors are true...the traffic here can get pretty crazy and the city is basically just one big traffic jam during rush hour! Therefore it's always a good idea to figure out what your options are when it comes to transportation in this beautiful but busy city.
There is no classical city center and the sites you may want to visit are more or less spread all over the 50 districts. You are going to have to choose your means of transport by the distance you want to cover, the time you have available, your budget and the level of comfort you prefer!
Our Best Selling Tour
All-Inclusive

Bangkok By Night: The Ultimate Experience

I'm sure you've heard it said before but there is something quite special about Bangkok at night; let our Bangkok By Night: The Ultimate Experience show you the best bits! The lights, the hustle and bustle, the smell of street food, Bangkok's culture comes out to play at night. Our tour in Bangkok will take you from a local night market to the Michelin Star Kitchen. You'll explore the infamous Khaosan Road by tuk-tuk and admire the illuminated temples at night. This all-inclusive Bangkok tour has everything covered including a delicious, traditional Thai dinner.
Unlike our other popular travel destination Bali - where public transportation is pretty much non-existing-, public transportation in Bangkok is extremely well developed & organized and the options are pretty much endless! Not to blow our own horn, but we are sure that you will be an expert on how to get around in Bangkok after reading this awesome blog post! With our tips you will be able to take on Bangkok and know how to navigate the city like a pro!
Ok, now let's explore the options, shall we?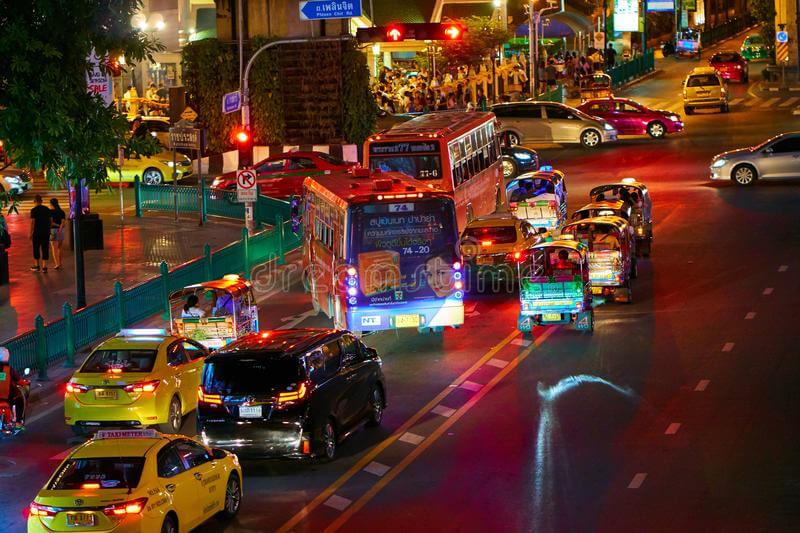 First things first: arriving at Bangkok airport
After a long flight, you probably just want to get to your hotel and leave the airport as soon as possible! Let us walk you through your options and get you on your way the quickest way possible! There are plenty of options but assuming you will be traveling with a rather large suitcase or backpack, we understand you want to pick the most comfortable option. In this case we suggest you:
Take a taxi
Book a private driver beforehand who will pick you up at the airport. We promise, you've never seen so many intrusive taxi drivers as at Suvarnabhumi Airport. If you don't want to get totally stressed out even before you enter Bangkok, make sure you arrange yourself a pick-up in advance. And let's be honest here, having someone waiting for you with your name on a plate is kind of cool too, right?
If you rather dive straight into the Bangkok way of traveling you can choose to take the Airport Rail Link (ARL): this is an aerial metro line that connects Suvarnabhumi Airport to Bangkok city center in around 30-40 minutes. It's cheap and fast but it will involve a few more steps before making it to your hotel.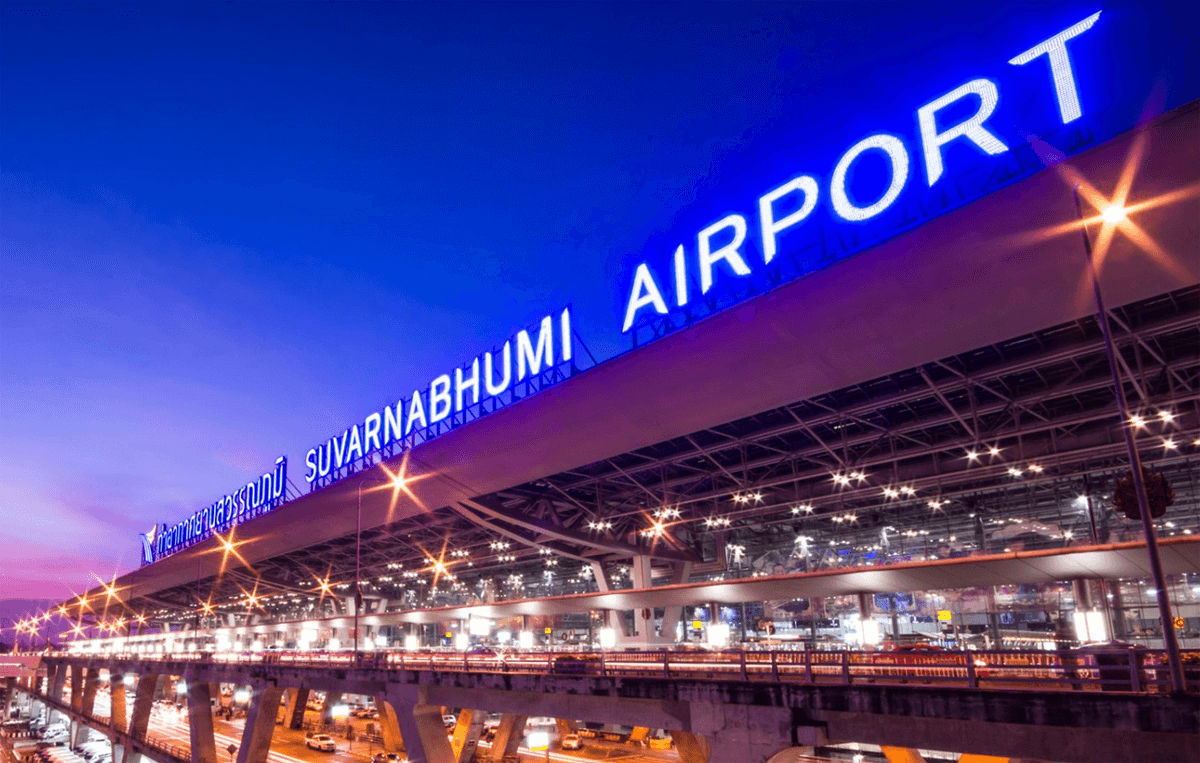 EXPLORING THE CITY
BTS Skytrain - The cheapest and fasted way
From a tourist's perspective, the best thing about the Bangkok Skytrain (an elevated open air suspended metro), is that you can visit different destinations much faster than taking a taxi. In fact, many visitors (and locals for that matter) find the Skytrain to be the most convenient way of traversing the city,
The skytrain has two lines, the Sukhumvit Line which goes from Wat Phra Si Mahathat to Kheha (Samut Prakan) and the Silom Line which goes from the National Stadium to Bang Wa. Rates for the Skytrain run between 15 and 42 baht (about $0.50 and $1.30) depending on your destination. For travelers who plan to take more than three BTS rides in a single day, it's worth buying a one-day pass (140 bath -roughly $4.20), which allows you to take unlimited rides on the day it's issued.
Tips for taking the train in Bangkok:
Passengers should avoid sitting next to or touching monks on public transport.
Do not occupy seats that are marked for monks, the disabled or the elderly, unless you fall under any of the categories.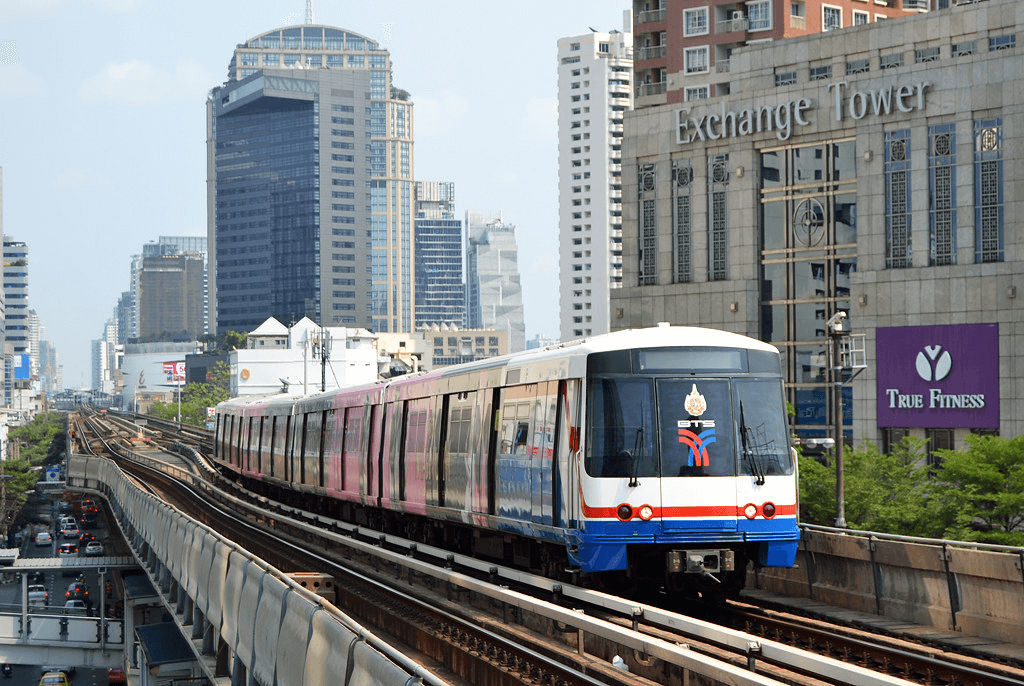 MRT (Metro)
Bangkok's Metropolitan Rail Transit (MRT) feels a bit slower than the Skytrain and it canvasses a smaller section of the city, but it's every bit as useful. It's most helpful for people staying in the Sukhumvit or Silom area to reach the train station at Hua Lamphong. Fares cost from 16B to 42B. and it runs frequently from 6am to midnight.
The MRT currently has two lines: the Blue Line (the busiest) and the Purple Line and currently there are 54 metro stations around Bangkok. Finding one of the stations shouldn't be difficult if you are staying in the area near one. All entrances to MRT stations are clearly marked and can be easily noticed. Signs are in English and you can purchase tickets at automated machines in the station or from ticket offices.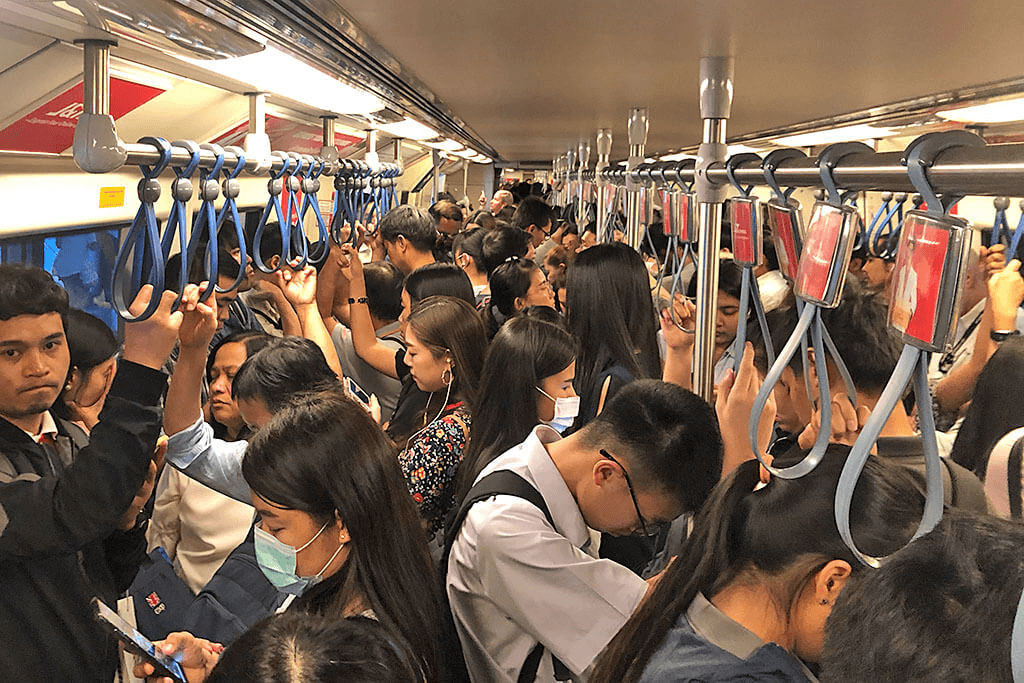 Tuk Tuk - a must do but beware
A ride in a Tuk Tuk is certainly not the cheapest, cleanest or fastest means of transport in Bangkok. Nevertheless, many tourists have a Tuk Tuk ride on their wish list and we completely understand why! A Tuk Tuk lets you experience Bangkok like no other means of transport does.There is just something about being inside this funny little three wheeler and experiencing the smells, the sounds of the city and the warm wind blowing through your hair during the drive.
However there are a few things we like to tell you about taking a Tuk Tuk ride...Tuk Tuk drivers are notorious for taking little 'detours' to commission-paying gem and silk shops. They might also offer to bring you to 'free' temples, where you'll meet 'helpful' locals who will allure you into even more rip-off opportunities. Feel free to ignore anyone offering too-good-to-be-true trips or opportunities.
Also always make sure to establish the price with the driver in advance to avoid surprises at the end, as they are known to be pretty expensive from time to time if you don't set the price before getting into one. Another tip: It's better to go at night when the pollution and the heath isn't as bad as during the daytime and only use them for short journeys
So if you are looking to have some fun in Bangkok, then you don't want to miss our private Bangkok Tuk Tuk tour. Explore the lively city of Bangkok at night by Tuk Tuk and experience some of the most famous spots!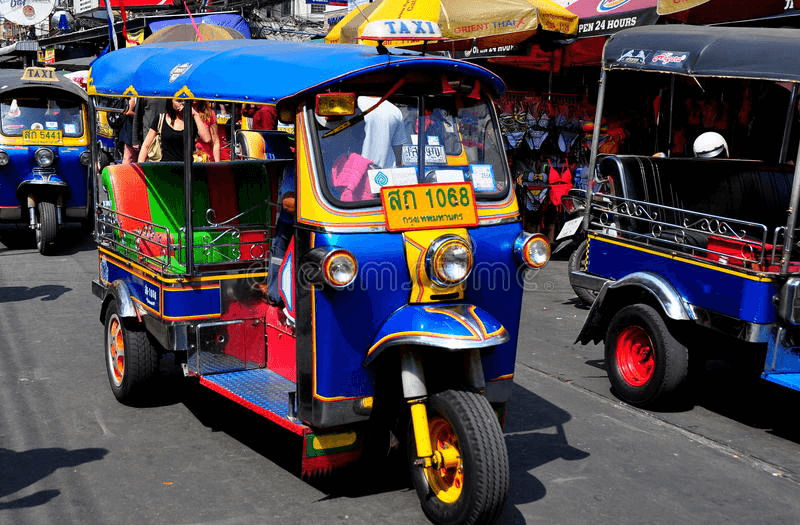 Our Top Trending Tours
All-Inclusive

Bangkok Instagram Tour: The Most Famous Spots

All-Inclusive

Bangkok Thrilling Tuk Tuk Tour

All-Inclusive

Bangkok Iconic Tour: The Legendary Spots
Grab
Like Uber, Grab is an app-based taxi company that will allow you to 'order' scooter and car rides just like Uber. It's a super easy and cheap option for those who are on a budget!
Journeys are reserved via your mobile phone (maybe get a local sim card for this one) and the journey has a fixed fare meaning that you'll avoid arguments with the drivers. The application allows payment by card or cash!
Taxi
Traveling around Bangkok by taxi is surprisingly cheap, comfortable, easy and the drivers are usually really friendly but keep in mind that traffic jams during rush hours (4:30 PM to 7:30 PM) are no joke! It becomes a common choice after midnight, when BTS, MRT and river ferries have ended their working day. You can easily catch a taxi anywhere in the city. They are also cheaper than Tuk Tuks!
Most taxis have meters, and you should avoid any that don't . Ask your hotel to help you call for a cab, as they often have relationships with trustworthy companies.
.Tips:
Keep in mind that many Bangkok taxi drivers are seasonal laborers fresh from the countryside and may not know their way around.
Very few Bangkok taxi drivers speak much English, so an address written in Thai can help immensely. Many hotels have business cards with the address printed in Thai.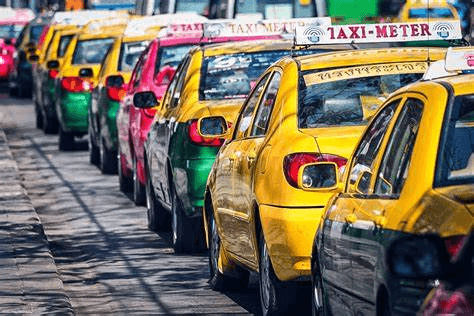 Guided tour - The most comfortable way
Never underestimate the benefits of organized tours in Bangkok! When it comes to taking an all included private Bangkok tour, this is something that we really encourage! It's like having a private driver but it comes with many advantages: the guides will act as your personal guide (and photographer!) and they will take you to everywhere you'd like to go.
The best thing is they will wait for you so when making stops, you'll have plenty of time to visit all the attractions that you like without having to worry about anything, because everything is already included (car, English speaking guide, food, water, entrances fees etc)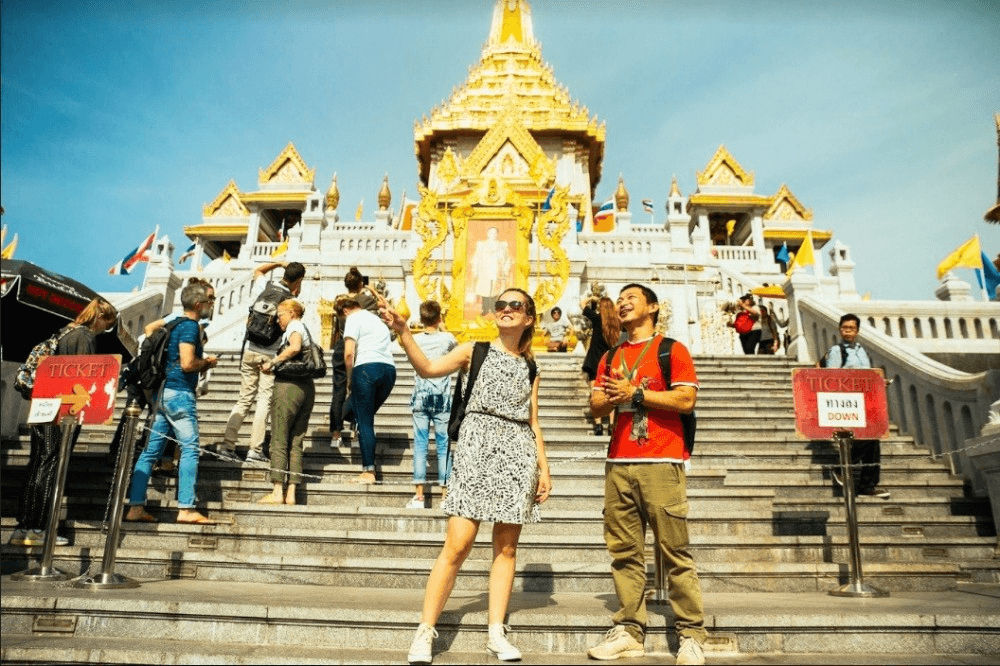 Riverboat - The best views
For a scenic view of the city, hop on a public riverboat along the Chao Phraya (If you didn't know, Bangkok is split in two by the Chao Phraya River). Water transport still plays an important role in the transportation system of Bangkok. The most fun way of exploring the waterways of the Thai capital is jumping on one of Bangkok river boats also known as Chao Phraya Express Boat.
Bangkok river boats together with cross river ferries connect both banks of the river and both will allow you to to visit some of Bangkok's top attractions along the way, like the Grand Palace and Wat Arun,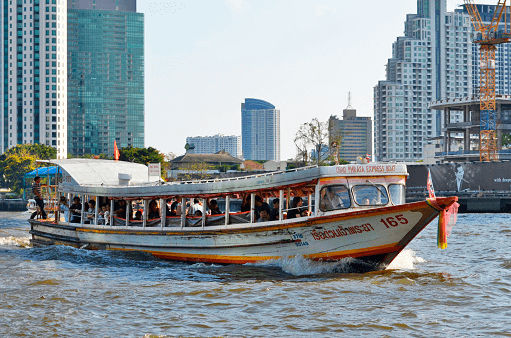 Bus
Bangkok Mass Transit Authority runs an extensive network of buses throughout the city and they are the local's favorite way of getting around as it is cheaper than the skytrain for example. One thing you should know however is that buses in Bangkok are very unreliable and pretty much have no timetable. If you haven't spent a long time in the city you probably won't understand which bus goes where and when. As a visitor it is safer to stick to the transportation methods mentioned above. If you do decide to risk it, these tips might come in handy:
Vehicles with air-conditioning cost more to ride than those without. Most of air-con buses in Bangkok are yellow or orange and the fares depend on the length of your journey. The air-con bus fare range is somewhere between 13 – 25 Baht for a single trip. Most of the fan buses in Bangkok are red and blue. Again the ticket fare depends on the length of the bus route.The most common regular fare on these buses is 9 Baht.
Most of the buses run from 5 a.m. to 11 PM.
Bus stop signs are blue.
Buses don't stop unless you flag them down.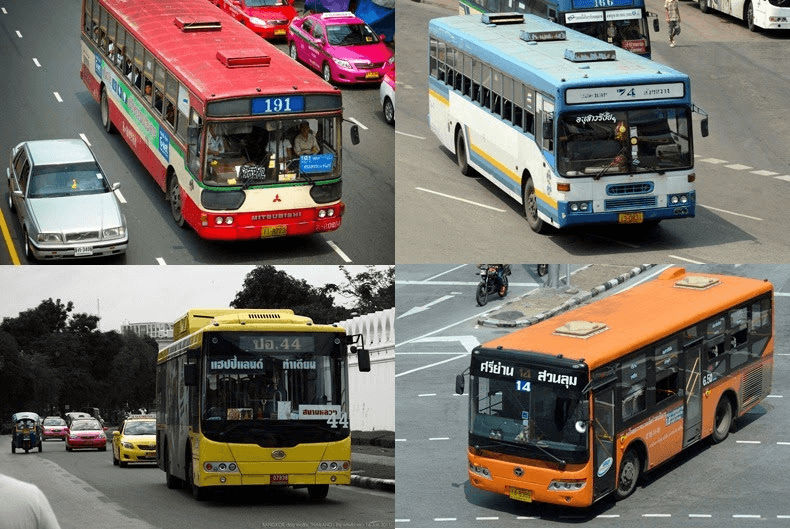 Rent a car - Up to you
Renting a car just to drive around Bangkok is not a good idea. Parking is impossible, traffic is frustrating and road rules can be mysterious. But if you still want to give it a go, all the big car-hire companies have offices in Bangkok and at Suvarnabhumi airport.

Conclusion:
When you finally decide to book that holiday and hit the city of Bangkok, you will see it has so much to offer along the lines of history, culture, traditions and architectural beauty. Your time in the city will be exciting and full of adventure as you visit temples, food vendors and shopping markets.
After reading this blogpost you will feel 100% confident and ready to explore the city of Bangkok. So pack your bags and get excited! Your Bangkok adventure awaits you!
And if you decide to explore more of Thailand outside of Bangkok, make sure to check out our amazing private tours in Thailand! So whether it is taking a private Bangkok tour or island hopping and seeing all of the beautiful beaches, you'll be guaranteed to have the most memorable time with us!
Get your VACATION on!
Expertly curated emails packed full of vacation inspiration, travel tips and more!