 Wat Sam Phran
Dragon Temple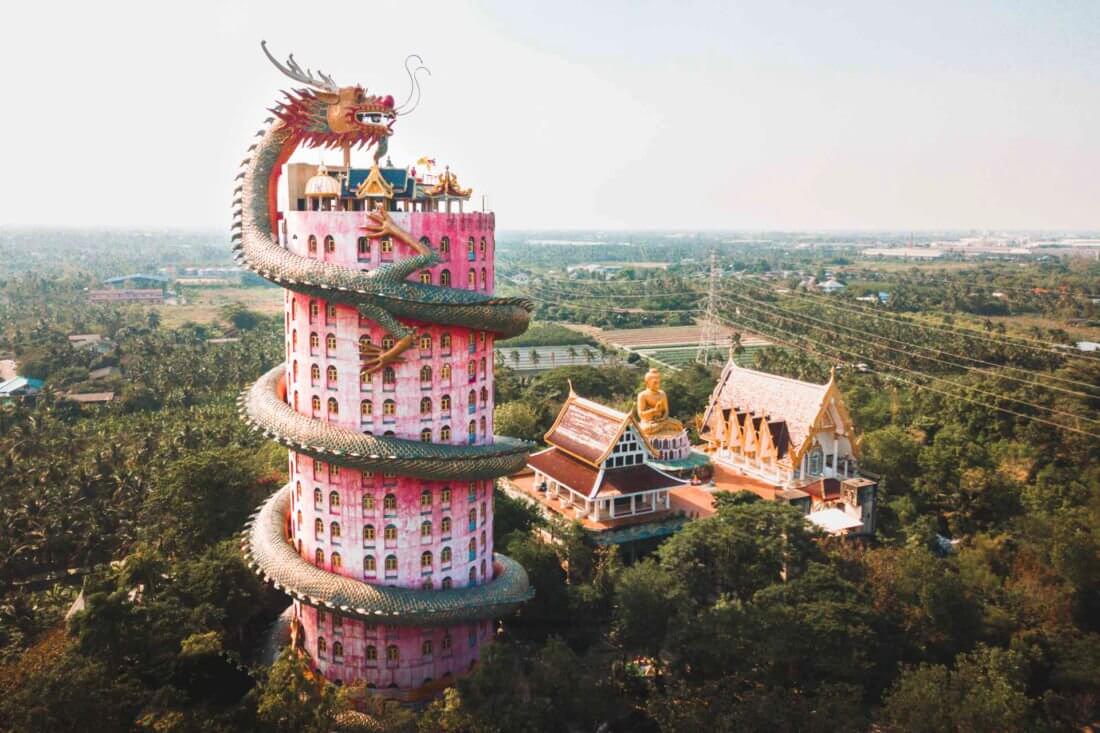 Details
Address:
92 Sam Phran, Sam Phran District, Nakhon Pathom 73110, Thailand
Price:
no entrance fee, donation is appreciated
Are you looking to discover an architectural wonder with a mysterious back-story that is far from the tourist track in Bangkok? Then make sure to visit the amazing Buddhist 'Dragon temple' Wat Sam Phran, which is located just outside the city. A surprisingly relaxing place, surrounded by nice gardens and the best part is...there are barely any tourists.
Visit Wat Sam Phran on Our:
All-Inclusive

Maeklong Railway & Floating Market Tour

Our Maeklong Railway & Floating Market Tour is one of the most authentic ways to see Bangkok. This 8-hour Bangkok tour is jam-packed with two of Bangkok's most famous markets as well as breathtaking temples, delicious food and more! Starting with a floating market, you'll struggle to know how the day can get better but this all-inclusive Bangkok tour just keeps on giving. Your private Bangkok tour guide will show you some of the favorite, cultural spots in the city including the Wat Bang Kung temple which is hidden beneath the trees. This private tour in Bangkok is one not to be missed!
Before entering the temple, which is located at the dragon's head on top of the building, you can walk around in the fairytale like garden that will make you think of Alice In Wonderland. The garden path, which is completely decorated with hand and footprints, leads you past all kinds of craziness and statues of animals: a huge white rabbit, jumping dolphins, an immense elephant, tigers, a wooden ship etc. The highlight is walking through the turtle shaped cave in which a small pond has been constructed! For families with kids, this is the perfect little getaway!
If you want to reach the temple on top of the building, your best shot at getting there is during the weekend. On weekdays you are not always guaranteed to go upstairs as the monks who live and work there are busy doing other things and probably won't let you in. However, if you are lucky enough to get in, be prepared to walk up 17 stories to top!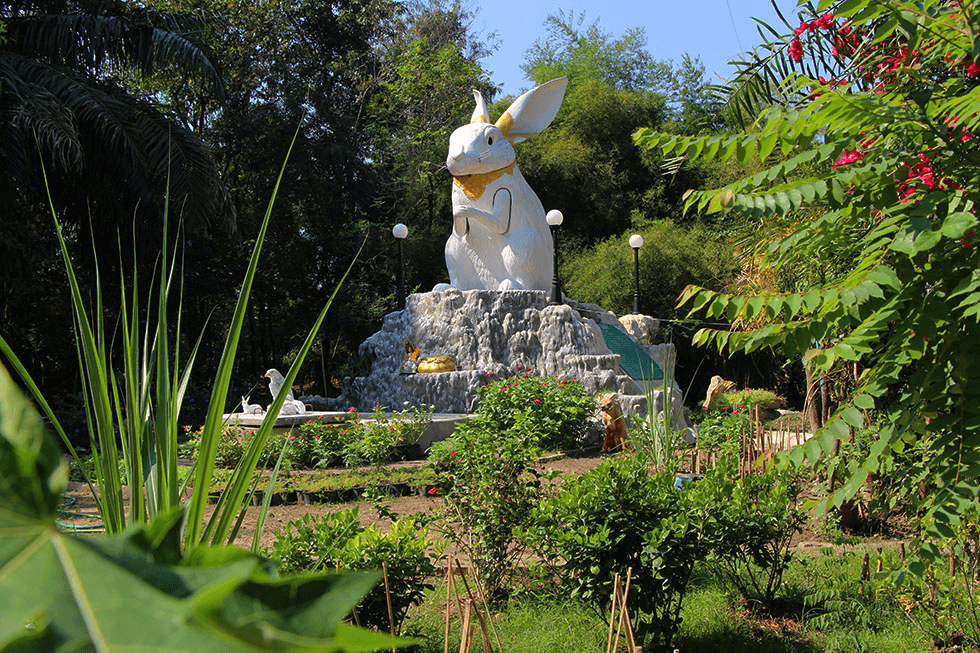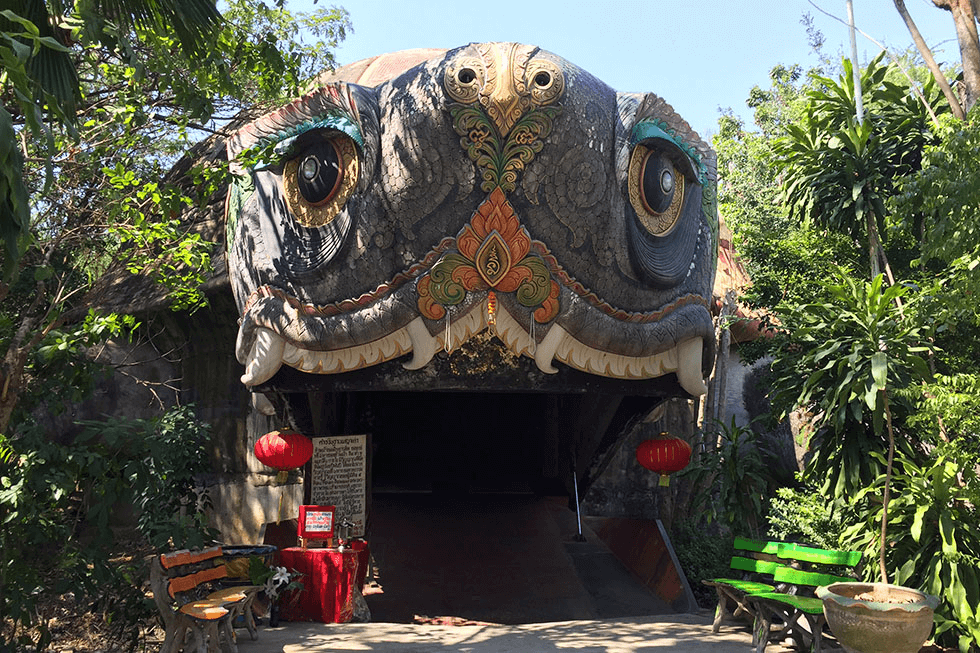 Best time to visit Wat Sam Phran:
Wat Samphran is open from 6 am to 6 pm every day of the week for tourists and visitors. There are very few tourists in the area, so no matter when you go, you will find the place pretty much to yourself !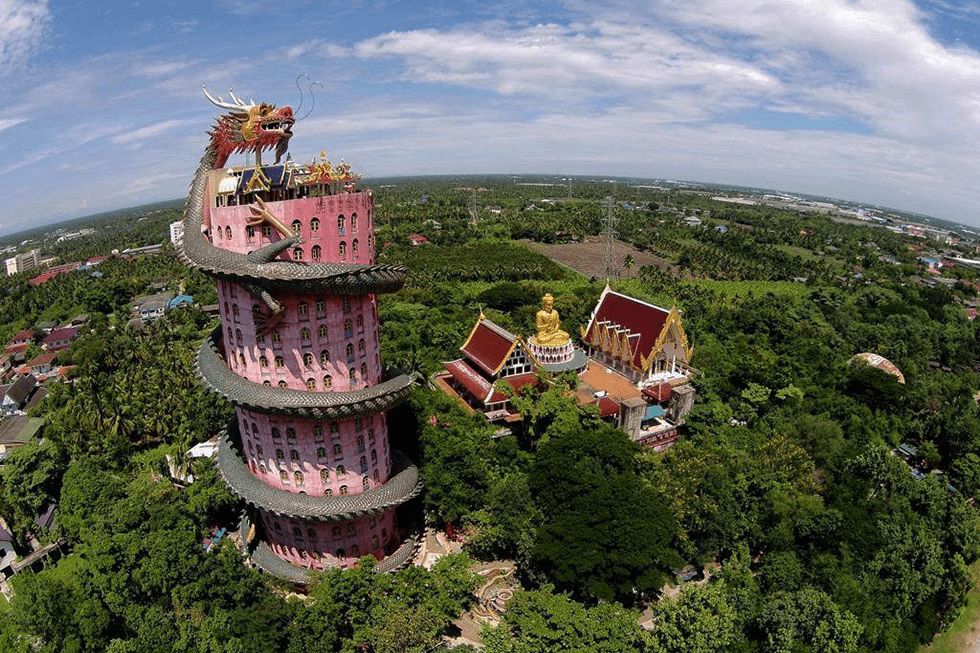 How to get to Wat Sam Phran:
As the temple is located about a 50 minute drive from Bangkok, it's best to take a taxi or to book a guide/driver who will take you there.
Our Top Trending Bangkok Tours
How to get the best picture at Wat Sam Phran:
From beginning to end, literally everywhere you look there is a photo opportunity! As we said earlier, the garden is full of props and therefor a dream for every (aspiring) photographer!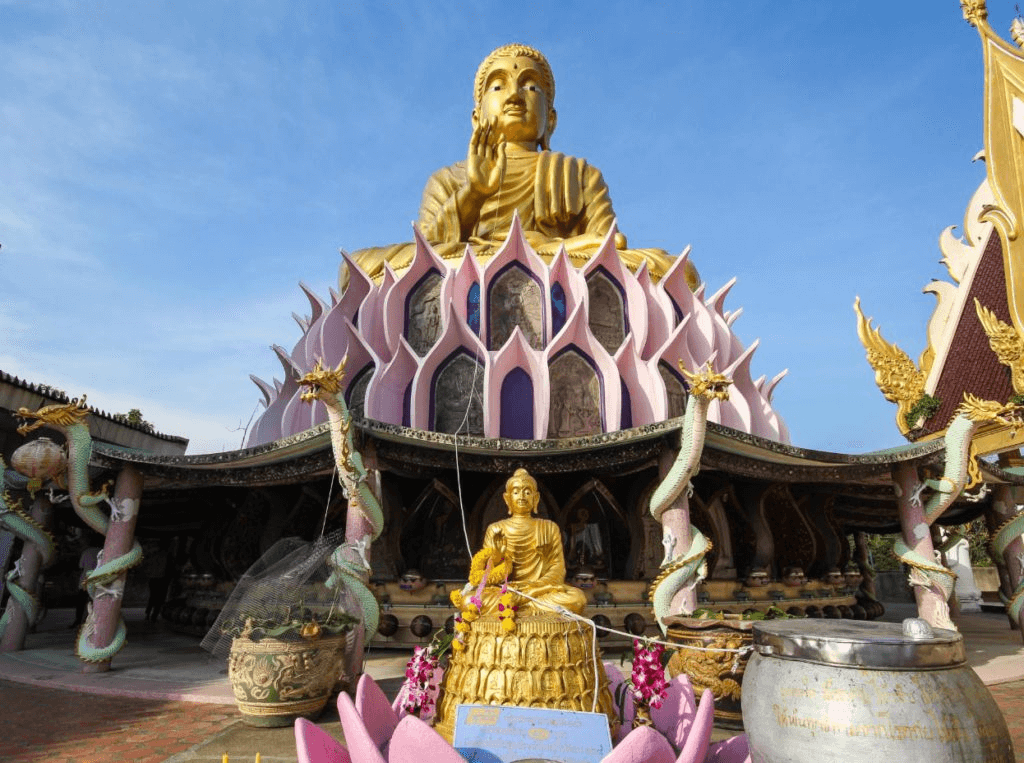 Tips:
If you decide to visit Wat Samphran, keep in mind that if you do not go on the weekend you may not be able to go upstairs, as the access door to the upper floors will be closed. Sometimes on weekends the monks will unlock it for you, but this is not always guaranteed.
It's strictly prohibited to enter the temple with open shoulders or a low neckline. You must wear long trousers or long skirts and at the entrance you need to take off your shoes.
To get a good picture of the full temple, you probably need a drone.
Take some small money with you to donate to the temple, as there is no entrance fee required.
Details
Address:
92 Sam Phran, Sam Phran District, Nakhon Pathom 73110, Thailand
Price:
no entrance fee, donation is appreciated