 Ventura Park
Popular Park In Cancun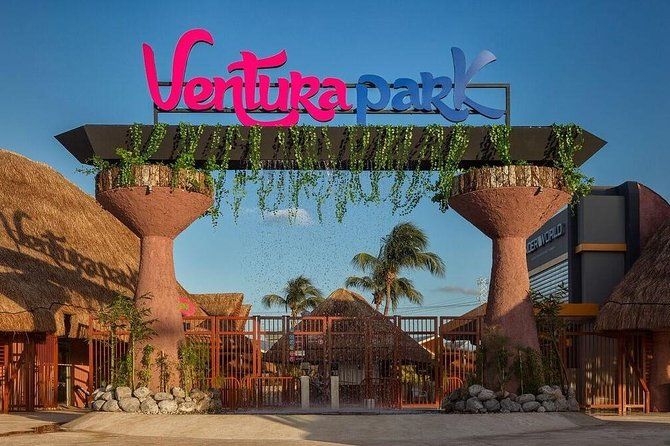 Ventura Park
Popular Park In Cancun
Attractions Details
| | |
| --- | --- |
| 📌 Address | Blvd. Kukulcan Km. 25, Zona Hotelera, 77500 Cancún, Q.R., Mexico |
| ⏰ Opening Hours | 10:00 AM - 5:00 PM |
| 💸 Entrance Fee | MXN 859 |
Find it on google maps
What is Ventura Park?
Ventura Park is an amusement park located in Cancún, Mexico. Situated near the stunning Caribbean Sea, the park offers a thrilling and unforgettable experience for visitors of all ages. With its wide range of attractions and activities, Ventura Park is the perfect destination for adventure-seekers and fun-loving families.
History of Ventura Park
The history of Ventura Park dates back to the early 2000s when it was originally known as "Wet'n Wild." Over the years, the park has undergone several renovations and expansions to become the exciting and vibrant amusement park that it is today. With its prime location in Cancún, Ventura Park has become a popular tourist attraction and a beloved destination for locals.


Why is Ventura Park Important?
Ventura Park holds great significance for Cancún and its tourism industry. As one of the city's most popular attractions, the park attracts thousands of visitors each year, contributing to the local economy and providing employment opportunities for the community. Moreover, Ventura Park offers entertainment and joy to people of all backgrounds, creating memorable experiences and fostering a sense of happiness and adventure.
Things to Do & See at Ventura Park
The Water Park: Ventura Park features an exhilarating water park where visitors can splash and slide down thrilling water slides, relax in refreshing pools, and enjoy a lazy river ride.


The AaahVentura: This high-speed zip line offers a breathtaking aerial view of the park as visitors soar through the air.


Waves: Experience the excitement of surfing on the Flowrider, a simulated wave machine that allows visitors to practice their surfing skills in a safe and controlled environment.


Fun World: This indoor amusement park offers a wide range of attractions, including arcade games, bumper cars, a roller coaster, and much more.


Underworld: Venture into the darkness of the labyrinth-like Underworld and test your bravery as you navigate through challenging obstacles.
In addition to these main attractions, Ventura Park also boasts a variety of dining options, including restaurants and snack bars, where visitors can refuel and indulge in delicious meals. The park's vibrant atmosphere, friendly staff, and captivating entertainment make it a must-visit destination for anyone seeking a thrilling and unforgettable experience in Cancún.
Attractions Details
| | |
| --- | --- |
| 📌 Address | Blvd. Kukulcan Km. 25, Zona Hotelera, 77500 Cancún, Q.R., Mexico |
| ⏰ Opening Hours | 10:00 AM - 5:00 PM |
| 💸 Entrance Fee | MXN 859 |
Find it on google maps
Frequently asked questions
What are the opening hours of Ventura Park?

Ventura Park is open from 10:00 AM to 5:30 PM.
What are the ticket prices for Ventura Park?

Ticket prices for Ventura Park vary depending on the package chosen. Prices start from $79 per person.
What attractions are available at Ventura Park?

Ventura Park offers a variety of attractions including water slides, zip lines, go-karts, a wave pool, and a roller coaster.
Are there any age or height restrictions for the attractions at Ventura Park?

Yes, some attractions at Ventura Park have age and height restrictions for safety reasons. Please check the park's website for specific details.
Is there food available at Ventura Park?

Yes, Ventura Park has several dining options available, including restaurants, snack bars, and food stalls serving a variety of cuisines.