 Cu Chi Tunnels
Cu Chi Tunnels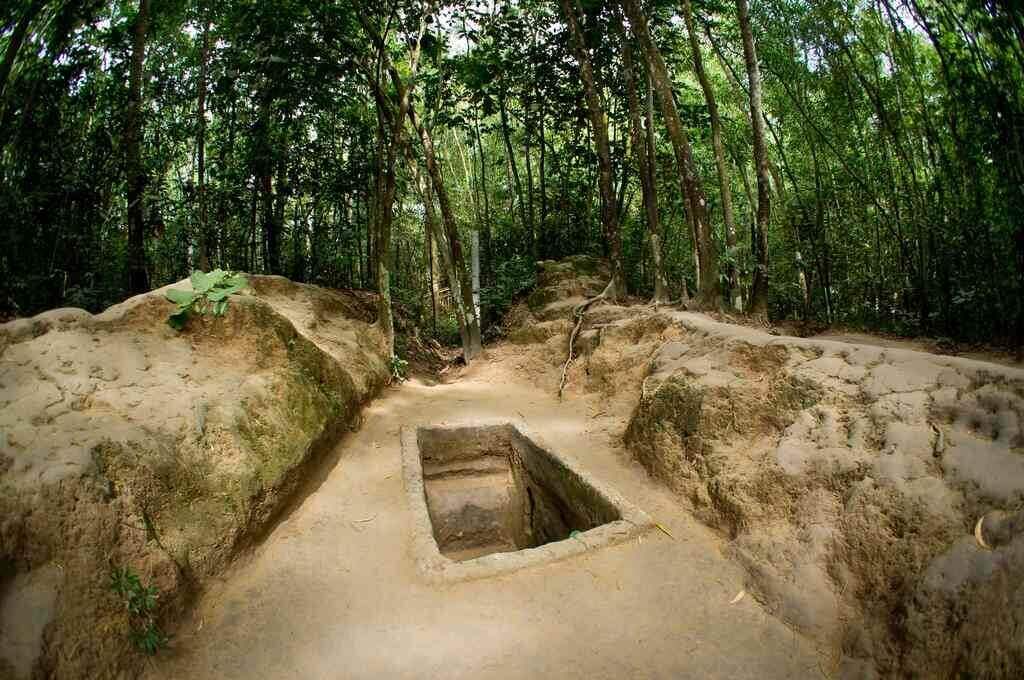 Details
Address:
?. T?nh L? 15, Phú Hi?p, C? Chi, Thành ph? H? Chí Minh 733814, Vietnam
Price:
Approx. 100.000 VND
If you want to learn more about Vietnamese history, visiting the Cu Chi Tunnels is a great activity, and also one of the most rewarding things to do in Ho Chi Minh. It is 100% worth your short trip from the city center because nowhere else is the tenacious spirit of the Vietnamese more evident than in the underground tunnels of Cu Chi.
The Cu Chi tunnel network is a 250 km long labyrinth of underground tunnels, stretching all the way to the Cambodian border. When visiting the tunnels, you will be given a unique insight into the dark times of the Vietnam war and you'll get to witness its unique architecture and structure as well as understand why it plays an important role in Vietnam's history. The tunnels were used as hiding spots, hospitals, living quarters and supply routes by Viet Cong soldiers during the Vietnam War.
The narrow passages give a harrowing insight into what it must have been like for the soldiers and families that had to live through such a horrific time in Vietnam's history. The entrances to these tunnels were covered with a secret wooden door and camouflage leaves above. Its size is so small that only the Vietnamese could fit in.
There are two viewing destinations for the Cu Chi Tunnels and each offers its own viewing experience:
Ben Duoc: At the Ben Duoc location, visitors can enter restored sections of the original tunnels. While lights and safety equipment have been installed, you can expect to feel what it was really like to live in the Cu Chi tunnels, as you crawl through them.While it is very safe, many visitors find that experiencing history first-hand like this can be both exciting and unsettling. Above-ground visitors can observe booby traps that were used to protect the tunnels, shoot guns at a shooting range, or enjoy traditional Vietnamese food that would have been eaten by the soldiers who lived in and used the tunnels.
Ben Dinh: the tunnels are replicas and models of the originals. Some of the tunnels here have been made larger and more accommodating for visitors. This location is especially good for families or travelers who have mobility issues. Other attractions at Ben Dinh include a shooting range and replicas of booby traps.
A quick rundown of what's on offer while visiting Cu Chi Tunnels and activities available:
Be enclosed in an entrance to Cu Chi Tunnels and visit a small section that is preserved
Take in the sight of a destroyed US Army Tank
Learn about how the Viet Cong army survived and defended this network of tunnels
Shoot an M1 Garand Rifle or M60 Machine Gun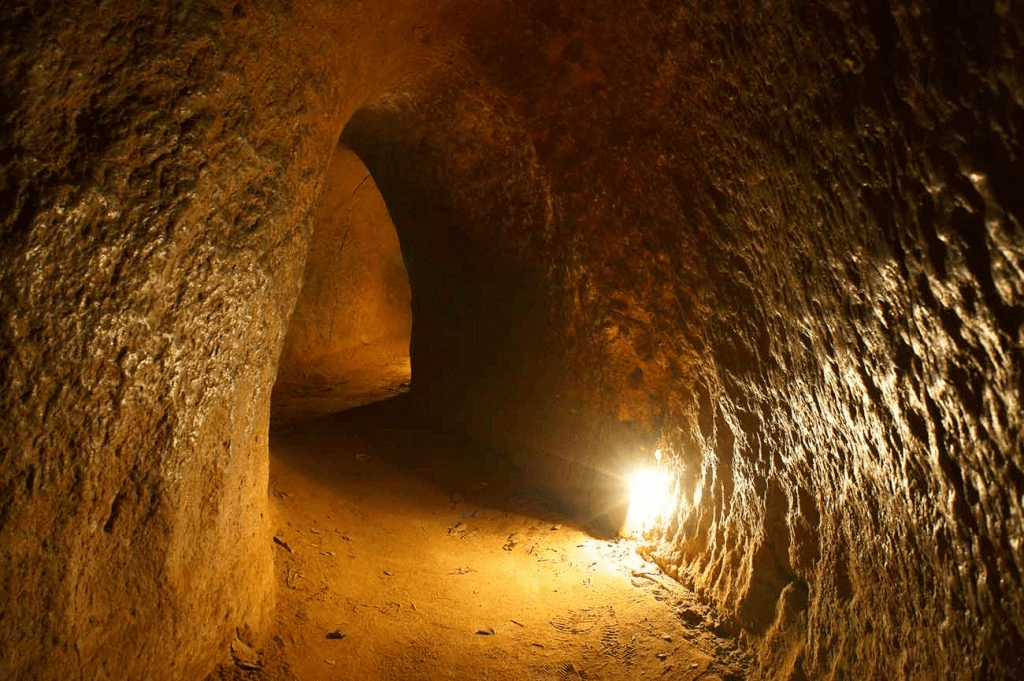 Best time to visit
If you are going there with a tour, you can choose from a morning one that usually starts at 8 AM or an afternoon tour from 12:30 PM. Make sure you reserve around 2 hours to explore the site and 4 to 5 hours in total for the trip with transportation included. More details and recommendations below!
If you want to visit by yourself, early morning would be the best idea in order to beat the crowds. As close to the opening time as possible!
As for the season, it's generally considered that the Cu Chi Tunnels are best visited during the dry season, from October to April. You can visit during the rainy season (May to November) as well and there will be no flooding inside the tunnels, but it will be a less comfortable experience as the grounds are mainly outdoors. Extra humidity and muddy, so be prepared!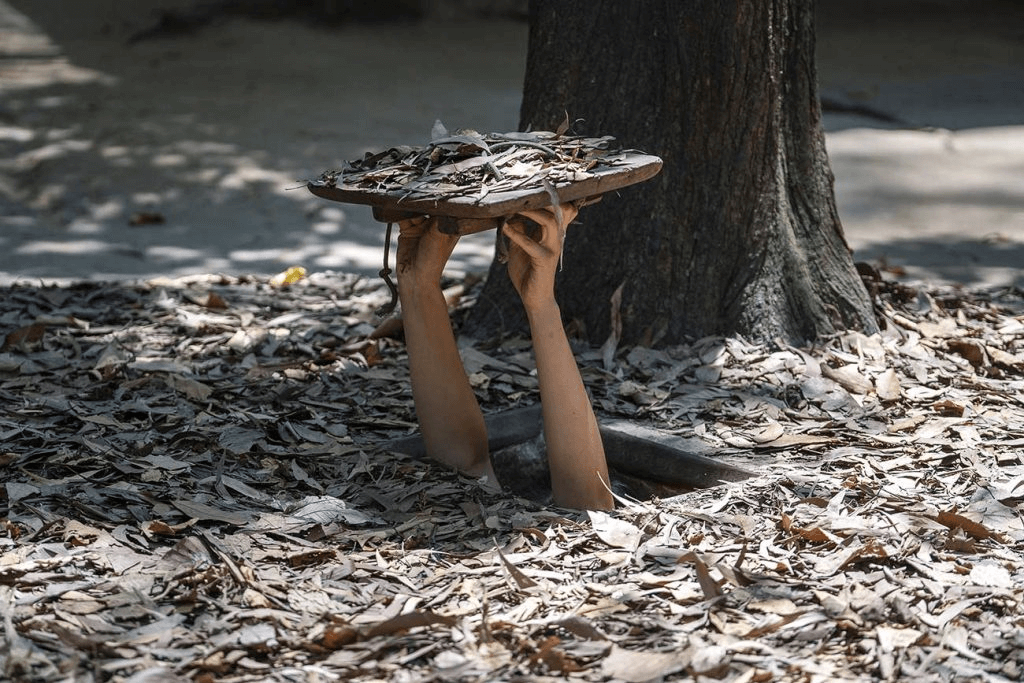 How to get there
The Cu Chi tunnels are located about 70 kilometers from the center of Ho Chi Minh City, so the best way to see them is on an organized day trip. If you fancy combining your visit with an awesome Me Kong Delta experience and an extra special temple, check out our all-inclusive Cu Chi Tunnels & Mekong Delta Tour.
TIPS
Claustrophobic? High blood pressure? You can still see the grounds and learn about the tunnels function without having to go into the underground tunnels themselves.
Please note that there are sometimes bats inside the tunnels at Ben Duoc;
Though there is no dress code for the tunnels, wear clothes that you won't mind getting dirty.
Make sure you wear a comfortable pair of shoes, as there is a lot of walking.
Remember to bring; water bottle, sun-block, bug spray, and insect repellent.
There's a shooting range nearby, so if you're afraid you'll be bothered by the loud firing noises, make sure you bring some earplugs with you.
Details
Address:
?. T?nh L? 15, Phú Hi?p, C? Chi, Thành ph? H? Chí Minh 733814, Vietnam
Price:
Approx. 100.000 VND