 Districts in Ho Chi Minh City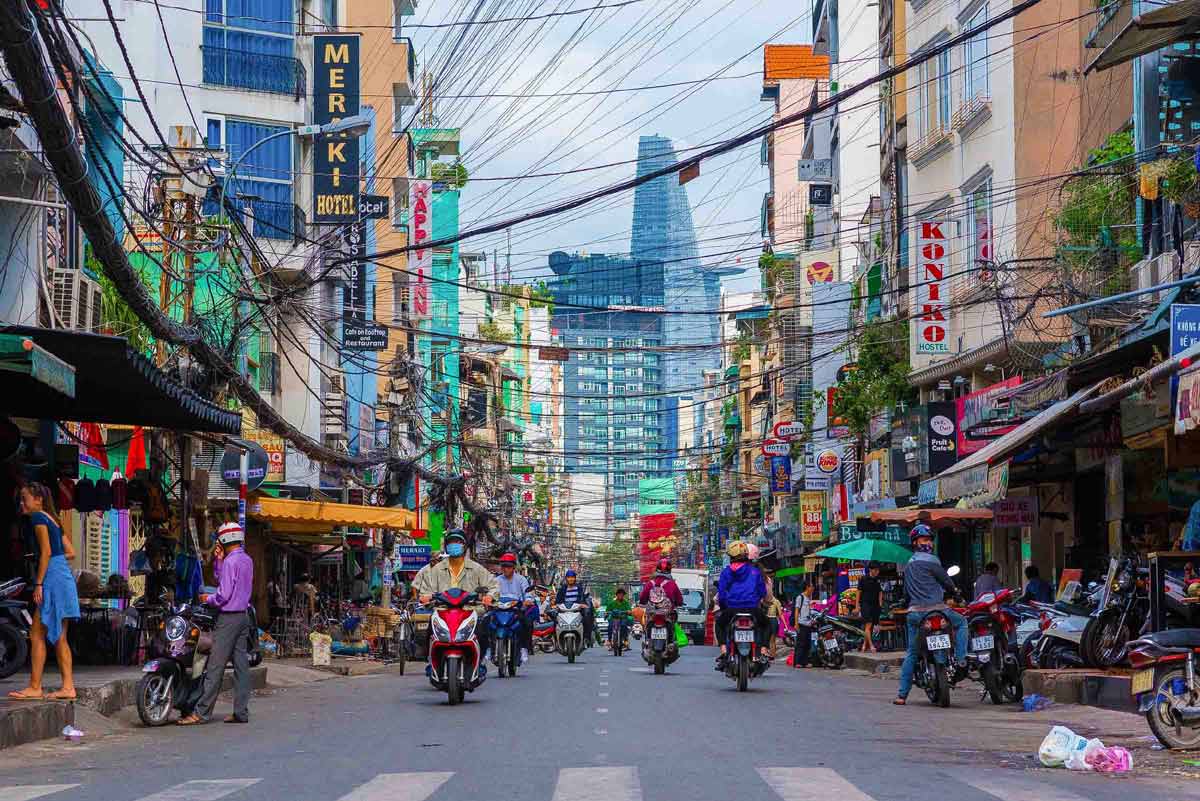 Destinations
Destinations
Blog detail
DISTRICTS IN HO CHI MINH CITY
Are you planning to visit Ho Chi Minh City and curious about where to stay and where to go? We got you! Ho Chi Minh is a MASSIVE city and if you have never been there, it can be a challenge to figure out where to start your travel journey.
With a population of over 8 million people, Ho Chi Minh City is the largest city in Vietnam. The city is divided into 24 districts (consisting of 19 inner city districts and 5 suburban areas), all offering different personalities, accommodation options, and attractions. And as a first time traveler or even a returning traveler to Ho Chi Minh City, the options can be overwhelming.
How to choose from the long list of Ho Chi Minh districts depends a lot on what kind of traveler you are, how long you're planning on staying, and what you're hoping to do while visiting. There are so many amazing things to do in Saigon, but they're super spread out all over the city. Making a priority list may help you determine where to stay. Most attractions for tourists however are compacted into Districts 1 & 3, meaning this is the most popular area to stay.
We're not going to discuss every single district as it would be a never ending read, however we will give you a detailed insight in the most interesting districts for first time Ho Chi Minh visitors! Once you've decided which district appeals to you the most, you can start planning all the attractions you want to see in your favorite district. The best way to make sure you won't miss any of them is by booking a
private tour in Ho Chi Minh City
!
One of our local guides will take you around town, showing you all the best spots in the city. Are you short on time? Why not take our '
Ho Chi Minh City Instagram Tour: The Hidden Gems
' - which will allow you to see the most famous attractions of Saigon, all in one day!
If it's your first time in Ho Chi Minh, you might want to check some of our other blog posts, where you will find a lot of information that might come in handy when planning your trip such as '
The best time to travel to Ho Chi Minh
' or '
The best hotels in Ho Chi Minh
'!
Now let's dive into the city's neighborhoods and where the best place to stay in Ho Chi Minh City is, based on your travel style and needs!

THE MOST DISTRICTS IN A NUTSHELL
The districts can be grouped as followed:


District 1: The central business district where you can find all the biggest tourist attractions
Districts 3, 4 and Bin Thanh: Downtown areas surrounding district 1
Districts 2 and 7: Developing districts with a lot of expats living here
Districts 5, 6, 8, 9, 11: The remaining central districts - highly populated
District 12: Suburban districts with a lower population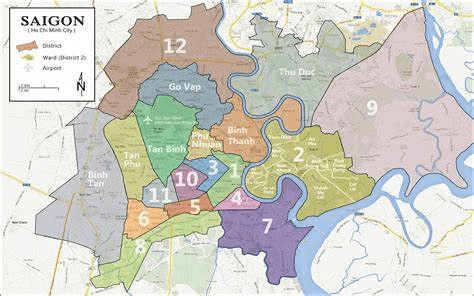 THE 4 BEST NEIGBORHOODS TO EXPLORE FOR FIRST TIME VISITORS
Dong Khoi Street Area: The best area for first timers in Ho Chi Minh

Ho Chi Minh District 1 is the beating heart of Ho Chi Minh City, and Dong Khoi Street is the main historical area that has seen the biggest changes throughout the city's past. This street is the heart of the commercial life of Ho Chi Minh City and the perfect place to stay for first-time visitors to Vietnam. Here, you can admire the old colonial buildings, grab a coffee in a stylish cafe, shop international brands and local boutiques, and dine in world-class restaurants.

Pham Ngu Lao: The best area for backpackers and people traveling on a budget

Known as the "backpacker district," Pham Ngu Lao is an area in Ho Chi Minh District 1 that attracts budget travelers thanks to the low prices for everything from food and drink to accommodation. Pham Ngu Lao is also the best area of Ho Chi Minh City for nightlife. There are bars all along the street as well as restaurants with cuisine from all over the world. You'll also find a high concentration of street food carts here. It's definitely the best area to stay in if you want to party and not spend a ton of money.

Cholon:

District 5 is more commonly known as Cholon and it's Ho Chi Minh City's Chinatown. Cholon literally means "big market" and it's obvious why, as soon as you arrive at Binh Tay Market, which is the largest market in the country. The best part about this area is all the delicious Chinese food. You can find all kinds of Chinese and Vietnamese dishes at the food court inside the Binh Tay Market as well as outside.

Thao Dien: Best area to stay for families

Thao Dien in District 2 is a thriving area with high-rise apartment buildings and cute restaurants and cafes. It's also a very popular area among expats. Boasting the largest amount of healthy eateries in the entire city, visitors can also find plenty of health and fitness classes like yoga and pilates.

If you're still not sure where to stay in Ho Chi Minh City, we recommend checking out Dong Khoi. It's got a bit of everything and offers a great insight into what this destination has to offer.

DISTRICT 1
District 1 is the heart of Ho Chi Minh City and it's considered as the business hub. It is home to a lot of hotels, offices, restaurants, bars, clubs, consulates, banks and many of the
best coffee shops of Ho Chi Minh city.
Here you will find beautiful French architecture, busy markets like Ben Thanh Market tons of street food stalls. There are many things to do in this part of Ho Chi Minh City so it is a great area to base yourself for your first visit.

Top attractions:
Ben Tanh Market, Notre Dame Cathedral of Saigon, Bui Vien Walking (Party) Street, Cafe Apartments, Bitexco Financial Tower, Observation Deck, Independence Palace, Opera House, City Hall, Nguyen Hue Walking Street, Yersin market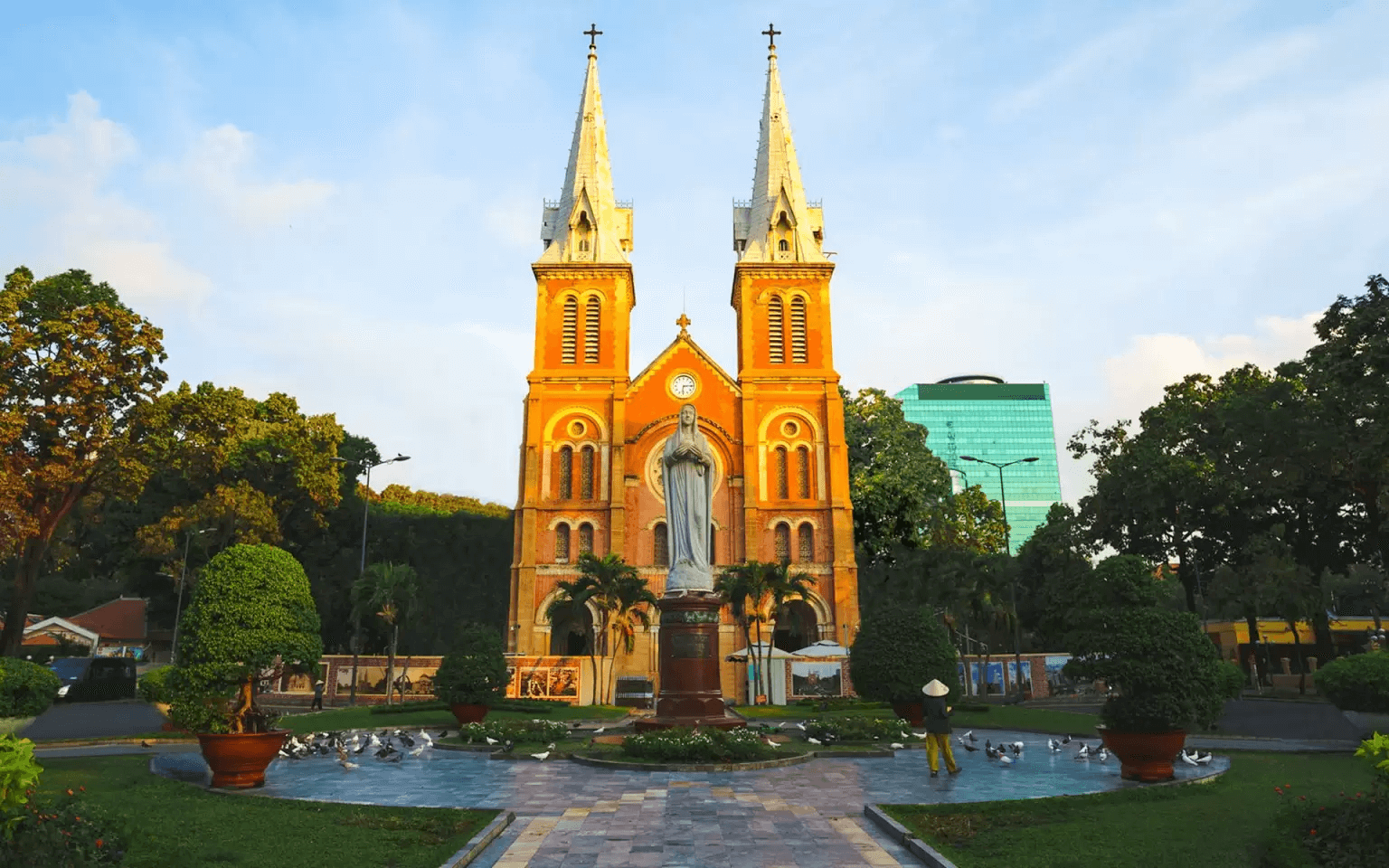 DISTRICT 3
District 3 is around 2-3 km's from District 1. It is the little extension of D1 and also considered as downtown and quite central Saigon. It has significantly more green and has more trees compared to District 1 and a fair bit ore of colonial architecture.
You can find a lot of amazing street food eats in this area compared to District 1 as well, in addition of shops by young Vietnamese entrepreneurs. It is slightly cheaper to stay in District 3, although it is still home to some great luxury hotels

Top attractions:Thi Nghe Canal, War Remnants Museum, Tanh Dinh Church (Pink Church), genuine Vietnamese neighborhoods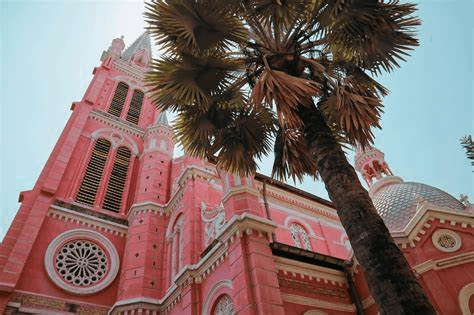 DISTRICT 4
Street food, street food, and more street food. Over the years, District 4 has undergone substantial development while remaining one of the city's more characterful locations. It's quickly becoming a more popular place to live, eat and drink, marked by the development of residential towers like the Icon 56.
It remains a vibrantly Vietnamese district with some of the best and most affordable grub in Ho Chi Minh City. If you like to be knee deep in Vietnamese culture, this is your spot. Over the past few years, it has begun to flicker with co-working spaces, drawing a young independent community of freelancers and start-up entrepreneurs.

District 4 is the smallest of all 24 districts, with an area of only 4 km2.
DISTRICT 5
Contrary to the urban rhythm of District 1, District 5 is still full of hustle and bustle, but more rural than District 1. It's no surprise that markets are what you see the most while travelling in this district, as this place is the Chinatown of Saigon. One of the most famous markets in Saigon – Binh Tay Market (also known as Cho Lon), is located right next to the borders of District 5. Here you can get to buy goods at a very good price.
Moreover, this district maintains a lot of old traditional houses from the early 1900s, which attracts many visitors to embrace its historical and artistic side. It is also a favorite place for those who are looking for certain kinds of herb as there are a lot of traditional Chinese medical stores in the quarter of Hai Thuong Lan Ong Street. It's also an ideal culinary destination for food lovers!

Top attractions: Beside Cho Lon, Soai Kinh Lam market, Ba Thien Hau pagoda, Binh Tay Market, Hoi Quan Ha Chuong Temple, Cha Tam Church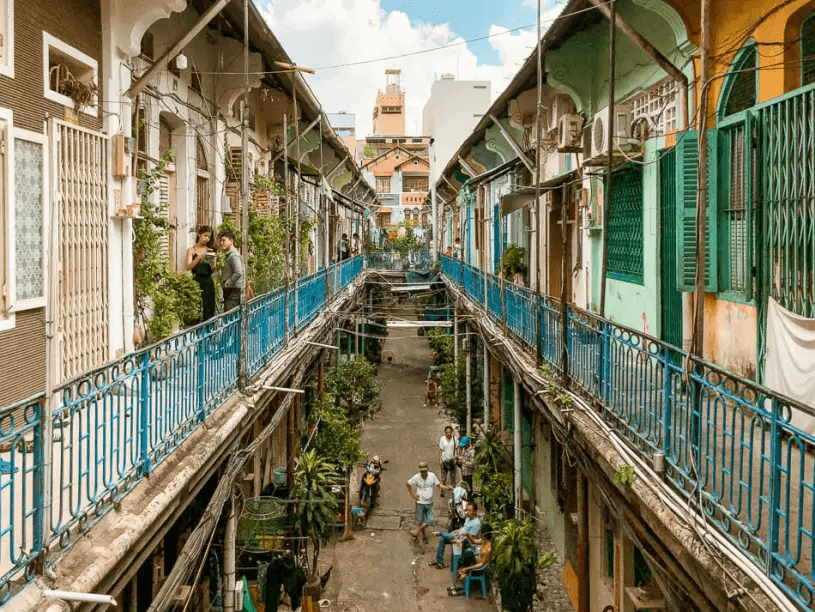 CONCLUSION
When it comes to traveling to a new city it's crucial to choose the right area so you can make sure you'll end up in the spot best suited for you. You don't want to end up miles away from the hotspots you want to explore!
And in case you do, no need to worry! Just book one of
our tours in Saigon
and our amazing guides will get you back on track in no time! We hope you will enjoy this beautiful city as much as we do!
1 week ago
Get your
Vacation on!
Vacation more, get inspired
Expertly curated emails packed full of vacation inspiration, travel tips and more!
Expertly curated Emails for travel inspiration, vacation tips and hacks and much more! Subscribe and upgrade your traveler skills with Forevervacation.