 Quan Am Pagoda
Temple in Ho Chi Min's Chinatown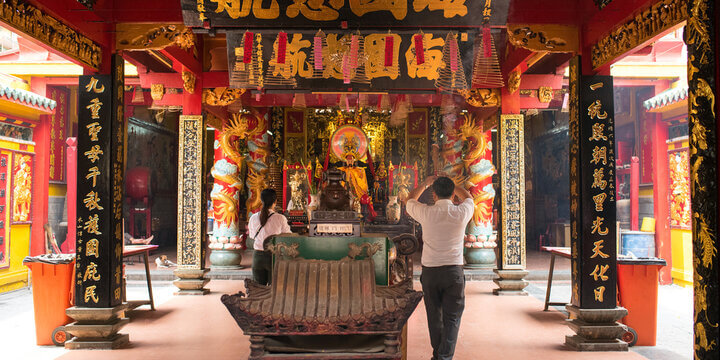 Details
Address:
Lao Tu Street in Cho Lon, District 5, Ho Chi Minh City
Quan Am Pagoda is located on a tiny street in Cholon -or Ho Chi Minh Chinatown-, carefully hidden in between small streets and food stalls. Founded in the early 19th century, the pagoda is named after the Goddess of Mercy. It is much smaller than the other temples you may find around town, and it has an almost cozy atmosphere. It is also one of the most colorful temples you could have seen! Fantastic lacquer representations of guardian spirits can be found at the entrance and superb ceramic scenes decorate the roof, depicting figures from traditional Chinese tales.
Like other Chinatowns in the world, Cholon is the place where the majority of ethnically Chinese people live and trade. The area is a bustling mix of old and new things, filled with temples, traditional shops, and markets as well as cool stores and cafes. The architecture is a fusion of Chinese tradition and French flair.
The streets are narrow and maze-like, as with many densely populated, rapidly built, and re-built areas. Quite different from other districts, its congested streets and alleys are a great place to spend a few days wandering around. Its bi-lingual signs, special foods, ancient pagodas, and unique blend of culture give Cholon a very distinct feel and charm that local Vietnamese even find quite novel when they visit.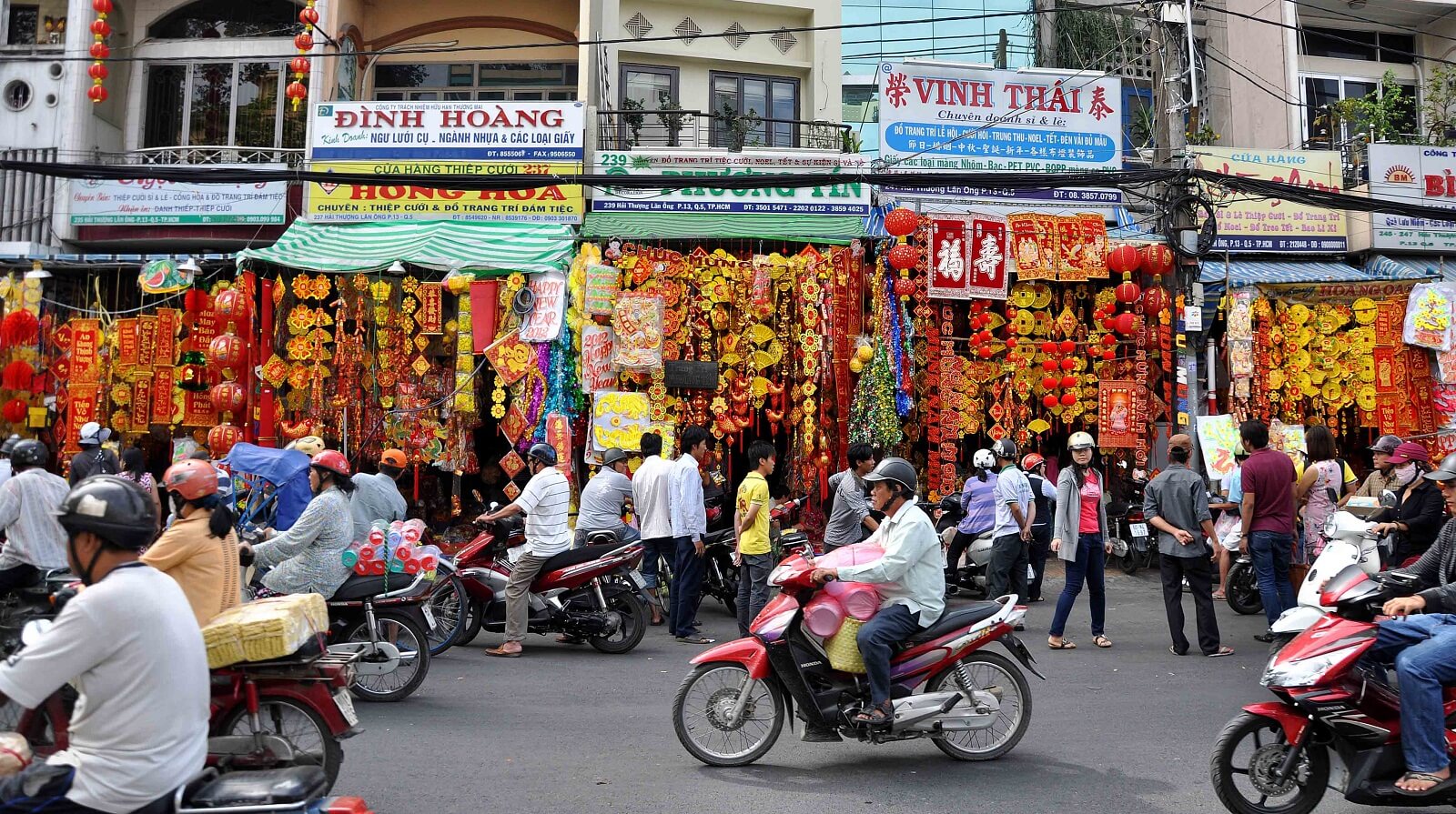 Best time to visit
The temple is open roughly from 8am until 5pm. It can be busy with worshippers throughout the day, but there's no bad time to visit. It can get especially crowded during Buddhist holidays and during the lunar new year.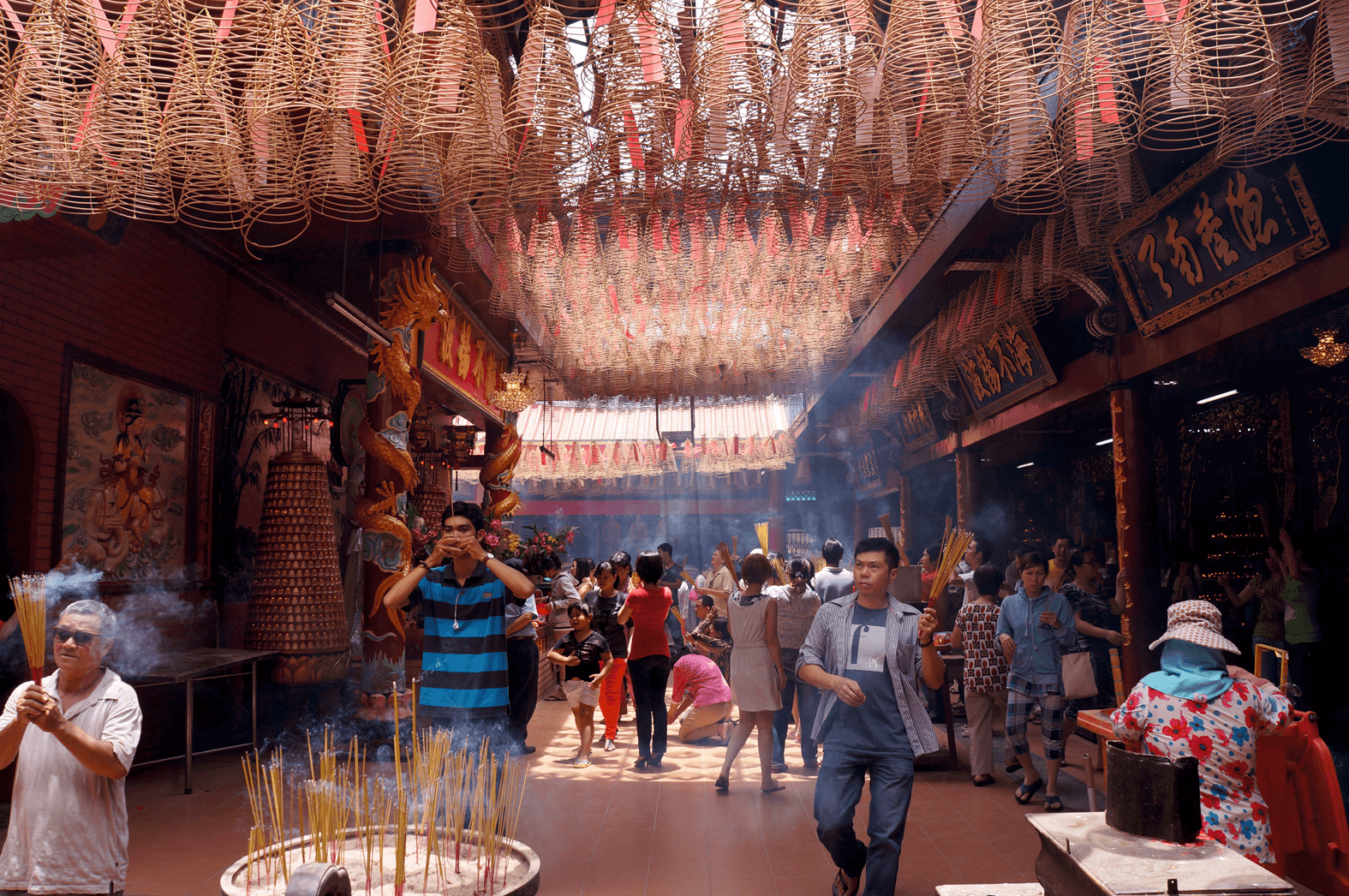 How to get there
Cholon is a huge area situated in District 5 and 6, on the Western bank of the Saigon River. As the area is just 6 km from district 1 and 8 km from Ho Chi Minh city center, getting here seems to be a piece of cake, even when you know nothing about the direction.
Traveling by bus can be the best way for budget travelers. Buses are due to depart from the spiritual construction (district 1) and arrive at Cho Lon station every 15 minutes from 5 am to 8.30 pm every day. You can also opt for taxis or motorbike taxis. The advantage of this way is that you can grab a taxi or motorbike taxi anywhere in Saigon, and with a booking app on your smartphone, it is way more convenient. The fare will be more expensive than buses', about $2.20, but for a shorter route, which takes just 15 - 20 minutes.
Details
Address:
Lao Tu Street in Cho Lon, District 5, Ho Chi Minh City