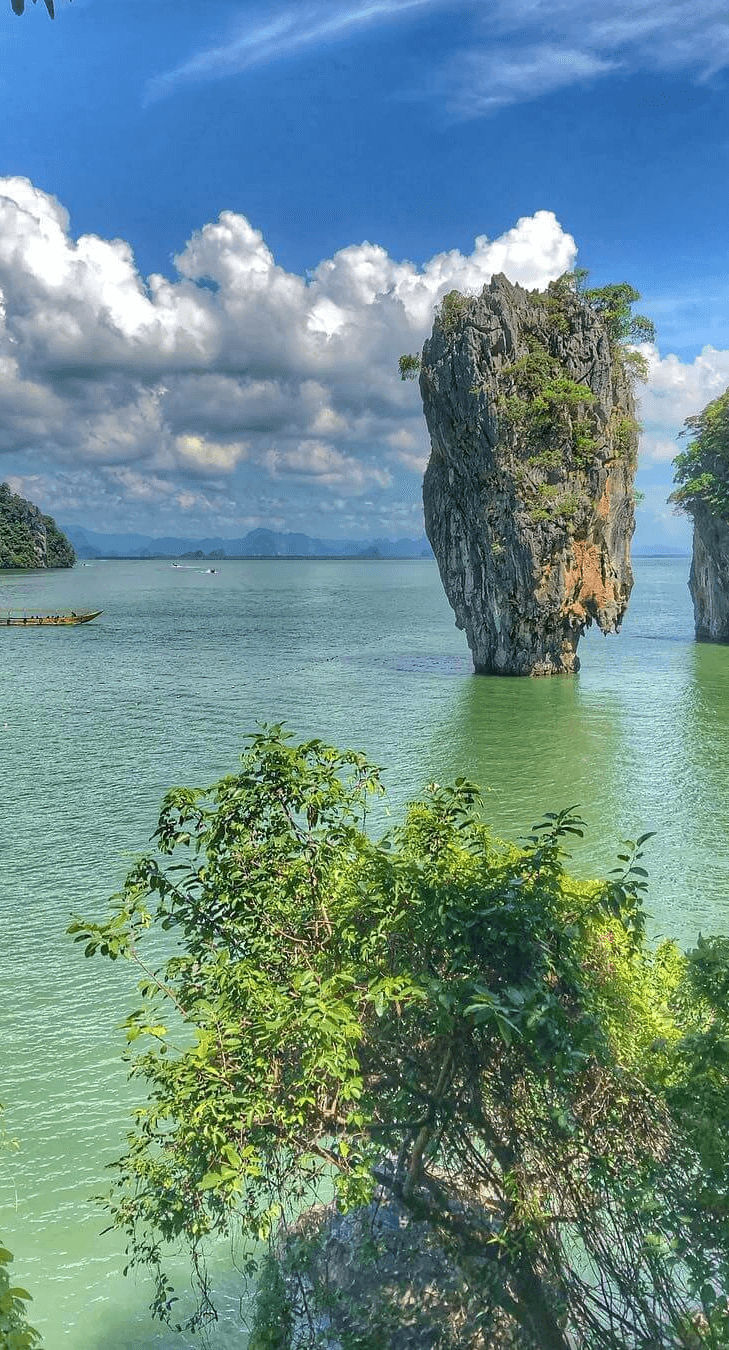 Phuket
Insider's Guide - What to do and Where to go in Phuket
Phuket is both an island and a province, the largest island in Thailand and about the same size of Singapore. Located on the south-west coast of Thailand in the Andaman Sea, it is connected to the mainland by the Sarasin Bridge.
Phuket is among the world's finest beach destinations, with white sands, swaying palm trees, glittering seas and lively towns.
It has something suited to all tastes and budgets, with hundreds of hotels to choose from, an eclectic choice of dining and plenty of nightlife options.
It's also close by to many other tropical islands, including the famous Koh Phi Phi and the mystical Phang Nga Bay. Phuket is blessed with more than 30 amazing beaches to choose from.
Patong, Kata, Karon and Kamala have always been the most popular, but the north of the island reveals some hidden gems for travelers searching for a more romantic atmosphere.
If you're planning a trip to Thailand, Phuket should definitely be on your list of places to visit and here's why!
Sightseeing & Attractions
Big Buddha

At 45 meters tall, the Big Buddha statue is one of Phuket's most iconic landmarks, and is a huge draw for visitors to the island.
This huge monument sits on Nakkerd Hills between Chalong and Kata, and offers some incredible panoramic views of Phuket Town, as well as the beaches and bays of the coast. T
he road leading up to the statue winds through the 'real' Thailand and is well worth taking the trip, if not only for the views when you reach the top.
It's fantastic to see the huge statue with your own eyes, plus it makes for some great vacation photographs!
Wat Chalong

Wat Chalong, the largest and most revered Buddhist temple in Phuket is a must-see! The temple was built at the beginning of the 19th century, in 1837 according to some sources.
The tallest building on the grounds of Wat Chalong is a 60 meter tall stupa (chedi) sheltering a bone fragment of the Lord Buddha.
Walls and ceilings of the temple are decorated with beautiful paintings retracing the most significant steps in the Buddha's life. Each floor is also full of large golden statues of the Buddha.
Come here to learn more about Thailand's religion and culture and take in the beauty of the intricate buildings.
It's also close to the Big Buddha so you can tick off both attractions in one day!
Chalong Bay Rum Distillery

For a different and unique experience, have a tour of the Chalong Bay Rum Distillery! The company produces high end white rum which is now starting to be noticed around the world.
There is lots to do when you arrive here, start by taking a tour where you will learn about the way the rum is produced before taking a look at the work that goes on behind the scenes.
The final part of the trip is a cocktail workshop, here you'll learn how to make various cocktails that all include Chalong Bay Rum and then relax while you sample them.
What a great way to spend a day in Thailand!
FantaSea Show

If you only see one show in Thailand, it should be this one. The Phuket FantaSea Show is held on a 140 acre complex that is filled with a range of entertainment and activities for all.
There is a 4000 seat restaurant serving up a huge buffet of both Thai and international food, and a Las Vegas style theater show that showcases the best of Thailand's myths and mysteries.
A carnival village, shopping complex and handicrafts section also mean you could spend a whole day and night here. With so much to do, it's best to arrive early to give yourself the time to see it all. Prepare to be entertained!
Nature
Kata Noi Beach

Kata Noi Beach is a small bay just a short drive from the bigger and more well-known Kata Beach - perfect if you want to get away from the tourist crowds!
It is a small beach but the scenery is breathtaking, so take some time to relax, walk along the beautiful sands and maybe go for a swim.
The best time to visit the beach is between November and April (avoid monsoon season if you can) but really you can come here at any time of year.
Karon View Point

Sitting just to the south of Kata Noi Beach is Karon View Point - the most popular viewpoint in Phuket. The viewpoint looks out over the Andaman Sea in one direction and the other direction points towards the three west coast beaches on the other side of the island.
The Thai name of the viewpoint is 'Kho Sam Haad', which means 'The Hill of the Three Beaches'. It usually gets pretty crowded here so for your best chance of an insta-worthy shot be sure to get here early (ideally for sunrise)!
Khao Sok National Park

If you want to see some untouched nature and have a bit of adventure without the crowds, Khao Sok National Park should be on your itinerary.
Khao Sok National Park is located in southern Thailand and is known for its ancient rainforest and diverse wildlife.
Visiting Khao Sok National Park requires a bit of planning, but the slight inconvenience means you won't find the same hordes of crowds as on the beaches in Phuket.
Khao Sok is quite different to Phuket, it has less of the party vibe and more of the chilled out nature vibe.
Come here for hiking, waterfalls, canoeing and to see some beautiful wildlife. Even spend a night in a floating bungalow!
Catch a bus from central Phuket and 4 hours later arrive in tropical paradise.
Phang Nga Bay

Phang Nga Bay is easily one of the most amazing places to visit in Thailand, if not the world. The easiest way to discover Phang Nga is simply to book a boat tour with your hotel or a local vendor.
You will always have a fantastic day and you won't have to worry about anything since all tours include transfer to and from your hotel in Phuket.
If you fancy something a little more special and private, you can book luxury private cruises on longtail boats, sail boats or even a yacht!
However you get there, you're guaranteed to have an amazing time and see the likes of James Bond Island, the cave of the reclining Buddha, Laem Haad Beach and more!
Food
Mom Tri's Kitchen

Sitting in a property formerly owned by the Thai royal family is Mom Tri's Kitchen, a paradise for couples looking to enjoy a romantic meal.
The restaurant is situated right on the waterfront overlooking the Andaman Sea and the white sand of Kata Noi Beach.
With over 700 wines to choose by the bottle and 18 to choose by the glass they leave no taste buds left wanting. Naturally for its location, the restaurant is at the higher end of the price range in Phuket but for an amazing dining experience it is highly recommended.
Blue Elephant

Blue Elephant is one of the most well known names in Thai cuisine. There are branches of Blue Elephant throughout the world, and in Thailand there are branches in Bangkok and Phuket.
In Phuket, Blue Elephant is set in a stunning Sino-Portuguese mansion known as the Governor's Mansion that creates a beautiful fine-dining atmosphere.
Using only top quality ingredients and traditional family Thai recipes, Blue Elephant is one of the best at Thai cuisine and a must-try. They also offer cooking classes, so you can take these authentic recipes home with you!
Pad Thai Shop

Pad Thai is one of the most famous Thai dishes going and if you come to Thailand you're bound to eat it more than a few times on your trip! And the Pad Thai Shop in Phuket arguably does it the best.
The Pad Thai Shop is a tiny restaurant on the side of a back road of Karon Beach.
It's small and modest, so you could easily drive past and not know it was there, if it wasn't for its growing reputation and a large yellow sign that says 'The Pad Thai Shop' of course.
Despite its success, nothing has changed since the shop opened.
It's very simple and you still find mostly locals frequenting the place. So for old-fashioned Pad Thai in a real, local shop come here. You won't be disappointed!
Nightlife
Bangla Road

When the sun goes down Bangla Road gets closed to traffic and the road becomes alive. The street is full of bars, many of which are outside so you seamlessly move from one bar to the next.
There are normally street entertainers looking for you to part with some cash in return for a few minutes entertainment.
Enjoy cold beer and super cheap cocktails and take in the vibrant nightlife of Phuket - you'll really feel like you're on vacation here!
Patong Beach

Patong Beach is known as the heart of Phuket, tourists swarm here in their thousands and parking is often impossible, but it is worth the experience at least once on any trip to Phuket.
There are two things people come to Patong Beach for, - the beach and the nightlife.
The beach is about 2 kilometres long and you can try parasailing, jet skiing or just rent a sun bed to relax for a few hours during the day.
At night the party gets going with an array of bars and clubs opening their doors for cheap drinks offers and loud dance music.
It may not be to everyone's taste but it's definitely worth a look, just to experience it!
Baba Nest

For a classier and more relaxed vibe head to Baba Nest, Phuket's best rooftop bar. Located at Sri Panwa Phuket, it has relatively short opening hours and is in quite a remote location.
But it's widely regarded as one of the best rooftop bars in the world.
Strikingly simple in design, it has a large open deck surrounded on all sides by an infinity pool and stunning 360 degree views. Highly exclusive, there's limited available space and reservations are essential.
In-house guests have a minimum-spend requirement of 500 baht while those not staying at Sri Panwa must spend at least 1,000 baht.
The extensive drinks menu features high-end cocktails to enjoy and the stunning views mean you are bound to have an unforgettable experience.
Shopping
Weekend Night Market

Known by the locals as 'Naka Market', sitting just a short distance from Phuket Town is a night market like no other. There are all sorts of things to buy here - fruits, old curiosities, animals, clothes and so much more.
A popular event with both the locals and tourists, it's definitely best to arrive at the market in the late afternoon to ensure you get a good look around before it becomes packed.
Make the most of the cheap local foods on sale - be sure to try the golden buttered corn on the cob!
Phuket Old Town

Phuket Old Town is the provincial capital of Phuket. It is a historically rich part of town where you will see an abundance of temples (Chinese and Buddhist), beautiful 'shophouses', small printing shops and a disused red light district.
The town itself is not that big so you can easily have a slow wander around it rather than taking any transport, and take your time to explore the large selection of shops and restaurants.