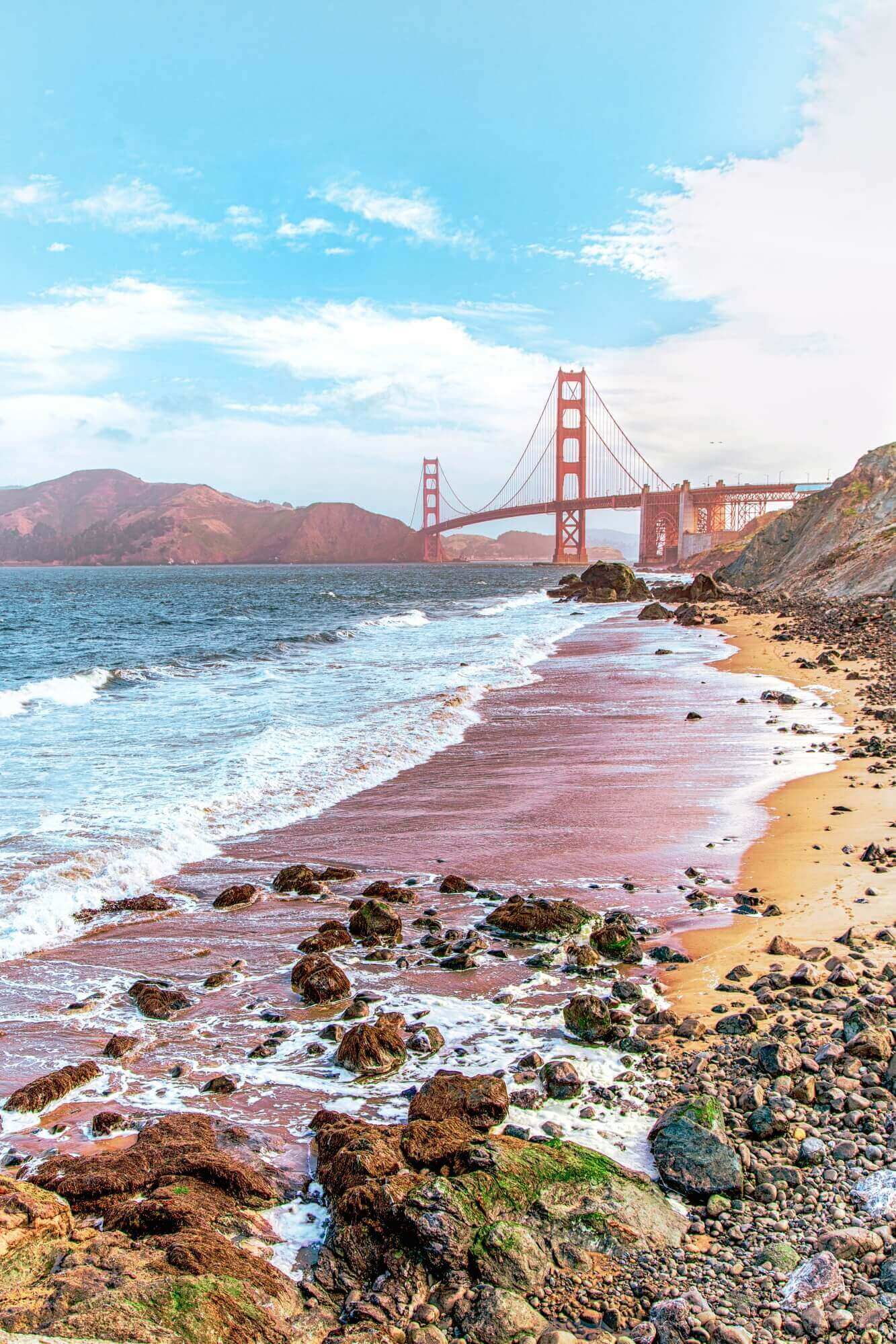 Chicago
Insider's Guide - What to do and Where to go in Chicago
Chicago is one of our favorite cities in the US. The food, the clean city, the lake… there's so much to love. While Chicago is a large city, it's pretty easy to navigate, even for newcomers, and much friendlier than some of its other counterparts.
In Chicago, it feels a lot like you'll fit right in, no matter who you are or what you love doing. Whether that's wining and dining at famed restaurants, visiting world-renowned museums, meandering along jaw-dropping waterfronts, hearing ground-breaking music or watching award-winning theatre shows, there really is something for everyone here!
And all of this is packed into 77 vibrant, globally diverse neighbourhoods that are the heart and soul of Chicago.
So if you're searching for the perfect deep-dish pizza or you want to relax on Lake Michigan, here's everything you need to know to have a great time in Chicago!
Sightseeing & Attractions
The Art Institute of Chicago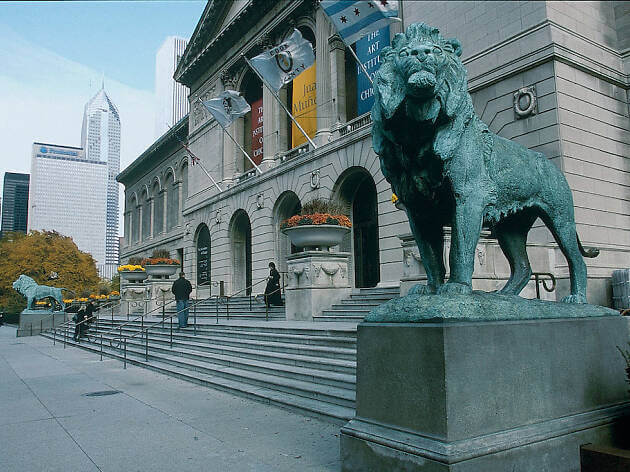 On Michigan Avenue, in the heart of Chicago's historic downtown, between the iconic lions, lies nearly a million square feet and approximately 330,000 pieces of art to explore. These works span a wide stretch of time, ranging from ornate antiques to modern art.
In order to bypass lines, purchase a Fast Pass ticket online for an extra $10. Fast Pass customers get to skip the general admission line and enjoy unlimited access to special exhibitions, so it's totally worth it. With many world-famous paintings, sculptures, and artists, a stop at this huge museum is right on the same level as seeing the Louvre or D'Orsay!
Navy Pier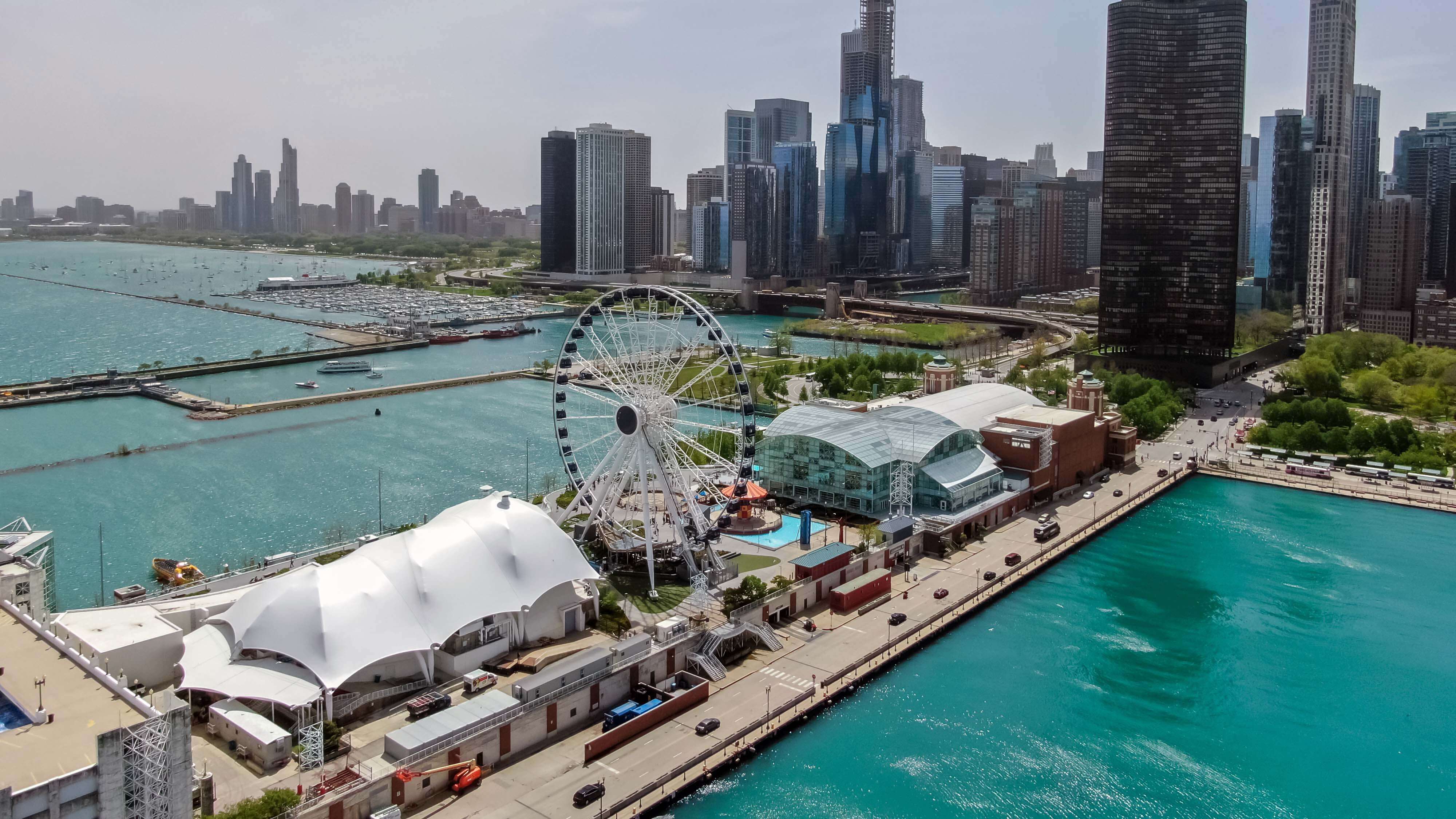 The Navy Pier is iconic, complete with amazing views of the city and Lake Michigan, the Ferris wheel, shops, restaurants, and more! Navy Pier is a slice of heaven for tourists and locals alike in Chicago.
The allure of Navy Pier lies behind its stunning street views particularly from the high-rising Ferris wheel. Stretching 3,300 feet, Navy Pier is a waterfront on Lake Michigan's shoreline. It's nestled in the vibrant neighbourhood of Streeterville, skirting over 14 hectares of lush gardens, parks, performance spots, plazas, and lots of family-friendly attractions.
The Crystal Gardens, Polk Bros Fountain and Plaza and Miller Lite Beer Garden are some great spots to check out while you're there!
Chicago Broadway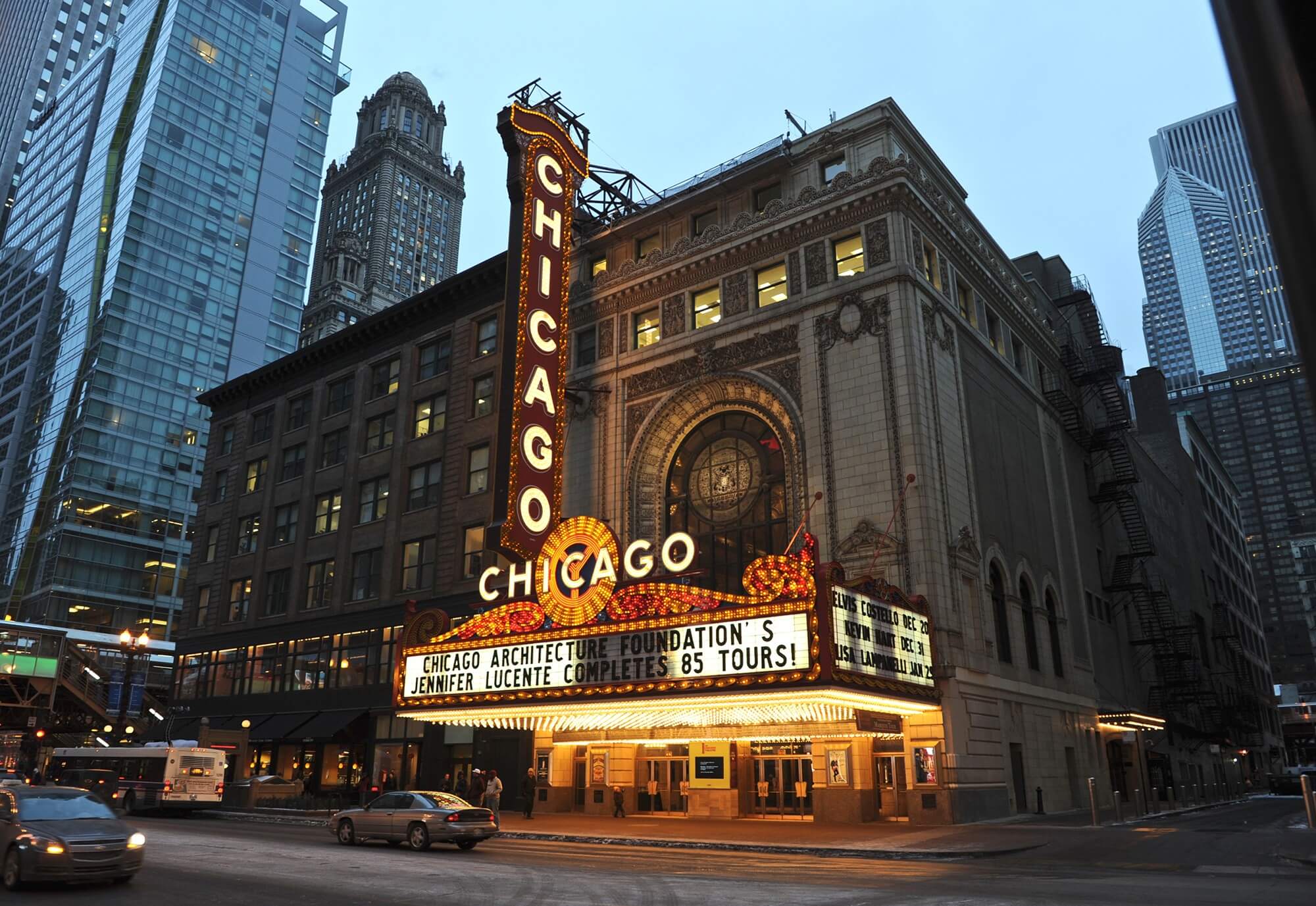 Chicago has a buzzing theater scene, and you just have to check it out. Theater-goers can experience everything from classic Broadway musicals and improvisational comedy, to bizarre vignettes and dramatic new works from local playwrights.
Use TodayTix to find cheap tickets and great deals on pre-show dinners and drinks! Then be wowed by one of many stunning performances.
Some of our top picks include Hamilton at the Cadillac Palace Theatre, Dear Evan Hansen at the CIBC Theatre, and any of the Five Play Season of Excellence at the Black Ensemble Theater.
Nature
Millenium Park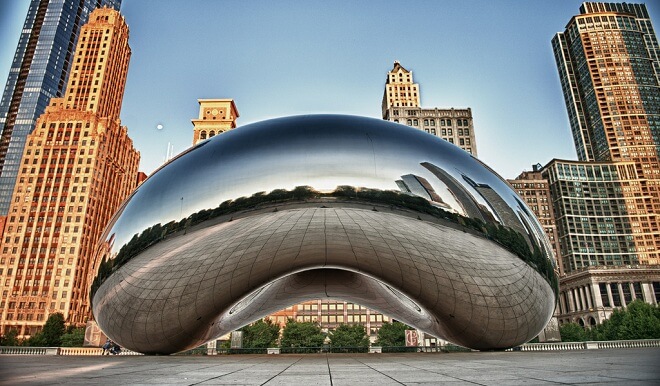 The gorgeous 25-acre Millennium Park is the most visited tourist attraction in the Midwest and among the top 10 most visited sites in the country. And for good reason. This park goes way beyond your typical playground setting. It's also not just a fair-weather destination. Head on over any time of the year as there's always something to do and see.
Millennium Park is on the east side of downtown, bordered by Michigan Avenue and the Chicago Athletic Association Hotel. It's easily accessible by public transport and about a five-minute walk from the Magnificent Mile. Ample parking is available in the nearby Millennium Park Garage.
Admission to Millennium Park is free, and it is open daily from 6am - 11pm. Highlights include: Cloud Gate (The Bean), Pritzker Pavillion, Lurie Garden and Crown Fountain.
Chicago River Walk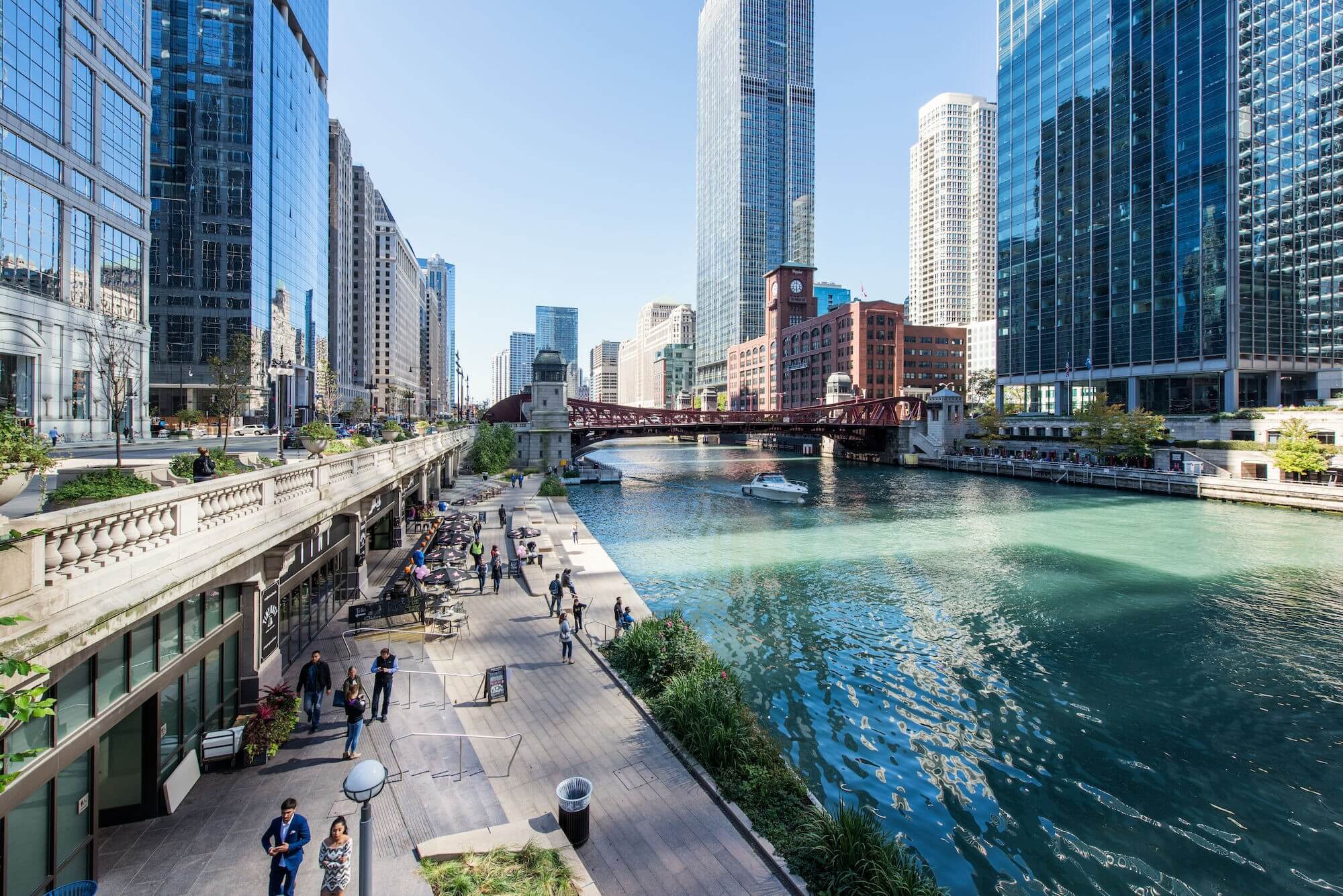 The Chicago river winds its way through the city and is a big part of the Chicago landscape. Every year on St. Patrick's day the river is dyed bright green and every day there's a new collection of boats and kayaks on the water.
For many years, the area was relatively undeveloped with only concrete paths and no other significant draw to the area. But in 2016, Mayor Rahm Emmanuel converted the 1.25-mile-long path into a riverfront destination with restaurants, art installations, bars and it's now one of the hottest tourist spots in Chicago!
If you're looking for some exercise, the Chicago River Walk is a must. Whether you walk, run or cycle, the views of the city, the river, and the lake are incredible!
North Avenue Beach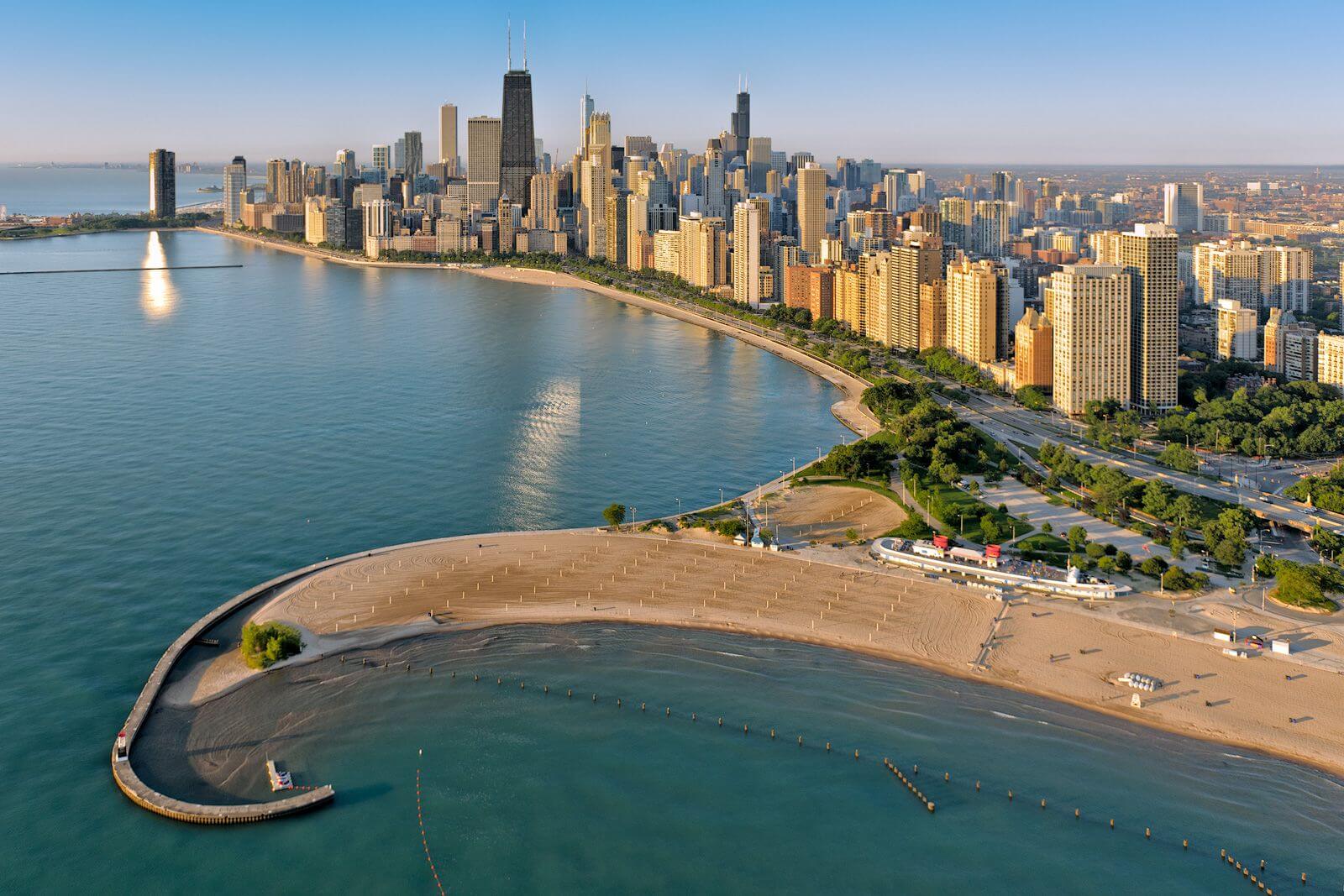 Lincoln Park's North Avenue Beach is fun for all ages and is an excellent example of why Chicago is called the Third Coast. Situated along the Lakefront Trail, this is the place for a fun-filled afternoon or as a start off point for roller blading, running, biking, or walking along the trail.
North Avenue Beach is open every day of the week during the summer, from the end of May through Labor Day. Swimming is only permitted when lifeguards are present from 11am to 7pm. A classic Chicagoan experience is renting a volleyball court and spending a fun day in the sun.
Afterwards, visit Castaways Bar and Grill to cool off with something icy to drink. The first level has an ice cream café and walk-up stands for casual fare. The rooftop has great views and a great party atmosphere.
Food
Chicago French Market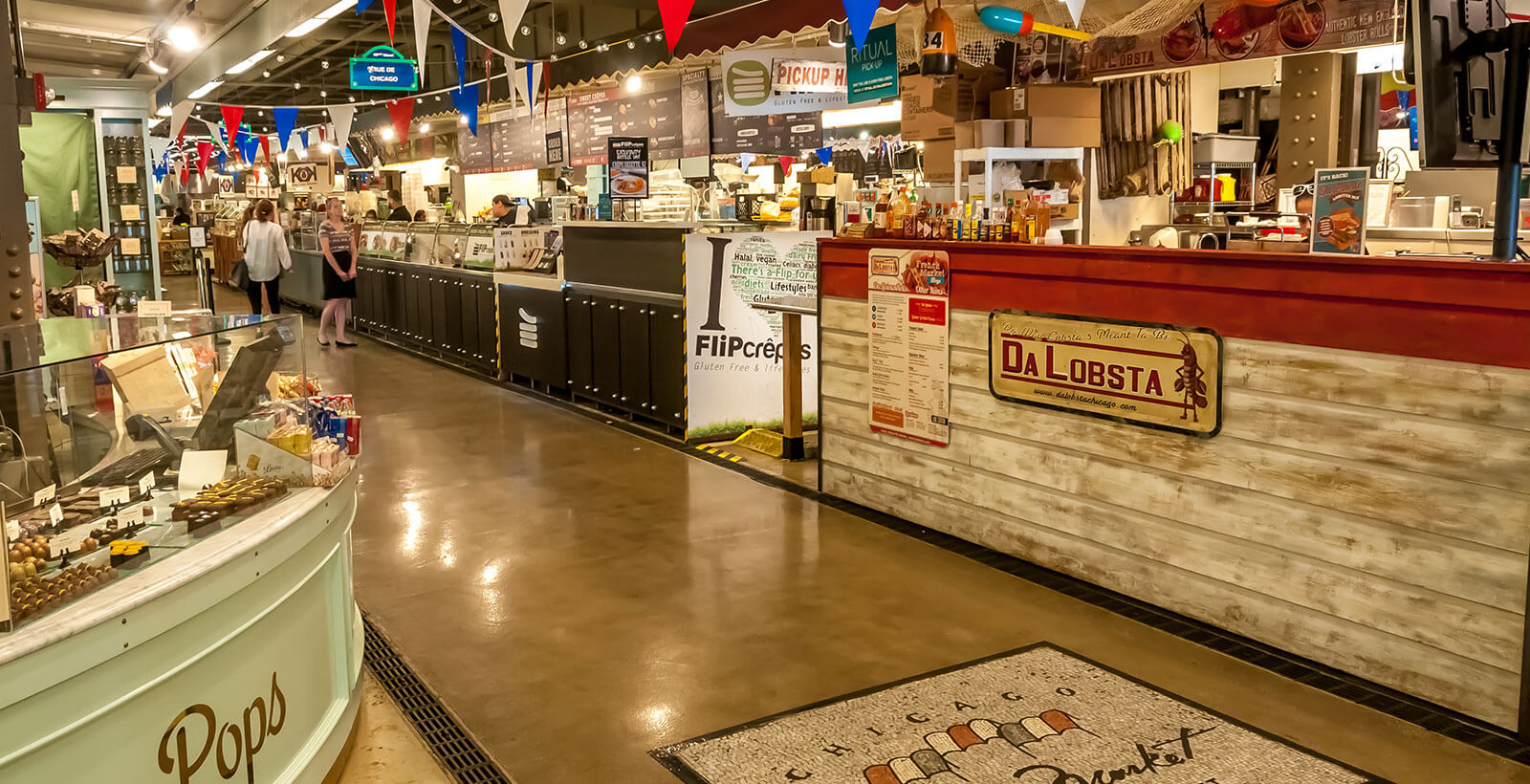 This large market tucked under the Metra Commuter Concourse feels like a hidden gem as it has a lot to offer but doesn't have a mainstream feel as a lot of locals come here to shop and eat.
For groceries you can find fresh produce such as meats, fish, bread, and cheese. There's also a nice selection of cafes which are great for breakfast, including a crepe restaurant serving sweet and savory crepes.
You can also find sushi, soups, grilled food, and more! You may want to avoid going to the market for lunch because it becomes quite crowded, but if you're up for sticking it out you'll be rewarded with the amazing food on offer!
Lou Malnati's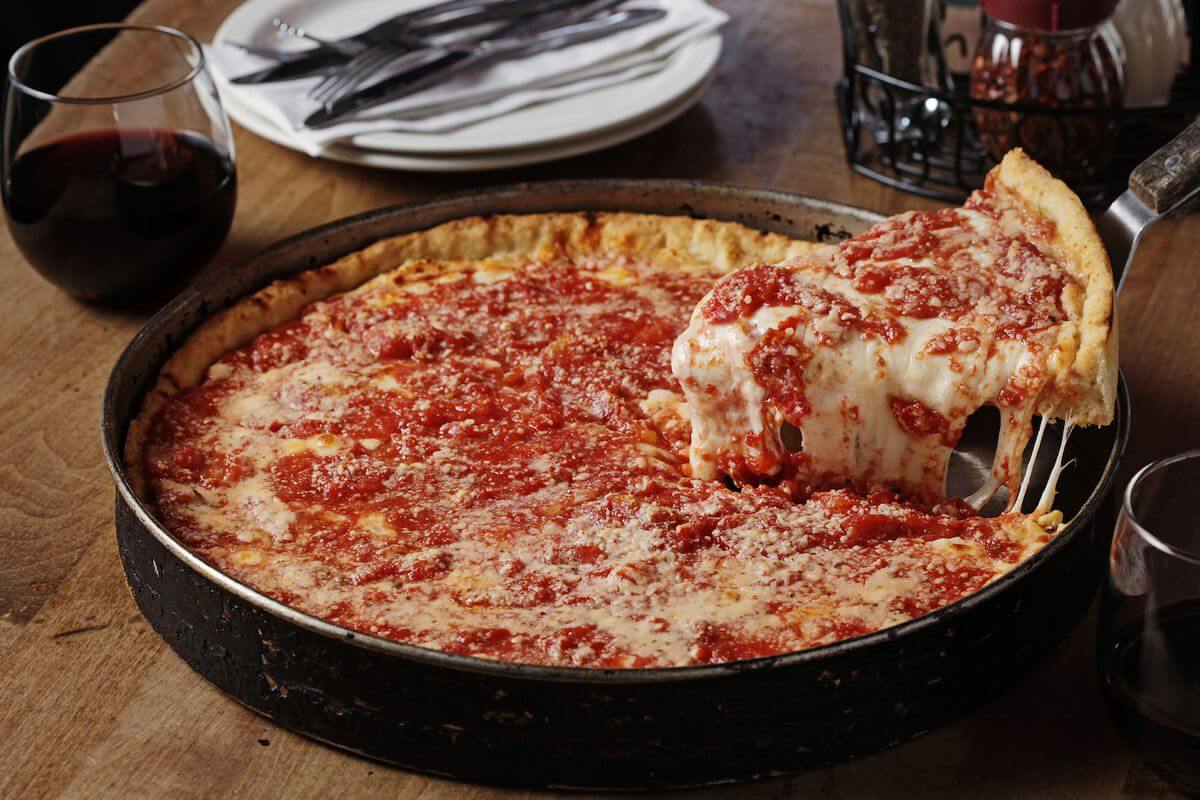 If you're looking for that perfect chicago ton deep pan pizza, this place knocks it out of the park every time. With several locations, you might think it's just a Chicago chain pizza place, but ask the locals and they'll tell you: Lou Malnati's is the place to go.
That flaky, never soggy, buttery crust, filled with a delicious sauce, and creamy cheese goes perfectly with whatever beer is on tap.
Kanela Breakfast Club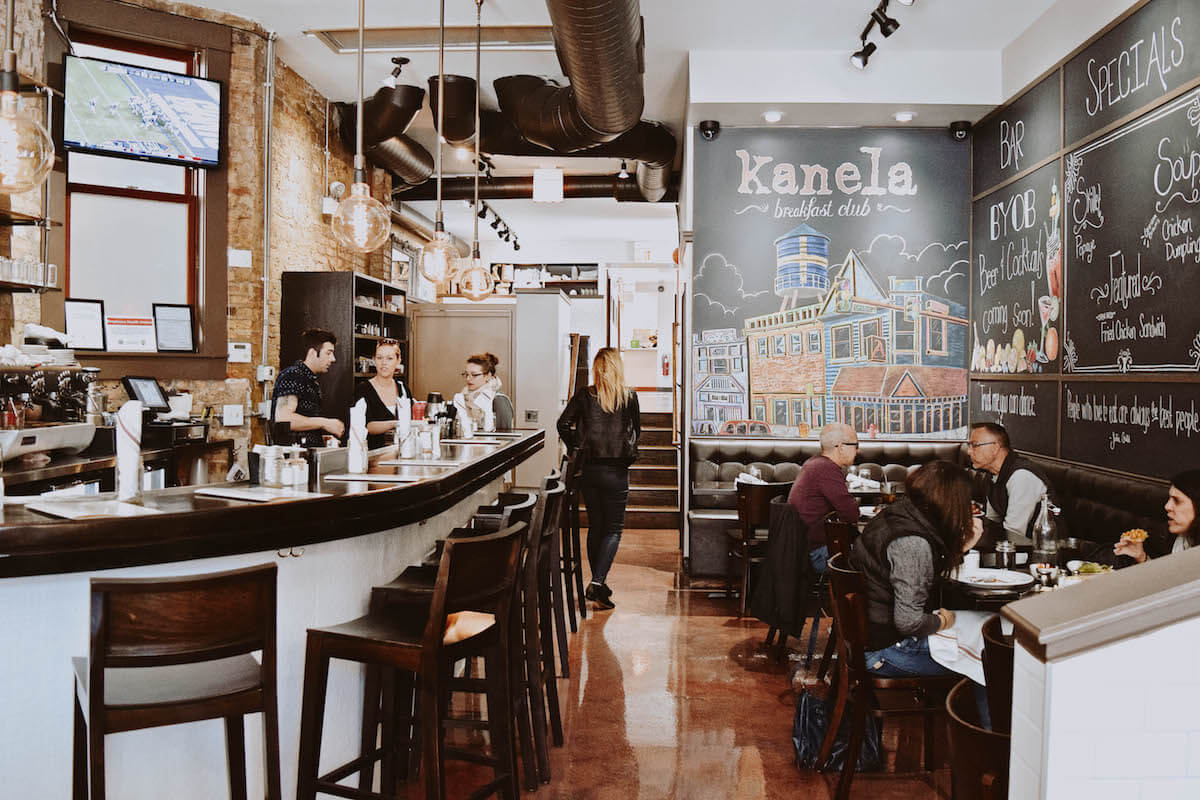 Known for the "Best Breakfast in Chicago" according to USA Today, Kanela Breakfast Club is sure to please. If you're looking for a fabulous brunch spot, this is your place.
From healthy Açai bowls to the crab cake benedict, and all of the bagels, French toasts, and pancakes in between, be prepared for the perfect breakfast. And be sure to wash it all down with a Sofiemosa (Goose Island Sofie Belgian Style Farmhouse Ale mixed with fresh orange juice) or a spicy bloody Mary.
Portillo's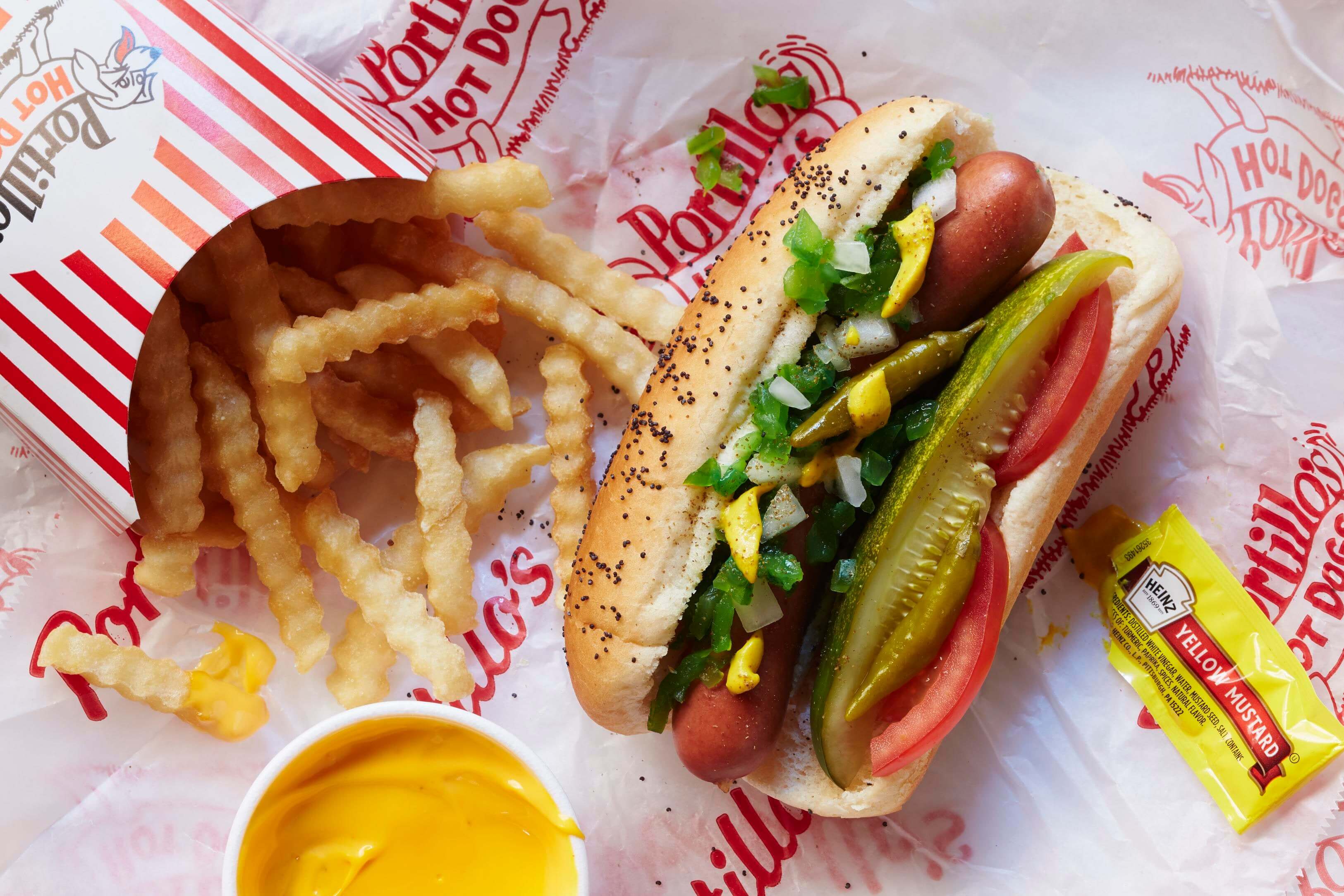 World Famous are Portillo's hotdogs. You better show up hungry because the Chicago dog (mustard, relish, celery salt, onions, red tomatoes, kosher pickle, and sport peppers top a hot dog in a poppy seed bun) will certainly fill you up.
Combine that with their cheese fries and maybe a chocolate cake shake, and you may have to be rolled back to your hotel.
Bars
London House Rooftop Bar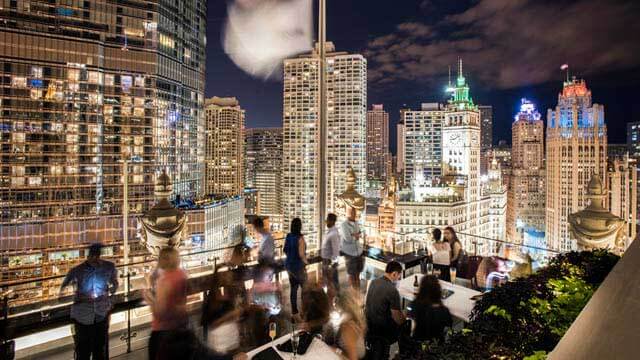 Rooftop bars in the summer are perfect in Chicago. The London House Rooftop Bar is known for amazing views, cocktails, and even tea time. Make your way to the top of the London House Hotel to find the sweeping views from this tri-level rooftop.
Overlooking the Chicago River, Magnificent Mile, and the famous architecture along the way, this is one of the best angles to take in the surrounding city.
As a more recent addition to the city, this rooftop bar has quickly become one of the must-visits!
Goose Island Beer Company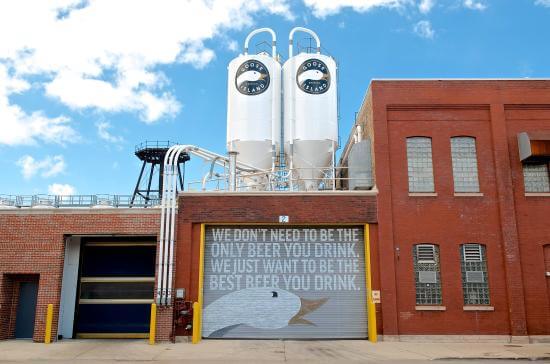 Certainly one of Chicago's most popular breweries, a stop at the Goose Island Beer Company is a must for beer lovers. Visit the production brewery and learn all about the craft, Chicago heritage and innovative spirit that goes into making this beer. Try some rare, one-off beers you can't find anywhere else, as well as some favorites like their IPA or their crisp 312 Wheat Ale.
Go on a full tour, or just sit back and enjoy a pint at the bar and strike up a conversation with a Goose Island brewer! You can also enjoy the local food trucks that are always parked in front of the brewery.
Three Dots And A Dash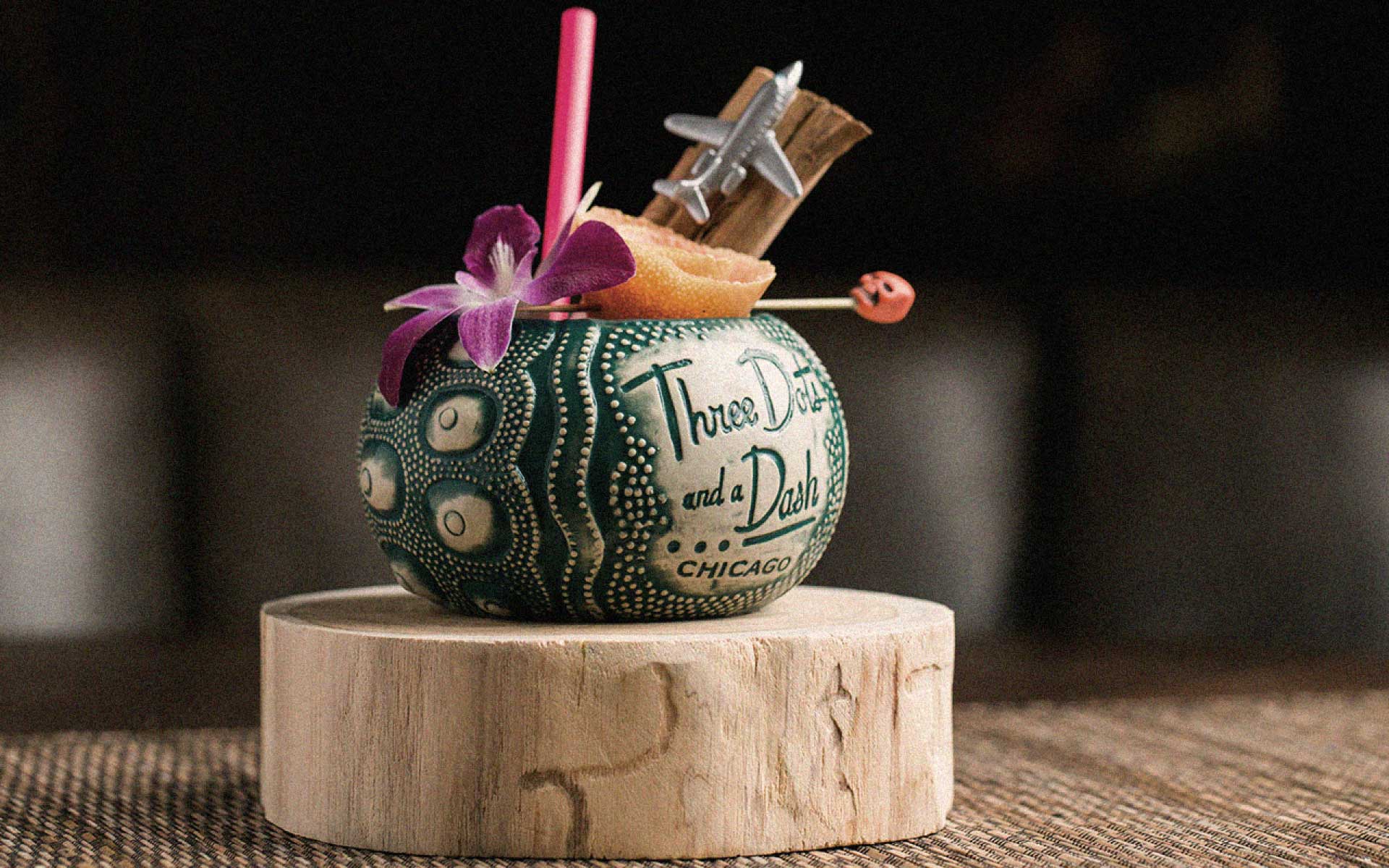 If you love a good old tiki bar, Three Dots And A Dash is your place. They serve classics like the Mai Tai and Old Fashioned, but they also have many unique cocktails like the Vicious Virgin (Blanco tequila, mango brandy, mezcal lime, pineapple, butterfly pea tea, and orgeat) and Strip and Go Naked (London Dry Gin, passion fruit, tangerine, lemon, and pale ale).
This is a really fun place for a date night or the starting point of a full on bar crawl!
Shopping
Magnificent Mile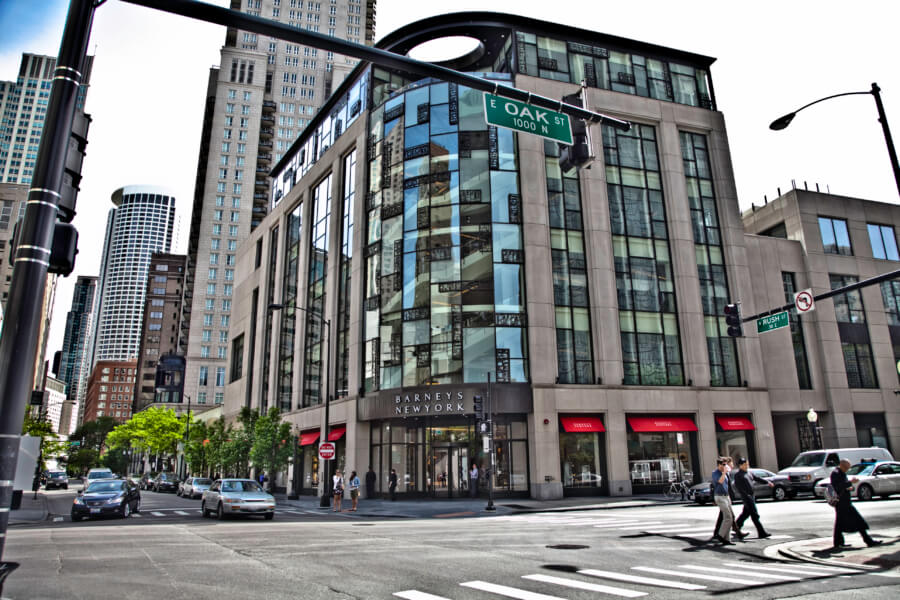 The Magnificent Mile, or Mag Mile, has the best shopping in Chicago. It's the Midwest's answer to Beverly Hills' Rodeo Drive or New York's 5th Avenue. Located on Michigan Avenue, the upscale shopping district boasts the highest concentration of luxury boutiques and retail department stores in the city.
Whether you want designer clothes or classic stores like H&M, Forever 21, and the Disney Store, you've got to visit this area. Along the Mag Mile strip you will also discover a number of art galleries, historical landmarks, hotels, restaurants and drinking establishments to try out too!
Chicago Water Tower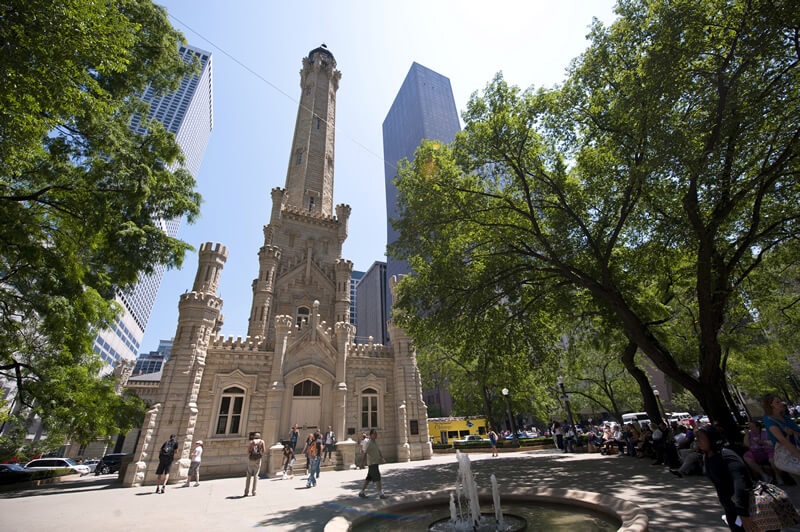 Another great place to shop is the Water Tower, an iconic Chicago building with a food court, and all of the classic mall stores. Located in the heart of Chicago, the center features a stunning eight-level atrium and offers more than 100 stores and unique dining options – many of which are exclusive to the downtown area.
A true gem in the city, Water Tower Place offers a unique, high-energy shopping experience you simply won't find anywhere else in Chicago.