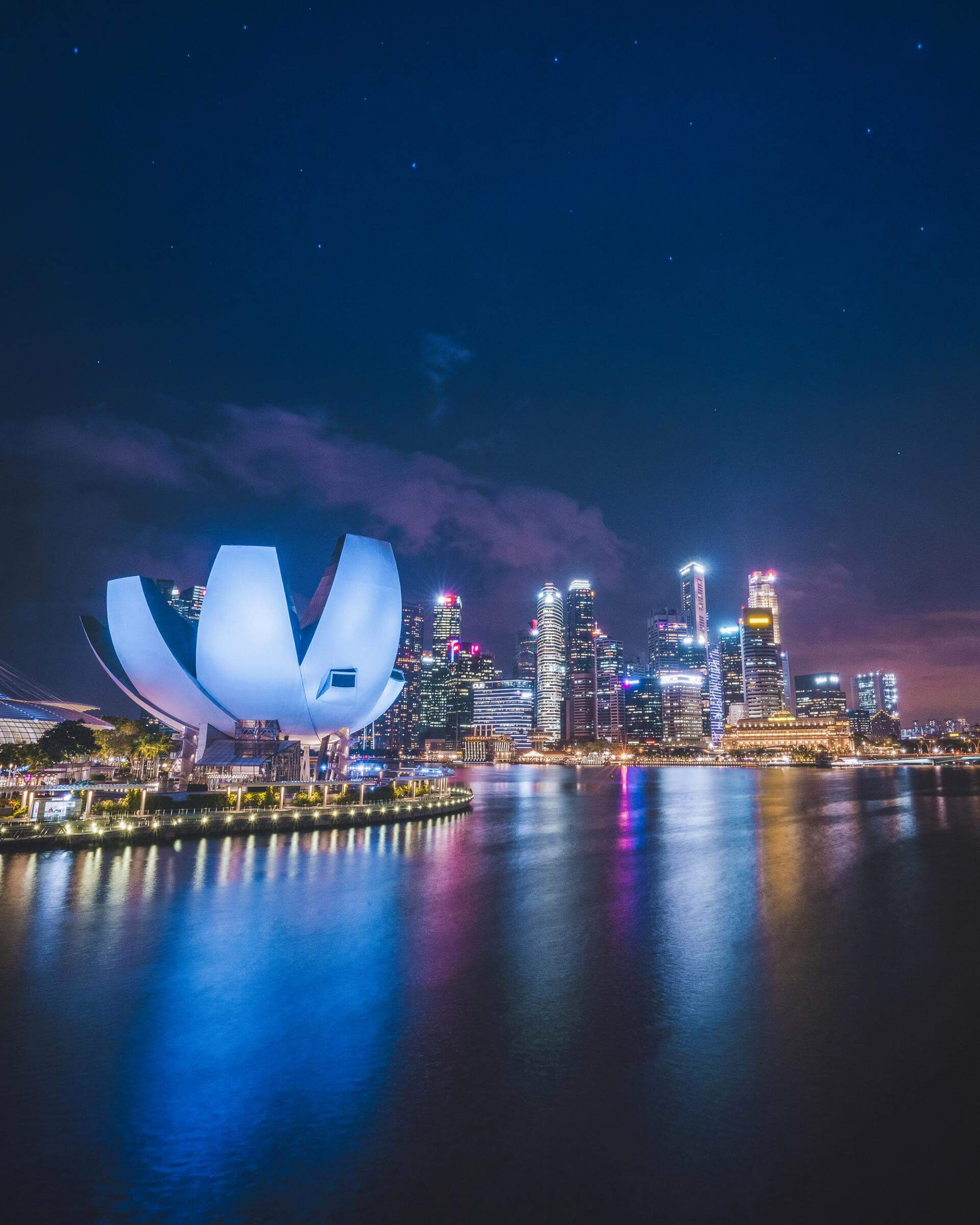 Singapore
Insider's Guide - What to do and Where to go in Singapore
Singapore is a city, as well as a country in Southeast Asia - a small island located just off the southern tip of Peninsular Malaysia. 'Singapura' is the Malay word for Singapore. 'Singa' means Lion and 'pura' means city, hence why Singapore is also known as the Lion City.
As Singapore is so small, it doesn't actually have a capital. But, it's still a great destination and if you find yourself in Southeast Asia, you should definitely give it a visit!
There is so much packed into this small island. The Lion City was founded as a British Colony in 1918 and it has been developed into one of the world's busiest ports today.
Think modern metropolis mixed together with a taste of traditional Chinese, Indian and Malay influences.
Combined with great tasting food, fantastic shopping, exciting nightlife, a first-class airport and connections to the rest of the world, the Lion City makes for a great vacation. Here's your Insider's Guide.
Sightseeing & Attractions
Marina Bay Sands

Perhaps what Singapore is most famous for, you can't come to Singapore without visiting Marina Bay Sands. An integrated resort fronting Marina Bay (the clue is in the name) owned by the Las Vegas Sands corporation, Marina Bay Sands is first and foremost a hotel and casino.
But the complex also has a shopping mall, convention center, theater and museum which are accessible for guests and non-guests alike.
The complex is now considered to be one of Singapore's most prestigious landmarks and it is well-worth a visit. A highlight is definitely the SkyPark situated on the rooftop of the 55 floor high building.
This 340 meter long deck connects the three towers at the very top, presenting a gorgeous views of Marina South Pier all the way out to the Singapore Strait.
Entry to the SkyPark isn't free – but if watching the sun setting on the most famous part of Singapore is your thing, paying the 23 SGD entrance fee will be so worth it!
Universal Studios

Visiting the Universal Studios in Singapore is a great way to let your hair down, have some fun and be a big kid for the day! Who doesn't love a theme park? With themed rides including the likes of Sesame Street, Shrek, Madagascar and Transformers, there's something for everyone here.
Tickets are around $80 per person but we guarantee you'll have a fun day you won't forget!
Singapore Zoo

The immersive experience you will have at the Singapore Zoo will get you up close and personal with rare and elusive animals from across the world.
You'll witness endangered reptilian species in the Reptile Garden, as many as 39 species of primates in the Primate Kingdom, endangered species of tortoises, Californian sea lions during the Splash Safari Show, and much more.
The many shows in the zoo are geared towards emphasizing the importance of nature and wildlife, and will motivate you to contribute towards preserving it.
You can sit in on the various shows, have breakfast with orangutans, feed animals, and even play with them. All in all, a visit to the Singapore Zoo will leave you with unforgettable memories.
National Museum of Singapore

If you have time to visit only one place to learn about the history and culture of Singapore, this is probably it. The National Museum of Singapore tells you the intriguing story of this country in a manner that is both fun and rewarding.
With its history dating back to 1887, the National Museum of Singapore is the nation's oldest, and one of the city's architectural landmarks.
Its permanent exhibitions, the Singapore Gallery and Life in Singapore: The Past 100 Years, piece together the past and present in a compelling and interesting way.
A selection of cafes and restaurants, as well as an array of shops to pick up some souvenirs, round off this spectacular museum.
Nature
Gardens by the Bay

Another of Singapore's most famous attractions is the Gardens by the Bay. Close to Marina Bay Sands (and visible from the SkyPark), it's a beautiful nature park with state-of-the-art engineering and lush greenery where you can explore plant life from around the world.
From diverse species in the cooled conservatories to towering vertical gardens, this is a must-visit.
The Cloud Forest hosts a wide range of plant life with the indoor section resembling a cave. It was once home to the tallest indoor waterfall (30 meters) – which has since been dubbed by the Jewel Airport Singapore Mall.
The Flower Dome showcases exotic plants from five continents across nine different gardens. Entrance to these is $28 per person.
When night falls, be enchanted as the vertical gardens come alive with a mesmerizing Garden Rhapsody light and sound show. This is a highlight not to be missed, plus it's completely free!
Botanic Gardens

The Singapore Botanic Gardens cover an impressive 82 hectares of land right in the heart of the city.
A stone's throw from the Orchard Road shopping belt, these gardens are home to over 10,000 species of flora not to mention a fair number of gigantic monitor lizards and other jungle creatures.
In 2015, the Gardens became one of only three gardens to earn UNESCO World Heritage Site status.
The Botanic Gardens are divided into three major zones: Tanglin Core, Central Core and Bukit Timah Core. Considering the immense size of the gardens, a great way to see all of the attractions is to visit each section on three separate trips.
However, if you are just passing through the region and do not have that much time, there are different walking guides available.
Each route is designed for different audiences and ranging from 40-90 minutes in duration.
Sentosa Island

With award-winning spa retreats, beaches, amusement parks, water parks, a casino and world-renowned golf courses, the 500-hectare Singapore Sentosa Island is known as Singapore's 'State of Fun'.
There are a range of things to do in Sentosa, for every type of visitor. The Universal Studios are situated here as well as other attractions, such as Adventure Cove Waterpark, the Maritime Experiential Museum and the SEA Aquarium.
Do be sure to step away from the flash of the casinos and hotels and head out into nature while you're here as well.
With over 170 species of birds and animals, you'll be able to catch sight of wild monkeys, monitor lizards, peacocks, squirrels, and the endangered magpie robin.
The best way to explore these natural beauties is at Sentosa Nature Discovery, which includes a gallery of interactive exhibits and a 1.8km Nature Walk through the jungle.
Entrance is free and it's open daily 9am – 5pm. After a long day of having fun, simply kick back and relax on one of the many beaches on the island.
Food
The Coconut Club

The Coconut Club draws in daily queues, so it must be doing something right! Come here to try the nasi lemak, which is a classic Malay dish.
You get a fried egg, ikan bilis, peanuts, slices of Japanese cucumber, two juicy pieces of fried chicken, sambal and unlimited servings of rice flavored with coconut milk from a single plantation in Sabak Bernam, Malaysia.
Absolutely delicious! This restaurant is the perfect combination of real Singaporian cuisine with a fine-dining feel.
Restaurant Labyrinth

Labyrinth is known as one of Singapore's finest restaurants. Chef-owner Han Li Guang's modern expression of Singaporean cuisine sees him rediscovering classic local dishes like chili crab and mee pok.
And what's more, 80% of the menu is made from ingredients sourced from the city's farms presented in a 16-course dinner that echoes Singapore's past, present and future.
Come here for a truly unique dining experience you definitely won't forget!
Daisy's Dream Kitchen

For the true local experience, head to Daisy's Kitchen. Daisy learned many of the Peranakan dishes that she prepares from her mother, and she has always loved cooking for her family.
At Daisy's Dream Kitchen you'll find a range of home cooked dishes that are so flavorful, you'll hardly believe your taste buds.
Try the traditional Peranakan dish called babi buah keluak, pork prepared in a curry with the keluak nut – a nut that's native to Indonesia that's poisonous off the tree and must be buried in the ground for 40 days and washed for 11 days until it's ready to safely be consumed.
This is a really wonderful Peranakan restaurant, come here for some real home cooking.
You can find Daisy's Kitchen at Block 517, West Coast Road.
Rooftop Bars
Raffles Hotel

The historic Long Bar at Raffles Hotel is the home of the iconic Singapore Sling. The earthy decor of the two-storey Long Bar is inspired by Malayan life in the 1920s, when newly rich plantation owners would frequent Singapore at weekends.
In keeping with the relaxed atmosphere, guests are invited to brush peanut shells off the table and bar counter to the floor for staff to pick up.
This is probably the only place in Singapore where littering is encouraged! But it is all part of the experience.
The Singapore Sling, widely regarded as the national drink, was first created in 1915 by Raffles bartender Ngiam Tong Boon.
Primarily a gin-based cocktail, the Singapore Sling also contains pineapple juice, lime juice, curaçao and Bénédictine.
Giving it the pretty pink hue are grenadine and cherry liqueur. Bartender Ngiam deliberately chose these to give the cocktail its iconic rosy color, apparently to attract more women to drink it! Come here to try it out for yourself.
Lantern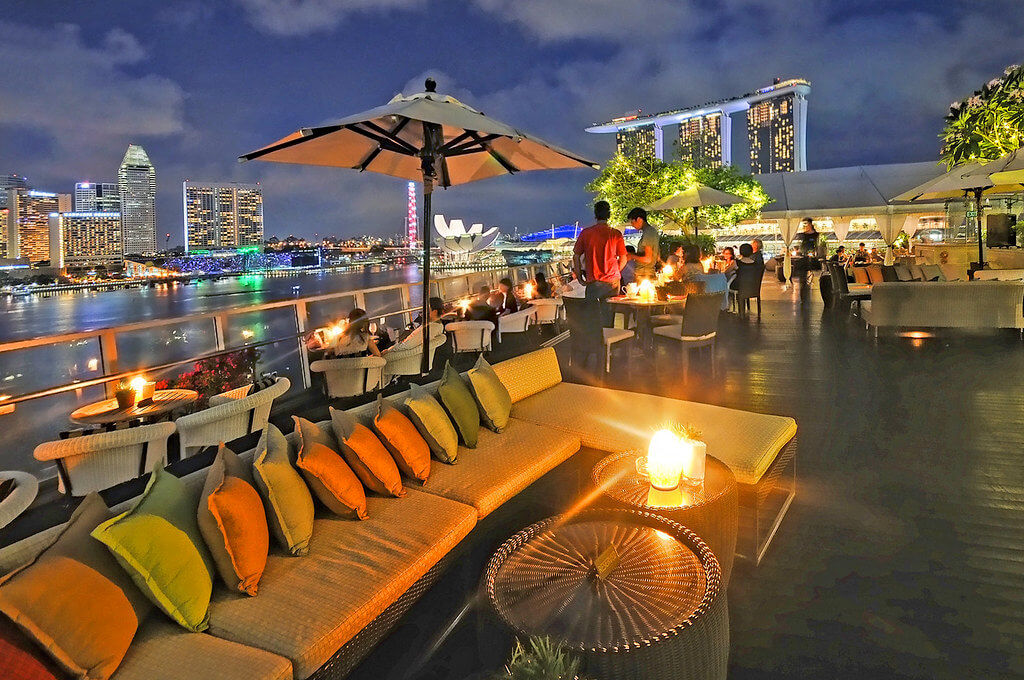 Lantern is a stylish and classy Singapore rooftop bar, located on the 6th floor at the superb five star Fullerton Bay Hotel, set right by the waterfront opposite the Marina Bay Sands complex.
While the Lantern rooftop does not have the highest altitude, it still offers an amazing view of the city skyline and Marina Bay.
The large terrace is luxurious, with beautiful lounge furniture and a lot of greenery. It is partly open air and partly covered, making it possible to visit even on rainy days.
The rooftop bar serves lunch and dinner daily, offering a variety of tasty bites like Pizza Slabs and Wagyu Burgers, along with salads, steaks and seafood.
And if the food is good, the cocktails are equally fantastic. Lots of exciting and well-crafted signature cocktails are on offer here, complemented with a fine selection of wines and a good set of beers.
For dinner at the Lantern rooftop, make sure you reserve a table if you don't want to miss out! Get in early to catch a fantastic sunset, relaxing drinks and a great view of the MBS light show.
CÈ LA VI

CÈ LA VI Singapore is located about 200 meters above sea level, at the iconic Marina Bay Sands. It should be no surprise that the view from up here is just breathtaking, and you can even view it from the bar's very own rooftop pool.
Split in two, you'll find a restaurant and sky bar on one side (with views towards the ocean/Gardens by the Bay) and the sky deck and club lounge on the other (views towards the skyline/Marina Bay).
A luxurious setting throughout, with both indoor and outdoor seating, this bar is not one to miss. The CÈ LA VI restaurant offers fantastic Modern Asian cuisine, for both lunch and dinner.
But the main attraction here are the well-crafted signature cocktails. Open daily from noon till late, almost any time is a great time for visiting the CÈ LA VI rooftop bar.
When the sun goes down the club lounge turns into one of Singapore's hottest nightspots, with live DJs and a party friendly crowd dancing away into the early hours.
Shopping
Orchard Road

For as long as anyone in Singapore can remember, Orchard Road has been a one-stop shopping destination for practically anything.
So if you're craving a spot of luxury shopping and quality finds, this is the first street to visit while in town.
The origins of Orchard Road's name is a bit of a mystery. It was either named after the abundant plantation orchards that previously stretched across the area, or as a tribute to the aptly-named Mr Orchard: one of the orchard owners.
Those fields of palm have now given way to a glitzy district lined with malls and department stores, packed with all kinds of goods. From high-fashion brands to bargain electronics, you'll find pretty much anything you can think of here!
City Plaza

Situated on the shopping stretch at Geylang Serai, this shopping mall is a bargain hunter's haven for pre-loved fashion. Check out Whitefiction, Refash and PEONY Collection for pre-loved clothing and fashion finds for $10 or less!
Make a pit stop at Arnold's Fried Chicken for spicy, golden-brown crispy chicken, before continuing your search for your next #OOTD.
For some bonus content, watch our video on the Top 5 Places to See while in Singapore: