21 Must Visit Attractions In Southeast Asia (with Photos)
21 Must Visit Attractions In Southeast Asia (with Photos)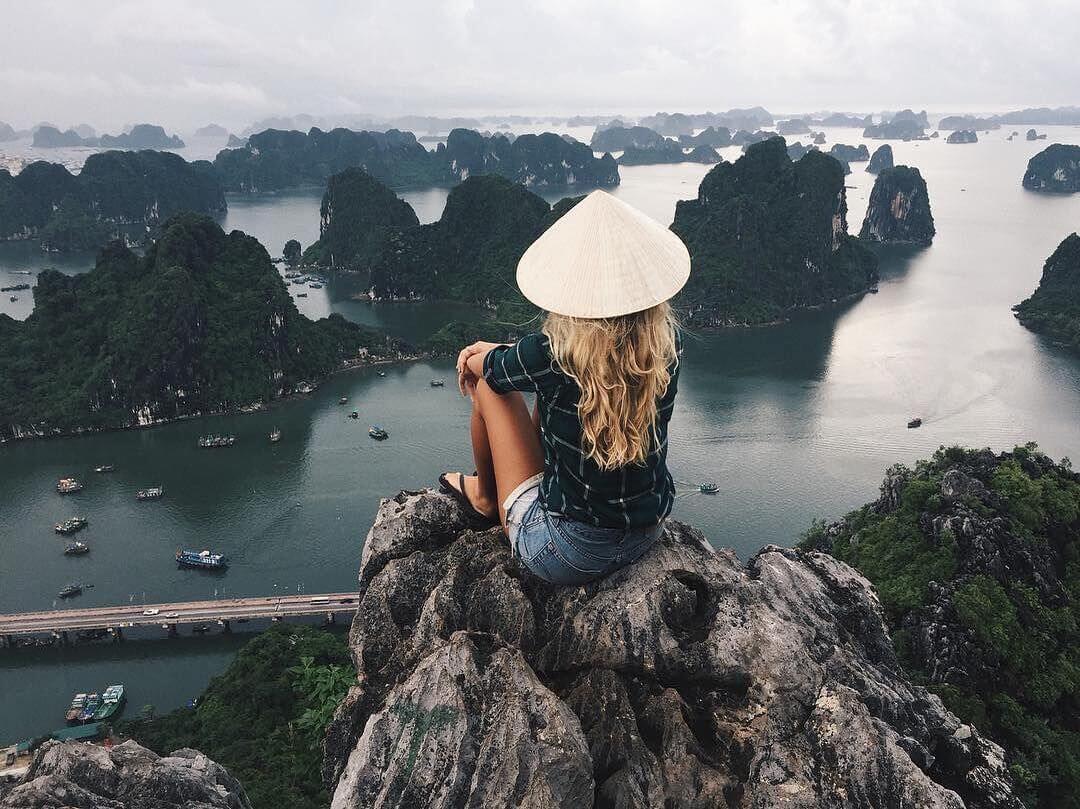 Southeast Asia is a group of incredibly diverse countries between the Indian and Pacific Oceans, featuring a rich tapestry of different cultures and religions. A favorite corner of the world for many travelers, it is known for its perfect beaches, tasty cuisine and very affordable prices!
There really is something for everyone in this tropical paradise, whether it's action-packed adventures trekking through steamy jungles and diving in some of the world's most beautiful coral reefs or chilled-out days visiting temples and hanging out at the beach you're after. But with so much on offer, it can be difficult to choose where to go!
I've put together a list of my favorite Southeast Asia attractions that will make your trip a memorable experience and look great on your Insta feed!
Our Best Selling Tour
All-Inclusive

Lovina Dolphin Watching & Snorkeling Adventure

Is there anything more exhilarating than seeing dolphins in the wild? Our Lovina Dolphin Watching & Snorkeling Adventure is simply magical. Your private Bali tour guide will pick you up and whisk you off to Lovina to see the dolphins playing at sunrise. This early sunrise tour means you will get to spend time snorkeling in the beautiful clear waters without the crowds. Add in some lunch and a visit to an awe-inspiring temple and this Bali tour is perfect for any type of traveler.
1. Angkor Wat, Cambodia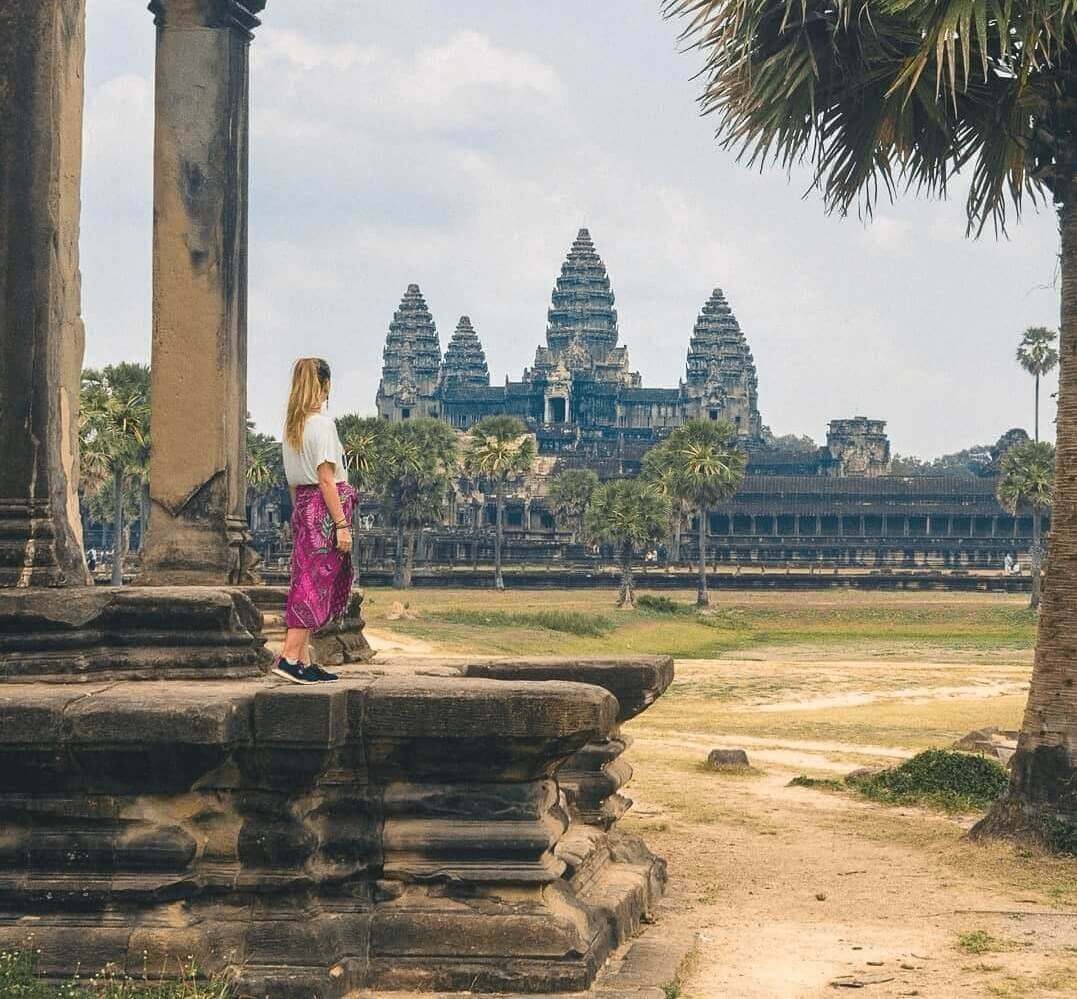 Angkor Wat is the prized temple and showpiece of what is now known as the Angkor Archaeological Park. I'm sure you've already seen the many amazing photos of the temples floating around on social media, they really are stunning! Angkor Wat is an ancient city in Cambodia that was the center of the Khmer empire that once ruled most of Southeast Asia.
This civilization went extinct, but not before building amazing temples and buildings that were reclaimed by the jungle for hundreds of years and eventually converted into Buddhist temples which are still in use today.
How to get there: Your best bet is to do a day trip from the nearest city, Siem Reap. The closest temples are only 15-20 minutes away from the center, however, it's a big attraction and there are lots of different temples to see, so bare that in mind! You can easily get a taxi or tuk tuk for around $20-30.
Expenses: To visit the temples, you need to buy a temple pass. These are sold in 1-, 3- or 7-day variations. A 3 day ticket costs $62.
How long should I spend there: While you can see a lot in just one day, you won't be able to see everything. Three days is a great way to get a taste of the popular temples that are close by to Siem Reap, as well as some of the farther out temples.
Best photo opportunity: Set that early alarm and get there for sunrise to get the iconic sunrise shot of Angkor Wat in all its glory.
2. Ha Long Bay, Vietnam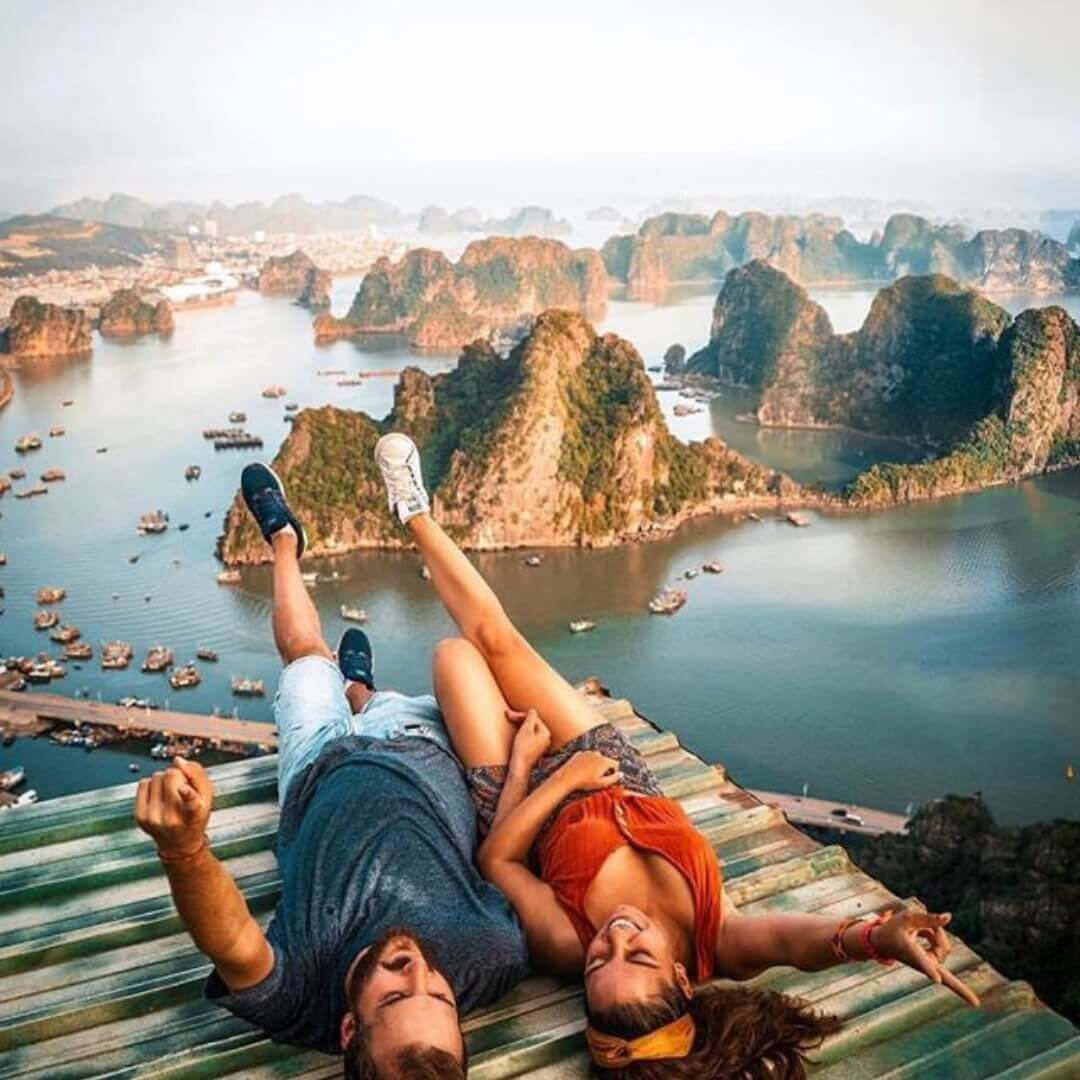 Ha Long Bay, in Northeast Vietnam is known as one of the natural wonders of the world due to it's emerald waters dotted with 1,600 limestone islands each topped with its own rainforest jungle. It really is stunning, and waking up to that view is something I will never forget.
Explore the area by snorkeling and diving, jump on a canoe or simply take in the view from the top deck of your tour boat, cocktail in hand.
How to get there: The most convenient way to visit Ha Long Bay is to join one of the many boat tours from Hanoi.
Expenses: Most boat tours will include everything - transfer from Hanoi, food, accommodation(if you opt for a longer tour) and park tickets. Starting prices for a 2 day/1 night tour are around $155.
How long should I spend there: I would recommend at least a 2 day/1 night tour as waking up on a boat in Ha Long Bay and drawing back the curtains to one of the most breathtaking views I've ever seen was priceless.
Best photo opportunity: The view from the top of Cat Ba National Park is definitely one to capture!
3. The Grand Palace, Bangkok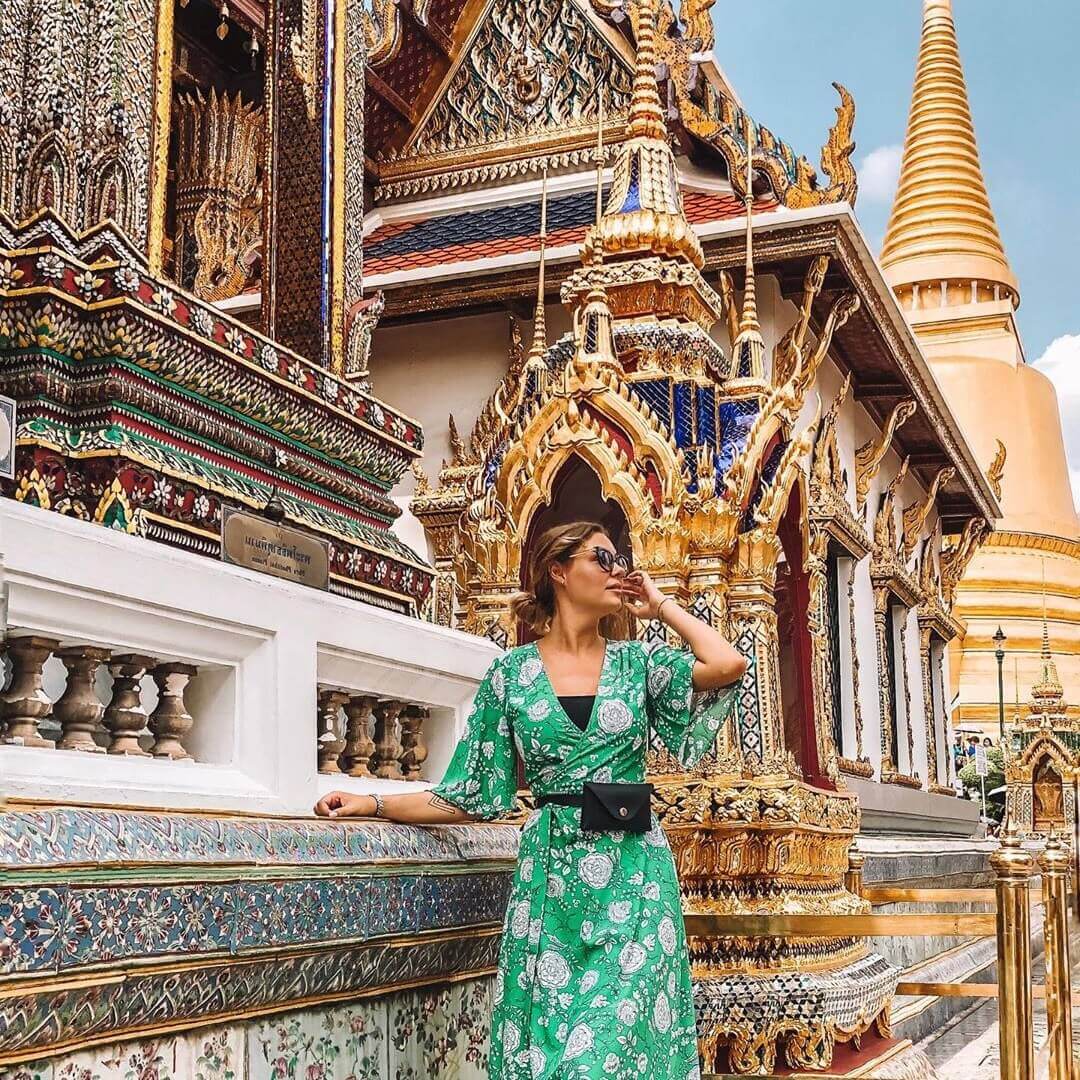 If you're in Bangkok, visiting the Grand Palace is a MUST. As the name suggests, it's one of the biggest and most impressive temples in Thailand. Now, there are a lot of temples you can visit in Thailand, but if you're only going to visit one (to avoid temple burn-out) then this should be it!
The Palace holds a very significant place in the hearts of the Thai people and is widely considered the most sacred Buddhist site in Thailand.
How to get there: The temples are easily accessible from anywhere in Bangkok. Simply jump on a train, boat, tuk tuk or taxi. Public transport is pretty easy to use and affordable in Bangkok.
Expenses: Entry to the Palace costs 500 baht per person(around $15), and tickets can be bought either online, or at the ticket booths inside the Palace grounds. Ticket booths are open from 8.30am to 3.30pm and the ticket also includes entry to Vimanmek Palace and Abhisek Dusit Throne Hall within 7 days of your visit to the Palace.
How long should I spend there: The grounds are open from 8.30am and I'd suggest getting there a little earlier than this to ensure you get to experience the grounds when they are a little less busy and a little cooler! It will take at least a few hours to walk around all of the temples.
Best photo opportunity: Get your photo outside Wat Phra Kaew, the home of the famous Emerald Buddha. Widely regarded as the most important Buddhist temple in Thailand, the building is absolutely beautiful!
4. Cu Chi Tunnels, Vietnam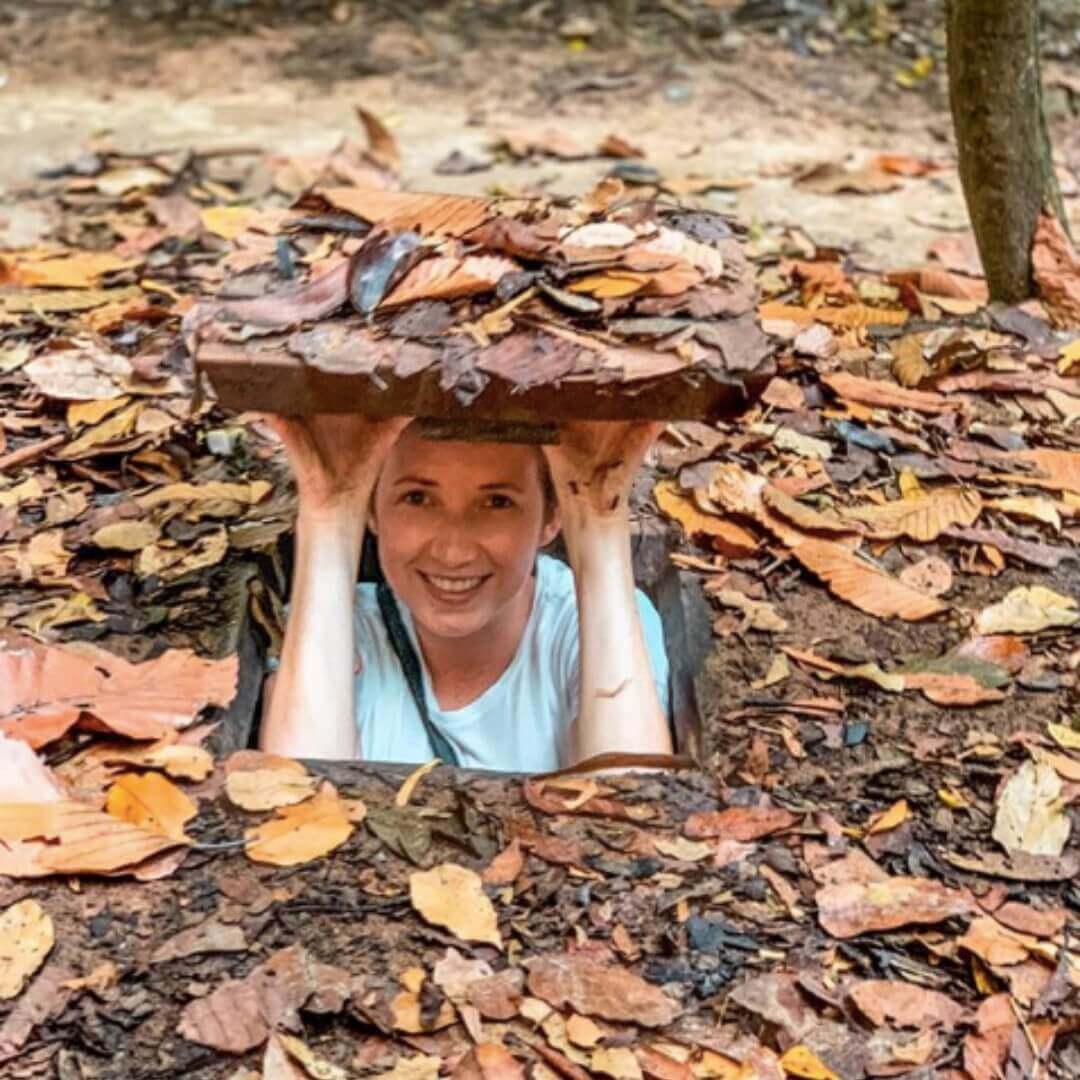 Located 60 kilometers outside of Ho Chi Minh City, the Cu Chi tunnel network is an extensive labyrinth of underground tunnels stretching all the way to the Cambodian border. They were built by the Viet Minh during the war against the US-Vietnam war.
Back then, the tunnels were a means of communication between villages and they also helped the Vietnamese evade soldiers scouting the area.
How to get there: The tunnels are easily accessible from Ho Chi Minh City. Simply get a taxi(about $60 return) or hop on one of the many tour buses that go every day. The journey is about 1 hour and a half.
Expenses: An entrance ticket to the tunnels is 110,000VND(around $5).
How long should I spend there: It will take you a few hours to see all of the attraction. You can also have a go on the shooting range for a small extra fee.
Best photo opportunity: You'll get the chance to actually enter one of the tiny tunnels - make sure you capture this moment!
Top Day Tour: Cu Chi Tunnels & Mekong Delta Experience
5. Monkey Forest, Ubud
The Monkey Forest in Ubud should definitely be on your list of things to do in Bali. When else will you have the chance to get up close and personal with cute baby monkeys? The forest is not just a point of interest to see monkeys.
This sacred Monkey Forest has spiritual, economical, educational, and conservational importance for the residents of Padang Tegal village. Plus, it's super pretty!
How to get there: If you're in Ubud, the forest is easily accessible by foot, scooter or taxi.
Expenses: An adult ticket costs 80,000IDR or 4.80USD.
How long should I spend there: It will take around 2 hours to see the whole of the forest grounds and get some photos with the monkeys.
Best photo opportunity: The helpful forest guides will help you to get the perfect monkey selfie!
Top Day Tour: Ultimate Monkey Forest Tour
6. Erawan Falls, Kanchanaburi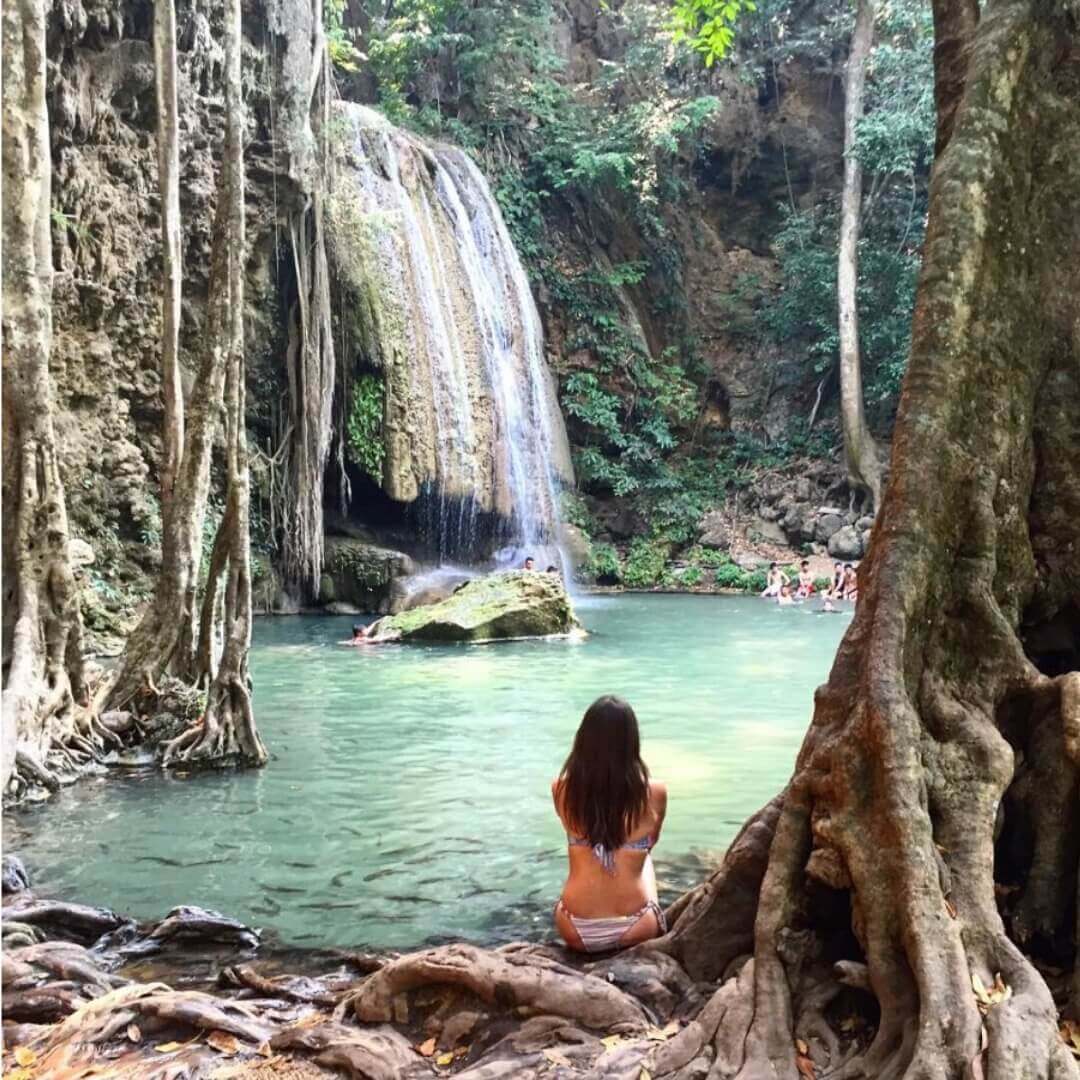 Kanchanaburi is surrounded by luscious mountains and even has a river snaking along its city curves. It was a temporary base for the Japanese during WWII, who employed allied Prisoners-of-War in the construction of a railroad track known as the 'Death Railway'.
This dark yet important history makes it a really interesting place to visit and the falls are stunning.
How to get there: Kanchanaburi is only around 4 hours from Bangkok, but I wouldn't suggest trying the trip in one day. Spend at least one night in Kanchanaburi so you have a whole day to explore the falls without being on a time limit.
Expenses: The entrance fee to Erawan National Park is 300THB or 10USD for the day.
How long should I spend here: To see all of the multi-tiered waterfalls you'll need to spend the whole day here.
Best photo opportunity: Trek to the highest and most impressive waterfall for a really impressive shot.
Top Day Tour: Mystical Waterfall & River Kwai Tour
7. Hai Van Pass, Vietnam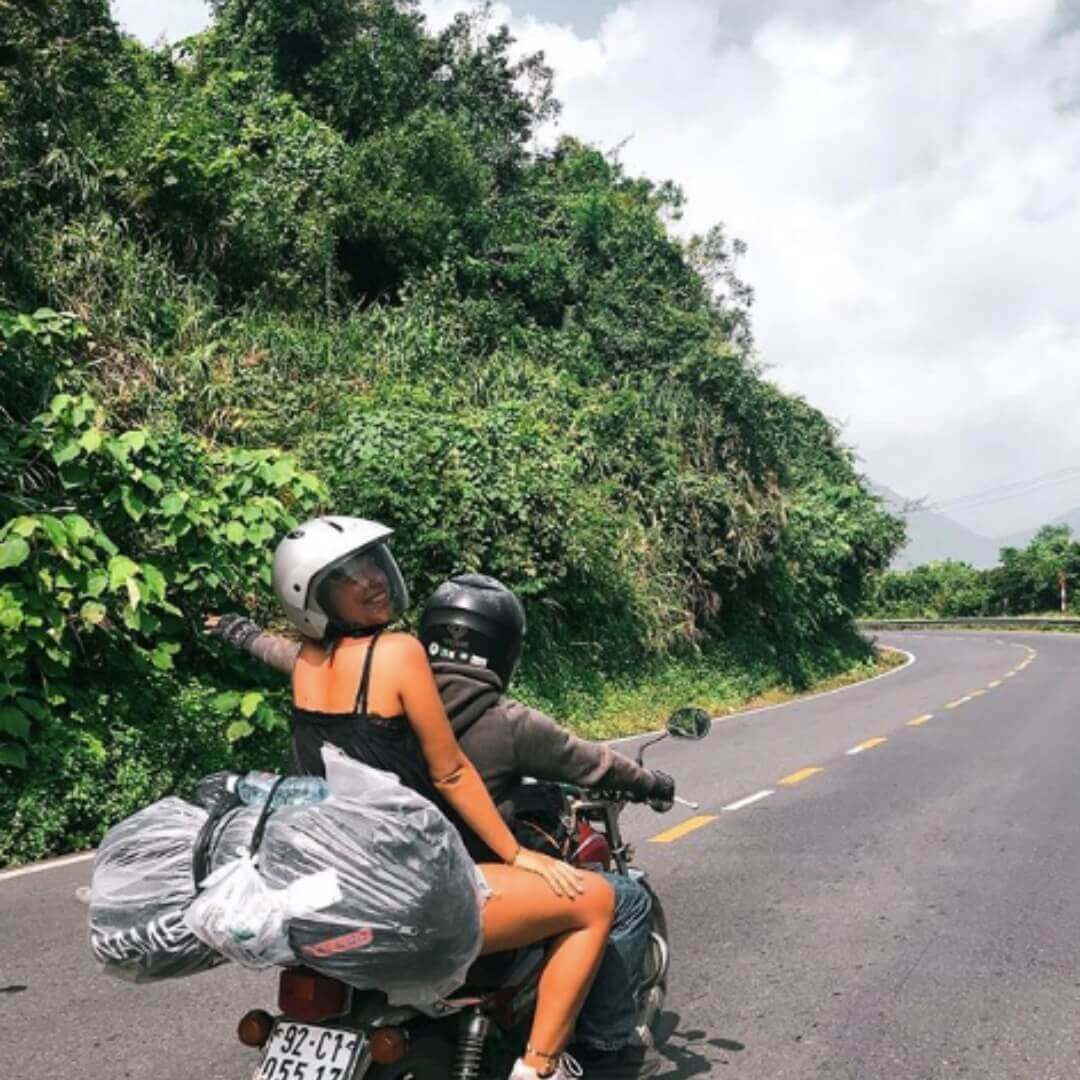 Made famous by a 2008 episode of Top Gear, in which host Jeremy Clarkson described the road as "a deserted ribbon of perfection". A ride through the Hai Van Pass is simply a must. It is one of the most quintessential roads in Vietnam, weaving through breathtaking mountains overlooking a stunning coastline.
How to get there: The Hai Van Pass is easily accessible from either Da Nang or Hoi An (it's about 1 hour by car or bike from both). You can either rent your own bike and drive there yourself if you're feeling adventurous or book onto one of the many tours.
Expenses: You can rent a motorbike from around 80,000VND which is equivalent to $3.50! Tours start from around $60.
How long should I spend here: I would allow one whole day to get the most out of this experience.
Best photo opportunity: Views from the top of the Hai Van Pass make for an amazing instagram post.
8. Manta Bay, Nusa Penida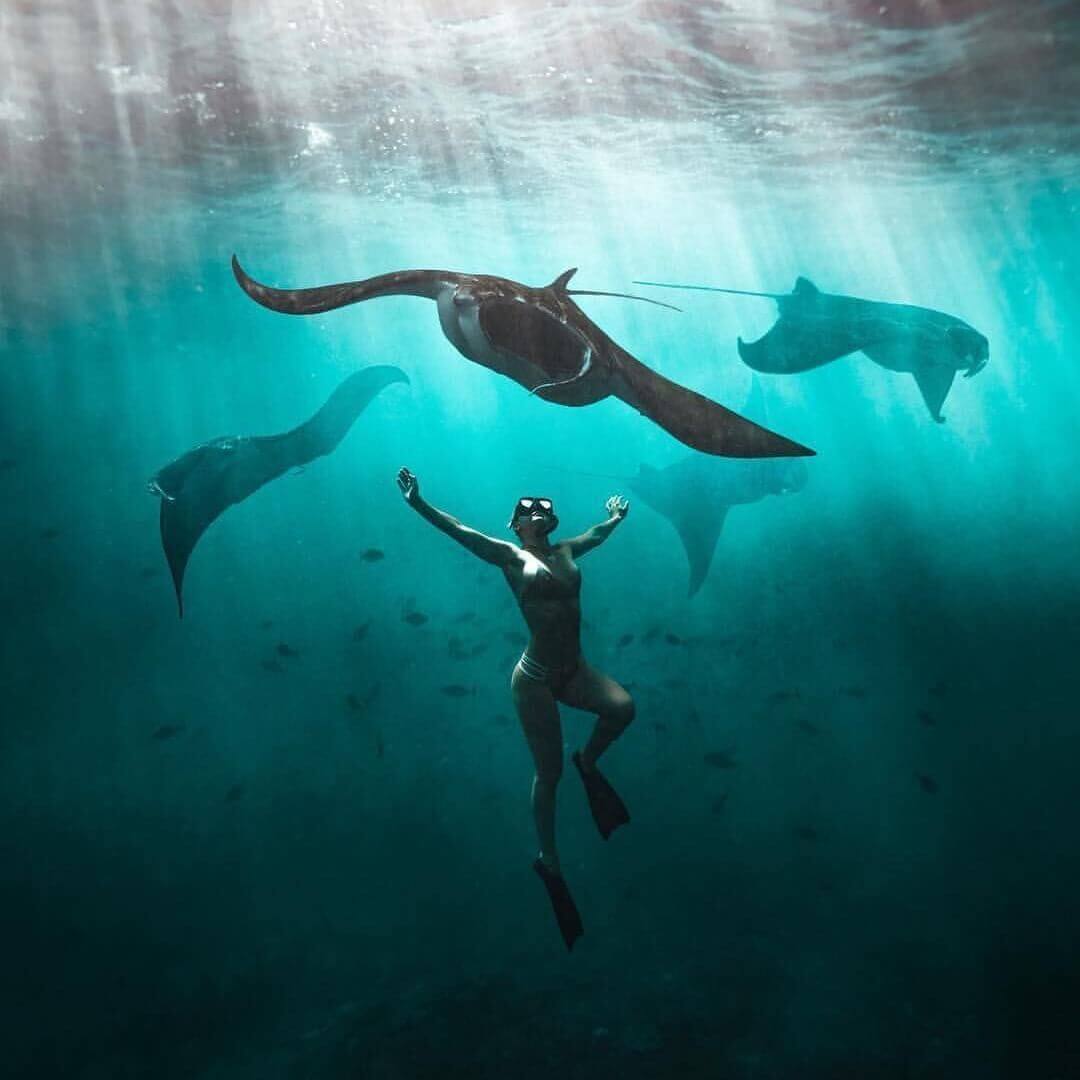 Nusa Penida is one of Bali's most beautiful islands. And the best part? You can experience a close encounter with the majestic creature that is the manta ray here. This is definitely one for the bucket list! Manta Bay is a relatively shallow area where manta rays tend to swim and feed on the surface thanks to currents rich in plankton.
How to get there: Nusa Penida is only a short boat ride away from mainland Bali and you can choose from one of the many daily snorkel or dive tours to Manta Bay.
Expenses: A whole day snorkeling trip from Bali starts from around 1,000,000IDR ($70). This will usually include transfers, meals and soft drinks as well as snorkel equipment.
How long should I spend here: I'd recommend a whole day tour to get the full experience.
Best photo opportunity: Alongside one of the many gentle giants!
Top Day Tour: Nusa Penida Snorkeling Adventure
9. Batu Caves, Kuala Lumpar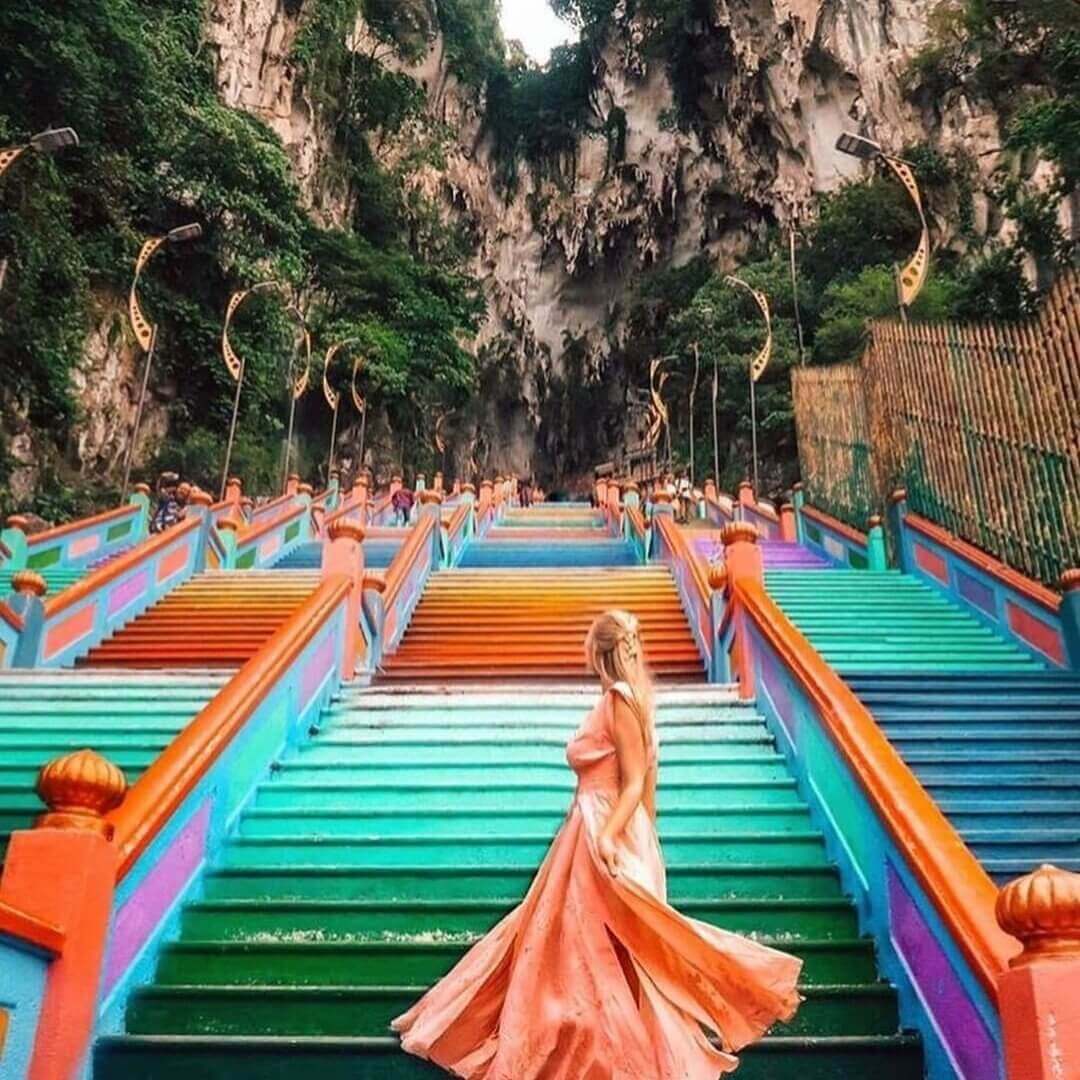 The Batu Caves in Kuala Lumpur are a must for any traveler venturing to the city. You'll be blown away by the huge Lord Murugan statue which guards the entrance.
The Batu Caves temple itself is made up of a series of caves that run through the limestone mountain, and is filled with incredible shrines to the gods.
Once you pass the giant statue, be prepared to make the climb up 272 colorful stairs while dodging the packs of monkeys that protect Batu Caves steps!
How to get there: Grab a taxi from the Centre of KL for around $9 or book onto one of the many bus tours that leave the city every day.
Expenses: Entrance to the Batu Caves is free! If you want to explore the Dark Cave it's 33MYR(7.50USD) per person but this includes a guide, flashlight and helmet. Definitely worth paying for in my opinion!
How long should I spend here: I would set aside a whole day to make the most of your trip to the caves.
Best photo opportunity: Take a snap on the beautifully colored 272 step staircase.
Top Day Tour: Kuala Lumpur Instagram Tour: Most Famous Spots
10. Semenggoh Nature Reserve, Borneo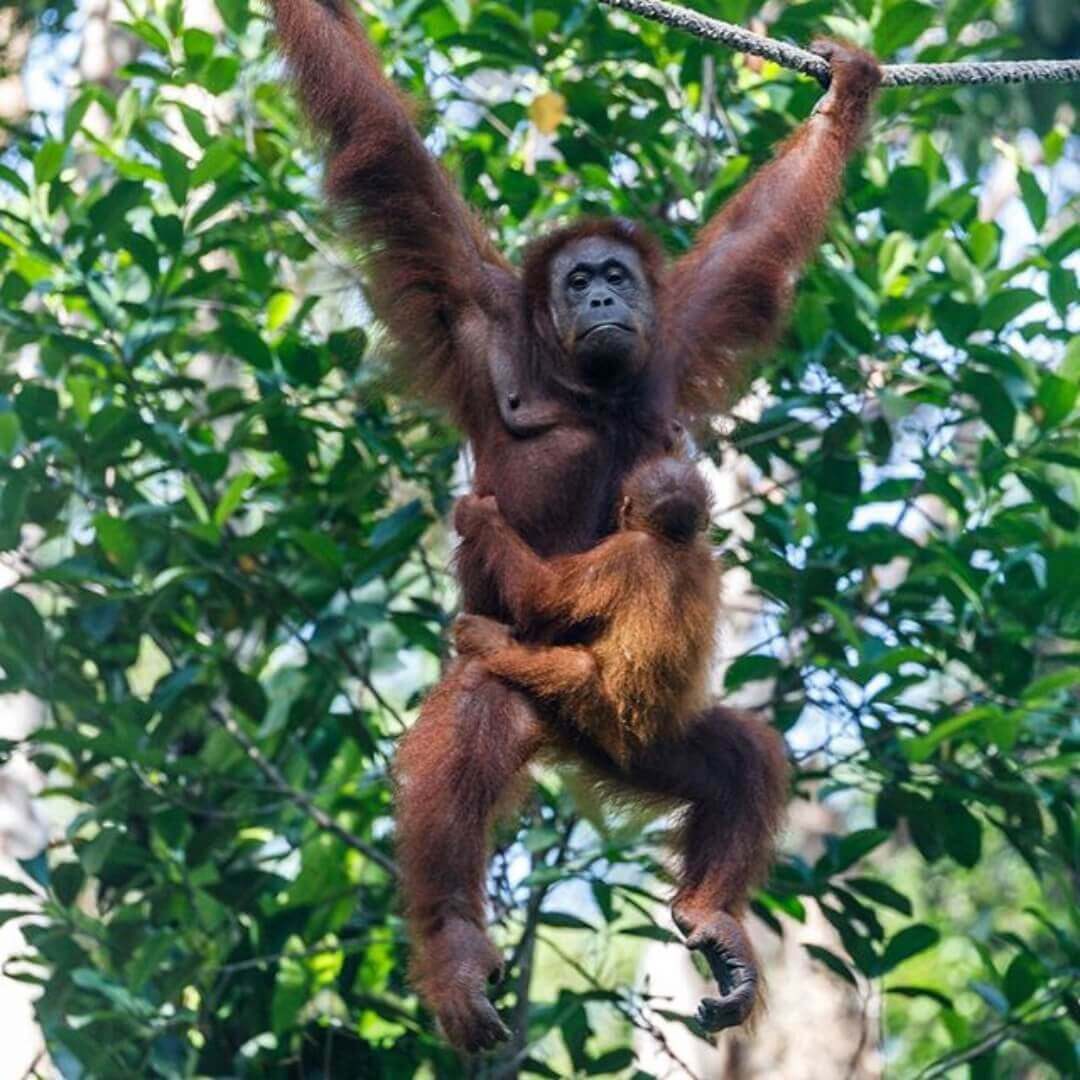 If you're looking to encounter semi-wild orangutans in Sarawak, Semenggoh Nature Reserve, just outside of Kuching, is the place to go. Semenggoh offers an intimate and affordable experience with the orangutans that will be one to remember! Observe these rare animals from a safe distance and learn all about these intelligent creatures.
How to get there: Jump on the public bus or grab a taxi (around 40MYR or 9USD) from the Kuching Waterfront.
Expenses: Entry is just 10MYR (just over $2!) and you can only buy tickets at the entrance so there is no point in arriving before the park opens at 8am.
How long should I spend here: The reserve is only open during the orangutan feeding times. This is from 8 am – 10 am and then again at 2 pm – 4 pm every day. Here you can observe the orangutans who've made their way out of the jungle to eat.
Best photo opportunity: Get a beautiful shot of one of the animals from the observation area.
11. Petronas Twin Towers, Kuala Lumpur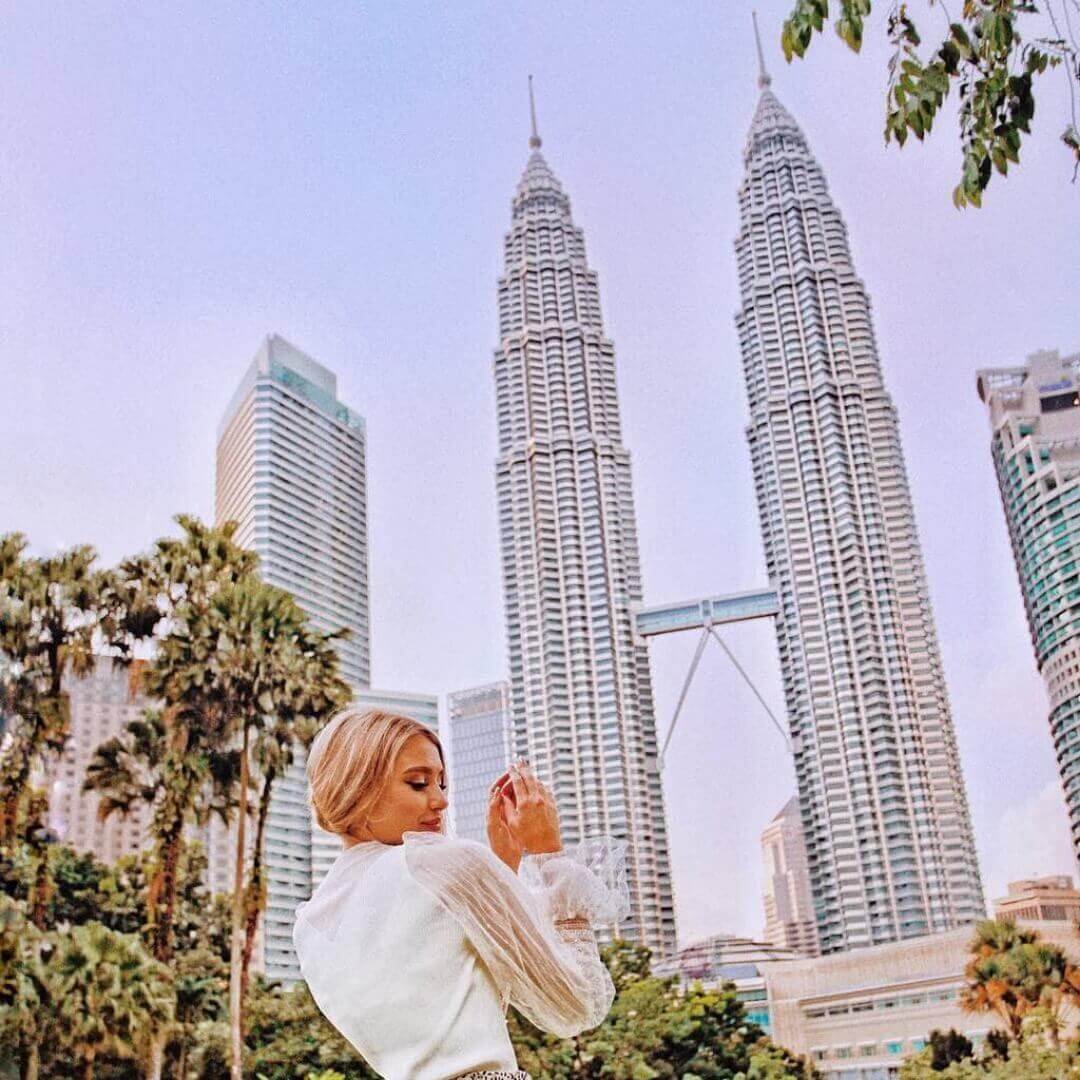 The Petronas Twin Towers were the tallest towers in the world from 1998 to 2004. Now the twelfth tallest, they are still extremely impressive!
The skybridge that connects the two towers is the highest two story bridge in the world. Made from steel and glass, the towers are a symbol of KL that are well-worth a visit.
How to get there: As the towers are located in the center of KL they are easily accessible by foot or taxi.
Expenses: An adult ticket costs 80MYR(18USD).
How long should I spend here: The visit takes 45 minutes and includes the skybridge, observation deck and gift shop. They recommend that you check in 15 minutes before your time slot to make sure you're not late!
Best photo opportunity: Get an awesome shot from the bottom of the towering building.
Top Day Tour: Kuala Lumpur Instagram Tour: Most Famous Spots
12. Mekong Delta, Vietnam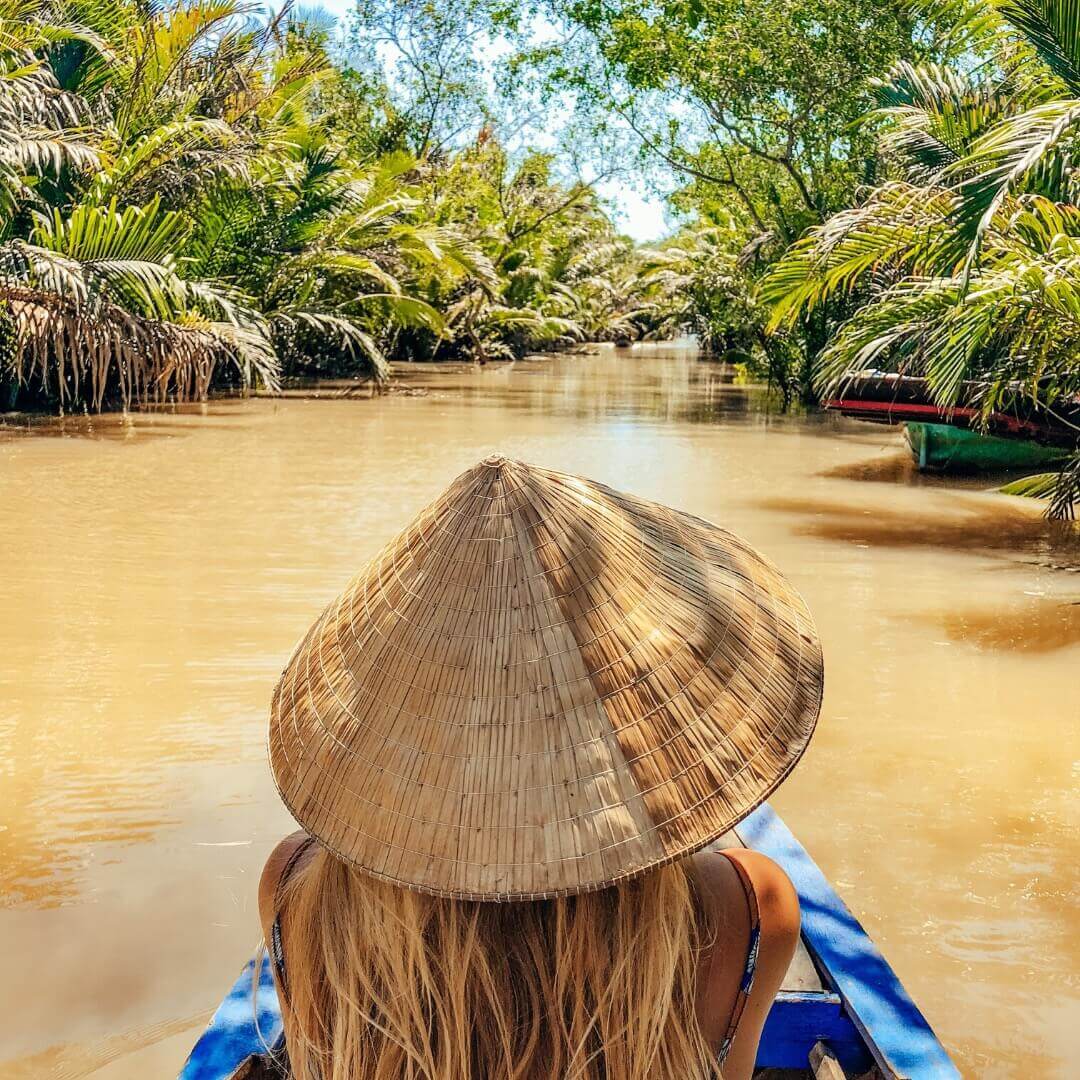 The Mekong Delta is a network of distributaries in Southwestern Vietnam, between Ho Chi Minh City and Cambodia. The river itself starts in the Himalayas and passes through China, Myanmar, Thailand and Cambodia before reaching Vietnam. More than half of Vietnam's rice and fish comes from the delta region. It's vital to the Vietnamese economy and diet.
How to get there: Most day trips will run from Ho Chi Minh City.
Expenses: Day trips to the Mekong start from around $25 depending on what you'd like to be included and how luxurious you'd like the experience to be!
How long should I spend here: As the river passes through many interesting places in Vietnam, I'd recommend doing at least a full day trip.
Best photo opportunity: Visit one of the floating markets for amazing photo opportunities!
Top Day Tour: Cu Chi Tunnels & Mekong Delta Experience
13. The White Temple, Chang Rai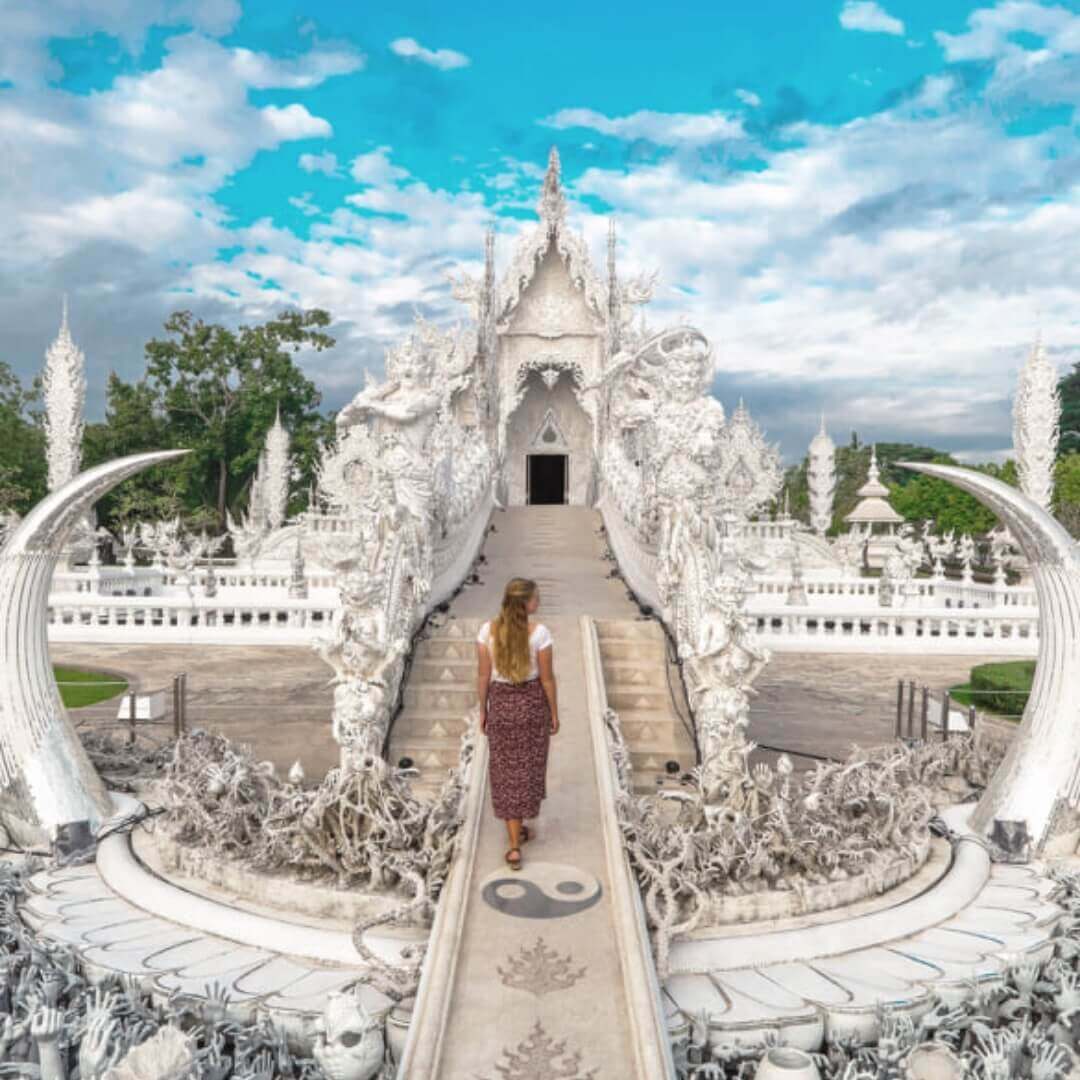 As one of the most unique, and somewhat bizarre, destinations in Southeast Asia, the White Temple (Wat Rong Khun) in Chiang Rai is a site not to be missed on your trip to Thailand! You may have seen pictures of the glittering white facade, it's like no other temple in Thailand.
How to get there: The temple is located about 15km from the center of Chiang Rai. A taxi is only around 300 baht ($9) and will take about 20 minutes.
Expenses: Tickets for foreigners are 50 baht (1.60USD).
How long should I spend here: The temple is open from 6.30am to 6pm and it will take around 2 hours to see all of the grounds. I'd suggest avoiding the middle of the day when the sun is at its hottest though.
Best photo opportunity: In front of the main White Temple.
14. Temple of Literature, Hanoi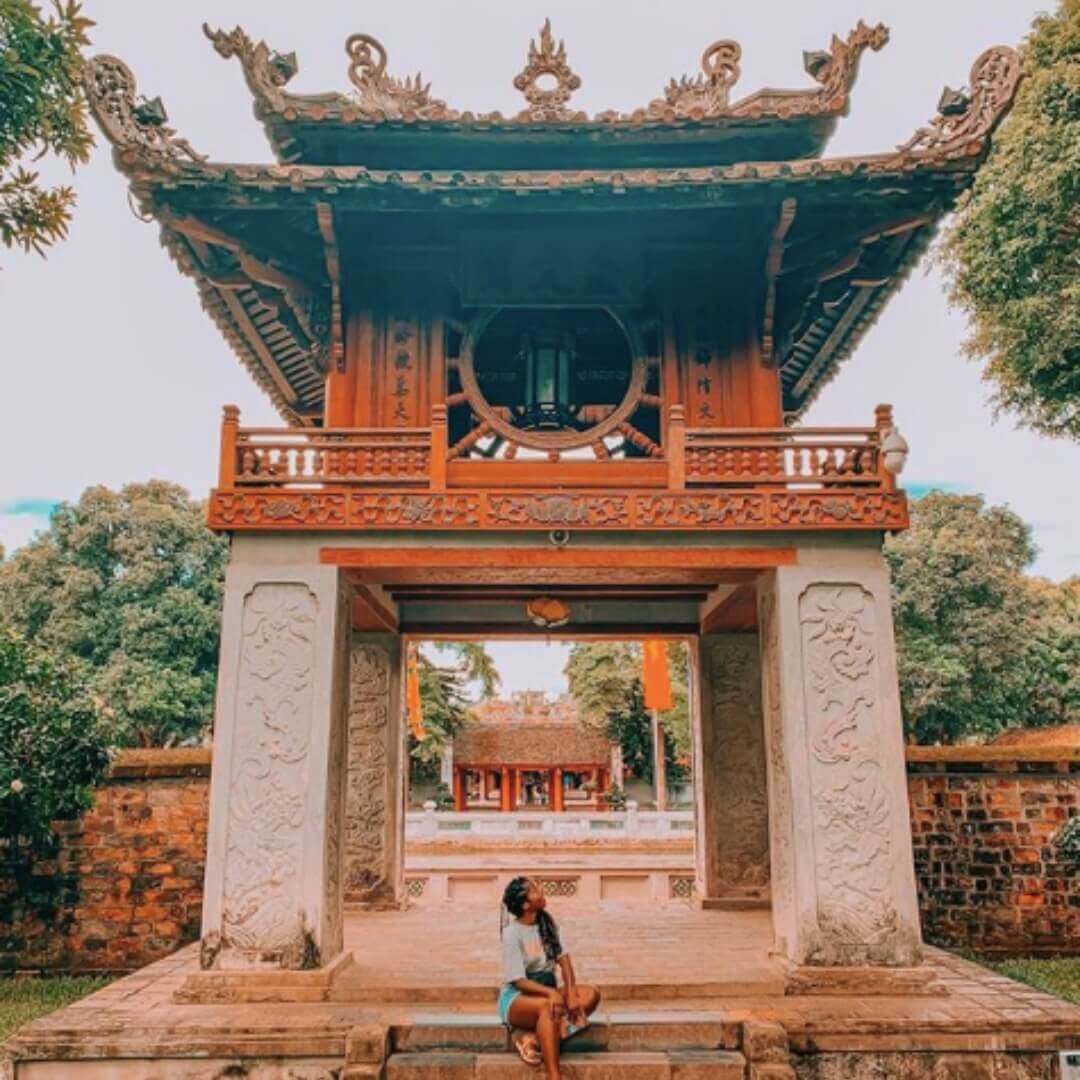 Tucked behind a walled compound with five separate courtyards, the Temple of Literature was built under Ly Thanh Tong's dynasty in 1070 to honor Confucius. It became Vietnam's Imperial Academy shortly after, a prestigious school for top academics. Today, the temple honors Vietnam's finest scholars and signifies the beginning of a uniform educational system in Vietnam.
How to get there: The temple is easily accessible by foot, taxi or public transport from anywhere in Hanoi.
Expenses: There is a small fee of 10VND (less than 50 cents!) to enter the temple.
How long should I spend there: I would set aside a few hours to make the most of this historic site.
Best photo opportunity: The temple at the main entrance makes for a beautiful photo!
Top Day Tour: Hanoi Instagram Tour: The Most Famous Spots
15. Tanah Lot Temple, Bali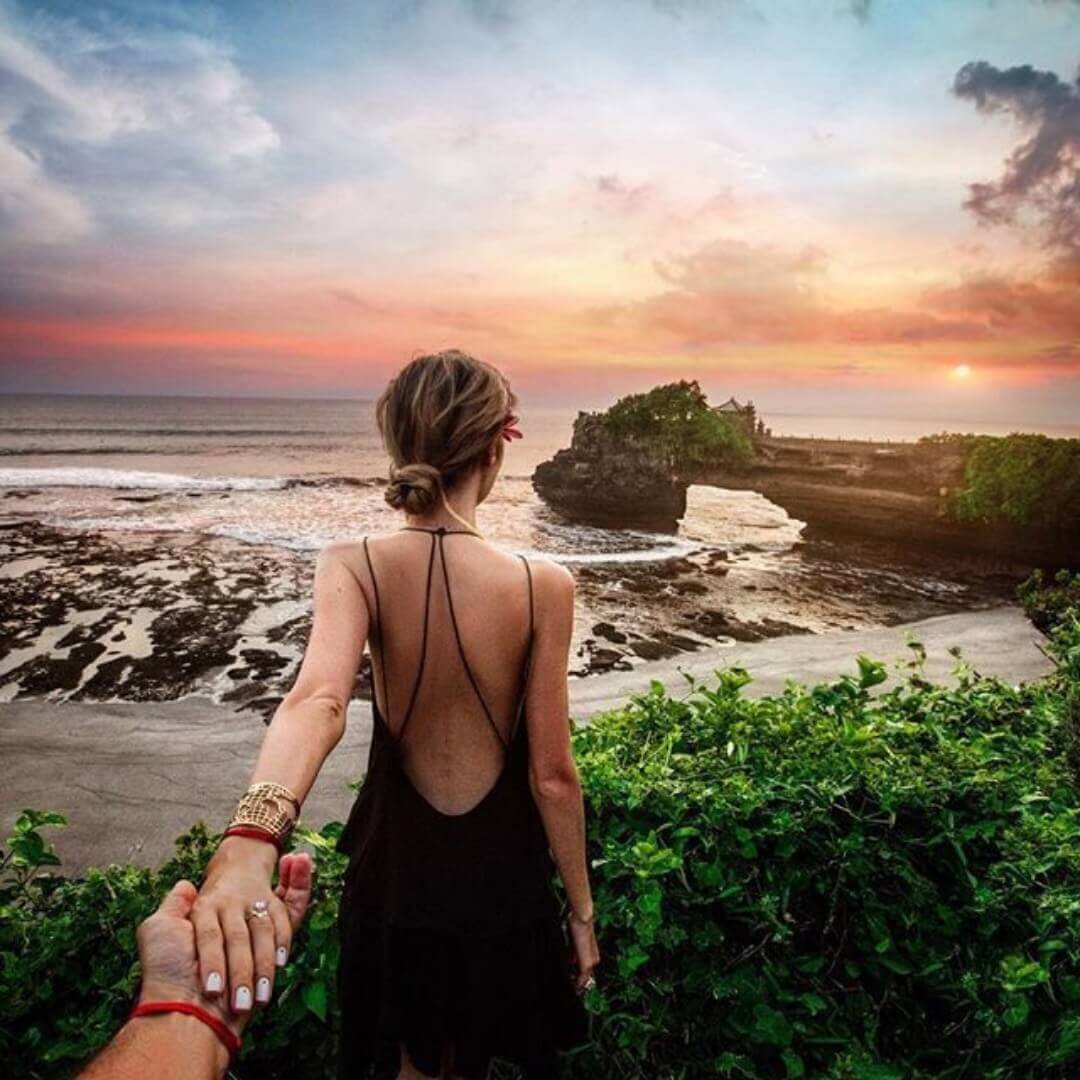 Tanah Lot Temple stands for earth (Tanah) and sea (Lot), quite appropriate considering its spectacular setting on top of an impressive rock overlooking the sea. This cultural icon is among the seven sea temples located in the coast of Bali and has been contained in Balinese mythology for centuries. It is considered to be one of the most famous and sacred Hindu temples.
How to get there: Located in the Beraban village of the Tabanan Regency, it is approximately 20 km away from the Southwest Kuta region. Easily accessible by car or bike it takes around 40 minutes from Canggu.
Expenses: Entrance is 20,000IDR (1.20USD) and an extra small donation is expected if you want to take part in a Hindu blessing.
How long should I spend here: As the three temples are all very close together it doesn't take long to see them all. However, it's a really nice place to chill out for a few hours and take in the gorgeous scenery.
Best photo opportunity: The largest temple that hangs out directly over the ocean is extremely photogenic.
Top Day Tour: VIP Ultimate Spa Experience & Tanah Lot Temple Visit
16. Inle Lake, Myanmar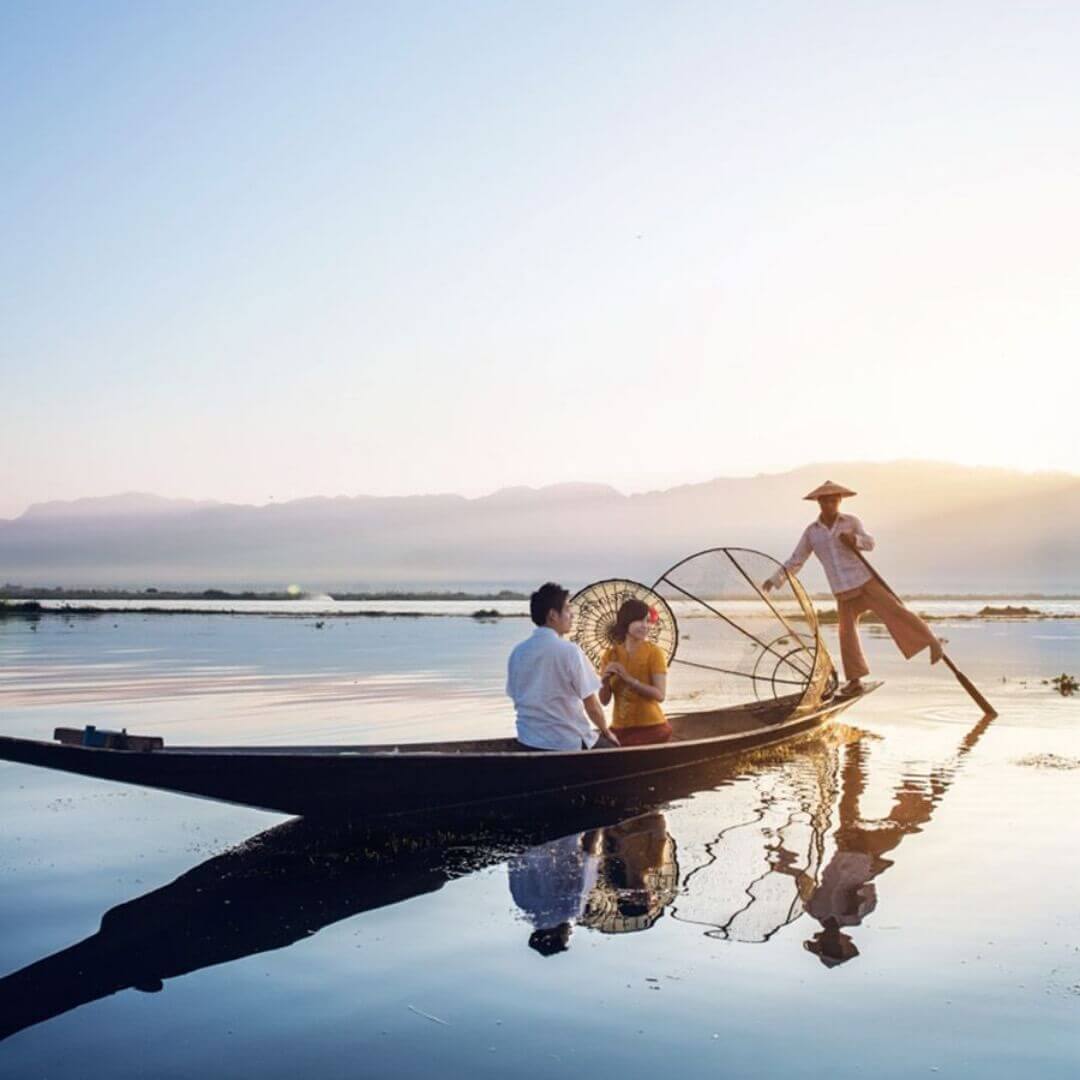 Inle Lake is unlike any other tourist spot in Myanmar. Located in the middle of Myanmar, Inle Lake is in the Shan State. It's a shallow lake that's over 13.5 miles long and 7 miles wide. The Lake is famous for the floating villages and gardens around the lake.
How to get there: There are daily flights to Inle Lake from Bagan and Mandalay, flights typically cost 70USD and are only 30 minutes.
Expenses: Since the lake is huge, hotels in Inle Lake are spread out all around the lake. The main hub for Inle Lake is Nyaungshwe and there are hotels here as well. There are heaps of different tours you can take from day-long boat tours(around $10) to hot air balloon rides over the lake(around $350)!
How long should I spend here: I'd recommend spending at least a few days in the area to get in a few different experiences.
Best photo opportunity: Be sure to get a snap of the local fishermen doing their unique 'foot paddling'.
17. Mui Ne, Vietnam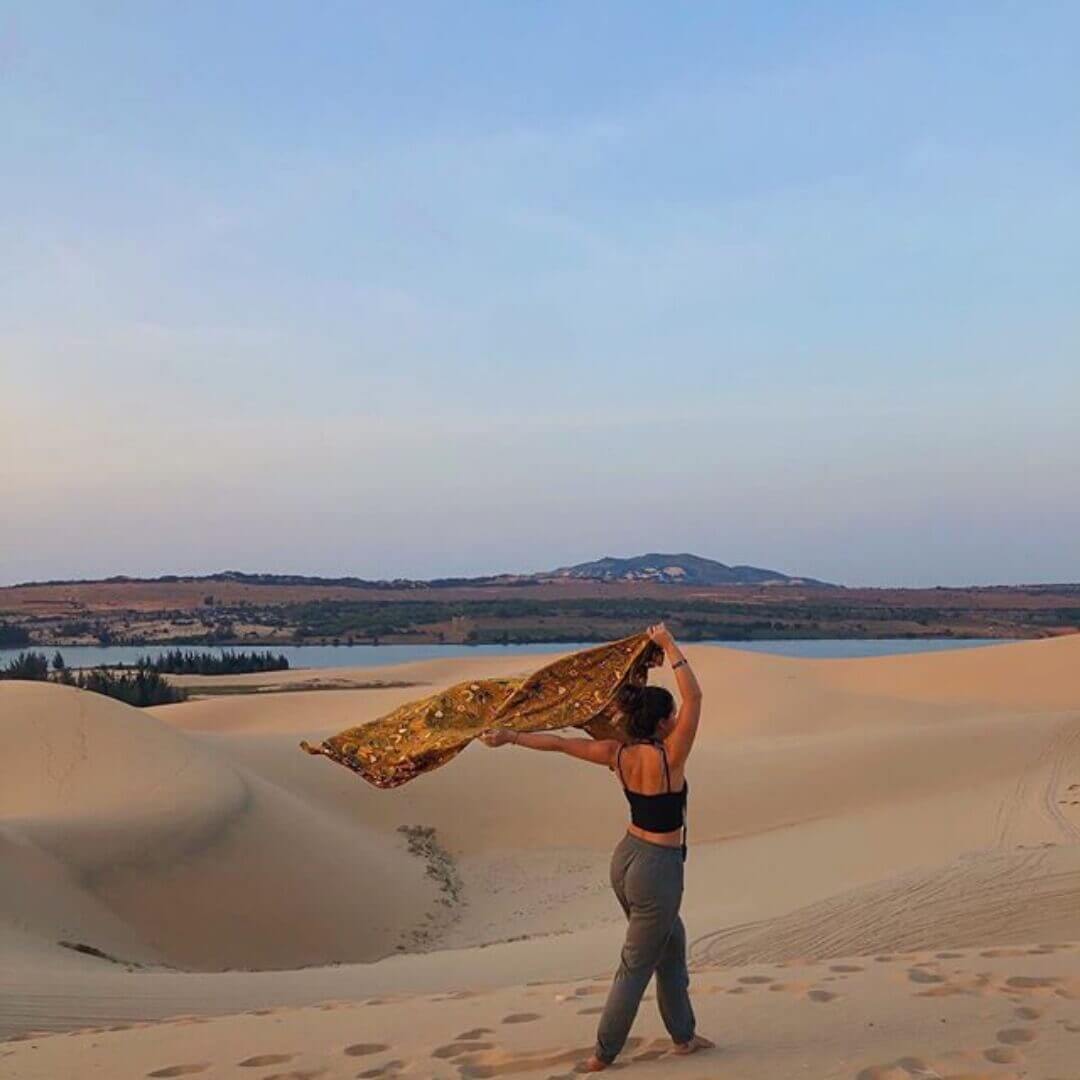 Once Mui Ne was an isolated strip of coastline with a small traditional fishing village, where only the adventurous travelers camped on the beach. The original fishing village is still there, but nowadays there are more tourists than locals. The sights on Mui Ne and Phan Thiet range from beautiful beaches, tropical forests and sand dunes to traditional villages, fishing ports and ancient Cham buildings and ruins.
How to get there: You can easily get the bus or train from Ho Chi Minh, both will take around 5-7 hours but the scenic routes are a great way to witness even more of Vietnam's beauty!
Expenses: There are a number of mid-range to luxury hotels in the area and you can get around by bike or taxi for super cheap. Tours to the unmissable sand dunes start from around $20.
How long should I spend here: I'd recommend at least a couple of nights in Mui Ne to get the full experience.
Best photo opportunity: A photo in the awesome sand dunes looks super impressive!
18. Mount Batur, Ubud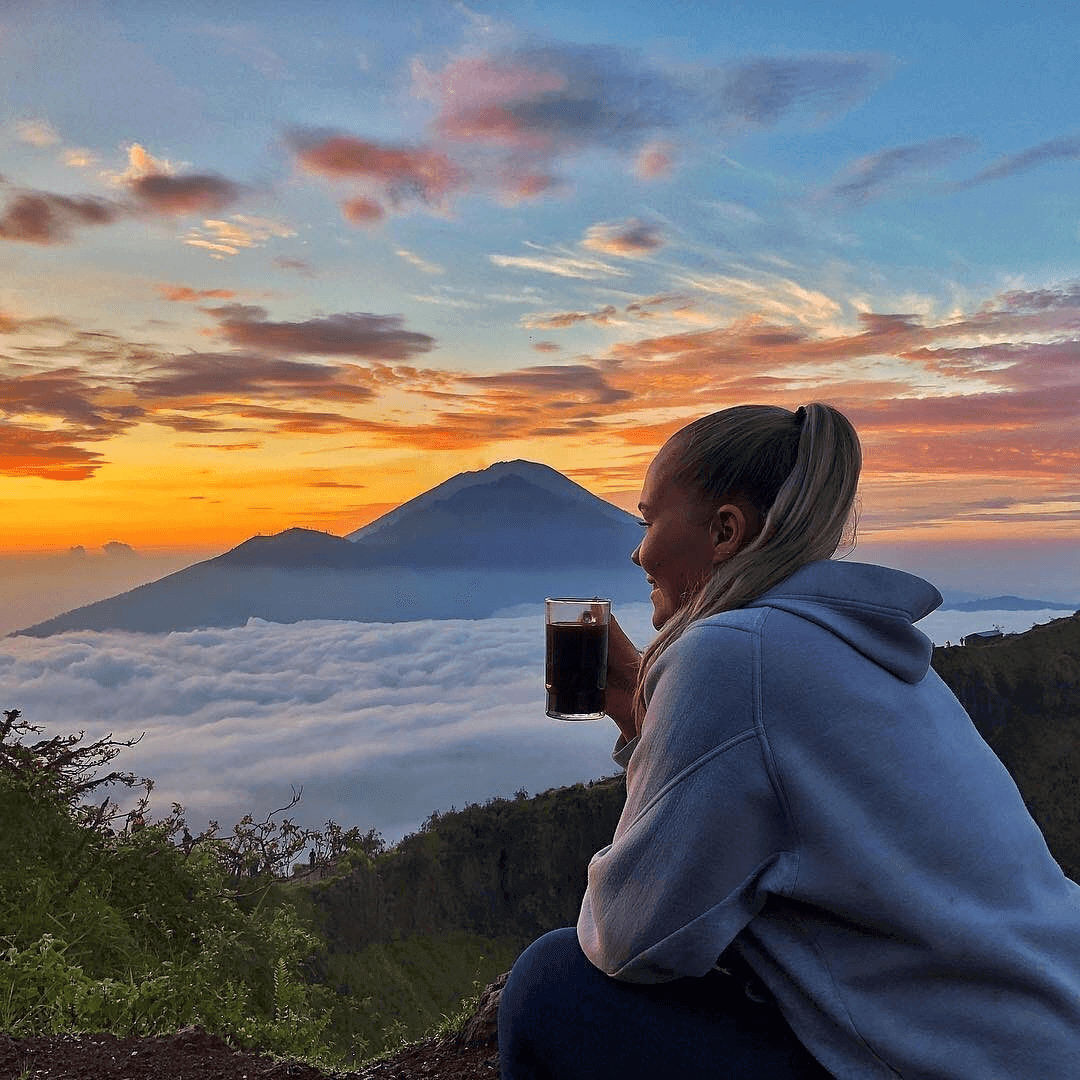 Mount Batur is situated in the Bangli region on the island of Bali, Indonesia. For many years tourists have been hiking up Mount Batur to watch the sunrise over nearby volcanoes Mount Agung and Mount Agang, and it's not hard to see why!
How to get there: Tours run from pretty much anywhere in Ubud and will usually pick you up directly from your hotel.
Expenses: Sunrise treks cost around 350,000IDR($20) per person. This includes a guided trek as well as refreshments.
How long should I spend here: Sunrise treks usually run from around 2am to 8am.
Best photo opportunity: At the top of the peak as the sun is coming up - amazing!
19. Marina Bay Sands, Singapore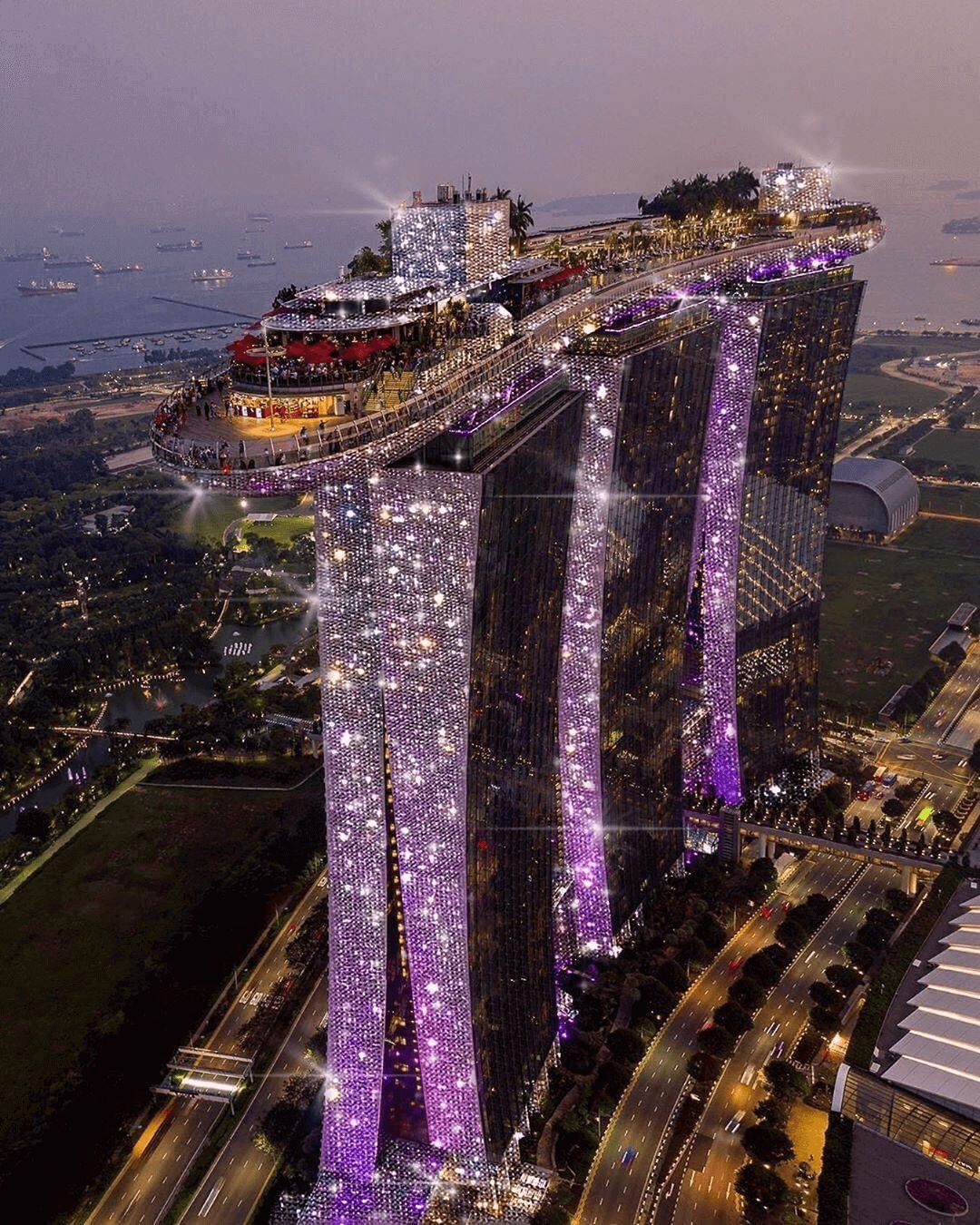 The Marina Bay Sands Hotel & Casino is a modern and luxurious resort. Featuring the Marina Bay Sands mall, the ArtScience Museum, multiple 'celebrity chef' restaurants, two floating Crystal Pavilions, a skating rink and the Gardens by the Bay there is lots to see and do here.
The casino is the world's largest atrium casino with over 500 tables and 2,000 slot machines.
How to get there: Easily accessible by foot or public transport from the center of Singapore.
Expenses: It's free to wander around Marina Bay Sands but if you want to enter the Gardens by the Bay it's $28 per person (would 100% recommend!).
How long should I spend there: You can easily spend a whole day here visiting the many attractions.
Best photo opportunity: The amazing Gardens by the Bay will look great on your insta feed!
Top Day Tour: Singapore Walking Instagram Tour
20. Palawan Island, Philippines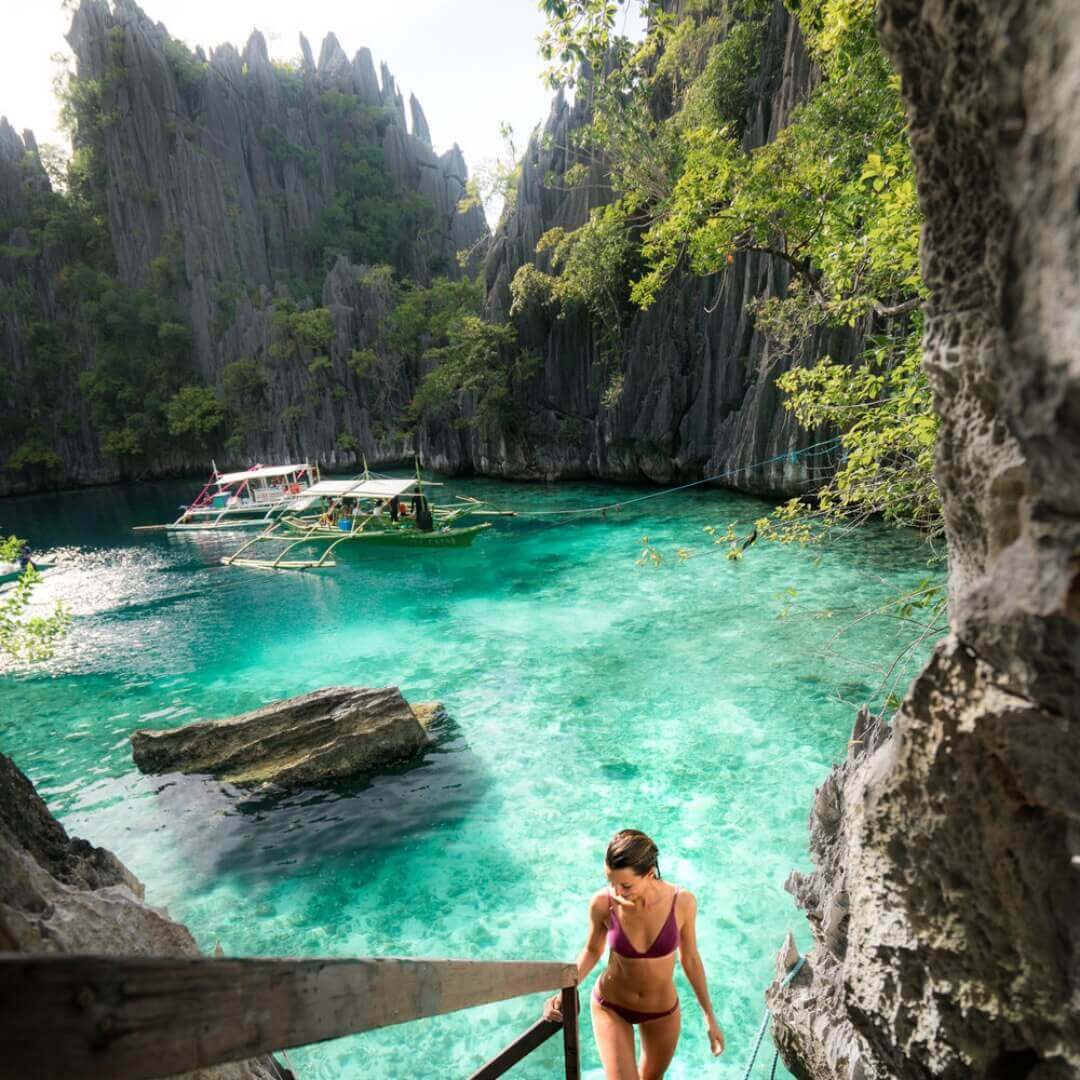 With its lush jungles, white sand beaches, caves, dive sites, and unspoiled nature, Palawan is one of the true highlights of The Philippines. Palawan in the Western Philippines is made up of 1,780 islands and islets. It's a long but narrow strip of some of the best beaches and marine life you will see in Southeast Asia.
How to get there: From Manila, it's approximately a one hour plane ride to the capital Puerto Princesa. These start from around $50.
Expenses: There is a range of luxurious holiday resorts on the island and heaps of different activities you can have a go at, including: diving, snorkeling, canoeing and even helicopter tours!
How long should I spend here: I would spend at least a few days here, but a week would allow for even more exploration and enjoyment of the islands.
Best photo opportunity: The pristine beaches will spice up any instagram feed for sure!
21. Luang Prabang, Laos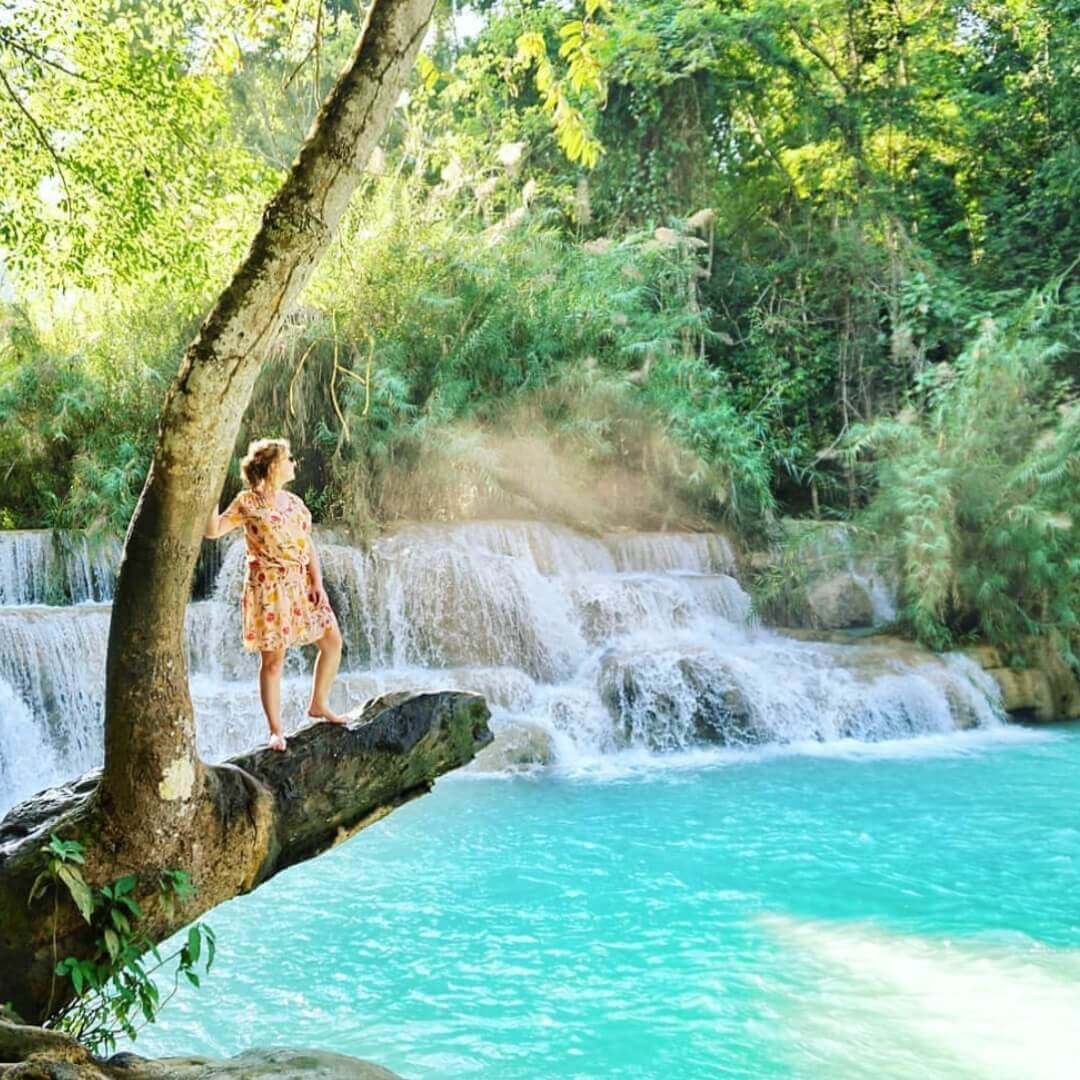 Luang Prabang is a small but vibrant town in the heart of mountainous Northern Laos. Luang Prabang is located at the confluence of the Mekong and Nam Khan rivers, and is one of the most popular destinations in Laos as most travelers use it as the first or last stop in the country before going to/from Thailand.
For a small town, there's a lot to see and do. With its 33 temples, streets filled with French colonial architecture, bustling night markets, river tours and waterfalls, you can fill a lot of time here.
How to get there: Get an overnight bus from Thailand or take a boat up or down the Mekong.
Expenses: Laos is super cheap and you can get a nice hotel for around $40 per night. Plus, most of the attractions only cost a few dollars for entry.
How long should I spend here: One or two nights is probably enough to see most of the town, however you might find yourself getting stuck here for longer!
Best photo opportunity: Kuang Si Falls are super picturesque.
Get your VACATION on!
Expertly curated emails packed full of vacation inspiration, travel tips and more!