21 Places You MUST Visit In Thailand
21 Places You MUST Visit In Thailand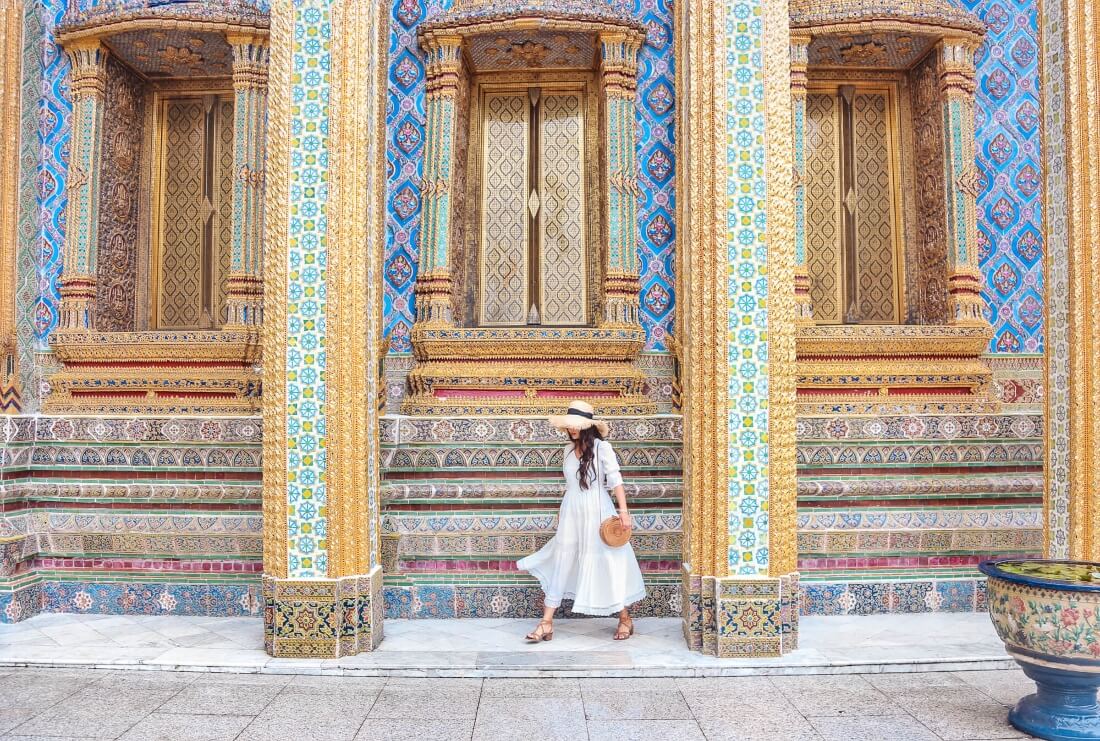 The Land of Smiles should be top of everyone's bucket list to visit. It has so much to offer - exotic beaches, lush green jungle, city life, and more! It can be easy to stick to the most well-known attractions, but there is so much more to Thailand than just Bangkok and beaches. Here are the 21 top attractions and places you MUST visit if you plan a trip to this beautiful country.
1. Damnoen Saduak Floating Market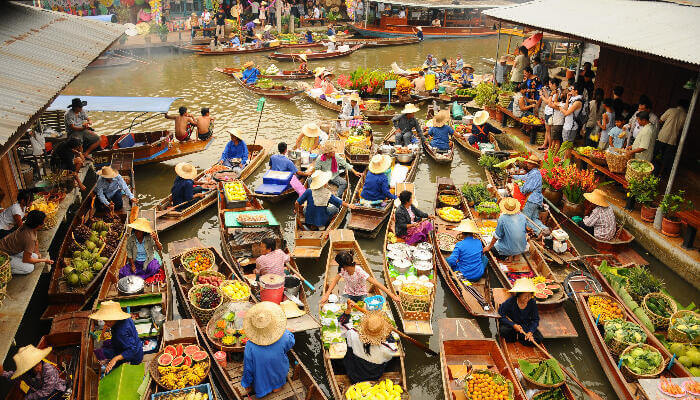 If you love food and experiencing the colors and smells of a new country, visiting a floating market in Thailand is definitely for you. Head to any of the country's canal markets, and you'll find a wealth of exotic fruit, sweet and savory Thai snacks, and hot dishes made to order.
Damnoen Saduak Market is Bangkok's 'official' floating market. Enjoy the perfect light of the sunrise as it illuminates waterways full of narrow wooden boats packed with supplies.
2. Ayutthaya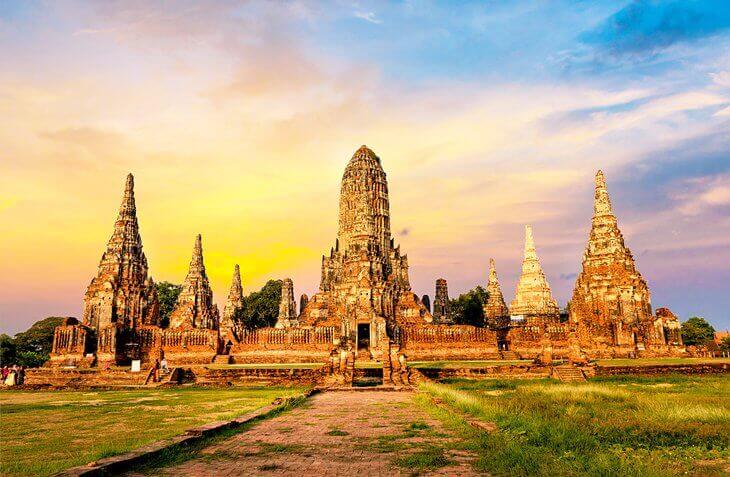 Sometime in the 1700s, Ayutthaya may have been the biggest city in the world. The Kingdom of Ayutthaya thrived from 1351 to 1767. The remnants of that ancient empire are still scattered in the form of brick ruins and headless Buddha statues throughout the old capital city of Ayutthaya.
The Ayutthaya Historical Park became a UNESCO World Heritage Site in 1991 and is a really amazing place to visit for some true Thai history. Ayutthaya is located just a couple of hours north of Bangkok so getting there is pretty straightforward by train, bus or taxi. Visit the Historical Study Centre and wander around the temples and statues to your heart's content.
3. Chiang Mai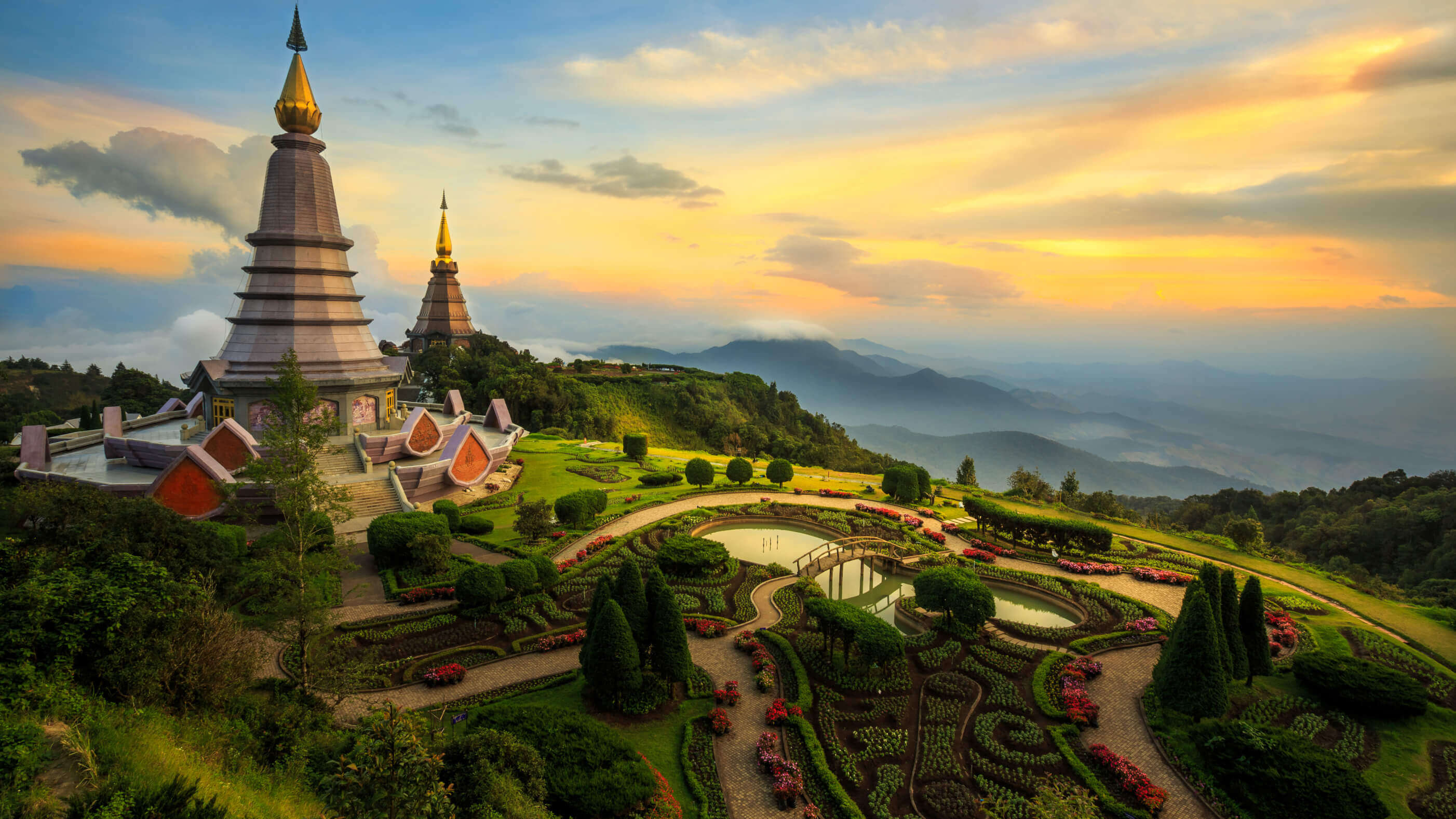 Known as the 'Rose of the North, ' Chiang Mai is steeped in history and surrounded by beautiful architecture. Founded over seven centuries ago, Chiang Mai is the capital of the Lanna Kingdom and home to more than 300 temples.
Due to its location in the north of the country, the temperature is cooler than you would find in Bangkok, meaning you can spend longer each day sightseeing without feeling the same levels of fatigue.
While you're there, make sure you check out the many temples and the night bazaar, where you can pick up handicrafts, arts, clothing and souvenirs as well as freshly cooked street food of course! Take a look at our Chiang Mai Instagram Tour if you want to see the best of Chiang Mai in one day.
4. Pai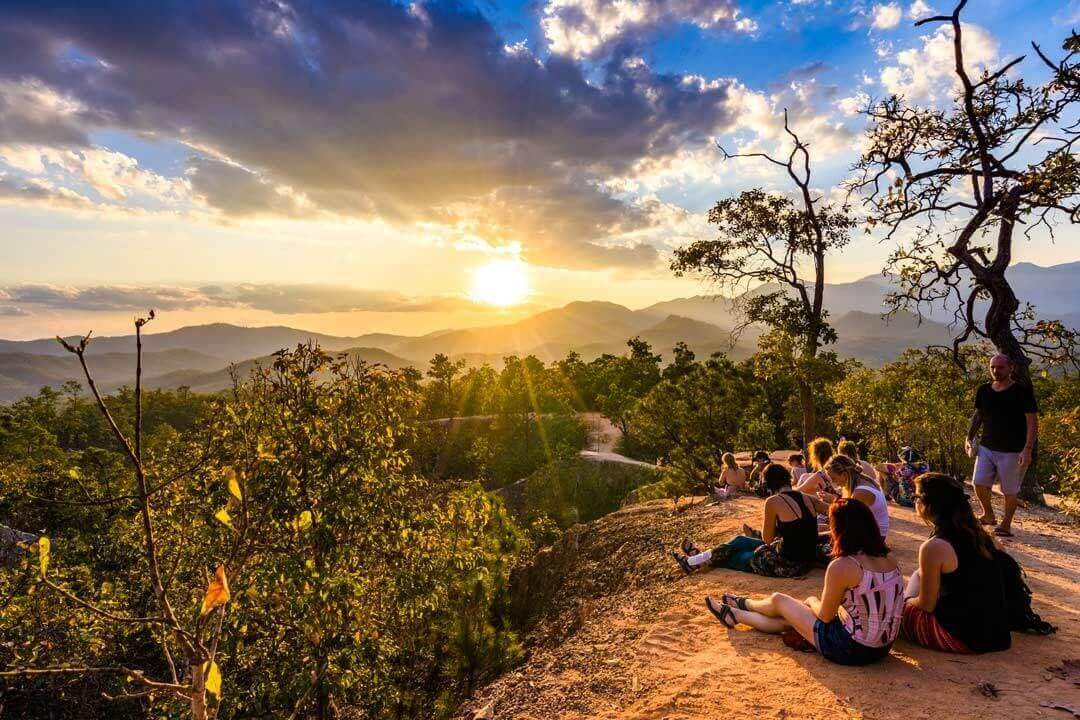 Just a few hours further North of Chiang Mai is the beautiful hilltop town of Pai. Once a sleepy market town, Pai was a secret hotspot for travelers to the north of Thailand for a long time.
It now thrives increasingly on tourism and is not such an unknown destination. It is especially famous for its relaxed atmosphere and bohemian lifestyle.
So if you've loved visiting Chiang Mai, Pai will probably inspire you too, just in a more laid-back manner. Just hop on a mini bus from Chiang Mai, which takes around 3 hours over a mostly narrow, windy mountain road, which is picturesque. Still, motion sickness tablets are a good idea if you've had some experience with windy roads before!
5. Koh Tao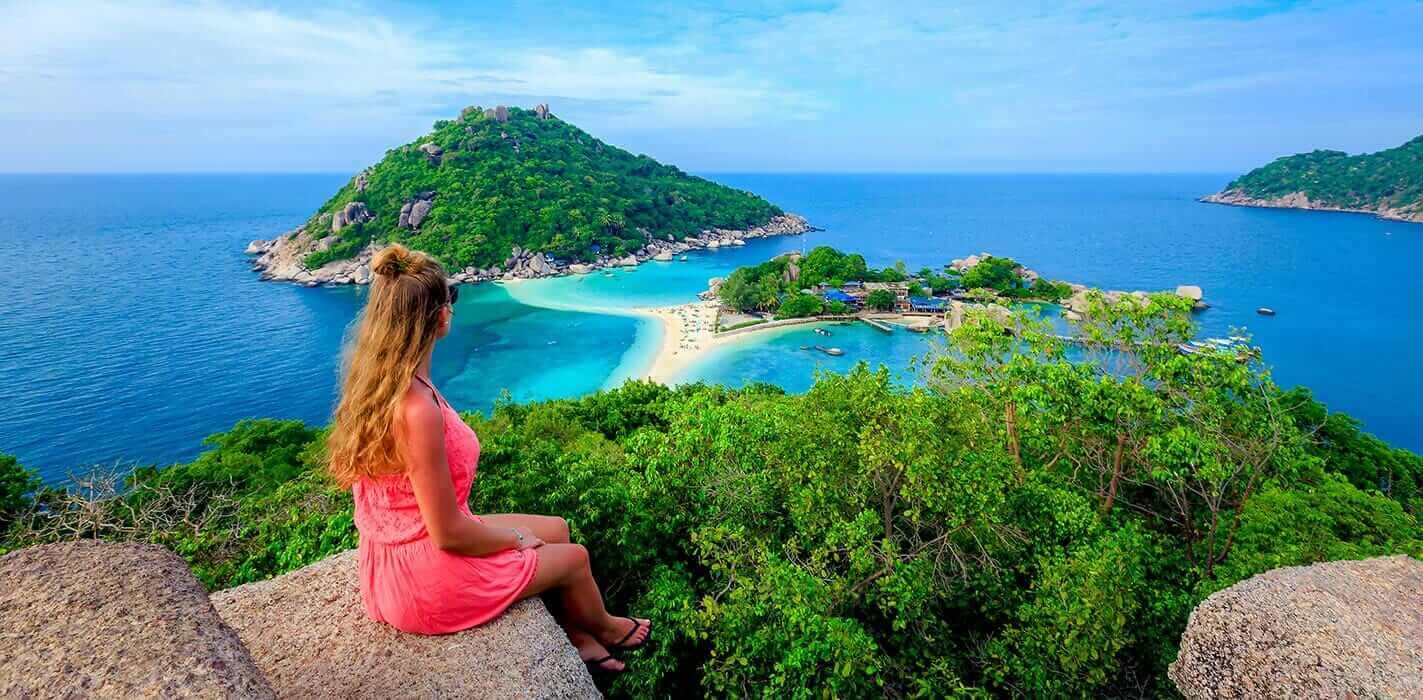 Koh Tao has long been known among travelers as a scuba diving mecca, boasting some of the lowest prices in the world, paired with quality standards of instruction and incredible marine life. But Koh Tao's beauty extends far beyond its glittery surface, offering up a wide range of awesome activities suited to any interest.
Come to this little island for snorkeling, rock climbing, stand-up paddle boarding, yoga and more!
6. The White Temple, Chiang Rai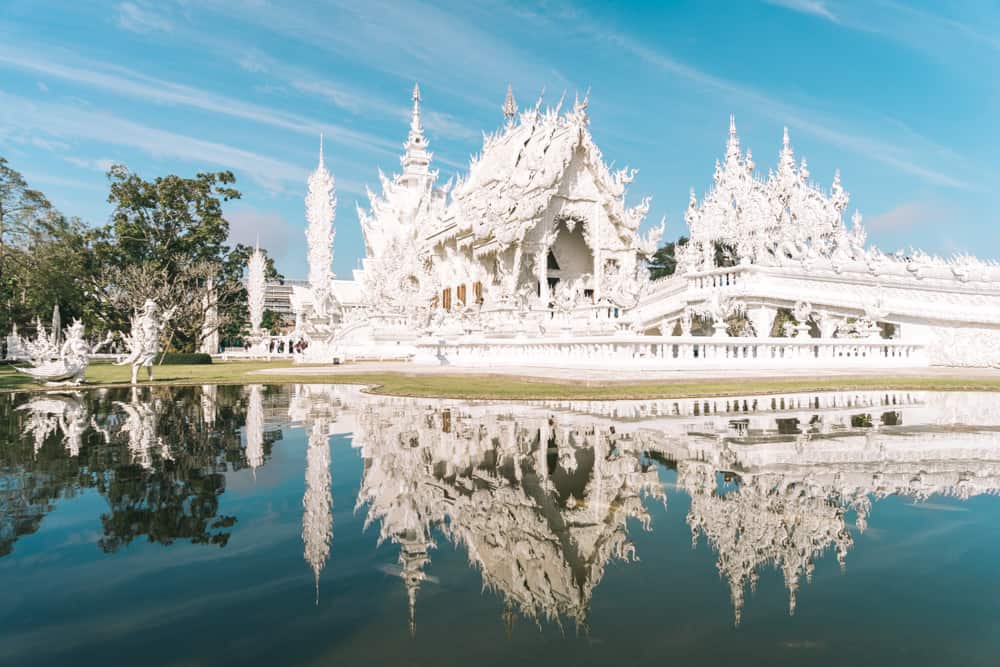 The White Temple in Chiang Rai is not the average temple that one would usually come across. In fact, the White Temple is a contemporary, unconventional, privately-owned art exhibit in the form of a Buddhist temple.
Also known as Wat Rong Khun, this unique temple is one of the most recognizable temples in Thailand.
The White Temple is located around 20 minutes southwest of Chiang Rai City, Northern Thailand. It is possible to do a day tour from Chiang Mai, but the journey is around 3 hours.
7. Erawan National Park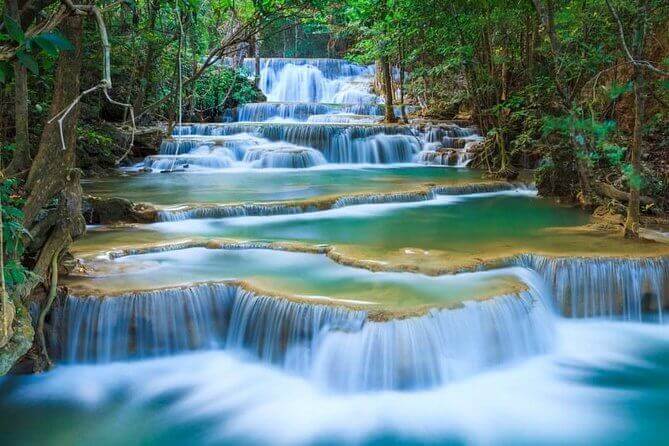 Located less than four hours from Bangkok, Kanchanaburi is a popular stop due to its accessibility, history, and, mainly, its proximity to Erawan National Park, home to the famous seven-tiered Erawan Waterfall.
Renowned for its beautiful waterfalls teeming with fish that basically make it a natural fish spa (watch out, they bite!), Erawan National Park is the real reason why many people head to Kanchanaburi and it is well worth a visit.
You can do day trips from Bangkok, but I would recommend an overnight stay in Kanchanaburi to get the most out of the experience.
8. Grand Palace, Bangkok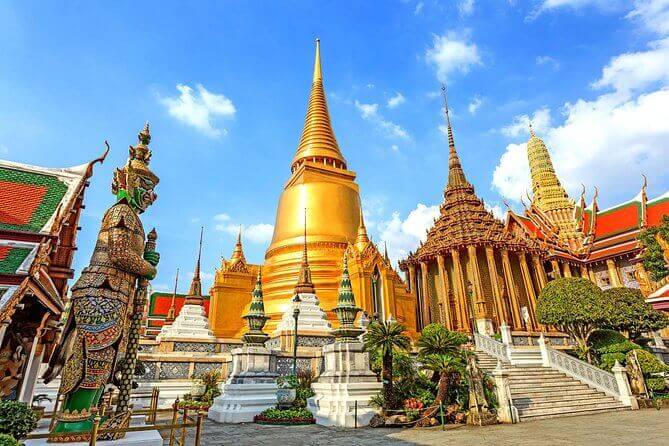 The Grand Palace could arguably be called the birthplace of Bangkok. The Emerald Buddha housed there is considered to be the most important image of Buddha in Thailand. Marvel at the amazing architecture, glittering decorations and awesome statues.
As it is located in central Bangkok, it's super easy to get here from anywhere in the city. Jump on a train, boat or taxi. I would definitely get there early (around 8.30 am) to avoid crowds and the hottest part of the day.
The entrance is only 500 baht (around $16) and remembers to follow the modest dress code! While you're here, definitely check out Wat Arun as well, another of Bangkok's most famous landmarks.
9. Railay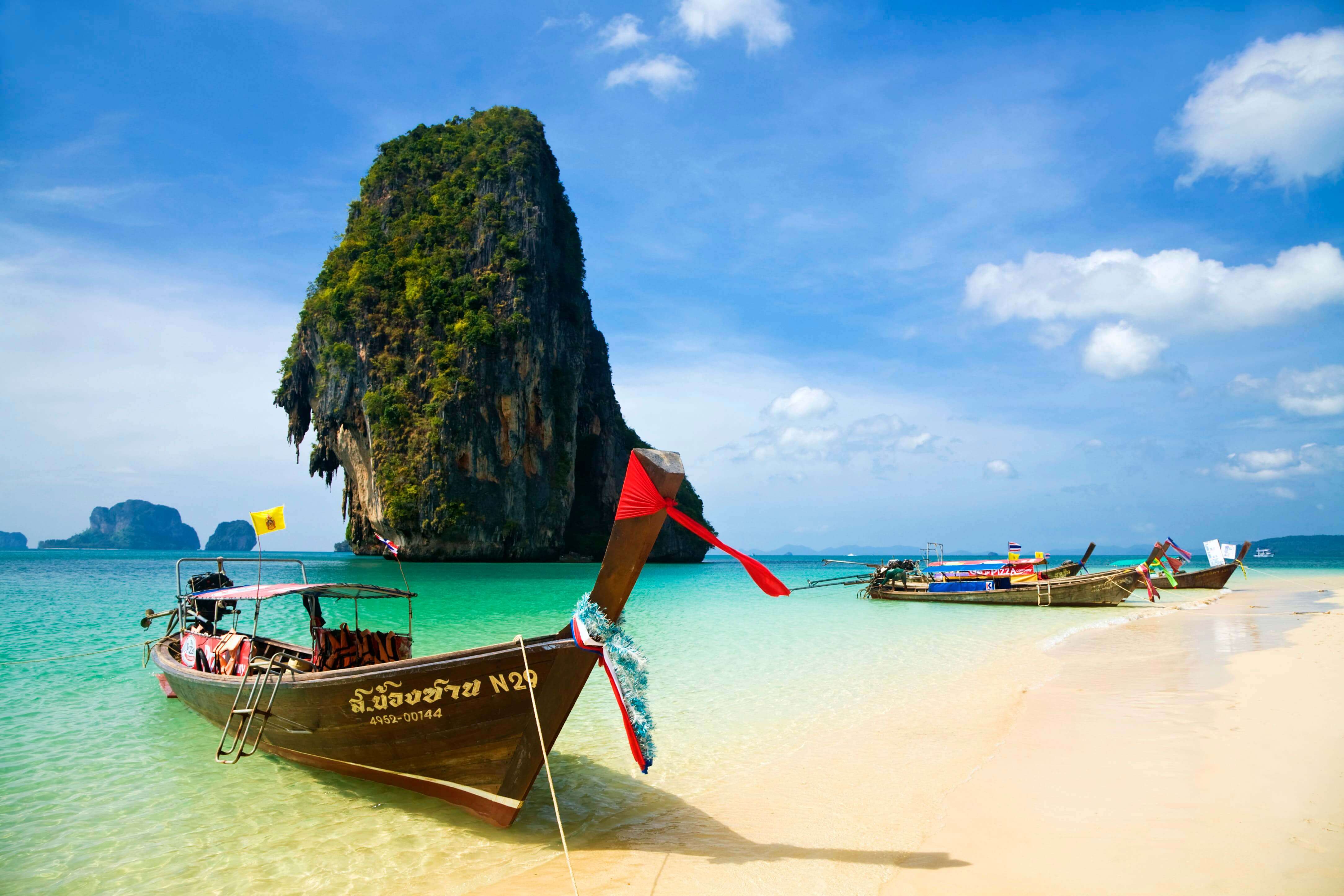 Railay is an incredible Thai beach paradise! This beach that is cut off from the mainland by soaring cliffs boasts pristine beaches, a jungled-laden mountain coastline, laidback vibes and many things to do. Railay is what Thailand's dreams are made of. Railay is located in the Krabi province in Southern Thailand.
It is technically connected to the mainland, but cliffs prevent any roads from coming through. That means there are pleasantly no cars throughout Railay, only walkways. The only way in and out of Railay is by boat. So the means of transportation here is on foot, which adds to Railay's tranquility and serenity.
Paths lead visitors along the bay, to the beaches, and through the jungle. They also lead to great adventures such as hikes, rock climbing, kayaking, and more.
10. Mae Hong Son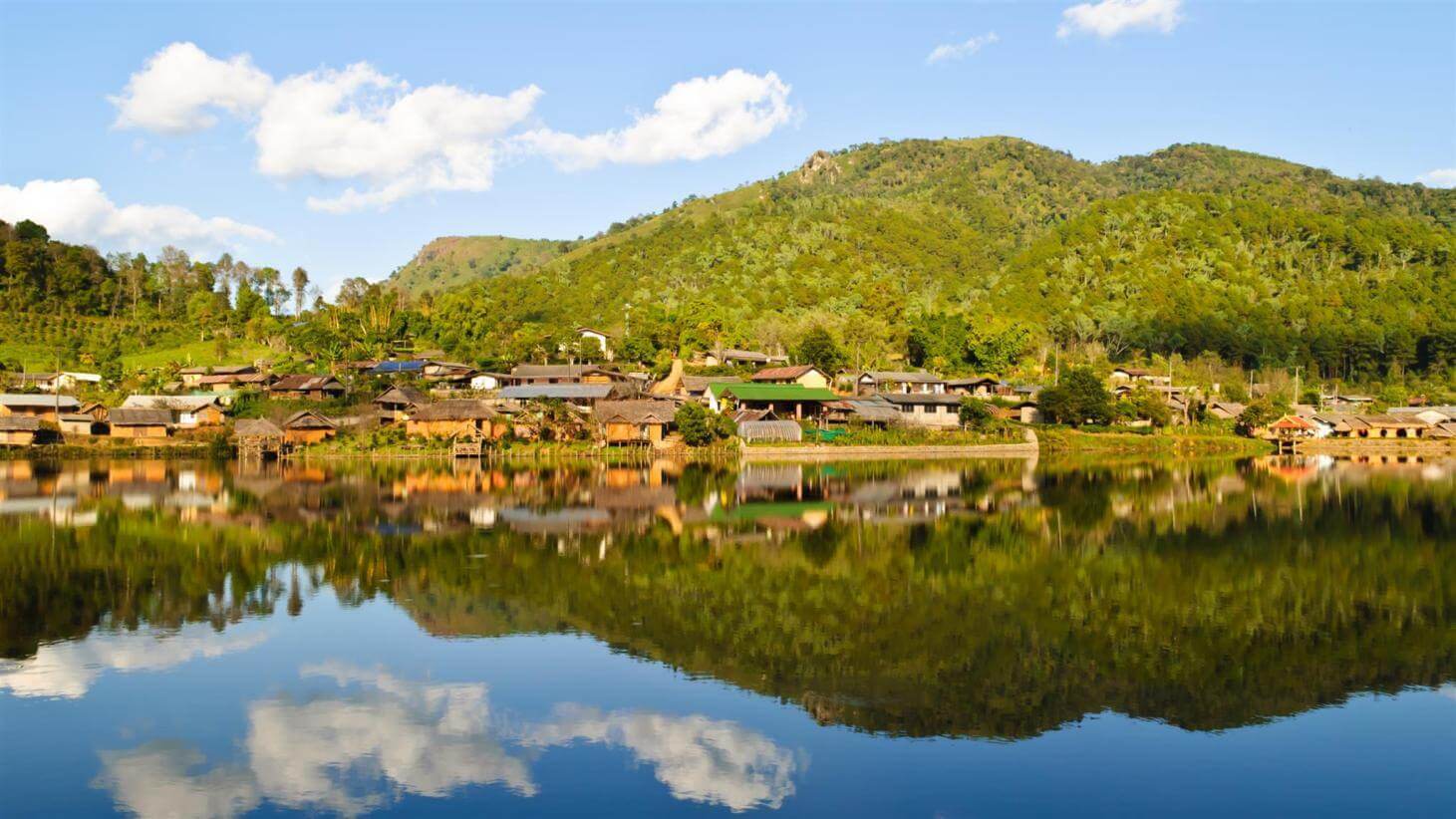 Looking for a scenic Thai destination with lots of nature, outdoor activities, a laid-back vibe, and interesting local culture? Look no further than Mae Hong Son. Mae Hong Son is a beautiful and remote province in Northern Thailand.
Known for its gorgeous nature and mountainous terrain, the province also has chilled-out resorts with a hippie vibe and bustling towns. Easily accessed from Chiang Mai, this less well-known province is definitely worth a visit.
11. Death Railway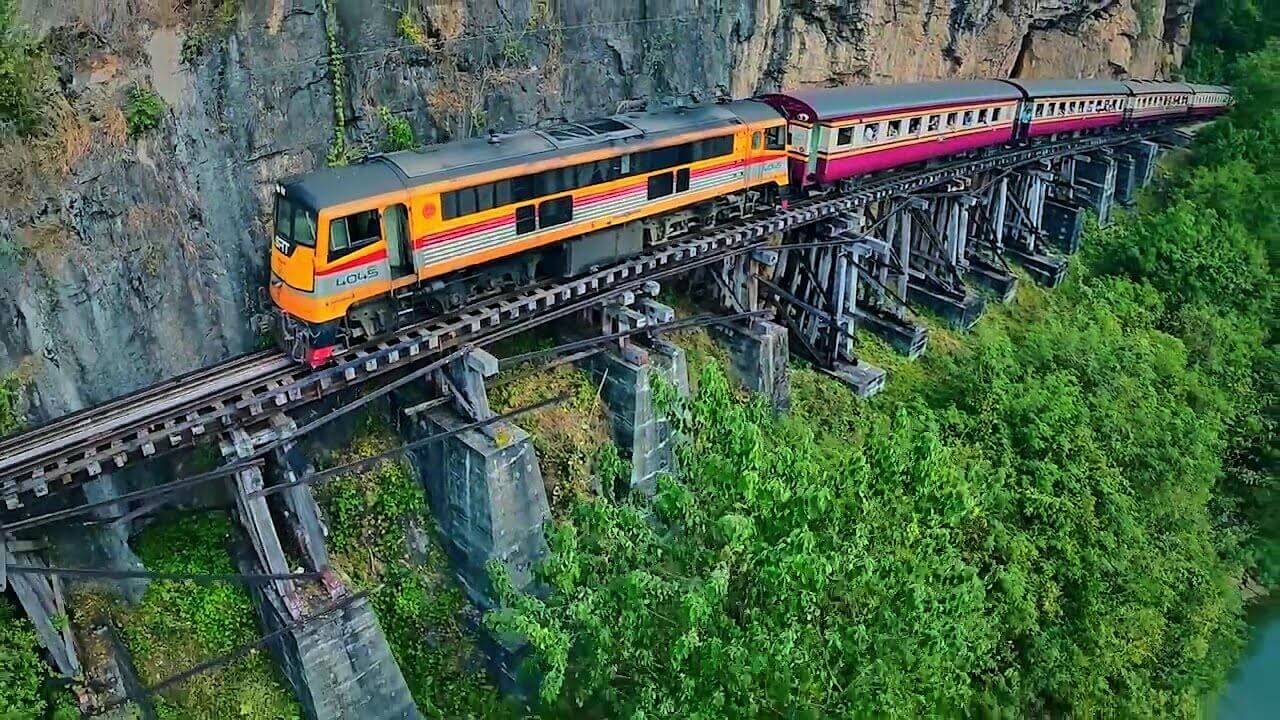 Also close to Kanchanaburi, the Thai-Burma Railway, also known as the Death Railway, was a stand-out attraction for me. The Death Railway is, in short, a horrendous part of Thailand's history that was created by the blood and sweat of WWII prisoners of war and Asian slave laborers.
During WWII, the Imperial Japanese Army had taken over South East Asia and accumulated tens of thousands of skilled and healthy prisoners of war, which were later used as laborers to support their war effort.
Seeing the amazing railway that so many prisoners put their lives into is an amazing and emotional experience. You can take a ride on a train as the railway is still working and take the beautiful sites.
Our Best Selling Tour
All-Inclusive

Da Nang Instagram Tour: Most Famous Spots

Our Da Nang Instagram Tour will take you to the most Instagrammable and adventurous spots in Da Nang all in one day. If you're looking for a little bit of a culture, a lot of adventure and a ton of great photos then this is the tour for you.The morning will start with a private pickup directly f
12. Trang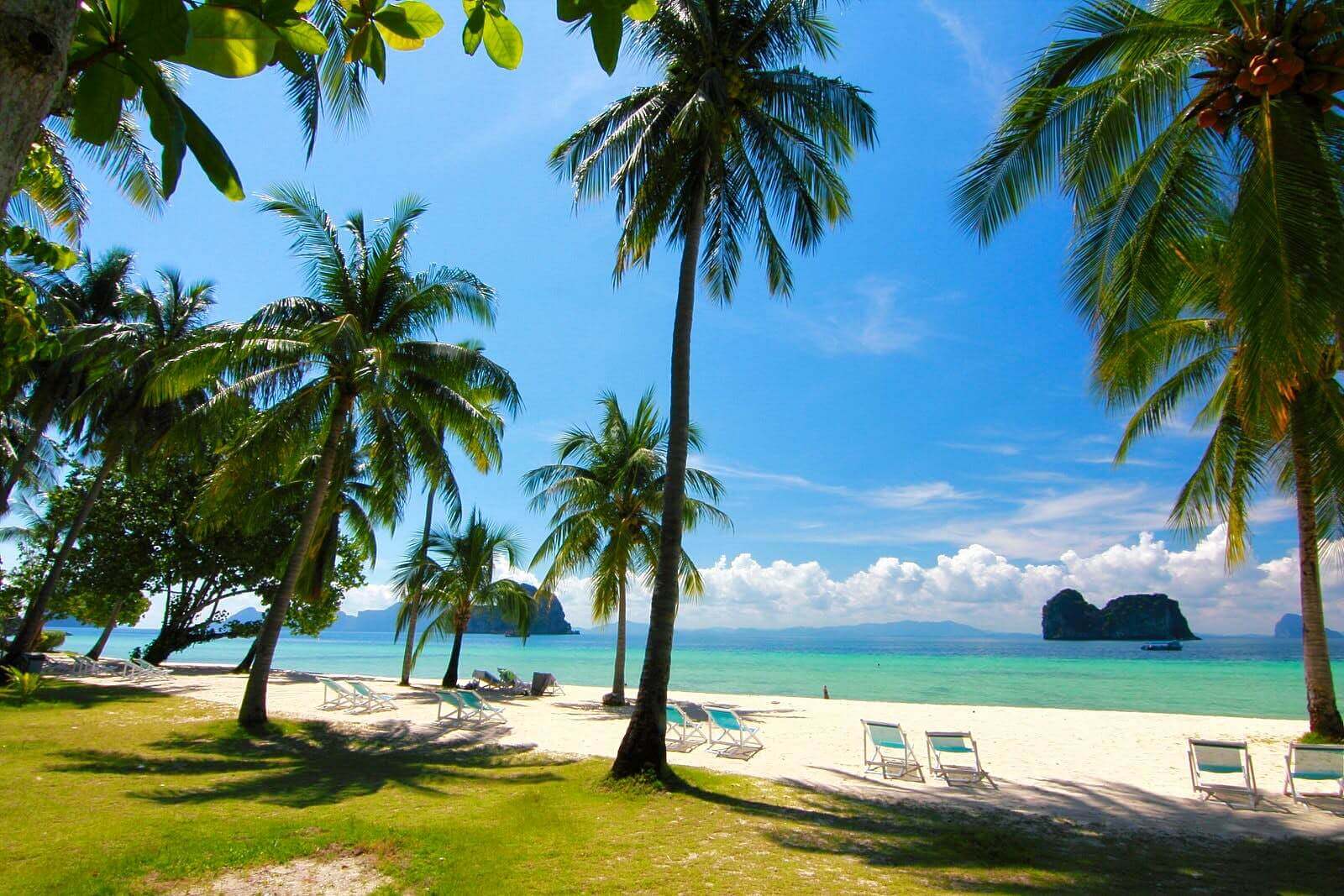 Located in the south of Thailand, home to towering limestone karsts and white sand beaches is the stunning Trang province. For those looking to get off the beaten path in one of the world's most touristed nations, Trang offers a multitude of incredible attractions and activities without the crowds.
The main hub in the province is Trang City, an interesting town filled with delicious food, curious artwork and a heavy Chinese influence. Most people that come through Trang City use it as a launching point to get out to the nearby islands of Koh Mook, Koh Kradan and Koh Ngai.
And while those islands are indeed gorgeous, it's worth spending at least one day here to experience an authentic Thai city that hasn't been spoilt by tourism. Split into two sections, Trang City and Trang Old Town, you'll find an eclectic culture where Buddhists, Catholics and Muslims live harmoniously, celebrating life and food with pride.
13. Surin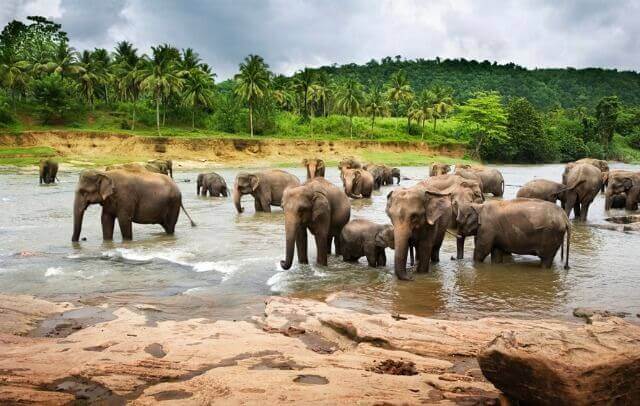 Surin is a small city in the northeast of Thailand that's famous for its annual Elephant Roundup Festival.
It's a fairly quiet town, but there are a few things in the city and province that are worth checking out. The best bits include the City Pillar Shrine, Wat Buraparam, Wat Sala Loy, Talat Noi Ruen Rom Market, the night market and the Elephant Graveyard.
14. Hua Hin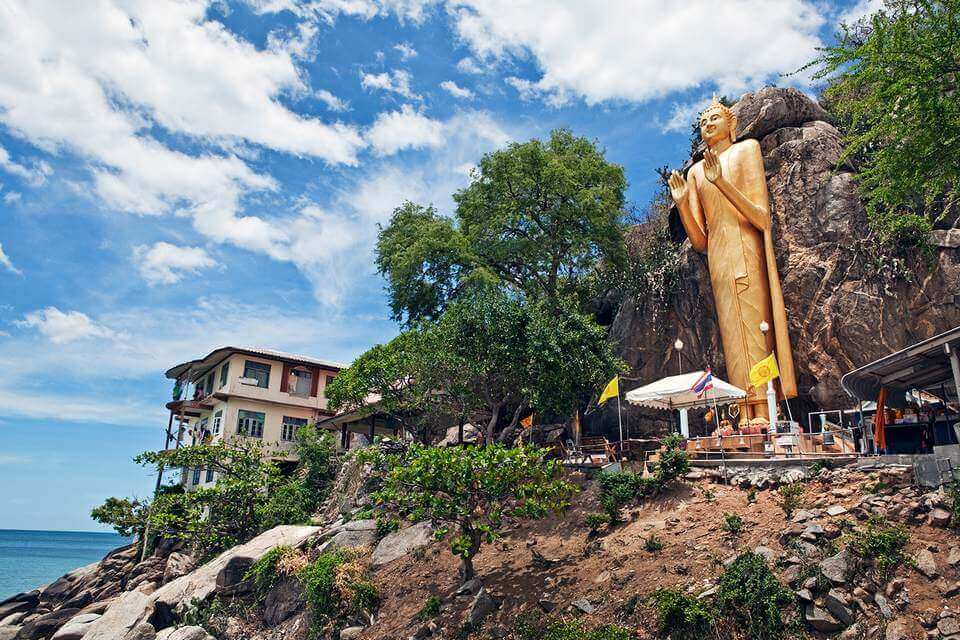 Home to heritage sites, natural beauty spots and a variety of first-class restaurants, the city of Hua Hin make for a great day out. A must-do here is to visit Khao Takiab Mountain. Khao Takiab literally means Chopsticks Hill, and this hike will take you on a journey to rural Thailand.
Walk to the top of the Khao Takiab Mountain to enjoy stunning panoramic sea views. This hill also is called Monkey Mountain, as it is home to a number of monkeys.
You can also participate in various water sports activities, including jet-skiing, parasailing, banana boat rides, kayaking and waterskiing. After all that, grab some seafood from a nearby restaurant. A perfect day!
15. Phi Phi Island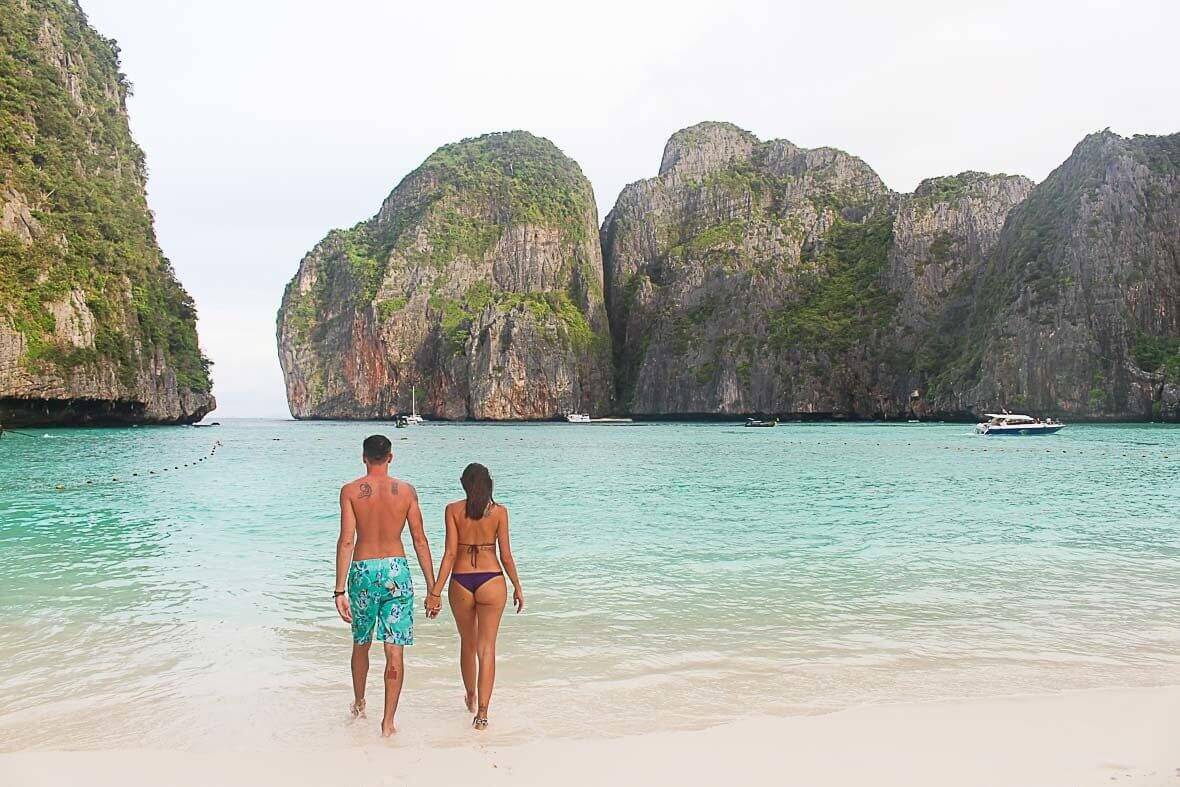 Koh Phi Phi is a piece of Asian paradise boasting aqua waters, golden sands and idyllic seascapes. The stunning location for Danny Boyle's critically acclaimed movie The Beach, Phi Phi's tropical scenery and infectious island vibe have made it one of Thailand's biggest tourist attractions.
And there is much here for the adventure-seeker and the beach-goer, a region brimming with hidden treasures and awesome activities. Be sure to get some iconic pics for your Instagram as well!
16. Elephant Sanctuary, Chiang Mai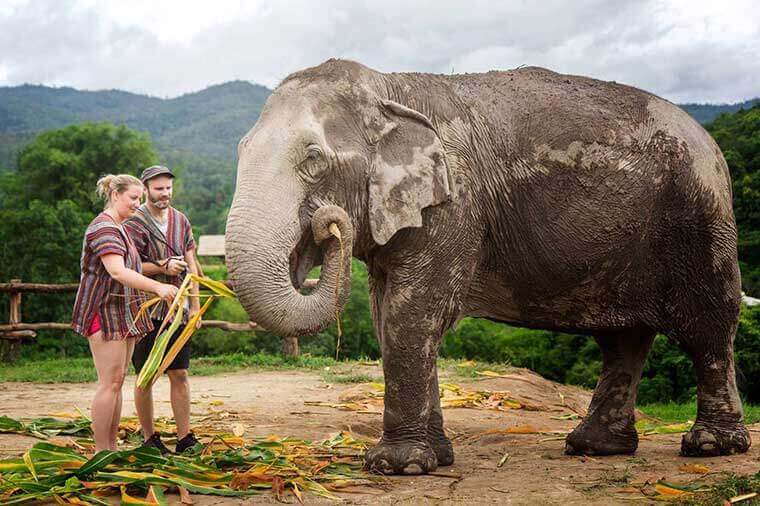 One thing you must tick off your bucket list while in Thailand is visiting an elephant sanctuary. Getting up close and personal with these magnificent giants is a once-in-a-lifetime experience, like nothing you will have done before! It's such a great day out.
I would recommend going to one in the Chiang Mai area as most sanctuaries will pick you up directly from your hotel and booking is super easy. Do be sure to check that you are visiting a sanctuary where the elephants are treated well and are NOT ridden!
17. Koh Phangan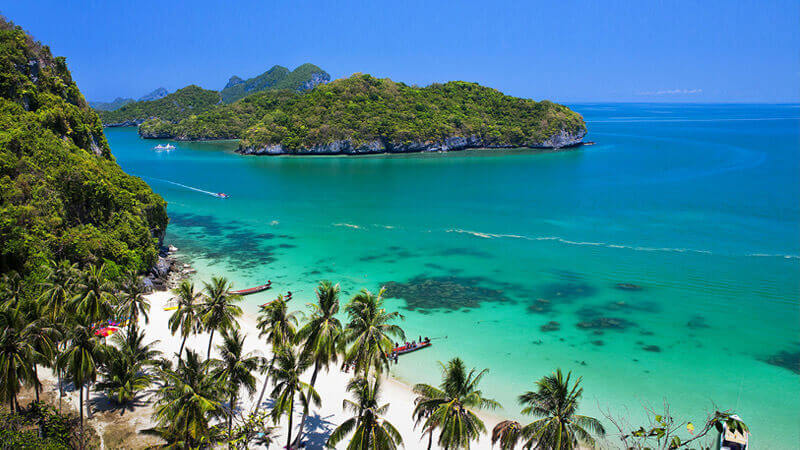 You probably will have heard of Koh Phangan as it is famous (or infamous) for its amazing full moon parties. The party does get a really bad rap but it is an amazing experience if you fancy letting your hair down and covering yourself in fluorescent paint for a night.
Dance your heart out and drink from a bucket; where else would you get to do that? If partying all night long really isn't your thing, Koh Phangan could still be for you as away from the party beach of Haad Rin the rest of the island is actually very quiet and pristinely beautiful.
18. Koh Samui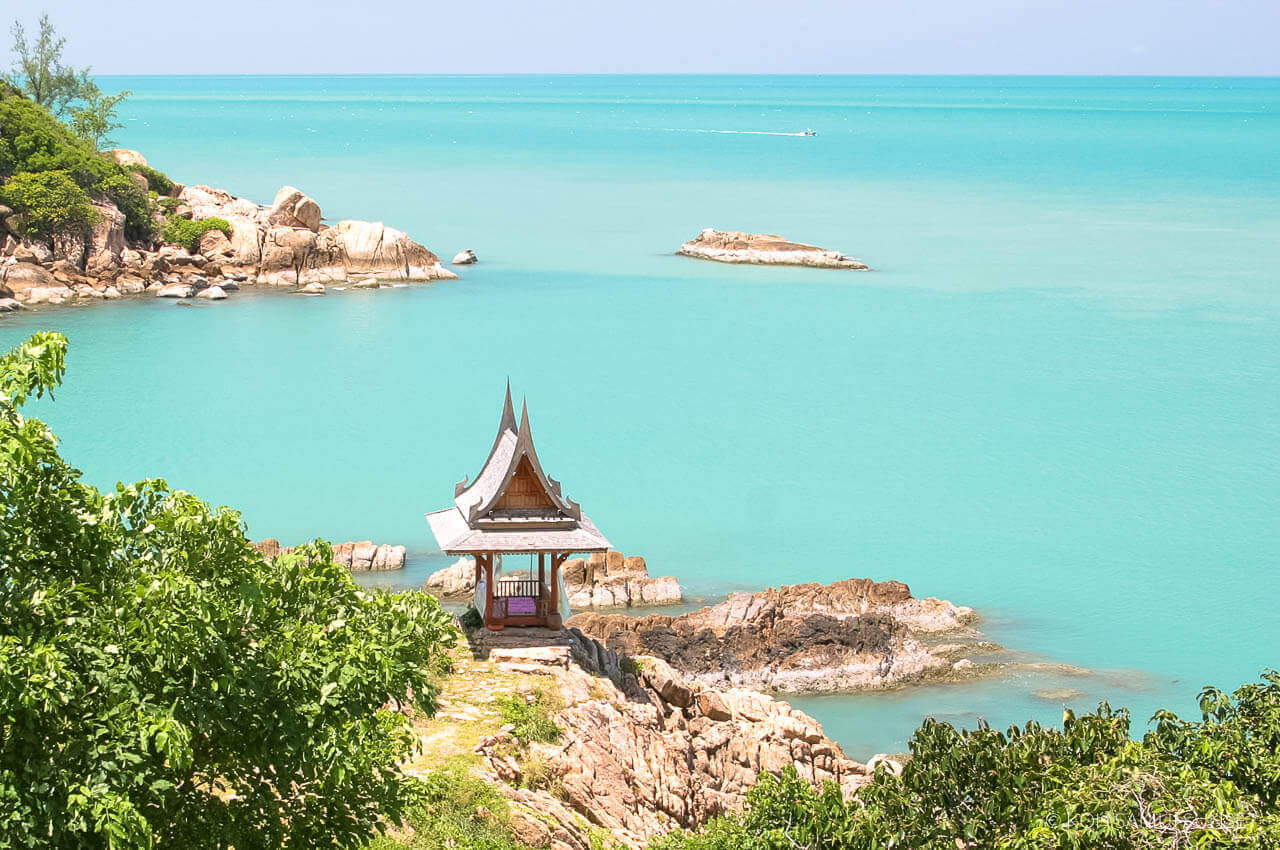 The most famous of all the islands in Thailand is Koh Samui, a beautiful island that is famed for its stunning palm tree-edged beaches and crystal clear waters. Due to its broad appeal, the island is visited by all types of travelers, from budget backpackers to mega-wealthy Hollywood celebrities.
There really is something for everyone on this paradise island in Thailand and you will be hard-pushed to fit everything in if you are only visiting for a couple of days. Perfect for families, couples and solo travelers alike, the island has a really nice, calm and welcoming vibe. You won't be disappointed!
19. Similan Islands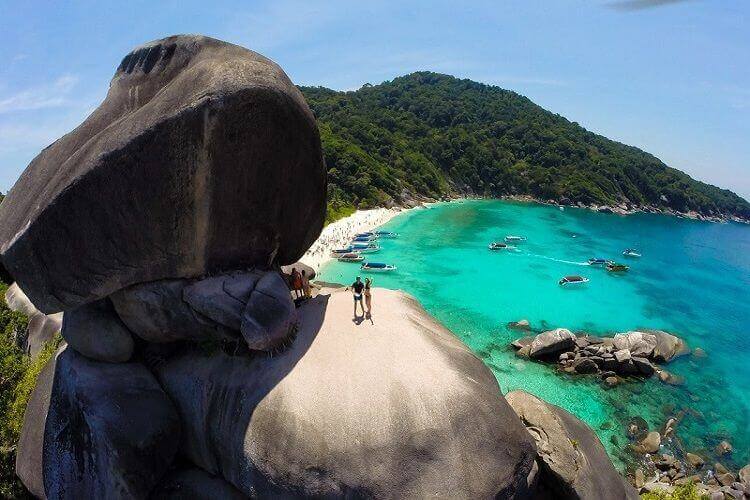 Off the west coast of Southern Thailand, located in the glistening waters of the Andaman Sea, are the beautiful Similan Islands. Composed of eleven islands, each one as magnificent as the next.
With its crystal clear waters teeming with marine life and spectacular rock formations and coral reefs, it's no wonder that this destination is a haven for diving enthusiasts and explorers alike.
Escape the bustling crowds of Phuket and discover these exotic gems for yourself.
Put, the Similan Islands are natural wonders, full of low-lying formations covered in plush, dense forests and surrounded by the clearest waters imaginable. Enjoy snorkeling, scuba diving and plenty of relaxing on the beach!
20. Sukhothai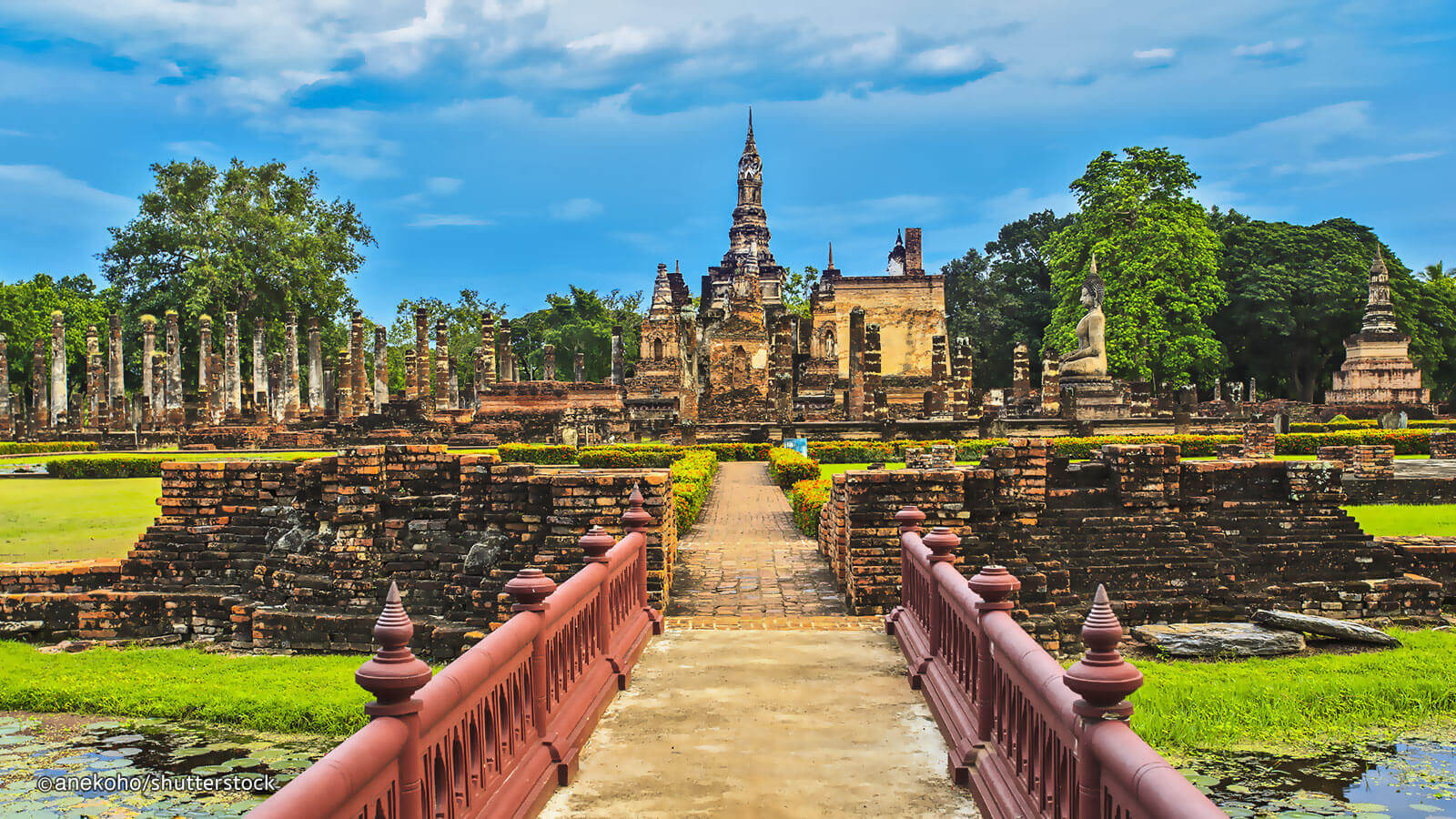 Sukhothai, which means Dawn of Happiness, is a focal Thailand territory, around 400 km from Bangkok. Sukhothai Historical Park contains the reestablished 13th-century royal residences and sanctuaries of the Kingdom of Siam and the great 'Sukhothai style' of engineering during this time.
The ancient old city is known as Mueang-Gow and features modified remnants.
An authentic stop in Mae Nam Yom, the market town of New Sukhothai, is especially intriguing. Other must-sees include the Sukhothai night market, Ramkhamhaeng National Museum and Si Satchanalai National Park.
21. Koh Lipe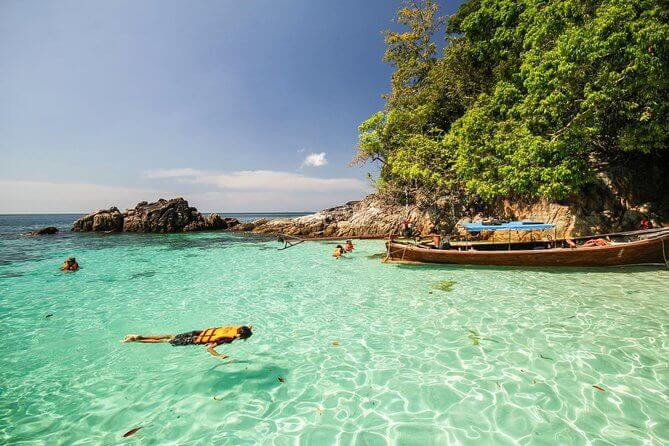 Thailand's southernmost island, Koh Lipe, boasts clear turquoise waters and is less developed than many of its overcrowded counterparts. While Koh Lipe is getting more well-known year after year, it is still far less touristy than most other islands in Thailand.
For such a small island, there is a lot to do here. Watch the sun come up at Sunrise Beach, take a yoga class, go snorkeling and even help out with a beach clean-up!
For even more Thailand inspiration, check out our best day trips outside of Bangkok blog and our own Thailand tours!
Get your VACATION on!
Expertly curated emails packed full of vacation inspiration, travel tips and more!