7 Best Waterfalls To Visit In Bali
7 Best Waterfalls To Visit In Bali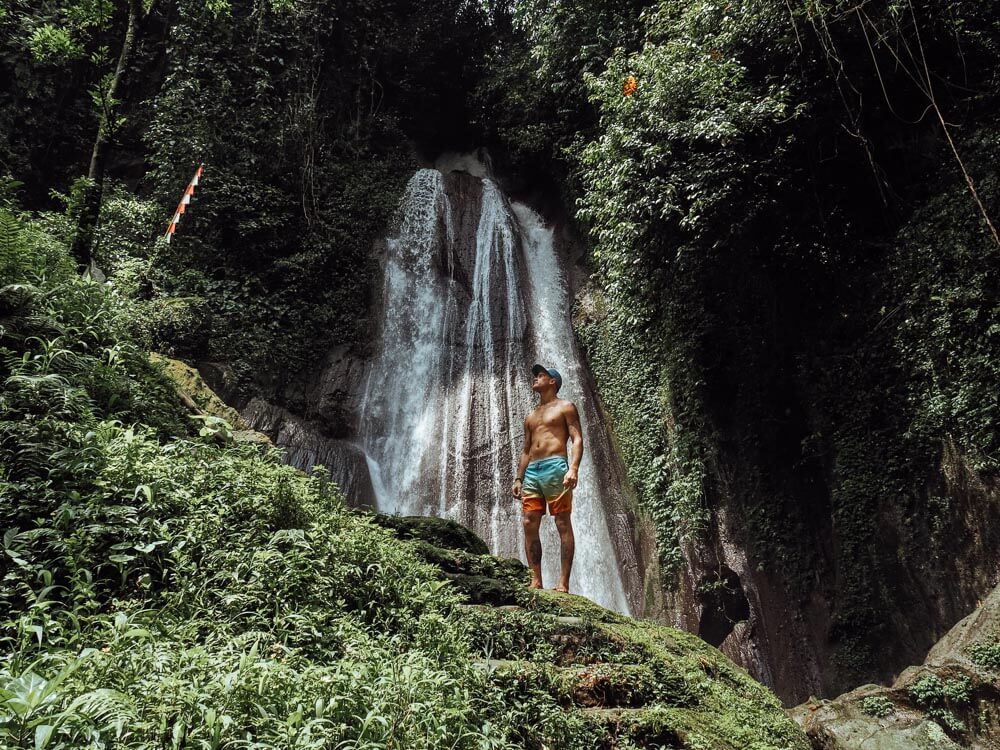 If you're planning a trip to Bali, I'm betting one of the things that attracted you to this beautiful island is the stunning natural scenery it has to offer. This tropical paradise is characterized by white sandy beaches with crystal clear ocean views, lush green jungles, and of course, some of the most beautiful waterfalls in the world.
If you're visiting from the other side of the world, these landscapes will be unlike anything you've ever seen - so make the most of it!
Our Best Selling Tour
All-Inclusive

Bali Secret Waterfall Tour

It's easy to see why the Bali Secret Waterfall Tour is one of our best sellers. There's nothing more breathtaking than the waterfalls in Bali and our local guides are here to show them to you. Relax, take a dip, and enjoy a delicious lunch - there really aren't many better ways to spend the day! Taking you to some of the lesser-know, not so busy waterfalls, this tour is the perfect way to relax and see Bali at its best.
Not only are the waterfalls amazing to see, they make the perfect backdrop for some great vacation photos. And Bali has plenty to choose from, so it can be difficult to decide which ones to visit! Here are my 7 best waterfalls in Bali to help you make that difficult choice.
1. Munduk Waterfall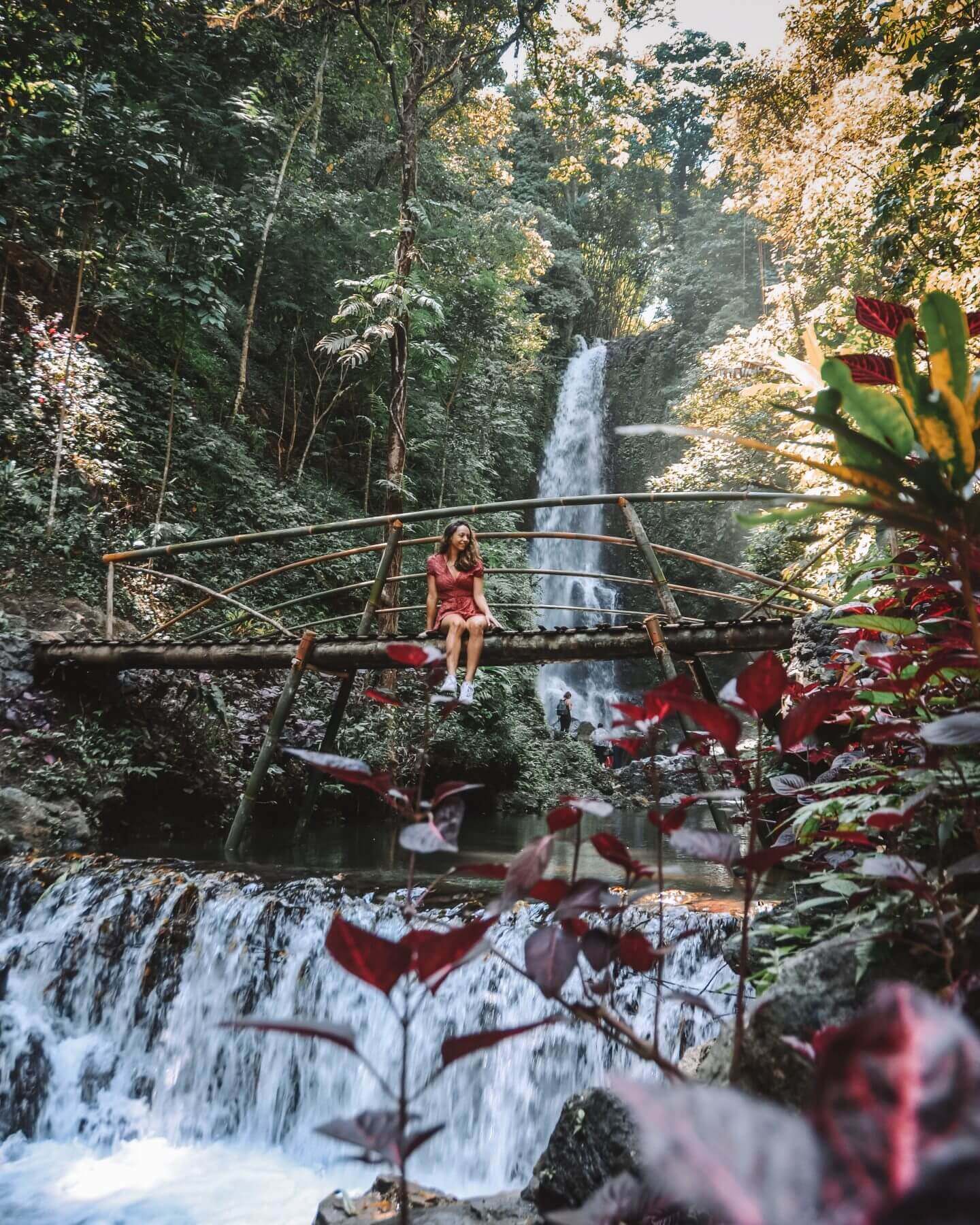 Dubbed as Bali's answer to the Niagara Falls, you can expect big things from this waterfall. Nestled in the rainforest around Munduk Village (about 1 and a half hours from Ubud by car), it has also been compared to a film set! Set among rice fields and surrounded by mountain peaks, it really is spectacular.
If you're looking to get away from the crowds and find some inner peace, you'll love this one as it's pretty hidden away and is often very quiet. The walk down to the waterfall is also fairly easy so you don't need to be super prepared with hiking boots etc!
The water is not deep so you can't really swim here but you can get some great photos and marvel at the beauty of this amazing waterfall, then explore the surrounding area and get some grub in one of the many local warungs!
Location: Munduk Village
Height: 15 meters
Entrance fee: 20,000 IDR/ 1.40 USD
2. Banyumala Waterfall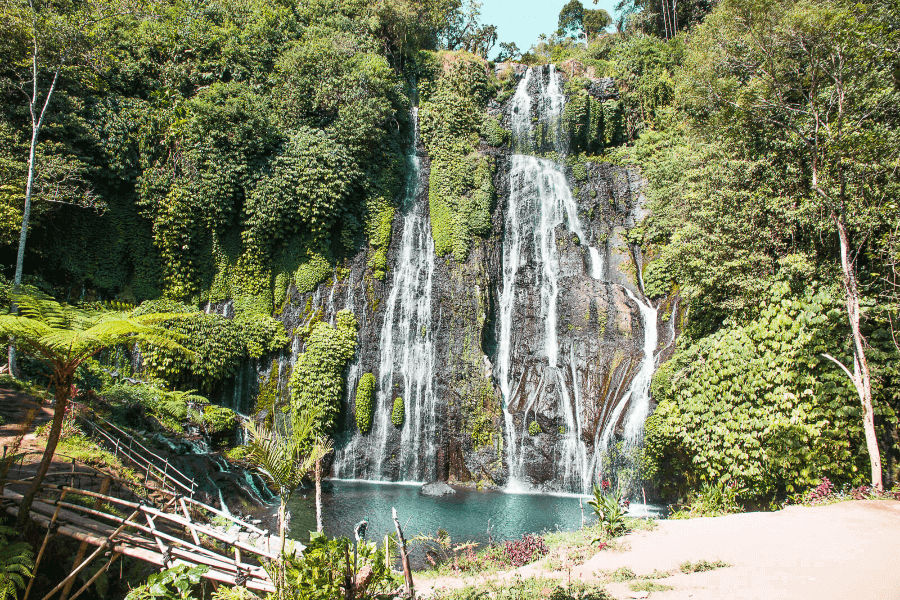 This one really is a hidden gem as it's not the easiest to find! In fact, if you're wanting to visit this waterfall I strongly suggest getting a local guide to take you.
It's also a fairly hard trek to the base of the waterfall so make sure you're prepared for this (it takes around 20 minutes and involves a few sketchy bamboo stairs)!
This waterfall is referred to as a 'twin waterfall' as two separate flows of water can be seen. The water cascades down the steep rock beautifully and is surrounded by gorgeous greenery.
The plunge pool at the base of the waterfall is deep enough to swim, so definitely take a refreshing dip!
Location: Munduk, North Bali
Height: 40 meters
Entrance fee: 20,000 IDR / 1.40 USD
3. Tegenungan Waterfall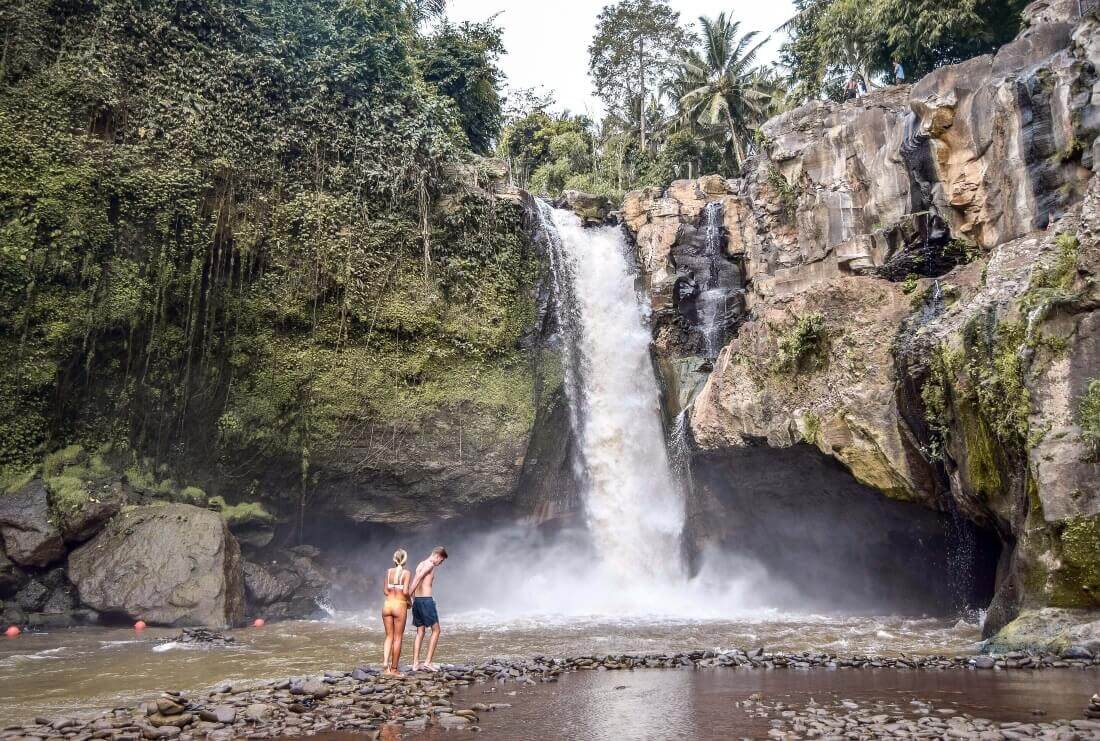 Tegenungan Waterfall is definitely one of the most well known waterfalls in Bali and most easily accessible as it is located in the heart of Ubud village.
Although it is not as hidden as some of the others, it still boasts lush greenery all around (and there are lots of other attractions close by in Ubud - great if you're short on time!).
The water flow is heavy and you'll find plenty of others (tourists and locals alike) coming here for a refreshing shower and swim. There are quite a few steps down to the base of the waterfall, but it is well worth it as it makes for some amazing photographs.
And a tip for the budding photographers - the location is west-facing meaning the light is best in the late afternoon to evening.
Location: Ubud
Height: 15 meters
Entrance fee: 15,000 IDR / 1 USD
4. Tibumana Waterfall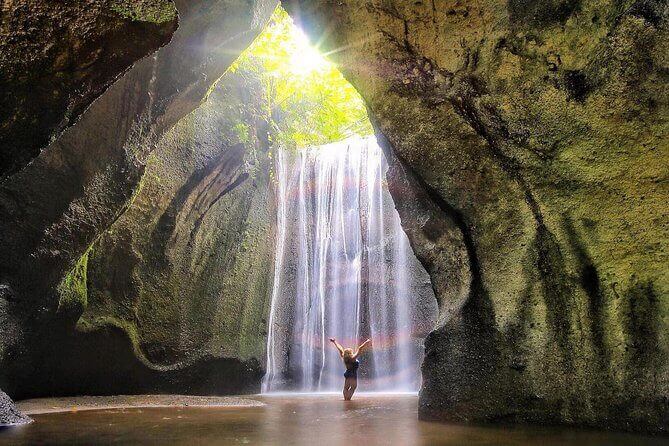 If you're looking for a place you can stop and spend some time, Tibumana Waterfall is for you. Tibumana has a large pool at the bottom that's great for swimming, it's not too deep either so you can splash around for hours!
This waterfall is close to Ubud yet not as busy as Tegenungan, and is only a short 10 minute walk from the car park.
The road to Tibumana is lined with palm trees - an absolute pleasure to drive down whether you're renting your own scooter or being driven by a local tour guide! If you're in Ubud this should definitely be on your list of things to do.
Location: Ubud
Height: 5 meters
Entrance fee: 10,000 IDR / 0.70 USD
5. Leke Leke Waterfall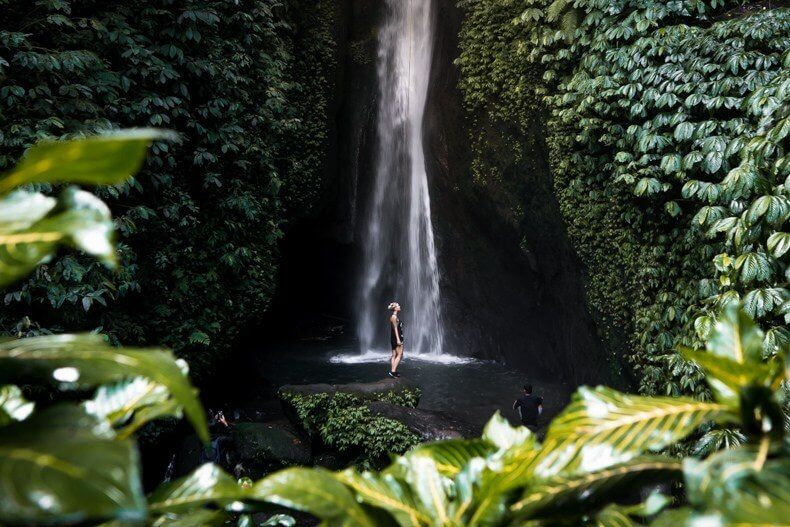 Another hidden gem, this one is definitely a bit more off the beaten path and a local secret! Which means you'll often have the place to yourself - bonus!
The track down to the waterfall is pretty steep (be careful!) and involves navigating a few rickety bamboo bridges through tropical jungle.
But your efforts will be rewarded once you reach these stunning falls that drop dramatically between black rocks. This cave is the perfect spot for some incredible photographs that are guaranteed to spice up your insta feed!
There's also a plunge pool at the base of the waterfall - dunk your head and listen to the sound of the water from below.
Location: Bedugul, Central Bali (around 1 hour north of Canggu)
Height: 15 meters
Entrance fee: 30,000 IDR / 2 USD
6. Banyu Wana Amertha Waterfall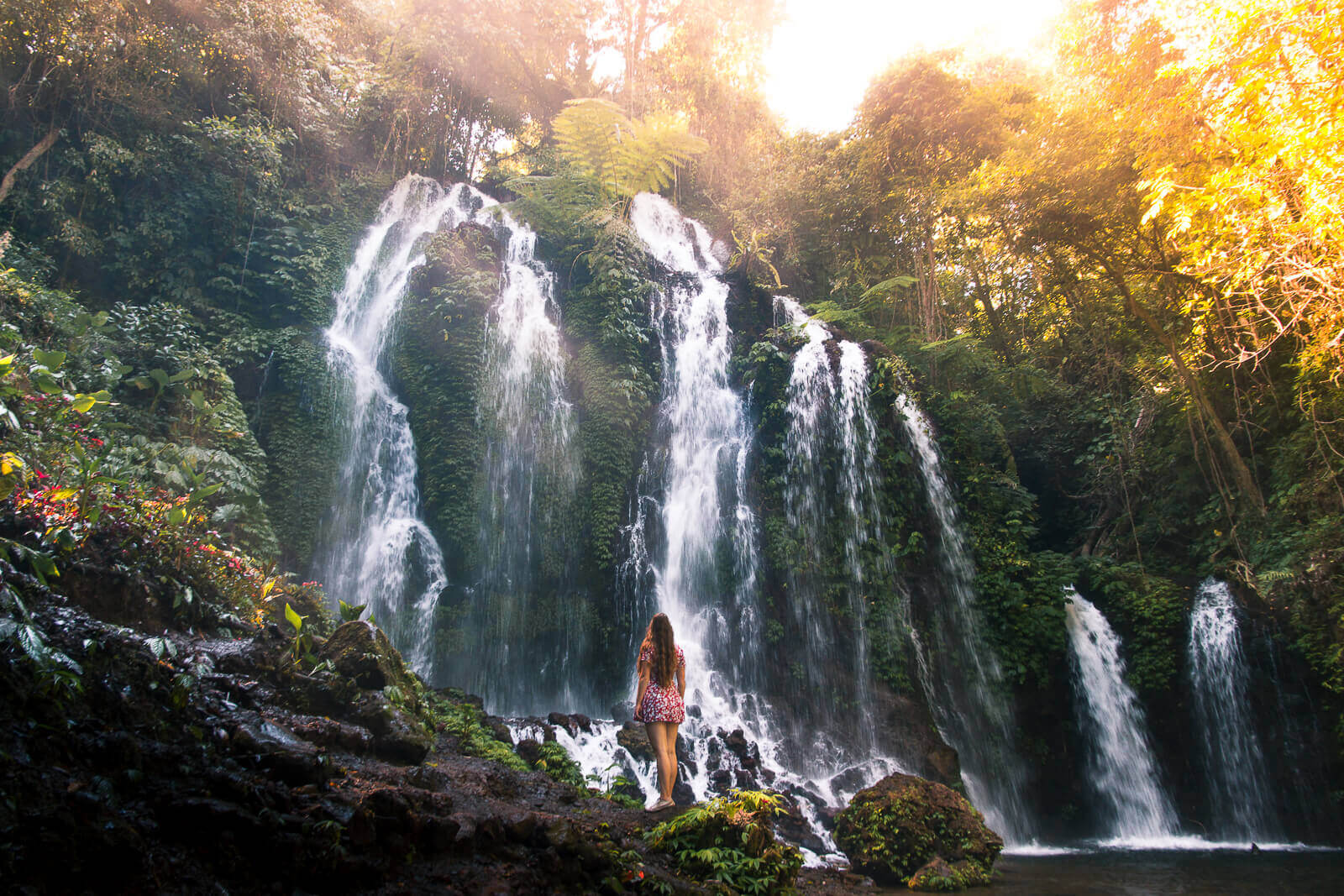 Another of Bali's best kept secrets, this is one of the most beautiful waterfalls you'll see! As it is barely known to other travelers, you won't have to fight off the crowds here.
The path down to the waterfall is newly built and some parts are still in construction, but it is easy to walk as it is not too steep and should only take you about 10 minutes.
There are actually 4 separate waterfalls at this location, but the main one (Banyu Wana Amertha) is probably the most impressive.
It spreads out creating a curtain of water that falls over a large rock, covered in vegetation. This waterfall is slower and calmer, creating a relaxing atmosphere.
Take a dip in the small pool at the base of the waterfall and leave feeling tranquil and refreshed!
Location: Bedugul
Height: 15 meters
Entrance fee: 20,000 IDR / 1.40 USD
7. Dunsun Kuning Waterfall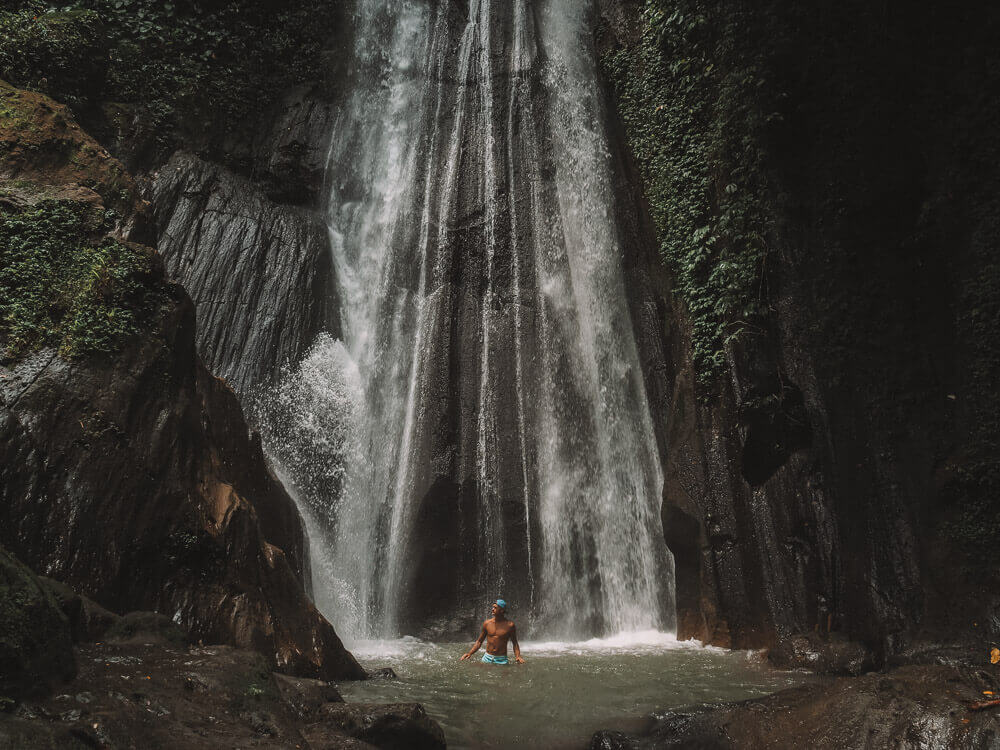 The Dunsun Kuning Waterfall also known as the Yellow Waterfall is located in the east-central region of Bali, about 45 minutes from Ubud.
There are quite a lot of stairs and bamboo bridges down to the waterfall so do take your time, although it should only take you about 15 minutes and is not too strenuous.
You'll walk through lush jungle to get there and pass a number of smaller waterfalls along the way which are beautiful just in themselves! This waterfall is absolutely stunning - a stream of water that flows over a huge rock face into a deep rock pool at the bottom.
The light here is best in mid-afternoon so get some fantastic photos then cool off in the refreshing water. What a day!
Location: Gianyar
Height: 25 meters
Entrance fee: 20,00 IDR / 1.40 USD
For a fun and stress-free way to visit all of these stunning waterfalls and more, check out our Bali Breathtaking Waterfall Tour and Bali Secret Waterfall Tour. We'd love to take you!
Get your VACATION on!
Expertly curated emails packed full of vacation inspiration, travel tips and more!