7 Honeymoon Spots In Thailand
7 Honeymoon Spots In Thailand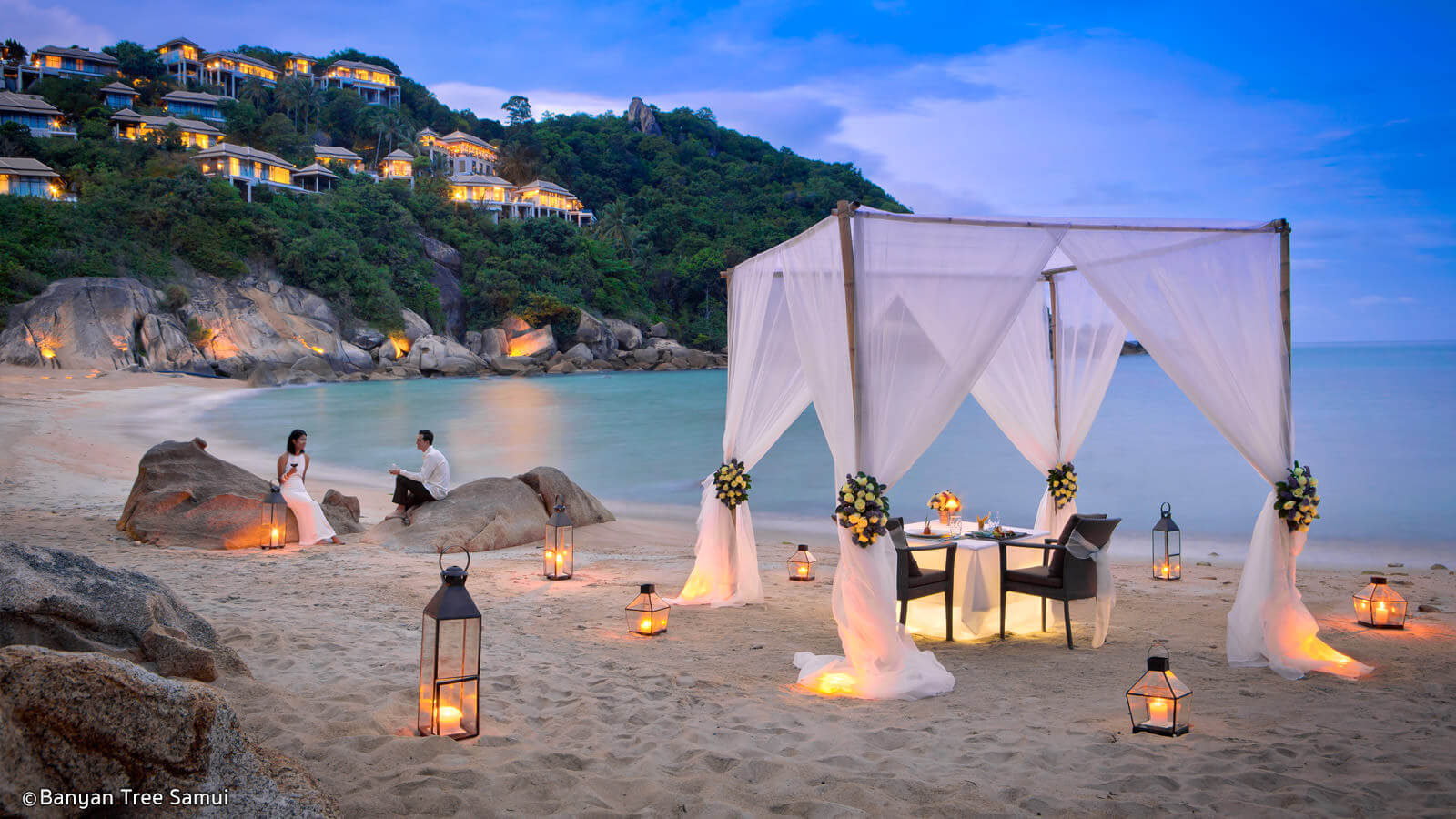 Congratulations, you're getting hitched! Now you get to think about the best part...the honeymoon! And if you're looking to spend some quality time with your loved one in a tropical paradise, look no further than Thailand!
This beautiful country is known as the 'Land of Smiles, ' has so much to offer. The southern coastal areas are a no-brainer if you're picturing frolicking in crystal-clear oceans, relaxing on the beach and sipping cocktails all day long.
Our Best Selling Tour
All-Inclusive

Phuket Enchanting Cabaret Night Experience

There's not many Phuket tours that give you the best of day sightseeing and night entertainment, but our Enchanting Phuket Cabaret Night Experience does just that! Starting with the chance to explore Phuket's Old Town and ending the evening with a delicious meal and the longest running cabaret show in Southern Thailand, this Phuket tour is perfect for families, couples and any other types of traveler!
If you fancy something a little different, the capital city of Bangkok and further north may not seem like the most romantic places to go, but trust me, they could make your honeymoon special! Why not visit them all while you're in the country?
Here are my top 7 most romantic spots in Thailand and why they would make incredible honeymoon destinations.
1. Koh Samui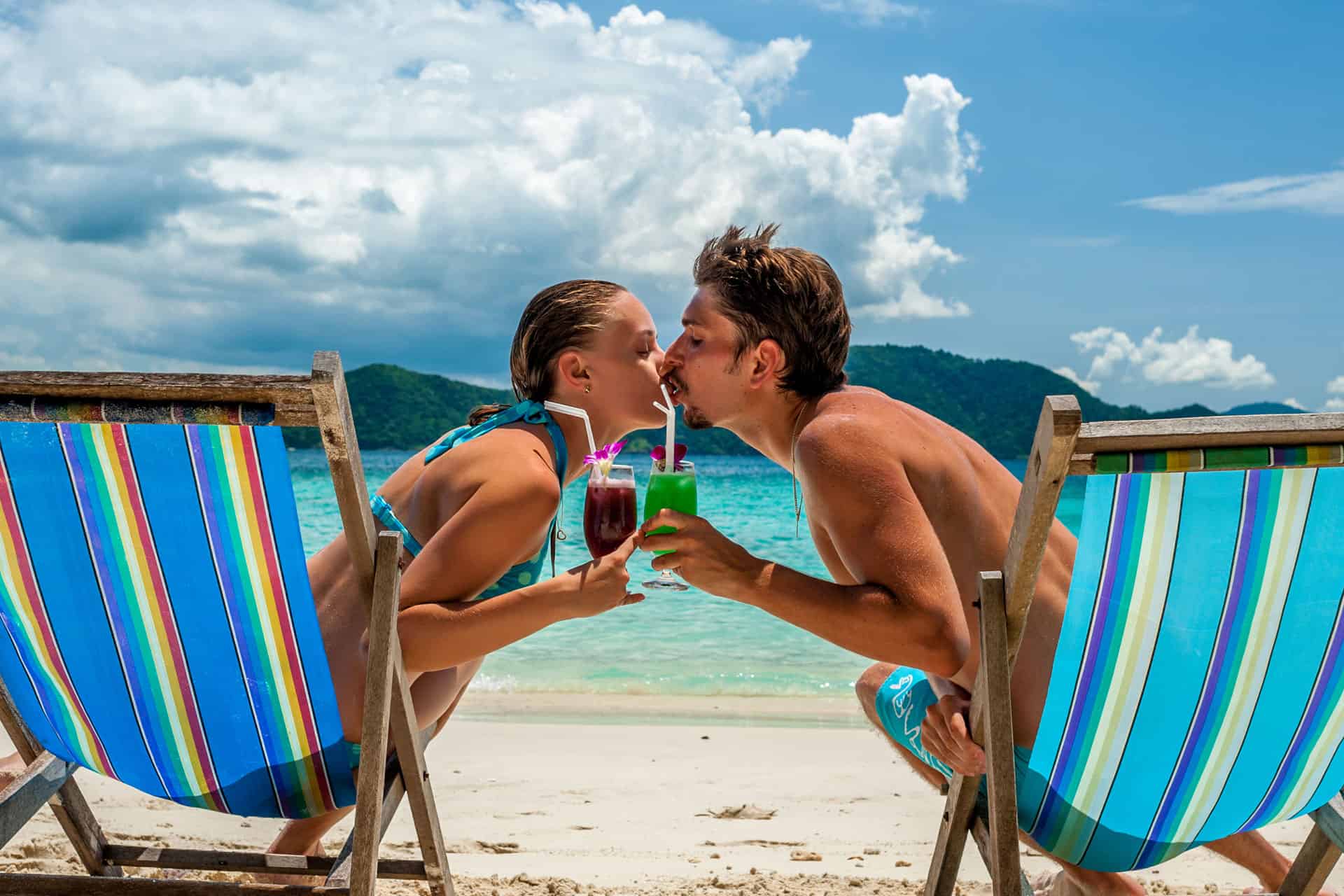 Koh Samui is probably one of the most popular islands in southern Thailand. It's also one of the biggest islands and is known for having a good mix of nightlife and tranquility. It's really tourist-friendly, so there are heaps of beautiful resorts and restaurants - perfect for relaxing with your newly-wed, knowing that everything will be taken care of for you.
Get there: The most convenient way to get to Koh Samui is to fly from Bangkok, but you could also fly from Phuket or Pattaya. If you want to take the cheaper and more scenic (but more time-consuming) route, you can also take a ferry from Surat Thani.
Stay: Banyan Tree Samui, Vana Belle, Erawan Villa Hotel
Eat: Dining on the Rocks, Treetops Sky Dining, The View Restaurant
Do: Visit the Big Buddha shrine and get bestowed with blessings, swim in the spectacular Namuang Waterfalls, go to Ang Thong National Marine Park
2. Pai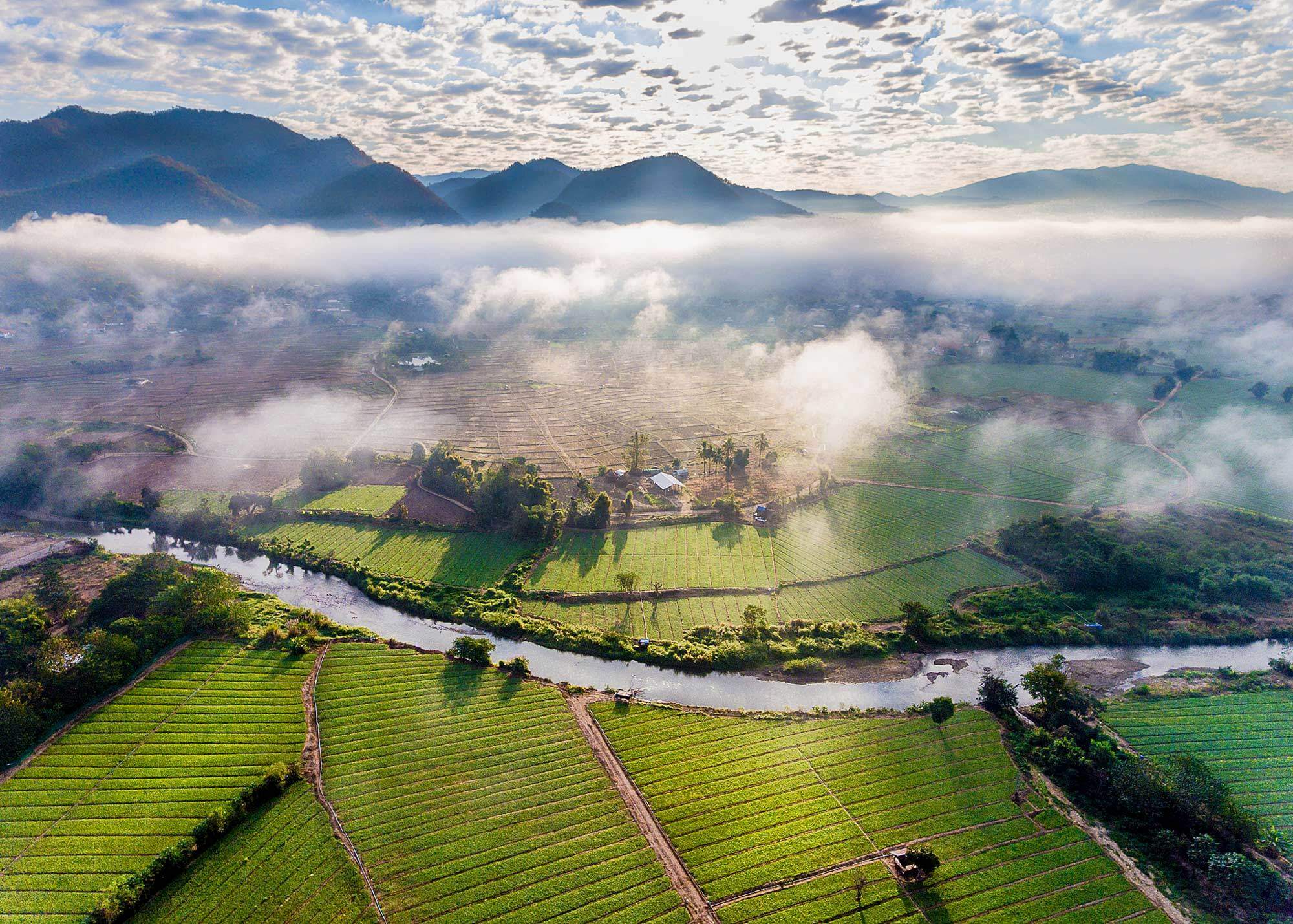 Pai is a small town nestled in the hilltops of northern Thailand, about 3 hours drive from Chiang Mai. It may not seem like the most obvious spot for a honeymoon if you've got your heart set on beaches, but trust me, this is one of the most beautiful places in Thailand and can definitely be just as romantic as the white sandy beaches.
Explore the town by scooter and cruise through the lush green jungle, discover hidden water falls, take in stunning views and dine at riverside restaurants lit up with fairy lights. It's a side of Thailand that's definitely worth seeing!
Get there: The easiest way to reach Pai is to fly to Chiang Mai from Bangkok and then jump on one of the regular minibusses that go from Chiang Mai to Pai. If you stop in Chiang Mai, you can easily book the bus through your hotel or a local vendor.
A tip: The 3-hour drive has a LOT of twists and turns, so be sure to sit up front if you're prone to car sickness!
Stay: PuriPai Villa, Pai Island Resort, Hotel des Artists
Eat: Silhouette Restaurant & Bar, Le Reve De Pai, Om Garden Cafe
Do: Visit Pai Canyon, swim in Mo Paeng Waterfall, see the Chinese Village at the top of the hill and take in the stunning view from the top
3. Bangkok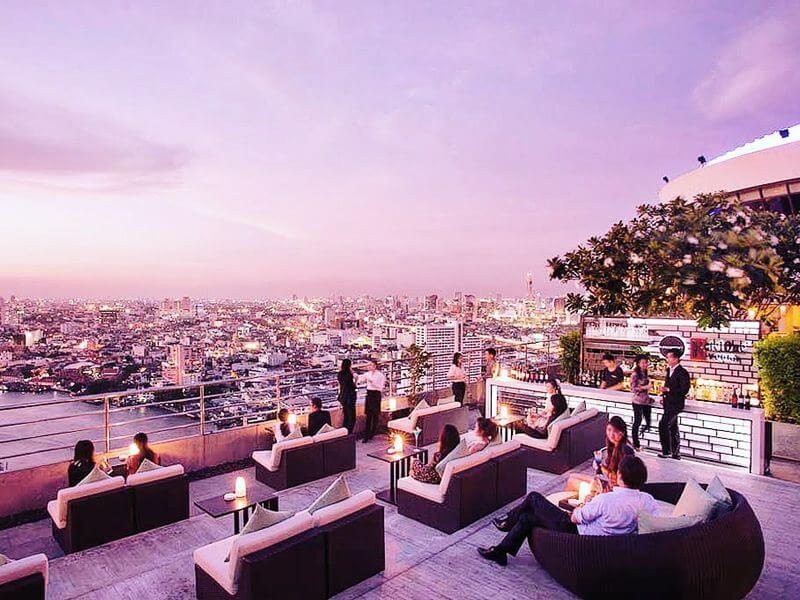 Again, the lively city of Bangkok may not seem like the most romantic spot in Thailand. However, there are so many opportunities for romance here! This cosmopolitan setting has so much to see and do and it's easy to find luxury here.
Go on a cruise, dine in a fancy restaurant, sip cocktails from a rooftop bar and take in the city skyline at night. Plus, there is so much culture here so you can learn and experience years-old traditions together.
You'll likely have to pass through Bangkok on your trip to Thailand anyway, so why not make the most of it?
Get there: Most international flights will go through Bangkok - Suvarnabhumi Airport (BKK) is the international airport. Public transport is really well connected here so everything is easily accessible from the airport.
Stay: Praya Palazzo, Bangkok Treehouse, Mandarin Oriental
Eat: SEEN Restaurant & Bar, Thara Thong, basil
Do: Pamper your beloved with a shopping spree, visit the Grand Palace and many other Buddhist temples, dine at some of the world's finest rooftop restaurants, take a Thai cooking class.
4. Similan Islands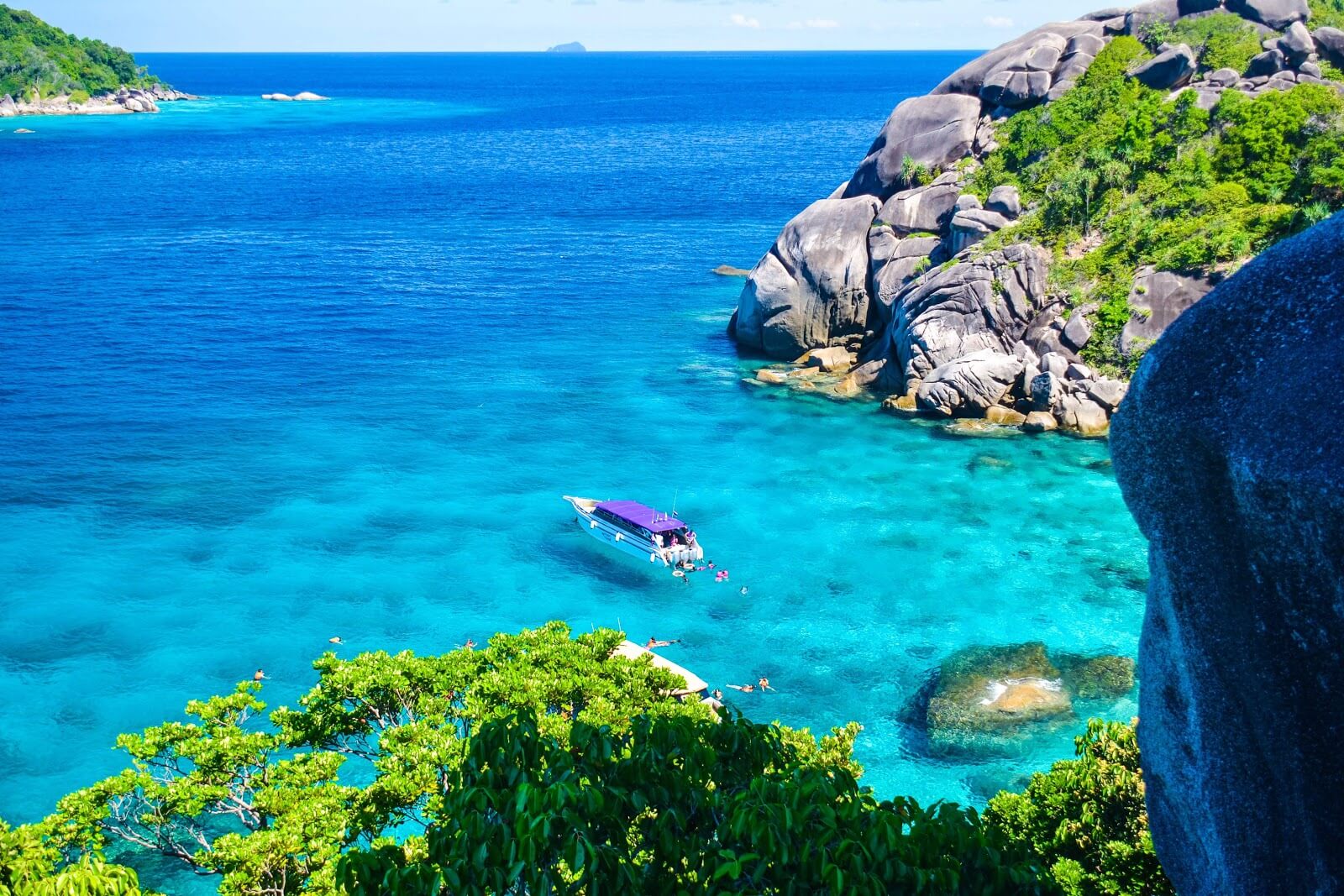 Situated in the Andaman Sea off the coast of Phang Nga Province, the Similan Islands comprise nine small islands that form the Similan Archipelago.
These beautiful islands are most famous for their amazing diving sites, especially on island number 7, where submerged boulders, archways, and exotic marine life can be seen.
Relax on some of Thailand's most pristine beaches, complete with soft white sand and crystal blue water. Hike hand in hand with your love and spot an array of wildlife, including birds, lizards and small mammals. The dream!
Get there: It is possible to fly straight from Bangkok to the Similan Islands, although this can be quite expensive. The longer but cheaper option is to fly or get the train to Ranong or Khao Lak and then get a ferry from there to the islands.
Stay: Palm Galleria Resort, Devasom Khao Lak Beach Resort & Villas, Eden Beach Resort and Spa
Eat: Amici Italian Bistro, Takrai Thai Restaurant, Baan Srimuang
Do: Scuba dive, snorkel, swim, hike, and get out in nature!
5. Krabi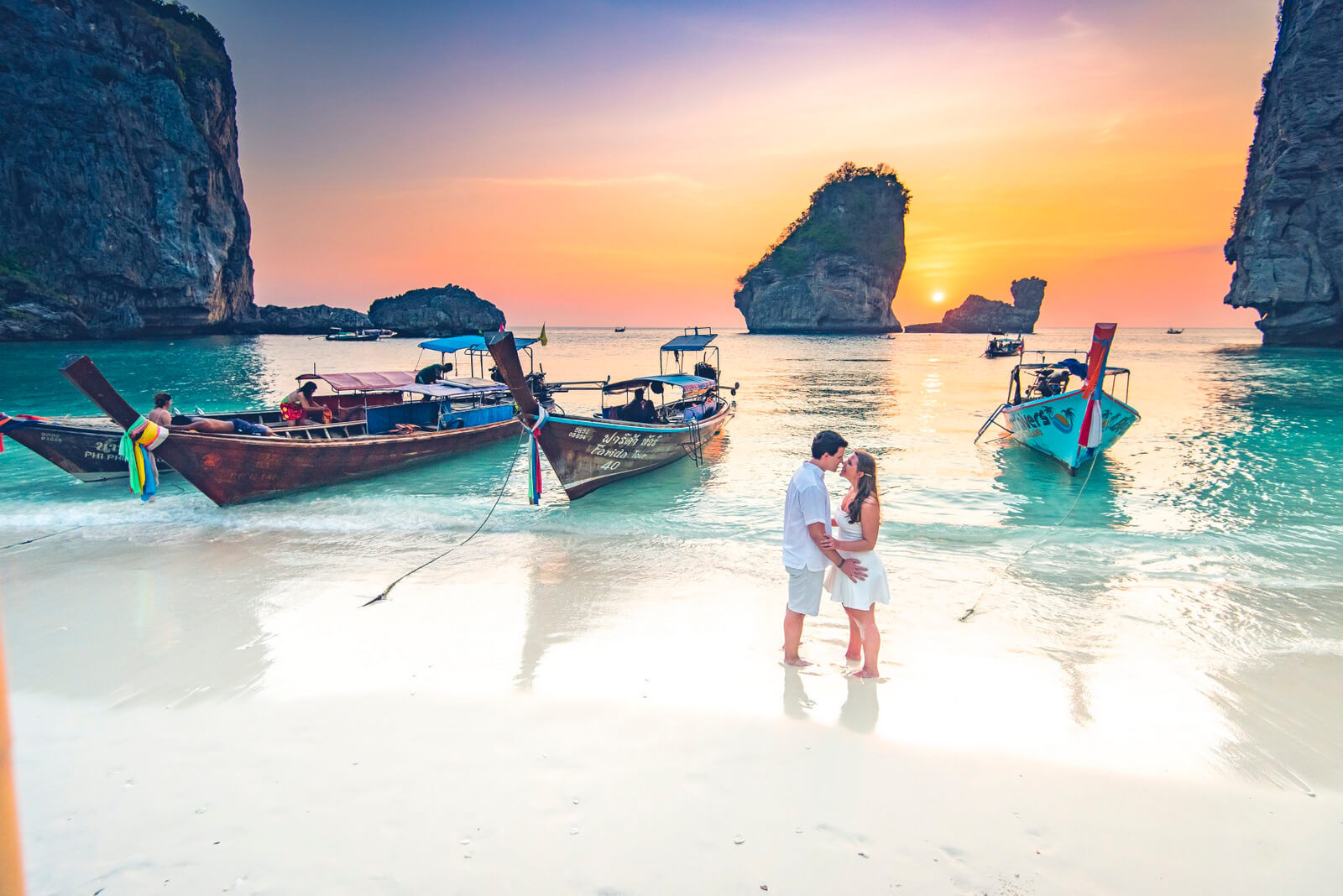 Krabi is actually made up of 130 secluded and tranquil islands. Picturesque landscapes, caves, coral reefs and untouched beaches make it the perfect paradise for love-struck couples.
Ao Nang and Railay Beach are some of the most popular spots to stay due to the numerous luxury resorts available.
A diver's paradise, Krabi is teeming with vibrant coral reefs and active marine life. For couples searching for some adventure on their Krabi honeymoon, the colossal limestone rocks are a popular location for rock climbing.
Get there: You can fly to Krabi International Airport or there are regular trains and buses from Bangkok.
Stay: Sofitel Krabi Phokeethra, Beyond Resort Krabi, Amari Vogue Krabi
Eat: Krating Tree Restaurant, Jenna's Bistro & Wine, Lotus Court Restaurant
Do: Relax and unwind on the sun-kissed beaches, explore the islands on boat tours, go for a candle-lit dinner on the shore and try the delicious seafood
6. Phuket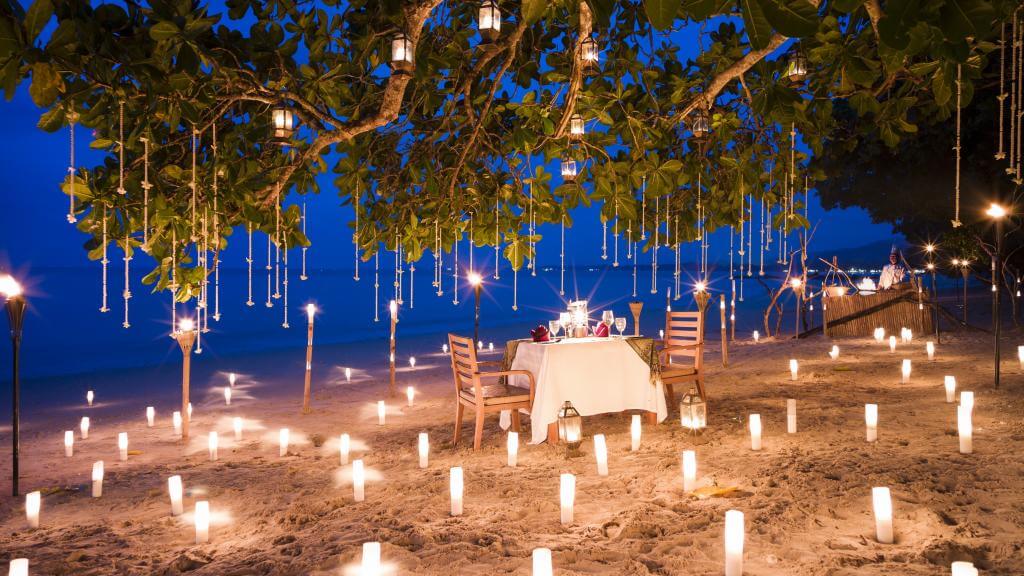 South of Krabi, in the Andaman Sea, lies the island of Phuket. Sunbathe on warm sands, enjoy exploring the island's interior and admire the gorgeous architecture in the charming Phuket Old Town.
Visit the many attractions, see captivating shows, and try out the wealth of fantastic restaurants here. It really is the perfect honeymoon destination.
Get there: You can fly straight to Phuket or it is easily accessible from many of the surrounding areas by boat.
Stay: Trisara, Amanpuri, The Shore at Katathani
Eat: Rock Salt, Sizzle Rooftop Restaurant, La Gritta
Do: Take the four-island tour from Phuket, watch the renowned lady-boy show, and pamper yourself with a rejuvenating couples massage and spa experience
7. Koh Lanta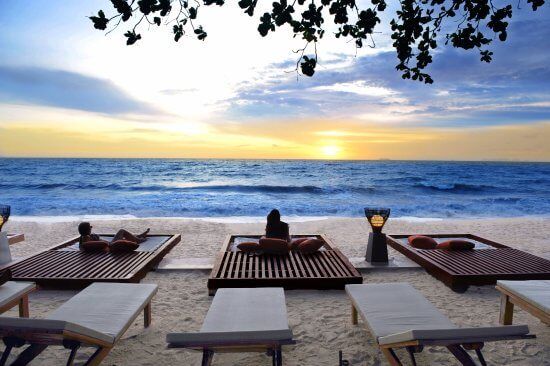 Koh Lanta is a smaller and less well-known island, a bit off the beaten track. A great place to come if you're looking for some alone time without many other tourists around.
Like many of the other islands, it's a great place to slow down and enjoy exploring the area.
Ride around on scooters and enjoy the nature around you. Relax on the beach and go for a swim, snorkel, or scuba dive, marvel at the amazing marine life, or treat yourselves to a luxurious spa day.
Get there: Koh Lanta is easily accessible by boat from Krabi and only takes 20-30 minutes!
Stay: Layana Resort & Spa, Pimalai Resort & Spa, Atlanta Villa
Eat: Sunset Del Mar, Yang Garden Restaurant, Kindee Restaurant
Do: Explore the nearby caves, indulge in top-of-the-class resort luxury, visit the local villages
Get your VACATION on!
Expertly curated emails packed full of vacation inspiration, travel tips and more!