Top 5 Best Beaches in Thailand
Top 5 Best Beaches in Thailand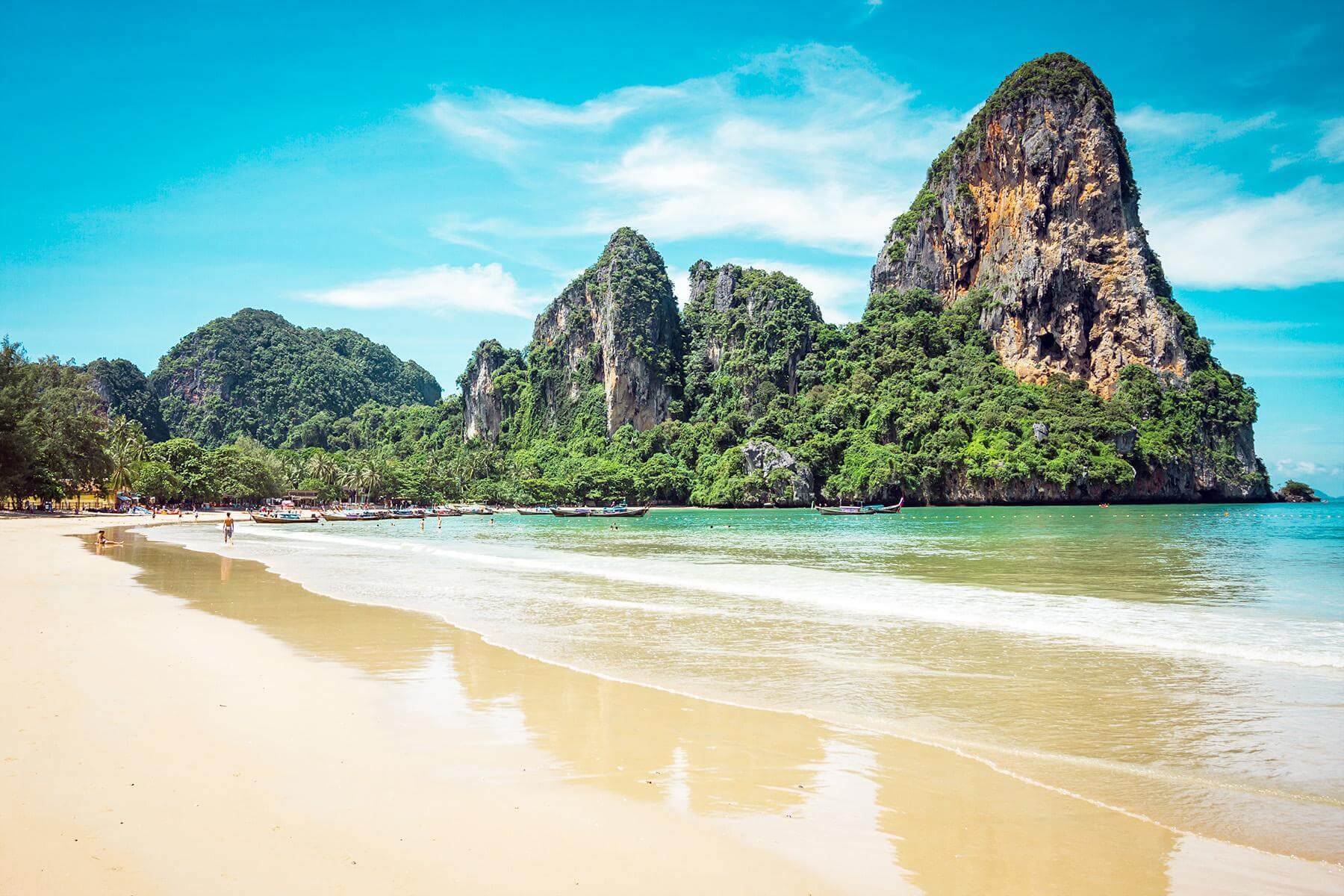 Best Beaches in Thailand
Thailand is nothing short of breathtaking. From bustling cities to dense rainforests, towering waterfalls and of course Thailand's tropical beaches. No matter whether you're traveling with your family, on a gap year or a couples retreat, there's no dispute that the beaches in Thailand draw visitors in. We're here to help you discover the best beaches in Thailand and where to find them, whether you're self-exploring or looking for tours in Thailand to show you the sights!
Our Top Trending Tours
All-Inclusive

Chiang Mai Countryside Bicycle & Thai Cooking Class Experience

All-Inclusive

Krabi Highlight Tour: The Top 5 Spots

All-Inclusive

Phuket Coral Island Tropical Snorkeling Adventure
With over 2,000 miles of unspoilt coastline, it's no surprise that visitors flock from all over the world to experience the best beaches in Thailand. From the emerald waters of the world-famous Maya Bay on Koh Phi Phi Leh to the crowds of the full moon party at Haad Rin Beach on Koh Phangan and the secluded beaches of Koh Lanta, the famous Thailand beaches will not disappoint.
If your taste for travel is tropical then Thailand is for you. A beach holiday in Thailand comes brimming with culture and adventure. The hotels are rich with colour, the beach bungalows are traditional and tranquil, no matter what type of accommodation you choose, the service you'll receive is exceptional. The people of Thailand are like nowhere else in the world, it's easy to see why it's called the "Land of the smiles."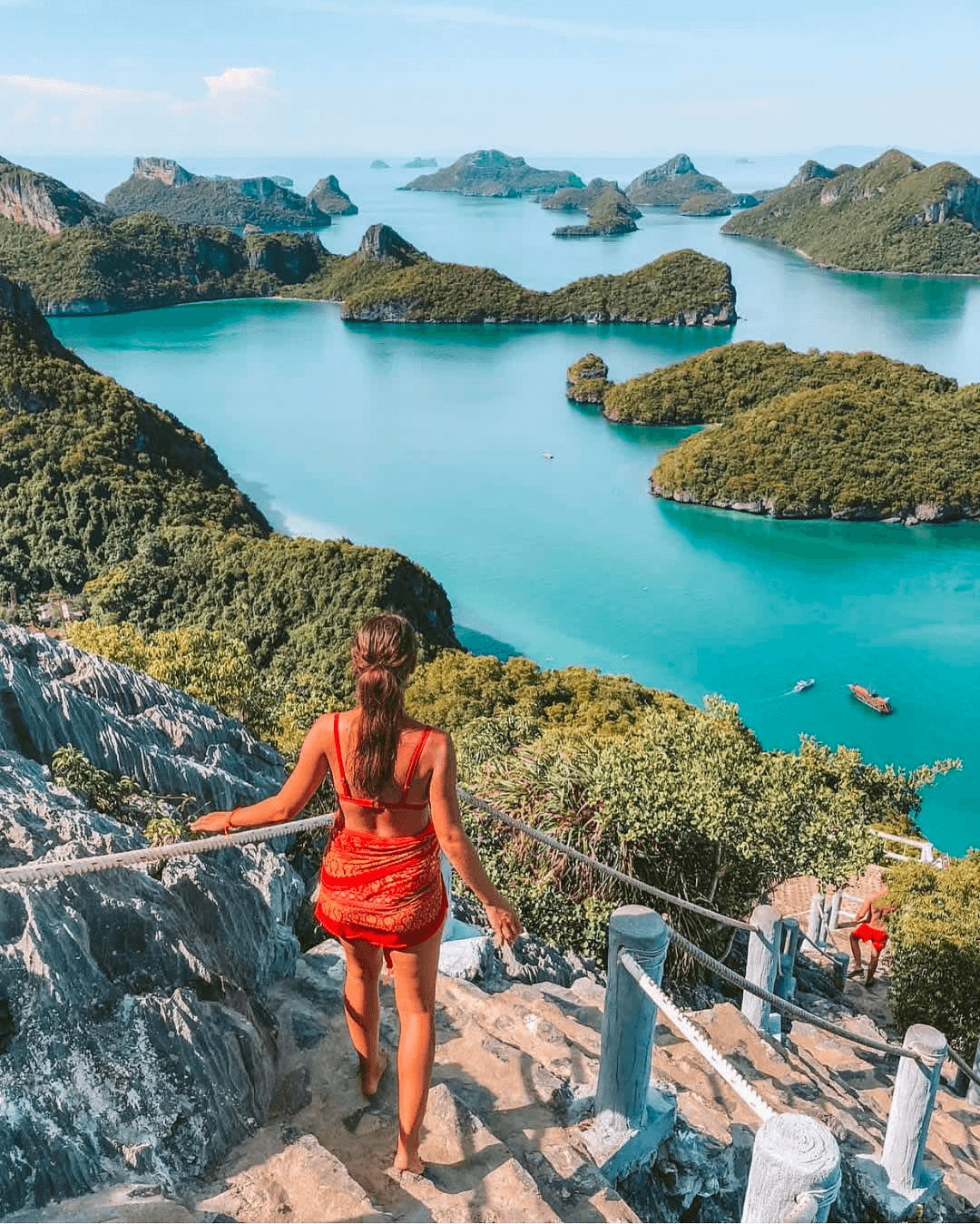 Top 5 Best Beaches in Thailand
To help with your decision making, here's our guide to the top 5 beaches in Thailand. From towering cliffs to fire shows, Thailand's beautiful beaches cater for every type of visitor.
1. Railay Beach, Krabi
The province of Krabi boasts some of the most spectacular coastlines in Asia and Railay Beach is a perfect, pristine example. Think palm-fringed, white sand and rich turquoise waters and you won't be far wrong. Accessible only by boat, Railay Beach isn't overcrowded. Day-trippers tend to disembark at East Railay Beach in the afternoon leaving Phra Nang Beach and West Railay Beach less busy, relaxed and tranquil. If you're looking to explore Railay Beach, we can help you with our tours in Krabi. Our Krabi Instagram Tour shows you the most picturesque spots, including the beautiful Railay Beach.
Railay Beach is enveloped by towering limestone cliffs making it a rock-climber's heaven. Hire a kayak and explore the caves created by the limestone rocks, snorkel the day away or simply kick back and relax on one of Thailand's best beaches.
Where: Krabi, Railay Peninsula
Stay: Why stay the night to make the most of the picture-perfect Railay beach? If you really want to treat yourself, the leading hotel Rayavadee awaits. The stunning hotel is built around the cliffs and feels like a true island escape. Enjoy a unique dining experience at The Grotto, a beautiful restaurant tucked under the limestone.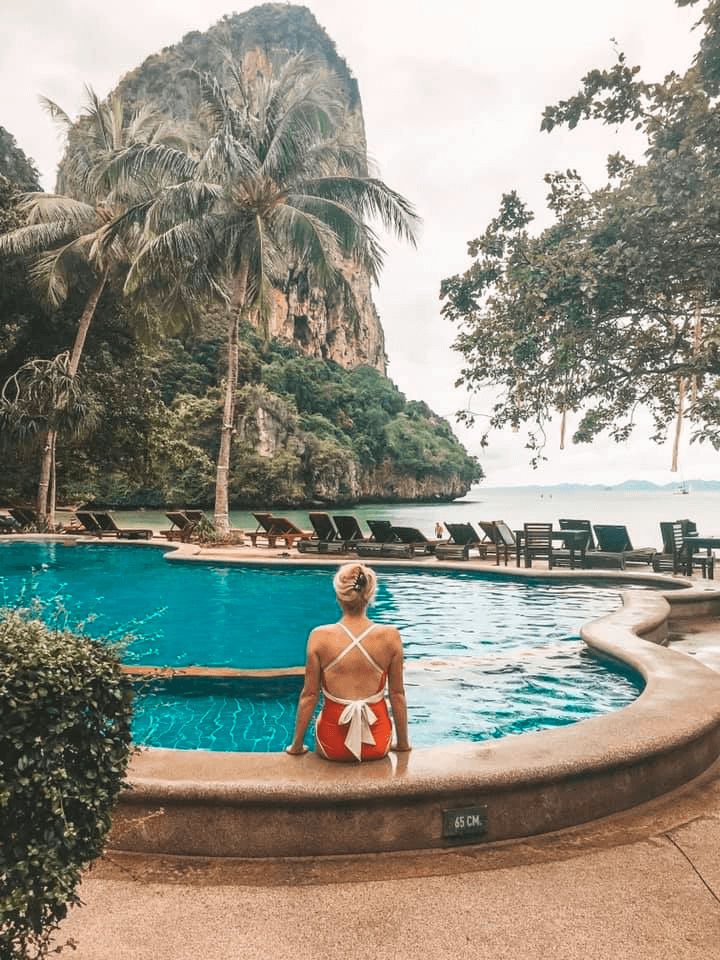 2. Long Beach, Koh Lanta
Head to Koh Lanta for some of Thailand's best beaches. The three-mile-long, pine-fringed, white powdered sands of Long Beach is the perfect place to unwind. This beach in Thailand is never overcrowded so unlike many of Thailand's commercial beaches, you really will feel like you have your own little slice of paradise. There are a handful of restaurants at the top of the beach where you can get delicious cocktails and enjoy freshly barbecued fish. As the sun goes down, the fire shows begin meaning you can enjoy Long Beach long after the sun has set.
The beautiful clear waters are perfect for swimming and snorkeling. The restaurants offer delicious traditional food that Thailand is known for and you can fully unwind with a Thai massage, you really couldn't wish for a more serene spot.
Where: Koh Lanta District, Krabi
Stay: If you're after the true Thai experience choose one of the bungalow resorts that back onto the beach. For something a little more luxurious try the adult-only Layana resort. A perfect honeymoon spot, the Layana Resort is intimate and stylish. After a day spent exploring Long Beach you can rejuvenate yourself at the resort's Linger Longer Spa.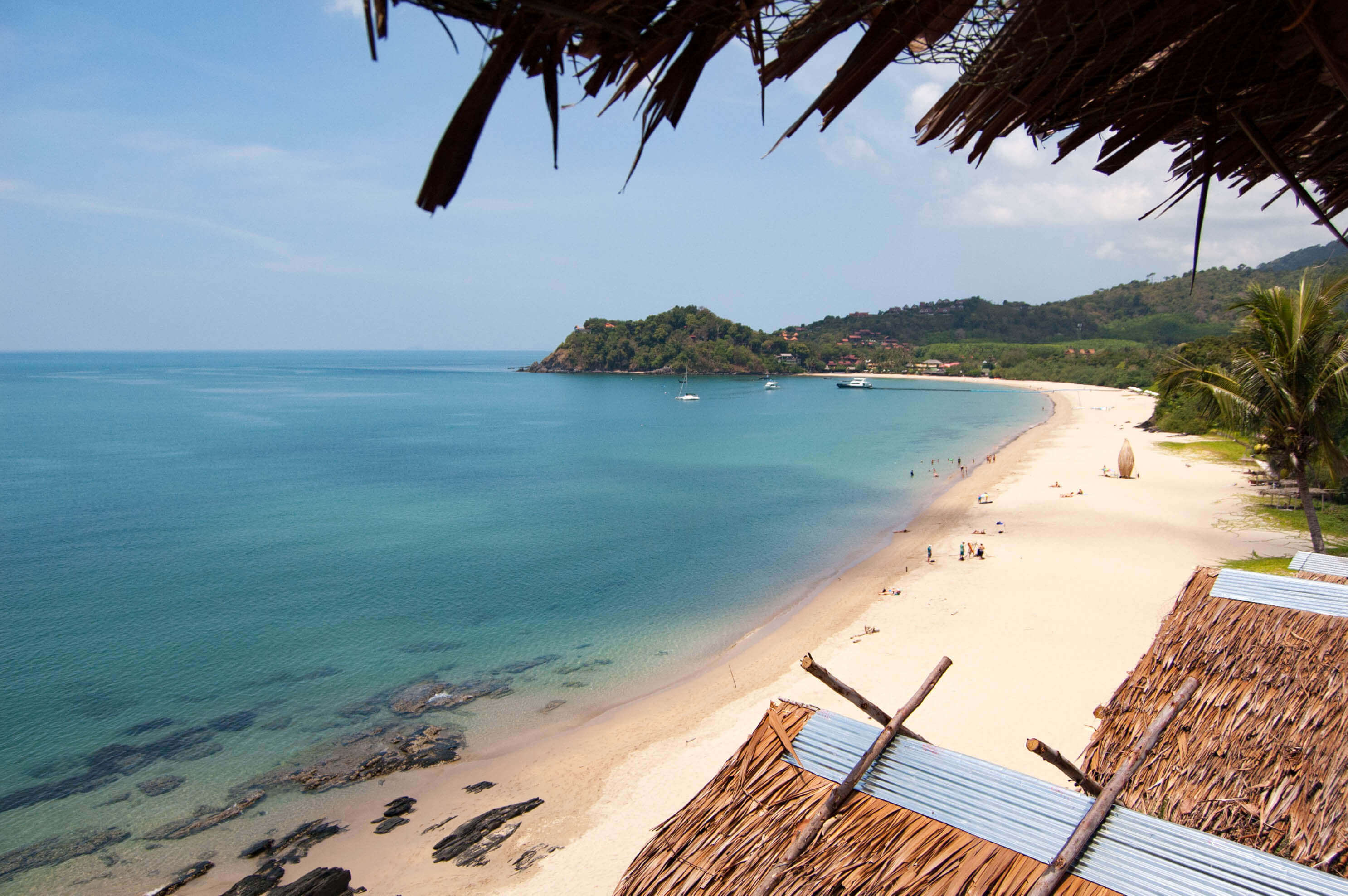 3. Haad Rin, Koh Phangan
Nearly 40 years ago a group of tourists decided the most beautiful moon was seen from Koh Phangan, Thailand. They arranged a party on the beautiful, crescent-shaped beach of Haad Rin to celebrate the full moon and from that night on people from all over the world flock to Haad Rin to join in the fun. Now around 30,000 people travel to Koh Phangan each month to enjoy the fire shows, live DJs and street food vendors. It really is a once in a lifetime experience - that you might end up wanting to experience more than once!
Full moon aside, Haad Rin can be divided into two, Haad Rin Nok and Haad Rin Nai. Haad Rin Nok is a lively, party beach, you'll find most of the bars and clubs here and there are plenty of places to stay. Haad Rin Nai has a quieter, more bohemian feel. Haad Rin Nai is located in the south of the island, there are boutique bars and restaurants but it is much more peaceful than the other side.
Where: Koh Phangan Island
Stay: For a beautiful boutique resort take a look at Princess Paradise Koh Phangan. The hotel is located on the beautiful beach of Haad Rin where it is peaceful enough to have a quiet and relaxing time but only a 10-minute drive from the full-moon party should you wish to join in.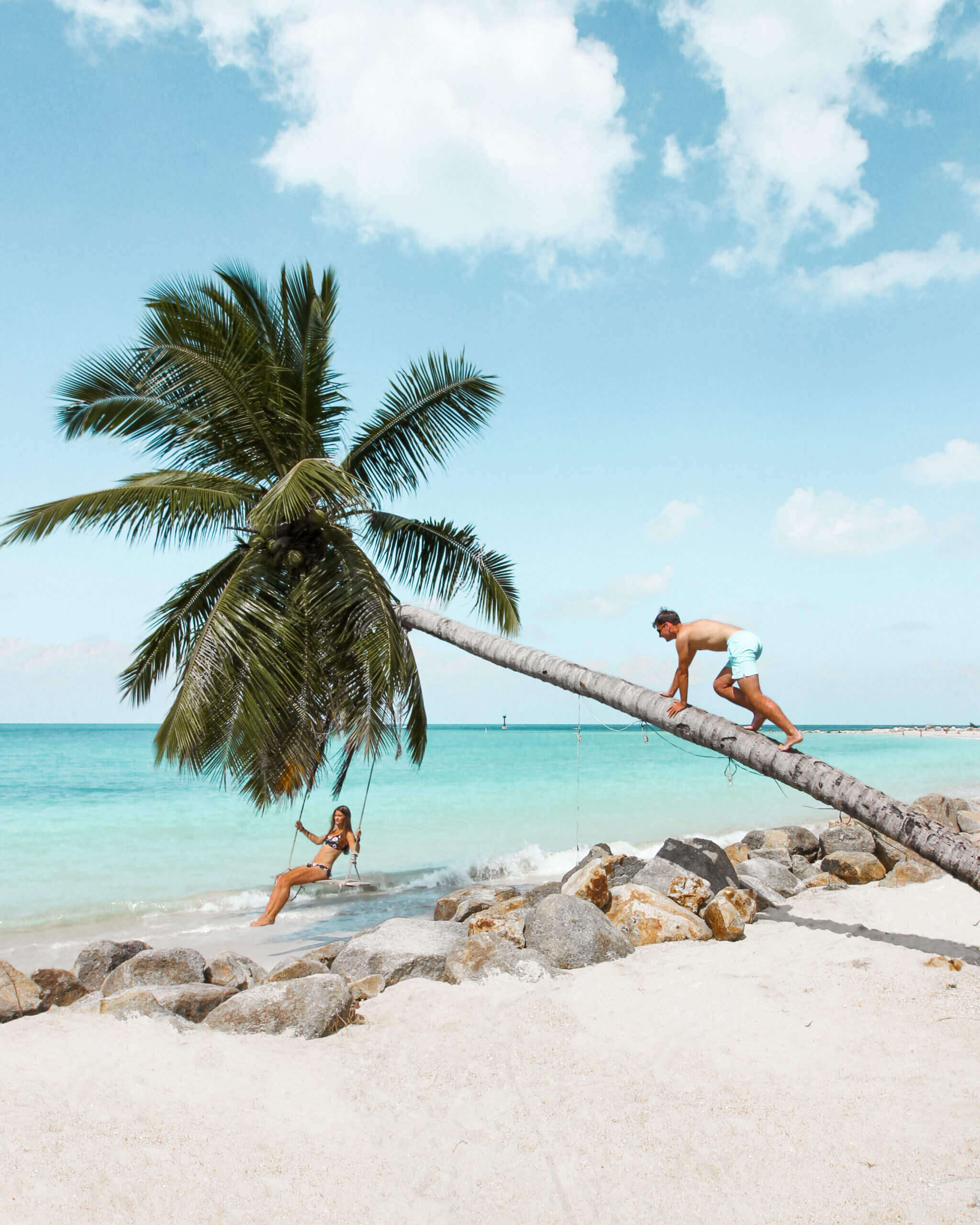 4. Sairee Beach, Koh Tao
Koh Tao is an idyllic island waiting to be explored. On the West coast sits the mile-long, white sands of Sairee Beach. With its laid back ambience, it would be fair to say it's one of Thailand's most adored beaches. The soft sands and aquamarine waters are a peaceful place to unwind because there are no motorboats allowed. Sairee Beach is infringed with lush green hills and an abundance of coconut trees so the backdrop is simply breathtaking. During the day it's the perfect spot for families, diving and snorkeling are extremely popular here, or simply enjoy the laid back way of Thai life. Come the evening, it's a different picture. Busy restaurants, bustling bars and blazing fire shows set the scene.
Where: The island of Koh Tao
Stay: Nestled perfectly on Sairee Beach is Sairee Hut Resort Koh Tao. It's a cosy, modern hotel that suits all types of visitors, from families to solo travelers. The large beachfront swimming pool is the perfect place to cool off after a day exploring Sairee Beach.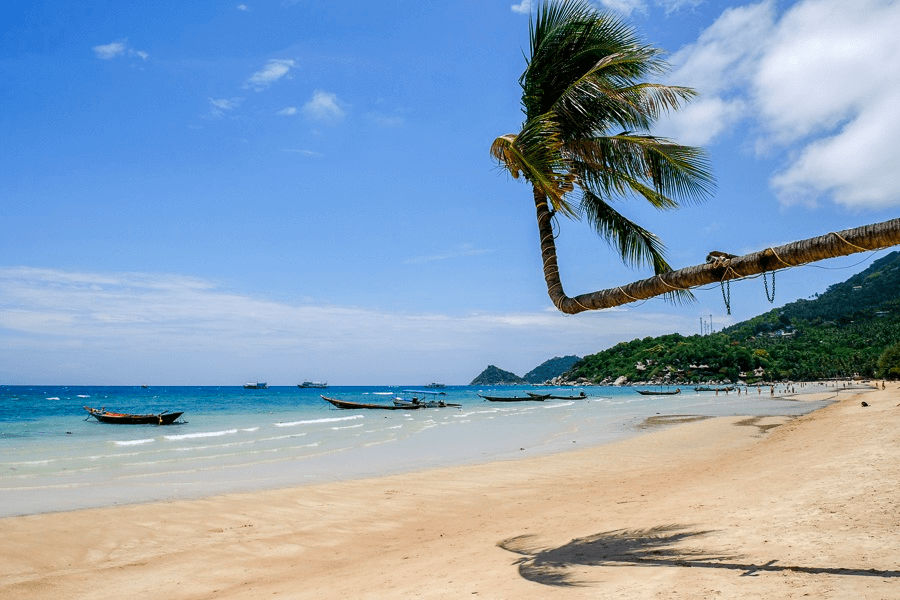 Our Best Selling Tour
All-Inclusive

Hanoi Instagram Tour: The Most Famous Spots

If you're struggling to decide which Hanoi tours to take on your once in a lifetime vacation, look no further; our Hanoi Instagram Tour: The Most Famous Spots is popular for a reason! In just one day, you can visit all of the most picturesque spots in Vietnam's capital - perfect for keen Instagrammers and travelers who want to soak up the best the city has to offer! From the Temple of Literature, Tran Quoc Pagoda, Ho Chi Minh Mausoleum and many more famous landmarks, and with your tour guide acting as your personal photographer, there's no better tours in Hanoi to make memories that'll last a lifetime. Don't forget to grab a coffee at our secret Instagrammable cafe!
5. Maya Bay, Koh Phi Phi Leh
No round up of the best beaches in Thailand would be complete without Maya Bay on the island of Koh Phi Phi Leh. If you want to experience true paradise then a visit to Maya Bay is a must. Made famous in the film The Beach, Maya Bay is awe-inspiring. The beach is surrounded by huge, breathtaking limestone cliffs, the rich, dazzling, green waters are crystal clear and swarmed with tropical fish, making this a great spot for snorkeling. Due to the popularity of Maya Bay, it had to close to visitors for 3 years in a desperate bid to restore the marine ecosystem, it is open again now and under the supervision of Hat Noppharat Thara-Mu Ko Phi Phi National Park. Visitors flock from Phuket or Krabi but if you want to stay nearby you can beat the crowds and visit early.
Where: Koh Phi Phi Leh Island
Stay: Saii Phi Phi Island Village is fringed by 70 acres of coconut palms that give way to the pristine white sands of the neighboring island, Phi Phi Don. The resort is a great place to learn about marine biodiversity and conservation as it is involved with the rehabilitation of the local reefs.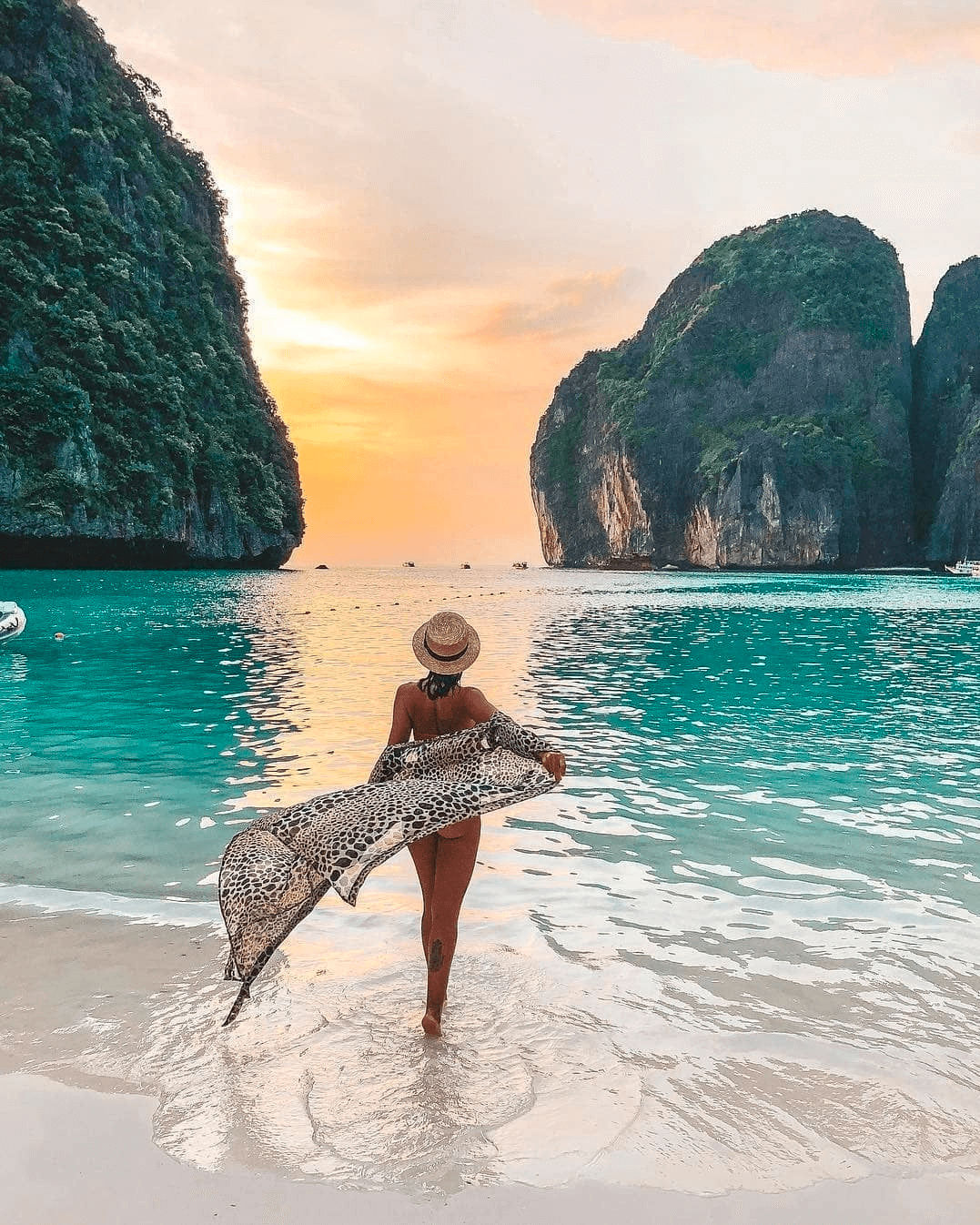 Thailand's beautiful Beaches
The tropical shores of Thailand are luring visitors from all over the world and it's crystal clear to see why. The white sands and vivid green waters, the water-sports, the underwater worlds and the extravagant night parties, there really is something for everyone.
Beaches such as Railay Beach are a perfect place for families to spend much needed lazy days. Staying just a stone thrown from the water, this is an idyllic family vacation on one of the best beaches in Thailand. A spot of snorkeling, a delicious, traditional lunch and while away the afternoon in a hammock with a good book is what will be on your to-do list.
Looking for the perfect honeymoon destination? It doesn't get better than Thailand's tropical beaches. Long Beach proves perfect for a couples retreat. Feast on fresh fish and watch the afternoon drift by whilst sampling Thai cocktails. It's on the shores of Thailand's beautiful beaches that life-long memories are made.
Jump on a boat and head to Koh Phangan for a heady mix of chilled out bohemia and a frenzy of dancing at Haad Rin Beach. Let go of your inhibitions and celebrate with thousands of like-minded people. When your dancing feet can take no more hop on a boat to neighboring island Koh Tao and head to Sairee Beach for some Thai style 'RnR'.
Traveling to Thailand at the right time of the year can be vital for your vacation. The seasons are split between wet and dry, with the dry season, running November through to March being the most popular time to travel. Take a look at our guide to the best time to visit Thailand to make sure you are well equipped with everything you need to know before you book.
Get your VACATION on!
Expertly curated emails packed full of vacation inspiration, travel tips and more!