Best Food in Chiang Mai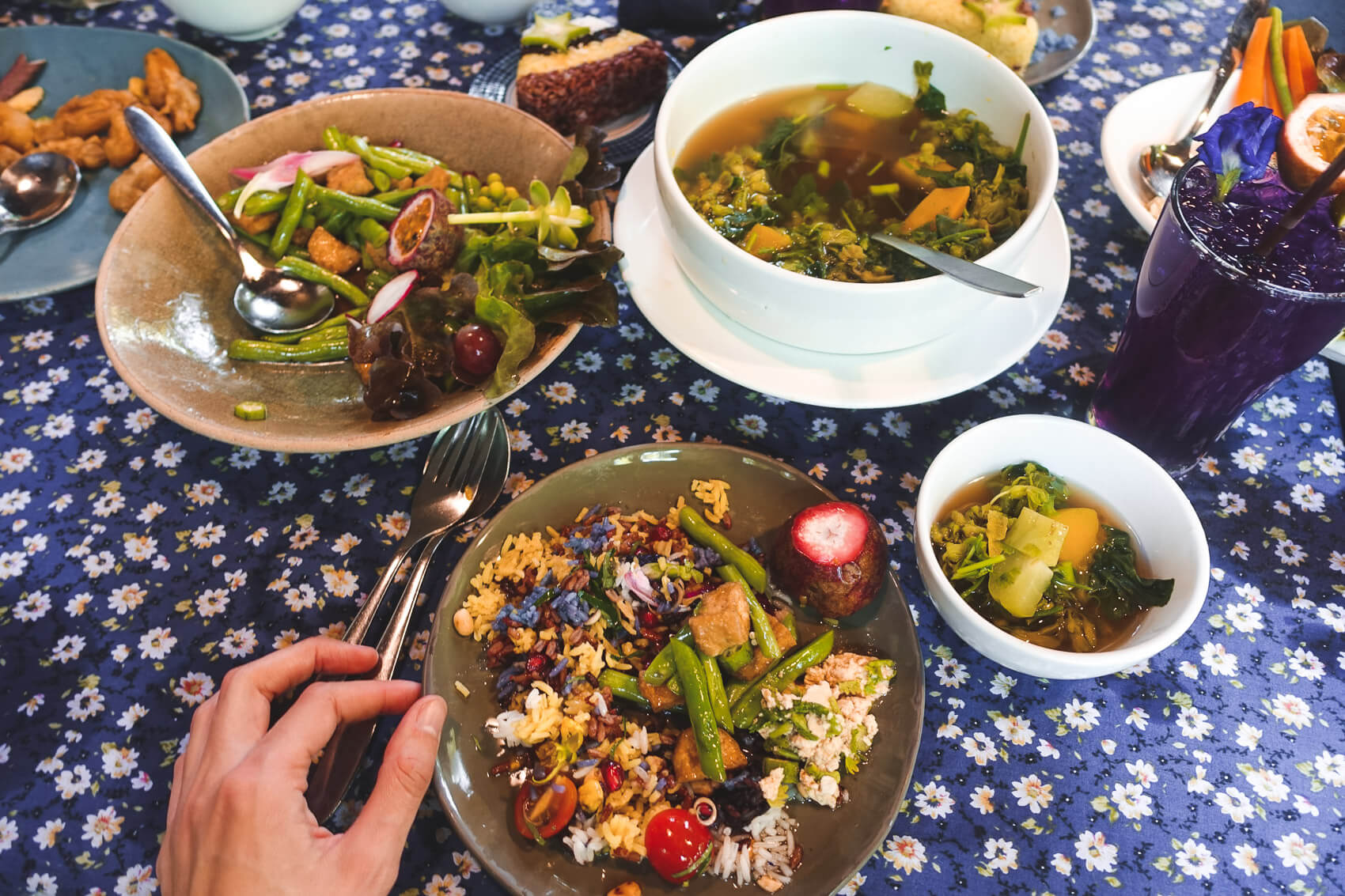 One of the best ways to learn about a new country is by trying the local food. Food says so much about a culture and each place has its own specific food identity according to its history and the local produce. In this blogpost we will take you on a journey through Northern Thailand and tell you all about the best food in Chiang Mai!
One thing is for sure, and that is that food in Chiang Mai won't disappoint! It's a real melting pot of all the different cultures that have influenced this city over time. With traditional and classic dishes alike, our list of recommendations should give you a great idea of what to expect from the food in this beautiful and exciting area!
Our Best Selling Tour
All-Inclusive

Chiang Mai Countryside Bicycle & Thai Cooking Class Experience

If you're looking for a day crammed with culture, our Chiang Mai Countryside Bicycle & Thai Cooking Class Experience is going to be right up your street. This full-day, all-inclusive tour in Chiang Mai includes an 18 km bike ride through the beautiful countryside of San Kam Phaeng. After you've stopped for a well-earned lunch at a local restaurant you can relax in the Hot Springs. The afternoon will see you cooking four delicious Thai Meals and preparing your own home cooked Thai Dinner. Chiang Mai tours don't get better than this! From stunning scenery to tantalizing Thai food, it's no wonder this is a popular tour.
As you may probably know (and if you don't, don't worry), Chiang Mai is the second largest city in Thailand and if you've never been here, it can be a struggle to figure out where to start your travel journey, what the best spots are to visit and even how to get around in this big city! That's why we at ForeverVacation created some top notch private tours in Chiang Mai! Our tour guides will take you around to see the best places (and maybe even some hidden gems) in town, all while sharing their local expertise with you. And as all of our tours are all-inclusive, you won't have to worry about anything: transportation, food, entrance tickets for attractions,...everything is included! All you have to do is, sit back, relax and enjoy all the beauty that Chiang Mai has to offer!
So If you are a big foodie and you want to get away from the hustle and bustle of Bangkok, Chiang Mai should definitely be on your Thailand food bucket list!
Once you've finished reading this blogpost and you're wondering where exactly you can eat all these delicious dishes, make sure to check out our 'Best restaurants in Chiang Mai' blog post, where we've listed all the best restaurants and bars - to make your life easier! We did all the research so you won't have to!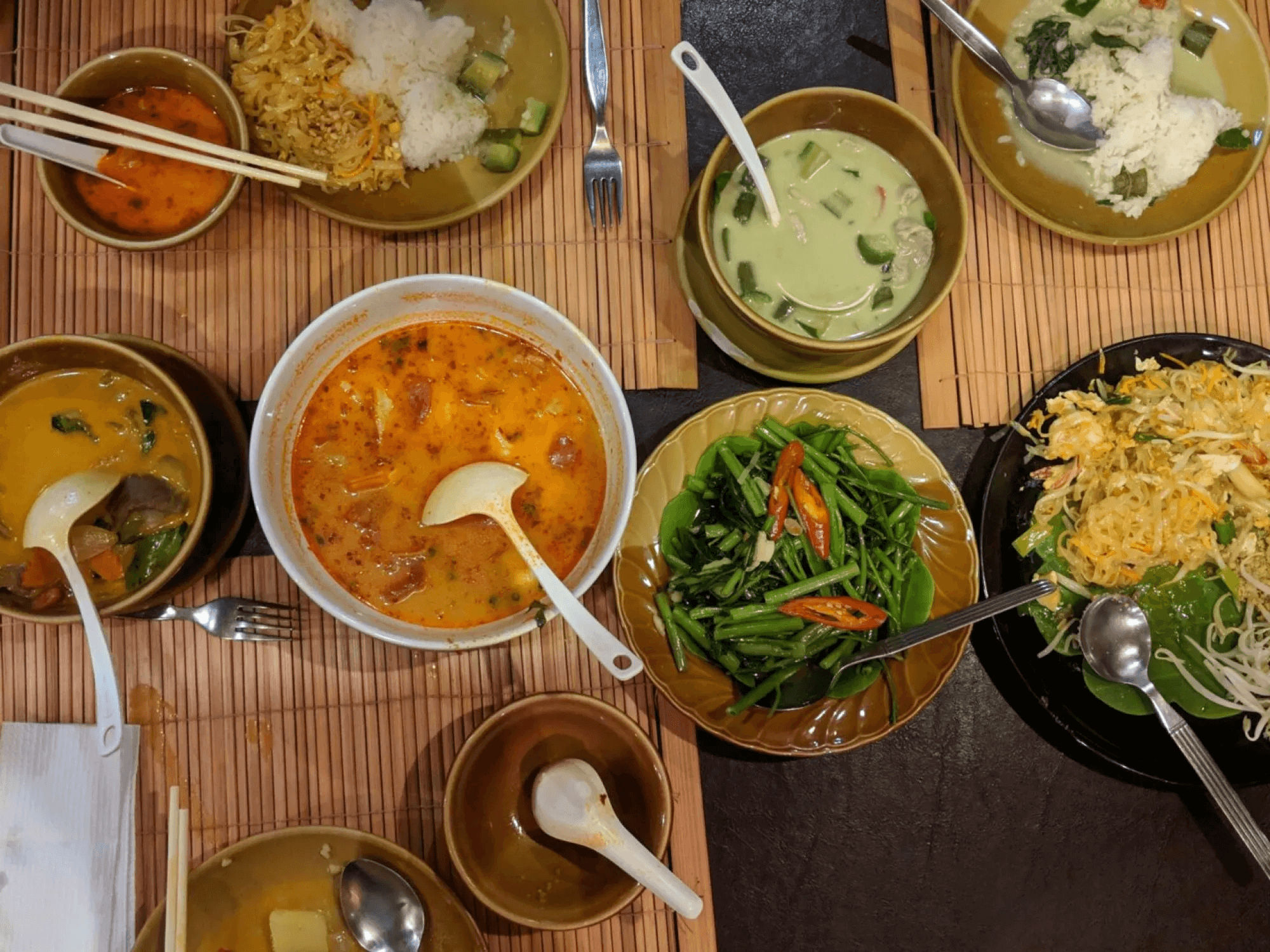 A little background information on Northern Thai Food and it's history
The food in Chiang Mai - also known as -'The Rose Of The North' has its own distinct identity and it is influenced by neighboring countries like Burma, Laos, and China. You will also notice that the food found in northern Thailand is a bit different from the country's southern cuisine as it is probably the most seasonal and least spicy of Thailand's cuisines, often relying on bitter or other bold flavors resulting from dried spices. Because the soil and the forests of the North are so fertile, this regional cuisine is characterized by an abundance of foods that can be grown there. These favorable agricultural conditions may have resulted in Northern food not being as spicy as the other regions of Thailand as it wasn't necessary to encourage diners to eat more rice, and less meat or vegetables, by adding lots of chili spice.
The predominant flavors in Northern food are hot and salty, with the heat coming from chilies, fresh ginger and galangal, fresh or dried black pepper and long pepper. The salty taste is traditionally derived from a number of assertive seasoning pastes pounded from fermented soybeans, fish and salted land crabs. Northern people also use bitter or astringent forest herbs which are indigenous to the region.
Due to the cooler, mountainous climate, the food is fattier as people need to stay warm. Unlike in Bangkok, where coconut milk is a staple ingredient in many of the curry dishes, seasonings used in the food in Chiang Mai are not as sweet or spicy and soups and curries have a clear broth. They also add Khao Niao (sticky rice), this is the main staple at every meal and goes very well with a range of Nam Prik (chili dips) unique to the northern cuisine.
You will often find that Chiang Mai food is also referred to as 'Lanna food'. Lanna refers to the ancient Lan Na kingdom that was founded in 1296 and Chiang Mai was its capital. Lanna food simply means food from the northern part of Thailand which includes Chiang Rai, Chiang Mai, Phayao, Lampang, Nan and Phae.This region was once known as the "Land of one million rice fields."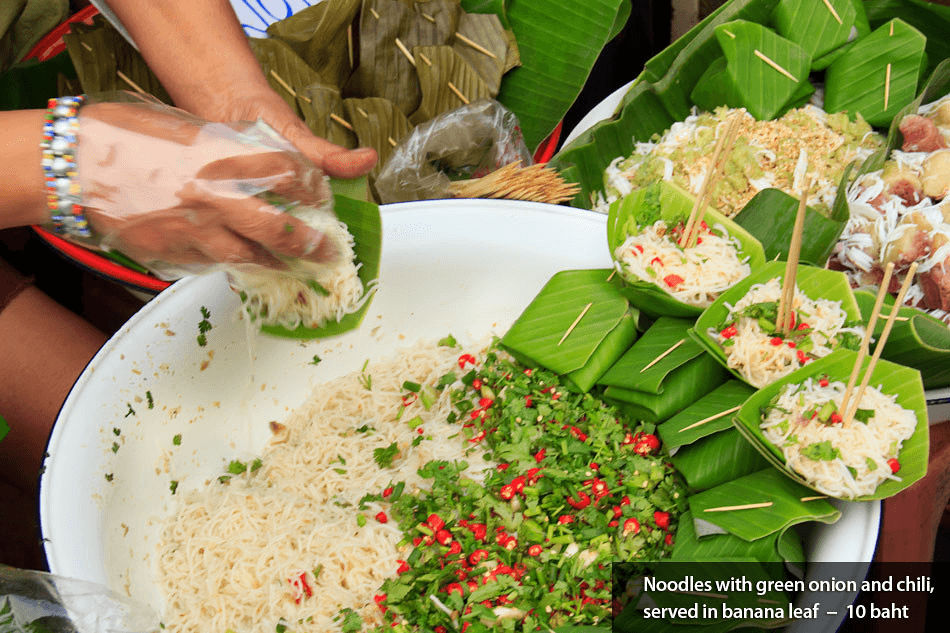 The best local food in Chiang Mai
Nam prik: red and green chili dips
Chiang Mai is famous for its chili dips. This green and red chili dip duo is the most well-known among all the northern-style chili dips. Made with roasted chili spur peppers, the green chili dip, or nam prik nume, is a very spicy yet delicious dish but should only be eaten by people who can handle the heat! The red chili dip, or nam prik ong, tastes slightly milder, with a tomato-based paste, mixed with ground pork, chopped coriander, spring onion and dried chilies. Both are usually eaten with crispy pork skin, steamed vegetables and sticky rice.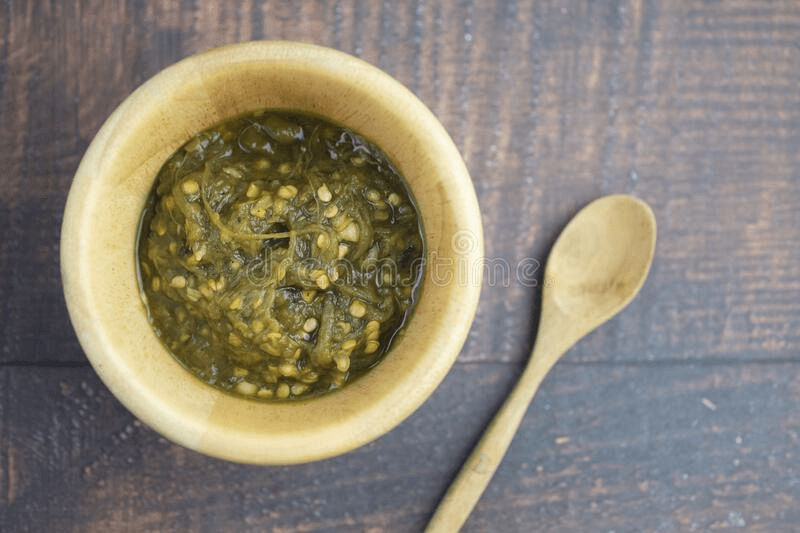 Khao Neow
Chiang Mai food is always accompanied by sticky rice, also known as khao neow. Maybe you'll find it kind of strange of us mentioning rice in this list, but nothing occupies a more prominent place in the Chiang Mai cuisine than sticky rice and therefore it's also the most served dish in the city. Thai people treat rice with respect and they make sure to never waste it.Thai tradition demands that by the end of a meal, every last grain of rice should be eaten, as throwing away food is likely to enrage Mae Phosop, the Thai Goddess of rice.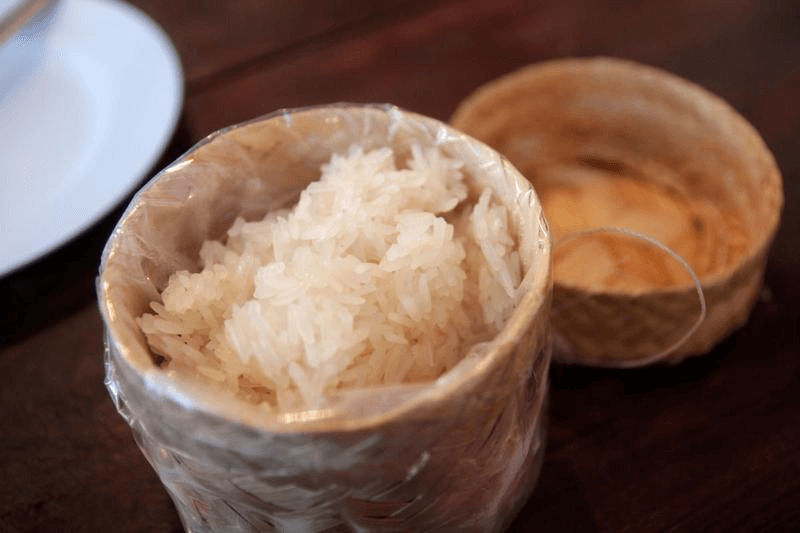 Gaeng Hang Lay
Gaeng Hang Lay Moo is a slow cooked curry of pork (usually belly and shoulder) with ginger, tamarind and Indian spices and it's one of the great curries of northern Thailand.
Gaeng hang lay is Indian in origin – you can see this from the choice of spices used – and made its way into Thailand, or Siam as it used to be known, via Burma. The Thais then adopted it and, as with many other dishes, adapted it to their own tastes. It's a favorite dish in Chiang Mai, though it's less commonly seen in the south. Unlike red, green and yellow curries that are so conveniently color-coded and globally famed, gaeng hang lay is more obscure and a fairly turgid brown. But don't judge the book by its cover because although its color may not be appealing to some, and it probably won't be the best looking dish you've ever seen, it makes up for that in its sublime tastiness! If you like curries with the thickness of massaman curry, then gaeng hang lay is certainly going to be your thing with its salty, sweet and sour notes.
Fun fact: Gaeng means curry in Thai and hang lay in Burmese a kind of pork curry.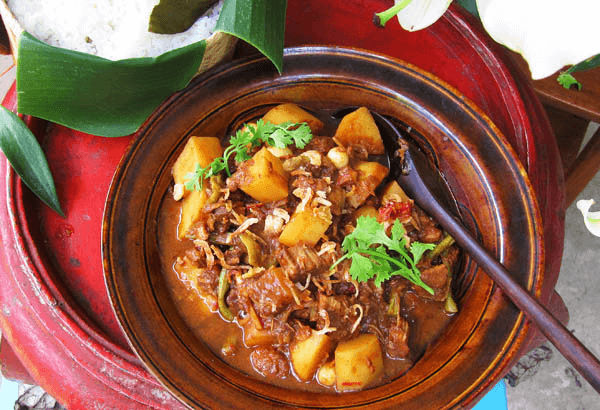 Khao Kha Moo
Better known as stewed pork leg on rice, Khao Hang Lay Moo is not only a favorite of Thailand's Prime Minister, it's also one of the best selling dishes served by street vendors in Chiang Mai! There are different variations of the same dish, but the essential ingredient is pork leg boiled in water which is seasoned for hours until tender and then served over rice accompanied by an egg which has been cooked in the same water as the pork.Typically the dish is served with pickled green mustard and a slightly vinegary chilli sauce.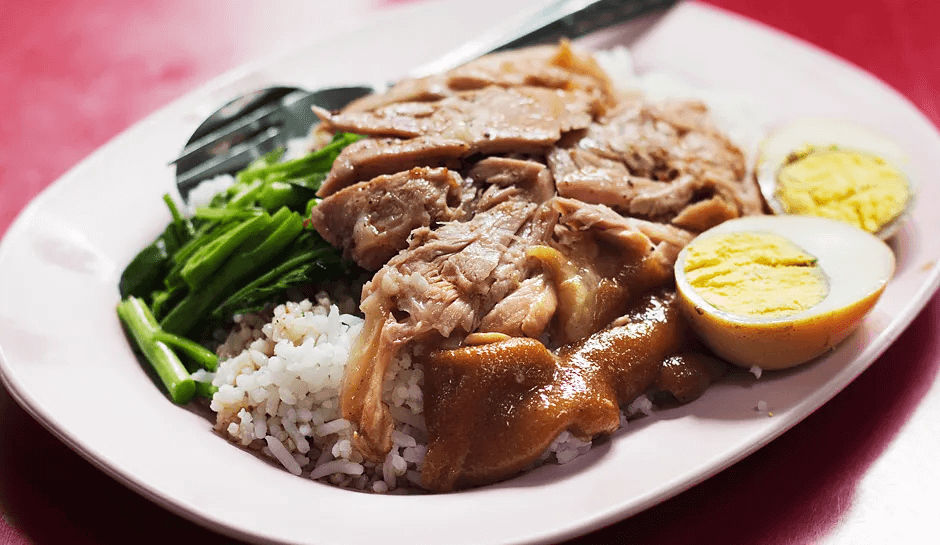 Khao Soi
Khao Soi is probably the most famous dish in Chiang Mai! It's a delicious curry noodle soup made with a rich and spicy coconut curry, served with chicken or beef and two types of noodles. Khao soi is also very popular in the neighboring Laos. However, the Lao version uses other ingredients and is somewhat different than the Thai counterpart.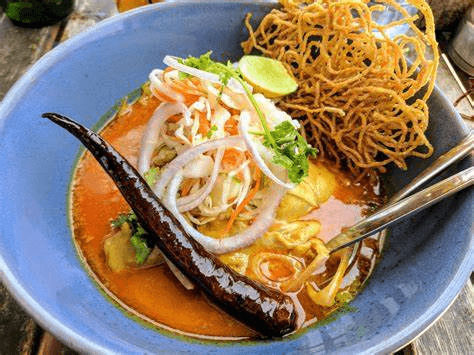 Sai Oua
Also known as Chiang Mai Sausage, Sai oua is a spicy pork sausage infused with an array of aromatic local herbs and spices. Popular in Laos and northern Thailand, the sausage is usually served alongside another regional favorite - sticky rice - to create a contrasting and layered dish.
The sausage is made from ground pork shoulder in a standard natural casing, mixed with some of the most commonly used herbs and spices in Lao cuisine: shallots, lemongrass, chilies, kaffir lime leaves, and garlic. Some recipes also include padaek, which is a special kind of fish sauce made in Laos. The dish is a local delicacy, and it can be found at most eateries and street stands at all hours of the day.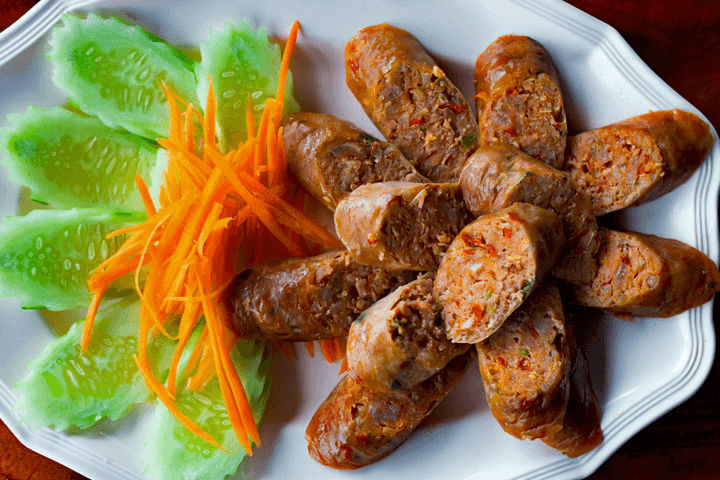 Som Tam
Som Tam is a humble yet very flavorful green papaya salad that can be found both in street stalls and high end restaurants. It is made from shredded unripe papaya, mixed with Thai chilies, garlic, fish sauce, palm sugar, tomatoes, peanuts, sun dried shrimp, carrots, green beans, tamarind juice, and lime juice. Using a wooden mortar and a wood pestle, they mash and mix the ingredients to unlock the flavors and smells.
The heat comes from hot chilies, called phrik kee nuu, these are tiny super-hot green or red Thai chilies. Street food vendors will always ask how many chilies to add to your som tam. Be careful here. The smashing of fresh chilies coats the salad with spicy oils that the Thai locals love, but foreigners are not comfortable with sometimes ;)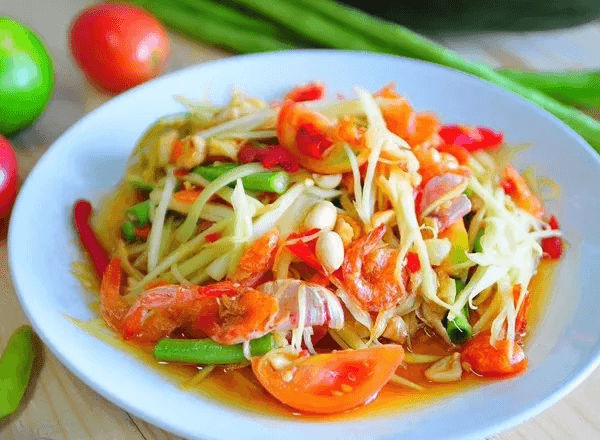 The best street food in Chiang Mai: Chang Phuak night market
For the best street food in Chiang Mai, you should definitely go to Chang Phual night market, easily one of the top street food markets in the city! You can eat anything from Pad Thai to grilled skewers and papaya salad, but there is one dish that's really special: Khao Kha Moo - stewed pork leg on rice-. Although you'll be able to find it in a lot of stalls, there is one place that really stands out: the food stall of the famous 'Cowboy Hat Lady'. Every evening, starting at about 5 pm, you'll find the lady in the cowboy hat happily pulling delicious pig legs and nobody does it better than her!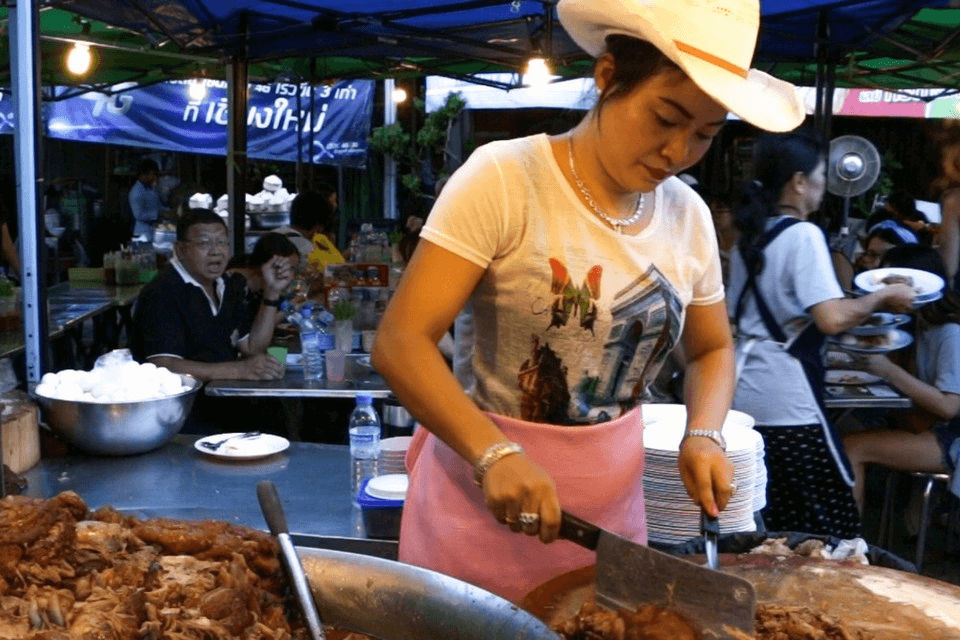 Eat your way through Chiang Mai
So now you know what you can expect in terms of food, there's really nothing that should hold you back from visiting this beautiful region. Once you're done with taking one of our tours in Chiang Mai, the city and its food awaits you at night! We promise, you won't be disappointed!
Get your VACATION on!
Expertly curated emails packed full of vacation inspiration, travel tips and more!