Best Food You HAVE To Try In Malaysia [2023]
Best Food You HAVE To Try In Malaysia [2023]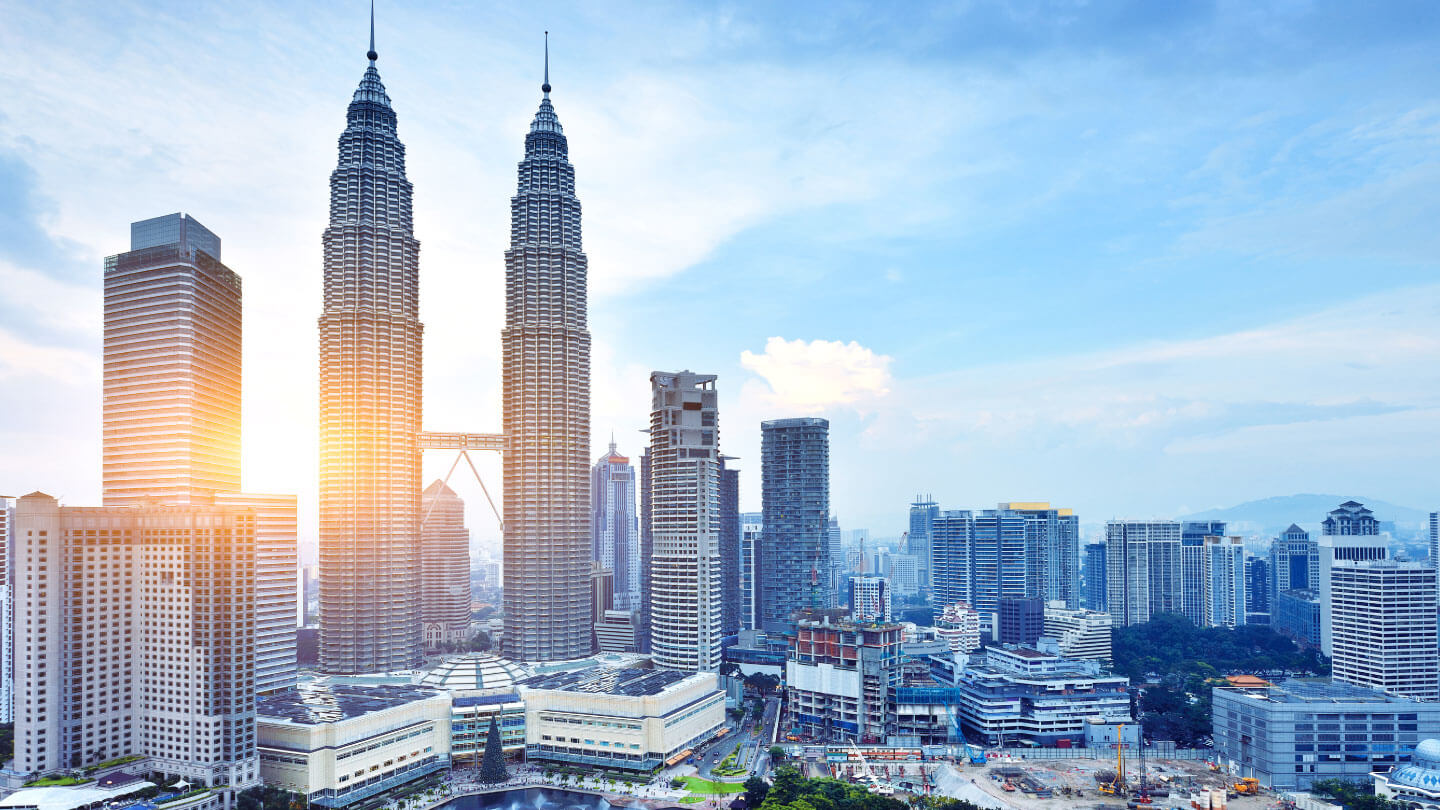 One of the best ways to learn about a new country is by trying the local food. Food says so much about a culture and each place has its own specific food identity according to its history and the local produce, and the local Malaysian food is no exception!
And the food in Malaysia does not disappoint. It's a real melting pot of all the different cultures that have influenced this country over time. With traditional and classic dishes alike, our list of recommendations should give you a great idea of what to expect from the food in Malaysia.
Our Best Selling Tour
All-Inclusive

Kuala Lumpur Night Delight Local Food Tour

Our Kuala Lumpur Night Delight Local Food Tour is the perfect way to experience the local Malaysian culture alongside the food scene that Kuala Lumpur is famous for. This KL tour takes you to some of the very best, local, food spots in the city! You'll visit 3 neighborhoods, Little India, Chinatown and Kampung Baru, so you can get a taste of all the different cuisines including, Nasi Lemak, Cendol, (A popular dessert) Roti Canai, (A flatbread that comes with lentils and curry) and Murtabak (stuffed pancake.) This tour of Kuala Lumpur will leave you with a full heart as well as a full tummy!
Snack on exotic fruits and veggies, sip coconut water from a freshly picked young coconut, spice things up with all the locally grown chillies and of course, eat lots of rice and noodles in some of the most popular Malaysian dishes!
The Malysian food scene has A LOT to offer and in this post, I walk you through what you can expect from the local food, the best food in Malaysia you just HAVE to try, as well as my top cafe and restaurant recommendations throughout the various areas of wonderful Malaysia, whether you're taking a tour in Kuala Lumpur and need a bite to eat or are wandering through some of the less populated areas.
What to expect from the local Malaysian food
Malaysia is a country of diversity, and the food reflects that. Chinese, Indian, and local Southeast Asian Malay are the three main influences when it comes to flavors, ingredients and cooking techniques that have been adopted into Malaysian cuisine.
Across the country, in cities like Kuala Lumpur, Penang, and Malacca, you'll find authentic Chinese food, Indian food - exactly as it's found in India - and home-cooked Malay specialities.
Because Peninsular Malaysia shares a common history with Singapore, it's common to find versions of the same dish across both sides of the border regardless of place of origin, such as laksa and chicken rice.
Also because of their proximity, historic migrations and close ethnic and cultural kinship, Malaysian food shares culinary ties with Indonesia, as both nations often share certain dishes, such as satay, rendang and sambal.
Staple ingredients of traditional Malaysian food include chillies (of course), fish, coconut (all parts of it), sugar, soy sauce, lemongrass, turmeric, tofu, nuts, locally grown fruits and vegetables, noodles and rice. These ingredients help to make up the most famous Mayalsian dishes and are served in restaurants and homes across the country.
Local Malaysian dishes you HAVE to try
Nasi Lemak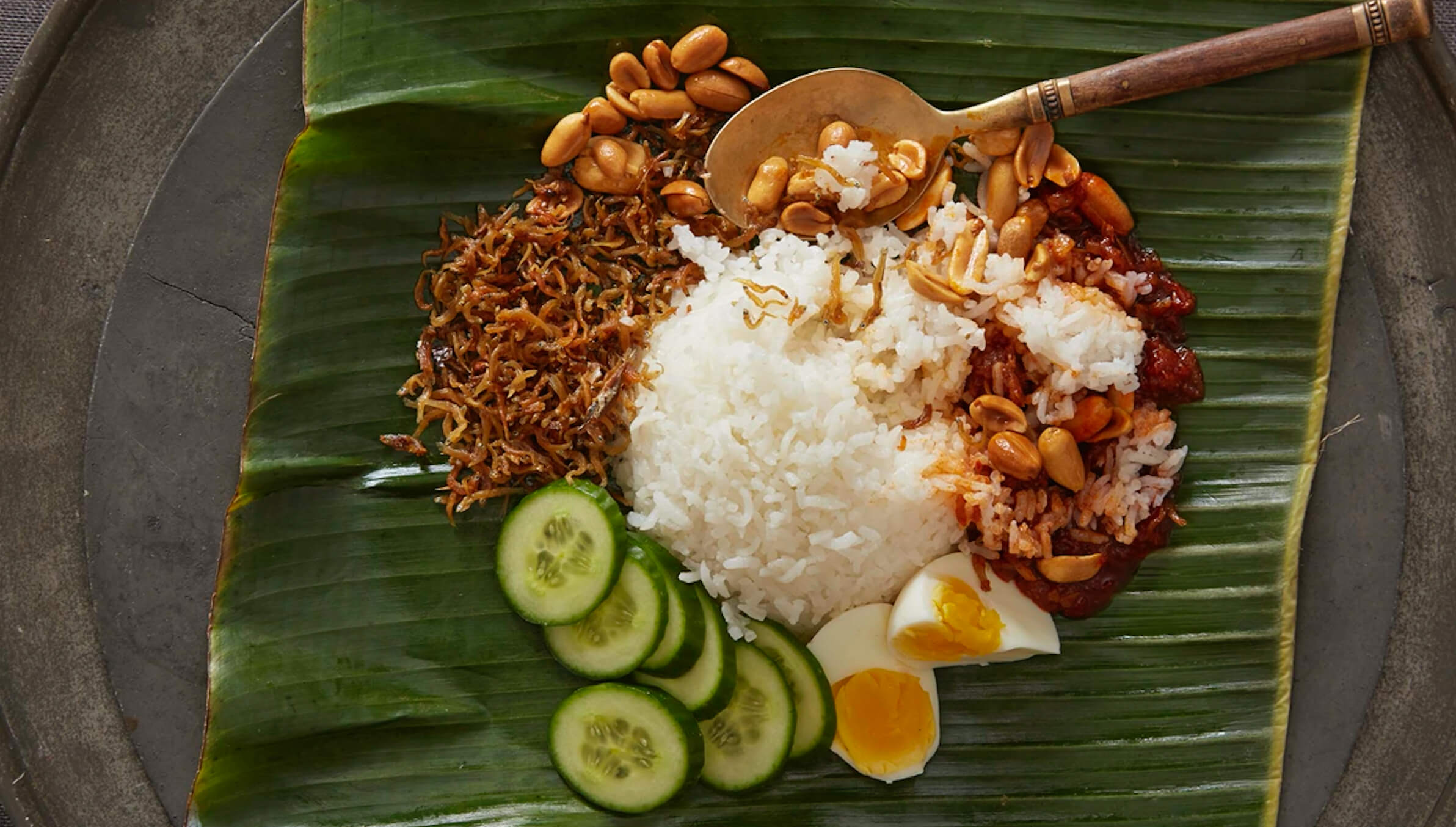 Possibly the national dish of Malaysia and beloved by all local Malaysians is a dish known as nasi lemak. It's something you most definitely must eat when you're in Malaysia.
There are a few different varieties of nasi lemak and many variations, but the basis of the dish is rice cooked in coconut milk, topped with spicy sambal chili sauce.
The most basic version of this famous Malaysian dish is just a pocket of rice topped with sambal, perhaps a hard boiled egg on the side, and wrapped up in a banana leaf. More complex versions, include a buffet of delicious Malaysian curries and chili sauces which you scoop over your plate of coconut rice.
Ikan bakar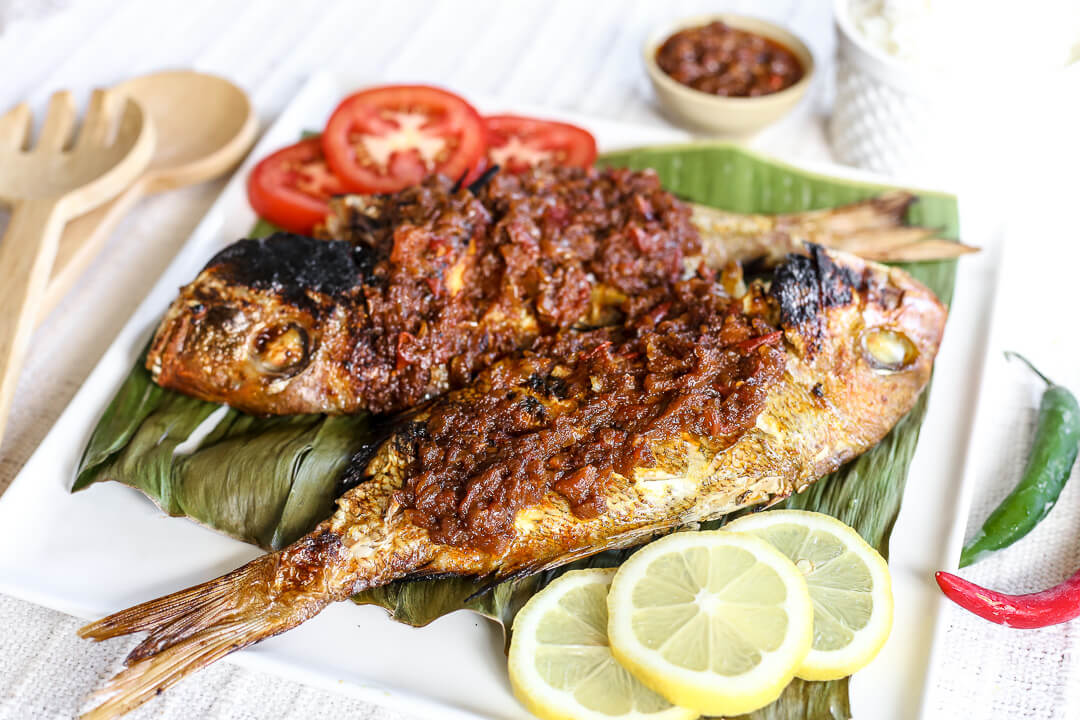 Ikan means fish, and bakar means grilled in Bahasa Malaysia, so ikan bakar is grilled fish – sounds simple, but trust me, you'll be amazed!
Ikan bakar is spiced up in a blend of chili paste, then grilled over charcoal on top of a banana leaf over the fire.
The moist fish is then eaten with a plate of hot rice, sometimes some side vegetable dishes and curries, and dipped into kecap manis for extra flavor to make one of the best Malaysian meals there is.
Banana leaf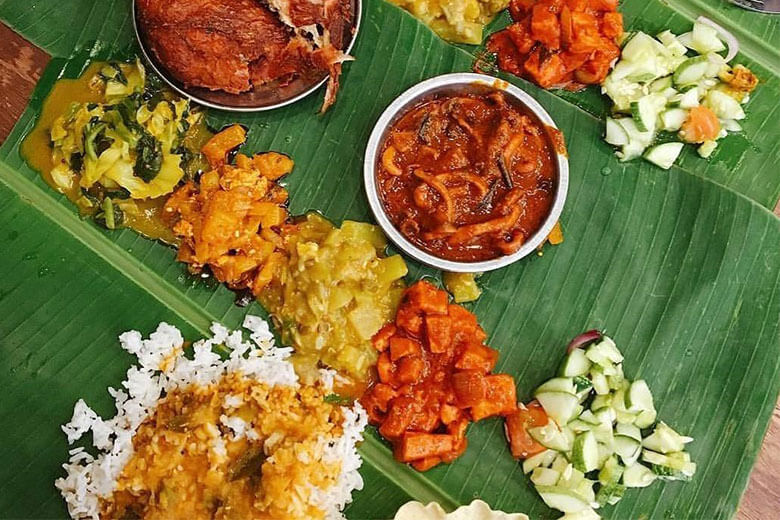 As mentioned before, Indian food plays a major part in the diverse spectrum of the food in Malaysia, and banana leaf, as it's commonly known, is a local Malaysian food favorite.
The food served at Malaysia banana leaf restaurants is often of south Indian origin. You sit down at a table with a banana leaf as your plate, and it doesn't take long before the waiter dishes you up a giant scoop of rice and a round of incredibly tasty vegetarian curries.
Banana leaf is often served vegetarian, but you can also normally order sides of meat to supplement the vegetable curries if you like.
No utensils are needed to eat banana leaf, you just go in with your fingers and devour!
Roti canai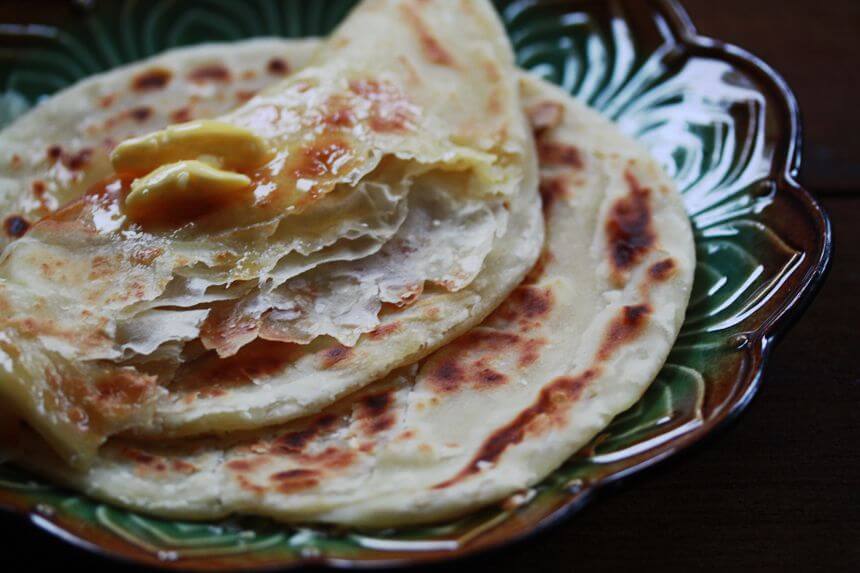 Roti can mean different types of fried bread depending on where you are, and in Malaysia a roti canai is a thin piece of dough fried in lots of oil and served with a curry dipping sauce.
The dough is first stretched out, slapped across a countertop, then folded into a small square, and fried in oil. This gives it lots of flaky crispy layers.
You break off bits of the roti and dip it into the delicious curry gravy.
Curry laksa and Assam laksa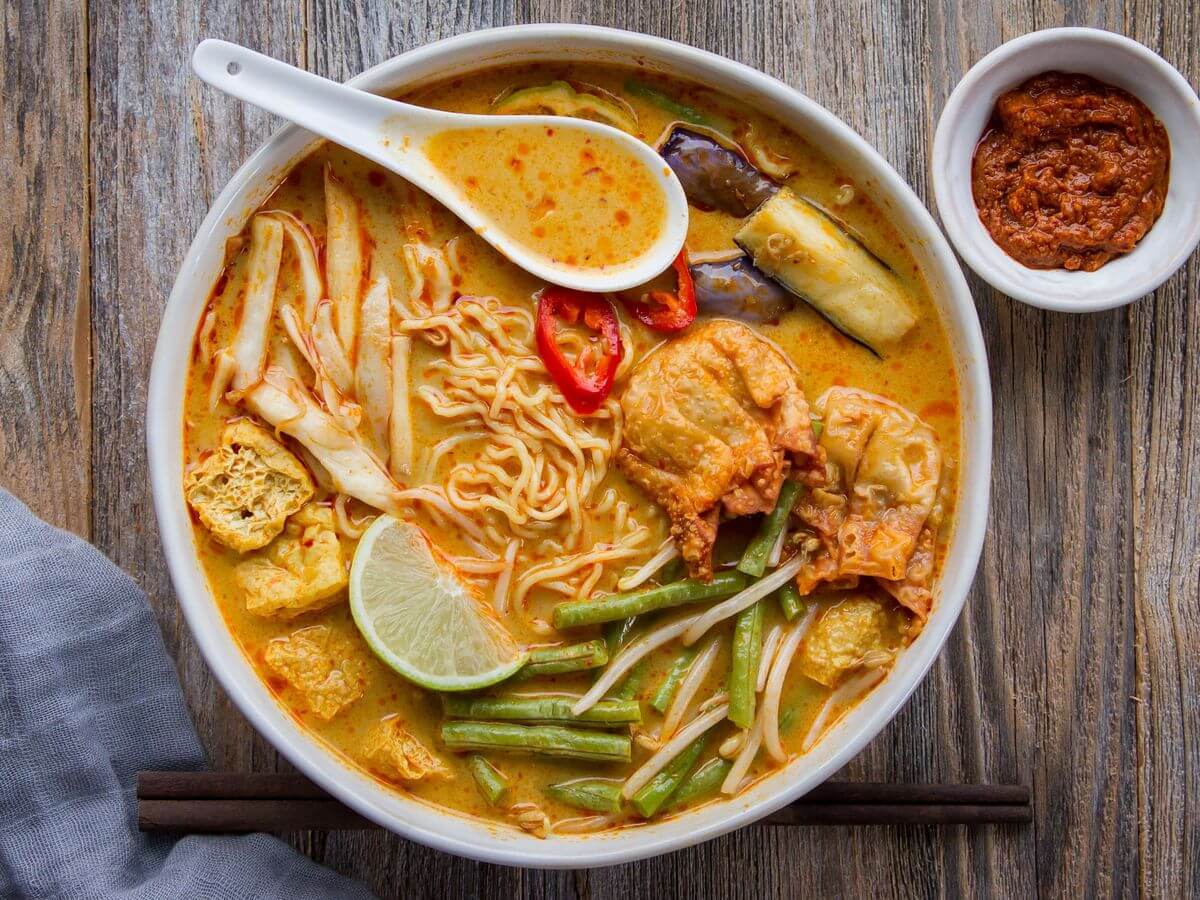 There really is nothing better than a big bowl of laksa - especially in Malaysia!
There are typically two different kinds of laksa in Malaysian cuisine - curry laksa and Assam laksa. Assam laksa is noodles in fish soup, while curry laksa is noodles swimming in a thick and extremely flavorful coconut milk curry, a staple food in Malaysia.
There are many variations depending on what part of Malaysia you're in, but for the most part you get a bowl of noodles topped with spice filled soup, seafood and or chicken, garnished with lots of herbs and Vietnamese coriander.
Local Malaysian restaurant recommendations
Some of our favorite local restaurants in Malaysia, including some not many tourists know about!
Nasi Dulang Daun Pisang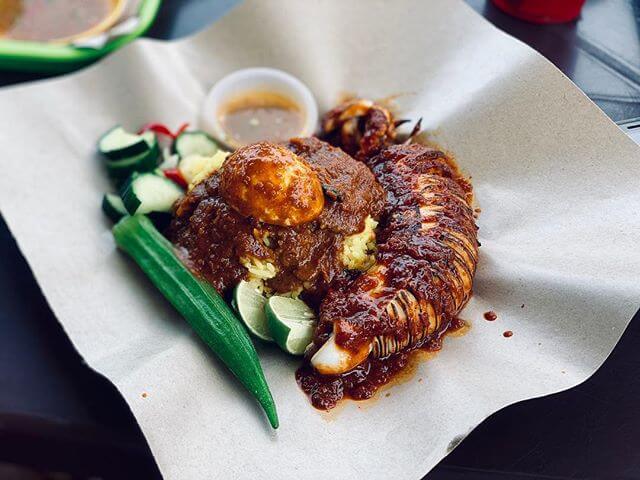 If you like spicy food, Nasi Dulang Daun Pisang is one of the best restaurants in Malaysia to go! Their grilled squid (about RM20/5USD) is made with enough cili padi to make you sweat buckets. But if spicy food isn't your thing, it's worth your while to go and try their regular nasi dulang sets instead.
Each set comes with a bowl of gulai masak lemak, a creamy coconut curry to balance the flavours of the additional 3 types of sambal. You can pair these with a selection of seafood, chicken, and beef.
Their Set Dulang Ayam is priced at RM7.50(less than $2!) – a price that's worth paying for a delicious Malaysian meal that comes with a variety of sambals and a generous piece of fried chicken. Also try the Set Dulang Talapia Merah which features fish that is fried till its bones are crispy but the flesh remains juicy and tender.
Address: Pt 75024, Jalan Besar Sungai Ramal Dalam, 43000 Kajang, Selangor
Opening hours: 10.30am - 4pm, Daily
Ikan Bakar Terangkat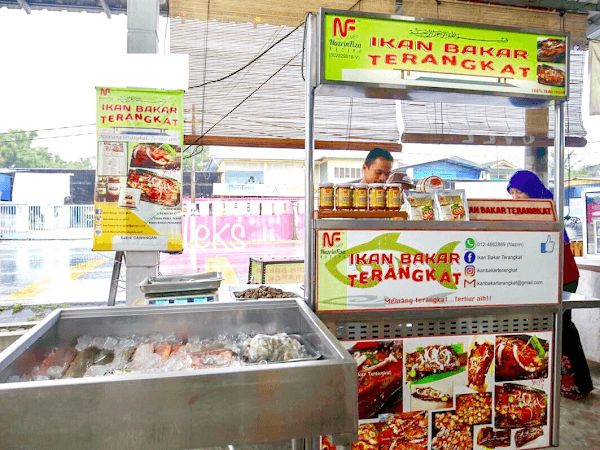 Kajang is mostly known for its incredible satay. But this town has other delicious gems to offer, including: ikan bakar, a traditional dish in Malaysia.
Head over to Ikan Bakar Terangkat for grilled fish that's slathered in delicious homemade sambal. This secret recipe is the best around and grilling the fish on a banana leaf helps the flavours seep in.
If you're coming in a group, the restaurant has a full seafood set that comes with clams, crabs, prawns, and fish (RM79 for a group of 6).
Address: No. 1, Lot 3083 Jalan Ayer Itam, Kampung Sungai Merab Luar, 43000 Kajang, Selangor
Opening hours: 5.30pm - 12am, Daily
Restoran Itik Salai Masthar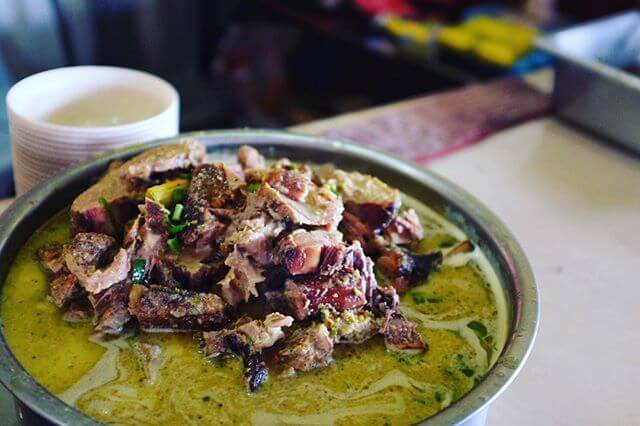 Most of us have eaten our fair share of Chinese-style roasted duck, the kind that comes with a sweet and sour plum sauce. But if you haven't yet tried other styles, you'll want to go for Restoran Itik Salai Masthar's take on it.
After being roasted and smoked for 90 minutes, the duck meat is cooked in masak lemak cili api. The creamy masak lemak curry complements the strong flavour of duck while the chilli padi packs in some heat to help off-set the dish.
You won't need to set aside too much cash for a modern Malaysian meal here as a bowl of Itik Salai Masak Lemak will only cost you RM7($1.69). Their Ayam Salai Masak Lemak is even cheaper at RM5!
Address: Medan Selera Adikku, Itik Salai Masthar, Kampung Sungai Ramal Dalam, 43000 Kajang, Selangor
Opening hours: 11am - 10pm, Daily
Tempat Makan Lesehan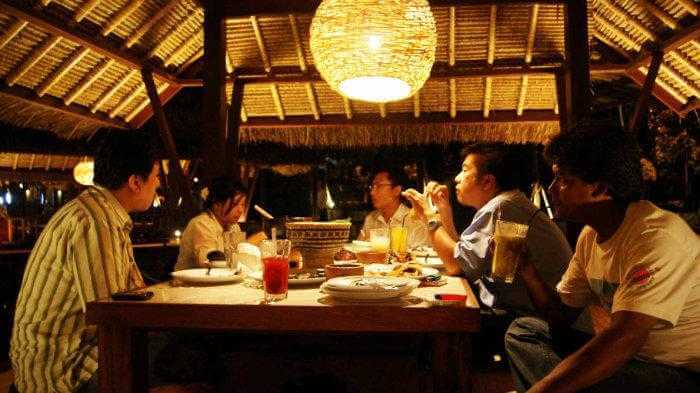 Most Malaysians can't properly enjoy their meal unless they have some trusty chilli sambal on the side. At Tempat Makan Lesehan, they've come up with a whopping 22 types of different sambal to go with any of their tempting mains.
Be sure not to miss out their sambal kedondong, made from ambarella fruits that are tart with a slightly sweet aftertaste.
Your standard rice packet of nasi berlauk will already come with 2 types of sambals but you can add-on any of the 22 for as cheap as RM3/per sambal.
Address: Jalan LP 7/2, Lestari Perdana, 43300 Seri Kembangan, Selangor
Opening hours: 12pm - 11pm, Daily
Nasi Kandar Salman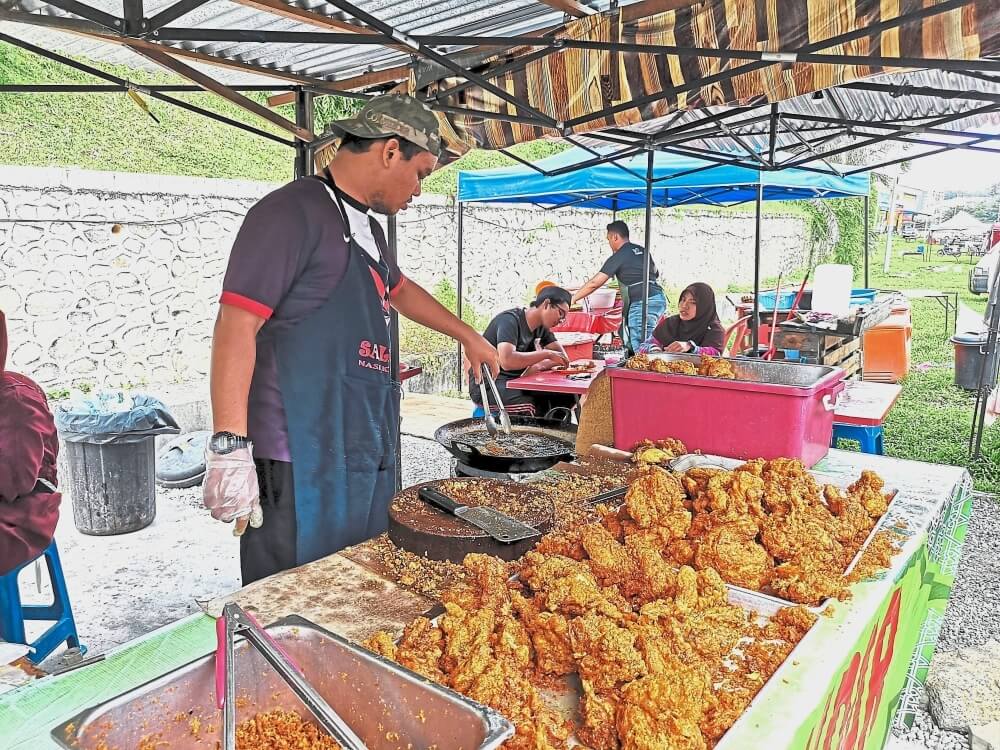 Nothing beats a good plate of nasi kandar (chicken rice), especially when the chicken has just been fried and there's plenty of stir-fried cabbage to go around. At Nasi Kandar Salman you can find the best nasi kandar in Malaysia for only RM5!
That even includes ladles of 5 different great Malaysian curries! For the perfect combination of quality and quantity, you can't go wrong at this place!
Address: Lot 6741E, Jalan Bistari, Kampung Sungai Tangkas, 43000 Kajang, Selangor
Opening hours: Mon-Thu 11om - 8om | Sat-Sun 11om - 8pm (Closed on Fridays)
Other restaurants in Malaysia you HAVE to try
As well as traditional Malaysian cuisine featuring classic dishes that have been passed down from generation to generation, the growing popularity of Malaysia and tourism to the country has brought with it a more modern food scene, particularly in the modern metropolis of Kuala Lumpur.
Here are some of our favorite luxury restaurants in Malaysia you just HAVE to pay a visit to if you want to call yourself a real foodie:
Marini's On 57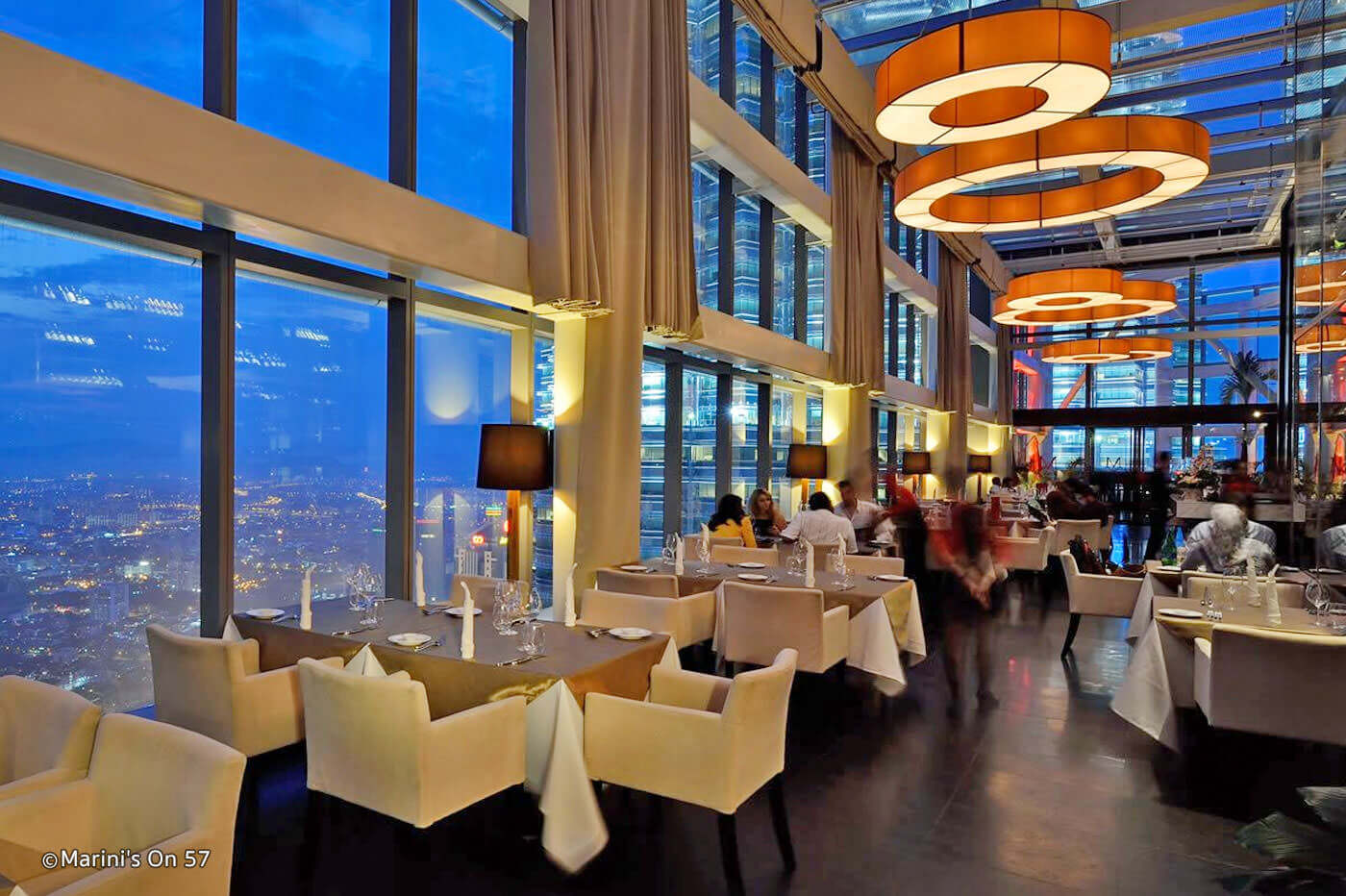 An exclusive Italian ristorante on the 57th floor of Petronas Tower 3 (adjacent to Suria KLCC), Marini's on 57 is a fine dining Kuala Lumpur restaurant offering gorgeous, up-close views of the iconic Petronas Twin Towers through its floor-to-ceiling windows and glass roof.
Comprising a restaurant, bar and lounge, its décor is elegant and restrained, and the kitchen offers a menu of haute Italian cuisine, with standout dishes such as spaghetti with botargo (mullet roe) and almonds.
Address: Level 57, Menara 3 Petronas, Persiaran KLCC, 50088 Kuala Lumpur
Opening hours: Mon - Thu 7pm - 11pm | Fri - Sun 6.30pm - 12pm
Telephone: +603 2386 6030 or +6017 688 0167
Troika Sky Dining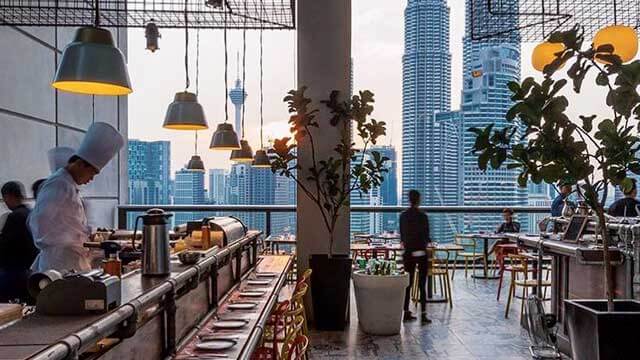 Offering two fine dining Malaysian restaurants (fusion-focused Cantaloupe and Italian bistro Strato), the impressive Troika Sky Dining unquestionably stands out from the pack. Set on the 23rd floor of Tower B of The Troika along Persiaran KLCC, it goes without saying that the cloud-skimming views here are something else entirely.
But the food is the real star here – Cantaloupe serves award-winning French, Italian, Greek and Spanish food, while Strato has an assertive and adventurous menu of high end pizzas and pastas. You won;t be disappointed!
Address: Level 23A, Tower B, The Troika, 19 Persiaran KLCC, 50450 KL
Opening hours: 12pm – 3pm and 6pm – 11pm (Strato); 4pm – 1am (Claret); 6.30pm – 10.30pm (Cantaloupe Dining Room)
Marble 8 on 56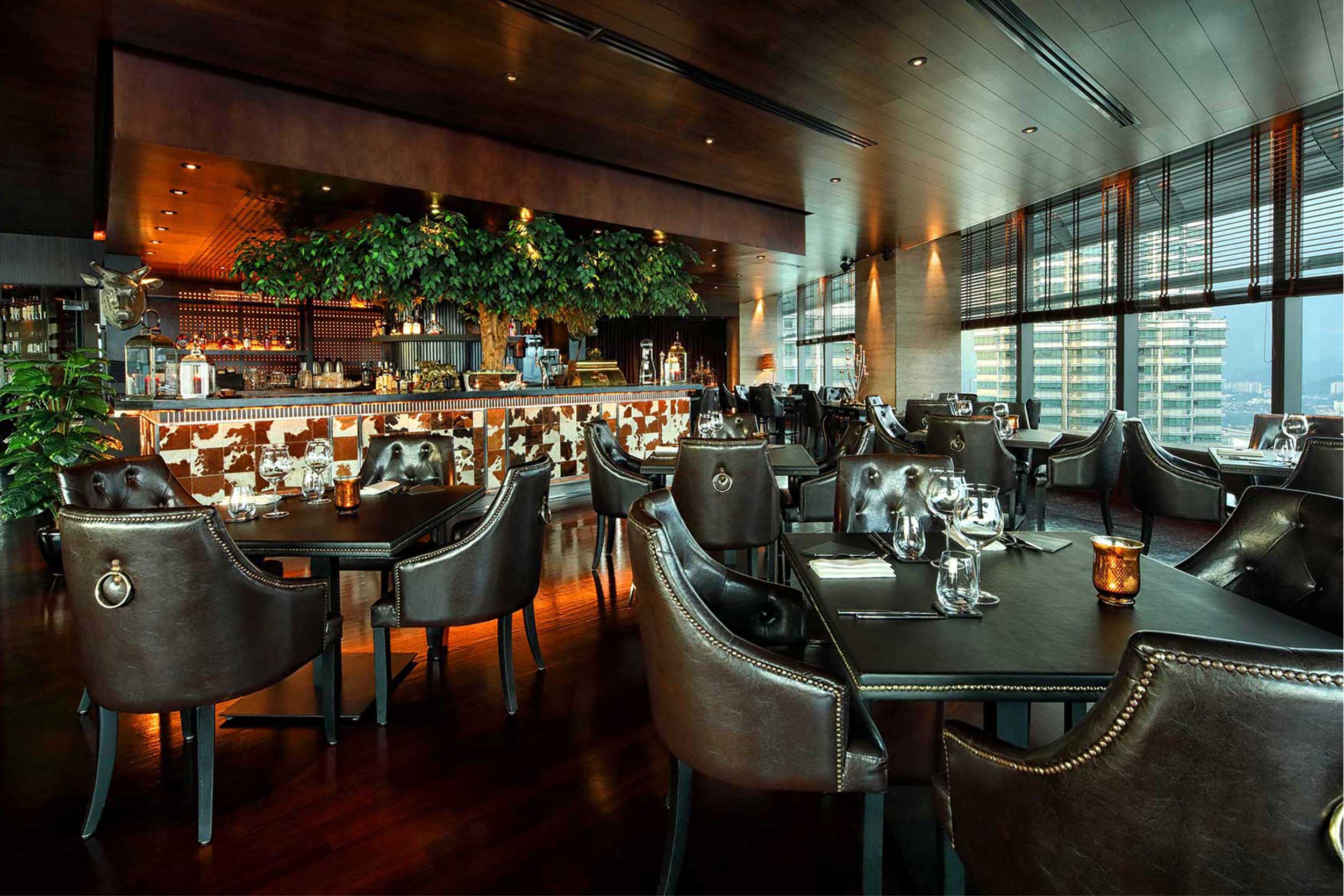 Marble 8 on 56 is hailed as a haven for affluent steak-lovers, offering the finest cuts of Wagyu and Angus beef in Kuala Lumpur city centre. Set within a five-minute walk from the KLCC LRT station, this steakhouse shares a space with Nobu Kuala Lumpur, offering a combination of a fine-dining eatery and stylish bar in a new take on fine dining in Malaysia.
Guests can opt for the elegant indoor dining area, which is fitted with polished wooden flooring, unobtrusive instrumental music, plush leather sofas, and a massive tree as the centrepiece. However, for something extra special, reserve a table by the floor-to-ceiling window, where you can enjoy a night view of the Petronas Twin Towers and KL city skyline.
Address: Level 56, Petronas Tower 3, Persiaran KLCC, Kuala Lumpur
Opening hours: Lunch - 12 pm - 2.30 pm; Dinner - 7 pm - 11 pm
Nobu KL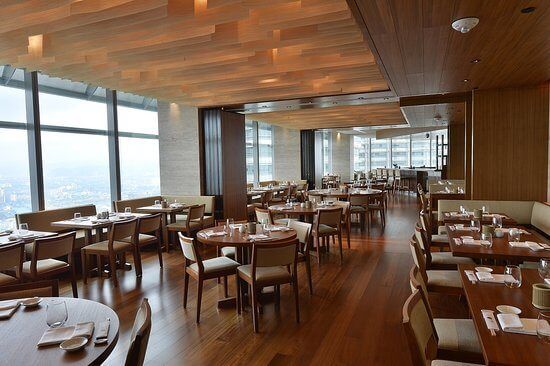 A Michelin-starred titan in the world of sushi, sashimi and tempura, Nobu is a Japanese restaurant known all over the world for its unique food that blends Asian and South American (specifically Peruvian) flavours.
There are more than 29 franchises over the globe, and Nobu KL is Southeast Asia's first branch, though the food is as good as ever. Set just one floor below Marini's on 57 in Menara Petronas 3, the halal Nobu KL offers 360 degree KL skyline views, including up-close sights of the Petronas Twin Towers.
Address: Level 56, Menara 3 Petronas, Persiaran KLCC, 50088 Kuala Lumpur
Opening hours: 6pm – 11pm
Telephone: +60 3 2164 5084
Dining in The Dark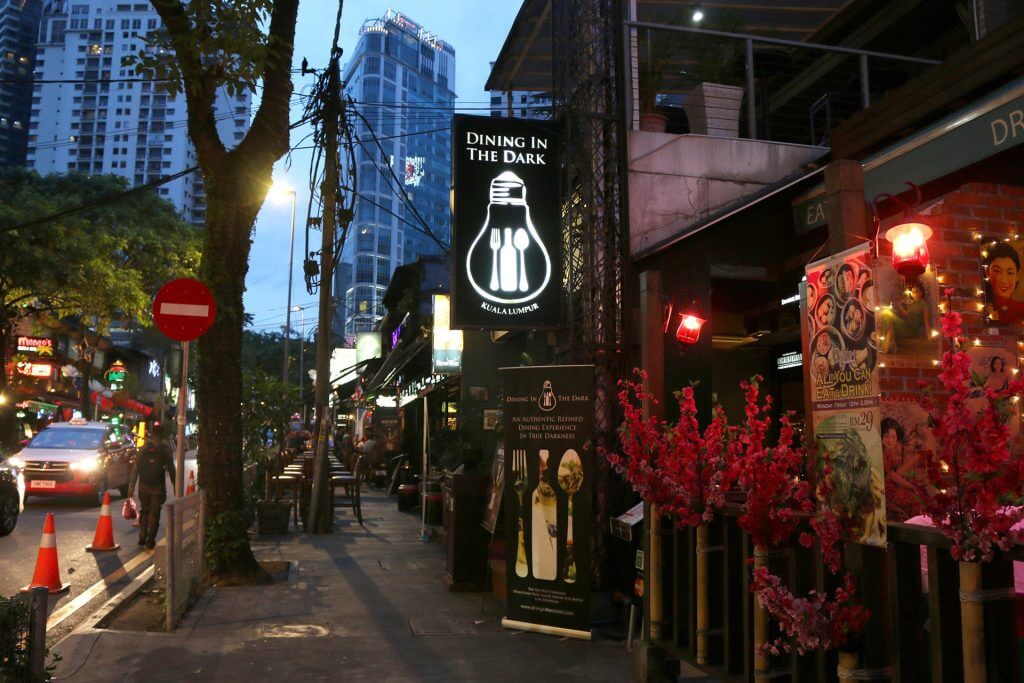 One of the quirkiest upscale diners in KL, Dining in The Dark offers a truly one-of-a kind experience. As the name suggests, it's a restaurant in total darkness. In here, you rely on your other senses.
You'll be guided by waiters who are actually blind. Dining in the Dark has another purpose— to portray the struggle of being blind.
The menu tells you nothing but the number of mains, appetizers and desserts. The rest remains a mystery where everything depends on your senses. Their menu changes every 3 months to keep things interesting. So if you're tired of the usual dining experience and classic food in Malaysia, Dining in The Dark is sure to boost things up!
Address: 50A, Changkat Bukit Bintang, Bukit Bintang, 50200 Kuala Lumpur, Wilayah Persekutuan Kuala Lumpur.
Opening hours: 6pm - 9.30pm
Get your VACATION on!
Expertly curated emails packed full of vacation inspiration, travel tips and more!