Everything You Need To Know About Lempuyang Temple
Everything You Need To Know About Lempuyang Temple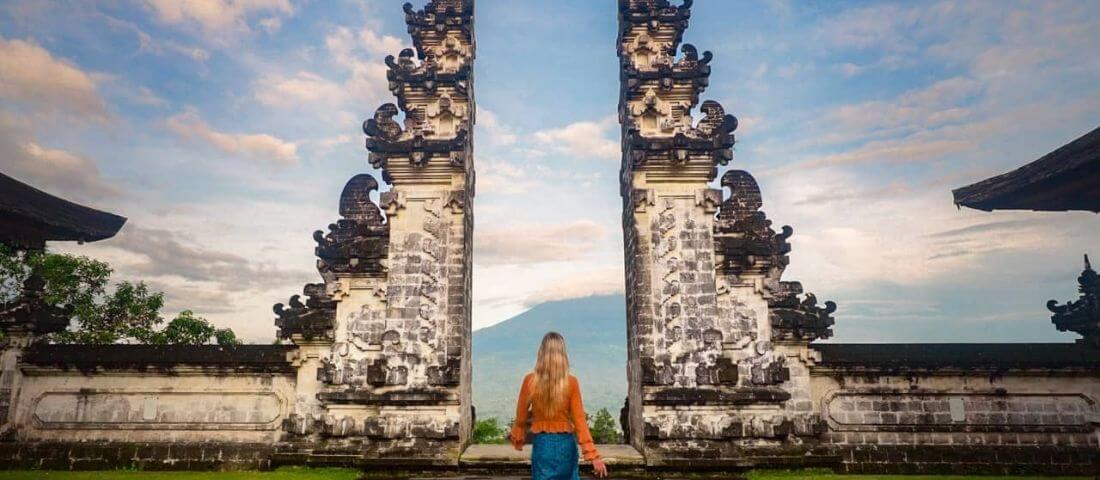 Lempuyang Temple locally known as Pura Luhur Lempuyang is one of Bali's oldest and most highly regarded temples. It is also believed to predate the majority of Hindu temples on the island, and the six holiest places of worship on Bali.
Lempuyang Temple (also known as the Gates of Heaven) is one of the main highlights on many tours in Bali. If you're looking for a tour to Lempuyang Temple then you'll love our famous Bali Instagram Tour. Lempuyang Temple is the first stop for the day as we take you to some of the most famous spots in Bali.
The entire landscape looks very picturesque, and the gate is also known to the western world as 'The Gates of Heaven'. The gates and its temple are located in the eastern part of Bali within the highlands of Mount Lempuyang, around 2 hours from Ubud and 2 and a half hours from Canggu.
Although, many people heading to East Bali choose to stay in the small beach town of Amed, which is around 30 minutes from Pura Lempuyang. Visiting the temple is definitely not one to miss - the ultimate photo opportunity! Here's everything you need to know before you go…
Entrance fees
The entrance fee for Lempuyang Temple has now been changed and is 100,000 IDR ($7 USD) per person. You also need to pay 50,000 IDR ($3.50) per person to take a shuttle that brings you to the top of mountain where you will find the Lempuyang Temple entrance. Prior to 2022, the entrance fee to Lempuyang Temple was free and only required a small temple donation. On our private Bali Instagram tour, you won't need to worry about paying the Lempuyang Temple entrance fee, as our private Bali tour is all-inclusive so we got you covered.
Best time to visit
The temple is open for visitors daily from 7am - 5pm, although it is open 24 hours for worship purposes. How busy the place is will depend on the time of year you go - April - October are usually the busiest months.
However, if you get there by sunrise the temple will usually be pretty quiet any time of year, before the crowds start arriving late morning. If you're not a morning person, the view is also breathtaking during the golden hour before the sun sets.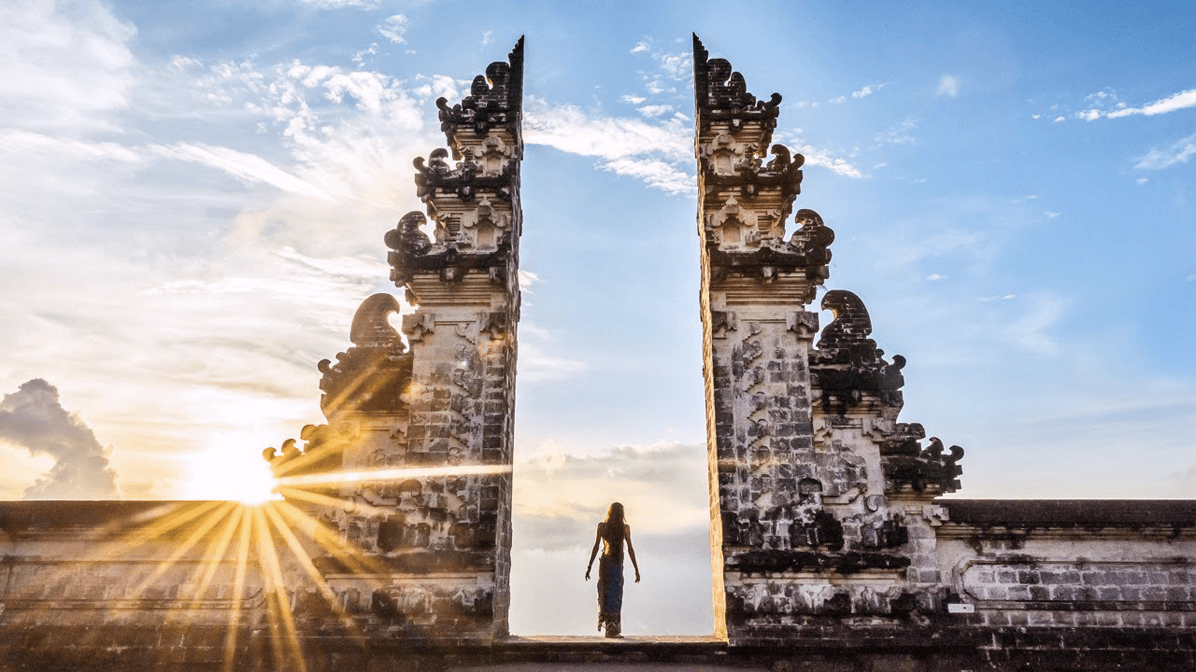 What to take
Camera - you need something to capture the perfect shot with!

Sunscreen - don't get burnt to crisp while you're distracted by the beautiful scenery!

Lightweight rain jacket - again this is dependent on the time of year, but if there's a chance it might rain I'd definitely take a jacket just in case.

Water bottle - make sure to stay well hydrated.
The secret behind the perfect photo
You may have seen a 'reflection' shot of this particular temple. It gives the effect of a huge puddle with a Pura Lempuyang Temple reflection below. Since the boom in tourism, a genius local figured this would be a hit with visitors.
So now he stands in the perfect position and holds a small mirror under your camera, making it easy to create the typical reflection photo. So no photoshop or rain is needed, but a tip for the mirror holder will be expected.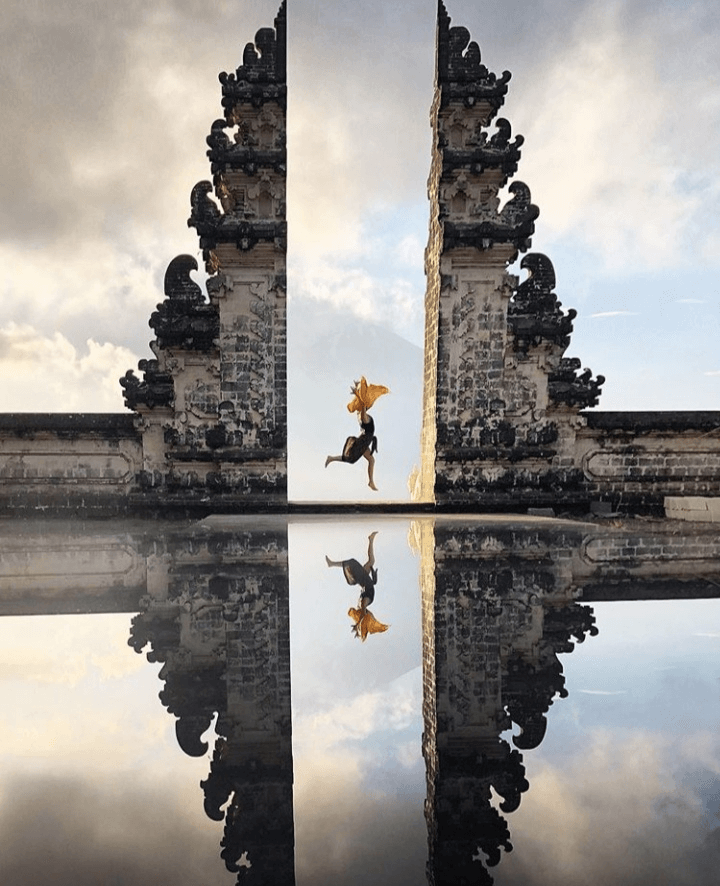 Our Best Selling Tour
All-Inclusive

Uluwatu & Kecak Dance Tour (Half Day)

Our Uluwatu & Kecak Dance Tour is quite simply a must for any visit to Bali. Our private tour introduces you to the local culture and stunning scenery. Head straight to Balangan beach which surfers seek out from near and far, visit the famous Uluwatu Temple and finish the day enjoying the traditional Kecak Dance. If time is against you, this half-day Bali tour is the perfect way to see Uluwatu's best bits.
Other tips and tricks!
There are 7 temples – many people don't realize there are actually 7 temples within the grounds. The whole loop of Pura Lempuyang Temple Bali takes around 4 hours.

The first is a 5 minute walk – the famous photo spot is located at the first temple, so you won't have to walk far before you get your cameras out.

You must dress modestly! This means shoulders covered and long pants or skirt for the gals. You can rent sarongs at the temple for 10,000 IDR.

No kissing – Pura Lempuyang Temple Bali is a very religious Hindu temple so any form of kissing in public is seen as scandalous.

No drones – photographers beware!

Most of all - enjoy the experience!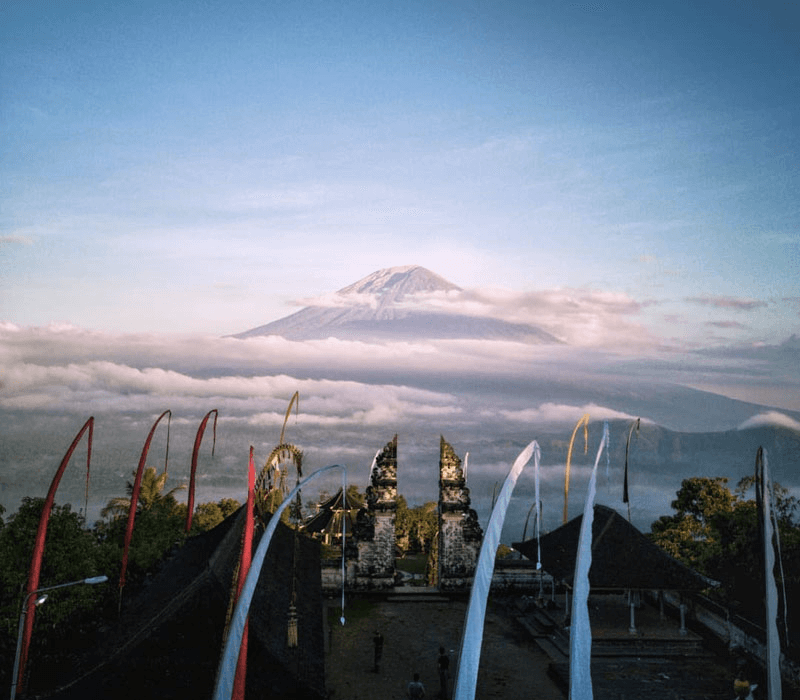 Get your VACATION on!
Expertly curated emails packed full of vacation inspiration, travel tips and more!