Everything You Need To Know About Tuk-Tuks in Bangkok
Everything You Need To Know About Tuk-Tuks in Bangkok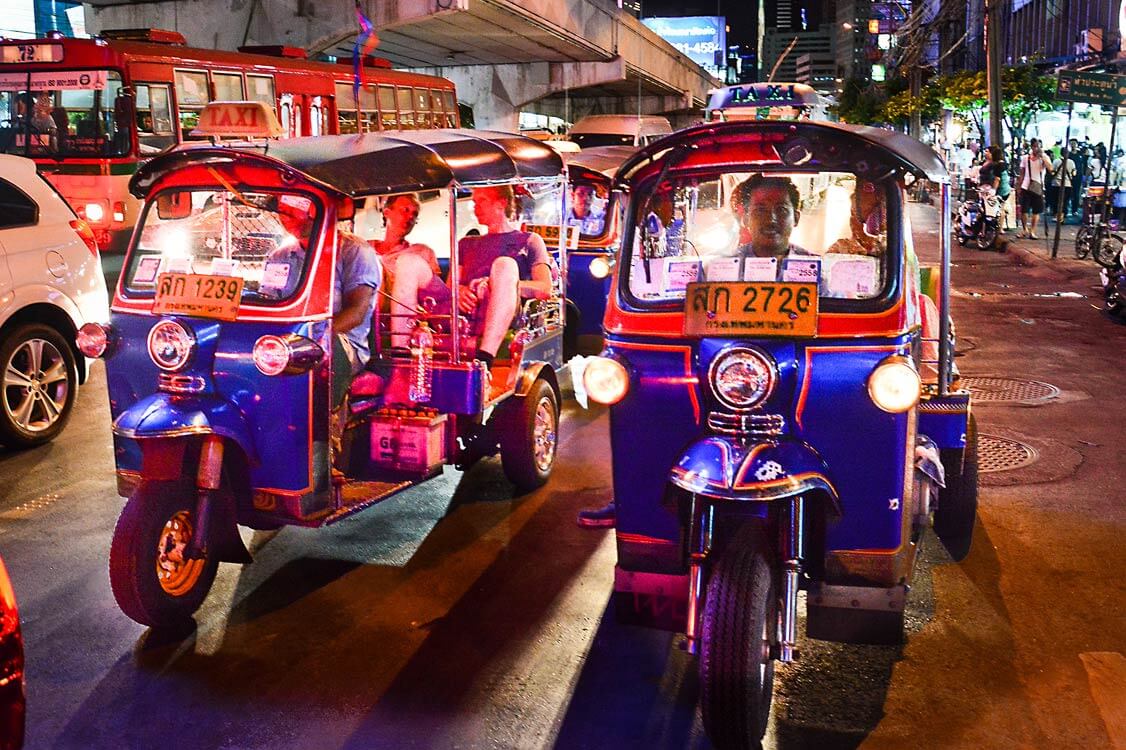 Practically Thailand's national emblem, the tuk-tuk is at the heart of the authentic Thai experience for most first-time visitors! Whether you choose to take our famous Bangkok Tuk-Tuk tour or explore the city on your own, chances are you'll get to experience a Bangkok tuk tuk sooner or later!
Our Best Selling Tuk Tuk Tour:
All-Inclusive

Bangkok Thrilling Tuk Tuk Tour

Is there any better way to see Bangkok than by tuk-tuk? We don't think so! Our Bangkok Thrilling Tuk-Tuk Tour is an exciting way to see Bangkok at night. This Bangkok tour is packed full of culture, delicious food with an added element of excitement thrown in. This all-inclusive tour in Bangkok starts with the beautifully illuminated Wat Pho temple, followed by the Giant Swing, dinner at Mit Ko Yuan where you'll find all of your favorite Thai dishes and a visit to a legendary dessert spot.
Jumping in one of these open-air three-wheeled vehicles is a fun activity in itself, as well as a valuable (and affordable) mode of transport for locals and residents alike! Here's everything you need to know about this local right of passage along with some Thailand tuk tuk tips and tricks.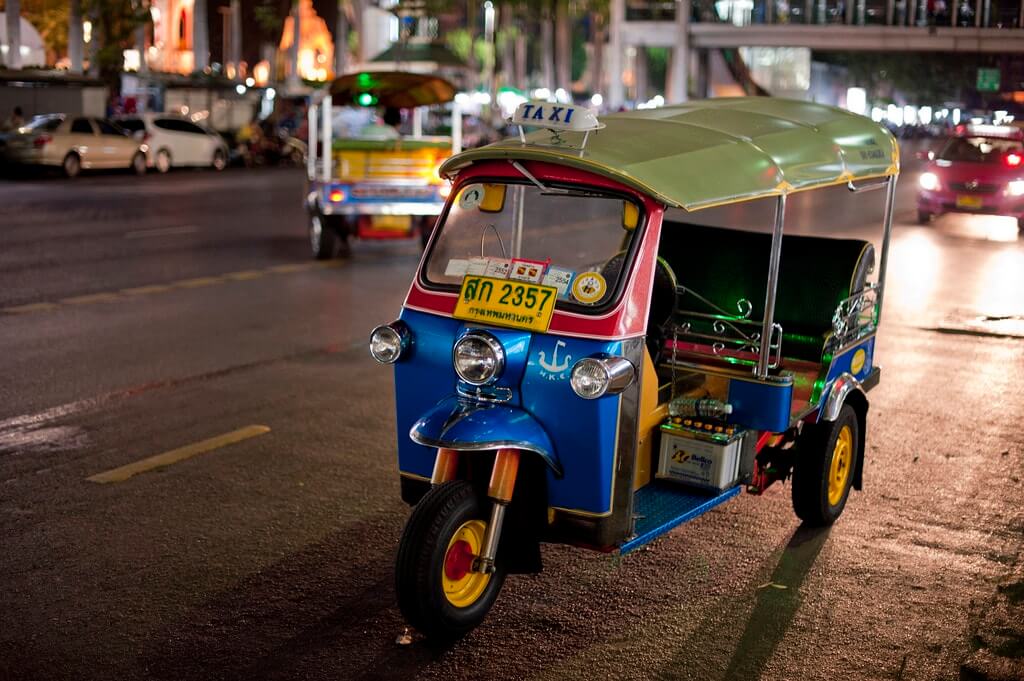 How did the Thailand tuk-tuk get its name?
Tuk-tuks are the successor to the earlier cycle rickshaws, known in Thai as "Sam Lor" (literally 'three wheels'). Sam Lors were introduced to Thailand in 1933, although they were shortly banned from the main streets for safety reasons.
Fast forward 30 years and Thailand started to import motorized auto rickshaws from Japan, developed to replace the cycle rickshaws. Thailand tuk tuks themselves, though, are believed to get their out-of-the-ordinary name from the sound the engines make!
How do locals use Bangkok tuk-tuks?
Many people may assume that tuk-tuks in Bangkok are only for tourists, as you usually find gangs of tuk-tuks parked in front of the entrances to tourist-geared attractions like Khao San Road and the Grand Palace. They are indeed famous among tourists, especially first visitors who want a unique experience getting around the city!
But many locals also use Bangkok tuk-tuks in their day-to-day lives. Take a closer look and you'll see regular Bangkok tuk-tuks being used to transport goods, like huge loads of fresh market produce. In other areas of Bangkok, locals still willingly hop into tuk-tuks, where other means of public transport are few and far between.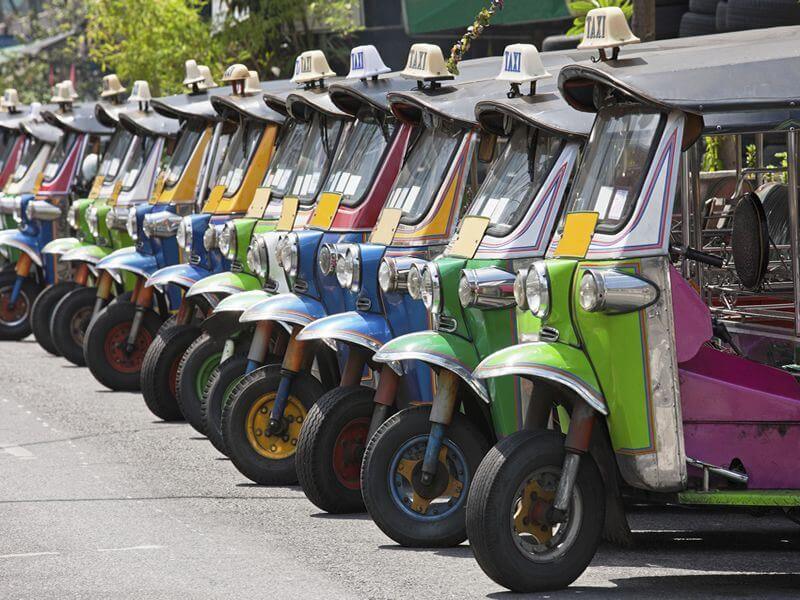 Bangkok tuk-tuks
Most visitors to Bangkok encounter only the classic three-wheel tuk-tuks. Still, head elsewhere around the capital and you'll find different types of tuk tuks – like the larger, six-seater miniature trucks that roam the roads in some more local, residential neighborhoods.
These more local tuk-tuks function more like buses, with people jumping on and off at various stops. Your experience with Bangkok tuk tuks will likely vary each time you use them, so stay prepared for anything! Best sure to pack your hand sanitizer as well to disinfect your hands after you get off the tuk-tuk.
How to take a tuk-tuk in Bangkok?
There a few tips when it comes to taking tuk-tuks in Bangkok. Always agree the price of your ride before you get into the tuk-tuk, and expect to haggle – your driver will likely quote an initially overpriced fare, anticipating that you will knock him or her down to at least some degree. Tuk Tuks are unmetered so in general will be a little more expensive than a taxi, but shouldn't cost much more than the equivalent fare in a metered taxi. Get your bargaining hat on but make sure you ultimately enjoy your Bangkok tuk tuk experience!
Finally, when you're on your Thai tuk tuk ride, take care of your belongings and keep an eye out for bag-snatchers on passing motorbikes – you're unlikely to fall prey, but it pays to be alert. Of course if you want to take a tuk tuk without the hassle of negotiating with the driver then we would recommend a tuk tuk tour in Bangkok - check out our Bangkok Thrilling Tuk-Tuk Tour!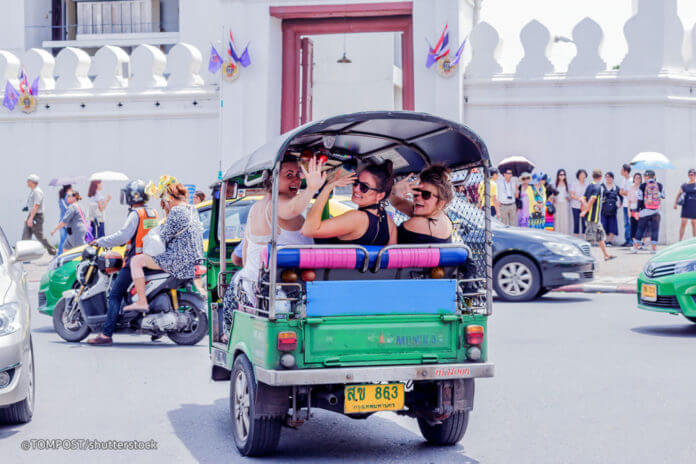 How much do Bangkok tuk-tuks charge?
The cost for a tuk-tuk ride in Bangkok will be around the same price as a metered taxi, but it's definitely way more fun and less time-consuming as the smaller tuk-tuks can weave in and out of traffic. It may feel like your driver is driving a little recklessly, but remember, these guys have been doing this for years so you're in safe hands! Taking one of these thrilling Bangkok tuk-tuk trips it's all part of the fun!
Most Bangkok tuk-tuks will start charging at about 40-50THB for a short ride, but expect this to be a little higher in really touristy areas.
A tuk-tuk ride is a really great way to see the sights in Bangkok and the experience you get will definitely be worth it! If you fancy experiencing the thrill of being driven around Bangkok at night in a tuk-tuk and seeing some of the city's best sights, our Bangkok Thrilling Tuk-Tuk Tour is definitely for you! And if you're looking for more tours in Bangkok, be sure to take a look at all the tours we currently offer.
Get your VACATION on!
Expertly curated emails packed full of vacation inspiration, travel tips and more!