Language in Kuala Lumpur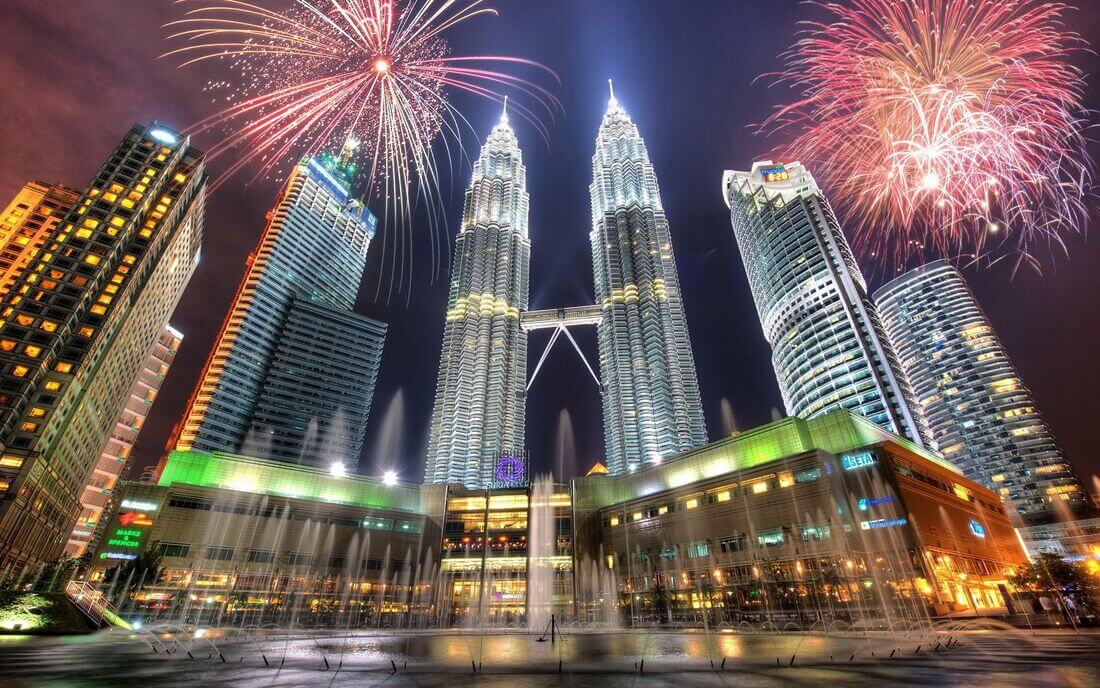 Traveling to a new country for the first time can be very exciting and scary at the same time. Some people worry about the possible language barriers which can make traveling a bit challenging for them. However, please don't let it stop you from exploring new countries!
If one country is worth exploring, it must be Kuala Lumpur! Malaysia's capital is actually one of the top 10 most visited cities in the world! It is called the Garden City of Light because of its gleaming ultra-modern buildings, but let's not forget its splendid parks, beautiful gardens, and iconic landmarks like the world famous Petronas Twin Towers and the Batu Caves!
Our Best Selling Tour
All-Inclusive

Kuala Lumpur By Night: A Magical Light Experience

Kuala Lumpur comes alive at night! Embark on our Kuala Lumpur By Night: A Magical Light Experience and your personal, fun and friendly tour guide will show you just how extraordinary this city looks when the sun goes down. You will see the sunset from the Kuala Lumpur Tower which includes special access to the Sky box, witness the lanterns at Thean Hou Temple and watch the stunning dancing fountains at Lake Symphony. It really is one of our most exciting, all-inclusive KL trips that can be enjoyed by all ages!
By the way, for those who have never travelled with us, welcome! You came to the right place! If you are planning to travel to KL for the first time, you sure are in for one hell of a ride! This unique city is like any other in southeast Asia! And now traveling has become easier again - post pandemic- there's no reason for you to not book that well deserved city trip!
After planning your itinerary, your transportation and your hotels you'll be able to hit the airport stress free - or can you? Because what do you actually know about the languages they speak in Kuala Lumpur? So instead of binge watching movies on your flight, you can also kill those long flight hours by reading up on the basics of the languages in Kuala Lumpur! Below we will try to answer a few frequently asked questions about all that is languages in Kuala Lumpur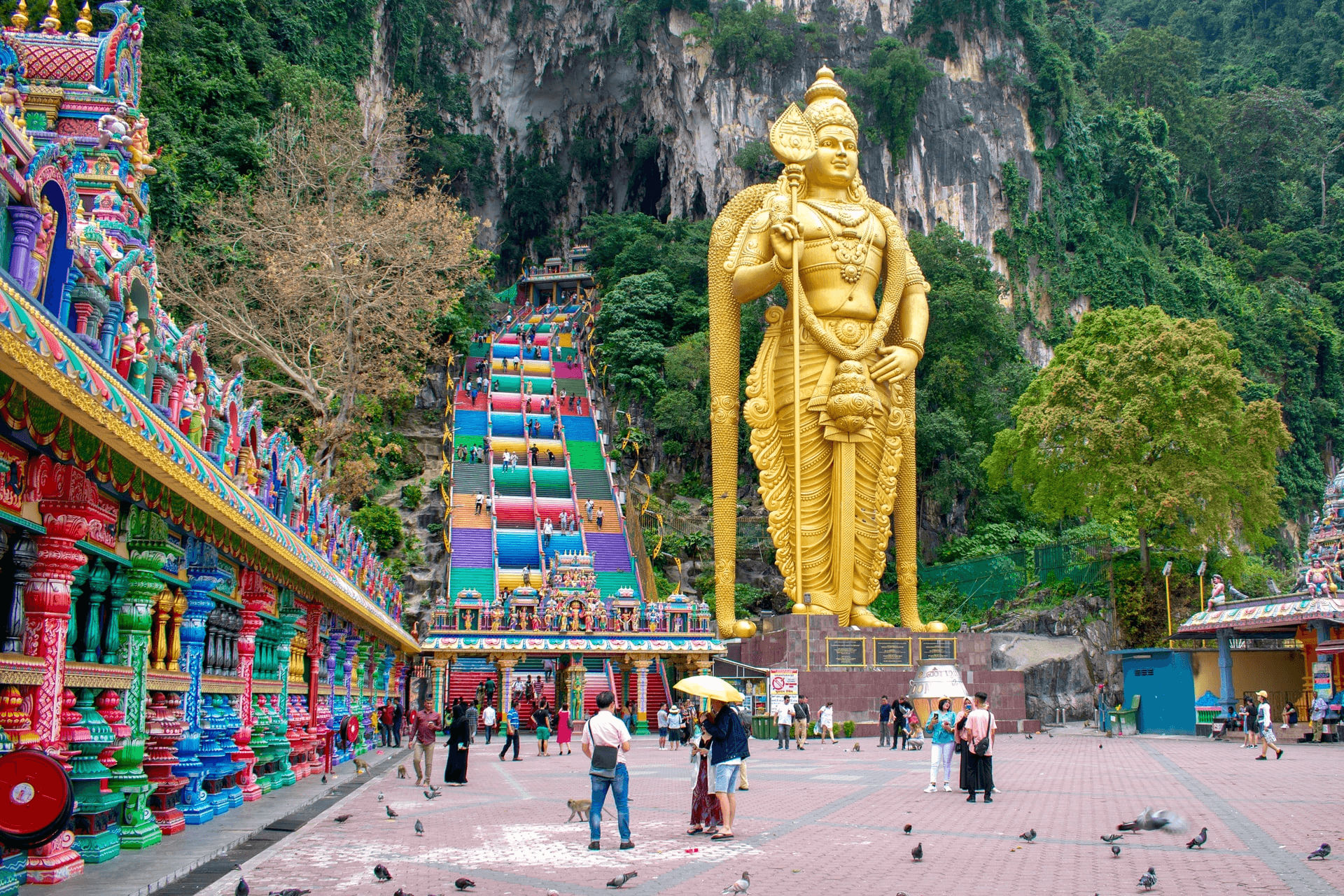 Some background on Kuala Lumpur
Before we dive into the main question 'Which language do they speak in Kuala Lumpur'? It's important to get some background information on this fascinating city as it will help you understand why there are so many languages being spoken there. Being the cultural centre of Malaysia, Kuala Lumpur is a real melting pot of different cultures and it has a diversity of ethnicities, races, cultures, and traditions. The majority of Kuala Lumpur's population is Malays, Indians, and Chinese.The reason for this diversity lies, of course, in the country's history and mainly its colonial past.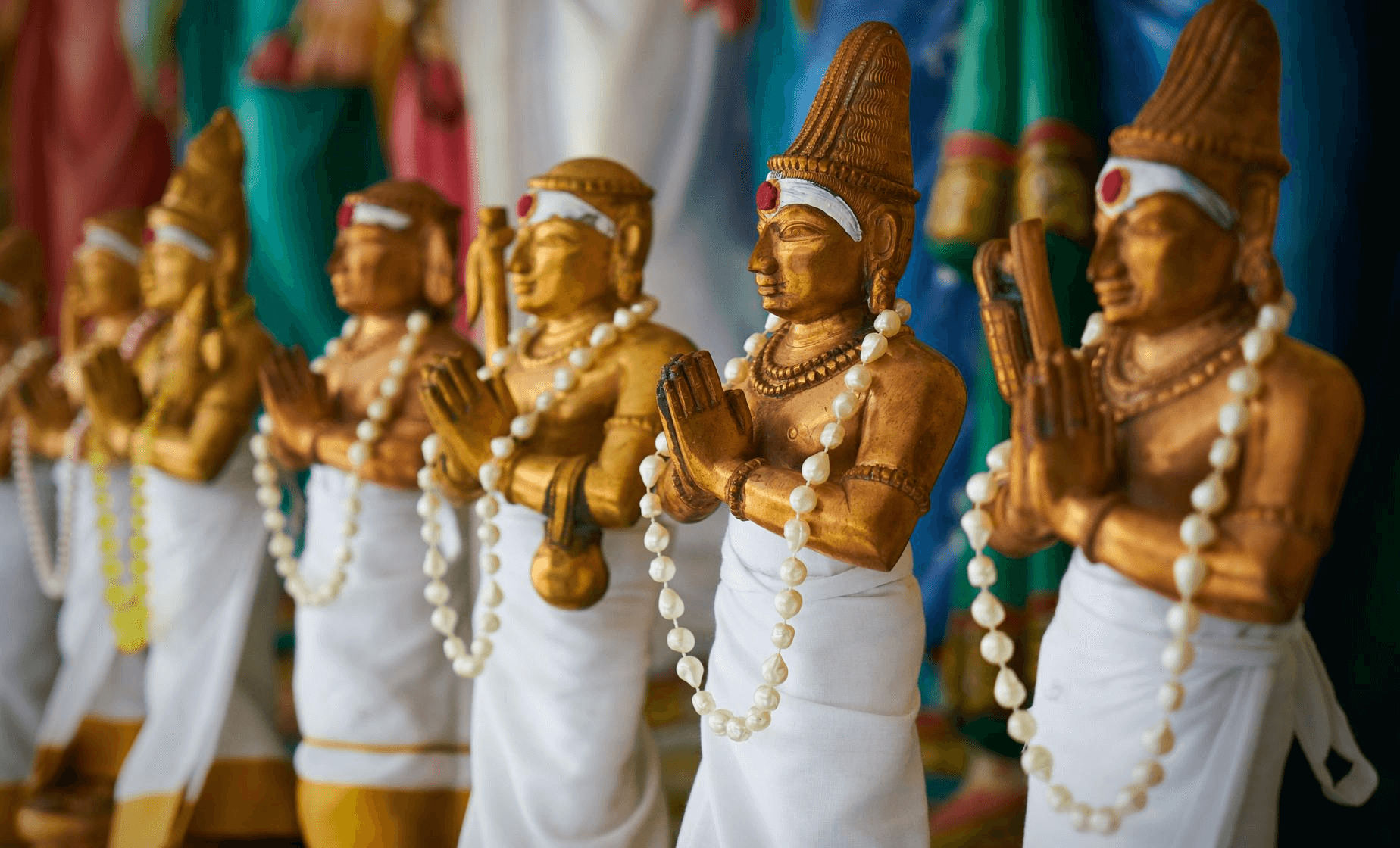 What is the main language spoken in Kuala Lumpur?
The official language of Kuala Lumpur is Malaysian or simply just 'Malay' (also often referred to as Bahasa, which is extremely similar to Indonesia's official language- but more about this later). This is spoken by the majority of the people in Kuala Lumpur, closely followed by the English language. You will also find Chinese dialects such as Mandarin and Hokkien are quite common, and so is the Tamil language, which is primarily spoken by the Indians residents.
That was the simple answer.
Now let's discuss the more 'complicated' answer: there are in fact 137(!) languages that are being used in different parts of Malaysia, this as a result of the many different races that live in the country and you will also come across many of these local dialects and languages in Kuala Lumpur. So even if you've mastered the official language Malay, you still might not be able to understand everyone in the city.
Now let's go back to the topic where we said that Malay is very similar to Indonesian Bahasa, earlier in this paragraph. Modern-day Malay can be separated into two variants: bahasa Melayu and bahasa Indonesia.
Bahasa Melayu is spoken in Malaysia, Singapore and Brunei
Bahasa Indonesia is spoken only in Indonesia
These two Malay variants are considered mutually intelligible. Yet while most bahasa Indonesia speakers will understand bahasa Melayu, there are significant differences, especially in the spelling, pronunciation, and loan words. Linguistically, the relationship between the two is more distant than that between British and American English, but closer than that between Spanish and Portuguese for example.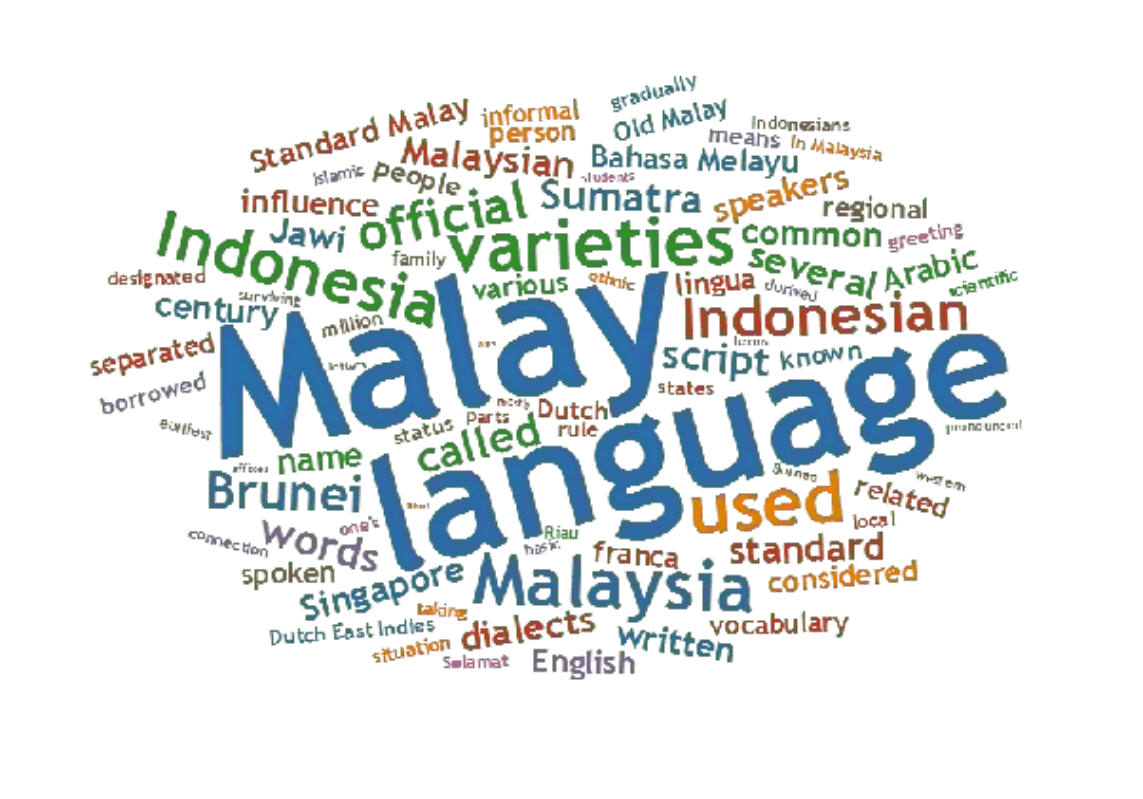 Is it easy to learn Malay?
You can easily pick up the Malay language. Why? Because, unlike Thai or Mandarin language, Malay isn't a tonal language. The grammar is very basic and easy to comprehend, the vocabulary, in relative terms is very simple, and most words could be picked up and understood by most people in just a matter of weeks. Malay has no conjugations, no plurals, no gender, and best of all – no verb tenses.
A lot of the words in the Malay dictionary derive its meaning form the English dictionary (this is because Malaya was once colonized by the British), for example;
Bus = Bas
Bicycle = Basikal
Pencil = Pensel
Telephone = Telefon
Television = Televisyen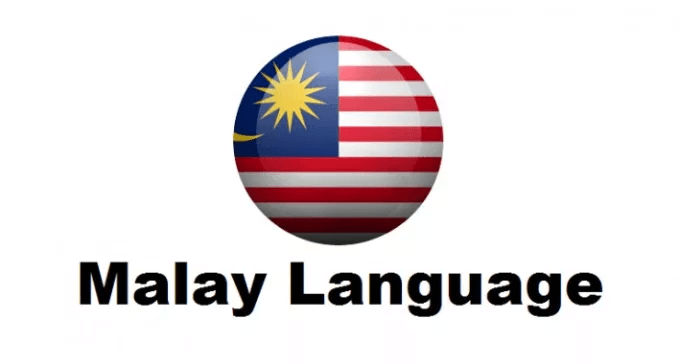 Written Malay language
The Malay official scripts that are still in use today are as below:
The Latin Script, or as the Malays call it, Rumi
The Arabic Script, also known as Jawi
When Islam arrived in southeast Asia during the 14th century, the Arabic script was adapted to write the Malay language. In the 17th century, under influence from the Dutch and British, the Arabic script was replaced by the Latin alphabet. These days, every single Malaysian will learn and use the Latin Script! It is compulsory for every Malaysian, including the non-Malays (like the Malaysian Chinese or Indian) to learn Modern Malay and to use Rumi as writing script.
The Latin alphabet used as the Malay writing script is very simple, there are no additional letters or symbols in the list of alphabets.
Basic Malay words every tourist should know
When foreigners in Kuala Lumpur speak in Malay, it shows an effort on their part, as well as a genuine interest to learn more about the local culture. This works as a great ice breaker. Moreover, greetings in the Malay language are extremely basic and easy to learn, with easy rules of pronunciation and the classic Latin alphabet being used.
By socializing with the locals, you'll quickly learn the fundamentals of the Malay spoken language, including the basic vocabulary, pronunciation, spelling, and cultural aspects of the language.
These are some easy words every tourist should master:
Selamat pagi - Good morning
Selamat Petang - Good evening
Apa kabar - How are you?
Selamat tinggal - Goodbye
Ya / Tidak – Yes / No
Saya Tak Faham - I don't understand
Air - Water
Berapa -How much?
Tolong -Please
Do people speak English in Kuala Lumpur?
Yes. As English is known as the second language of Kuala Lumpur, you won't have any problems getting around if you only speak English. All major tourist spots and attractions are well labeled in English and most restaurants have an English menu.
English speaking tourists definitely take some time to adjust to the 'Manglish' accent that Malaysians have, but you will easily be able to get by. Manglish is basically the English language, which is influenced by the Malay, Chinese and Indian languages. You will meet a lot of people using filler words like 'lah' and 'meh', which are considered to be Manglish.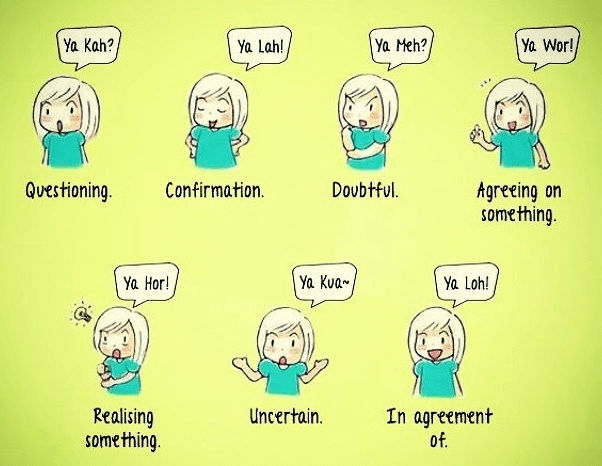 Fun facts about Kuala Lumpur
- An Argentinian architect, Cesar Pelli, designed the Petronas Twin Towers. Between 1998 through 2004 they were the world's tallest buildings and are still regarded as the world's tallest 'twin' buildings
- Kuala Lumpur is the retail and fashion hub of Malaysia and boasts of more than 65 shopping malls, including the world's fourth largest mall, 1Utama, which covers 5 million square feet.
- Kuala Lumpur Tower or KL Tower is the seventh tallest tower in the world and tallest telecommunication tower in Southeast Asia.
- In 1996, the government of KL introduced a ban against excessive use of lipsticks for muslim women, believing that excessive use of lipsticks "were a prelude to illicit sex". Since Malaysia is an Islamic country, it isn't surprising that the government chooses to be a little more conservative. It defended itself by stating that wearing lipstick defeats the purpose of wearing a hijab, while the women of the state didn't see why this should be a problem at all.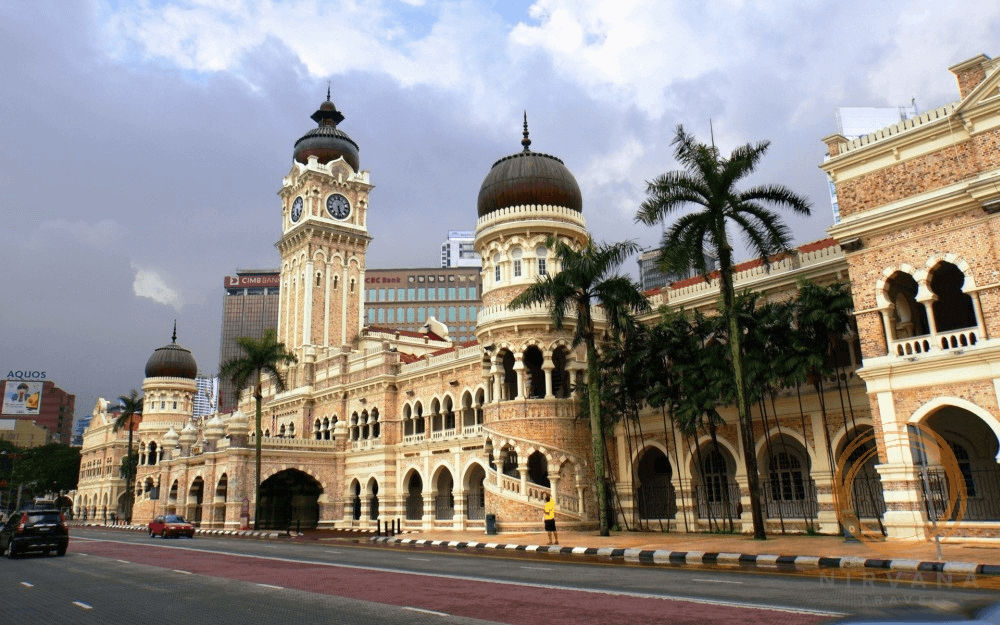 Conclusion
So now that you've learned the basics about the Malay language and everything around it, there is no more reason for you to be scared or intimidated booking your holiday to Kuala Lumpur! Don't worry too much about the language barrier when you are in Malaysia! As you learned by now, English is very commonly used and you will not have any problems communicating with the locals! Since English is the unofficial second language in Kuala Lumpur, most of the locals speak a decent amount of English.
When you finally decide to book that holiday and hit the city, you will see it has so much to offer along the lines of history, culture, traditions and architectural beauty. Your time in the city will be exciting and full of adventure as you visit temples, food vendors and shopping markets. And even though you are continuously exploring the city, you will find it relaxing as well in some way!
If you have never been to Kuala Lumpur, it can be overwhelming to figure out what you can all fit into your travel schedule or what the best spots are worth visiting, that's why you should definitely take one of the many private tours in Kuala Lumpur! We at ForeverVacation offer some of the best tours in Malaysia, including KL, and our local guides will take you to the best possible spots, all wrapped up in a VIP service so you won't have to worry about anything during your day trip!
Get your VACATION on!
Expertly curated emails packed full of vacation inspiration, travel tips and more!