 Nusa Penida: What You Need To Know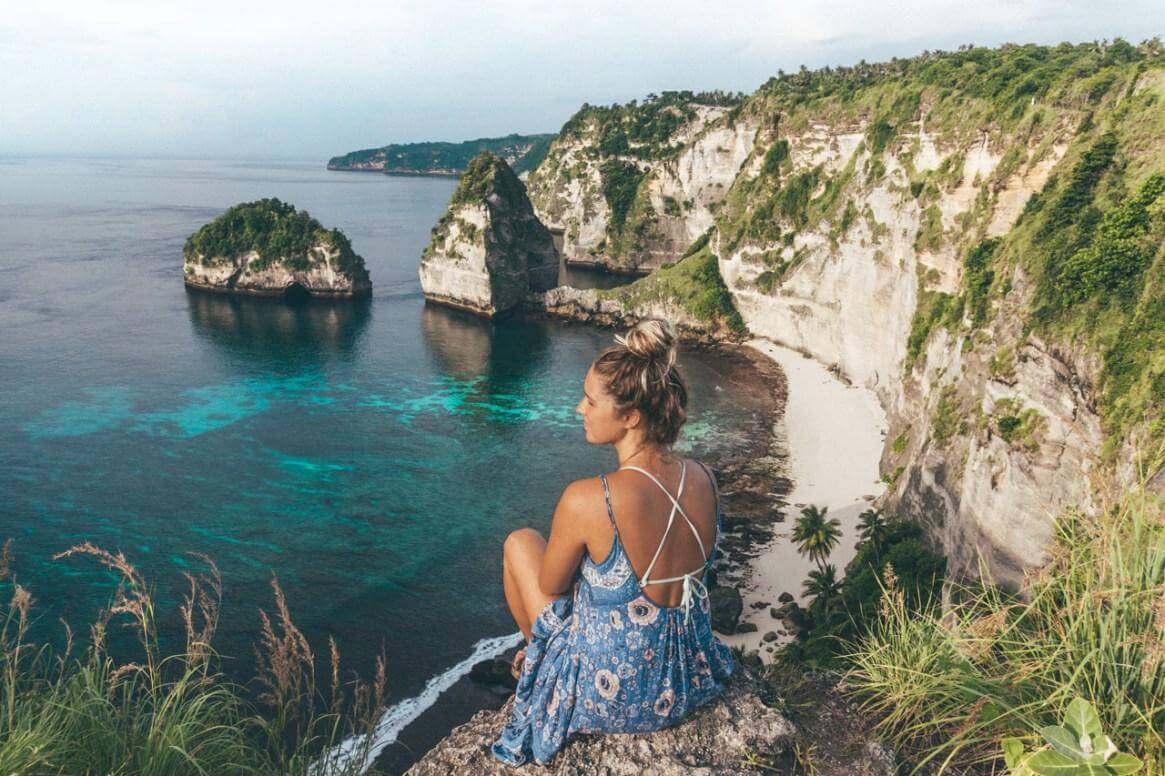 Destinations
Destinations
Blog detail
Now, you may be wondering if going to Nusa Penida is worth it. You're already on a tropical island (Bali), so why do you need to go and visit another one? But, trust me, a visit to Nusa Penida is SO worth it!
Nusa Penida is a much smaller island than Bali and it's relatively undeveloped in comparison. However, it is home to some of the most photogenic spots in Indonesia - your Instagram followers will thank you!
Picture rugged rocky cliff sides, oceans so blue you won't believe it and the most spectacular beaches you've ever seen. Plus, it's actually pretty easy and cheap to do a day trip to Nusa Penida from Bali.
And the best bit of all? The snorkeling is incredible here, and the chances are pretty high that you'll get to swim alongside an actual wild Manta Ray!
Here's everything you need to know before you go.
Top highlights:

Kelingking Beach
Kelingking Beach is probably the most well known beach on the island, you definitely will have seen photos of this place before! It's located on the southwest part of the island, about 1 hour from the port.
Kelingking Beach is relatively new, and was only 'discovered' in 2003 by a few tourist divers who reached the beach by boat.
Nowadays, Kelingking Beach is probably the most instagrammed spot on Nusa Penida… and I'm sure you can see why!
The view from the top is incredible, but you can also walk down to the beach below. Do be careful though, as the path is quite steep!


Broken Beach
Broken Beach is famous for the archway that wraps around the bay allowing water to flow in and out from the ocean. It is situated on the west coast of the island, close to Kelingking Beach.
The arch at Broken Beach has been formed over many years and is now a true spectacle. Unfortunately, there is no way down into the cove for a refreshing dip, although you can get in the water at Angel's Billabong just around the corner.
Look down over Manta Bay and maybe even spot some Manta Rays!
Diamond Beach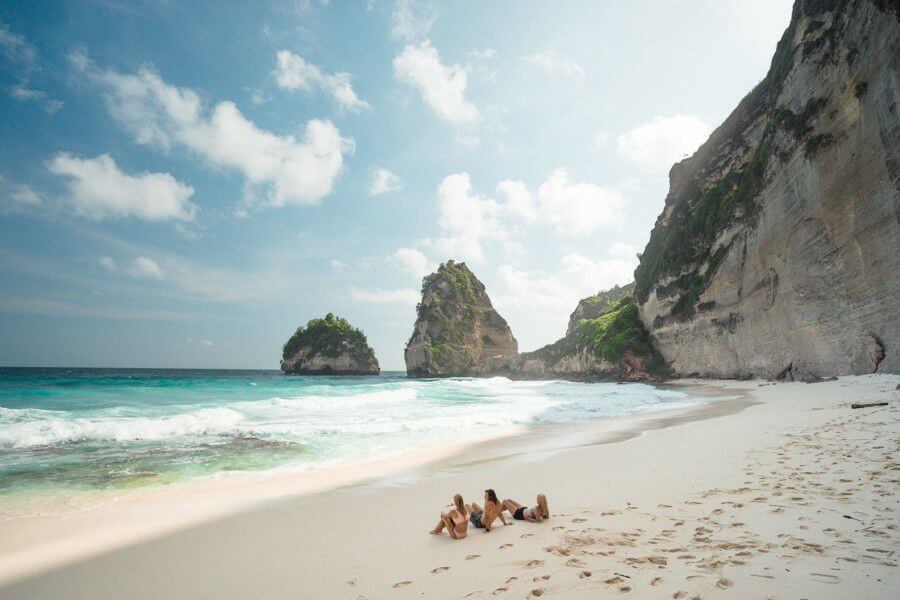 Diamond Beach is located on the most eastern point of Nusa Penida, around an hour drive from Kelingking Beach.
There are two beach areas at Diamond Beach. One has vivid green mossy rocks and tidal rock pools, the other area features a long stretch of glistening white sand, coconut palm trees, small caves and a much more suitable spot for swimming. Again, do be careful as the steps down to the beach are very steep!
Explore the many caves, get some amazing insta-worthy shots and cool off with refreshments from a small beachside warung. Perfect!
How To Get To Nusa Penida From Bali: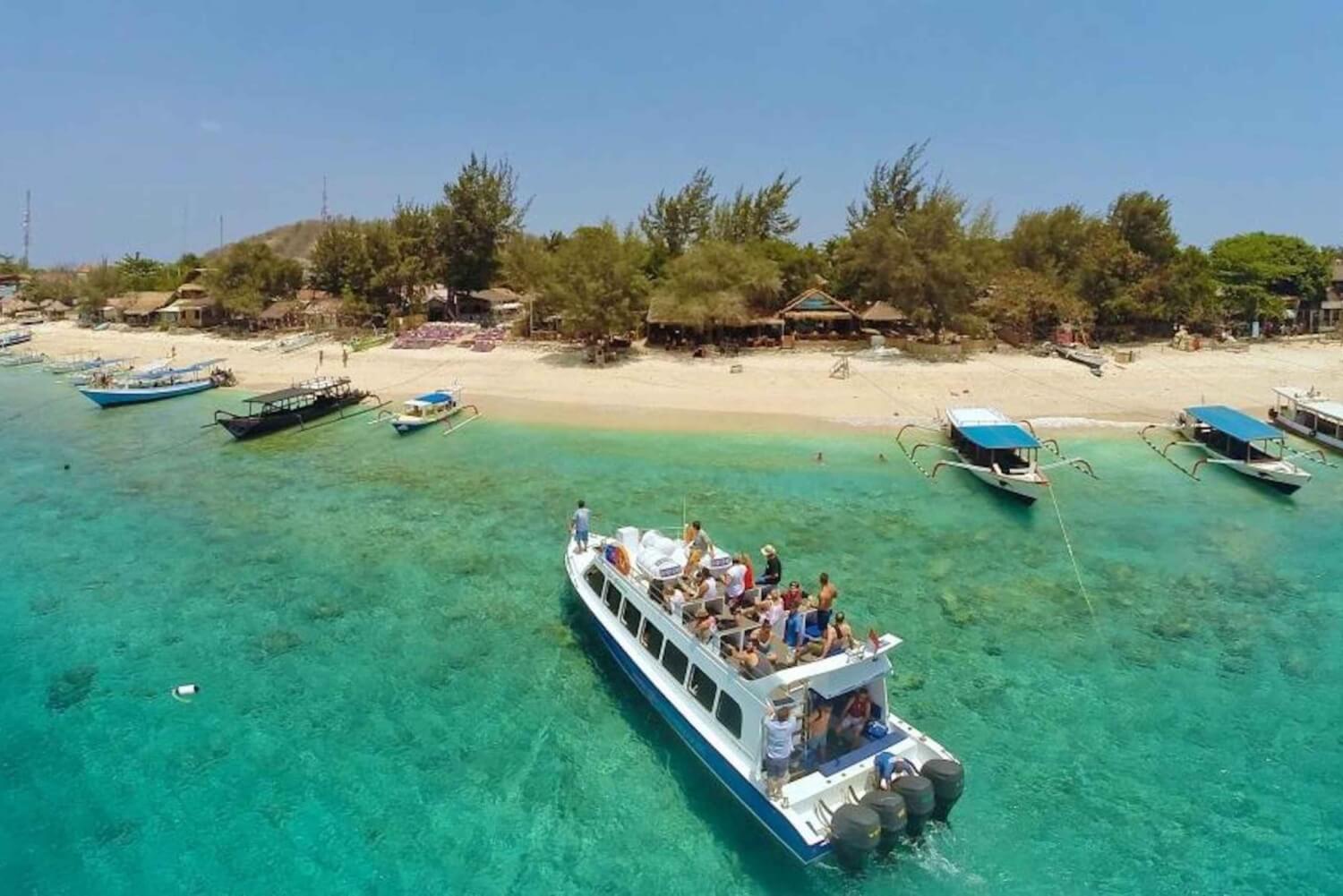 The easiest and most popular option is to hop on a speedboat from Sanur Beach. There are multiple operators to choose from, and usually boats depart throughout the morning and afternoon.
You can book boat tickets online, but it requires at least one day in advance. You could also just show up to Sanur Beach early in the morning and buy tickets directly from the operators, but be sure to get there early so you have enough time.
Tours To Nusa Penida From Bali: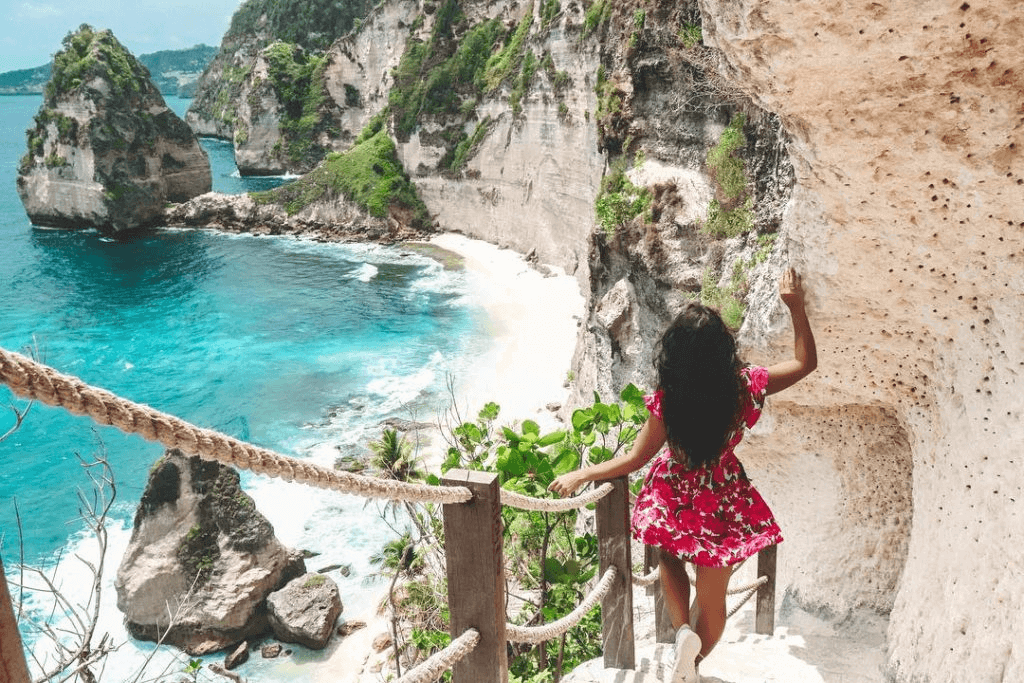 It's actually super easy to go from Bali to Nusa Penida and back in a day, as the boat trip only takes 30-45 minutes each way.
You could go it alone and organize your own tickets and transport etc. This way, you'll have a lot of freedom and could choose to spend a few nights on Nusa Penida if you wished.
Or you could book on to a day tour, where everything will be sorted for you. Our Nusa Penida Instagram Tour will take you to all the most famous spots on the island, and with your own personal driver and tour guide, you can relax and enjoy the ride without having to worry about tickets, entrance fees etc.
If you wanted to make the most of the snorkeling spots on the island, our Nusa Penida Snorkeling Adventure Tour makes the whole process super easy! Or you could discover the island's magical waterfalls on our Nusa Penida Tembeling Waterfall Tour.
All of our Nusa Penida tours are full day tours and include pickup and drop off to your hotel or villa in Bali. Simple!
Tips:
Get there early - although Nusa Penida is not as developed as Bali, it is becoming more popular with tourists so the most famous attractions can get quite busy after around 12pm.

Chase some waterfalls - no trip to a tropical island is complete without a waterfall! Check out Seganing Waterfall and Peguyangan Waterfall if you have time.

Snorkel - if you're going to snorkel anywhere in Bali, this is the place to do it! Manta Point and Crystal Bay are the most famous sites for this.

Eat local - there are not so many big cafes and restaurants on the island so take the opportunity to eat like a local and try some of the traditional Indonesian dishes!

Protect yourself - remember, you're likely going to be in the sun all day, so be sure to bring sunscreen, sunglasses, a hat and maybe a sarong to cover yourself.

Suitable footwear - as the island is full of steep cliff sides, wearing comfortable shoes is definitely a good idea! Especially if you want to venture down to any of the beaches.
2 years ago
Get your
Vacation on!
Vacation more, get inspired
Expertly curated emails packed full of vacation inspiration, travel tips and more!
Expertly curated Emails for travel inspiration, vacation tips and hacks and much more! Subscribe and upgrade your traveler skills with Forevervacation.