The Ultimate London Guide
The Ultimate London Guide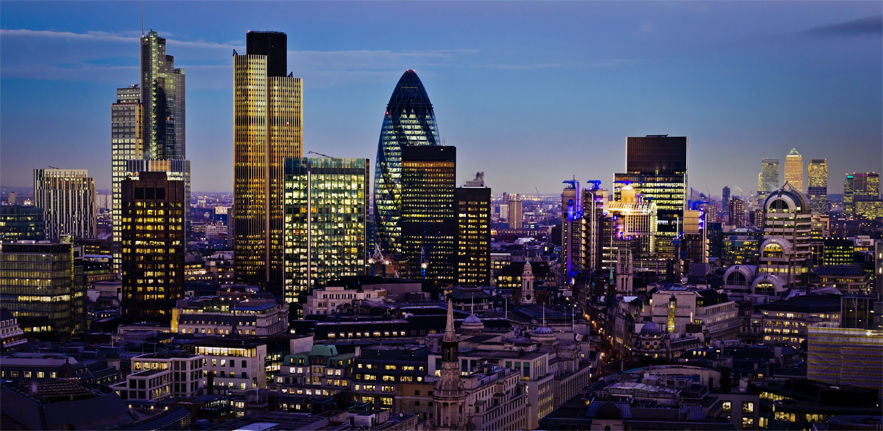 Attracting over 27 million visitors annually, London is easily the most visited city in Europe. And it's easy to see why! This melting pot of culture and history has so much to offer. Today, London is one of the most diverse cities in the world. Home to more than 9 million people, London covers a wide area.
There are many different areas and so many things to see and do. I've put together this ultimate guide to help you plan your London trip effectively and ensure you don't miss out on any of the good stuff!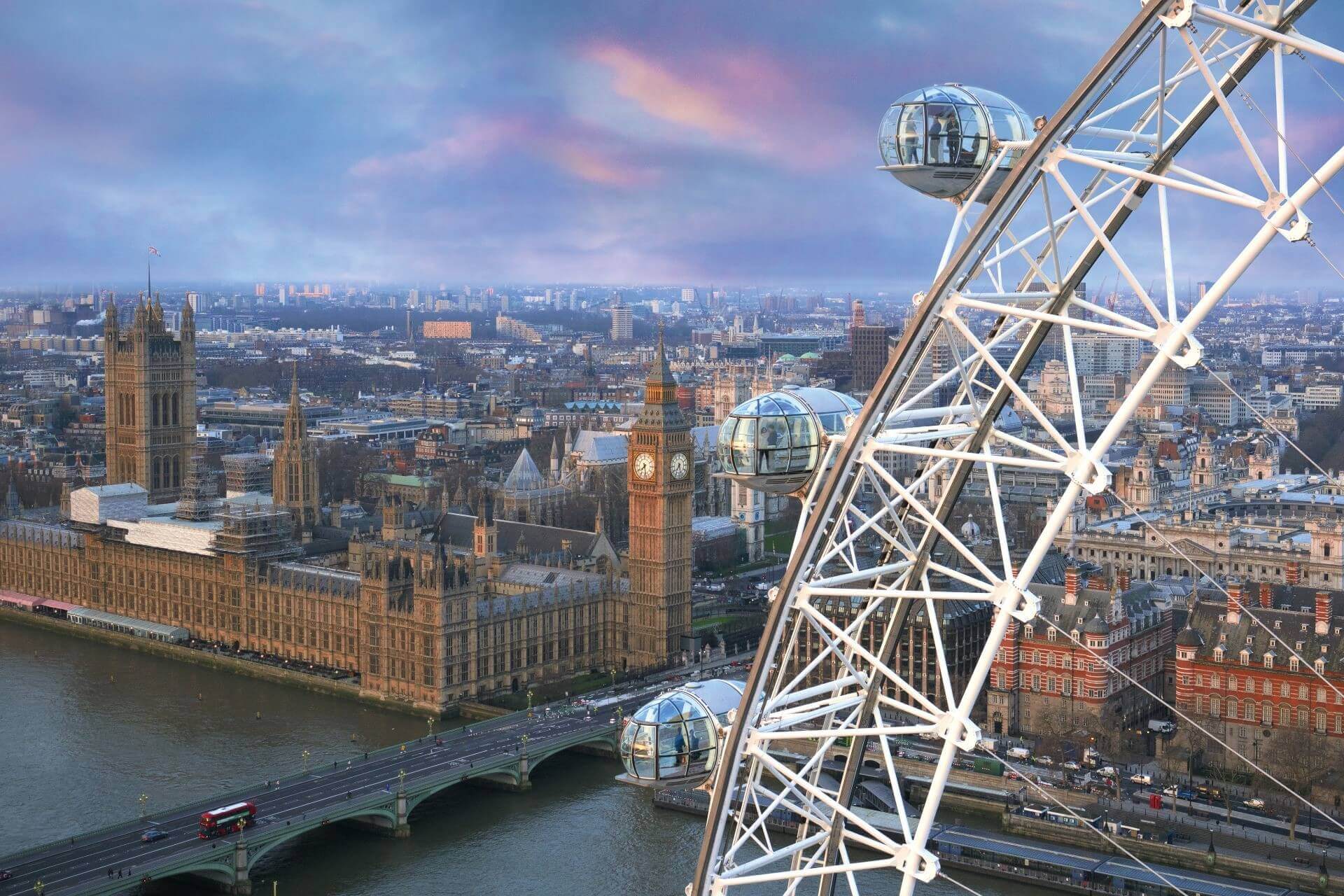 When to go
London is still London at any time of year and it's always got plenty of things happening, no matter what the weather. For me, London is more pleasant during the English summer so around May to August.
However, there is something very charming about visiting London during the winter - there are always heaps of Christmas-themed pop-up attractions and the Christmas lights are amazing - but do bare in mind that temperatures are usually only a few degrees above freezing during the winter months.
Equally, Autumn and Spring are nice times to visit due to the changing leaves and trees. So really, it comes down to what you prefer.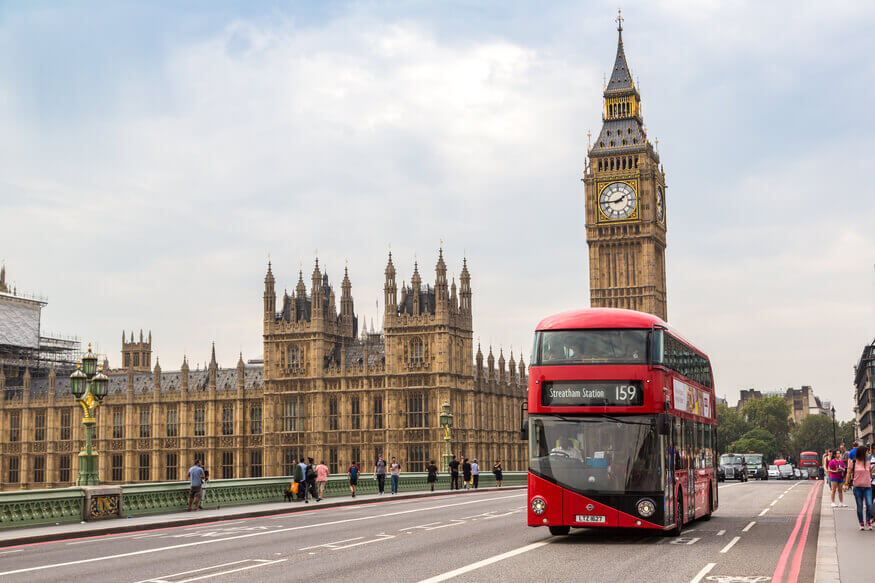 How to get around
London covers a very large area, but the great thing is public transport is really efficient and easy to use. The underground or the tube will take you pretty much anywhere in London and the surrounding areas.
You can even take the tube directly from the airport into the city center. It's easy to navigate and there are tube maps almost everywhere you look. It's best to buy an Oyster card (travel card) as soon as you arrive in London, as this will save you money and make your journey quicker and easier.
Just purchase your card from any tube station and top it up as you go. You can also use your Oyster card on any of the buses - another great way to get around. If you fancy the full tourist experience, why not hop on an open-top bus tour for a whistle-stop tour of all the main attractions?
London is also full of taxis or black cabs. They run off a meter and tend to be the most expensive form of transport, but they are super quick and easy to use. Plus, most will now accept credit cards!
Where to go
Covent Garden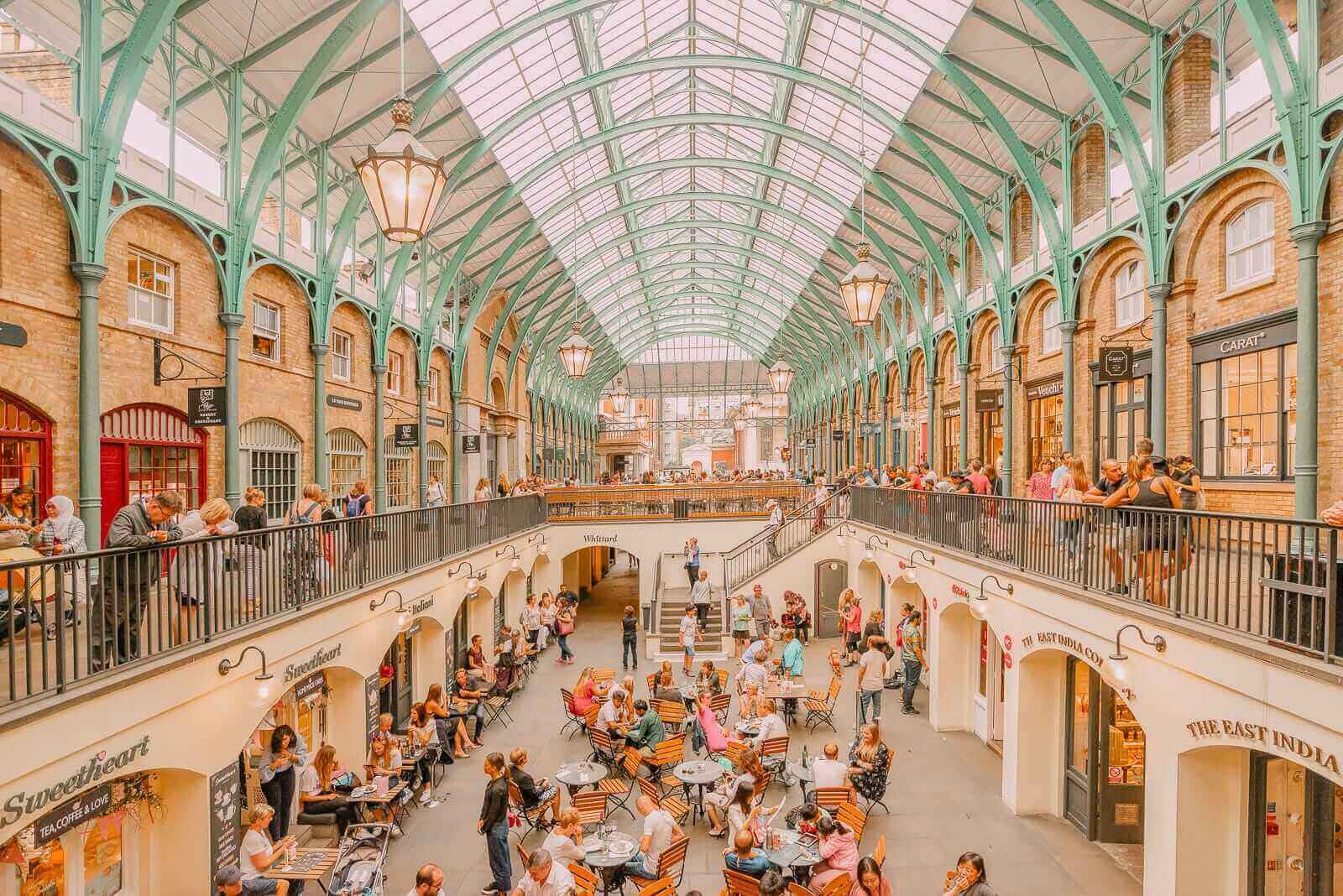 Covent Garden is one of the more well-known areas of London and one that attracts a lot of tourists. It is known for its many open-air cafes, restaurants and market stalls, and the plethora of street performers who entertain passersby on the cobbled streets.
What to do: Explore the colorful Neal's Yard (one of London's prettiest streets), check out the London Transport Museum, enjoy the street entertainers or go to see a Musical at one of the many theatres in the area.
Where to eat: Cinnamon Bazaar for Indian-inspired inventive small plates, Sushisamba for fusion fine dining ideal for a date night, or by CHLOE for the best vegan food you've ever tasted - you won't even know it's all plant-based!
Hot tip: Download the app Today Tix for last-minute deals on theatre tickets, plus discounts and deals on pre-show dining!
Chelsea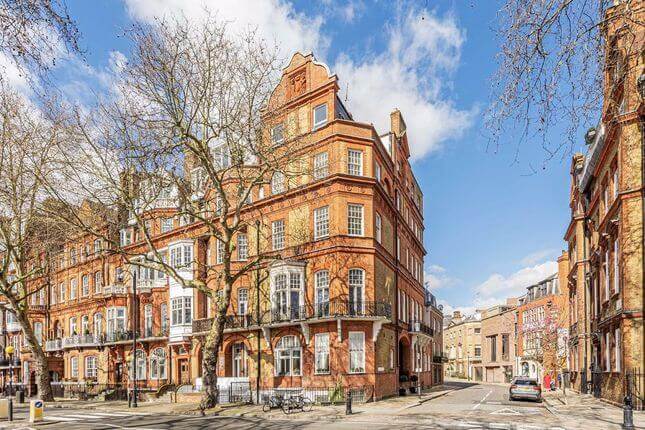 This area in West London has always been affluent, and in the 18th and 19th centuries, even had a private road for the King (King's Road).
It has recently become well known due to the reality tv show 'Made In Chelsea', which is filmed there and follows a group of affluent young adults in their daily lives.
In May, the Chelsea Flower Show sets new trends in garden design and is an early landmark in the London social calendar.
What to do: Visit the Saatchi Gallery, stroll along King's Road, wander around Battersea Park, explore the Chelsea Embankment and if you're there in May, definitely check out the Chelsea Flower Show!
Where to eat: Daylesford Organic for a fresh and healthy lunch, Wulf and Lamb for a vegetarian fine dining experience and The Hummingbird Bakery for the best tea and cake of your life!
Westminster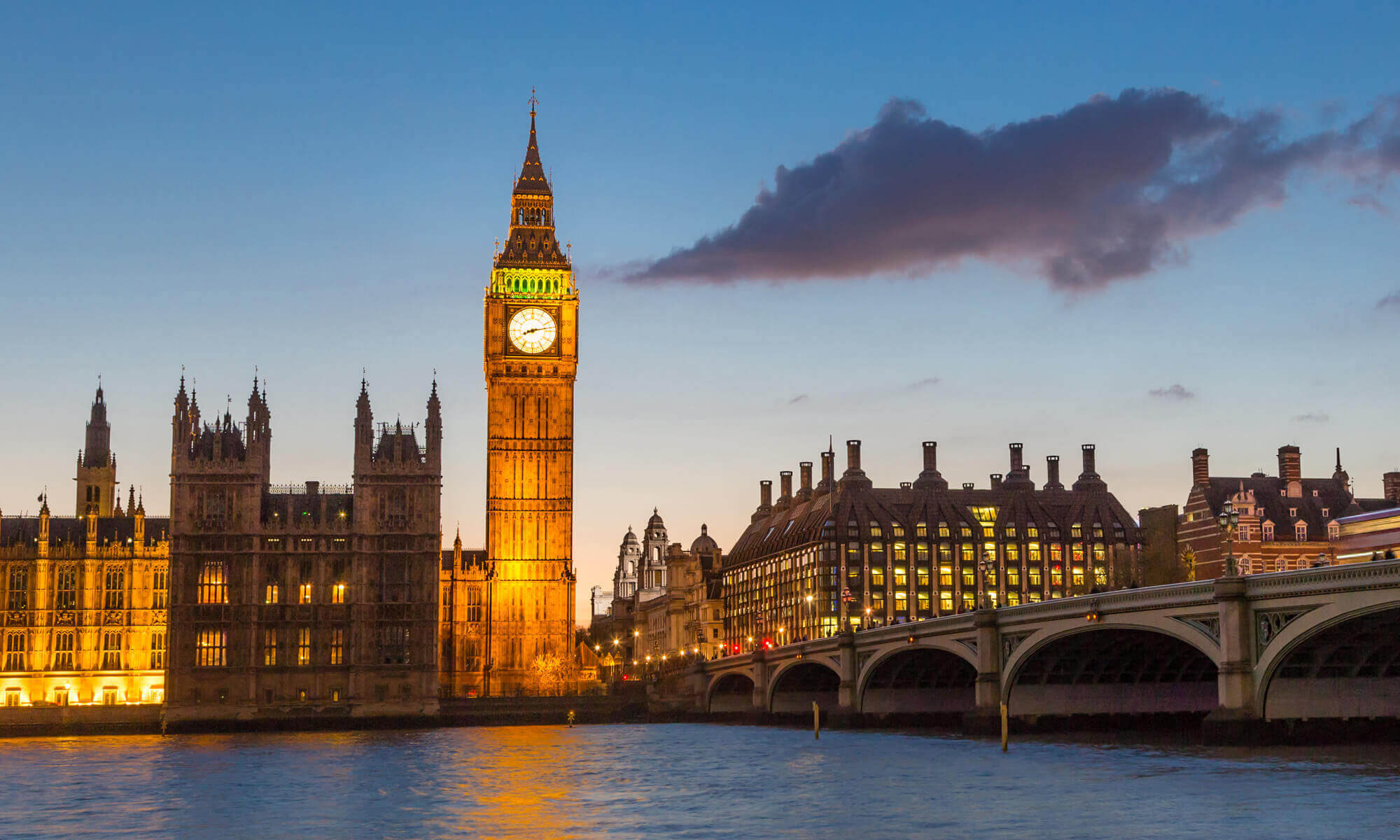 Tourists flock to Westminster to see its many famous landmarks. Although often busy, it's well-worth a look and a great opportunity to get some iconic photos for the gram! Whether the day is spent posing for photos in front of the prime minister's house or trying to get the Buckingham Palace guards to crack a smile, Westminster has plenty to offer visitors.
What to do: tour Westminster Abbey, marvel at Big Ben and the Houses of Parliament, take a selfie outside number 10 Downing Street, watch the changing of the guard at Buckingham Palace and take a walk through St James park.
Where to eat: The Laughing Halibut for the best traditional fish and chips, Caxton Grill for sustainable locally-sourced meat or Shepherd's for top-class British cuisine.
Soho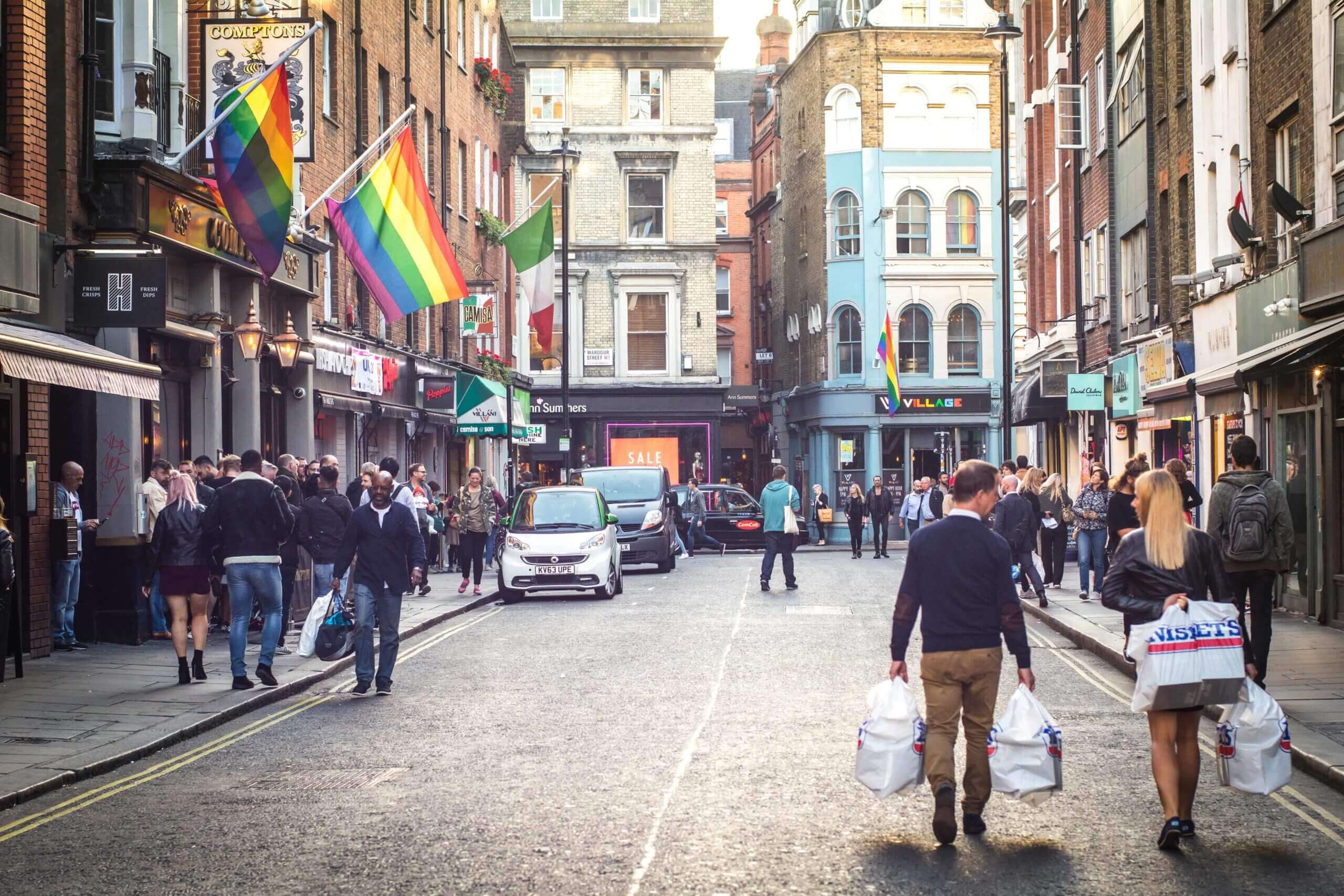 If you want to be entertained, head to Soho. Once known as the center of sleaze, the neighborhood has cleaned up (though not totally) and seems to be permanently buzzing with people, whether they're spending in the independent stores, drinking and eating in one of the many bars and restaurants, or picking up seats to a show. It's impossible to be bored in Soho.
What to do: Satisfy your sweet tooth at Choccywoccydoodah, look for vinyl at London's most iconic record store Sister Ray's, visit Riflemaker to see some contemporary art, and listen to live jazz music at Ronnie Scott's.
Where to eat: Bob Bob Ricard for a luxurious and opulent experience and a 'Press for champagne' button at your table, Yauatcha for the best dim sum in town and Chin Chin Dessert Club to create your own ice-cream sandwich.
Leicester Square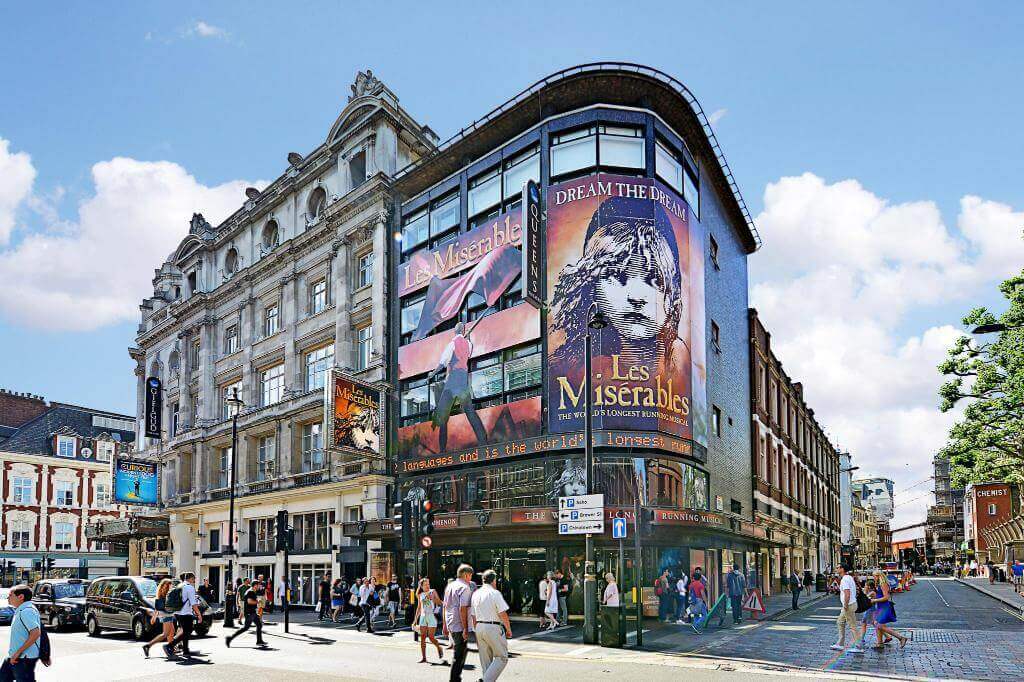 Leicester Square in London's West End is not just the place for red-carpet film premieres. It's a public square with daytime shopping and dining plus evening theaters, clubs and nightlife. The area also covers London's Chinatown and Trafalgar Square so there's something for everyone. It may be full of tourists but it's such a good area for the cheap eats, amazing theaters and iconic views.
What to do: Check out Nelson's Column and the impressive water fountains in Trafalgar Square, be amazed by the many street performers, peruse portraits at the National Portrait Gallery, see a West End Show, eat and shop in Chinatown and get some snaps in Piccadilly Circus.
Where to eat: Ham Yard Hotel for an amazing breakfast buffet for just £16 per head, Cork and Bottle for a great cheese and wine pairing or The Palomar for Israel-inspired small plates including the silkiest hummus you've ever tasted!
Camden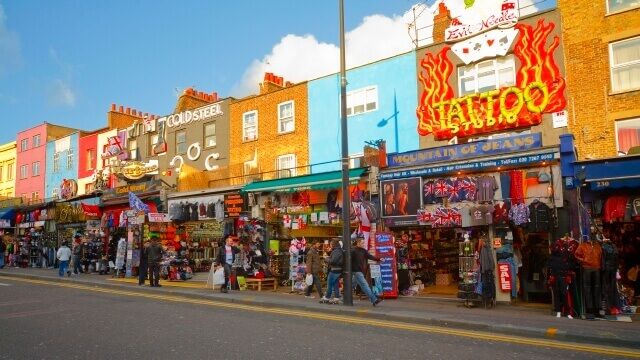 Camden Town has been a residential area since the 1790s. But it was only the development of the Grand Union Canal and the improved railway transport that turned it into a bustling part of London. Camden is considered the capital of music in the UK, specifically rock and punk.
This funky area is great for eating, people-watching, hearing some good music, and for partying. It's definitely worth a visit to check out a more local side of London.
What to do: explore Camden market for clothes, jewelry, hand-made art, and more, stroll along the canal, visit the Jewish Museum, have a pint in one of the many famous pubs such as The Hawley where Amy Winehouse used to frequent with other famous friends, party to some live music and visit the Camden Beach - a man-made rooftop beach!
Where to eat: For me, the ONLY place to eat in Camden is Camden Market. There are so many stalls to choose from, each offering something different from a different part of the world - Camden is truly multicultural.
There will be too much to choose from, trust me! Expect falafel and hummus, fresh doughnuts, curries, poutine and more!
Oxford Street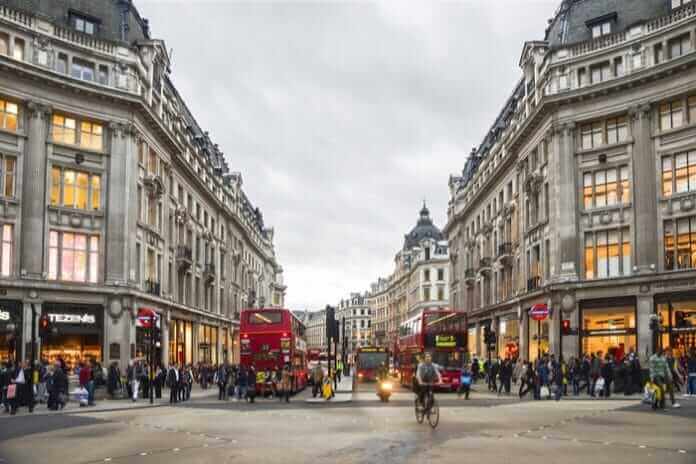 With over 200 million visitors each year, Oxford Street is the busiest shopping street in Europe, and the most popular shopping destination in London. And although many of its stores are packed full of high-end, boutique items, you don't necessarily need to be made out of money to enjoy all that Oxford Street has to offer.
The most famous of Oxford Street's many stores is none other than the world-renowned Selfridges, which was founded by the American businessman Henry Gordon Selfridge in 1909.
With over 10 acres of shopping space which occupy an entire block of Oxford Street, Selfridges is the second largest store in London after Harrods.
What to do: Shop (of course!), visit the Marble Arch, the Princess Diana Memorial Fountain and Speaker's Garden, go to see the wax models at Madame Tussauds and if you're there near Christmas time check out the incredible Christmas lights.
Where to eat: Drunch for the prettiest brunch you've ever eaten, Dolly's for a classic afternoon tea and The Adam and Eve for a great gastropub experience.
South Bank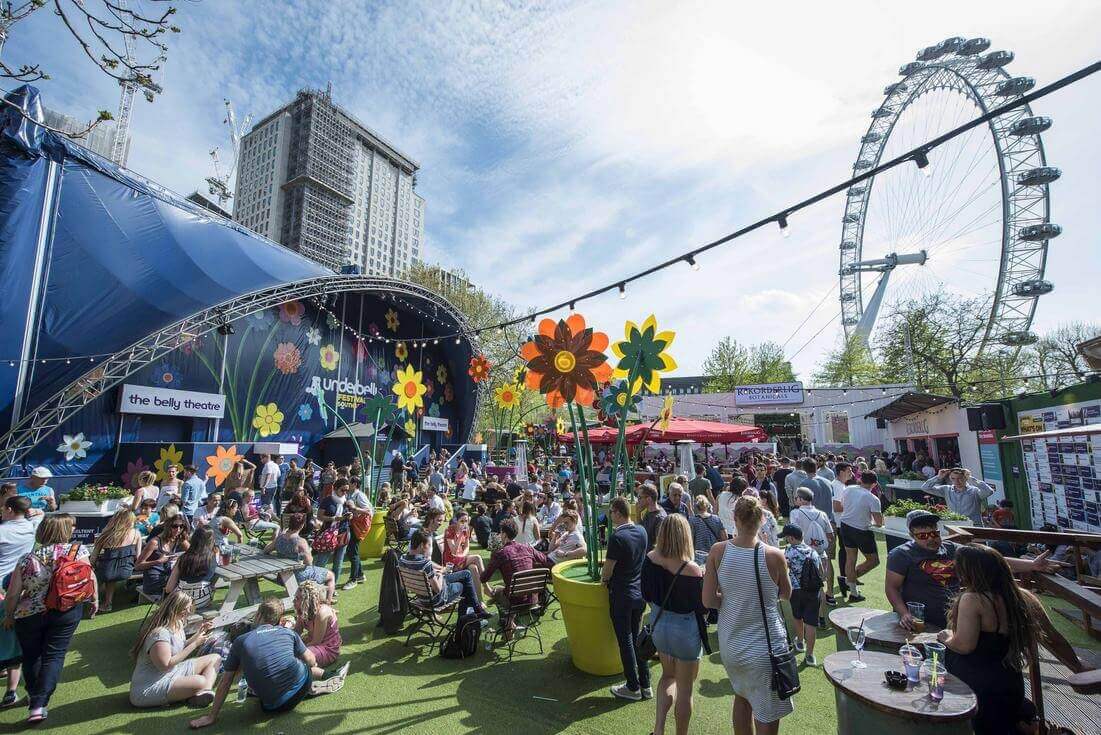 Just across the river from the Houses of Parliament, the South Bank stretches between Westminster Bridge and Blackfriars Bridge on the south side of the River Thames, and is the perfect spot for a stroll on a sunny day.
The South Bank was energized during the 1951 Festival of Britain by the iconic modern architecture of the Southbank Centre, and has continued to evolve into a top destination for families, culture lovers and foodies. It has annual events and pop-ups, from its Winter festival to family and gender-focused events.
What to do: Go on the iconic London Eye (this is a MUST), visit the London Dungeon, check out Leake Street Tunnel to take pictures of incredible street art and the daily Southbank Centre Book Market under Waterloo Bridge.
Where to eat: The rooftop Oxo Tower Restaurant is perfect for a special occasion dinner, Mamuśka! For authentic polish cuisine or Vietnamese treats at Banh Bao Brothers.
Kings Cross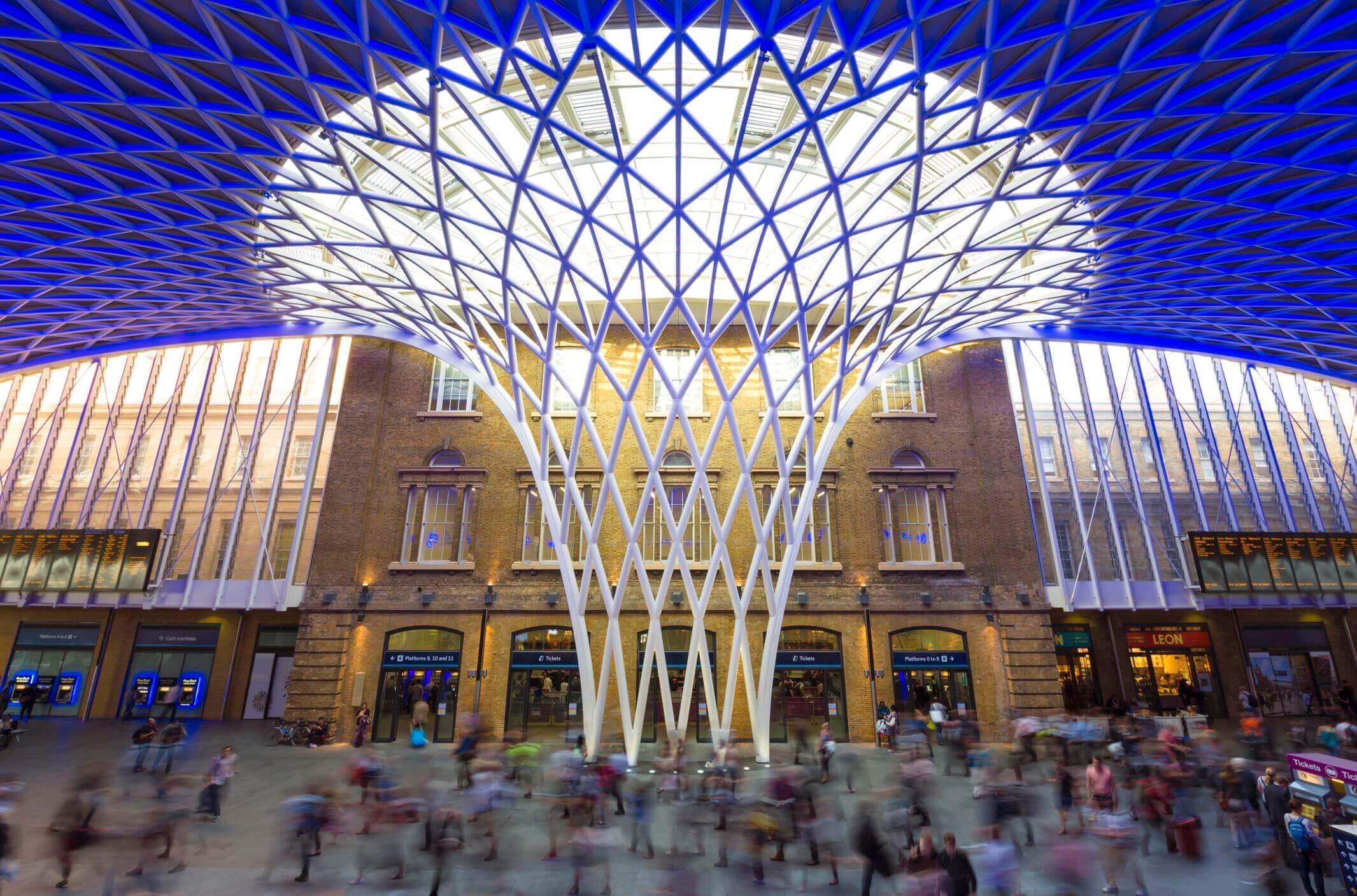 Home to King's Cross and St Pancras International train stations, Harry Potter's Platform 9 ¾ and the trendy Coal Drops Yard shopping area, King's Cross is becoming one of London's most well-loved areas for a reason.
What to do: Visit Coal Drops Yard, stroll along Regent's Canal, go to the floating bookshop on Regent's Canal, marvel at the St Pancras Renaissance Hotel, visit the British Library and, of course, see Platform 9 ¾.
Where to eat: Dishoom for amazing Indian food, Supawan for authentic Thai and Happy Face for great pizza.
Our Best Selling Tour
All-Inclusive

Bali Unesco World Heritage Sites Tour

This full day Bali tour celebrates the island's culture and World Heritage Sites! Our Bali UNESCO World Heritage Sites Tour visits five unforgettable locations, with plenty of opportunity to take some snaps; explore the iconic Handara Gate, enjoy the Wanagiri Hidden Hill, experience the Jatiluwih Rice Terrace and much more. The all-inclusive day trip is finished with a delicious lunch, local tour guide and private round trip transportation.
Shoreditch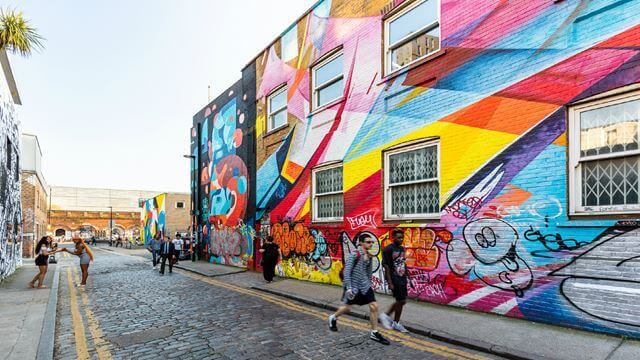 You'll never be short of things to do in Shoreditch. As the creative hub of London's East End, the area is home to an array of interesting markets, bars and restaurants.
What to do: Marvel at London's best street art on Brick Lane, shop vintage, take in the sights and smells of Columbia Road Flower Market, party at some of Shoreditch's best clubs such as XOYO, play ping-pong at Bounce and table football at Bar Kick.
Where to eat: If you're a foodie, then you have to go to Boxpark - made entirely out of shipping containers is certainly unique. Boxpark hosts some of London's most popular food pop-ups, including CookDaily, an eatery selling vegan dishes from around the world. For afters, try Soft Serve Society, a dessert spot selling freak shakes, tea, coffee, and plenty of other creative versions of sweet treats. Boxpark also hosts festivals and events to help you let your hair down after a long day of eating and drinking.
Brixton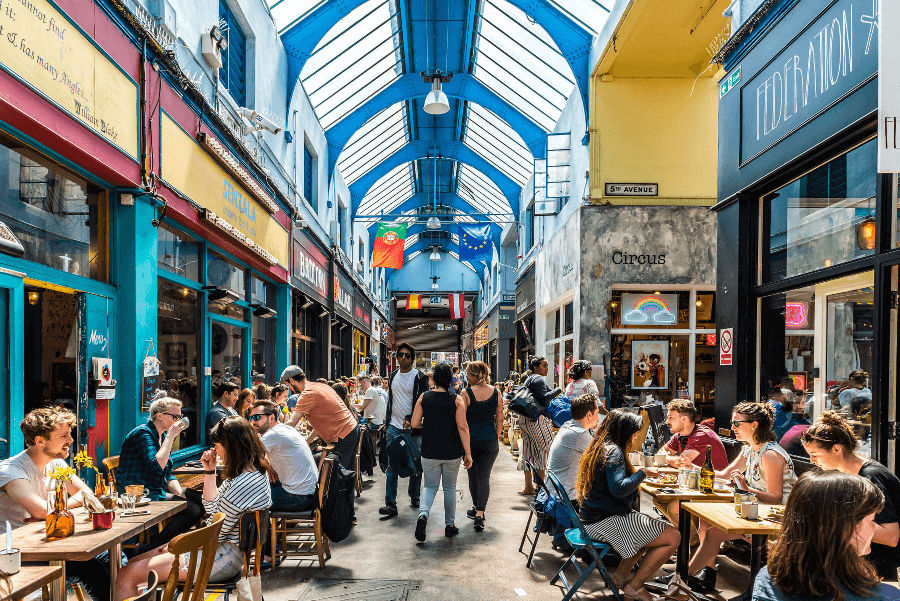 The birthplace of David Bowie, a creative hub, a place to party and an emerging foodie hotspot, Brixton has become one of the most vibrant neighborhoods in London by shaking off most of its rough past without sacrificing its sense of identity and community.
What to do: Explore the past at the Black Cultural Archives, dance the night away at Hootananny, eat your way around Brixton Village and Market, escape the crowds at Brockwell Park and catch a film at the Ritzy - one of the oldest cinemas in South London.
Where to eat: Brixton has SO many amazing places to eat! Some of my personal favorites include Franco Manca for the best pizza in London, Healthy Eaters for authentic (and cheap) Caribbean food and Federation Coffee for a great breakfast.
Notting Hill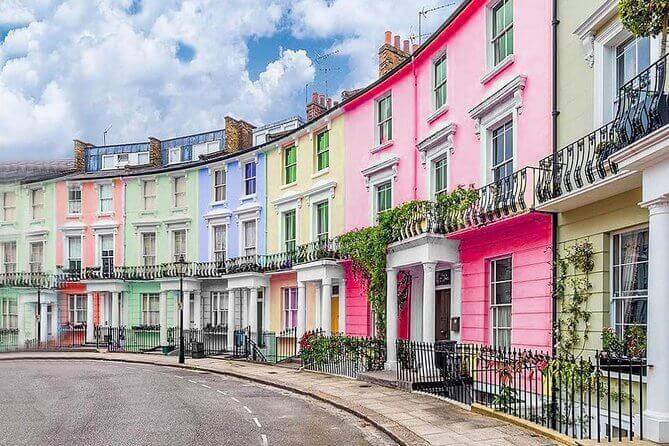 Thanks to the charm and magic of a certain '90s movie, the London district of Notting Hill has been etched onto every tourist's mental map as a fashionable and quintessentially London destination. Whether you want to peruse chic boutiques, rummage for that ideal antique or have a go at icing a cupcake, there is plenty to do in this quirky West London area.
What to do: Browse the vintage stalls on Portobello Road, ice your own biscuits at Biscuiteers Boutique and Icing Café, try your hand at street art at Graffik Gallery, check out the original Rough Trade record shop, go to see 'William's house' where Notting Hill was filmed.
Where to eat: Electric Diner for an all-American experience, Six Portland Road for a unique and intimate dinner service or Snaps and Rye for beautiful Scandanavian snacks.
As London is so big and full of so many amazing things to see and do, this is by no means a complete list but these are my personal favorite areas and attractions. Experiencing the hustle and bustle of London is an amazing experience whether you manage to fit it all in or not. Happy vacation!
Hot tip: Check out lastminute.com for amazing deals on luxurious hotel rooms right in the center of London! If hotels have empty rooms they will slash prices last minute to ensure all rooms are full.
Get your VACATION on!
Expertly curated emails packed full of vacation inspiration, travel tips and more!