Things To Do In Ho Chi Minh City: Travel Guide
Things To Do In Ho Chi Minh City: Travel Guide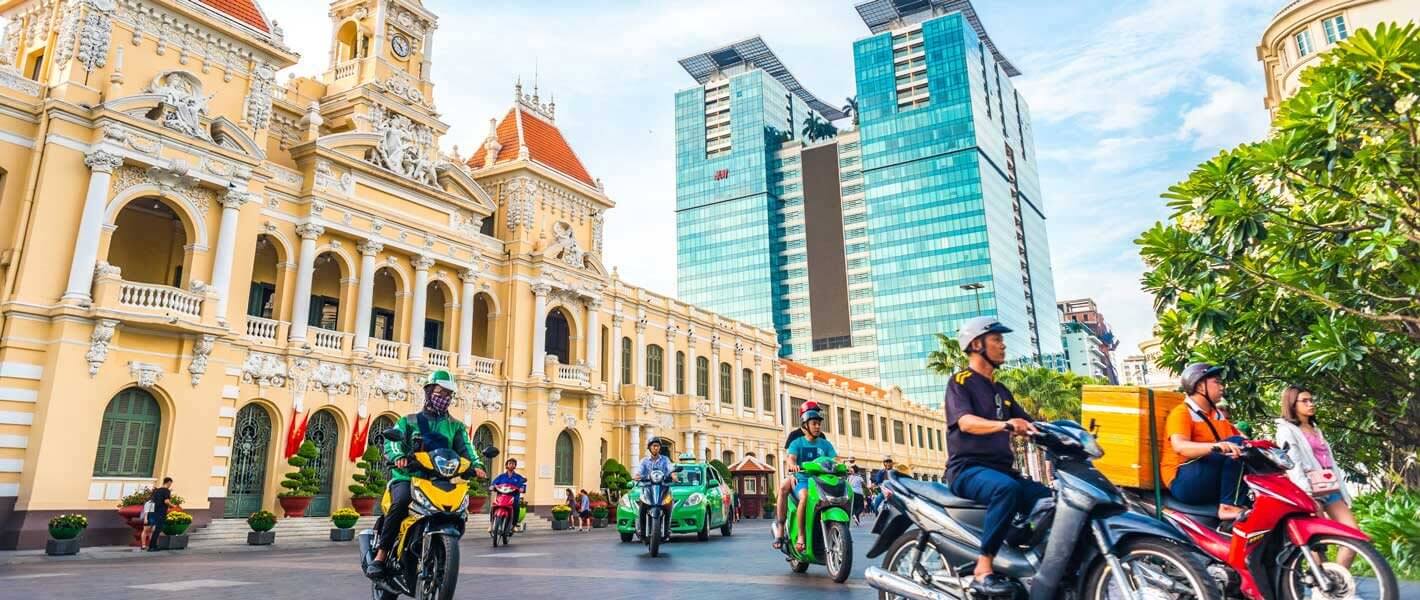 You can't go to Vietnam without visiting its capital city, Ho Chi Minh - it would be a crime! Also fondly known as Saigon, this city is brimming with history, culture, fun and some great photo opportunities!
As the largest city in Vietnam, it's likely that you'll land here if you're flying in internationally. So, it's a great place to start your Vietnam adventure - and adventure is what you'll get! As with any big city you visit though, it's hard to know where to start. We're happy to share the best things to do in Ho Chi Minh City to give you some inspiration before you set off!
Our Best Selling Tour
All-Inclusive

Ho Chi Minh City Motorbike Tour: A True Local Experience

To immerse yourself in Vietnamese culture, hop onto our Ho Chi Minh City Motorbike Tour: A True Local Experience. This half-day tour is jam-packed with all of the best spots in Ho Chi Minh including; Notre Dame Cathedral, The Central Post Office, local coffee at an Instagrammable coffee shop, Nhat Tao Wet Market, and many more. Your private guide will pick you up from your hotel and take you around the city on the back of a motorbike - there aren't any better tours in Ho Chi Minh City to get the true local experience!
The city is bustling with activity. Known for its busy roads (there are well over 2 million scooters on the roads in HCMC), rooftop cocktail bars and beautiful public parks, one thing you definitely won't be is bored. Whether you're taking some tours in Ho Chi Minh City or just want to explore, it's worth reading through a Ho Chi Minh City travel guide before you start.
You haven't experienced Vietnam unless you've spent some time in Ho Chi Minh City, so it should be top of your 'to-visit' list! If you're a bit overwhelmed by Ho Chi Minh City and aren't sure where to start, don't worry - we've got you covered! Here I share my travel guide to Ho Chi Minh City, including all of the best things to do.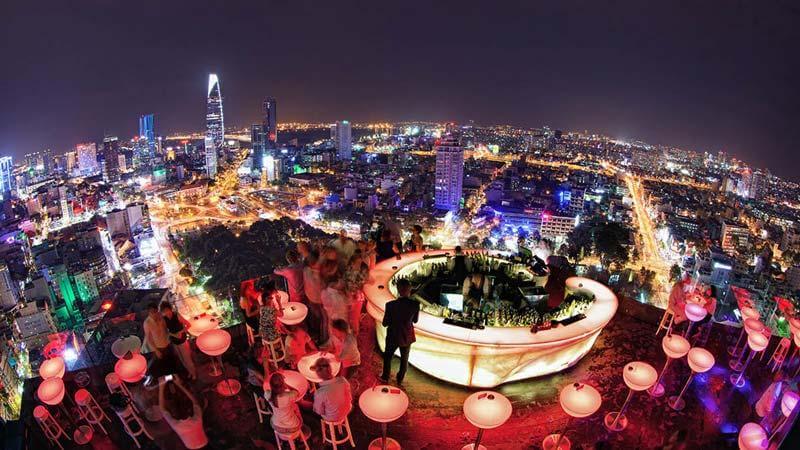 Overview
How to get there: Tan Son Nhat International Airport is the largest airport in Vietnam and is located close to the center of Ho Chi Minh City (Saigon), so it's likely that you'll land here if you're planning a vacation to Vietnam.
Ho Chi Minh is a great place to begin your Vietnam adventure, as it's the capital city and a real hub of activity. Once you find some fun things to do in Ho Chi Minh City, you can follow a popular route a lot of travelers take is to start in Ho Chi Minh and work their way up to Hanoi, although the trip can also be done in reverse.
Vietnam has excellent bus routes which operate daily and are popular with travelers who want to stick to a budget. Domestic flights also run daily to all of the major cities so getting to Ho Chi Minh will be pretty easy from wherever you are!
How to travel around Ho Chi Minh City: Traveling by taxi is one of the easiest ways to get around Ho Chi Minh City as you can usually find several vehicles parked outside any renowned hotels, landmarks, bars, and restaurants. It's also super cheap, just make sure you always ask the driver to start running the meter before you go anywhere!
If you fancy a more interesting mode of traveling in Ho Chi Minh City, xe om or motorcycle taxis are a great way to get around where you'll be weaving through the bustling traffic with an experienced driver. Again, these are super cheap but obviously can only take one person at a time.
If you're feeling brave you could even hire your own motorcycle or scooter, but remember the roads are always very busy so be prepared! However you choose to travel around the city, you can find some amazing things to do in Ho Chi Minh wherever you end up.
Top things to do in Chiang Mai
Notre Dame Cathedral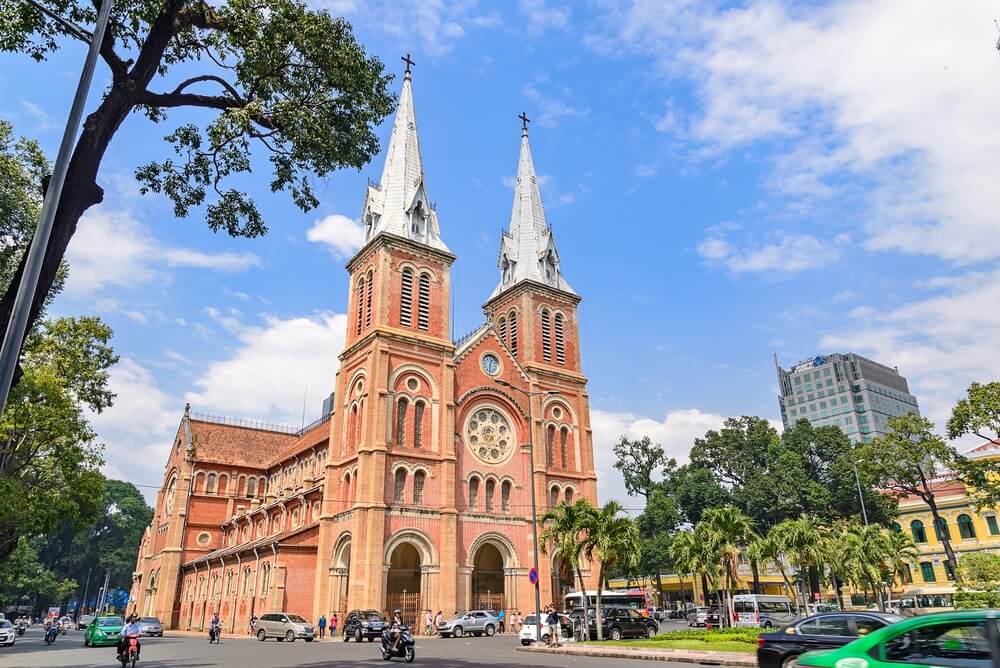 As you would expect, the beautiful Notre Dame Cathedral was constructed by the French during its colonial period. Today, it's one of the few remaining Catholic churches in the city. This alone makes it one of the best things to do in Ho Chi Minh City, especially if you can't make it to Paris!
This stunning creation was built in bright orange stone and features ornate detailing with twin bell towers (58 meters high!). The interior is quite plain, but a striking feature here is the 3D tiled floor that runs down the central aisle. You'll likely find the Notre Dame Cathedral on many Ho Chi Minh City travel guides given its rich historical ties and impressive architecture.
The church is conveniently located right in the center of Ho Chi Minh, so is easily accessible from wherever you are in the city - making it one of the top things to do in Ho Chi Minh city. There's no entrance fee if you want to visit the cathedral, but it does have strict opening times. It's open daily from 8.00 to 11.00am and from 3.00 to 6.00pm. On Sundays there are also regular worship services, which you can attend if you wish.
Central Post Office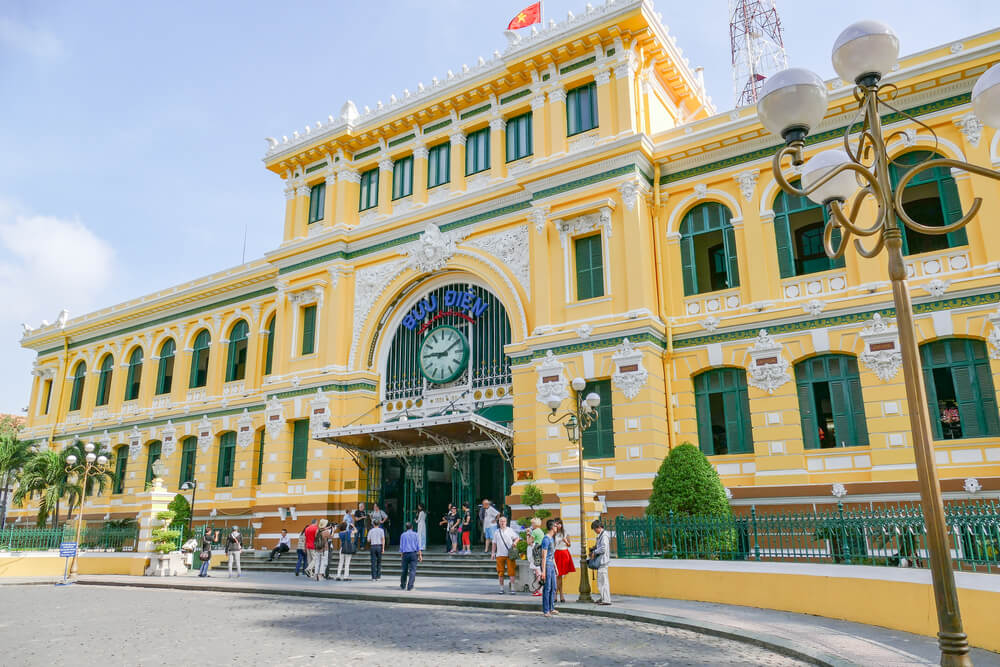 Right opposite the Notre Dame Cathedral you'll find another famous building that's considered to be one of the best places to visit in Ho Chi Minh City – the Central Post Office. This building is also (like many others) built in a French colonial style. The design was made by Gustave Eiffel, who also designed the Eiffel Tower in Paris.
The Central Post Office is nowadays a tourist attraction, but still serves as a real post office so if you've got any postcards to send home, here's your chance to send them! The interior is beautiful and makes for a great photoshoot backdrop (you've probably seen images of it on Instagram).
During the week the Central Post Office is open daily from 7.00am to 7.00pm. On weekends it closes at 6.00pm. There is no admission to visit the building.
The "Pink" Church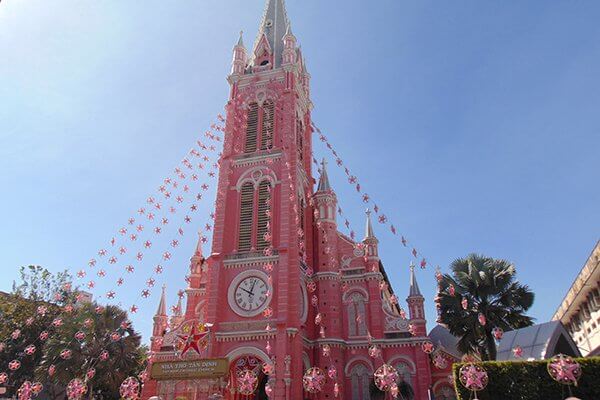 Tan Dinh Church Saigon is a Romanian-style church in Ho Chi Minh City. Its intricate Gothic and Renaissance elements have managed to survive Vietnam's turbulent periods and it has now become a popular sightseeing destination in Ho Chi Minh City for tourists.
Built in 1876 and spanning 60 meters in height, it's widely regarded as the second biggest church in Ho Chi Minh City, after Notre Dame Cathedral. So, why is the church such a popular tourist hotspot? The church is actually bright pink! This unique feature makes it an incredible place to get some vacation snaps for your Instagram, and one of the best things to do in Ho Chi Minh City as a whole.
Located on Hai Ba Trung Street in District 3, Tan Dinh Church Saigon is a 10 minute taxi ride from District 1. Whilst you're exploring the area, stop by at the nearby Tan Dinh Market to browse through the extensive collection of fabrics, bags, clothing, and produce, as well as delicious (and inexpensive) street food. The church is also close to Le Van Tam Park, where you can take a much needed breather from the hustle and bustle of the markets!
Minh Dang Quang Pagoda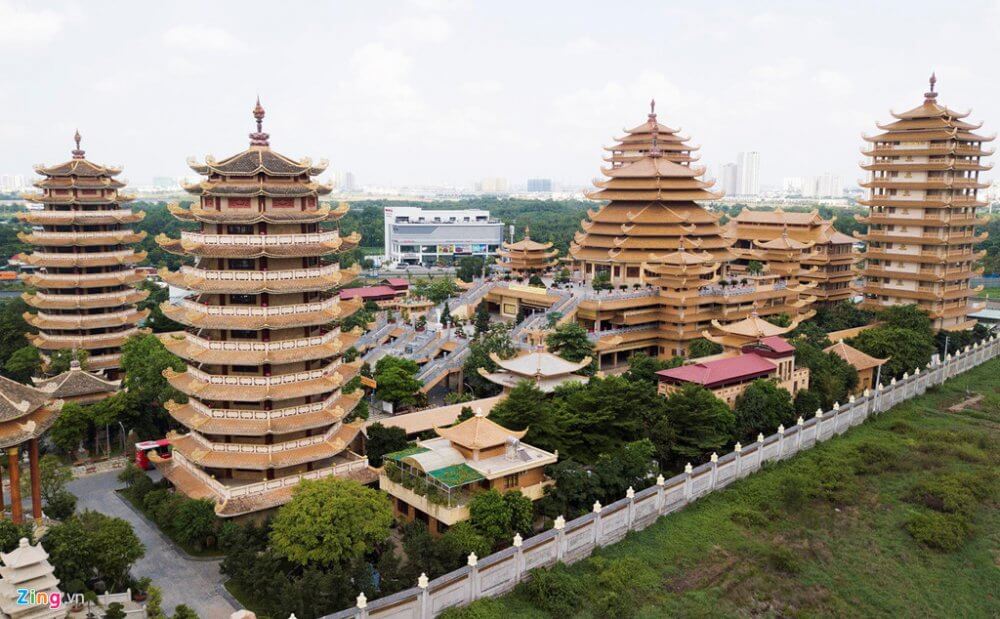 If size impresses you then this is the temple for you. Named after the monk Minh Dang Quang, an influential figure in Buddhism in Vietnam, this 70 meter high three-story structure is the focal point of the Minh Dang Quang Buddhist Institute. Located on a plot of land between Mai Chi Tho and the Hanoi highway, its Chinese architecture is in stark contrast to the modern high rise blocks around it.
Take the steps to the octagonal room on the top floor where a huge golden Buddha sits, a great viewpoint over the city - and the roofs of the buildings below are all covered in lotus leaf tiles!
There are many pagodas worth visiting in Ho Chi Minh City, but if you're looking for something out of the ordinary, you have to check this one out! Especially as you're unlikely to pass by this one on foot (it's a little further out from the city) but it's worth the taxi ride. Its amazing history and cultural significance makes the pagoda an amazing thing to do in Ho Chi Minh city.
Cu Chi Tunnels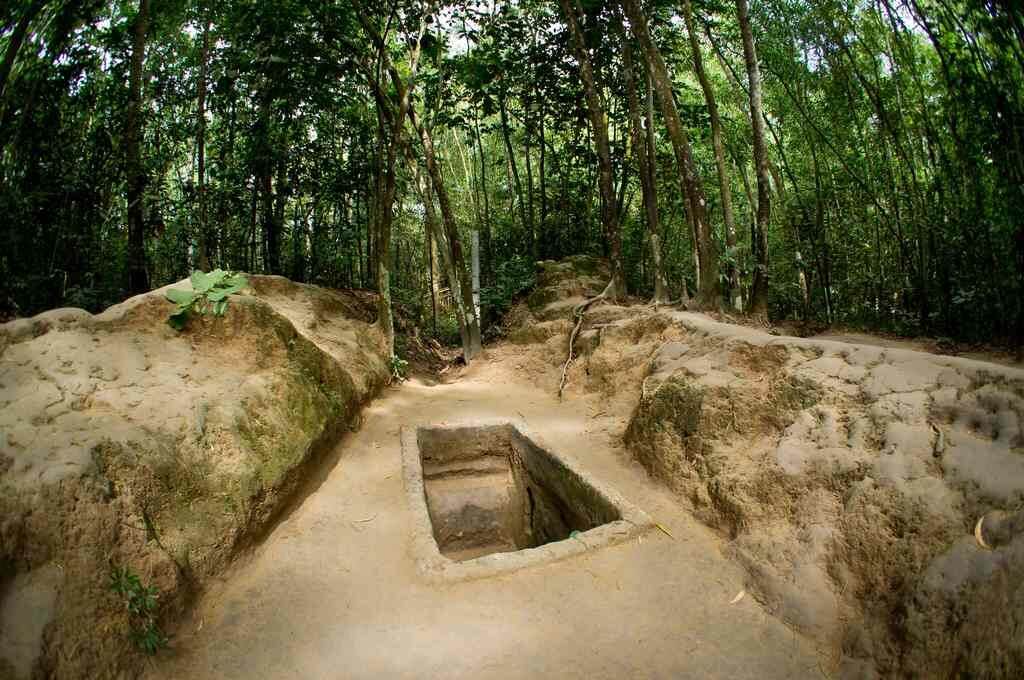 Throughout the Vietnamese War, the Viet Cong built an extensive network of tunnels to move around the countryside undetected by their enemies.
Soldiers could spend long periods of time underground in extremely small spaces which you can see with your own eyes when you visit the Cu Chi Tunnels. These tunnels are the best preserved example in Vietnam and they are fully open to the public to explore - it's no surprise so many people include this on their Ho Chi Minh City travel guides!
You can even have a go at crawling through the tunnels yourself, but if you're a little claustrophobic, you might want to give that part a miss! Even if you do, there's plenty to see and explore if you take a visit to Ho Chi Minh.
The Cu Chi tunnels are located about 70 kilometers from the center of Ho Chi Minh City, so the best way to see them is on an organized day trip. If you fancy combining your visit with an awesome Me Kong Delta experience and an extra special temple, check out our all-inclusive Cu Chi Tunnels & Mekong Delta Tour.
Me Kong Delta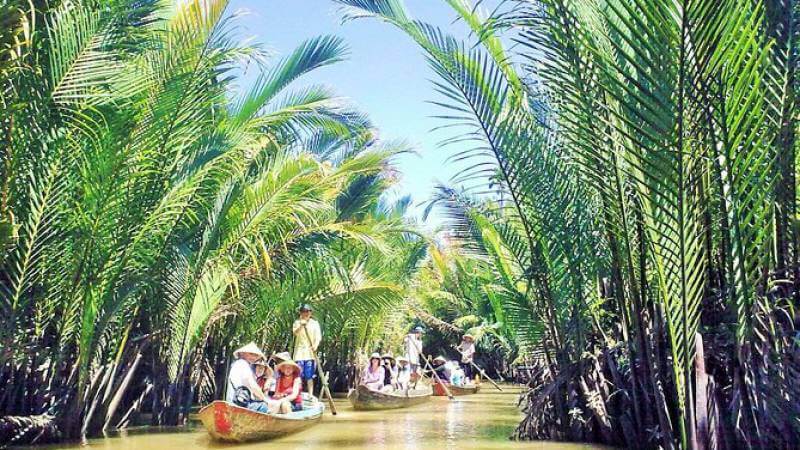 Another Ho Chi Minh right of passage, is experiencing the famous Me Kong Delta River. Known as the city's lifeline, the river holds so much importance to the people of Vietnam.
If you want to experience more of the 'real' Vietnam, this is undoubtedly one of the best things to do in Ho Chi Minh City. Take a trip down the river in a traditional paddle boat and pass local villages, beautiful scenery, mangroves and many other highlights.
Learn about years old traditions and get stuck in to Vietnam life by immersing yourself in this famous river.
Ho Chi Minh War Remnants Museum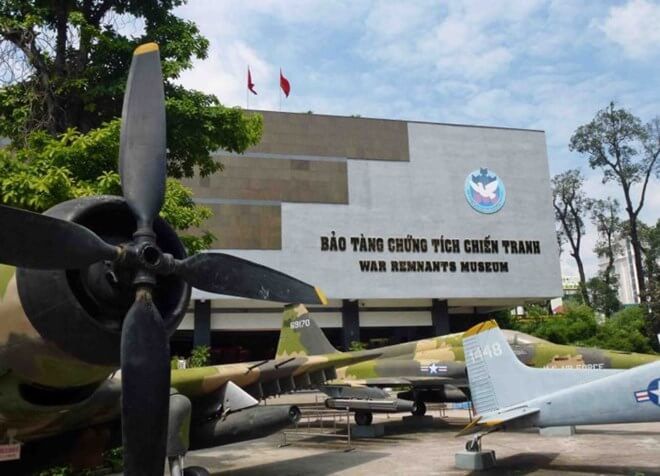 The war in Vietnam is something that should not be forgotten, and the War Remnants Museum pays tribute to what happened during this 30 year period.
Within the grounds, you'll learn about the history of the war and see actual relics such as tanks, weaponry, and aircraft that were used during the conflict. If you're interested in the history of this amazing place, it's definitely something you should do in Ho Chi Minh.
There is a plethora of information about details and tactics that were used by both sides (some of the images are pretty shocking, so just be aware if you have kids with you), it's an eye opening experience and one that you definitely won't forget. It's a sombre visit but one that you absolutely have to do to get a truly balanced picture of Vietnam's history - a must if you're in the process of curating your own Ho Chi Minh travel guide.
For those who are interested in this subject, it is definitely worth a visit. The museum is located centrally, so is really easy to get to. It's open 7.30am to 5.00pm daily and entrance is 15,000 VND (less than $1) per person. Check out our Ho Chi Minh Most Historical Spots & War Museum Tour to combine with even more culture and history!
Bitexo Tower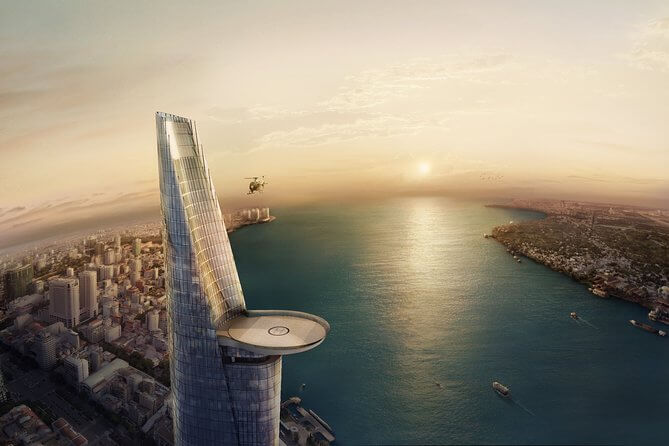 The Bitexo Tower is the tallest in Ho Chi Minh City and serves a dual purpose. Firstly, as an office block and secondly, as a tourist attraction with a fantastic sky-deck. At 262 meters tall, the Bitexo Tower offers unparalleled views of the city and the Song Saigon River, making it the perfect place to watch the sunset over the city whilst sipping a delicious cocktail after a long day of exploring one of the best cities in the world! You can't miss the Bitexo tower if you're looking for things to do in Ho Chi Minh!
For the ultimate Ho Chi Minh city experience, combining all of the must-see spots in the city (all in one day) have a look at our HCMC Instagram Tour. We can't wait to hear from you!
Get your VACATION on!
Expertly curated emails packed full of vacation inspiration, travel tips and more!