 Top 3 Romantic Dates In Bali For Valentine's Day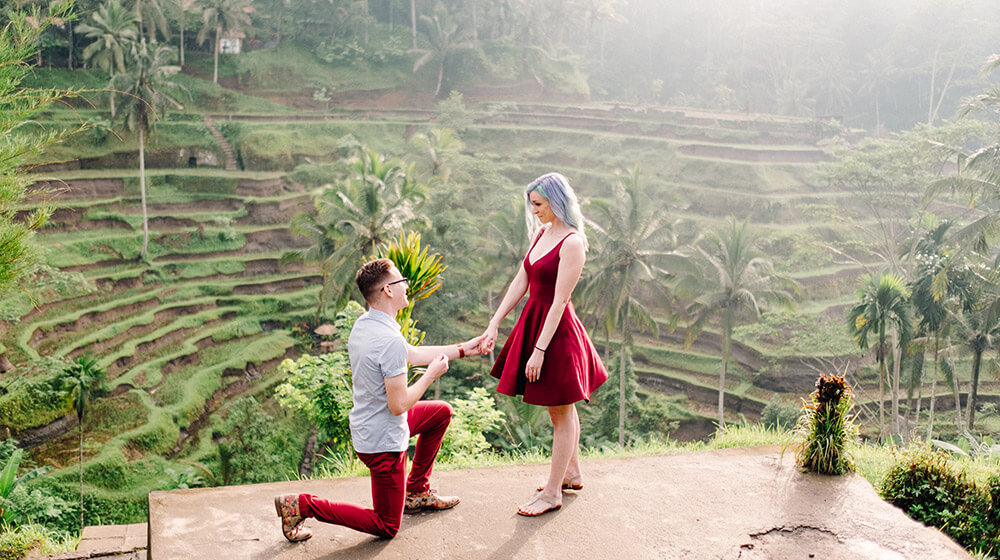 Destinations
Destinations
Blog detail
Bali is gorgeous, there's no doubt about that. The beaches, the forest, the weather, the people, the food, … We fell in love with the island immediately, so why wouldn't couples do the same? Bali's nickname is 'Island of Love' after all.
So are you looking for a romantic spot to celebrate Valentine's Day? Do you want to impress your boy- or girlfriend by organizing a day they'll never forget? Do you want to make your magical holiday even more memorable? We listed down our three favorite romantic getaways. And we promise not to tell your date about this blog. Feel free to take all the credit, you did this all by yourself! PS We are not responsible for possible marriage proposals.
1. Watch A Romantic Sunset
Sunsets scream romantic date and lucky for you, the island is packed with spots to watch the sun go down with your one and only. Especially in the (south)west of Bali. The Uluwatu Temple, just to name one, is a well-known option. The temple is located on a rock near the beach, so the view is spectacular. It might be a little crowded, but you'll definitely feel the love and the good vibes!
Do you prefer to make this a 'just the two of us-experience'? Any beach in the area will do just fine! You might want to bring bubbles and a blanket though.
If you want some food with your sunset, the El Kabron restaurant is the perfect spot for your Valentine's date. Chilling on a sunbed, sharing some Spanish tapas, watching the sky turn orange and pink. Once the sun has gone down, it will be eyes on you for the rest of the night. We promise!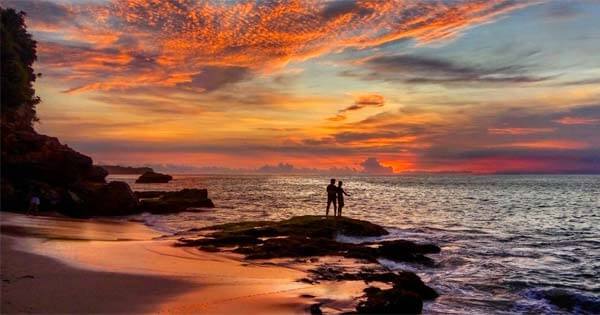 2. Take A Bird Nest Couple's Pic
Walking hand in hand down the green rice terraces, experiencing new things together. And that on very slippery steps. Chances are you'll have to be rescued be your Prince or Princess Charming when you trip. How's that for the start of a romantic love story?
After that, go to one of the coffee plantations. With bird nest! We'll come to why that is important right away. Order a tea and coffee tasting and get comfortable in the relaxing surroundings. Sip some tea while holding hands, talk about your day and look into each other's eyes. Bliss!
And if you thought this is as romantic as it gets, think again, because this is where the bird nest comes in. Climb in one of the giant nests, get really close and cozy and when the photographer makes you say cheese? Kiss! You'll be showing this pic to your grandchildren later!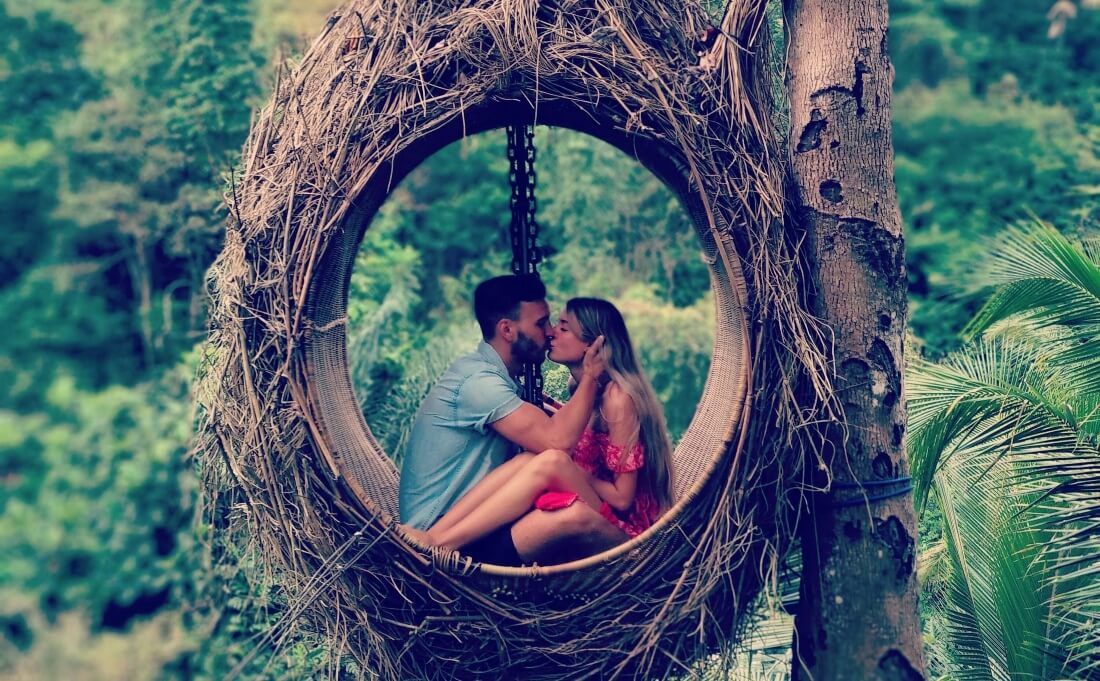 3. Go To The Spa
Look good, feel good. Right? So why not turn this Valentine's Day into a Spa Day? A whole day of being pampered and smelling good. A nice treat after a holiday filled with climbing mountains, visiting temples and surfing. This day is about you and only you. So enjoy it, together.
The Island of Love is home to many spas and couple packages are definitely a thing. So take a bath at together, at Karsa Spa, filled with carefully chosen flower petals. Flower baths are one of Bali's hallmarks after all. At Remède, you get champagne drizzled all over your body, followed by a relaxing massage.
Secretly open your mouth if you want some of the good stuff. If you want to go all the way, order the chocolate and almond scrub at Five Elements. Beware though, you might want to eat each other afterwards.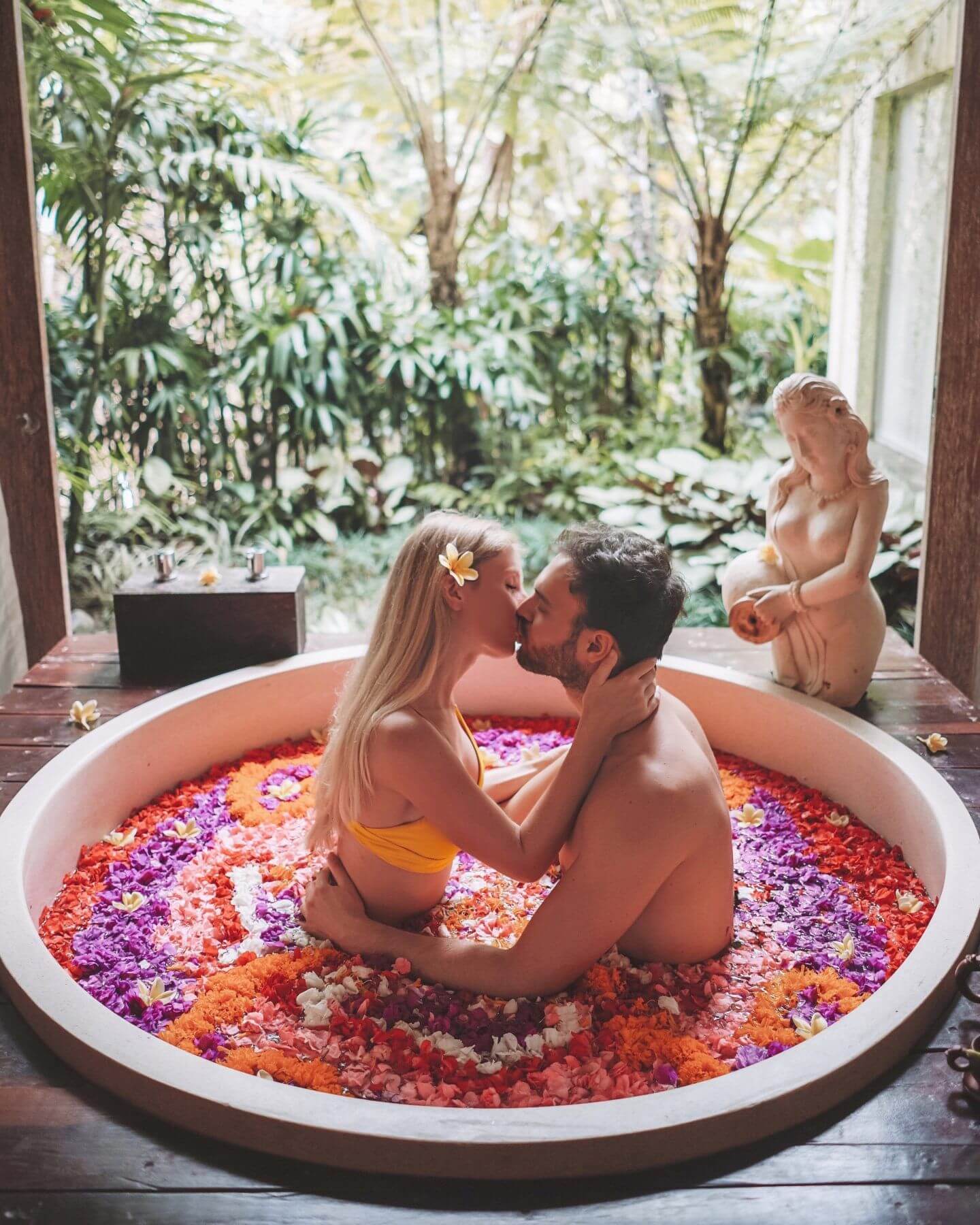 2 years ago
Get your
Vacation on!
Vacation more, get inspired
Expertly curated emails packed full of vacation inspiration, travel tips and more!
Expertly curated Emails for travel inspiration, vacation tips and hacks and much more! Subscribe and upgrade your traveler skills with Forevervacation.