Top 5 Beaches For Surfing In Bali
Top 5 Beaches For Surfing In Bali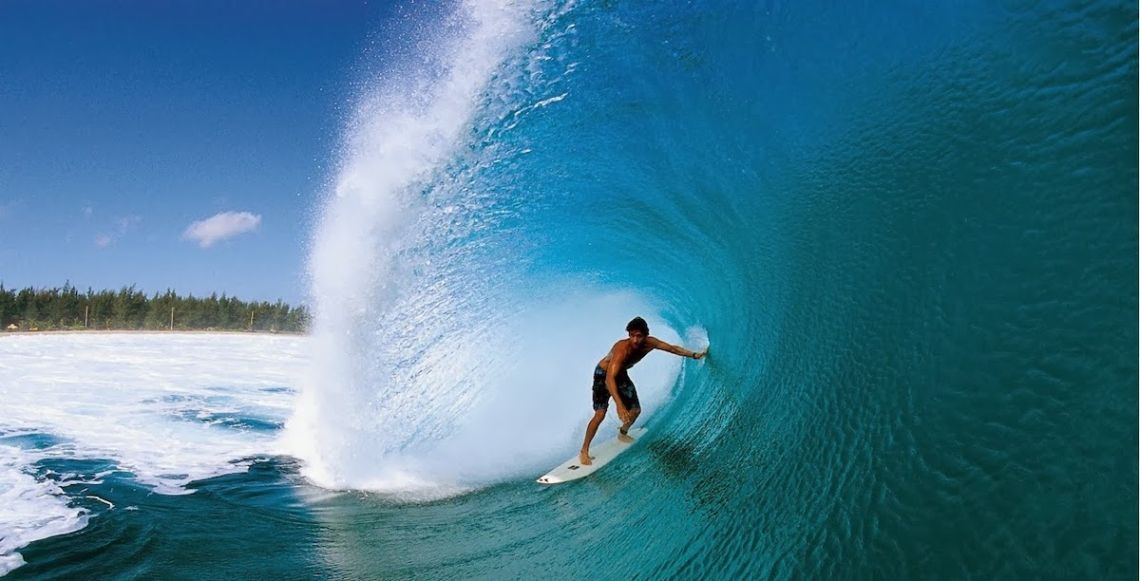 Always dreamt of shredding some waves in the tropical waters of Bali? So have we! Many tourists visit looking for private tours in Bali of temples, jungles and waterfalls while others head to Bali with the goal of learning to surf. Known as a surfers paradise due to it's clean glassy conditions and perfect peeling waves - Bali is the top place for beginners and seasoned surfers alike!
But with so many beaches to choose from, it isn't easy to know which ones are home to the best surf conditions. We're here to give you the low down on our favorite beaches to surf and what time of year is going to give you the best shot at catching that wave.
Our Best Selling Tour
All-Inclusive

VIP Private Boat to Nusa Penida: Snorkeling with Mantas + Land Tour

Our Nusa Penida Private Boat Snorkeling Tour is one of our newest and most anticipated tours in Bali! On this tour in Bali, you'll get to island hop on a private boat, visiting some of the most beautiful bays in Bali including GT Bay, Manta Bay, Gamat Bat, Crystal Bay and more. You'll also get to enjoy a stunning viewpoint from atop Kelingking Cliff with your personal tour guide doubling up as a professional photographer. This is truly a one-of-a-kind Bali tour that you won't want to miss!
1. Balangan Beach
Balangan Beach is a hidden gem of a surf spot, nestled in South Bali on the Bukit Peninsula about 30 minutes away from Denpasar airport. Best in the dry season (April - October), this beach is a great place for beginners when the waves are small (about 3 - 5 feet) and the tide is high.
Although, intermediate and advanced surfers can surf at all tides - just be careful of the reef bottom! You even have a chance of 'getting barreled' when the tide is low enough. If you're looking for some guidance definitely check out Dawn Patrol Bali Surf School - they provide surf guiding and lessons for fresh beginners to advanced surfers.
These guys are a great bunch and will provide you with actionable feedback for your surf progression all whilst having a laugh, so expect to have some fun! The beach also features a host of tasty yet really affordable warungs (restaurants) where you can get a rice (nasi) or noodle (mie) based dish for less than $2!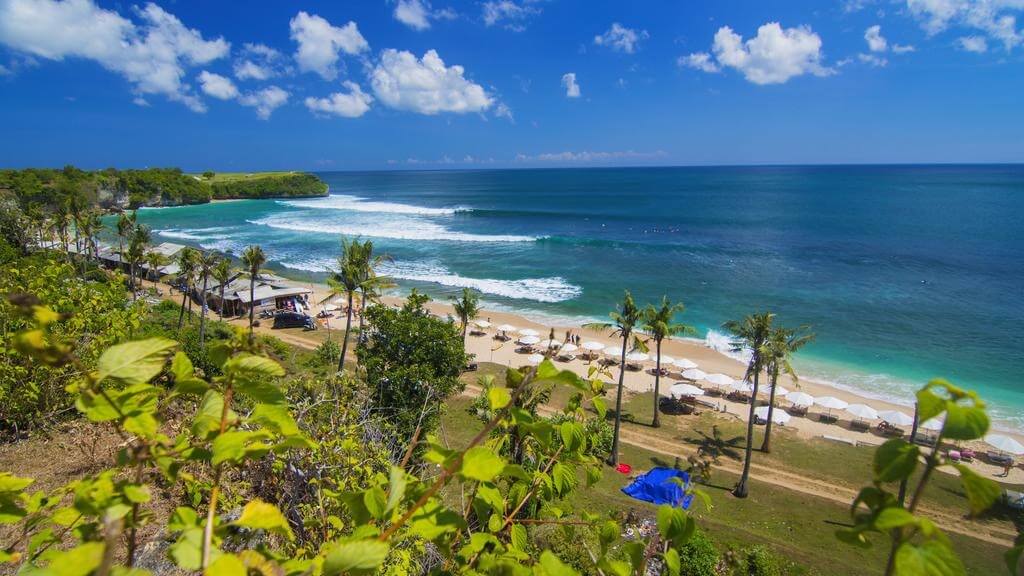 2. Uluwatu Beach
Uluwatu is probably the most famous surf beach in Bali due to some of the most famous surfers in the world favoring the spot. Not much of a sandy beach, the wide reef break is set below a huge cliff face - so be prepared for the steep climb down a lot of steps!
As the currents here can be a bit tricky and the lineup is usually pretty crowded (and competitive), this one is definitely for more advanced surfers. However, as some of the best surfers in the world hang out here often, it's a great place to chill and get inspired from watching the professionals do their thing!
There are plenty of warungs and cafes to grab yourself a refreshment and the well-known 'Single Fin' bar is perched right at the top of the cliff - an amazing place to watch the sunset surfers in style!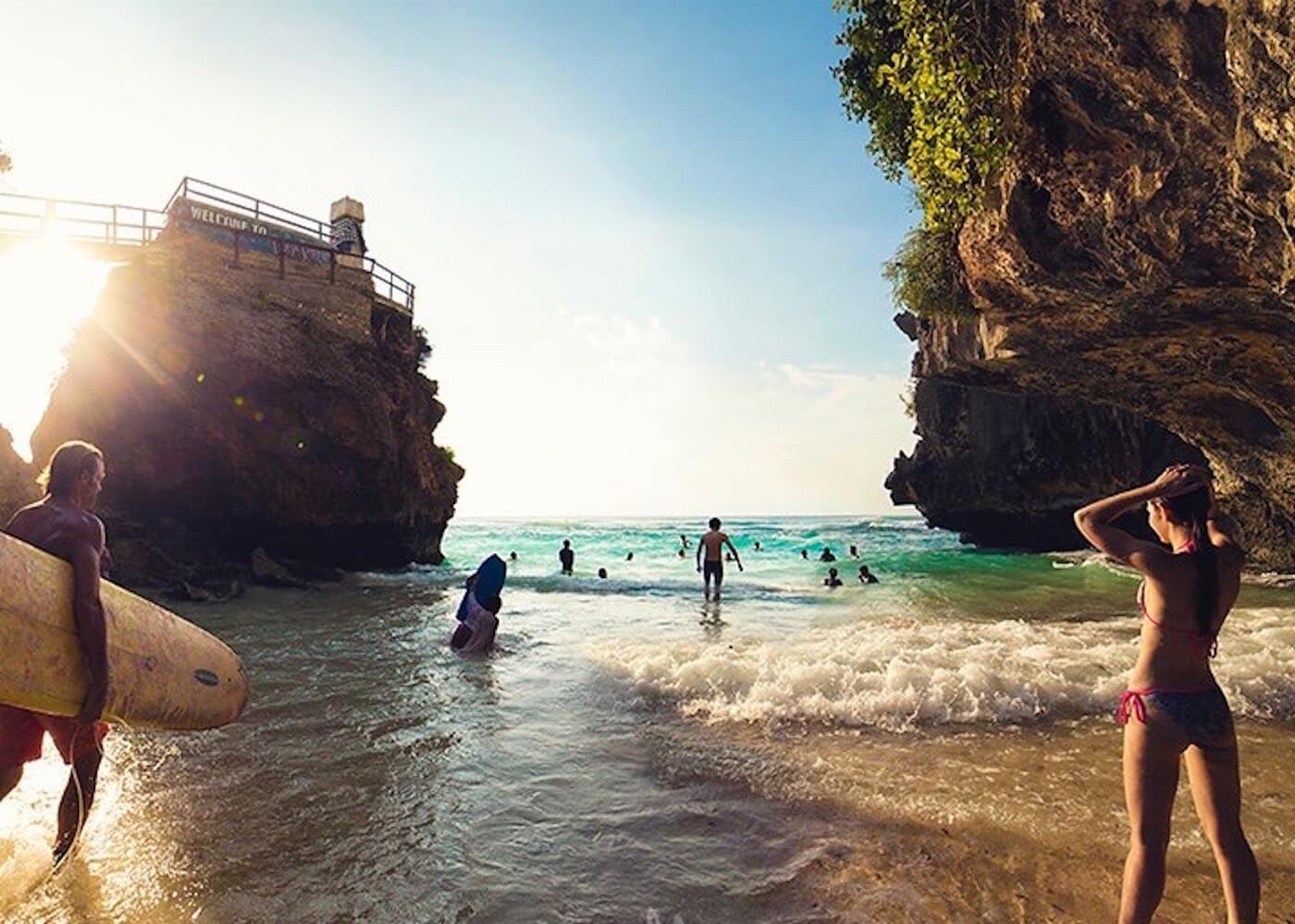 3. Padang Padang Beach
Padang Padang Beach is another great one for beginners. This is a go-to if you're a bit of a novice, featuring a mellow left-hander wave and a perfect channel that allows an easy paddle-out.
This spot is usually best in the dry season, although even in the wet season it's pretty consistent - plus the line-up will be less crowded then! As it's a reef break, surfing when it's high tide is definitely recommended. Again, heaps of local surf coaches will be happy to help you at a very reasonable price.
This beautiful beach is one to visit even if you don't fancy a surf - it was featured in 'Eat Pray Love' starring Julia Roberts, so a snap here is definitely worthy of an instagram!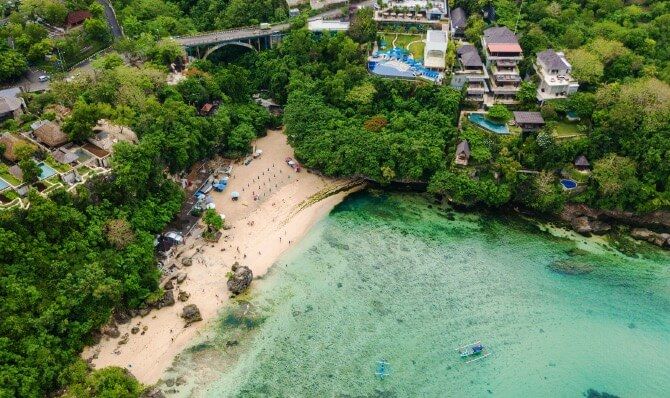 4. Nusa Dua Beach
Nusa Dua is located on the South-East side of Bali, so head here for a surf during the wet season when the likes of Balangan and Padang Padang are too windy. This stunning location has a huge stretch of white sandy beaches all with consistent right-hand breaks.
Again, it's best to come at high tide and to go with a local surf guide if you're not completely sure about the currents. Nusa Dua is host to a huge number of fantastic hotels and resorts so be sure to check some out and relax in luxury once the surf has tired you out!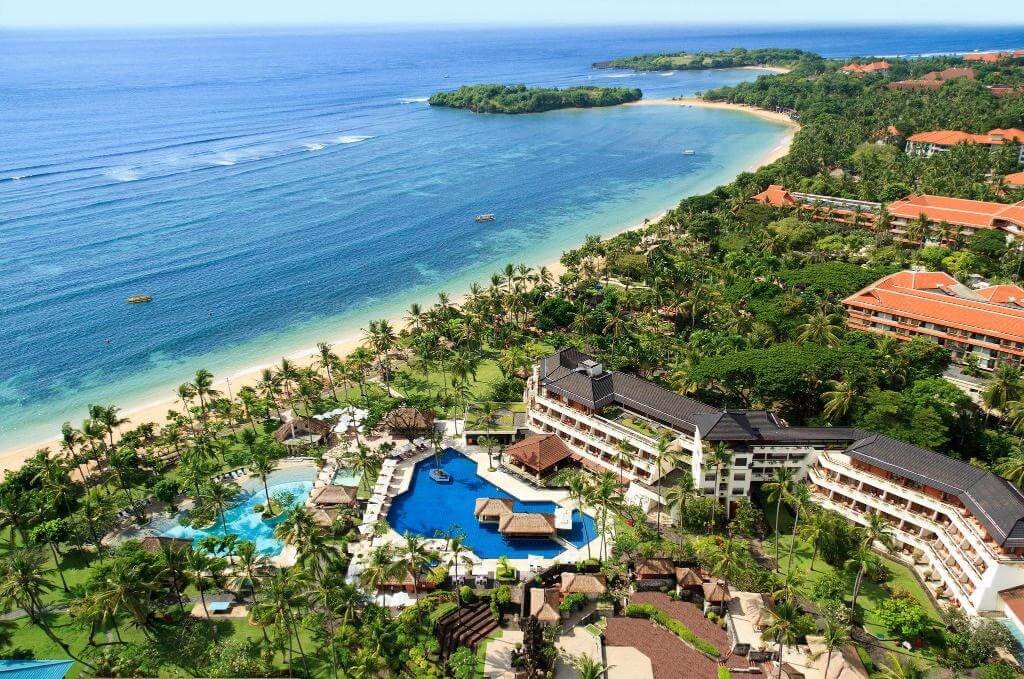 5. Medewi Beach
Medewi Beach is a beautiful rocky beach situated in the west part of Bali, around 3 hours from Denpasar. Known as one of the best surf points in Bali, it attracts local and international surfers alike. Featuring fat waves and long left-handers, this an intermediate (and above) surfer's dream in the dry season.
Far away from the party areas of Bali, expect a peaceful and relaxing atmosphere. The sunsets are also spectacular here - a great place to get away for a few days and enjoy the simple Bali lifestyle!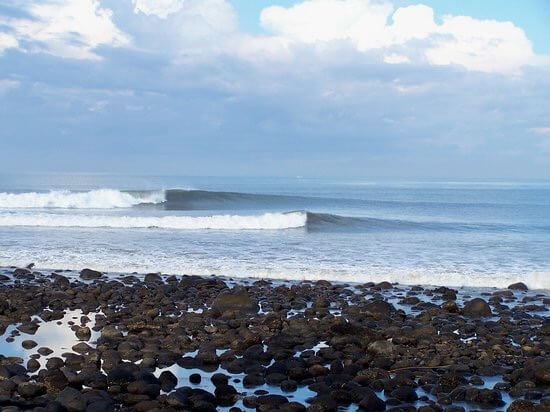 Now go shred some waves!
Get your VACATION on!
Expertly curated emails packed full of vacation inspiration, travel tips and more!