Top 7 Family Friendly Activities to do while you're in Bali
Top 7 Family Friendly Activities to do while you're in Bali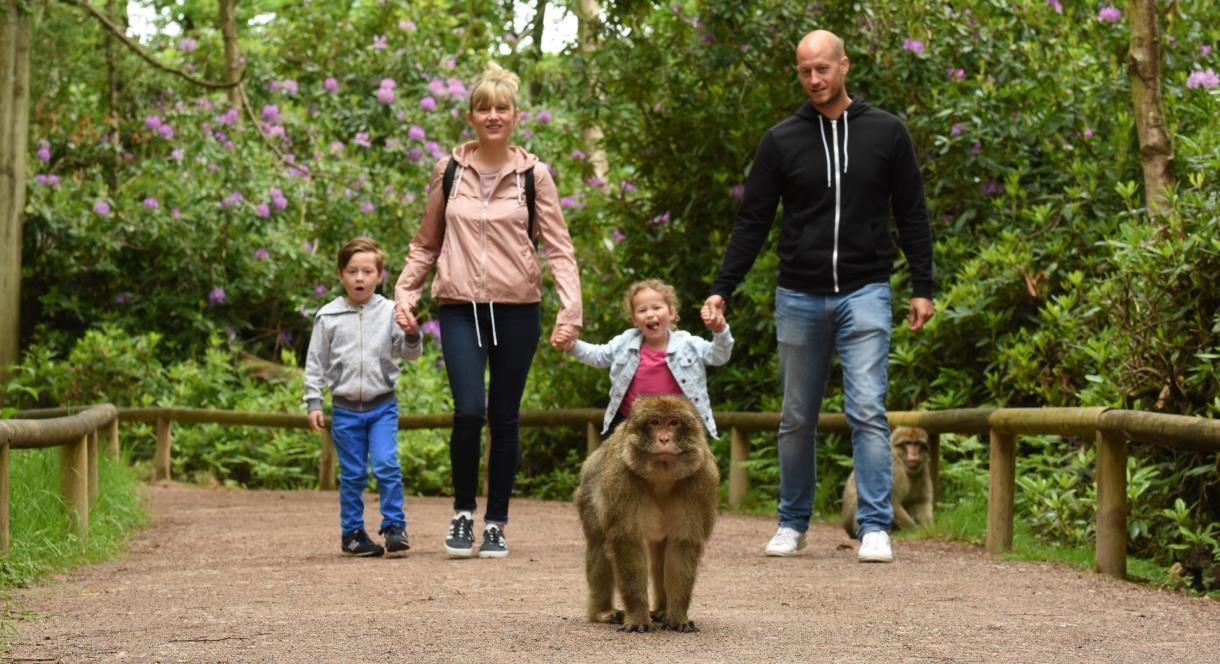 Your bags are packed, the kids are excited, and it's the vacation you've all been waiting for. As one of the most family friendly islands in the world, Bali is the perfect destination to bring the entire gang!
We cannot wait for your family to create the best memories, lots of smiles, and a great time all around! Don't forget, island life is extremely laid back, relaxed, and easy-going! As parents, make sure to soak it in, enjoy yourselves, and take this blog as a big early welcome to the island!
Monkey Forest
Bring your little monkeys to meet the ones that live in this forest! A huge hit for the entire family, we highly recommend taking a visit to the Monkey Forest in Ubud! Entirely different from a zoo experience, you have the chance to interact directly with the animals living in this lush green forest.
Famous for their interactions with tourists, don't be surprised if a monkey climbs on your shoulder or even steals a snack! Please do be very careful while visiting as any aggressive behavior can agitate the wild animals! We want everyone to have a great time!

Spend an Afternoon at the Waterpark
Villa pools are an awesome time, but the waterparks in Bali are next level! With splash pools, waterslides, and an extensive lazy river, spending the day at one of Bali's top waterparks will be the perfect outing to escape the jungle life.
With tons of rides for all ages, this is an activity everyone is sure to love. With hot temperatures year-round, this is also a great option to keep for the days the kids just want to stay cool! With a variety of parks around the island, we love to recommend Waterbom Bali!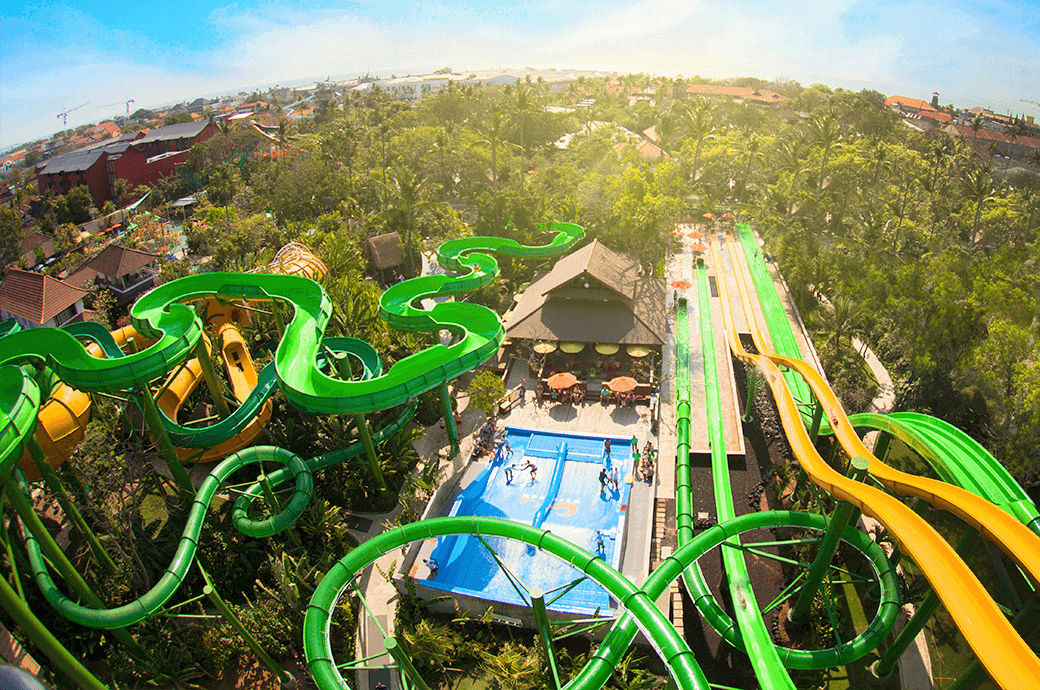 Take a Cooking Class
We know how much your little helpers are always dying to help out in the kitchen – this is a unique experience that'll really make your vacation really stand out! With such a rich culture and diverse background, Balinese food is equally so delicious and rich in flavor.
Without realizing it, you'll be ordering Nasi Goreng and Chicken Satay every day! Take the opportunity to put your little ones in chef aprons and enjoy an afternoon of slicin, dicin, and tons of fun in the kitchen! With well-equipped cooking classes across the island, there are tons of classes and tours for your family to join!
The cooking class we always recommend to our guests is Nia Cooking Class in Seminyak.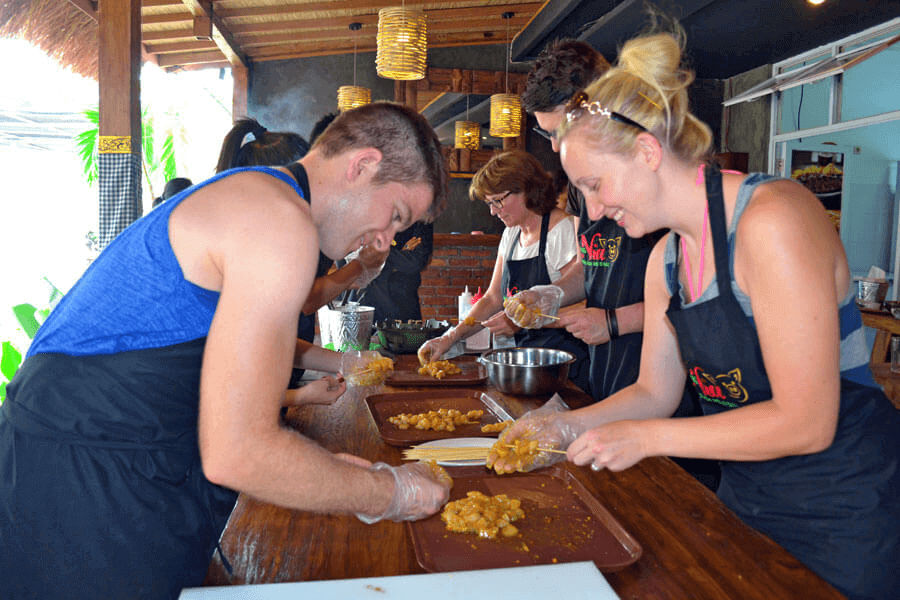 Visiting Uluwatu and watching the Kecak dance
The Kecak dance is iconic in Balinese culture! It's always fun to enjoy a luxury lifestyle on your island getaway but indulging in Bali's rich heritage is a really amazing experience all together.
Join us on our specially-curated Uluwatu Instagram Tour where we'll get to watch the famous fire dance happen! Did you know that this dance has been performed since the 1930s but the first women's group only began in 2006?
Such interesting history! Prior to the dance we'll take to you experience Uluwatu's gorgeous white sand beaches and crystal clear water. Skip the scams and let our tour guides take care of all your needs – your family deserves it.
Our Bali Finest Tour Choice
All-Inclusive

Bali Dinner Cruise & Uluwatu Temple Experience

Looking for something special to do on your next trip to Bali? Consider our beautiful Bali dinner cruise, a Bali tour you'll never forget! You'll get to experience the sacred Uluwatu temple on top of a cliff with amazing ocean views, and enjoy a delicious meal and live music on your own private sailing. Perfect for a romantic trip or a night out with friends, this tour in Bali isn't one to miss on your vacation of a lifetime! Book our Bali dinner cruise tour now and make memories that will last a lifetime.
Cycling in Bali
The best way to enjoy the outdoors is to get active! Try a different mode of transport and off-road on a cycling trip through the rice fields of gorgeous Ubud! With stunning views and amazing dirt trails, the entire family will enjoy this relaxing activity to see Bali in a different perspective.
It's the perfect opportunity to get everyone exercising and bonding at the same! No better way to finish than a smoothie bowl at Café Pomegranate!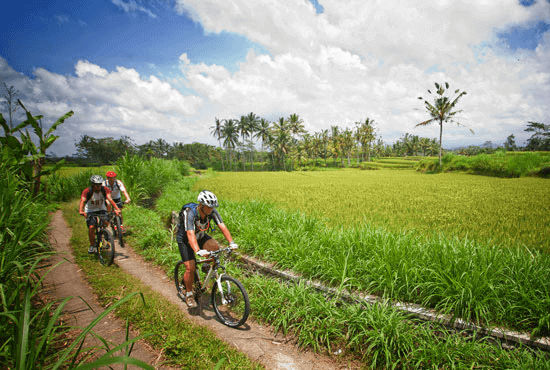 Elephant Bath & Breakfast
As Asia is iconic for animal life sanctuaries, it's really important to visit a rescue which properly provides and cares for their animals. As true animal lovers, we've worked hard to find an elephant park that checks all the boxes. As Bali locals, we encourage travelers to join us on this experience because we see the importance of having human interaction with animals.
Both children and adults get the opportunity to understand a new way of life in a safe environment. Plus, their baby elephant rescues are the cutest things! Join us on our Elephant Bath & Breakfast Day Tour.

Bali Jungle Swing
Treat your munchkins to something a little different than your backyard swing. Visiting Bali Jungle Swing in Ubud will be one of their most memorable days on vacation!
With human-size bird nests, photo opportunities and massive swings, they won't know which one to do first! We've specially curated our Bali Instagram tour: Most Famous Spots to have something for everyone!
Of course, the teens will get tons of great snaps for their Instagram, the parents get the chance to explore historic temples, and the little ones will look forward to the biggest swing they've ever been on. Our guides always go the extra mile to make it a fresh fun tour like no other!
Get your VACATION on!
Expertly curated emails packed full of vacation inspiration, travel tips and more!