Where To Find The Best Street Art In The World
Where To Find The Best Street Art In The World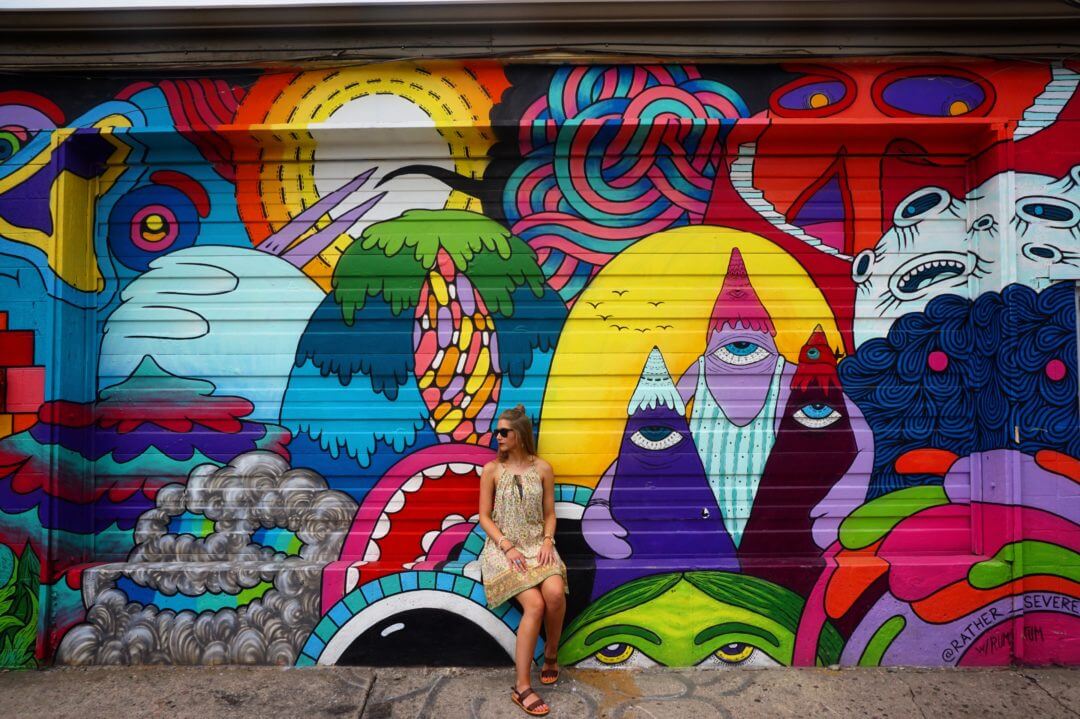 If you're anything like me then art plays a big part in discovering a different culture, and in my opinion some of the best art in the world isn't in art galleries. It's on broken brick walls down tiny winding streets, on the corners of dilapidated buildings and emblazoned on old advertising boards.
Street art is a unique form of expression as sometimes it is not exactly legal, but to me, that makes it even more interesting as it feels more rebellious and honest. It tells the truth about a culture or a historical moment, and whether it is legal or not it can be thought-provoking and impressive.
There are some truly talented street artists out there and people flock to see their work. Now, more and more cities are beginning to legalize street art and even fund new projects as it attracts tourists and brightens up an otherwise pretty bleak cityscape.
So to get your fill of culture (free of charge) and get some incredible holiday snaps, here are some of the best places in the world to find street art.
1. Dublin, Ireland
Dublin has always been known to be full of creatives and musicians, but now it is also full of street art! In 2015, the Dublin Canvas Initiative was announced and since 192 grey metal traffic light control boxes have been transformed into works of art. The project is still ongoing with many more still waiting to be painted.
The initiative has also inspired even more colorful artworks that have started popping up all over the city. Now, the once beige city is awash with color and culture to feast your eyes on!
Where: Drury Street, Tivoli Car Park, Temple Bar, Love Lane, Richmond Street
Who: Joe Caslin and Maser are some of the cities well-known resident artists
What makes it special: The streets of Dublin feature some of the best life-like portraits of some famous faces you might recognize.
2. London, UK
London has one of the most vibrant and exciting street art scenes in the world. Some would say this city is where it all began. 'The home of street art', London is not the cheapest place to visit but at least you can look at the amazing street art for free. As London is so big, there is a wide range of artworks from classic old-school graffiti to modern contemporary pieces.
Where: Leake Street Tunnel, Brick Lane, Shoreditch, Hackney Wick, Camden
Who: Stik, D*Face and of course, Banksy
What makes it special: You can see many of Banksy's original art works.
3. Mexico City, Mexico
Street art with historical significance has been a part of this city for many years. But it recently became even more colorful after the 'All City Canvas' initiative came into play. The graffiti art created for this was legal with 9 different artists (both local and foreign) making contributions - and the results are amazing!
Where: Historic Centre, Coyoacan, Roma-Condesa, La Romita, Plaza Luis Cabrera
Who: LELO, Sego Ovbal, Seher One, Beo Hake
What makes it special: Many of the artworks tell stories of hardships from growing up in Mexico.
4. Lisbon, Portugal
In recent years, Lisbon has really upped its game in the world of street art, and it is now known as one of the most influential cities in this world. Now, pieces that were once dubbed as criminal acts are worshipped as modern day masterpieces. In 2011, the 'Crono Project' commissioned artists to paint a number of neglected buildings.
Covering a range of themes such as pop culture and abstract art, there is plenty to keep you entertained here!
Where: Mouraria, Bairro Alto, Alcântara, Alfama, São Vicente, Graça
Who: Vhils, Bordalo II, Tamara Alves
What makes it special: There's even an app where you can find more than 160 pieces to see across the city!
5. New York, USA
New York is a city rich in culture and history, and it has some of the most impressive street artworks in the world. Here, artworks can cover entire buildings! Street art here was born in the 1970s and since the graffiti has got bigger, better and more colorful. You can find amazing pieces around almost every corner so keep your eyes peeled.
Where: Freeman Alley, The Graffiti Hall of Fame, Houston Bowery Art Wall, 100 Gates Project
Who: Keith Haring, Martha Cooper, Shepard Fairey, Henry Chalfant
What makes it special: Here, anyone can be a street artist and some of the most famous artists are the least likely suspects!
6. Melbourne, Australia
Street art became popular here in the 1970s and 80s after artists were inspired by the graffiti revolution happening in New York City. Known as Australia's art and creativity hub, it's no surprise that Melbourne is home to some amazing street art. Melbourne is already a pretty city, but it's colorful artworks make it even prettier.
Where: Fitzroy, Collingwood, CBD
Who: Slicer, Deams, Adnate, Li-Hill, Lucy Lucy, Itch
What makes it special: Melbourne's creative vibe makes it different to any other city in Australia.
7. Paris, France
Street art may not be the first thing on your mind when you think about visiting Paris, but trust me, it's up there with the city's top sights to see! Each piece tells a unique story about the city. It has just been announced that more street art projects will be funded in the years to come, adding to the already long list of amazing artworks.
Where: Rue Saint-Maur, Rue Oberkampf, Rue Riquet, Rue des Cascades
Who: Invader, Blek le Rat, Banksy
What makes it special: The city is alive with eccentric artists and performers who are not afraid to express themselves!
8. Lodz, Poland
In Lodz, there are street artworks that are splashed across 10-story high buildings - that's how big they are! I know what you're thinking - how is it even possible to create an artwork so large? They really are awesome to witness in person. In 2009, 20 of these massive artworks were commissioned to attract tourism and investment and the results are incredible.
Where: Piotrkowska Street, Fabryczna, Śródmieście
Who: M-City, Bezt and Sainer from the ETAM Crew
What makes it special: The largest collection of artworks that are SO big!
9. Sao Paulo, Brazil
In addition to being the financial hub of the South American continent, São Paulo is one of the most creative and culturally diverse cities in the world. It has produced some of the most amazing artists and murals. However, unlike other countries, the government is not getting on board with the street art movement.
The mayor has threatened to paint over some of the artworks he claims are 'visually polluting' the city!
Where: Vila Madalena, Beco do Batman, Beco do Aprendiz, Cambuci
Who: Os Gemeos, Rui Amaral, Binho Ribeiro, Kobra
What makes it special: The city features artworks from artists in such different styles yet they all seem to compliment each other so well.
10. Berlin, Germany
Street art is a huge part of what makes Berlin, Berlin. It is featured all over the city and for good reason. As a city that has often faced division and oppression , street art was used as a way for every day people to speak out against the government. Now, the city has a thriving scene of international contributors.
Artists are even running out of space meaning new artworks are constantly going up but old ones are also getting covered!
Where: Revaler 99, Urban Spree area, Dircksenstrasse in Mitte, Teufelsberg (Abandoned Spy Station), Lake Tegel Art Park
Who: Victor Ash, BLU, ROA
What makes it special: Berlin is home to some of the most famous and most provocative street art pieces in the world including 'Fraternal Kiss' by Dmitri Vrubel.
11. Malacca, Malaysia
The street art craze also took Malaysia by storm. Particularly, Malacca which features amazing street arts plastered over many of the city's walls and buildings, often depicting real life. The best way to see the work is simply by wandering around with no fixed direction, if you make the effort to meander down the back-alleys you'll soon discover a labyrinth of narrow, cobbled streets that are covered in beautiful art.
Where: Lorong Seni Art House, Dutch Square, Interactive Murals Lane
Who: Charles Cham, Ernest Zachareviv and many other unknown artists
What makes it special: Malacca is pretty small and less well-known for street art but this means that it is less busy and less people will have seen the art making it even more unique! Book a tour here with us and we'll take you to all the most instagrammable spots.
12. Buenos Aires, Argentina
In the world of street art, Buenos Aires has a lot to offer. From sculpture art in the middle of the streets, to buildings etched in intricate graffiti there is plenty to see here. With the help of the 'BA Street Art' organization, local artists have been given more opportunities to display their work to the public since 2009, and since then more and more impressive artwork has appeared all over the city!
Where: Palermo, Fitz Roy, Chacarita, San Telmo
Who: Jaz, Nicolás Romero Escalada aka Ever, Martin Ron, Pastel
What makes it special: It's a passionate city where romance, dance and art still reign.
I hope this has inspired you to get out there and get snapping some street art! Maybe you'll even be inspired to get creative yourself.
Get your VACATION on!
Expertly curated emails packed full of vacation inspiration, travel tips and more!