Why Java Is The Next Up And Coming Destination In Indonesia
Why Java Is The Next Up And Coming Destination In Indonesia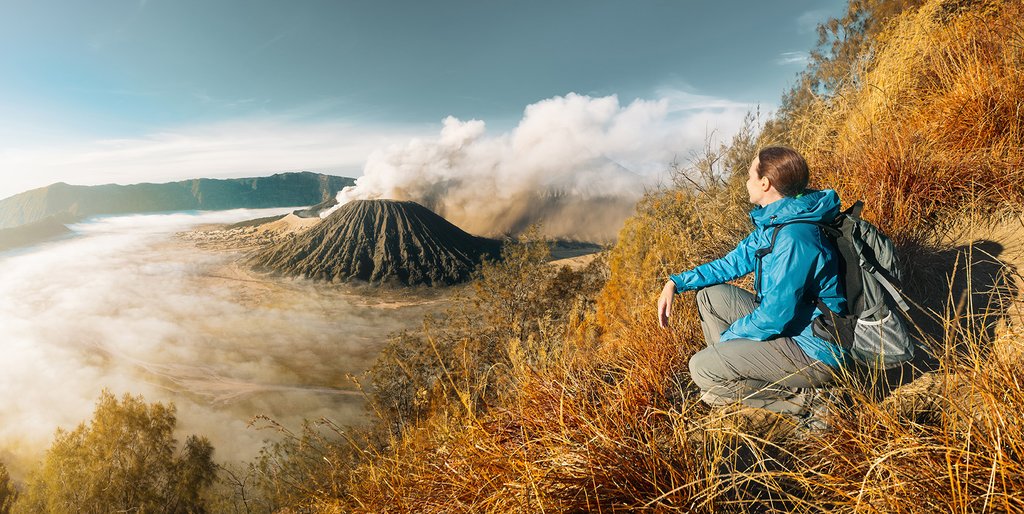 Java in Indonesia is a beautiful island filled with amazing locations still undiscovered by tourism. Right next to Bali (you can drive from Bali to Java in less than a day) and 20 times larger, Java is less well-known than its heavily populated sister but it has just as much to offer.
Think waterfalls, temples, colorful villages, tea plantations, volcano treks and more! Here's why Java is the next up-and-coming destination in Indonesia that you should definitely visit.
Java's history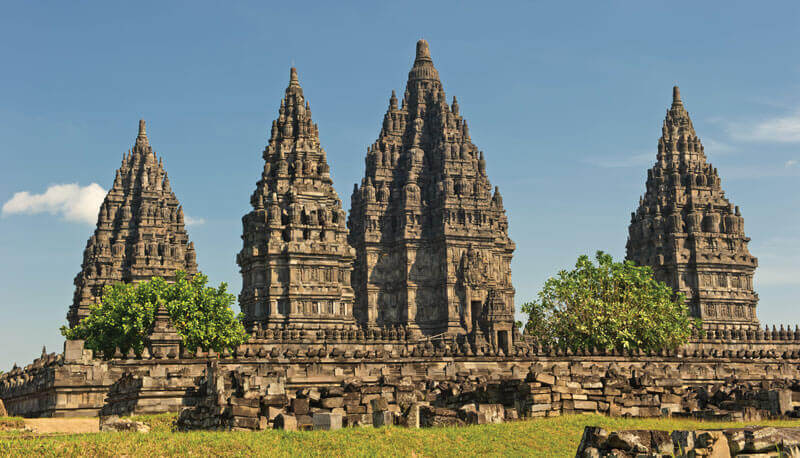 Java has an immense history which led to its multicultural influences today. From Hinduism and Buddhism co-existing in the early centuries to the growth of Islam and then eventual Dutch colonization, from whom Java claimed independence after WW2.
Many ancient sights in Java are scarred yet still standing after being bruised by wars and earthquakes, and they remain unparalleled by attractions elsewhere in Indonesia. Today, Java is an economic hub and one of the most developed of Indonesia's islands.
Java is thin and long, making it easy to travel from East to West (or vice versa). Public transport is fairly well connected and there are many cheap (but basic) hostels to choose from along the way. Hosts are always helpful and friendly, making it safe for groups and solo travelers alike.
However, do bear in mind that fewer people speak good English here compared to Bali and you are less likely to see as many fellow travelers around.
When to visit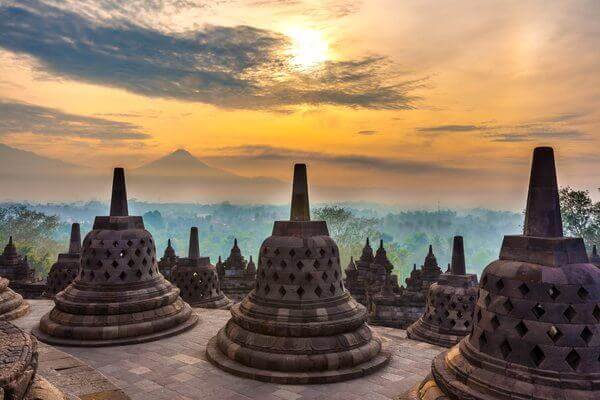 The dry season in Java is from April to October; this is probably the best time to go, although temperatures can get very hot in the middle of the day. If you choose to come in other months, the weather will still be good but there will be a slightly higher chance of rain - although showers will usually pass over pretty quickly.
If you visit during the dry season, there will likely be more tourists around, so it is up to you what you prefer!
Culture and customs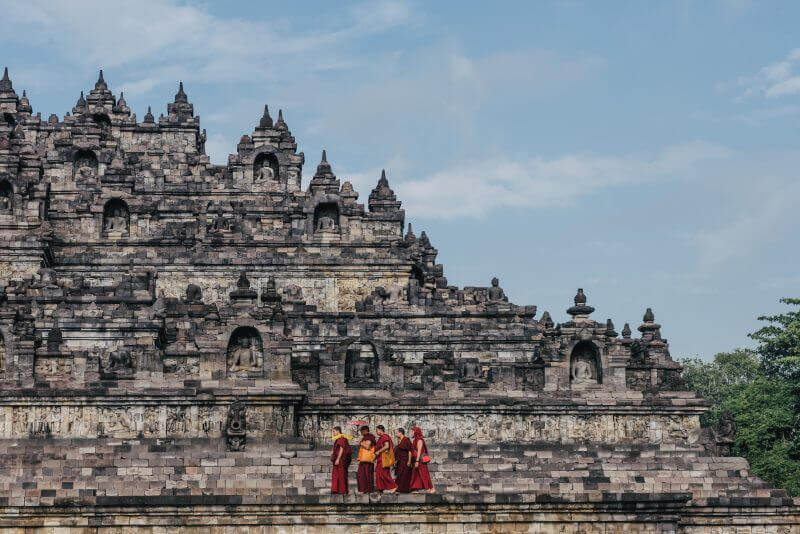 Java is predominantly Muslim but the people here are super friendly and not overly conservative, so don't feel that you have to dress in a certain way. Also, the famous temples (such as Borobudur and Prambanan) are NOT Muslim, so there are no official clothing rules but do try to dress respectfully.
The currency here is Indonesian Rupiah (the same as in Bali). There are ATMs and money changers at Yogyakarta Airport. The local language is Javanese, although many different dialects are depending on where on the island you are!
Where to go and what to do
Yogyakarta City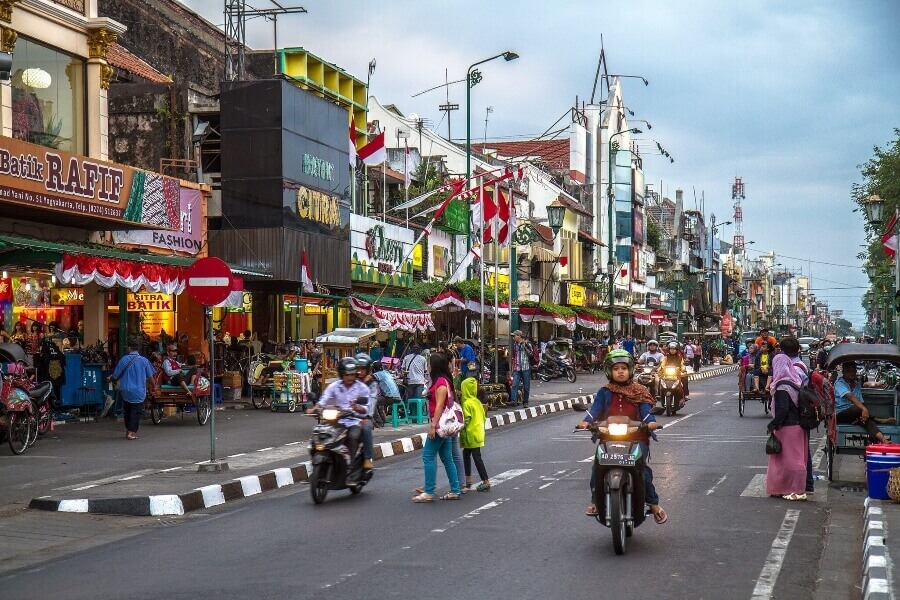 You can fly into Yogyakarta from various transport hubs in Indonesia (including Jakarta and Bali) and there are cheap direct flights from Singapore and Kuala Lumpur. Yogyakarta's Adisucipto International Airport is around a 35-minute taxi ride from the city. You can also take a local train or bus from elsewhere in Java.
Commonly known and pronounced as 'Jogjakarta,' this city is often considered the cultural heart of Java, making it a great place to begin your trip in Java and get your bearings. There are many traditional activities to discover here, and the palace is still home to the royal family.
The Kraton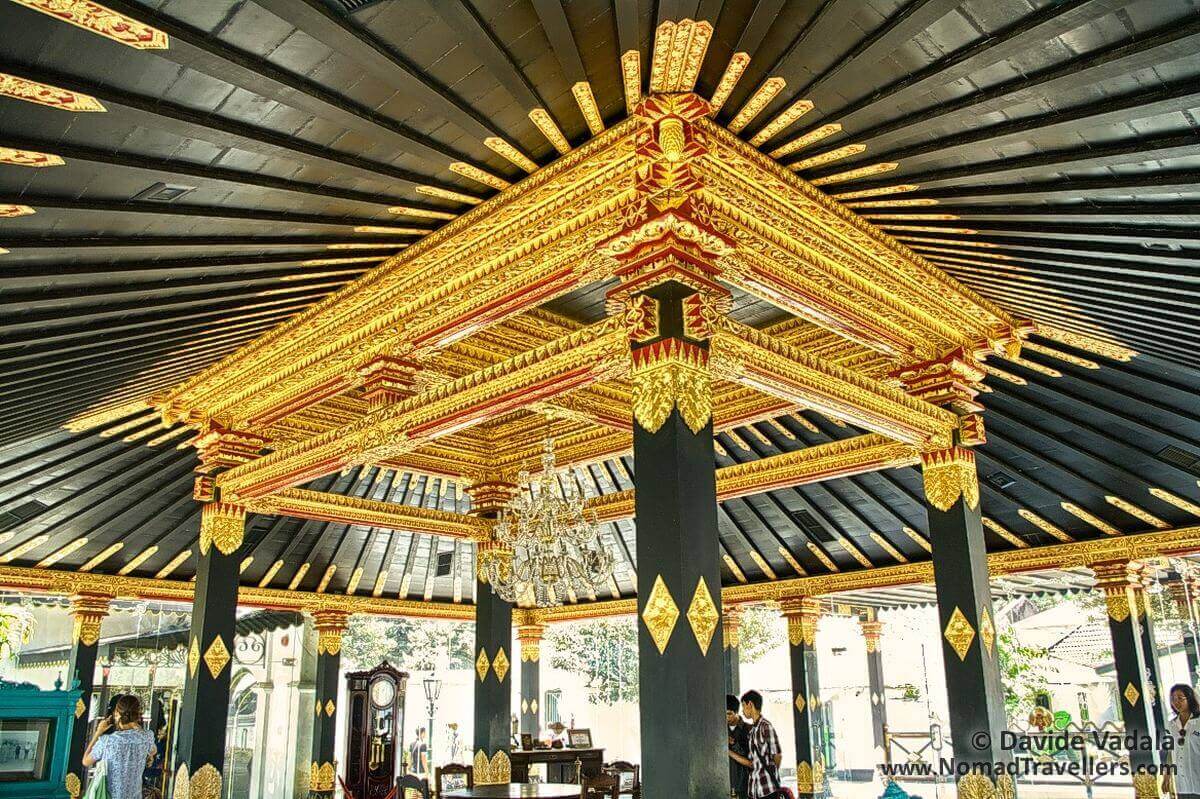 The main area to explore in Yogyakarta city is called the 'Kraton,' a group of palaces built for the sultans of Yogya. You could spend a full day exploring here. Entry to the grand palace costs 12,000 IDR (less than 1 USD). You can wander around the beautiful palaces and the cost includes entry to daily traditional performances such as gamelan or puppetry.
The ticket also includes entry to 'Sumur Gumuling', an underground mosque. Batik courses can be found around the Kraton area, and this is a great way to meet locals and get stuck in with an immersive activity. Or head to Kota Gede, a district famous for silver, and see the silver artisans hard at work.
To see a traditional performance, there are many options around Yogyakarta to choose from. Museum Sonobudoyo is one option close to the city center, which shows puppet shows (wayang kulit) at 8 pm every day. It lasts 2 hours, and tickets can be purchased at the museum.
Borobudur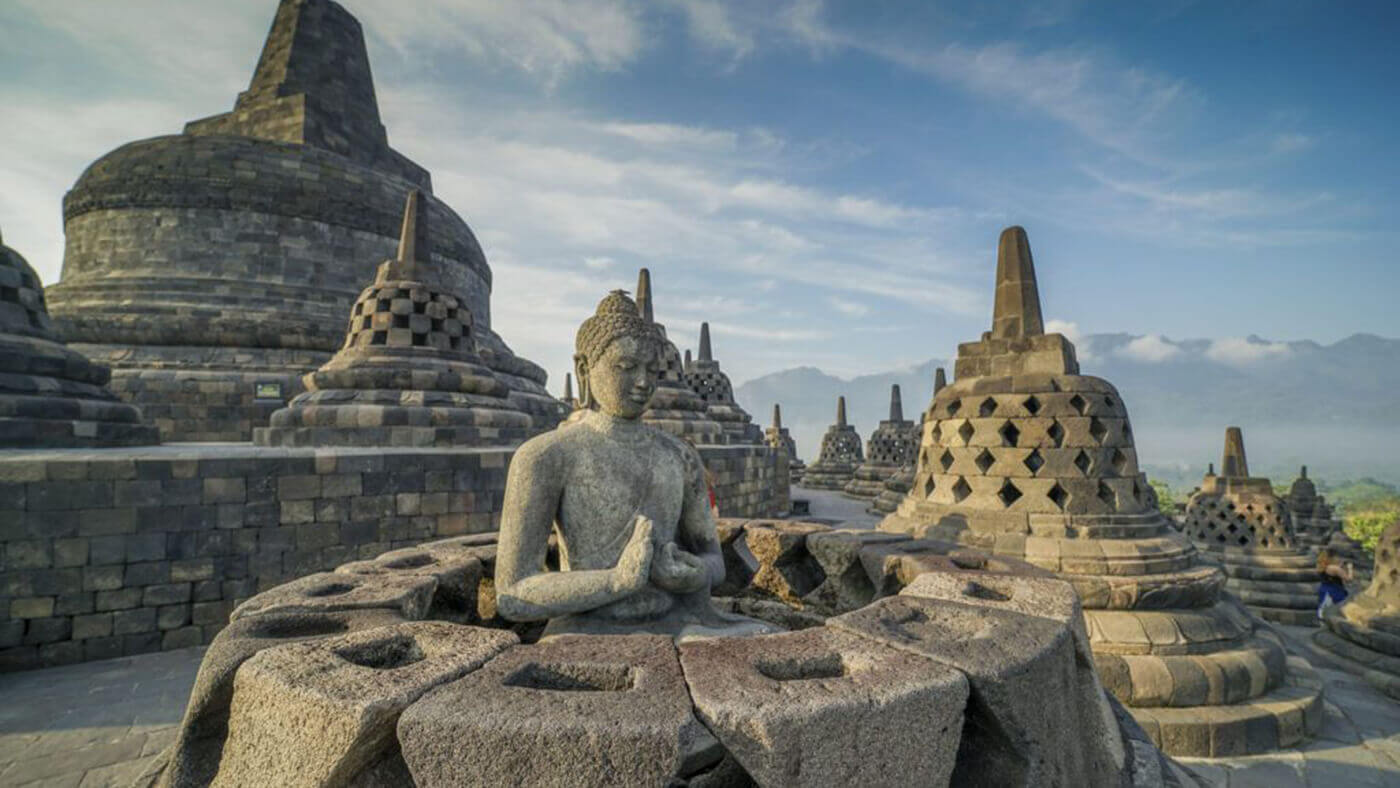 The key reason to visit Yogyakarta is undoubtedly to see Borobudur, the world's largest Buddhist temple. It's easy to combine this with Prambanan, a huge Hindu temple, in one day. The most common way to visit Borobudur from Yogyakarta is to do a sunrise tour.
You should be able to arrange this easily through your accommodation or a local vendor. It's an early wake-up call at around 4.30 am in Manohara, but once you are there it's just a few minutes' walk to the temple.
The entrance to Borobudur is around 350,000 IDR (around $20), and it is well worth getting there for sunrise to get some extra special shots!
Prambanan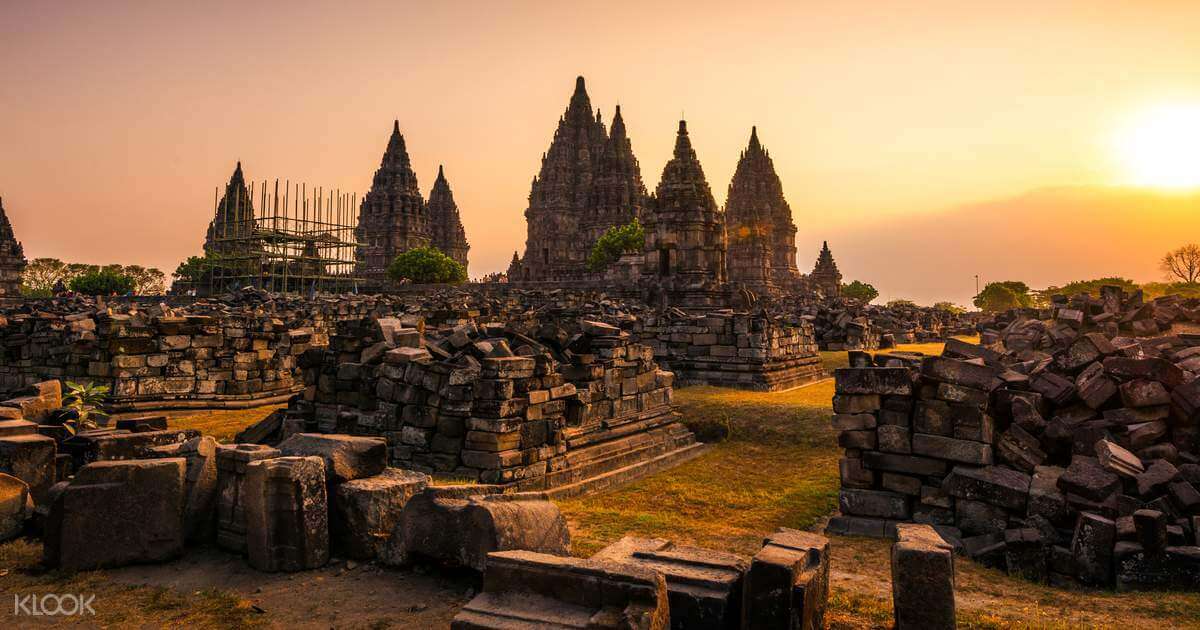 Prambanan is a huge Hindu temple that was built around the 9th century. Unfortunately, several earthquakes have damaged the structures, but the main structures are still intact and very impressive.
Each structure has its own set of stairs leading to a temple hiding a different statue, usually a deity, so it's great to explore.
Karimunjawa Islands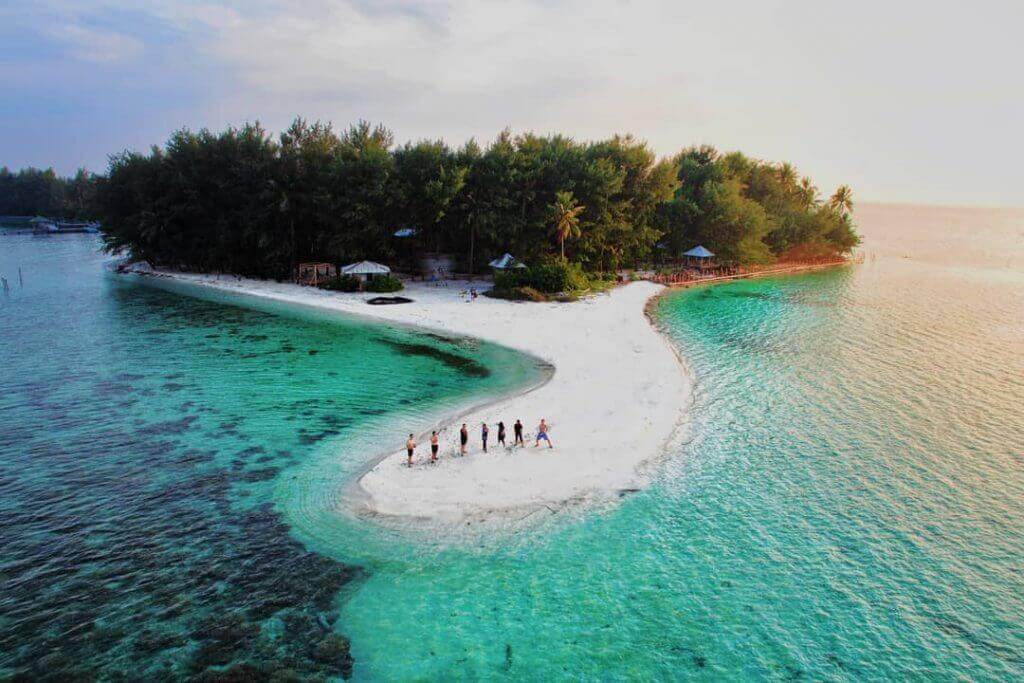 You can take the ferry from Yogyakarta from nearby Jepara Harbour to the Karimunjawa Islands. Here, you can enjoy amazing snorkeling trips starting from as little as 200,00 IDR(about $5!).
Snorkeling trips will usually include multiple locations, lunch and island hopping. You will discover tiny uninhabited tropical islands and have your lunch cooked over an open fire. Totally magical, right? Again, you should be able to book through your hostel easily.
Rent a scooter (for less than $4 per day) and head to Bukit Love Hill viewpoint to enjoy the sunset over a tranquil, empty beach surrounded by palm trees and gorgeous mountains. The Western beaches are a great place to spend an afternoon.
They have names like Pokemon Beach and Barakuda Beach. Ask your accommodation to recommend a great beach as it changes a lot depending on the season and how busy it is. Pantai Ulung Gelam and Pantai Batu Topeng are also great options. I recommend spending at least three days on the islands to get a real feel for it!
Malang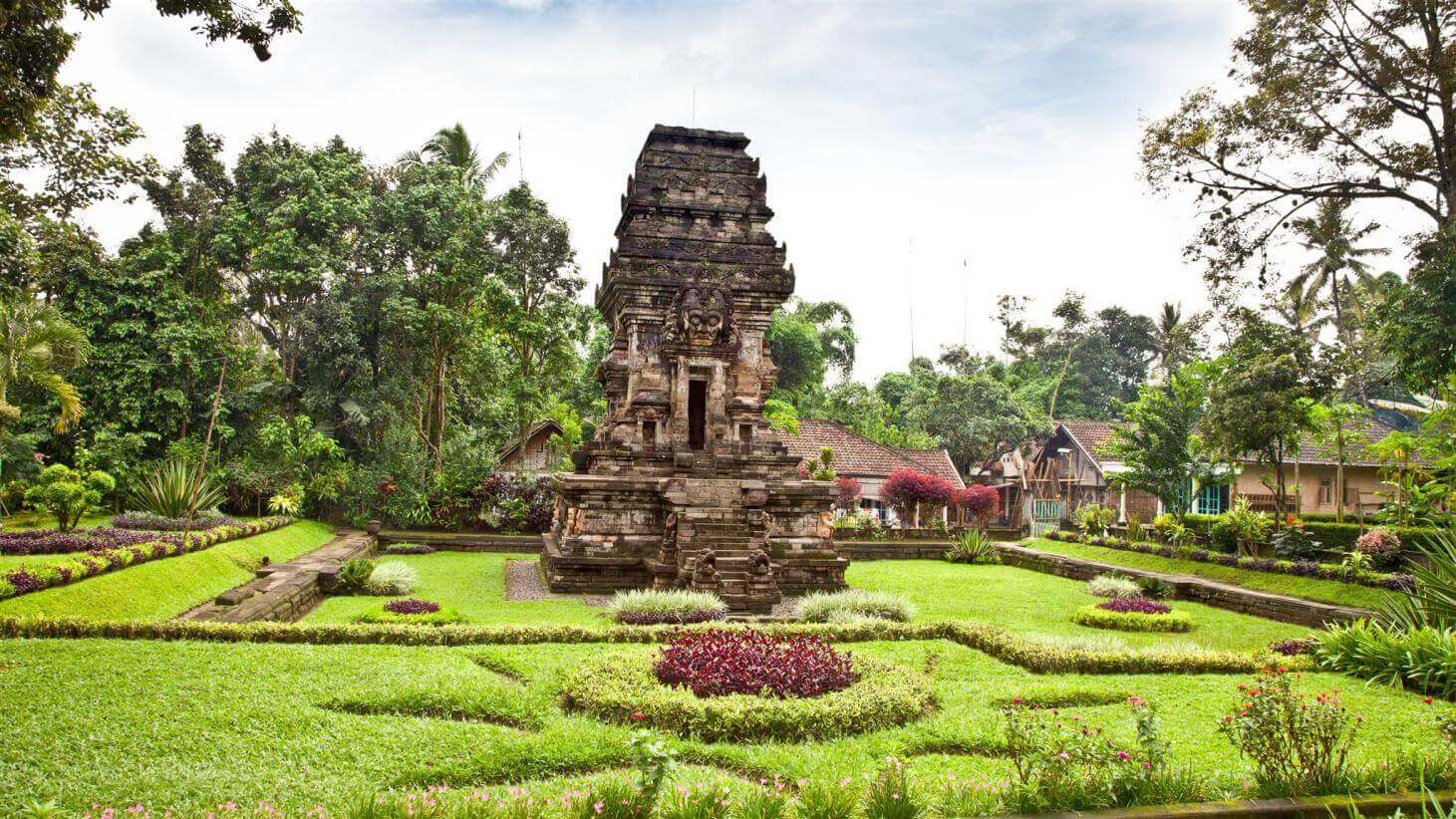 From Yogyakarta, you should head east to Malang. Malang is a fantastic access point for a large number of attractions in East Java.
You can easily reach it by share car, train or bus. Before heading to East Java's amazing natural gems, in the town itself are three beautiful colorful villages you can check out during your stay.
Kampung Biru aka 'Blue Village'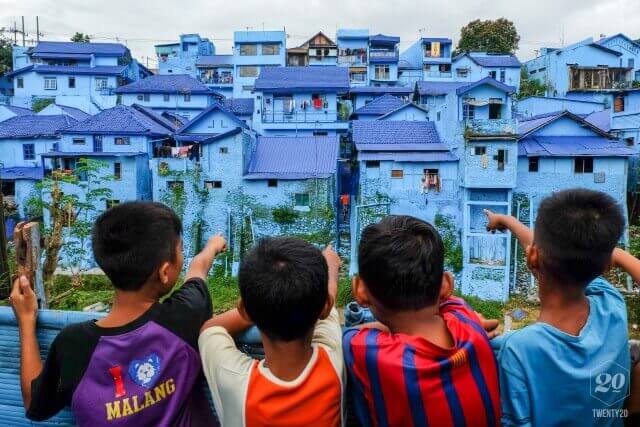 The whole village was painted blue in support of the Malang football team! It's worth taking time to walk around and spot all the gorgeous street art that's on display.
Kampung Wwarna Warni Jodipan and Kamoung Tridi aka 'Rainbow Village'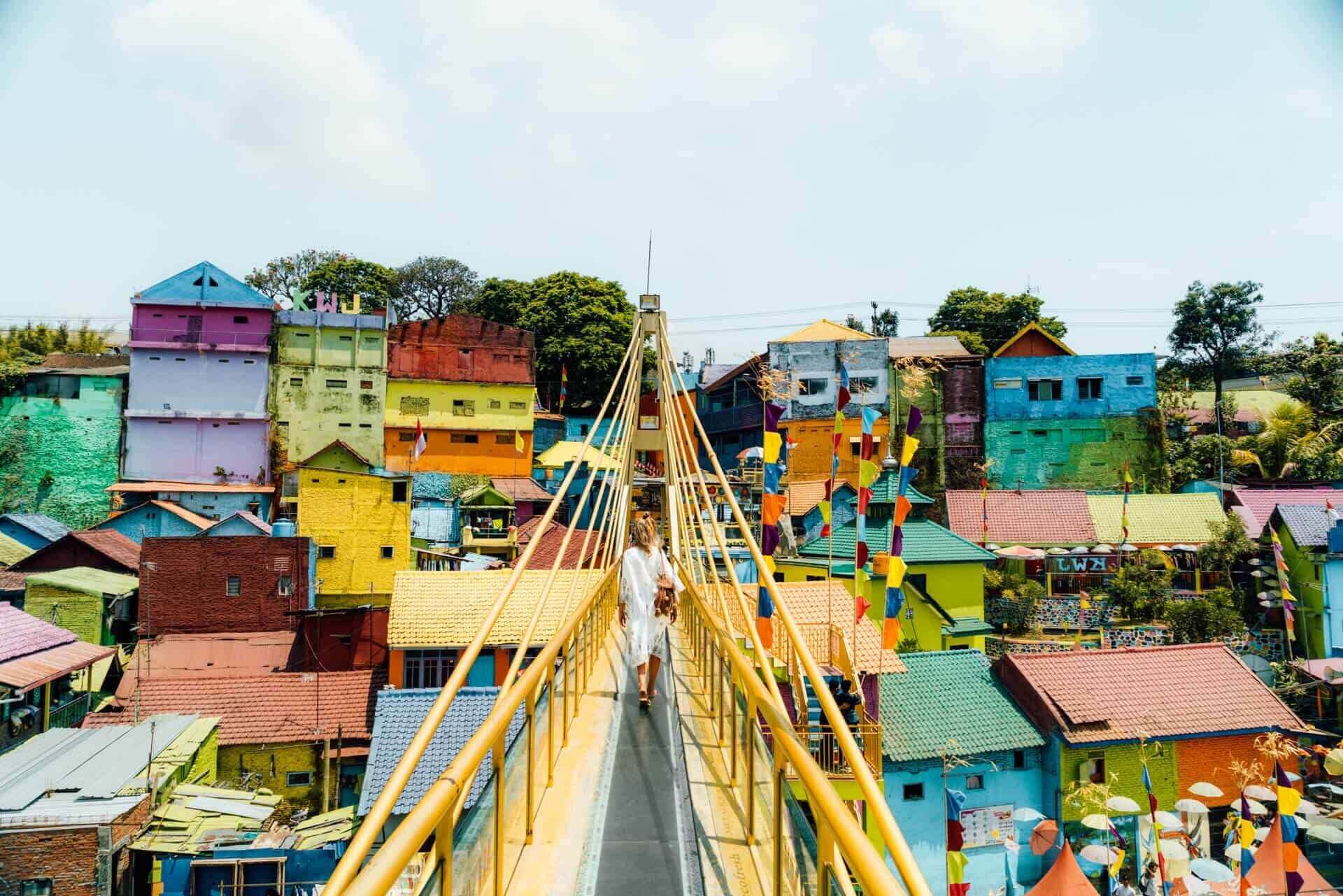 The entire village is painted differently, including the bridge that crosses the river and each step. This area was extremely poor before PR students from the University of Malang proposed this colorful initiative to a local paint company.
They hoped tourism would positively affect the people who live here since they could sell snacks and entrance tickets. Entry is only 3000 IDR for each village – that's around just $0.20! There are also many local warungs where you can get a huge meal for around $1-2.
Tempuk Sewu Waterfall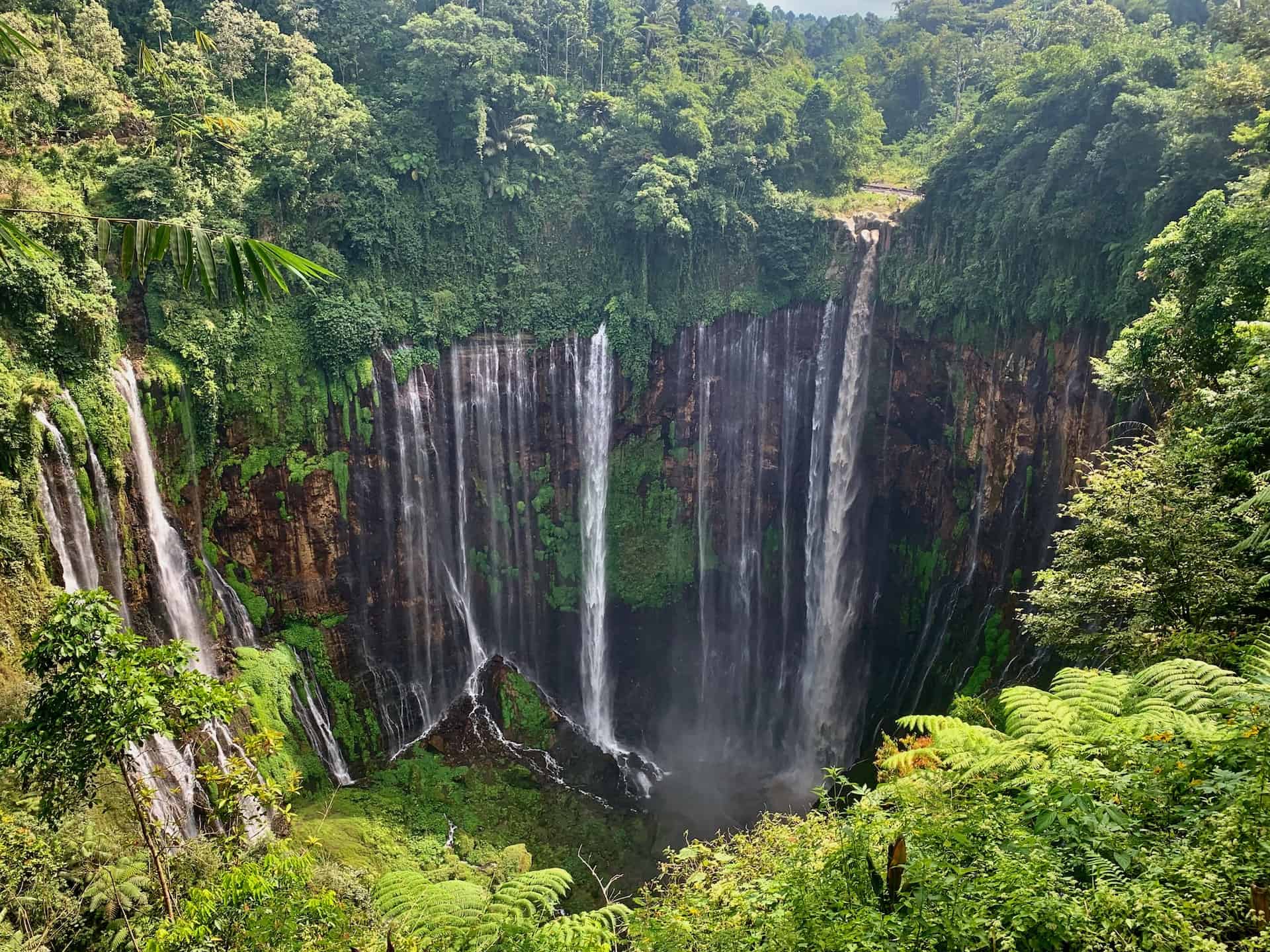 You can easily arrange a day trip from Malang to this stunning waterfall through your hostel or a local vendor. The trek to the waterfall can be a bit tricky at times so I'd recommend booking a local guide if you're not an experienced hiker or are traveling completely alone.
Also, make sure you wear suitable footwear! It's totally worth the effort, though, and you will be rewarded with amazing close-up views of the awesome waterfall. It's also worth visiting Goa Tetes Waterfall while you're there as it's only about a 5-minute walk from the bottom of Tumpak Sewu! Just follow the signposts.
Do bear in mind that Tempuk Sewu is about a 2.5-hour drive from Malang, and guided tours start from around 350,000 IDR (~$20).
Mount Bromo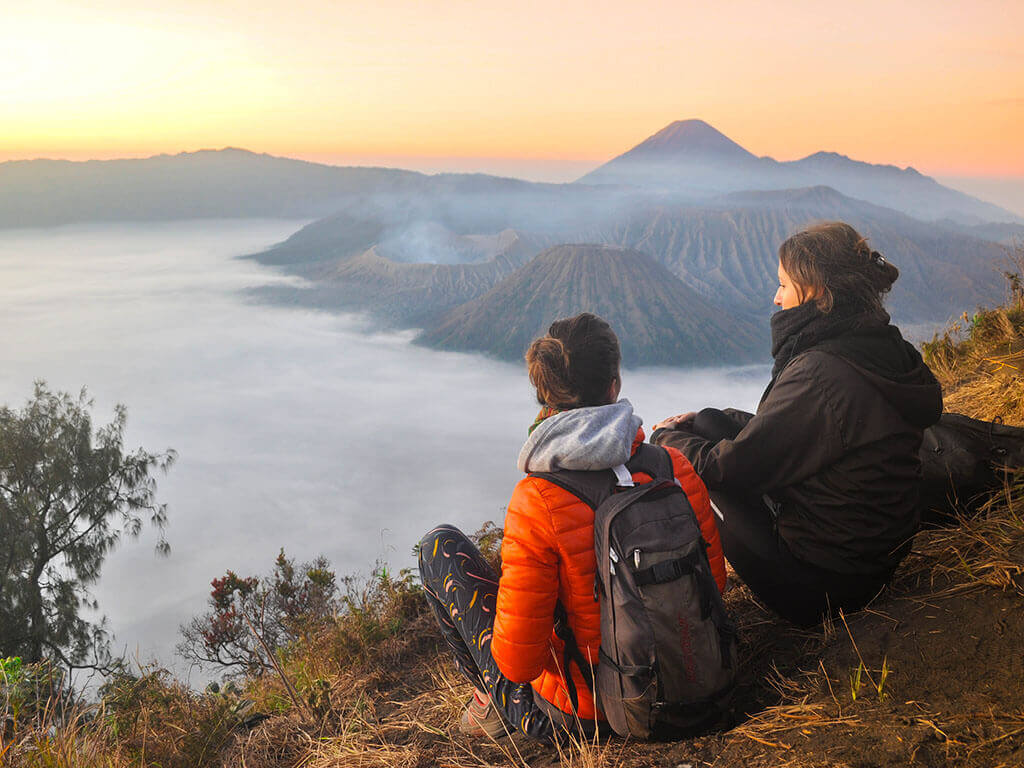 Bromo is 2300m high, but it is just one peak in an active volcanic complex called Bromo Tengger Semeru National Park. Most tours will pick you up from Malang at around 3.30 am if you choose to do a sunrise trek.
Your first stop will be to see the sunrise from the Mount Penanjakan sunrise spot - take in the sight of the awesome peaks glowing under the morning sun. Then relax at Bukit Teletubbies, an expanse of green amidst the rocky volcanic landscape. It really is a beautiful experience.
Our Best Selling Tour
All-Inclusive

Volcano Adventure: A Trek to Mount Ijen & Mount Bromo

If you're feeling active and would like to experience Bali from higher heights, jump on board our Volcano Adventure: A Trek to Mount Ijen & Mount Bromo tour. This all-inclusive, 3-day tour encompasses all of the amazing sights and experiences from stunning sunrises to the famous Sea of Sand, electric blue fire and the world's largest acidic crater lake. Bali tours don't come more mesmerizing than this.
Mount Ijen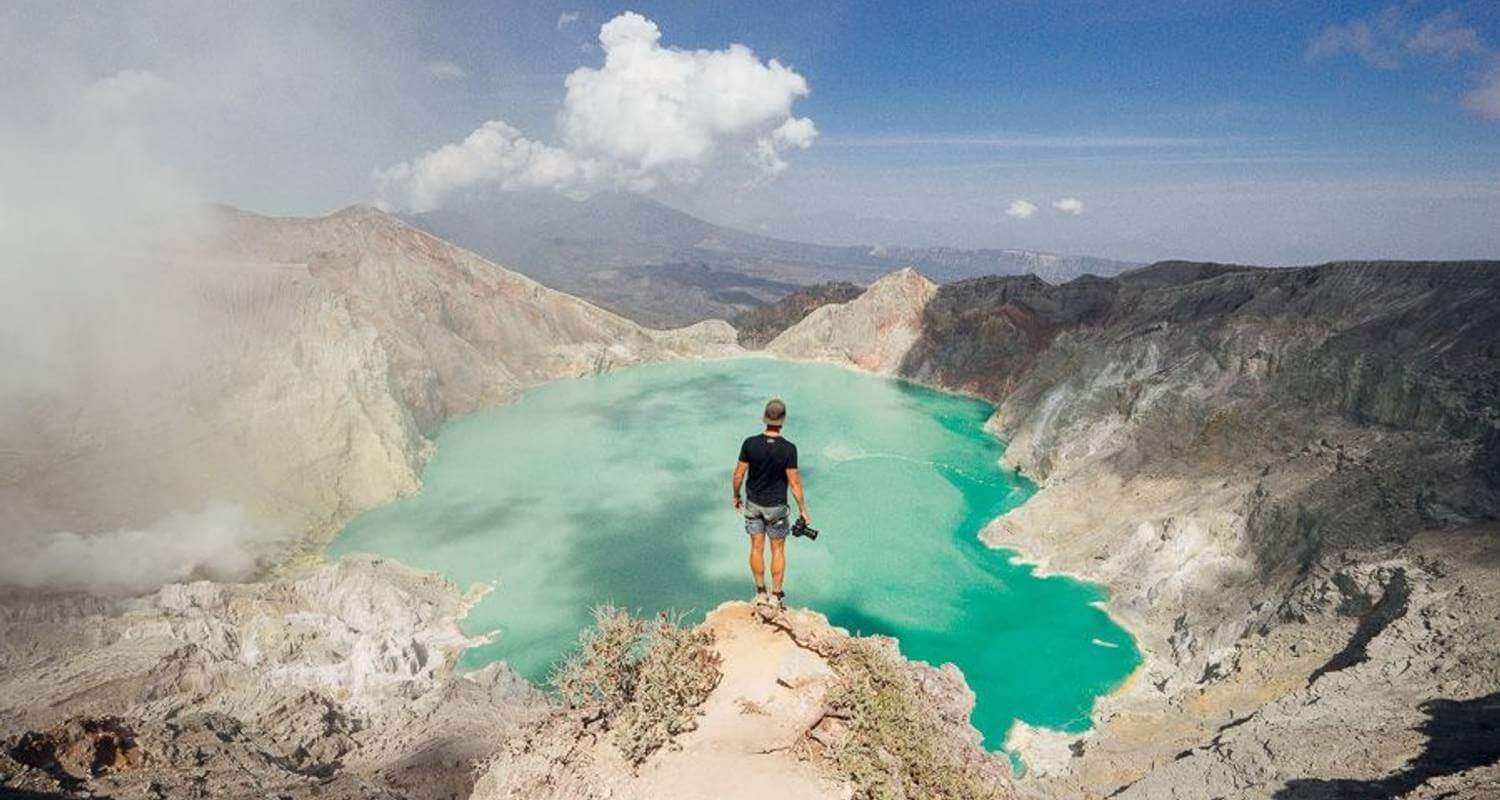 Ok, so there's one more sunrise trek that you should DEFINITELY do while you're in East Java. Mount Ijen is the only place you will get to see the natural phenomenon of the blue flame caused by the combustion of sulfuric gases in contact with air at temperatures above 360°C.
Then hike up Mount Ijen to watch the sunrise over the sulfur lake. The turquoise sulfur lake is 2148m above sea level and is the largest acidic lake in the world. It's stunning! For a full guide to the Mount Ijen sunrise trek and how to book your tour with us, check out my previous post on The Vacationer.
Java really is an amazing island with so much to offer, and I couldn't recommend it more. In this post, I have only covered Central and East Java, but West Java is also a fantastic place to visit - especially if you're into surfing!
Look out for a future blog post on everything West Java offers. Until then, I hope this has inspired you to visit more of Indonesia as soon as possible!
Get your VACATION on!
Expertly curated emails packed full of vacation inspiration, travel tips and more!