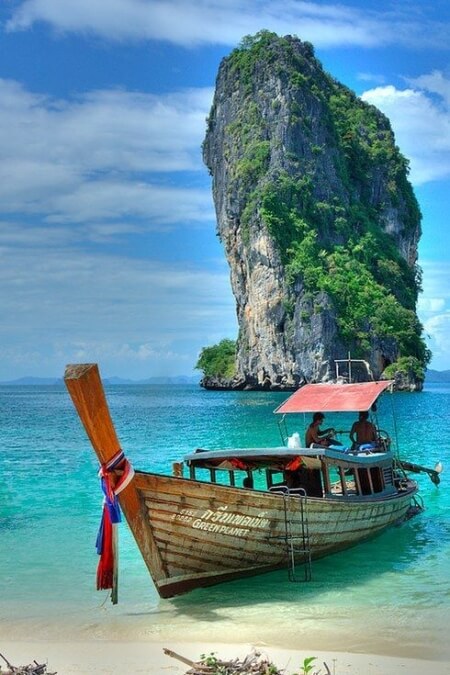 Krabi FAQ's
Here are the most popular Frequently Asked Questions by our guests
Frequently Asked Questions in Krabi
Q - Do we need to cover our shoulders or exposed skin when visiting temples?
A - Yes, shoulders and legs should be covered… but don't worry! Wear what you like as we will provide sarongs for you.
Q - Is lunch included in our tour?
A - Yes, lunch is included on all full day tours.
Q - Are there vegetarian, halal etc. options?
A - For sure! We will always do our best to accommodate any dietary requests. Just let us know in advance so we can try and sort this for you.
Q - Will our tour be private or will I be in a group?
A - All of our tours are private as we believe this will give you the best experience. So you'll have your own personal driver and tour guide for the day!
Q - How long does it take to get to Krabi?
A - You can fly direct from Bangkok which takes around 1 hour 30 minutes. Or you can catch a ferry from Phuket (the more scenic route) which takes around 2 hours 30 minutes.
Q - Do I need to pay for any entrance fees or anything else on my tour?
A - No. All of our tours are all-inclusive so everything you see on the itinerary will be included. However, you may want to bring some cash to buy some personal items or souvenirs if you wish.
Q - Can we customize our tour a bit?
A - Yes of course! This is one of the reasons we run private tours, so you have freedom and flexibility. Just let us know what you would like to do and we'll do our best to make it work!
Q - Do you offer hotel pickup?
A - Yes, all of our tours include free hotel/villa pickup as long as you are in central Krabi. If you're outside of this area, just let us know and we'll see how we can make it work!
Q - When is the wet season in Krabi?
A - The wet season is July - November. However, Krabi is a great place to visit all year round as even in the wet season temperatures are pleasantly warm and it doesn't actually rain as often as you might think! You might get the odd downpour, but it usually doesn't last for very long then it will be hot and sunny the rest of the time.
Q - Is it safe to swim at the beaches in Krabi?
A - In general, yes although the sea can sometimes get a bit rough during June and August. Avoid swimming if a red flag is flying on the beach and stick to areas marked as safe by lifeguards.
Q - Are there any local customs I should be aware of?
A - The Thai royal family is highly respected – public criticism of them is illegal. The national anthem is played on the radio and in some public places at 8am and 6pm, as well as before movies in the cinema. You'll be expected to stand for it. Gesturing with your feet is considered very rude.
Q - Will I be able to access an ATM?
A - ATMs are widely available all over Krabi, accepting international cards and providing instructions in several languages, including English. Thai ATMs eject cash before returning your card.