Best Vietnamese Food You Have To Try
Best Vietnamese Food You Have To Try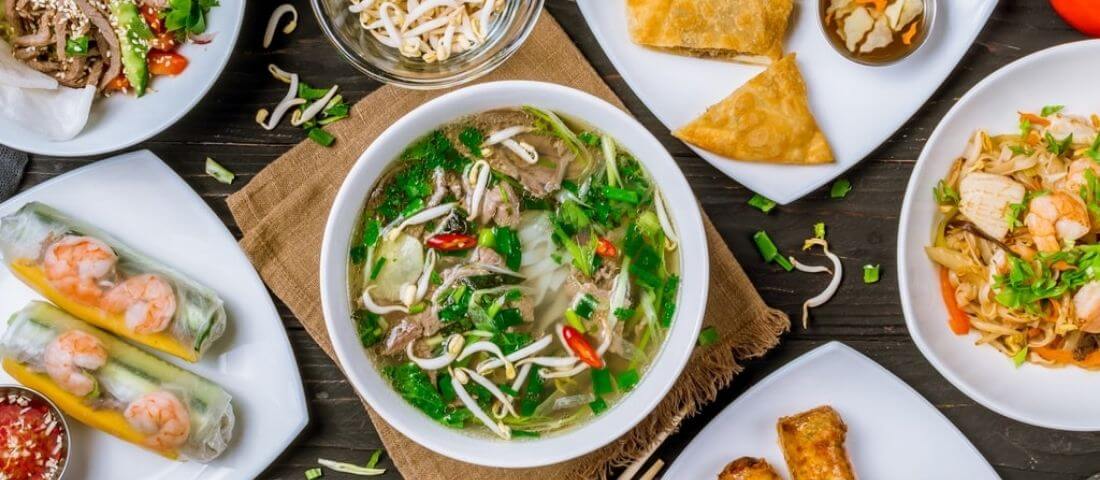 We all know that one of the best things about traveling is getting to experience a different culture through trying the local food. Food and traveling go hand in hand!
Food speaks volumes about a country or even a certain city or town. Food is steeped in history and it's often very close to people's hearts, so whenever you go on vacation, trying the local delicacies should be at the top of your to-do list.
Our Best Selling Tour
All-Inclusive

Ho Chi Minh Local Foodie Experience

The food scene in Ho Chi Minh is booming, and there's no better way to experience it than on our Ho Chi Minh Local Foodie Experience. Join us to indulge in th...
Here at ForeverVacation we're big on food. So much so that we even have our very own private Foodie Tours in all of our tour destinations, which have been curated to show you the very best of local food wherever you decide to vacation with us.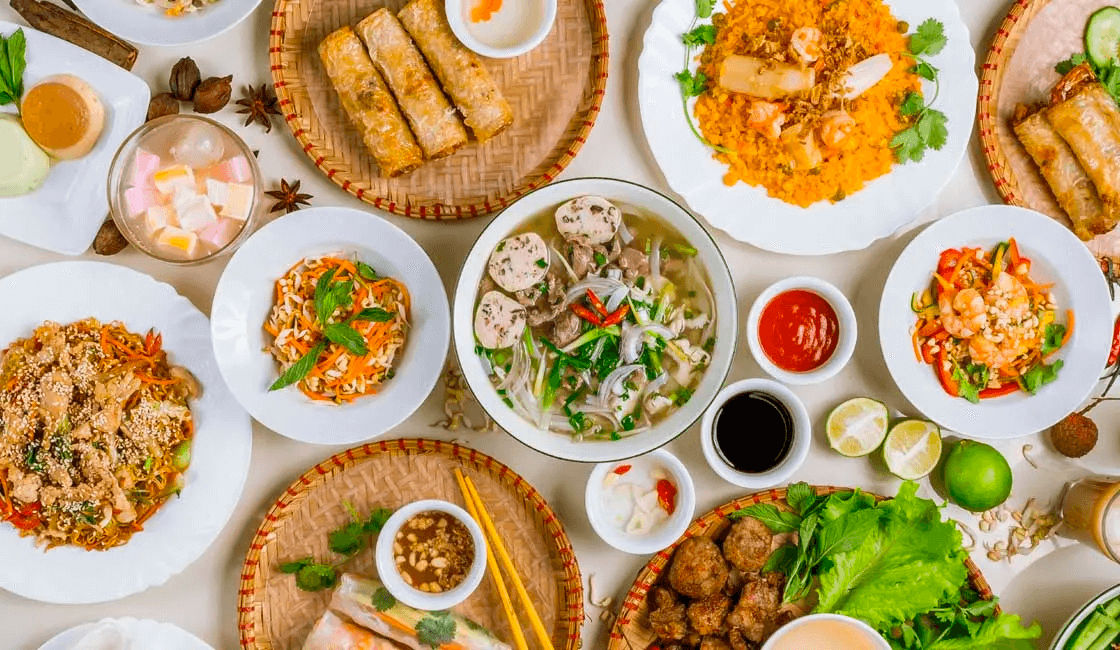 On these tours you'll be picked up by your very own private local tour guide who will also double as your personal driver and photographer for the day. Your friendly guide will take you to the best food spots in town – spots that only locals could know about!
Sit back and enjoy your all-inclusive foodie adventure and get to know your vacation destination through eating…what could be better?
Vietnamese food is known for having a delicate balance of sweet, salty and spicy flavors. Dishes are simple yet delicious and use fresh local ingredients that will keep you coming back for more!
Whether you're enjoying it on a plastic stool on a side street in the middle of Ho Chi Minh City or going all out on a fine-dining restaurant, you're sure to love the local Vietnamese cuisine that has subtle variations depending on region.
Food tours in Vietnam are a great way to experience the true local food. Here are some of the amazing dishes you might expect to try on a food tour in Ho Chi Minh City.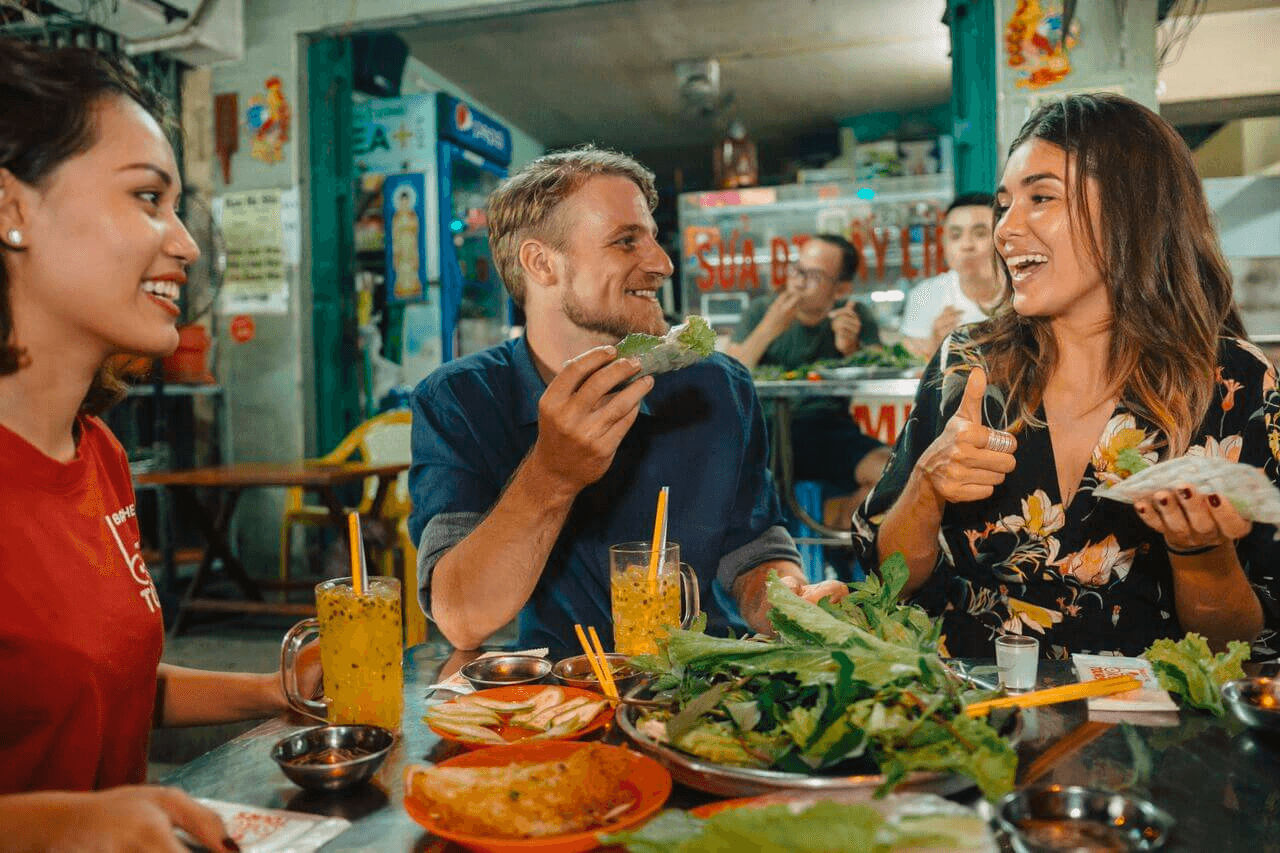 1. Pho
Possibly the most famous Vietnamese dish of all time, even if you're not familiar with Vietnamese food in general, you're bound to have heard of this one! This simple yet delicious dish is a staple in Vietnam and you won't go far without seeing a restaurant or street stall serving up Pho to hungry customers.
Pho consists of a simple salty broth, fresh rice noodles and usually chicken or beef, topped with a sprinkling of fresh herbs, beansprouts and chili (if you like it hot). And you won't believe how inexpensive it is for a big hearty bowl of the stuff!
Try some for less than one dollar at one of the many street stalls and get the full local experience as you slurp your noodles at a plastic table taking in the hustle and bustle of Ho Chi Minh City, or order this dish at any restaurant for a guaranteed tasty meal. If there's one dish you absolutely HAVE to try whilst in Vietnam, it's got to be this one. Enjoy!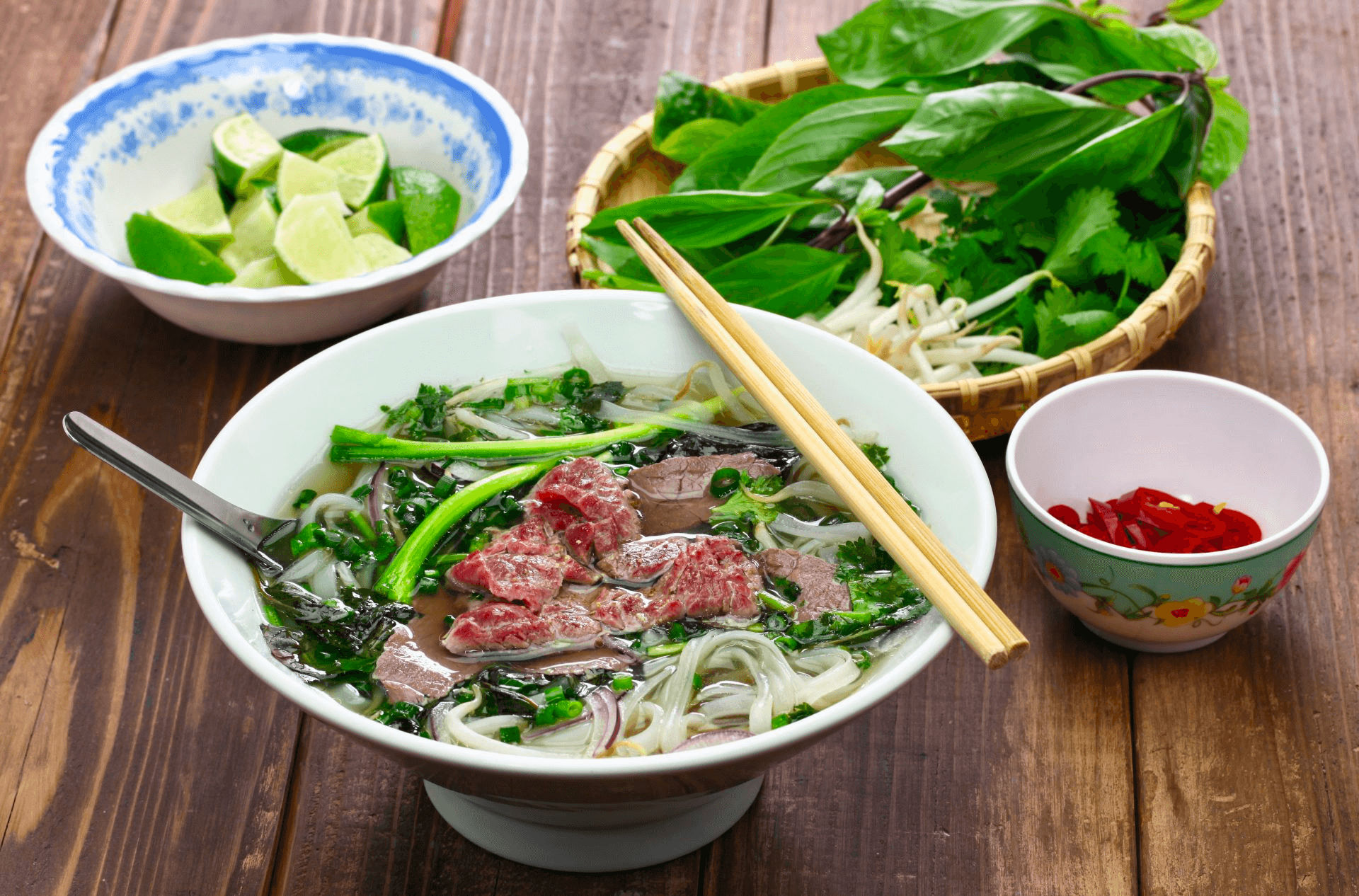 2. Ban Xeo
If you fancy trying something a little different for lunch then this one is for you! Ban Xeo is a crispy savory pancake filled to the brim with pork, shrimp and beansprouts plus lots of fresh herbs (you'll find most Vietnamese dishes are topped with sprinklings of local fresh herbs and we're not complaining about it!).
This crunchy little parcel of goodness is usually rolled up in rice paper or lettuce leaves and dunked in the signature Vietnamese dipping sauce which is often made with fish sauce, fresh lime juice, garlic and sugar for that sweet and tangy balance we mentioned earlier.
If you book onto one of our ForeverVacation food tours in Vietnam this is one of the tasty local dishes you'll get to try! Watch and learn how Ban Xeo is made by a local expert and get to taste it (of course). Why not take some Vietnamese culture home with you and try making them yourself when you return!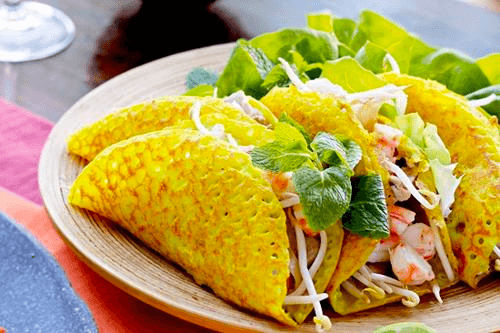 3. Banh Mi
Another super famous Vietnamese dish that will be offered on every corner in Vietnam is – of course – the classic Banh Mi. This is the Vietnamese take on the French baguette. The French brought bread to Vietnam but the classic Vietnamese flavors take a sandwich to a whole new level.
A freshly baked baguette is filled with meat of your choice plus cheese, pickled vegetables, fried egg, fresh herbs and chili sauce. This is a sandwich like no other! Order one from one of the many street vendors and they'll make your sandwich exactly as you like it with as many or as few of the toppings you fancy!
The perfect lunch stop for any private tour, you simply HAVE to try a Banh Mi if you're vacationing in Vietnam. This is another tasty treat that is included in our Foodie Tours in Ho Chi Minh City so be sure to check them out if you want a day filled with the best local dishes.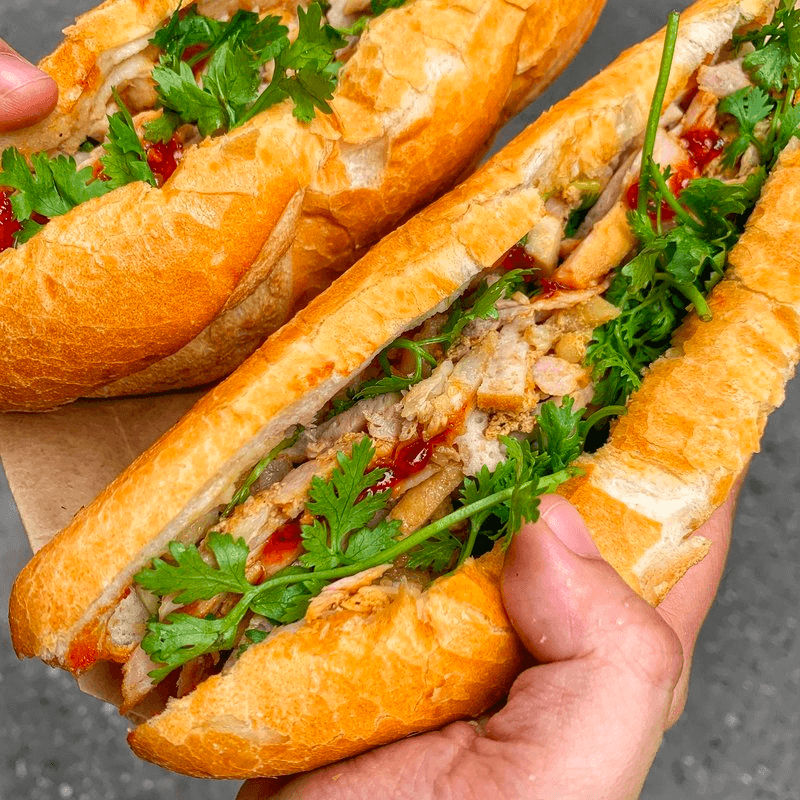 4. Bot Chien
A favorite street side snack in Saigon that you might not have heard of before is Bot Chien, but don't worry, we're here to tell you all about it so you're one step ahead when it comes to ordering local dishes!
Bot Chien is popular with the locals as a morning or afternoon snack or a late night treat. Chunks of rice flour dough are fried in a wok to create delicious crispy bites, then an egg is broken into the mix. Once cooked its served with slices of papaya, shallots and green onions before more flavor is added with pickled chili sauce and rice vinegar.
Street vendors sell Bot Chien at the corners of Pham Ngu Lao and Cong Quynh in District 1 of Ho Chi Minh City so you can try it for yourself here. Or if you come on our very own HCMC Food Tour, then you'll start the day with a delicious hot plate of Bot Chien before sampling some more of the best food that Vietnam has to offer!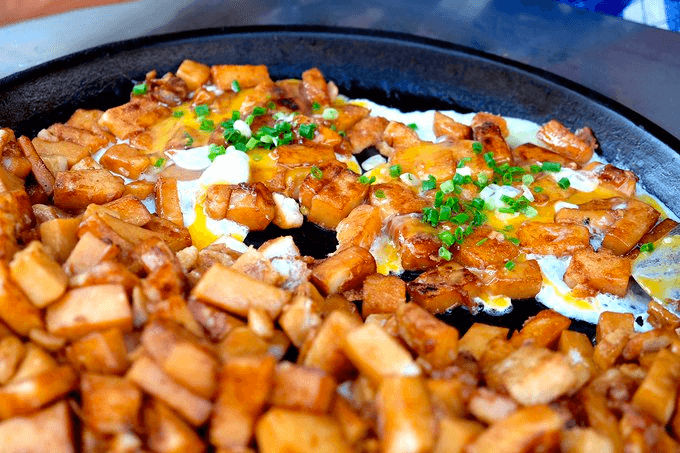 5. Goi Cuon
Goi Cuon literally means salad rolls but trust us, these little rolls are far more exciting than the name suggests! These light and healthy, fresh spring rolls are a great choice if you've been indulging on lots of the fried food that Vietnam has to offer.
If you decide to take a Vietnamese cooking class during your vacation, it's likely that you'll be making these, as they are simple yet really fun to make. They involve wrapping thinly sliced pork or fresh shrimp in fresh rice paper along with thin rice noodles, leafy lettuce, lots of herbs and some crunchy vegetables.
The rolls are often dipped in a homemade hoisin or peanut satay sauce and enjoyed as an appetizer before a main meal. If you can, have a go at making them yourself but if not, you'll find plenty of ready-made rolls available from street vendors.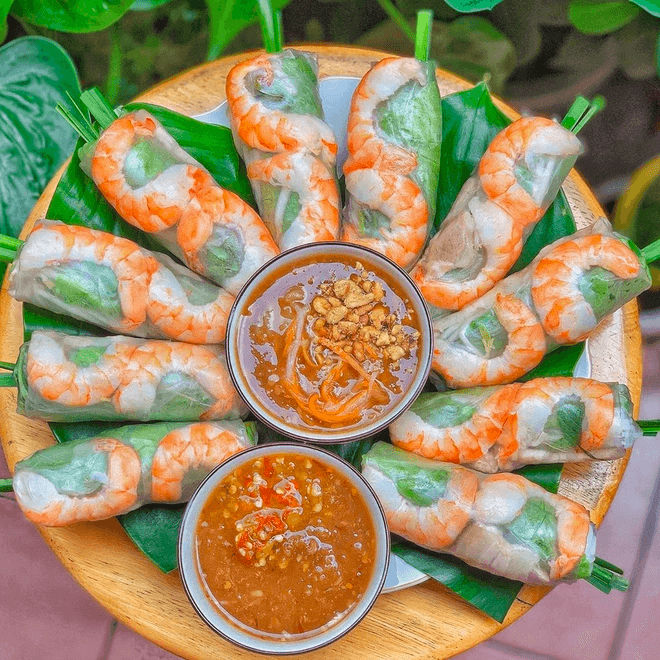 Our Top Trending Tours
All-Inclusive

Ho Chi Minh Most Historical Spots & War Museum Tour

All-Inclusive

Ho Chi Minh City Motorbike Tour: A True Local Experience

All-Inclusive

Ho Chi Minh City by Motorbike: Top Historical Spots
6. Ca Phe Trung
Vietnamese 'egg coffee' is technically a drink but we prefer to put it in the dessert category, as it's so thick and creamy! The name might not sound that appealing but trust us, you want to give this a try if you have a sweet tooth.
Soft, meringue-like egg foam sits on top of creamy Vietnamese coffee to make your morning cup of Joe even more indulgent! You can get Ca Phe Trung at most coffee shops in Vietnam, so be sure to give it a try.
In Hanoi, you can enjoy a cup of Ca Phe Trung overlooking Hoan Kiem Lake to make the experience even better!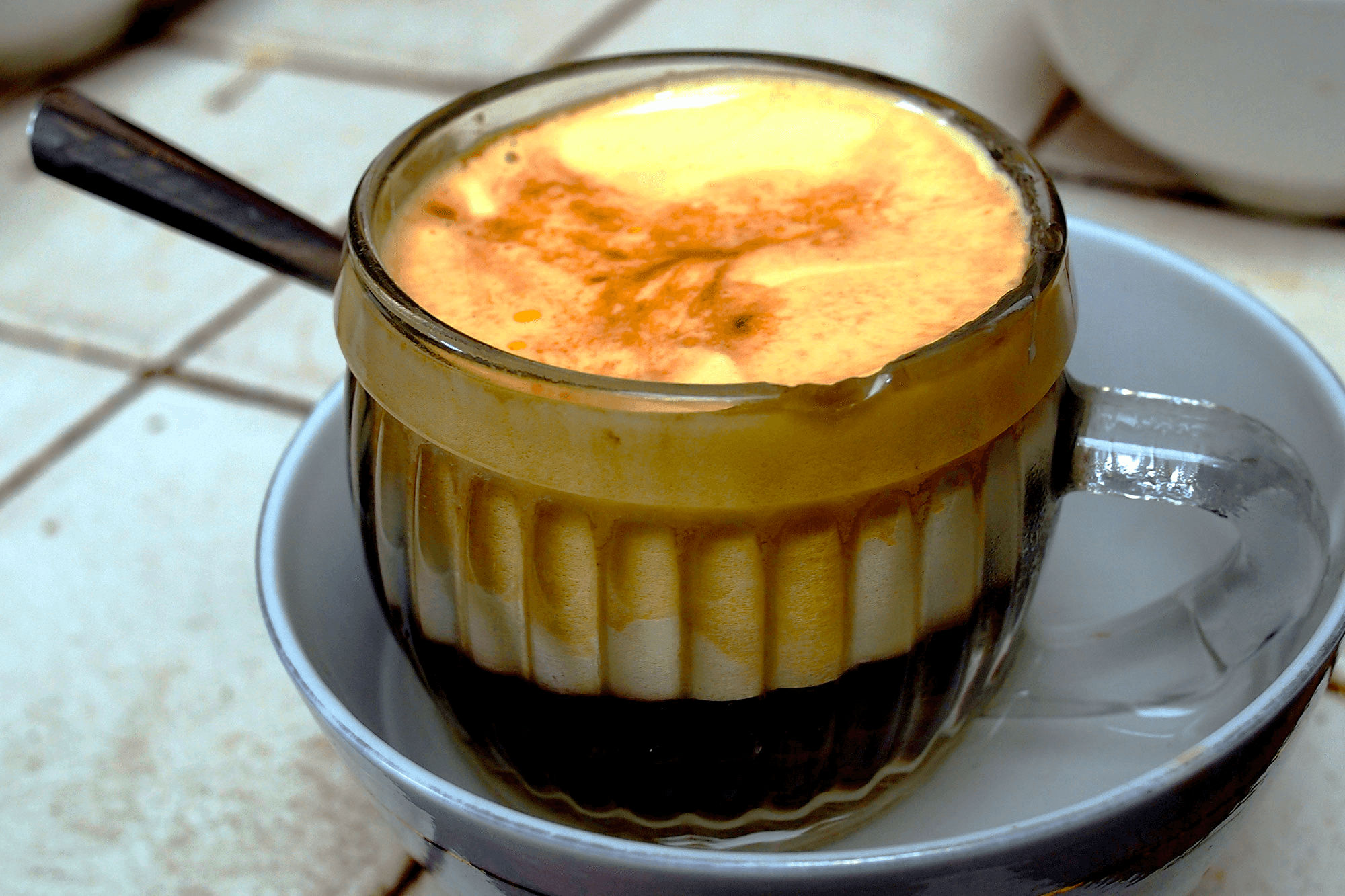 7. Che Khuc Bach
This is THE Vietnamese dessert you have to try! Loosely translated as 'white chunk dessert soup', we know this doesn't exactly sound like the most enticing dessert – but stay with us, as we're sure we can win you over!
The dessert probably doesn't look like anything you've had before – a bowl of flavored panna cotta mixed with colorful tropical fruits and shaved ice, drizzled with sweet coconut cream.
This is the perfect little pick-me-up when you're craving something sweet after a full day of exploring scorching Saigon. Try this as part of our all-inclusive Ho Chi Minh Local Foodie Experience and get the best Che Khuc Bach going! We know you're going to love it.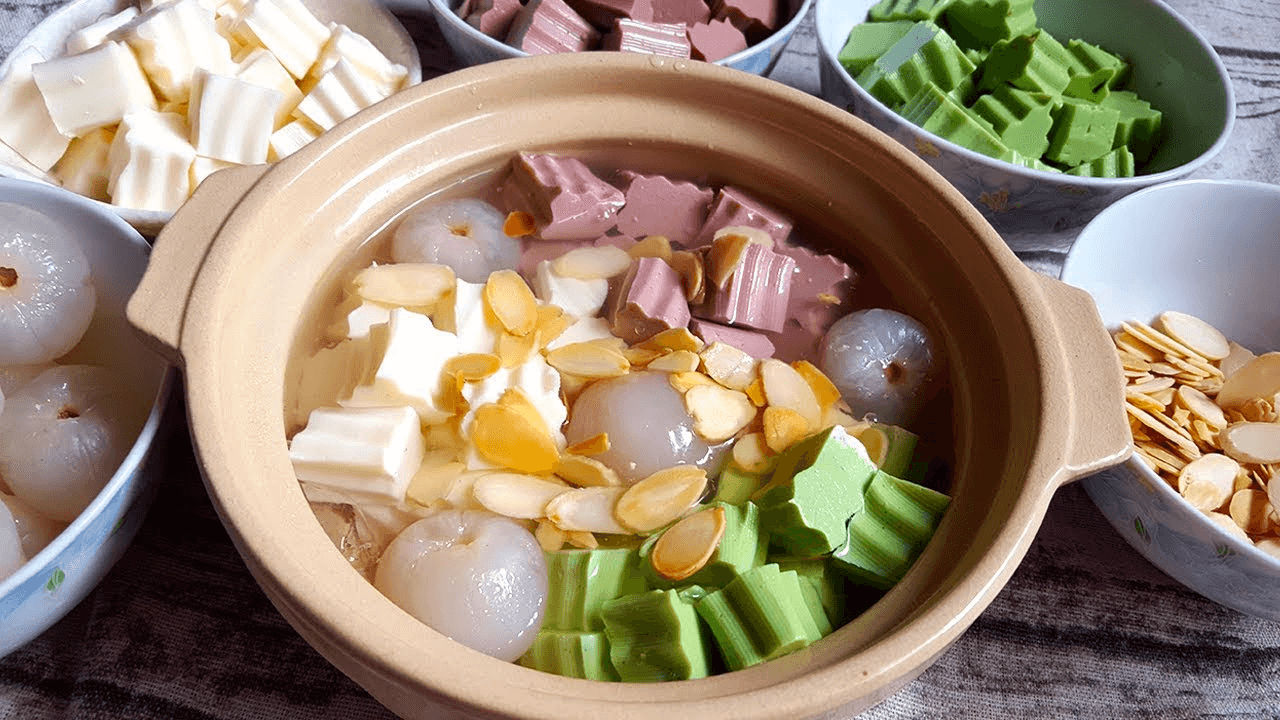 So, here are our favorite Vietnamese foods we think you have to try on your vacation in Vietnam. Why not let us show them to you on one of our food tours in Ho Chi Minh City? We'll do everything for you, all you have to do is sit back, relax and EAT!
Get your VACATION on!
Expertly curated emails packed full of vacation inspiration, travel tips and more!