 Best Things to do in Vietnam
Destinations
Destinations
Blog detail
Blending the mystics of the orient with stone-cold soviet socialism, unique natural sites, and decades of French influence, Vietnam really is one of the most exciting mixes in Southeast Asia and it has something for everyone! It's bursting with history, delicious foods, hiking opportunities, beautiful landscapes, beaches, and of course the wonderful Vietnamese people!
Outdoor lovers can get their teeth into the amazing countryside within numerous stunning national parks and with the nation's long history there is also plenty of culture to take in. The contrast of rural panoramic views and fast-paced city life means there is SO much to do here.
But what are the best things to do in Vietnam? Especially when you are limited in time? Search fatigue can be overwhelming so let us show you Vietnam's major bucket lists and get you on your way!
Here are our top places and activities you won't want to miss out on your trip to Vietnam!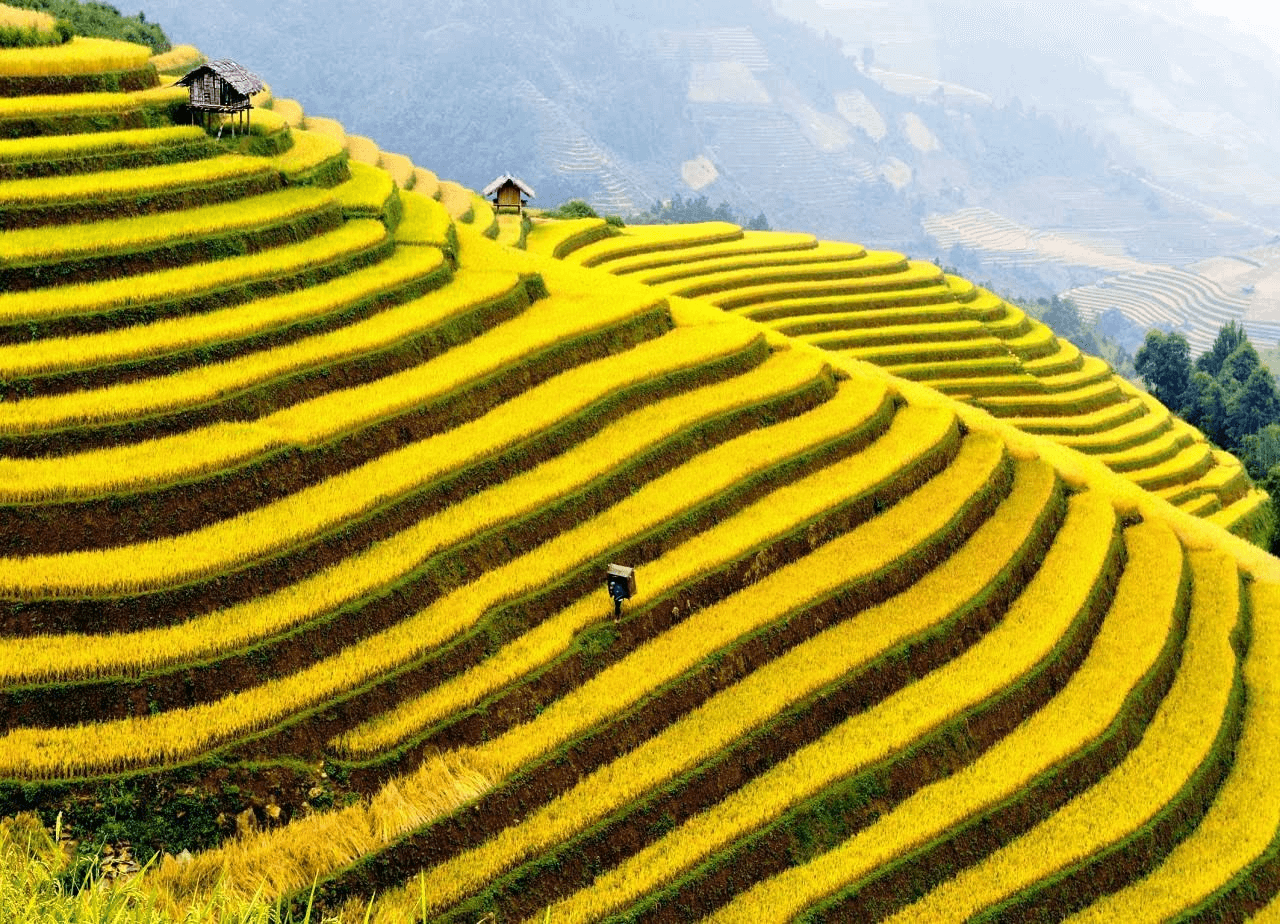 Visit the Cu Chi Tunnels outside of Saigon
If you want to learn more about Vietnamese history, visiting the Cu Chi Tunnels is a great activity, and also one of the most rewarding things to do in Ho Chi Minh. It is 100% worth your short trip from the city center because nowhere else is the tenacious spirit of the Vietnamese more evident than in the underground tunnels of Cu Chi.
The Cu Chi tunnel network is a 250 km long labyrinth of underground tunnels, stretching all the way to the Cambodian border. When visiting the tunnels, you will be given a unique insight into the dark times of the Vietnam war and you'll get to witness its unique architecture and structure as well as understand why it plays an important role in Vietnam's history. The tunnels were used as hiding spots, hospitals, living quarters and supply routes by Viet Cong soldiers during the Vietnam War.
The narrow passages give a harrowing insight into what it must have been like for the soldiers and families that had to live through such a horrific time in Vietnam's history. The entrances to these tunnels were covered with a secret wooden door and camouflage leaves above. Its size is so small that only the Vietnamese could fit in.
The easiest and best way to learn more about this unique underground network of tunnels is by booking a guided tour. You can book it here!
There are two viewing destinations for the Cu Chi Tunnels and each offers its own viewing experience:
Ben Duoc: At the Ben Duoc location, visitors can enter restored sections of the original tunnels. While lights and safety equipment have been installed, you can expect to feel what it was really like to live in the Cu Chi tunnels, as you crawl through them.While it is very safe, many visitors find that experiencing history first-hand like this can be both exciting and unsettling. Above-ground visitors can observe booby traps that were used to protect the tunnels, shoot guns at a shooting range, or enjoy traditional Vietnamese food that would have been eaten by the soldiers who lived in and used the tunnels.
Ben Dinh: the tunnels are replicas and models of the originals. Some of the tunnels here have been made larger and more accommodating for visitors. This location is especially good for families or travelers who have mobility issues. Other attractions at Ben Dinh include a shooting range and replicas of booby traps.
A quick rundown of what's on offer while visiting Cu Chi Tunnels and activities available:
Be enclosed in an entrance to Cu Chi Tunnels and visit a small section that is preserved
Take in the sight of a destroyed US Army Tank
Learn about how the Viet Cong army survived and defended this network of tunnels
Shoot an M1 Garand Rifle or M60 Machine Gun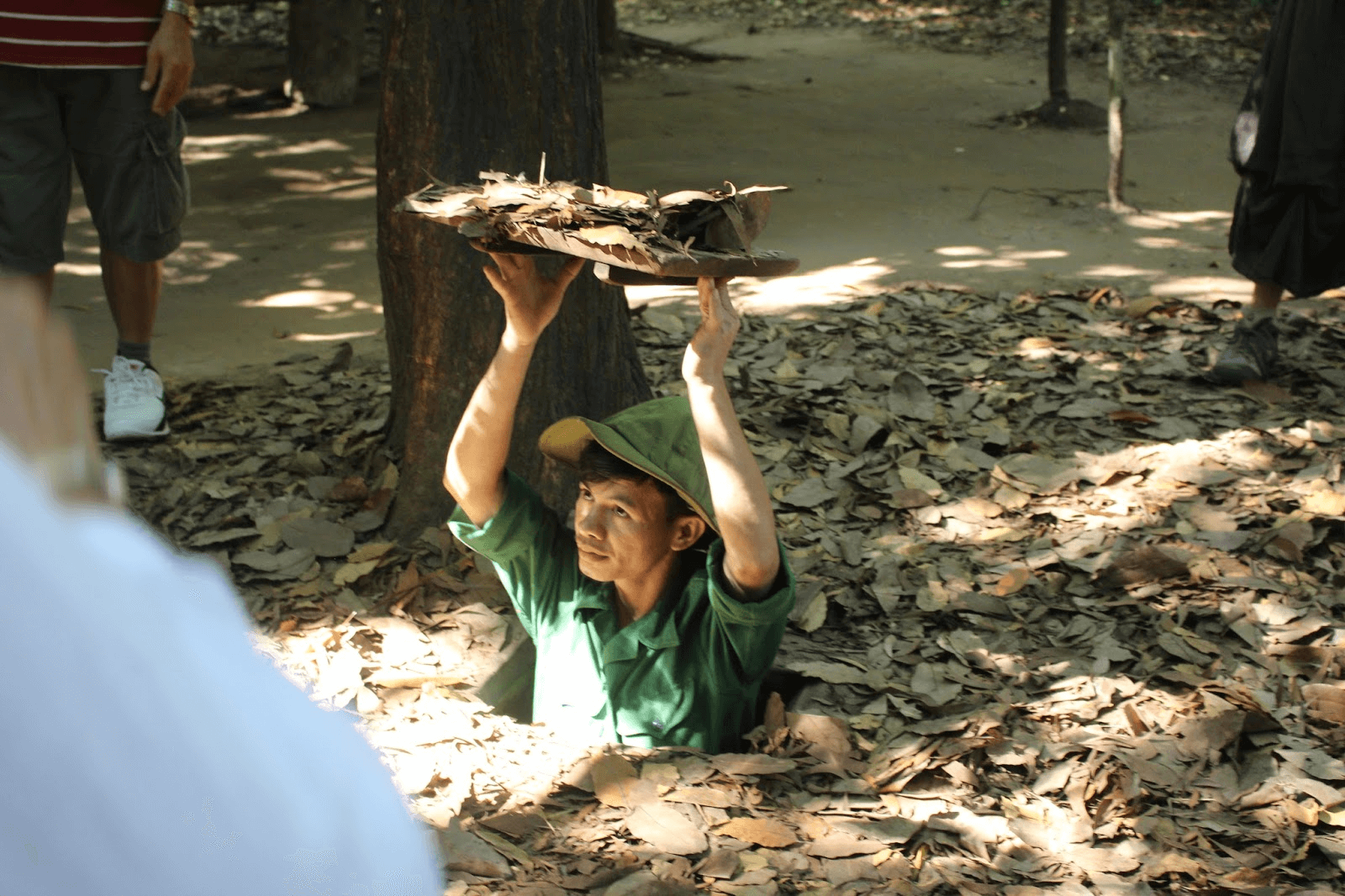 Book a Getaway to a Tropical Island
Although there are plenty of things to see and do on the mainland, make sure to also book a little trip to one of the many beautiful tropical islands! Our suggestion? A paradise called: Phu Quoc!
For those who are staying in Saigon, we have good news, because Phu Quoc is only a short 45 min plane ride away!
The island is home to crystal clear waters, incredible sunsets, lush tropical landscapes and perfect white sandy beaches. It is the largest island in Vietnam, probably the size of Phuket in Thailand.
The northern part of the island is relatively unaffected by its status as a UNESCO protected national park, but there are numerous luxury resorts, funky bars and cafes along the southern coastline.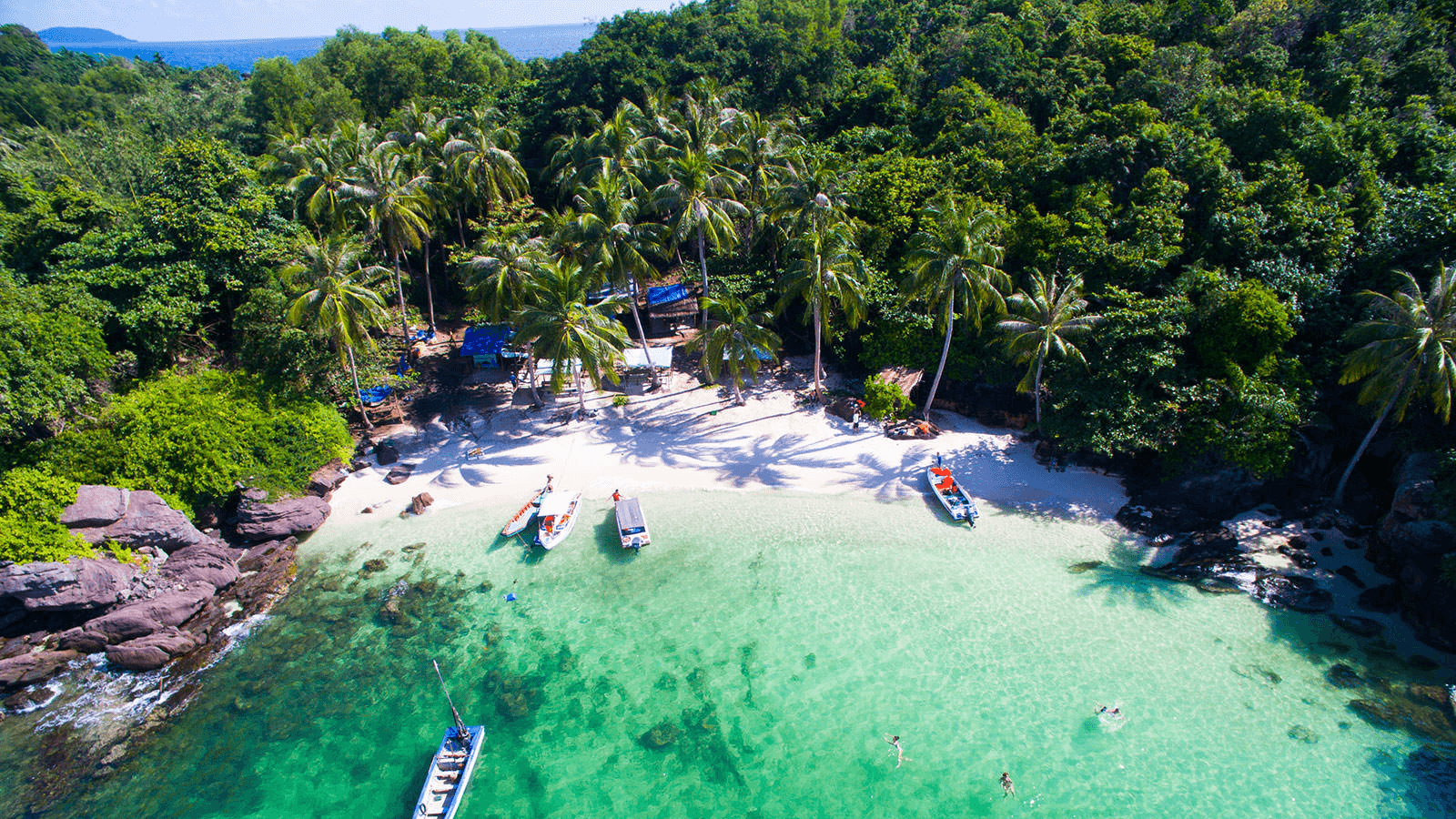 Hop on a Cruise Around Halong Bay
Halong Bay is not just one of the must visit places in Vietnam, it's a true wonder of the world! It is also an UNESCO World Heritage Site in northern Vietnam, and it's probably graced your Instagram feed multiple times in the past. The bay is famous for its bright emerald water, an infinite number of jagged limestone karsts protruding from the ocean and white wooden junk boats sailing around the islands. It is, in one word, otherworldly!

Halong Bay sits off Vietnam's northeastern coast, 165km from Hanoi, and the best way to take in all the beauty of this area is to hop on a cruise! We suggest you book a 2 day/1 night cruise but if you're short on time you can also do a day trip and enjoy activities such as: cave exploration, booze cruises and kayaking.

Trust us when we say that no trip to Vietnam would be complete without visiting Halong Bay!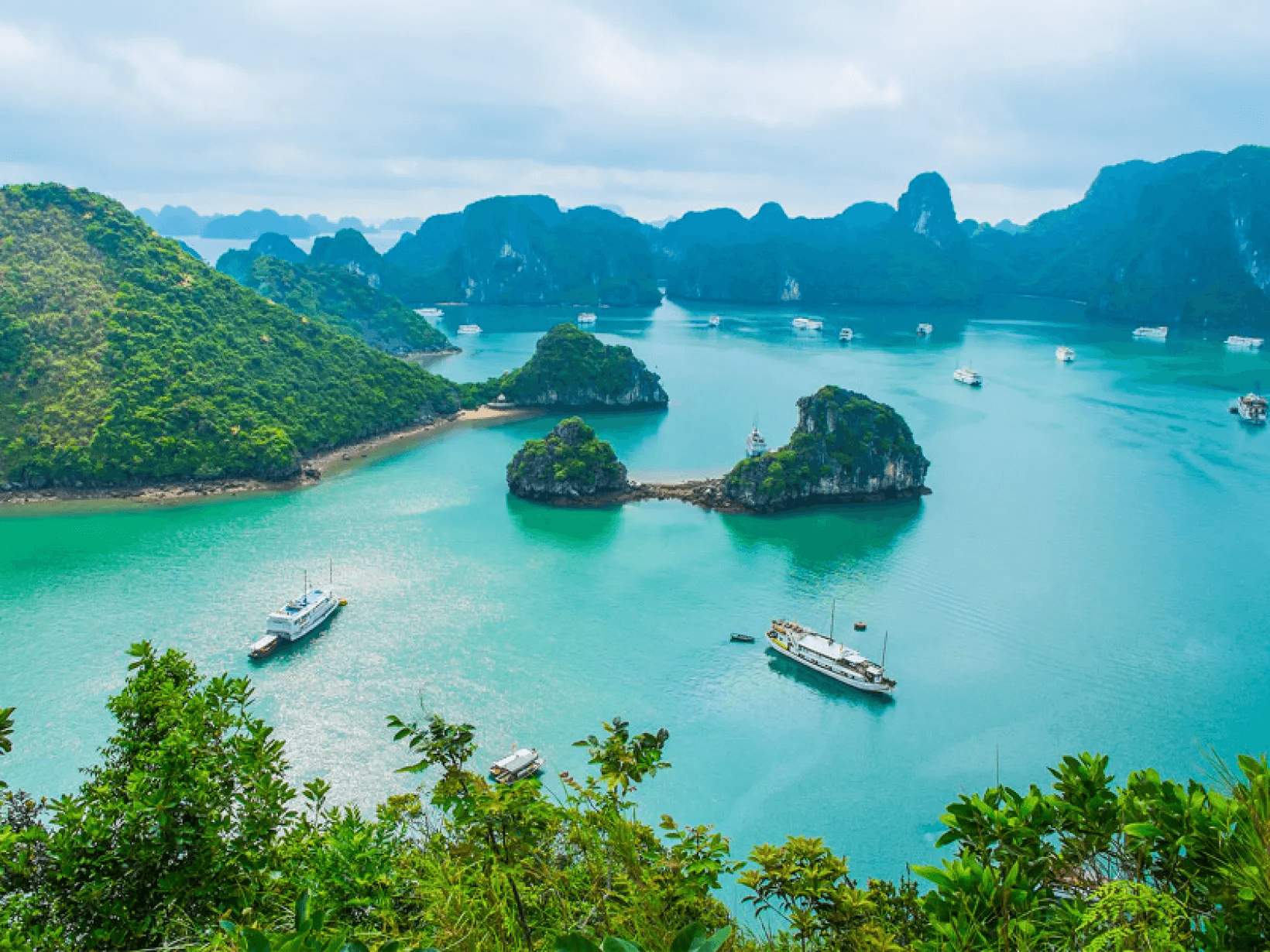 Walk the streets of Hoi An ancient town
Hoi An has a reputation for being one of the prettiest cities in all of Vietnam and the Old Town here has been designated as a UNESCO World Heritage Site thanks to its 800 historic buildings. There is a definite 'old town' feeling here which is like stepping back into the Vietnam of ancient times, and the city is also famous as it was never bombed during the Vietnam War.

Hoi An is located on the Thu Bon River which is flanked by bars, cafes and local markets and you can walk along the banks at night and take in the views across the rippling water. The river is best experienced at night when it comes alive with boats adorned with brightly colored lanterns, and lit candles are placed onto the water, which makes it a photographer's dream!

Must do things in Hoi An:
Book a lantern making workshop
Visit a tailor and have a tailored suit made
Enjoy a coffee in one of the many coffee shops
Stroll around Hoi An Night Market
Join a cooking class
Get a ride in a traditional Vietnamese bamboo basket boat
Cycle in the rice fields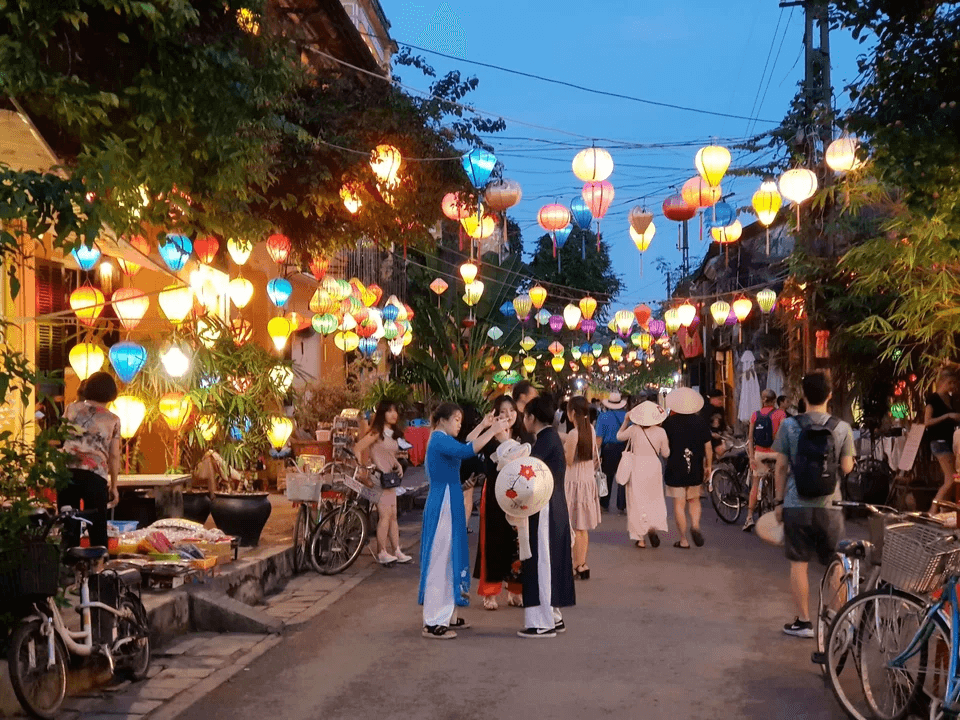 Visit the Most Instagrammable Spots in Hanoi
Vietnam's capital has so much to offer when it comes to history, culture, architecture and delicious food! And although you've probably done your research already on what the best places to visit are, we understand it can be a challenge to know what you can fit in one or two days.
When you are limited in time, and you don't feel like figuring out everything yourself, we suggest you book a private tour in Vietnam. And that's where we come in! We at ForeverVacation offer some of the best tours in Vietnam, including our best selling Hanoi Instagam tour, where our guides will take you to the most famous spots in Hanoi, all in one day! No muss, no fuss!

This full day tour will be packed with famous landmarks, vintage architecture, secretly located spots, Vietnamese coffee and much much more! Including:
Temple of Literature
Long Bien Bridge
St. Joseph's Cathedral
The Huc Bridge on beautiful Hoan Kiem Lake
A secret instagrammable cafe
Tran Quoc Pagoda
Ho Chi Minh Mausoleum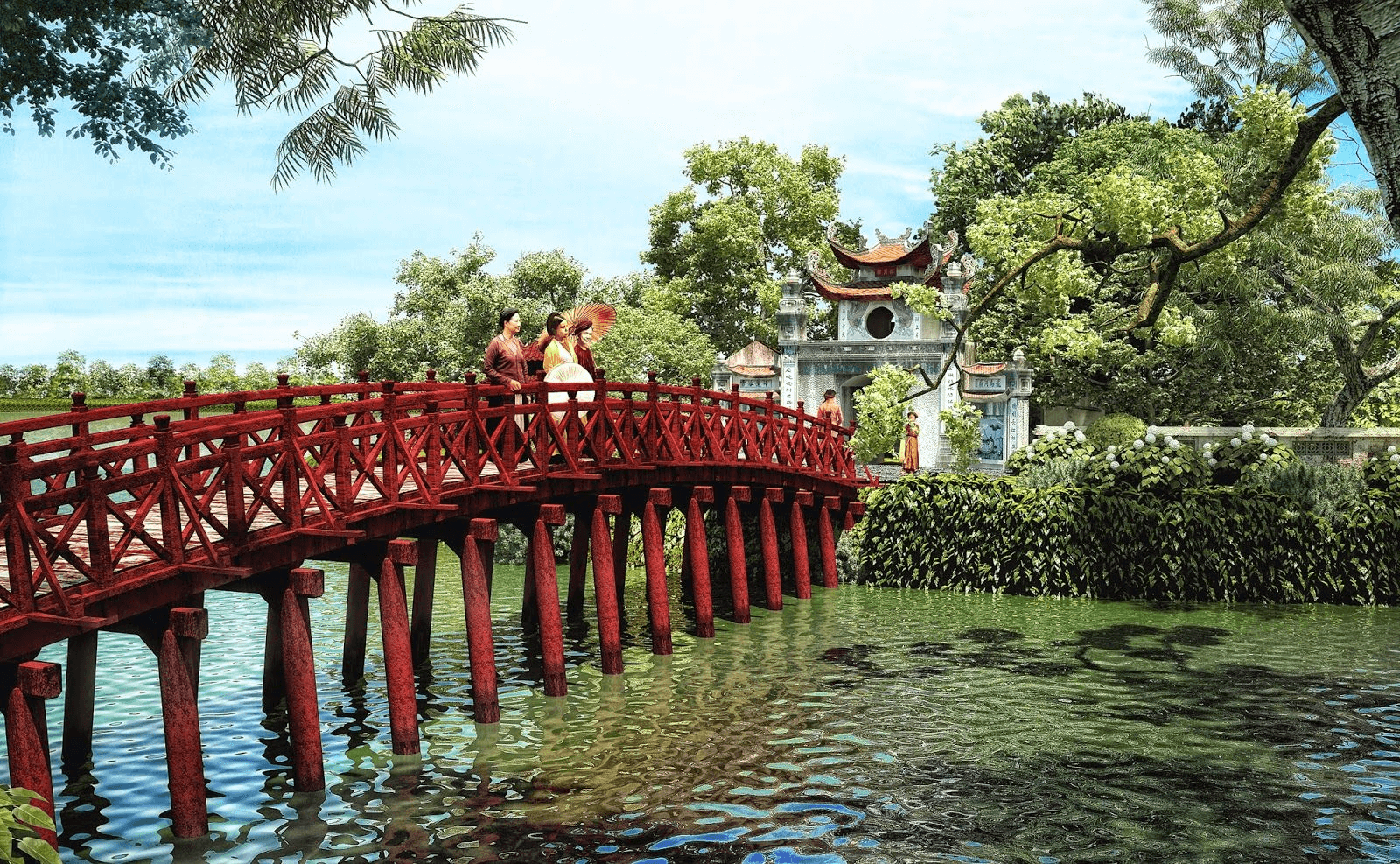 Visit the War Museum in Saigon

Out of all historic spots, the War Remnants Museum is a must-go place and it is yet another place where you will learn so much about the Vietnam war, its heroic stories & untold truths that you may never have heard of! But beware: It offers a shocking reminder of the long and brutal Vietnam War, with many graphic photographs, so maybe reconsider taking small children to this museum.

The museum consists of two main sightseeing areas, outdoor and indoor. You will see military equipment such as helicopters, tanks and bombers in the courtyard outside the building. The outdoor area also has an area that simulates the prison camps that existed from the French colonial period.
The "tiger cage" - the prison of political prisoners - was considered the most brutal and inhumane place back in the days. Inside the museum you will find nearly 1,500 artifacts, photos, documents, and videos on permanent display. They are distributed and displayed according to each main theme or period. On the ground floor, you can visit a collection of anti-war posters and images about the war in Vietnam.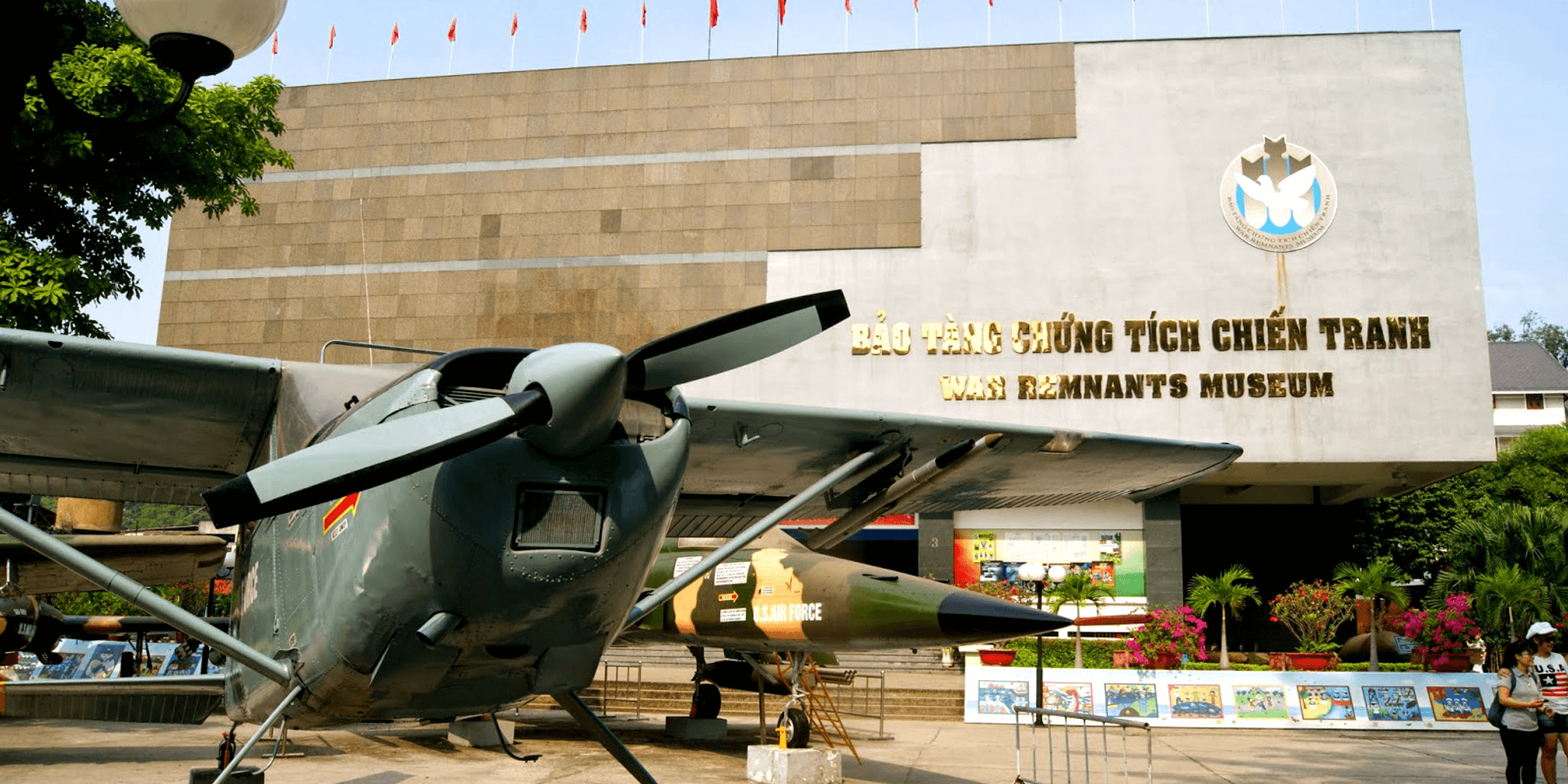 See the Golden Bridge in Danang
Among the many bridges that merits celebration in Vietnam, Danang Golden Bridge - also known as the Giant Hand Bridge- is probably the most recognizable one! The bridge perches on a prime location inside the Ba Na Hills, a fascinating entertainment and tourism complex of Danang City. At the height of 1400m above sea level, the bridge is a masterpiece with an unique design resembling being lifted by two giant hands.

The Golden Bridge has come into operation since June 2018, and it quickly went viral on Facebook and Instagram. It was also ranked top 10 bridges with the most unique architecture in the world!

So if you ask us: you can't really leave Vietnam without seeing this one of a kind architectural wonder!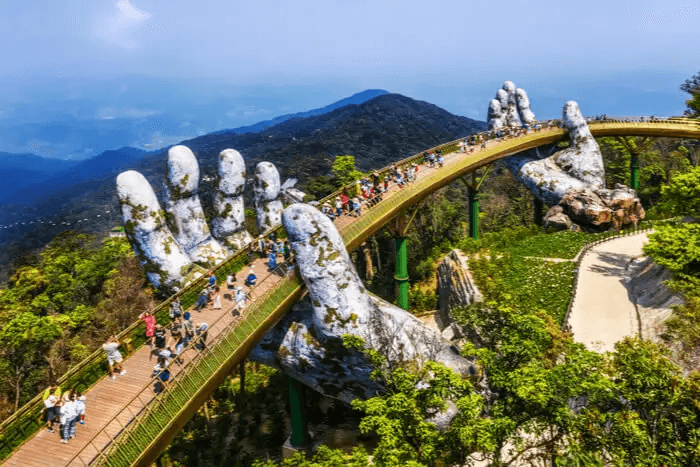 Go for a Trek in Sapa
Enjoy hiking? Then Sapa might be the place for you! With rolling rice terraces of the Muong Hoa Valley and mountains towering all around, you can spend weeks here hiking in the area.There are treks to suit everyone's time frame and fitness level. You can learn about the hill tribes in the area such as the Hmong, Tay and Dao tribes.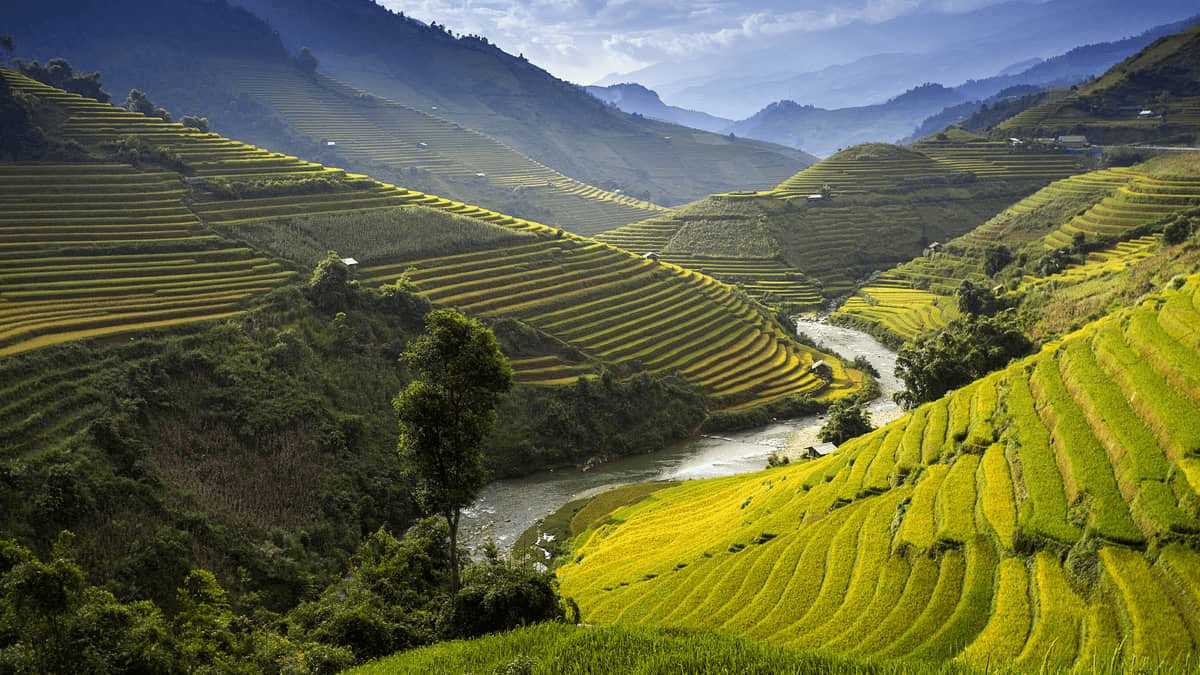 Explore Hue Imperial city
Talking a bit of history, over the course of a thousand years of feudal regime, Hue was the former capital of the Nguyen Dynasty in the nineteenth and early twentieth century. Here remains spectacular royal architecture from the time. The complex is a collection of well-preserved palaces and royalty's tombs: each has its own layout and architectural design to meet the strict requirements of Feng Shui principles. The location was also recognized by UNESCO in 1994. You will need to spend a whole day fully exploring the immense campus and celebrate the solemn yet peaceful atmosphere here.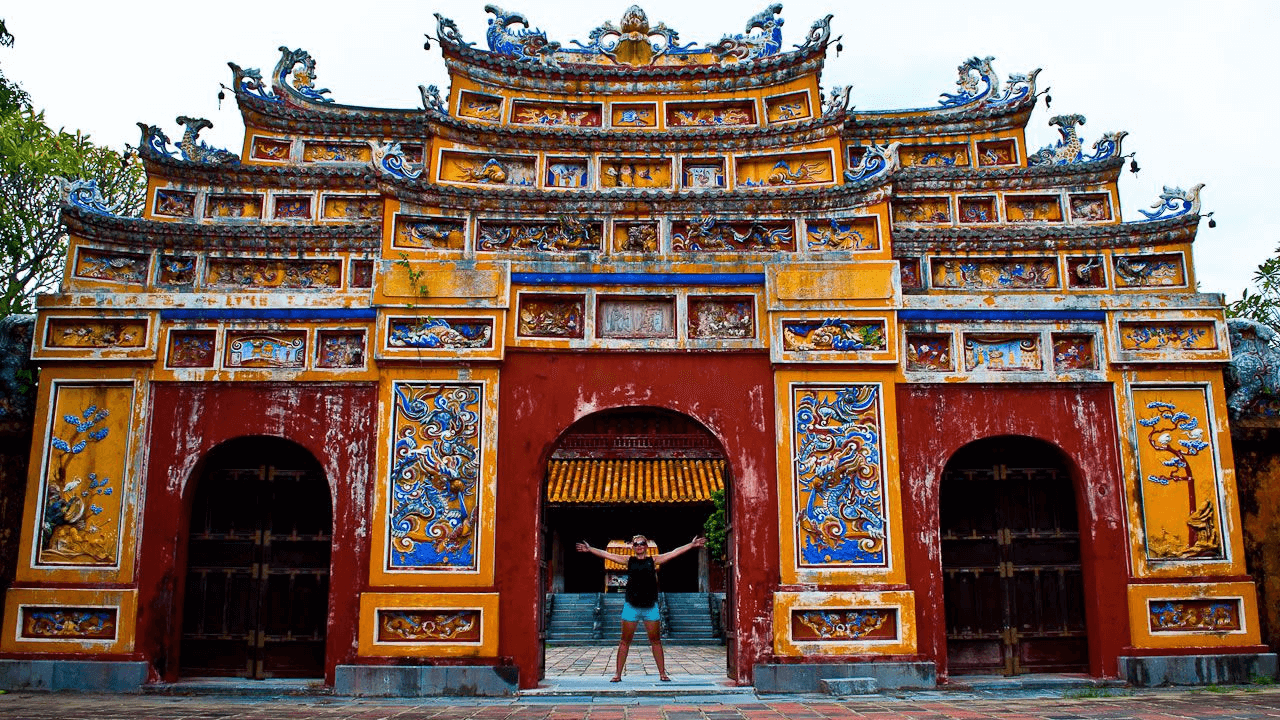 Eat 'til you drop in Saigon
If you like discovering new exotic food and you're not afraid to eat at local restaurants, you should definitely explore all the delicious dishes that Ho Chi Minh has to offer! The best to do this is by booking a guided foodie tour! A local guide will take you to all the best places in the city, especially places only known by locals! You will get an authentic experience all the while taking in the city and its best attractions along the way!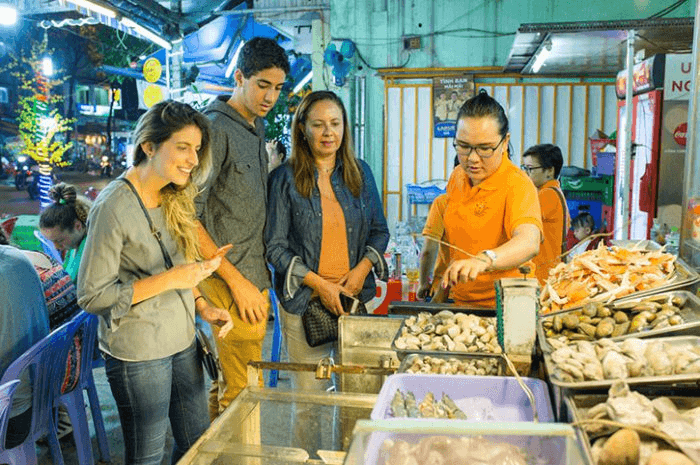 1 month ago
Get your
Vacation on!
Vacation more, get inspired
Expertly curated emails packed full of vacation inspiration, travel tips and more!
Expertly curated Emails for travel inspiration, vacation tips and hacks and much more! Subscribe and upgrade your traveler skills with Forevervacation.