Vietnam Travel Tips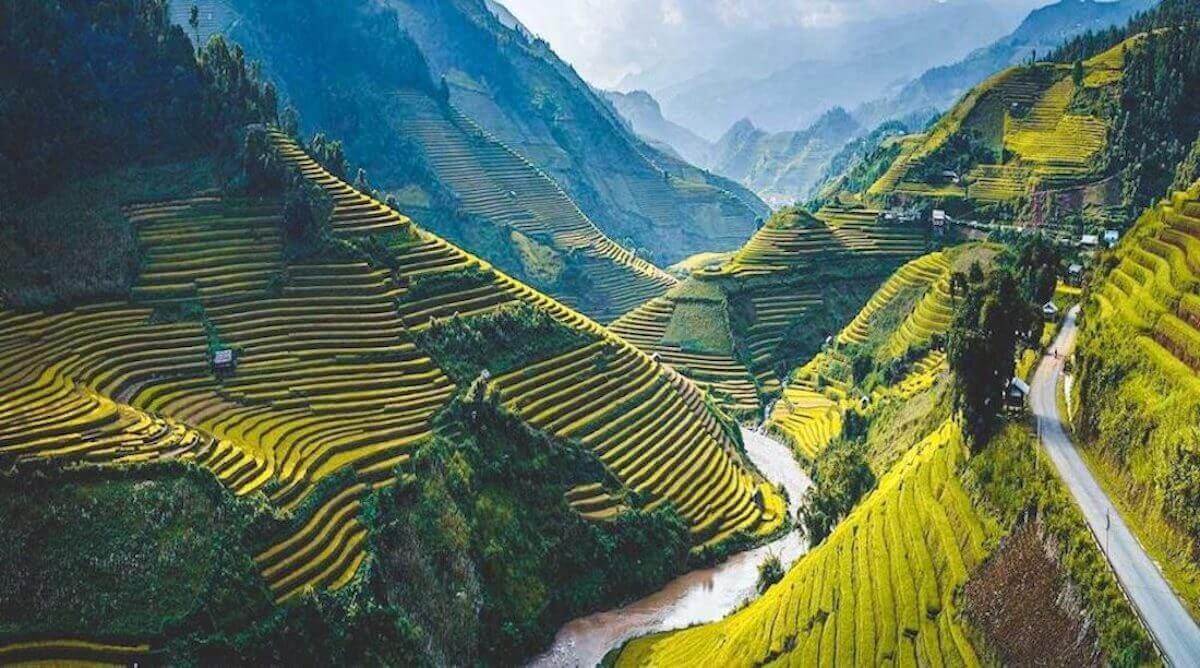 Vietnam travel tips
Given its historic past, Vietnam is a country that offers a unique perspective for travelers. Blessed with an insanely diverse landscape, you could be sliding down sand dunes in the morning, taking a stroll by the beach by noon and walking around a UNESCO heritage town by afternoon.
No better way to start your holiday to Vietnam knowing that you've got everything figured out. Flight booked, hotel booked, enthusiasm on point. But what to bring/prepare? This is our Vietnam checklist, a list of important travel essentials you're definitely going to need!
Following these top Vietnam travel tips will help you avoid the major pitfalls, and ensure you come away from your first visit to Vietnam with happy memories, as well as your souvenir conical hat ;)
When you are limited in time, or you don't feel like figuring out everything yourself, we suggest you book a private tour in Vietnam. And that's where we come in! We at ForeverVacation offer some of the best tours in Vietnam, including our best selling Hanoi Instagram tour, where our guides will take you to the most famous spots in Hanoi, all in one day! No muss, no fuss!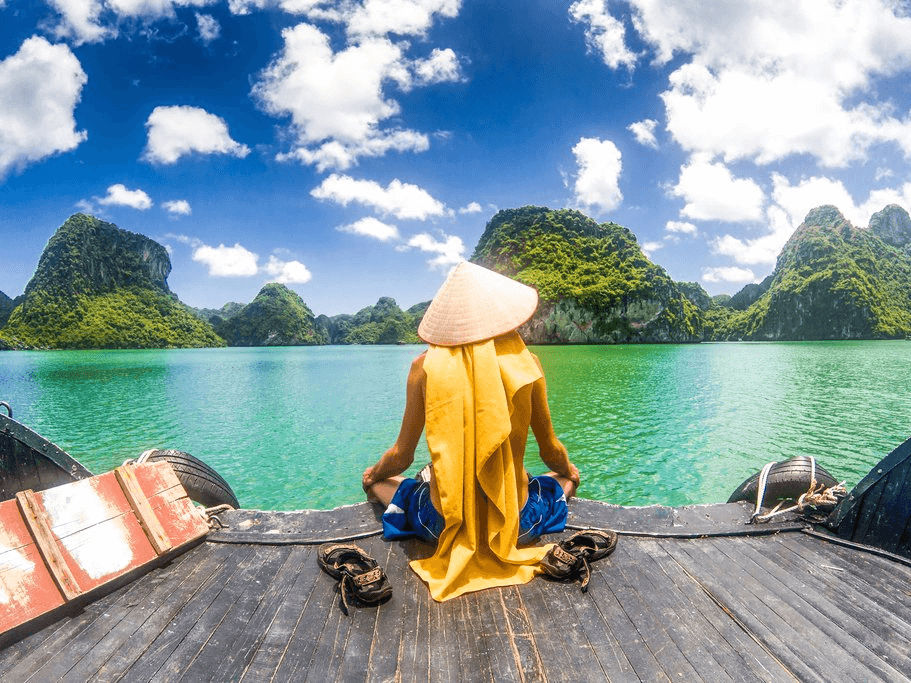 Sort out the right visa before traveling
Preparation is key when it comes to traveling, especially when you are flying to a different continent! When planning a trip to Vietnam, one of the first questions you need to ask yourself is 'do I need a visa to enter Vietnam? It goes without saying that you need an international passport. Make sure it's valid longer than six months though or they won't let you in (true story).
But when do you need a visa? This will entirely depend on your nationality and how long you are planning to stay in Vietnam!
There are certain countries (only a few though) that made agreements with the government of Vietnam so their citizens can benefit from the visa exemption when entering the country as tourists. These tourists are allowed to stay in Vietnam for a limited amount of time, without the need to apply for a tourist visa from their local Vietnamese Embassy.
However, most people will need to get a tourist visa before traveling to Vietnam. Depending on how long you would like to stay, you will need to apply for and E-Visa or a Visa On Arrival! Make sure to check our detailed Vietnam visa blog post to make sure you get the right one!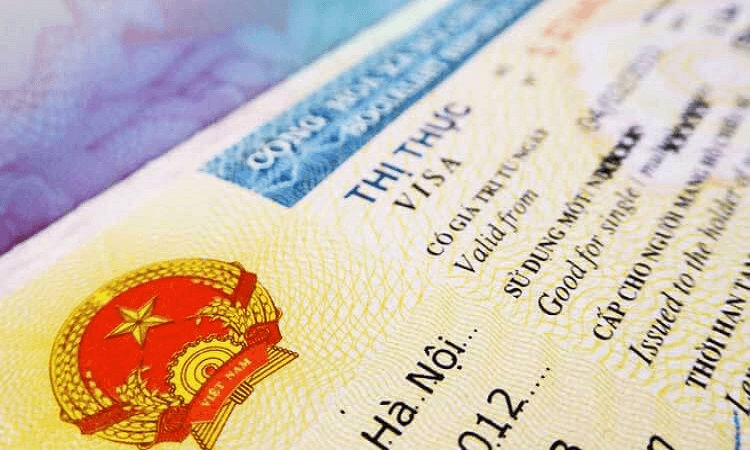 Make sure to travel at the right time/season
Knowing the best time to visit Vietnam is essential if you want to make sure you're traveling at the right time; ideally avoiding the sweltering heat and dodging the monsoon rains. You also need to understand there are big differences when it comes to seasons in different parts of Vietnam.
The weather in Vietnam changes from North to South and region to region. Influenced by the tropical monsoon climate, north Vietnam has 4 distinct seasons: spring, summer, fall and winter. The south of Vietnam has 2 seasons: dry season and rainy season. Each season has its own features and characteristics, which bring you different experiences about places and landscapes.
Lucky for you, we've dedicated a whole blogpost to Vietnam's weather and when the best time is to visit! You can read all about it here!
Don't underestimate the country's size
Vietnam is a very long, thin country. From the city of Hanoi in the north to Ho Chi Minh City in the south, the distance is over 1,000 miles and it would take about 30 hours by car. If you are limited on time, you should definitely plan on flying if you want to hit all of the highlights in the south, central, and northern regions.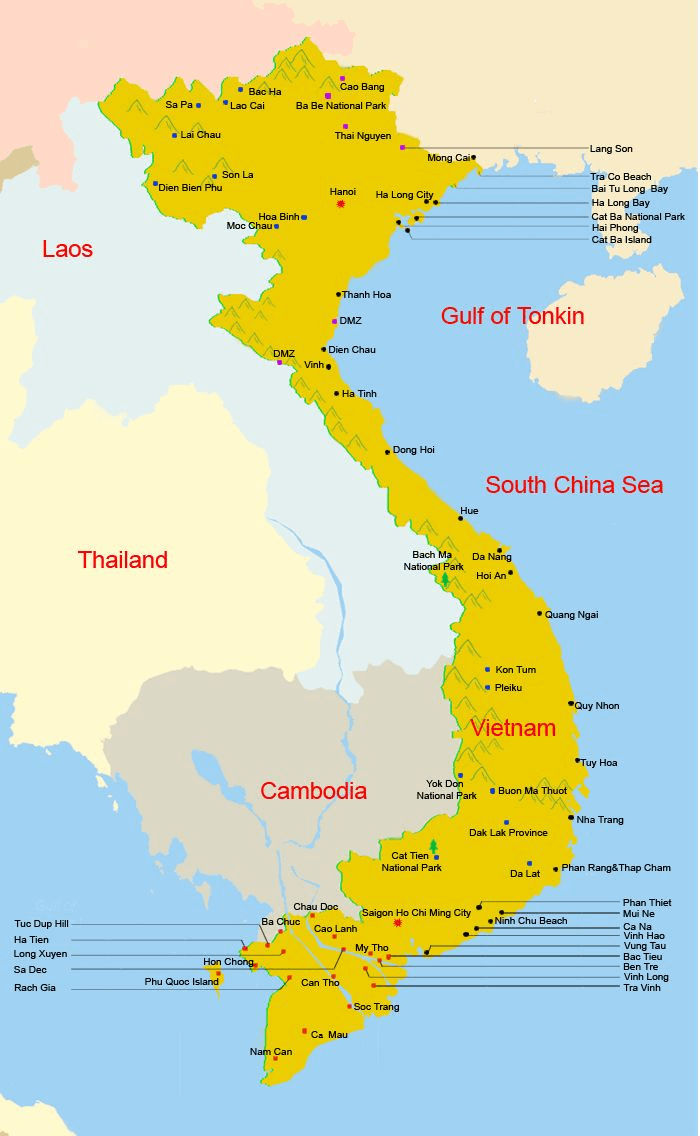 Learn how to cross the streets in the big cities
First things first. When you find yourself in Hanoi or Ho Chi Minh and you are exploring the city by foot, one of the most difficult challenges you'll come across will be....crossing the street! Traffic is pretty crazy in Vietnam and crosswalks don't really matter here.
To locals, it's basically just white paint on the road with no meaning. It will be a bit intimidating at first, but when you take in the following rules, you'll be able to tackle the streets like a pro!
Cross with locals: especially if it's your first time crossing a street in Vietnam, try to spot locals, follow them and copy their pace, timing and attitude.
When in the middle of the road, KEEP GOING AND DON'T STOP. Believe us, they will dodge you, even if it's by just a hair.
Meet the eyes of the people driving straight at you. This will help them avoid you.
Keep in mind that sidewalks are not only used by pedestrians, they are also being used by scooters that want to avoid traffic jams
Look confident and don't hesitate!

Use mosquito repellent
Mosquito bites can be nasty, you know that already. But in Vietnam these annoying blood suckers can also carry Malaria and Dengue Fever. Unless you want to get severe headaches, muscle pain, high fever and nausea, put some insect repellent in your suitcase. Extra plus, it will keep other bugs away too!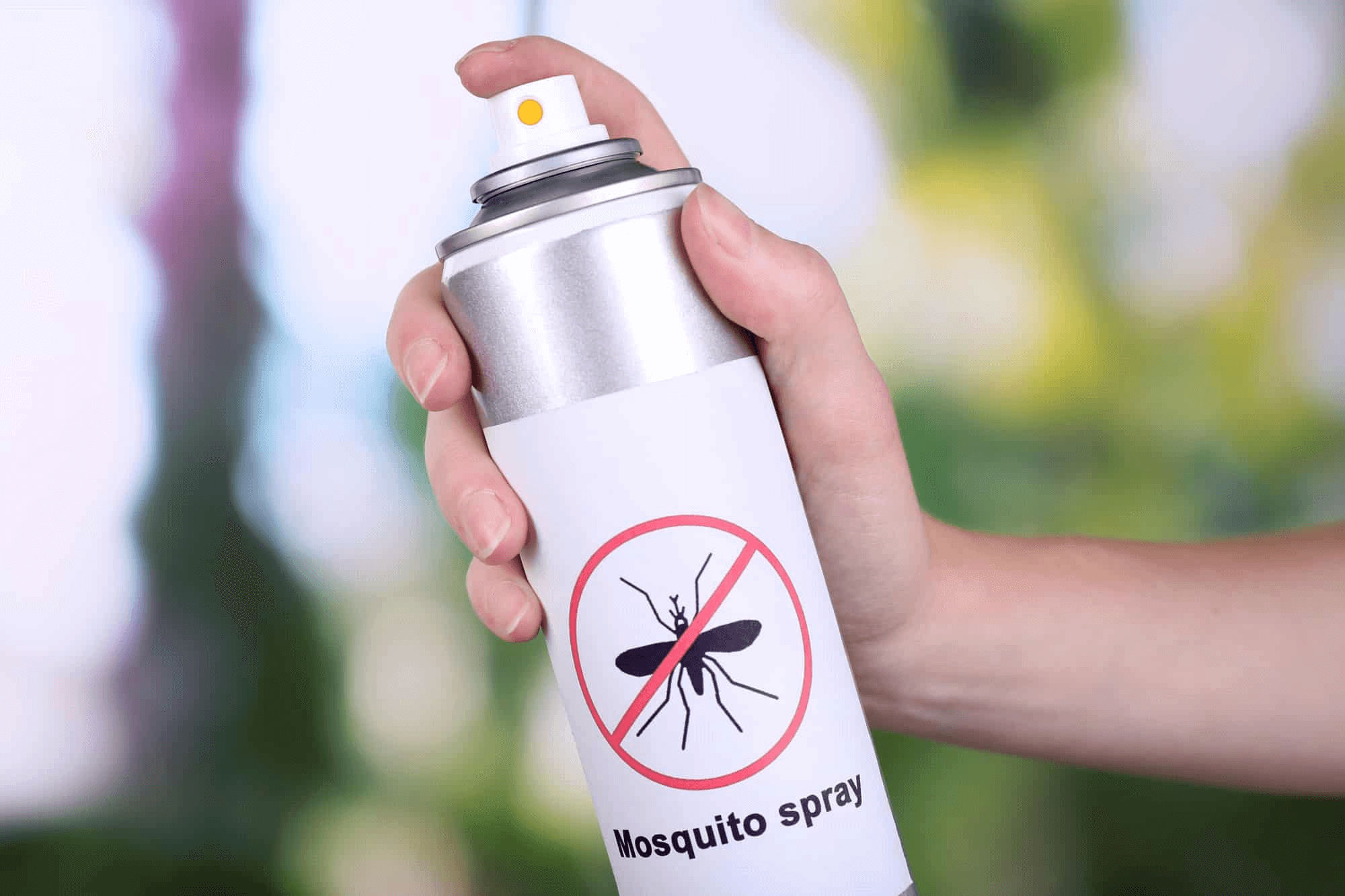 Which clothes to pack for traveling to Vietnam
Choosing the right time to travel to Vietnam can have a big impact on your holiday, both for personal comfort and packing purposes. The south generally receives more rain and enjoys a tropical climate, however, Hanoi and points farther north have colder winters than many travelers expect. If you are looking to cover both north and south, you'll need to pack both warm and light clothes!

Vietnam is a semi-tropical country but winters in the north can be chilly (especially in highland areas such as Sapa). If you're heading to Hanoi and the surrounding region between December and March, make sure you pack a few hoodies or warm sweaters for the evenings.
Central Vietnam can be wet in November and December: an anorak or raincoat is a must. South Vietnam is warm at all times of year, so opt for light, breathable clothes and a sunhat/sunglasses here.


Be wary of scams
Vietnam is known for its tourist traps and scams, so we've a listed some of the most common ones below so you can recognize and avoid them:
Taxi scams - Taxi scams are common in Vietnam, particularly in tourist hotspots. Some taxi drivers will take advantage of tourists by driving them around in circles to increase the fare or by charging exorbitant prices. To avoid taxi scams, make sure you use reputable taxi companies or ride-hailing apps such as Grab. Always ask for the fare before getting in the taxi and make sure the meter is on.

Fake tours and tickets - Be wary of cheap tours or tickets that seem too good to be true. Some tour operators may offer incredibly low prices, only to take you to fake attractions or force you to pay extra fees once you're on the tour. To avoid this, research the company beforehand and read reviews from other travelers.

Money exchange scams - Some currency exchange booths may advertise favorable exchange rates but actually give you less money than you should receive. To avoid this, always check the exchange rate beforehand and only exchange money at reputable exchange booths or banks.

Motorbike rental scams - Motorbike rental scams are common in Vietnam, particularly in popular tourist destinations. Some rental companies may ask for an inflated deposit and then claim damages that were already on the bike or even steal the bike altogether. To avoid this, only rent from reputable companies and take photos of the bike before and after renting it.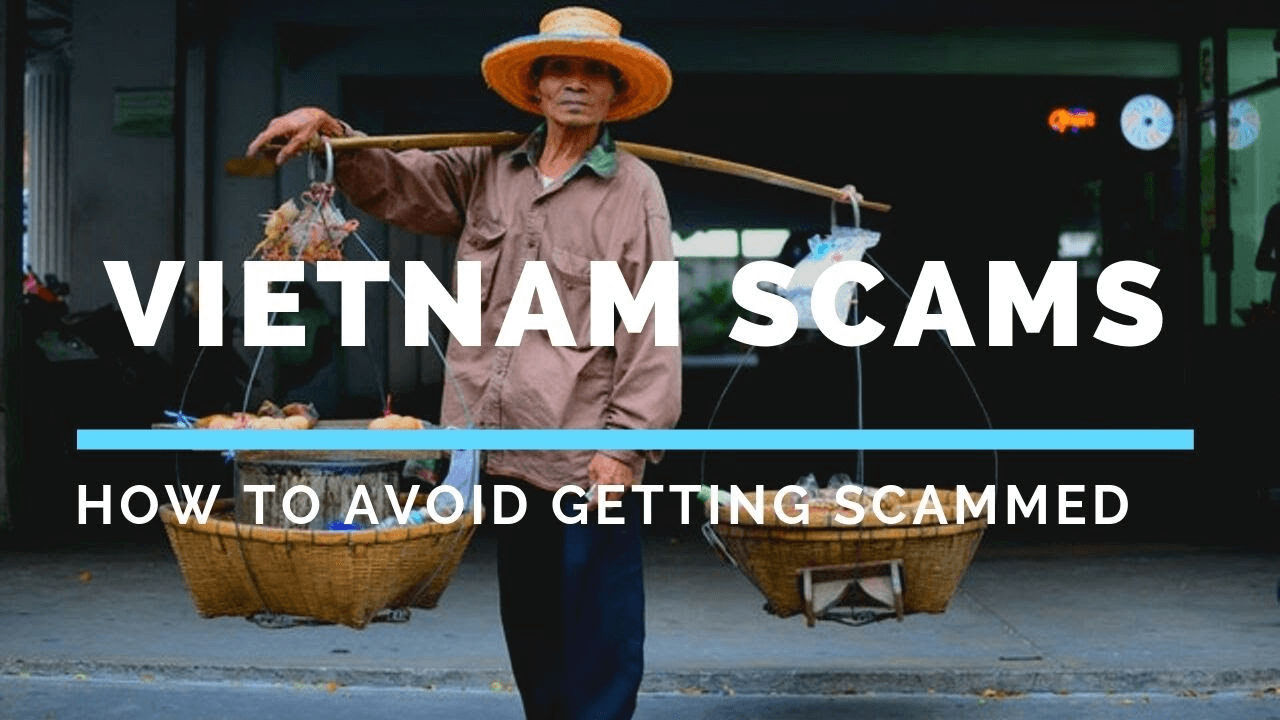 Know your transportation options
There are numerous means of transportation in Vietnam and your choice will depend entirely on your budget, the amount of time you have and the level of comfort you prefer!

Travel by plane: the fastest way
Most first time Vietnam visitors want to visit both Hanoi (in the North) and work their way down to Ho Chi Minh City (in the south), or do the opposite. If you only have a limited amount of time (or you prefer to travel comfortably), your best shot is to take a flight between these two cities.

Travel by train
Vietnam has a reliable and well equipped rail system and the trains in Vietnam are better than most in Southeast Asia. The cost for getting around by train is a little higher than by bus but the extra comfort you get on a train makes it worth the extra cost. And more importantly, the trains are said to be safer than buses.

Travel by bus: The cheapest way
Traveling by bus is one of the cheapest ways to get around Vietnam, with buses connecting most major towns and cities. Keep in mind that the quality of the services and the busses can differ dramatically depending on which tour operator you chose so we recommend opting for the slightly more expensive ones, if you have to budget for it.This especially if you take overnight buses and when traveling long distances (for example, it takes around 32 hours from Ho Chi Minh to Hanoi).

Travel by motorbike: the most adventurous way
If there is one country in Southeast Asia associated with motorcycle travel, it is Vietnam. Each year, thousands of backpackers set off on an adventure: live the unique experience of traveling Vietnam on a motorcycle. It's really a unique way of traveling around the country but we do however only recommend it to experienced motorbike drivers.

Getting around in the city
The most efficient way to get around in larger cities is by using the apps 'Grab' or 'Gojek'. Like Uber, Grab and Gojek are app-based taxi companies that will allow you to 'order' scooter and car rides just like Uber. It's a super easy and cheap option for those who are on a budget!
Journeys are reserved via your mobile phone (maybe get a local sim card for this one) and the journey has a fixed fare meaning that you'll avoid arguments with the drivers. The application allows payment by card or cash!

Travel by boat
If you'd like to see Halong Bay, you' re only option is to take a boat. If you have never heard of Halong Bay, well, it's one of Vietnam's most stunning attractions – there is no way to describe Halong Bay other than as purely breathtaking. As a UNESCO World Heritage Site and natural wonder of the world, the bay features thousands of limestone islands and cliffs emerging from the turquoise sea.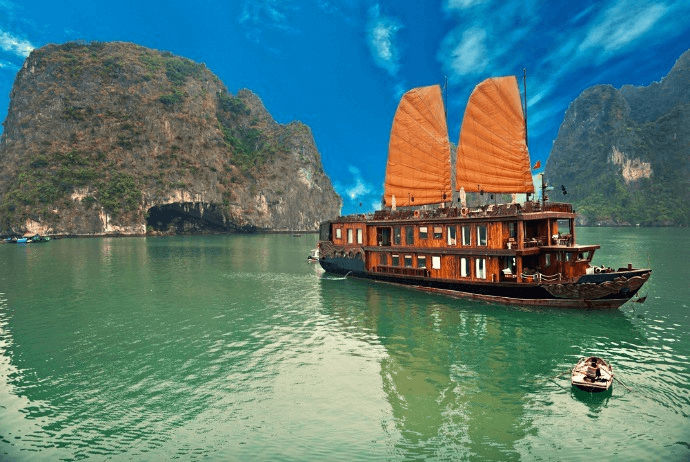 The benefits of organized tours
Traveling with a private driver is a perfect solution for people that enjoy an easy way of travel or for people traveling in group or with a family. Although this might be a slightly more expensive option, it's also the safest and most comfortable way.
When driving with a local driver, you are sure they know all the ins and outs, they know how to tackle the Vietnamese traffic and you can personalize your trip and make stops at all the attractions you'd like to visit along the way!
As you know (or don't know), we at ForeverVacation offer private, all-inclusive tours in Vietnam such as Ho Chi Minh, Hanoi, Danang and Quy Nhon, where one of our local guides will take you around i the comfort of your own private, air-conditioned car! How good does that sound?

Pros:
Everything is organized for you so you'll be stress free
It's a comfortable way of traveling
You can personalize your trip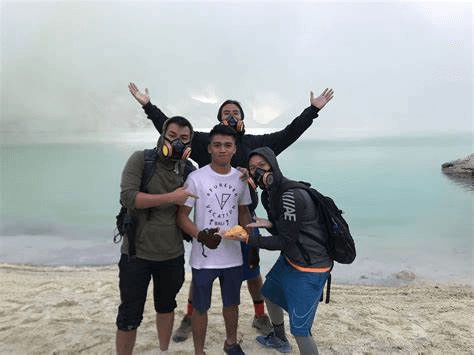 Prepare a medical kit at home
Bring your own medical emergency kit from home when you travel. I know this is a no-brainer, but still worth mentioning. You will feel much safer and at ease when you have your own medication and pills from back home.
Also, don't forget to bring your medical prescriptions from back home, or even better, buy your prescription pills in your own country before leaving for Vietnam.
Also, never drink tap water, only eat fresh cooked food and wash your hands regularly. Believe us, you don't want to get sick. If you do though, you'll be thanking yourself you brought some diarrhea pills. If you're planning on traveling by boat, you may want to consider bringing some motion sickness pills as well.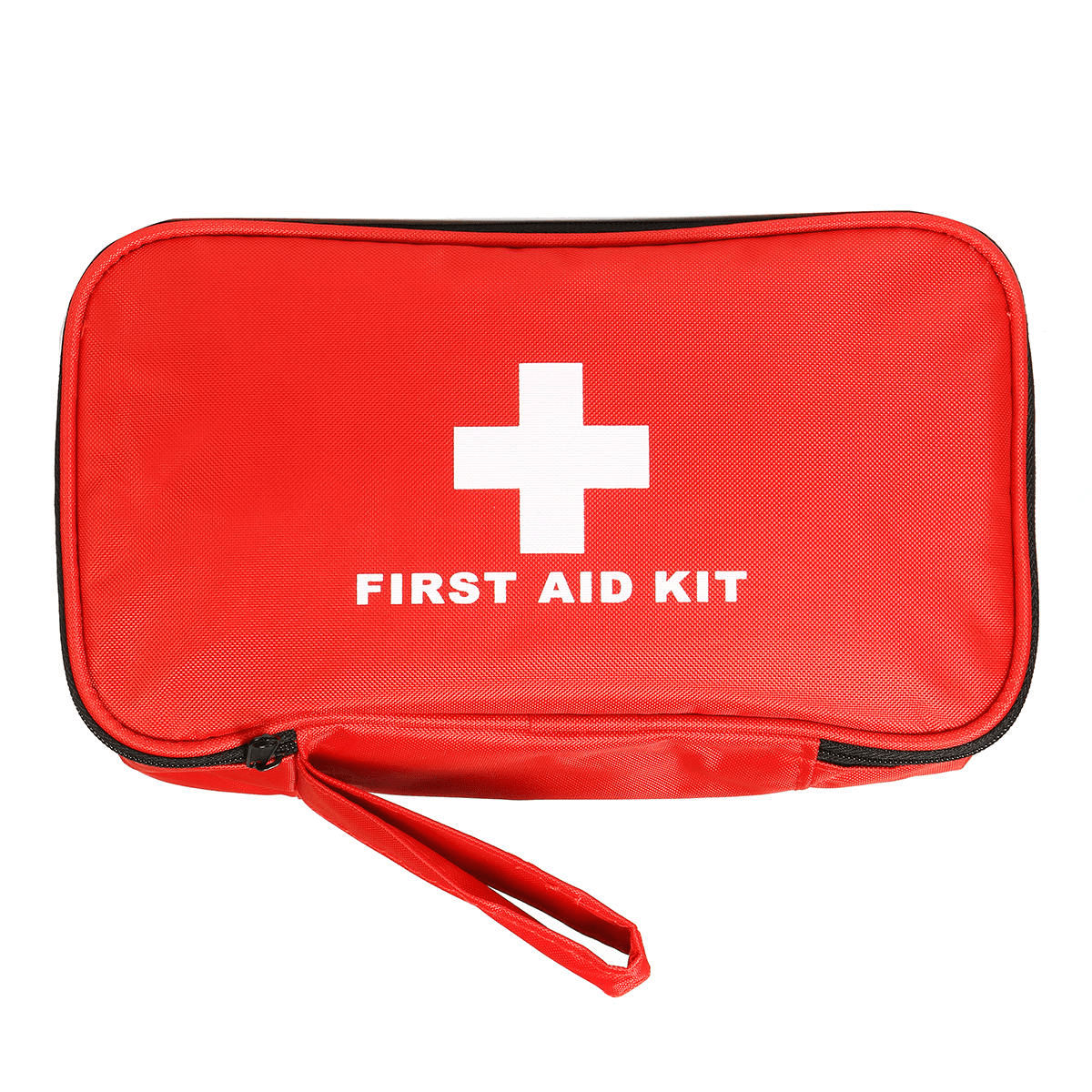 Conclusion
After reading this helpful tips blog post you will feel 100% confident and ready to explore Vietnam. So pack your bags and get excited! Your Vietnam adventure awaits you!
Get your VACATION on!
Expertly curated emails packed full of vacation inspiration, travel tips and more!