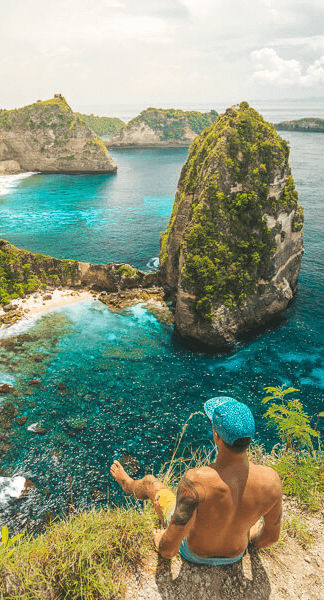 Nusa Penida
Insider's Guide - What to do and Where to go in Nusa Penida
Famously known for the iconic T-Rex picture that is trending all over Instagram, Nusa Penida is a beyond gorgeous island right off the coast of Bali. Just a ferry ride away, Nusa Penida is a world of its own and has so much to offer.
With stunning white beaches, spectacular snorkeling spots, and the most beautiful bungalows, we recommend spending 2 to 3 days in Nusa Penida to thoroughly enjoy your visit.
Regardless of time, we are so excited for you to experience Nusa Penida, it's truly a special little island with authentic and untouched beauty.
Beaches
Kelingking Beach
If anything, Kelingking Beach is the number one reason to visit Nusa Penida and completely worth the ferry ride taken from Sanur. If you could only visit one attraction in Nusa Penida, this would be it. With gorgeous views of the T-Rex cliffs and beyond, expect to find massive crowds at the entrance of the beach.
To truly enjoy this experience, take yourself on an adventure and escape the masses. We highly recommend the hour long trek down to the shore. Be warned that the path is steep and close toed shoes are required.
It's not for the faint hearted, but is an absolutely rewarding trek none the less. Waiting for you at the bottom is white sand so fine, water crystal clear, and the sea breeze you came looking for.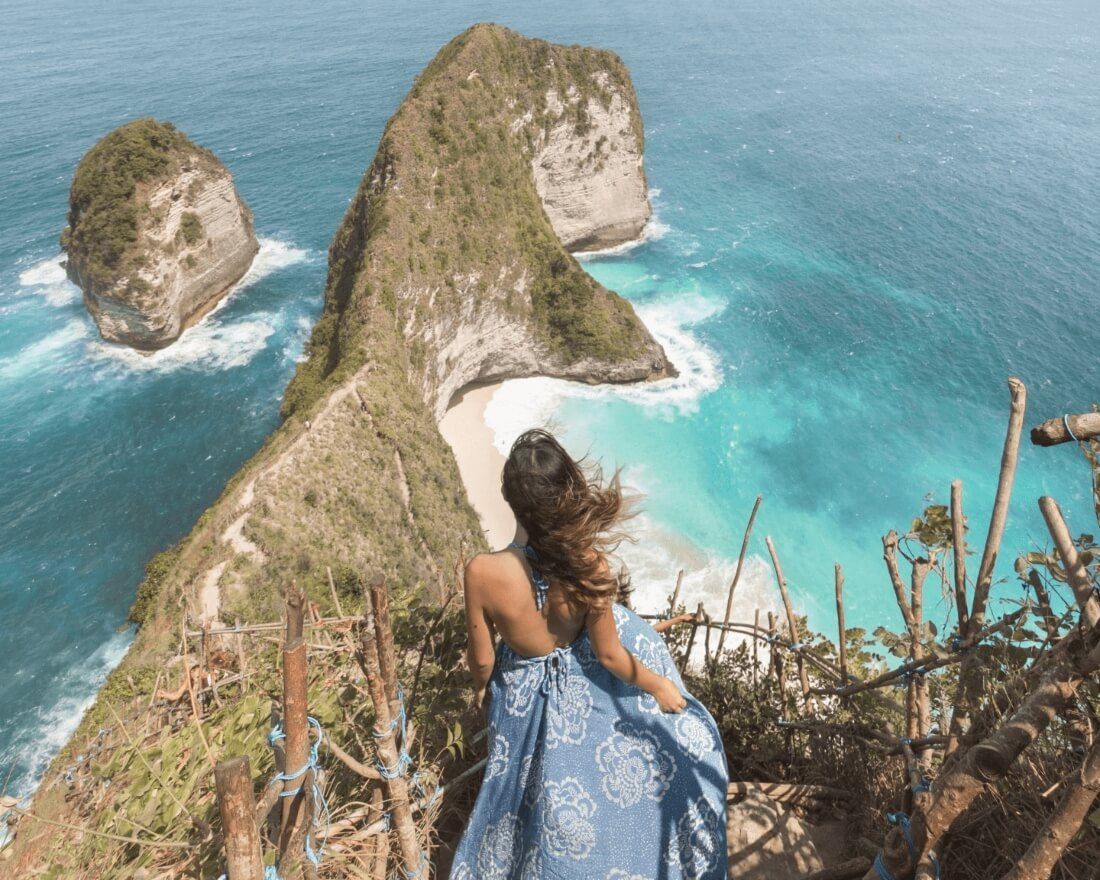 Atuh Beach
Similar to Kelingking Beach, Atuh does have a steep climb down to the sand although you'll be able to enjoy the beach all to yourself!
One of our favorite things about Atuh Beach is that it's just as gorgeous as Kelingking but attracts a much smaller crowd of travelers.
You'll be able to lay back, tan, and swim in paradise without any disturbance! You'll also find a gorgeous swing which overlooks the sea, making the perfect Insta pic!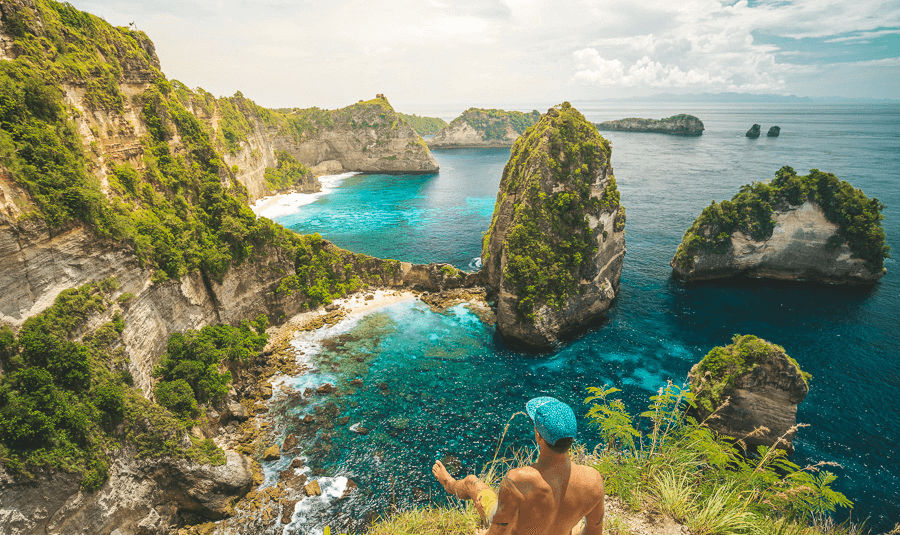 Diamond Beach
At Nusa Penida, we believe that less popular the beach, the more stunning it gets! Diamond beach is genuine beauty hidden among gems! With water so turquoise, it'll leave you speechless!
The steps are carved out of the hillside, and you'll find a single fisherman at the bottom of the trail. The trek is daunting but worth it. A trip to Nusa Penida is incomplete without a visit to Diamond Beach!
With the roads to Diamond Beach so rough/bump, it is highly recommended to take a day tour where your driver and guide is provided.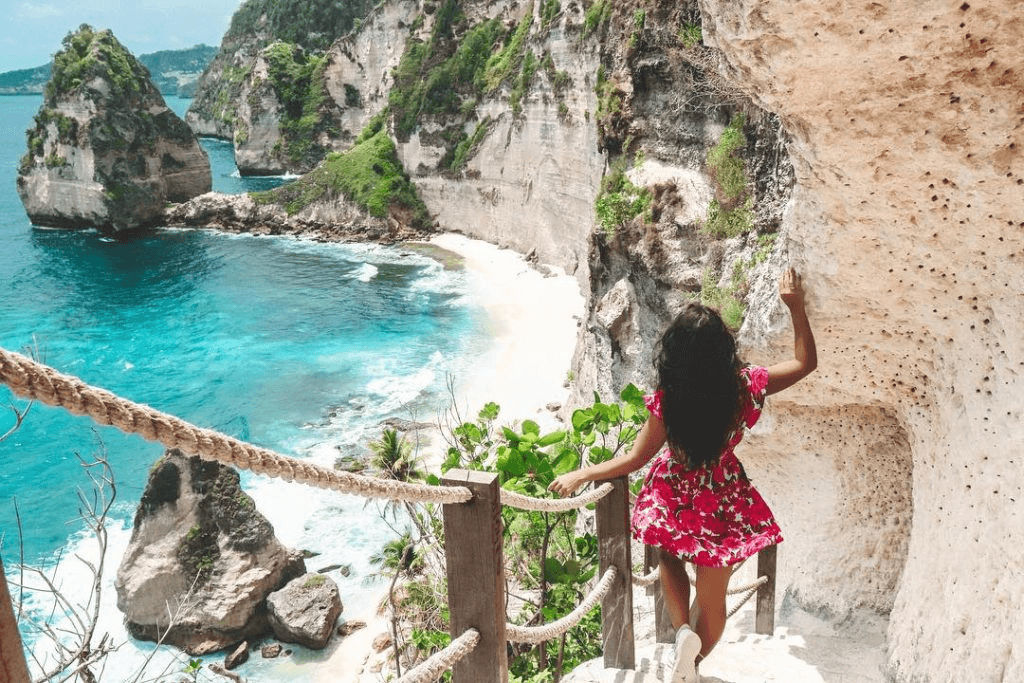 Accommodation + Food
Rumoh Pohan Treehouse
Similar to the famous T-Rex shot, photographers and bloggers love capturing the stunning shot from the Rumoh Pohan Treehouse which overlooks the crystal clear beaches listed above.
A true adventure, booking a night at the treehouse will be one of your most thrilling experiences in Nusa Penida. With such high demand, it's suggested to book months in advance and to select which treehouse option you'd prefer (#1 has been known to be guests favorite!).
You can also try your luck to visit without a booking in hopes of getting that phenomenal shot!
Phone: +62 812-3990-1421
Website: https://www.airbnb.com/rooms/15876025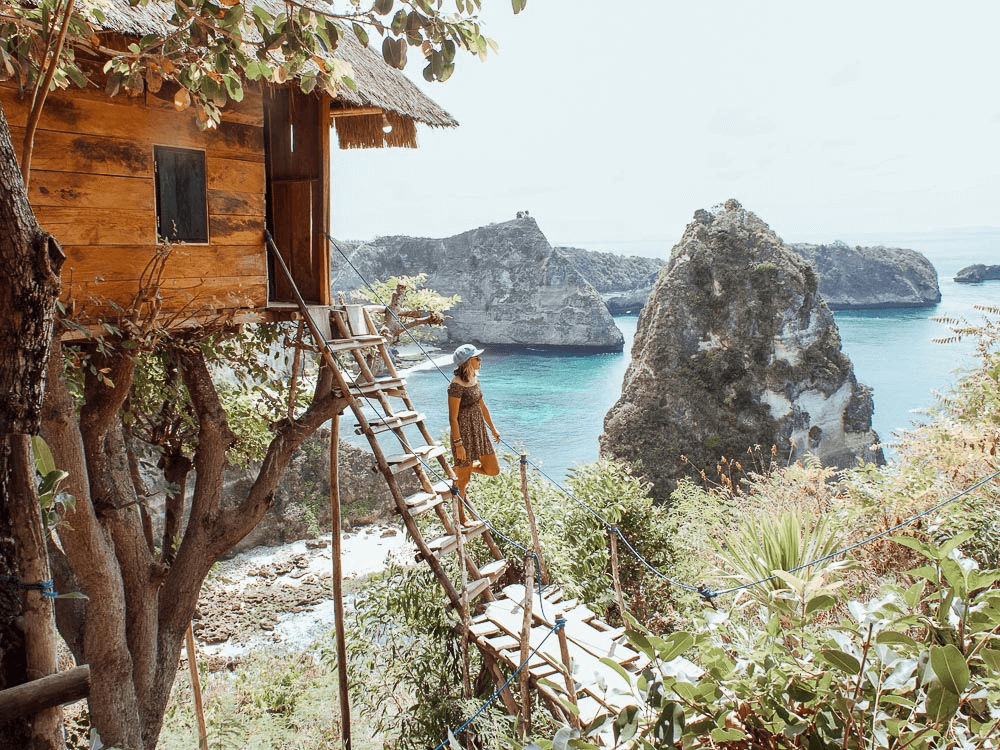 Semabu Hills Hotel Nusa Penida
If you're looking for a peaceful escape and want some time to relax, then Semabu Hills Hotel is the place for you. As Nusa Penida is still a developing island, it can be tough to find a bit more luxury accommodation.
However, at Semabu Hills, they do an amazing job to make you feel like a VIP with a great hotel and some amazing views.
Phone: +62 361 6204400
Website: https://semabuhillshotel.com/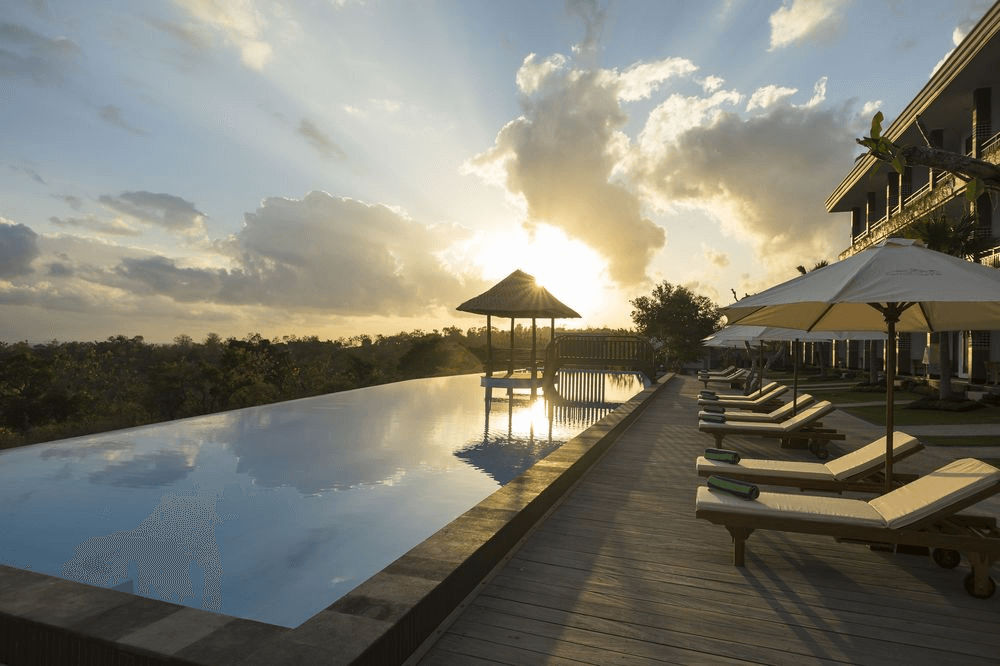 Penida Colada Restaurant
All over the island, you'll find fantastic locally-owned cafes propped up and ready for business! One of our favorites is Penida Colada!
The food is great, lots of options, and service is extremely friendly! We won't be surprised if you choose to have every meal here – we have!
If your group has dietary restrictions, we highly recommend Penida Colada as they are extremely accommodating! Don't forget to give their coffee and waffles a try!
Phone: +62 821-4676-3627
Website: https://www.facebook.com/penidacolada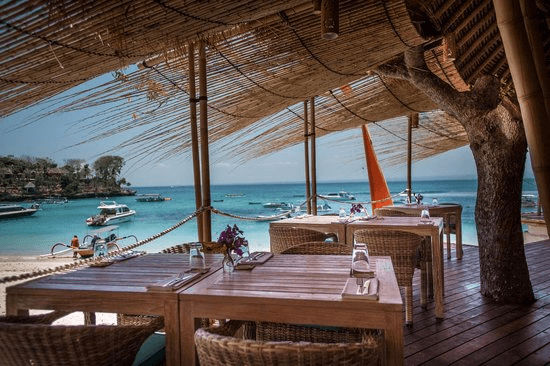 Experiences
Pura Goa Giri Putri Cave
While Nusa Penida is known for surfing and sunshine, this is a unique experience for the more spiritual traveller. With more meaning than being just a cave, Pura Goa Giri Putri is an active temple which travelers are welcomed by the locals to visit.
Here you'll receive a blessing completed with holy water. During your visit you'll be expected to crawl through a miniature entrance.
This will lead you into the spacious cave where witness the locals praying in harmony. To comfortably enjoy your visit, it is suggested to bring a sarong.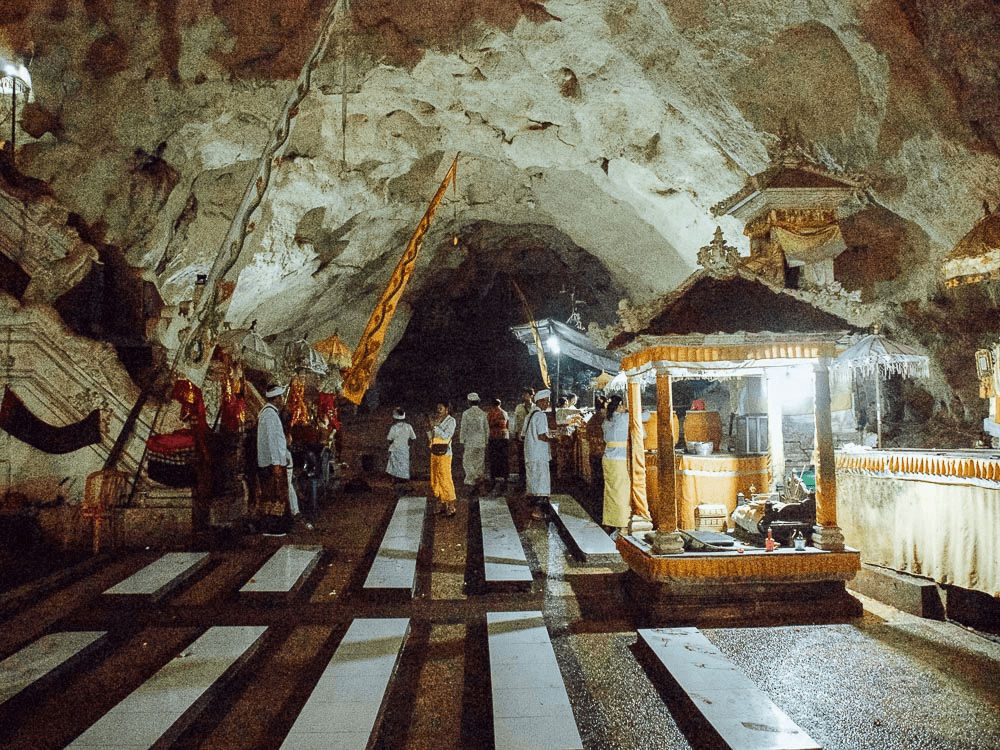 Snorkeling with Manta Rays
Have you ever seen a Manta Ray in person? Did you know they can grow up to 7 meters? A close encounter with these majestic creatures will easily become the highlight of your trip!
If you are staying on the island for a few days, we highly recommend booking a snorkeling trip! As there is no particular Manta season and you'll be able to experience this any time of the year!
Although the best time is in the dry season (between May and November) when you'll have the most sunshine and flat seas!
Keep your eyes open while you hike, you never know what you'll spot! The best places in Nusa Penida to see Manta Rays are at Manta Bay and Manta Point!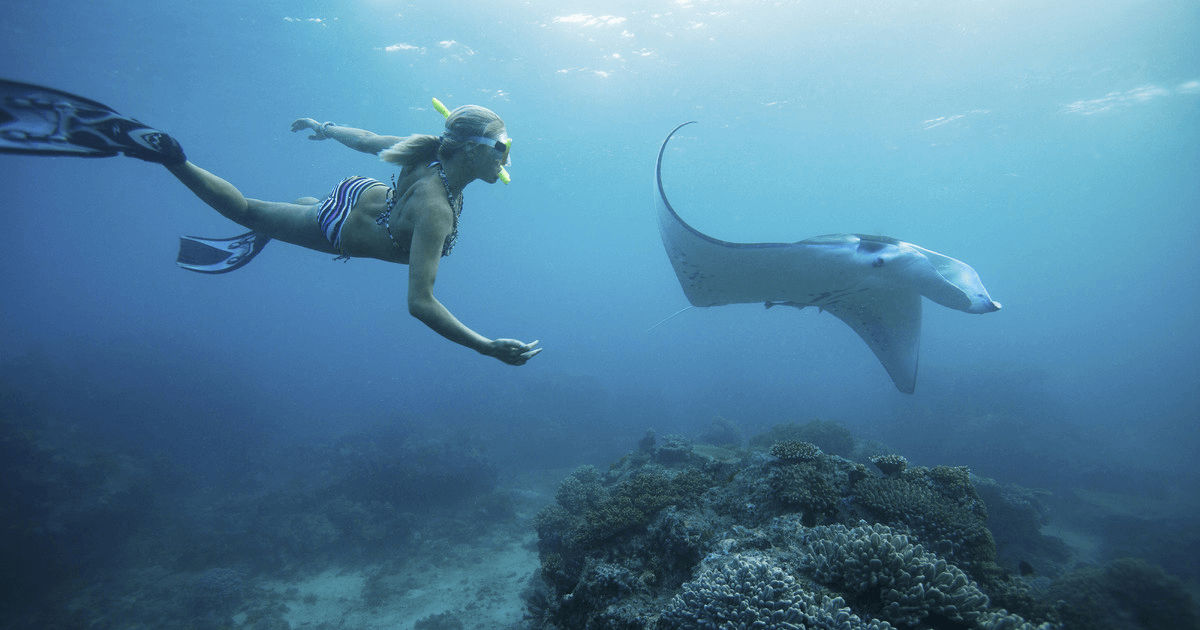 Diving
Along with snorkeling, Nusa Penida has excellent diving spots for all levels all over the island! For the more experienced diver, we highly recommend Nusa Penida for drift dives!
Locals believe the best spots are at Manta Point and Crystal Bay. The island is known for easily spotting Mola Mola's!
This is an absolutely amazing experience and will give you the chance to get up close with Bali's untouched sea life! If you have the opportunity, this must be added to your itinerary!