 Galata Tower
Popular attraction in Istanbul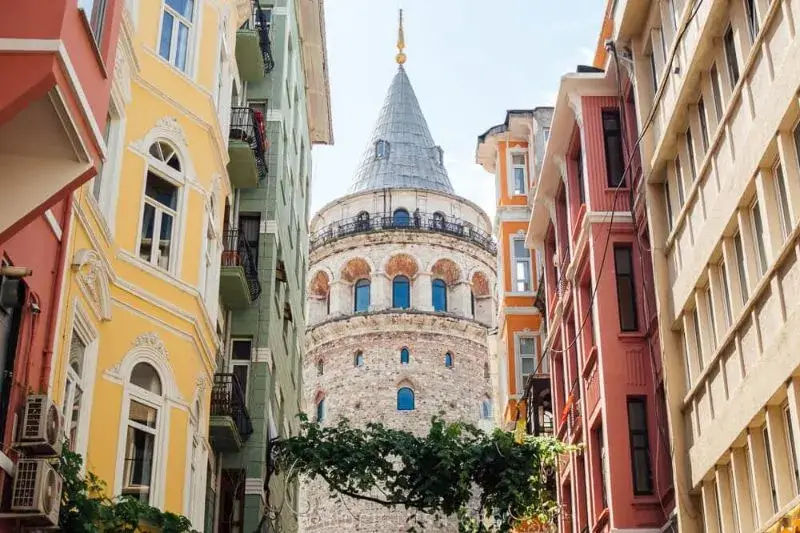 Galata Tower
Popular attraction in Istanbul
Attractions Details
| | |
| --- | --- |
| 📌 Address | Bereketzade, 34421 Beyoğlu/İstanbul, Türkiye |
| ⏰ Opening Hours | 8:00 AM - 10:00 PM |
| 💸 Entrance Fee | TRY 650 |
Find it on google maps
What is Galata Tower?
Galata Tower is an iconic landmark located in the heart of Istanbul, Turkey. Standing tall at 67 meters, this medieval stone tower offers breathtaking panoramic views of the city and its surroundings. It has become a must-visit attraction for tourists from all over the world.
History of Galata Tower
Galata Tower has a rich history that dates back to the 14th century. Originally built as a watchtower by the Genoese colony in Constantinople, it served as a crucial defense point during the Byzantine and Ottoman eras. Over the centuries, the tower was renovated and modified several times, eventually becoming a prominent symbol of Istanbul.
Our Top Trending Tour
All-Inclusive

Istanbul Mystical Odyssey Tour

Want some guided Istanbul tours that take you round the most historically and culturally interesting and diverse areas of the city? Look no further than our Istanbul Mystical Odyssey Tour, a captivating 6 hour journey round the city which dives into the culture of Istanbul! Your English-speaking guide will take you to intriguing and truly unique places, like the vibrant Spice Bazaar, the beautiful Rustem Pasha Mosque and the enchanting Balat Neighbourhood. Your experience will be elevated with a delicious lunch included (along with all entry fees) so you can sit back and take in the fascinating places you'll visit. If you're looking to take a private Istanbul tour to get to know the city, then this is perfect for you!
Why is Galata Tower Important?
Galata Tower holds great importance in both historical and cultural contexts. Not only does it offer visitors a glimpse into the city's past, but it also represents Istanbul's architectural brilliance and resilience throughout the centuries.
The tower stands as a testament to the city's vibrant heritage and serves as a symbol of pride for its inhabitants.
Things to Do & See at Galata Tower
Panoramic Views: Ascend to the top of Galata Tower and be rewarded with breathtaking views of Istanbul's iconic landmarks, including the sprawling Bosphorus Strait, the magnificent Hagia Sophia, and the bustling Grand Bazaar.


Observation Deck: Take a leisurely stroll around the tower's observation deck, which offers uninterrupted 360-degree views of the city. Capture stunning photos or simply soak in the mesmerizing beauty of Istanbul.


History Exhibition: Immerse yourself in the fascinating history of Galata Tower through its on-site exhibition. Learn about the tower's construction, its role in medieval defense, and its transformation over the centuries.


Cafes and Restaurants: Indulge in a culinary experience at one of the cafes or restaurants located within the tower. Savor delicious Turkish cuisine while enjoying the enchanting ambiance and views.


Souvenir Shops: Browse through the souvenir shops near the tower and take home a piece of Istanbul's charm. From traditional handicrafts to unique mementos, there's something for everyone.
Galata Tower is not only a historical and architectural gem but also a vibrant hub of activity.
Its prime location in the heart of Istanbul makes it easily accessible and a perfect starting point for exploring the city's diverse neighborhoods, enchanting streets, and cultural attractions.
Plan your visit to Galata Tower today and embark on a journey to discover the allure of Istanbul from above.
Attractions Details
| | |
| --- | --- |
| 📌 Address | Bereketzade, 34421 Beyoğlu/İstanbul, Türkiye |
| ⏰ Opening Hours | 8:00 AM - 10:00 PM |
| 💸 Entrance Fee | TRY 650 |
Find it on google maps
Istanbul Attractions