 KL Forest Eco Park
Popular tourist atttraction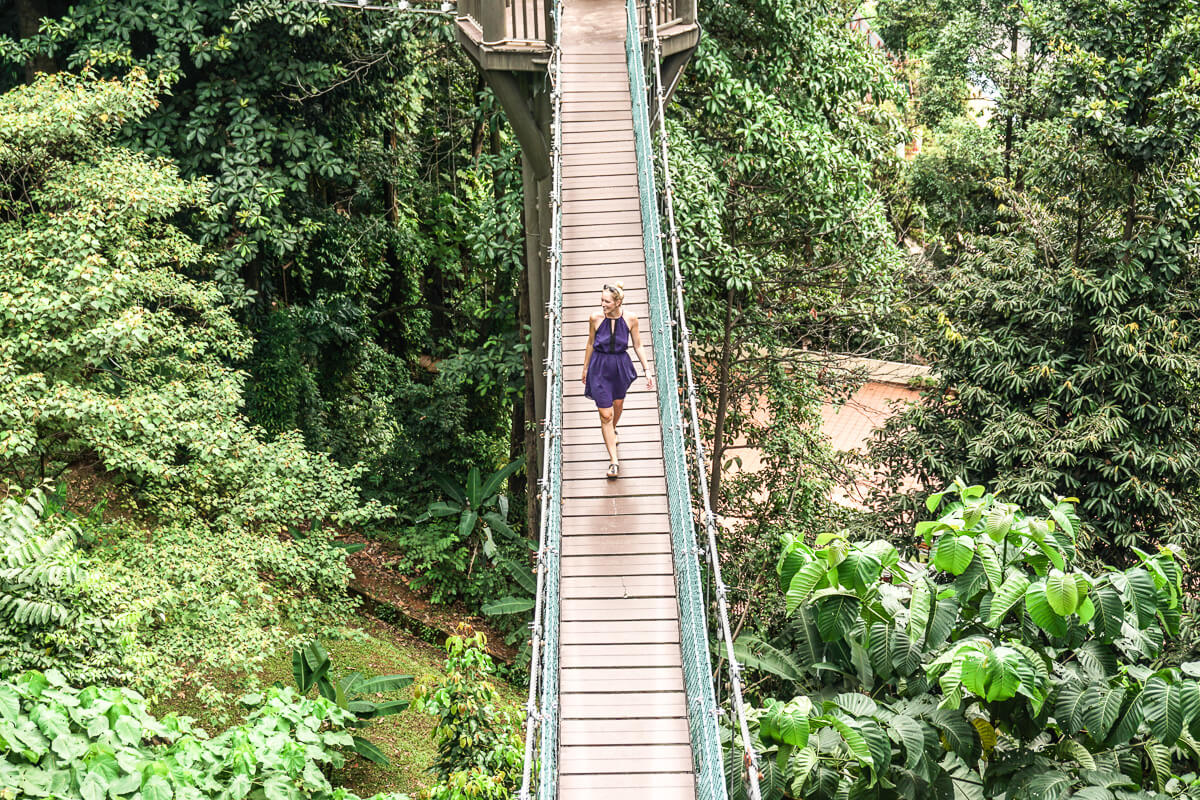 KL Forest Eco Park
Popular tourist atttraction
Attractions Details
| | |
| --- | --- |
| 📌 Address | Jalan Puncak, Kuala Lumpur, 50250 Kuala Lumpur, Wilayah Persekutuan Kuala Lumpur, Malaysia |
| ⏰ Opening Hours | 8:00 AM - 5:30 PM |
| 💸 Entrance Fee | MYR 40 |
Find it on google maps
What is KL Forest Eco Park?
KL Forest Eco Park is a unique attraction located in the heart of Kuala Lumpur, Malaysia. Situated within the bustling city, it offers a serene and green oasis for visitors to escape the urban environment and immerse themselves in nature.
History of KL Forest Eco Park
The history of KL Forest Eco Park traces back to its establishment as a forest reserve in 1906. Originally known as Bukit Nanas Forest Reserve, it was set aside to preserve the last remaining virgin tropical rainforest in the city.
Over the years, the forest reserve has been protected and maintained, evolving into the eco park that exists today.
Visit KL Forest Eco Park on Our:
All-Inclusive

Kuala Lumpur Historical Chinatown Tour (Half Day)

Chinatown is a bustling district of Kuala Lumpur. It's rich in history and culture and our half-day Kuala Lumpur Historical Chinatown Tour will let you see it first-hand. This world-famous part of the city is very popular with visitors so what better way to see it than with one of our all-inclusive Kuala Lumpur trips? After your time spent in Chinatown, this KL tour takes you to visit the KL Forest Eco Park where you will get to see and even walk the Hanging Bridge…if you're brave enough that is!
Why is KL Forest Eco Park Important?
KL Forest Eco Park holds great importance for several reasons. Firstly, it serves as a vital green lung within the city, providing fresh air and contributing to the overall well-being of the urban population.
Additionally, it plays a crucial role in conserving and showcasing Malaysia's rich biodiversity, allowing visitors to learn about and appreciate the country's unique flora and fauna. Be sure to add this to your list when planning out your next tour in Kuala Lumpur.
Things to Do & See at KL Forest Eco Park
There are numerous activities and attractions to explore at KL Forest Eco Park. Some of the highlights include:
Canopy Walk: Embark on an exhilarating walk along the treetop canopy walkway, offering panoramic views of the surrounding forest and city skyline.


Nature Trails: Take a leisurely stroll along the well-marked trails, allowing you to discover various plant species and observe diverse birdlife.


Heritage Trail: Learn about the park's history and heritage by following the designated heritage trail, which showcases historical landmarks and informative plaques.


Forest Information Center: Visit the forest information center to gain valuable knowledge about the park's ecology, conservation efforts, and ongoing research projects.


Picnic Areas: Enjoy a relaxing picnic amidst the lush greenery, making use of the designated picnic spots scattered throughout the park.
Additional Amenities
In addition to the attractions mentioned above, KL Forest Eco Park offers other amenities to enhance visitors' experiences. These include clean restroom facilities, well-maintained signage for easy navigation, and friendly park rangers who are readily available to provide assistance and answer any questions.
Our Top Trending Kuala Lumpur Tours:
KL Forest Eco Park is a must-visit destination for nature enthusiasts and those seeking a peaceful retreat from the bustling city life. Its conservation efforts, educational value, and tranquil atmosphere make it an ideal place to unwind and connect with nature in the heart of Kuala Lumpur.
Attractions Details
| | |
| --- | --- |
| 📌 Address | Jalan Puncak, Kuala Lumpur, 50250 Kuala Lumpur, Wilayah Persekutuan Kuala Lumpur, Malaysia |
| ⏰ Opening Hours | 8:00 AM - 5:30 PM |
| 💸 Entrance Fee | MYR 40 |
Find it on google maps
Kuala Lumpur Attractions