 Campuhan Ridge Walk
Campuhan Ridge Walk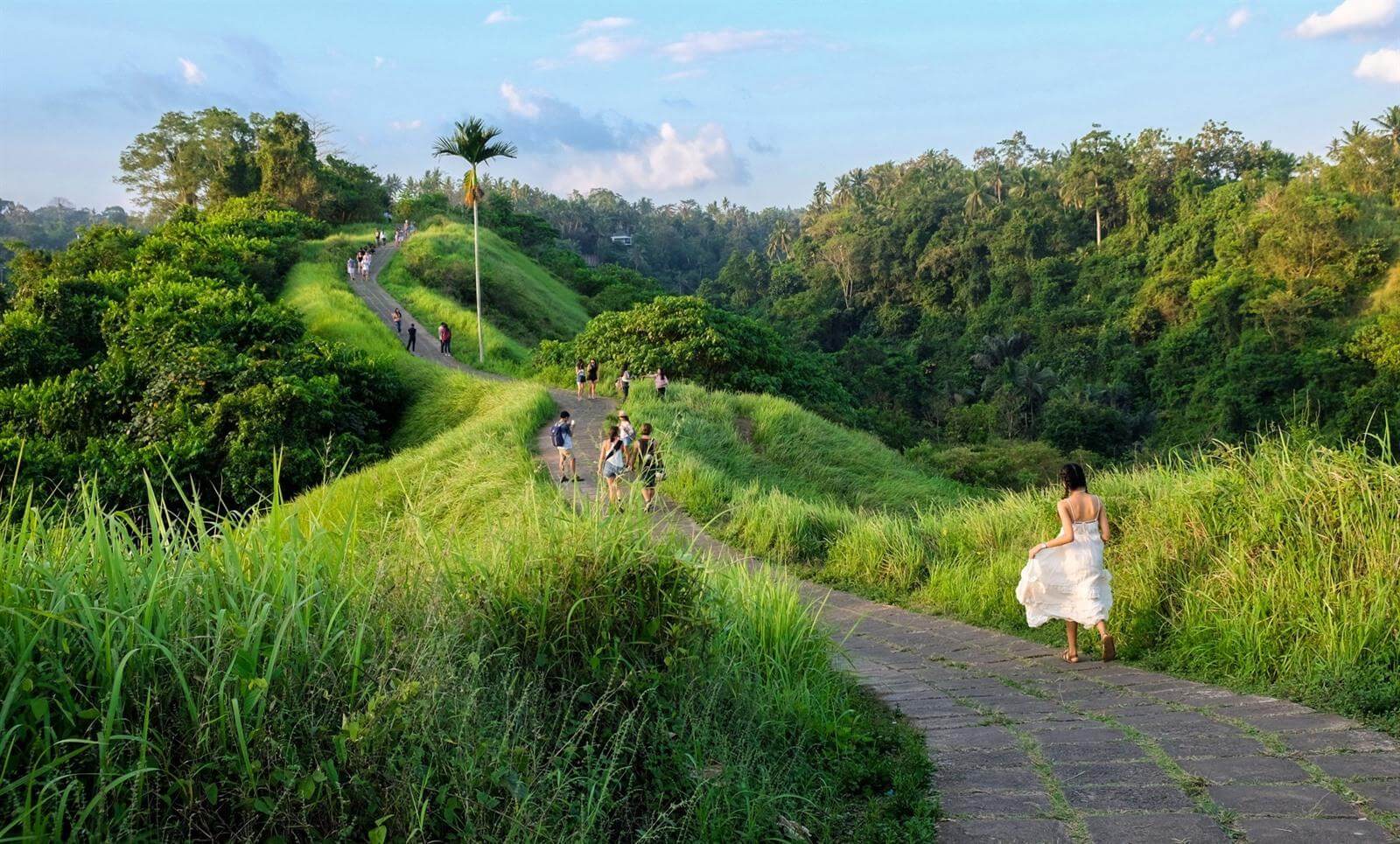 Details
Address:
Jl. Raya Campuhan 80571 Ubud
The Campuhan Ridge Walk is a beautiful hiking trail located in Ubud, the cultural centre of Bali and it should undoubtedly be on your Bali itinerary! The rather short (2 km/ 1.2 miles one way), but very rewarding, hike will take you up and down a ridge along rice fields & palm trees, offering a beautiful view over the surrounding valleys which makes it the perfect place to escape the hustle and bustle from the busy city center! At the end of the walk you will arrive at the cutest little village of Bangkian Sidem.


Visit Campuhan Ridge Walk on Our:
All-Inclusive

Bali Elephant Bath & Breakfast Day Tour

Spend the day on this popular Bali tour and it will create memories you'll cherish forever. On the Bali Elephant Bath & Breakfast Day Tour, you will wash, bathe and splash around with these incredible animals in the heart of Bali's tropical jungle, in the sacred town of Ubud. Take home some traditional gifts from Ubud's most famous market and finish the day perfectly with a visit to the famous Campuhan Ridge Walk.
The Campuhan Ridge Walk is only a short walk from Ubud's centre and catching the sunrise here will be the perfect start of your day of exploring Ubud! It's a popular spot to get a workout done in the morning and if you are feeling extra sporty, you can even do a bike ride on the Campuhan ridge (which is easy because the paths are paved!)
Note: Since it's more of a jungle or forest walk, there are other tours available if you just want to see rice paddies and terraces like the Tegalalang rice terraces or the Jatiluwih rice terraces.
Best time to visit:
Go early, we would even recommend sunrise early, to have this place almost completely to yourself and to avoid the midday heat.
Best place to get a picture:
Walking through the this beautiful Ridge, you'll have plenty of opportunities to take some pictures of the nature surrouding it! The Campuhan Ridge Walk offers the most stunning panoramic view on the surrounding valleys. It will take you past traditional temples, lush greenery and dense jungle, before reaching breathtaking paddy fields and tiered rice terraces at the end.
Our Top Trending Bali Tours
How to get there:
You can easily walk to Campuhan Ridge Walk from Ubud centre and Ubud market! You will find the 'official start' of the Campuhan Ridge Walk at the entrance of the Warwick Ibah Villas. Walk up the driveway here and keep left, you will automatically see a sign 'going to the hill.' Follow the concrete path down, cross the river and here begins the climb to Campuhan ridge.
Tips
There are plenty of places to buy food and drink at the beginning and end of the Campuhan Ridge Walk, but we would still recommend bringing a water bottle, sunglasses, a hat and sunscreen!!
Details
Address:
Jl. Raya Campuhan 80571 Ubud