 Lovina Beach
Lovina beach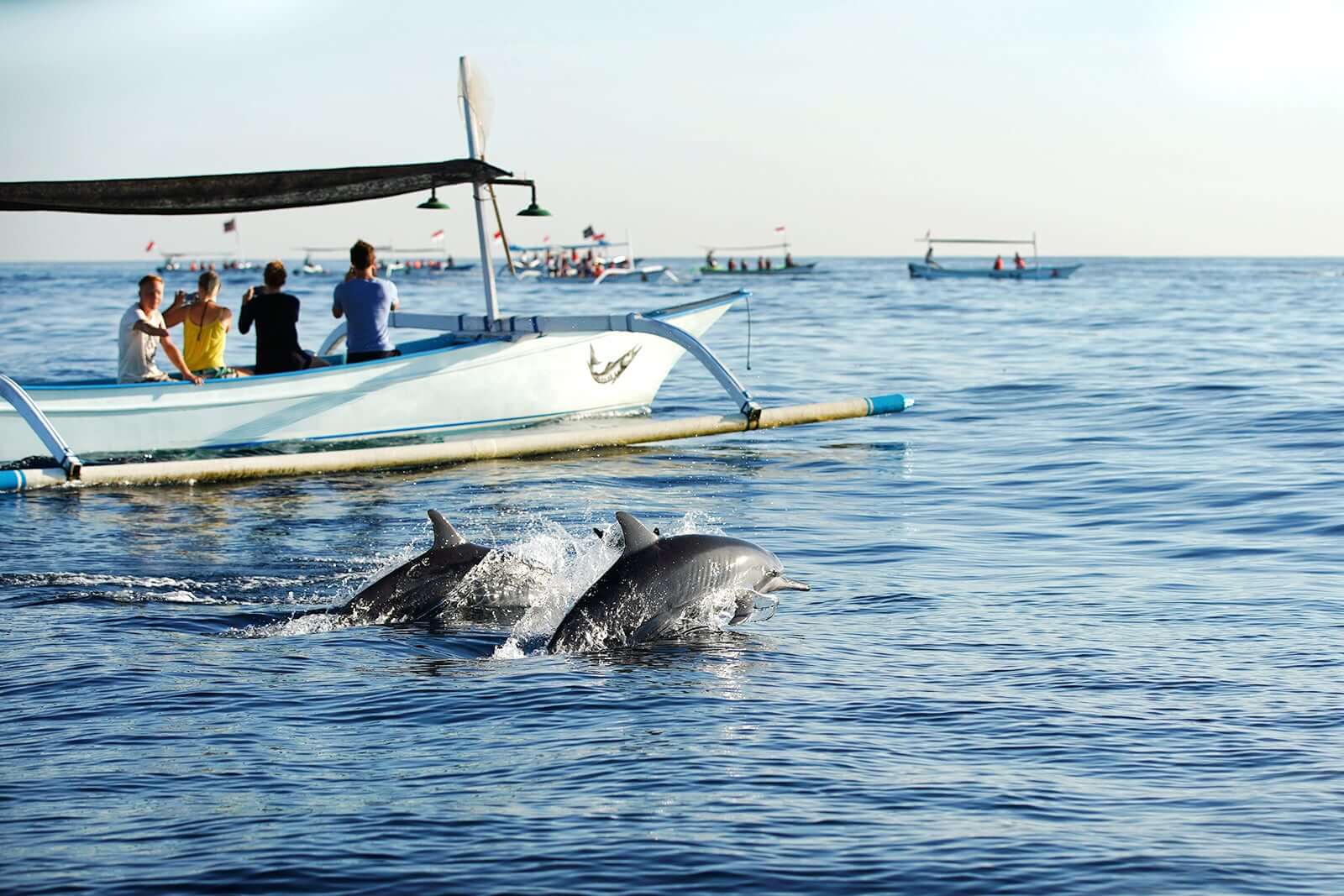 Details
Address:
Lovina, Buleleng Regency, Bali
Lovina beach is a combination of smaller beaches traversing several local villages between 2 districts in the North Bali regency of Buleleng and unlike other white-sand beaches on Bali, Lovina beach is of grey and black volcanic sand!
If you are looking for a peaceful, quiet beach, far away from the crowds, this might be the perfect spot for you! It's also a very family friendly beach because there are rarely any waves or currents, which makes it a very safe place to swim if you are traveling with kids!
Visit Lovina Beach on Our:
All-Inclusive

Lovina Dolphin Watching & Snorkeling Adventure

Is there anything more exhilarating than seeing dolphins in the wild? Our Lovina Dolphin Watching & Snorkeling Adventure is simply magical. Your private Bali tour guide will pick you up and whisk you off to Lovina to see the dolphins playing at sunrise. This early sunrise tour means you will get to spend time snorkeling in the beautiful clear waters without the crowds. Add in some lunch and a visit to an awe-inspiring temple and this Bali tour is perfect for any type of traveler.
The number one reason why people love Lovina so much is because you can actually see dolphins here, so make sure to book a dolphin sightseeing trip when planning a trip to Lovina! Your best chance of seeing dolphins will be very early in the morning around sunrise, but we can assure you won't regret getting up early as the sunriseS at Lovina are pretty spectacular!
Fun fact: The name Lovina is said to be derived from the word "Love" and "Ina" which is Balinese for "mother". Therefore, Lovina means Love for the Motherland.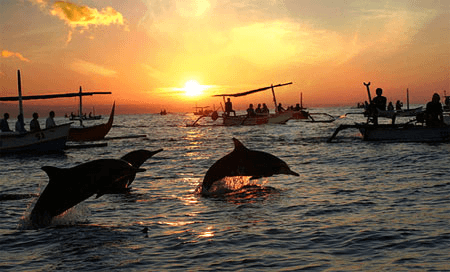 Best time to visit:
If you are looking to have some relaxing beach time, you can go pretty much whenever you want, as the beaches won't be crowded at any point of the day.
If you are looking to see some dolphins, you'll have to get up before sunrise, catch a local boat and make your way down the ocean. Dolphins normally appear early in the morning just when the first rays of the sun rise on the horizon and if you're lucky they will even come and swim near your boat!
Our Top Trending Bali Tours
Season wise, the best time to visit Lovina Beach, and Bali in general, would be during the months of April, May, and June to September, when the Lovina beach weather is pleasant, just after high season.
How to get there:
Because Lovina is located in North Bali, it's pretty far from the biggest touristy places like Seminyak and Canggu and you'll probably need 2 hours to reach Lovina (by car)
The easiest way to go is to book a private driver, or even better, book a guided tour! They will handle everything for you, including the boat trip, which makes your life way easier!
Tips
Keep your camera gear ready as these flippers breach the smooth water surface in a blink of an eye! ;)
Details
Address:
Lovina, Buleleng Regency, Bali