 Tukad Cepung Waterfall
Hidden gem in Bali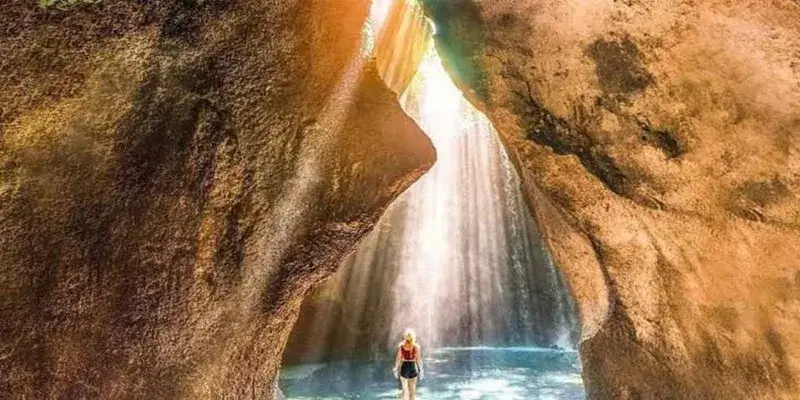 Details
Address:
Jl. Tembuku, Tembuku, Kec. Tembuku, Kab. Bangli 80671 Bangli
Located +/- 1 hour from Ubud, you will find one of Bali's best kept secrets: the Tukad Cepung Waterfall. If you are looking for a unique experience, this is it!
Visit Tukad Cepung Waterfall on Our:
All-Inclusive

Bali Instagram Tour: The Most Famous Spots

From famous rice terraces, stunning waterfalls and breathtaking views of Mount Agung, our Bali Instagram Tour is perfect for travelers who want to experience the best of Bali's beautiful landscapes, as well as its other natural and cultural offerings. Visit a local coffee plantation, have fun on a jungle swing and enjoy a delicious lunch - all whilst being transported in a private car! Voted as our best tour in Bali 3 years in a row, this is must-take tour on your Bali vacation!
Why you should go to the Tukad Capung Waterfall:
Hidden in a cave, The Tukad Cepung waterfall is definitely one of the most unique places in Bali. Tourists and locals gather here to take that perfect Instagram photo. The waterfall is set between a rock formation and if you are lucky, the sun's rays will create a true magical photo opportunity! When the light penetrates into the wall of the cave you will see the reflection of the light through the wall.
Best time to visit the Tukad Cepung Waterfall:


The best time to visit Tukad Cepung Waterfall is early morning between 8 am and 11 am, preferably during the dry season (March- October). Make sure to go on a clear, sunny day so you are sure you can catch those magical rays of light.
How to get there:
Even though the walk down to the waterfall is pretty easy and straightforward, keep in mind it's still a bit of an adventure. At some point you might have to wade through ankle-high water and climb over a few rocks to get there. But don't let that stop you, because you will be rewarded once you get there!
Our Top Trending Bali Tours
How to get the money shot:
For those who are adventurous, there is a way to get the perfect picture but it involves some climbing. Inside the cave you will see a big boulder with a small ladder attached to it. Once you get up there - at the right time - the golden beams will hit your face and you will be able to get the most perfect photo opportunity of your life!
Tip: Make sure to wear decent shoes and not flip flops as it can get pretty slippery!
Details
Address:
Jl. Tembuku, Tembuku, Kec. Tembuku, Kab. Bangli 80671 Bangli