 Ba Na Hills
Theme Park in Vietnam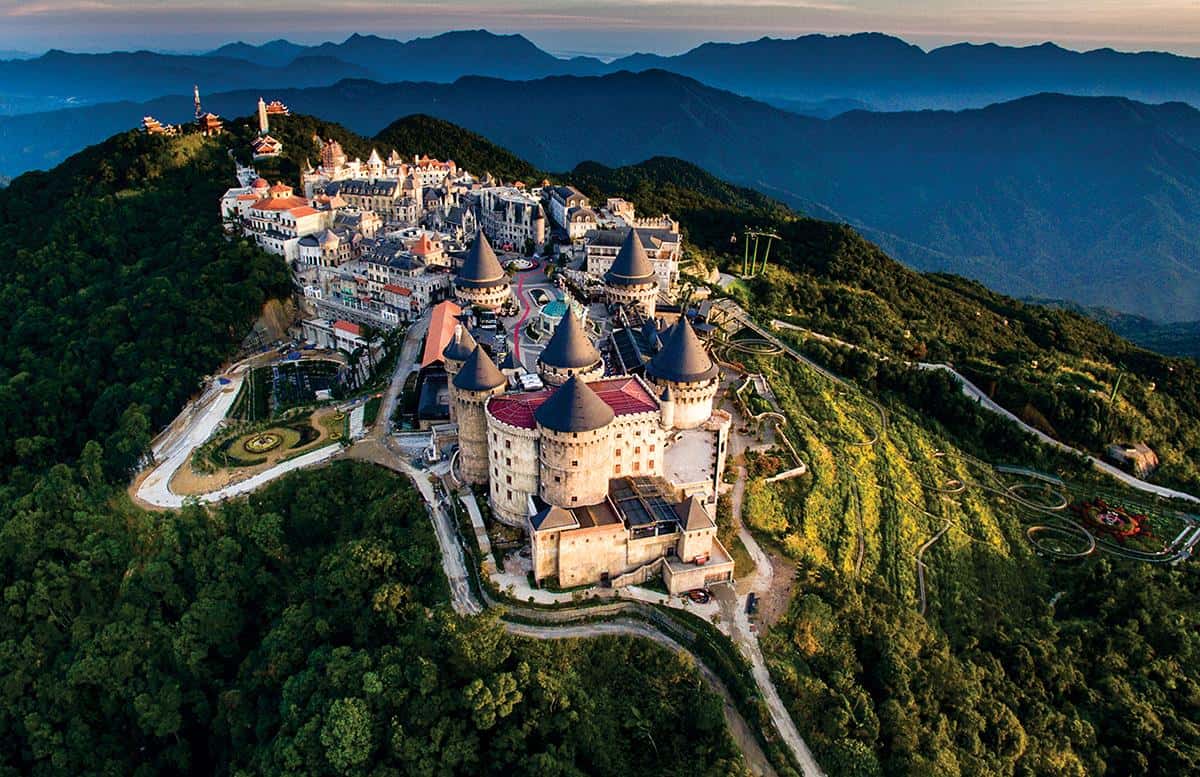 Ba Na Hills
Theme Park in Vietnam
Attractions Details
| | |
| --- | --- |
| 📌 Address | Hòa Ninh, Hòa Vang, Da Nang, Vietnam |
| ⏰ Opening Hours | 7:00 AM - 10:00 PM |
| 💸 Entrance Fee | VND 1,250,000 |
Find it on google maps
What is Ba Na Hills?
Ba Na Hills is a mountain resort located in the Da Nang city of Vietnam. It is situated on top of Mount Bà Nà, which is about 1,500 meters above sea level. The resort offers stunning views of the surrounding mountains and valleys, as well as a variety of activities and attractions for visitors to enjoy.
Visit Ba Na Hills on Our:
All-Inclusive

Da Nang Instagram Tour: Most Famous Spots

Our Da Nang Instagram Tour will take you to the most Instagrammable and adventurous spots in Da Nang all in one day. If you're looking for a little bit of a culture, a lot of adventure and a ton of great photos then this is the tour for you.The morning will start with a private pickup directly f
History of Ba Na Hills
The history of Ba Na Hills dates back to the French colonial era. In the early 1900s, the French began to develop the area as a hill station, or a place for Europeans to escape the heat and humidity of the lowlands. They built a number of hotels, villas, and other infrastructure, and Ba Na Hills quickly became a popular destination for French colonists and Vietnamese elites.
After the end of the French colonial period, Ba Na Hills fell into disrepair. However, in the late 1990s, the Vietnamese government began to invest in the development of the resort. Today, Ba Na Hills is a popular tourist destination, and it is home to a number of world-class attractions, including the Golden Bridge, the French Village, and the Debay Gondola.
Why is Ba Na Hills Important?
Ba Na Hills is important for a number of reasons. First, it is a major tourist destination for Vietnam. The resort attracts millions of visitors each year, and it generates significant revenue for the local economy. Second, Ba Na Hills is a popular destination for Vietnamese people to celebrate special occasions, such as weddings and birthdays. Third, Ba Na Hills is a symbol of Vietnam's progress and development. The resort's transformation from a French colonial hill station to a modern tourist destination is a testament to the country's economic growth and its commitment to tourism.
Our Top Trending Vietnam Tours
All-Inclusive

Da Nang Authentic Vietnamese Cooking Class & Highlight Tour
Things to do & see at Ba Na Hills
There are a number of things to do and see at Ba Na Hills. Some of the most popular attractions include:
The Golden Bridge: The Golden Bridge is a new attraction at Ba Na Hills that has quickly become one of the most popular tourist destinations in Vietnam. The bridge is a 150-meter-long pedestrian bridge that is suspended over a valley. It is made of steel and glass, and it is covered in gold leaf.
The French Village: The French Village is a recreation of a traditional French village. The village has a number of shops, restaurants, and cafes, as well as a number of historical buildings, such as a church and a train station.
The Debay Gondola: The Debay Gondola is a cable car system that takes visitors to the top of Mount Bà Nà. The gondola ride offers stunning views of the surrounding mountains and valleys.
The Fantasy Park: The Fantasy Park is an amusement park that has a number of rides, games, and attractions for all ages.
The Sun Wheel: The Sun Wheel is a giant Ferris wheel that offers panoramic views of Ba Na Hills.
In addition to these attractions, Ba Na Hills also has a number of other things to offer visitors, such as beautiful gardens, temples, and museums. There are also a number of hotels and restaurants to choose from, so visitors can easily find a place to stay and eat.
Ba Na Hills is a beautiful and exciting place to visit. It is a great destination for a weekend getaway or a longer vacation. With its stunning scenery, world-class attractions, and friendly people, Ba Na Hills is sure to leave a lasting impression on visitors.
Attractions Details
| | |
| --- | --- |
| 📌 Address | Hòa Ninh, Hòa Vang, Da Nang, Vietnam |
| ⏰ Opening Hours | 7:00 AM - 10:00 PM |
| 💸 Entrance Fee | VND 1,250,000 |
Find it on google maps