 Perfume Pagoda
Popular pagoda in Hanoi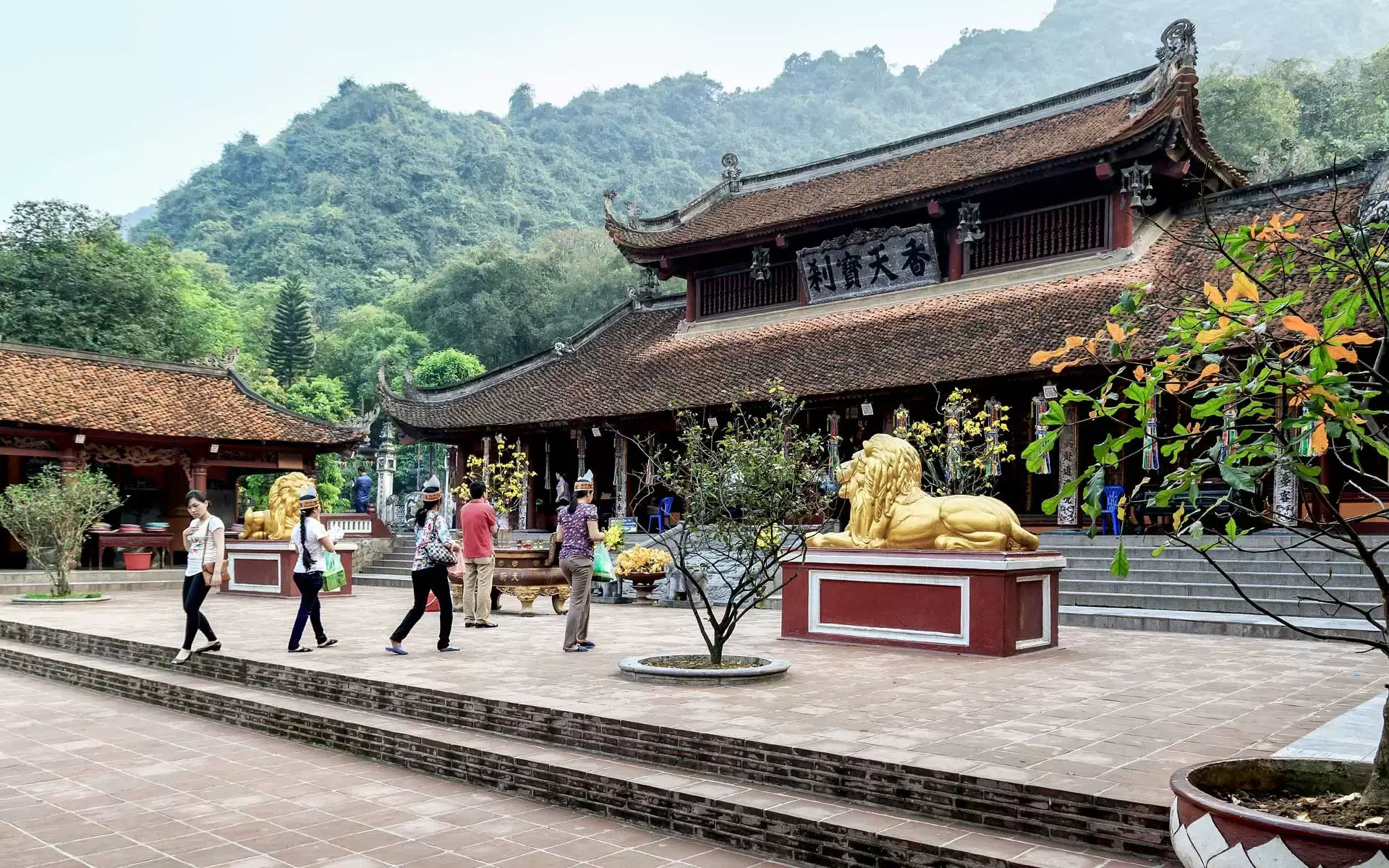 Perfume Pagoda
Popular pagoda in Hanoi
Attractions Details
| | |
| --- | --- |
| 📌 Address | JP9W+5H8, Hương Sơn, Mỹ Đức, Hanoi 100000, Vietnam |
| ⏰ Opening Hours | 24 hours |
| 💸 Entrance Fee | VND 50,000 |
Find it on google maps
What is Perfume Pagoda?
Perfume Pagoda, also known as Huong Pagoda, is a famous religious site located in Hanoi, Vietnam. It is nestled amidst the Huong Tich mountains and is considered one of the most important Buddhist pilgrimage sites in the country.
The pagoda is situated in a vast complex of temples and shrines that are spread across stunning natural surroundings.
History of Perfume Pagoda
The history of Perfume Pagoda dates back more than a thousand years. It is believed to have been built during the reign of the Emperor Lý Thái Tổ in the 15th century.
Over the centuries, the pagoda has undergone several renovations and expansions, becoming a significant religious and cultural landmark in Vietnam. This is definitely a place you want to add to your list when planning your next tour in Hanoi.
Visit Perfume Pagoda on Our:
All-Inclusive

Hanoi Unveiling the Mysteries Of The Perfume Pagoda Tour

Characterized by its picturesque beauty and deep-rooted spirituality, our Unveiling the Mysteries Of The Perfume Pagoda Tour is a unique experience. Accompanied by your private Hanoi tour guide, you'll first enjoy a scenic journey on a traditional sampan boat before admiring the architecture of the Hien Tru Pagoda. Embark on a once in a lifetime cable car journey up the mountain, and after taking in the view, you'll visit the main temple of the Perfume Pagoda complex, Huong Tich Son, learning about its spiritual significance! Including private round trip transportation, all entrance fees and an amazing lunch at a local restaurant at the bottom of the mountain, it's no surprise this is one of our most popular private tours in Hanoi!
Why is Perfume Pagoda Important?
Perfume Pagoda holds great spiritual and cultural significance for the Vietnamese people. It is a place of pilgrimage, where devotees come to pray for health, happiness, and prosperity.
The pagoda also represents the harmonious blend of Buddhism and Vietnamese folklore, making it an important symbol of the country's religious and cultural heritage.
Things to Do & See at Perfume Pagoda
Take a Boat Ride: The journey to Perfume Pagoda begins with a scenic boat ride along the Yen Stream. Visitors can enjoy the tranquil beauty of the surrounding landscapes as they make their way towards the pagoda complex.


Explore Giai Oan Pagoda: Giai Oan Pagoda is the first stop within the complex and is known for its unique architecture and ancient relics. It is believed that praying here can help cleanse one's soul and remove any sins.


Hike to Huong Tich Cave: The highlight of the Perfume Pagoda experience is the hike up to Huong Tich Cave. The cave is nestled within a limestone mountain and is adorned with magnificent stalactites and stalagmites. It is considered a sacred place for meditation and reflection.


Visit Thien Tru Pagoda: Thien Tru Pagoda, also known as Heaven Kitchen Pagoda, is an important religious site within the complex. It houses various Buddhist statues and offers breathtaking views of the surrounding mountains.


Experience Local Cuisine: After exploring the pagoda complex, visitors can indulge in delicious Vietnamese cuisine at the traditional restaurants located nearby. The local specialty is tofu, which is made fresh from the nearby tofu village.
Perfume Pagoda (Huong Pagoda) is a place of tranquility and spiritual devotion.
Our Top Trending Hanoi Tours:
Its natural beauty, historical significance, and cultural charm make it a must-visit attraction for tourists seeking a deeper understanding of Vietnam's religious and cultural heritage.
Attractions Details
| | |
| --- | --- |
| 📌 Address | JP9W+5H8, Hương Sơn, Mỹ Đức, Hanoi 100000, Vietnam |
| ⏰ Opening Hours | 24 hours |
| 💸 Entrance Fee | VND 50,000 |
Find it on google maps
Hanoi Attractions