 Sorabora Lake Road
Popular Lake In Sri Lanka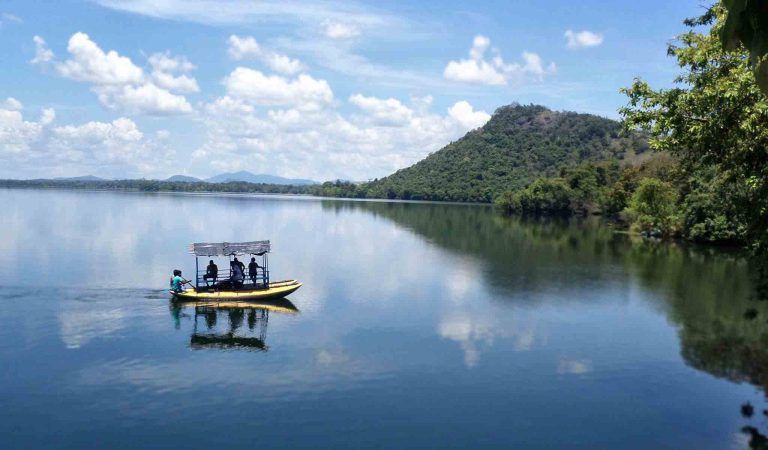 Sorabora Lake Road
Popular Lake In Sri Lanka
Attractions Details
| | |
| --- | --- |
| 📌 Address | Sorabora Lake Road, Mahiyanganaya, Sri Lanka |
| ⏰ Opening Hours | 8:00 AM - 5:00 PM |
| 💸 Entrance Fee | Varies |
Find it on google maps
What is Sorabora Lake?
Sorabora Lake, located in Kandy, Sri Lanka, is a mesmerizing attraction that offers a tranquil escape from the bustling city life. This picturesque lake is nestled amidst lush greenery and is a perfect spot for nature lovers and adventure enthusiasts alike.
History of Sorabora Lake
The history of Sorabora Lake dates back to ancient times. It is believed that the lake was created over 2,000 years ago by King Dutugemunu, a legendary ruler of Sri Lanka. Initially constructed as a reservoir for irrigation purposes, Sorabora Lake has now become a popular tourist destination due to its natural beauty and historical significance.
When planning your tours in Kandy don't forget to visit Sorabora Lake.


Visit Sorabora Lake Road on Our:
All-Inclusive

Vedda Aboriginal Village & Sacred Mahiyanganaya Temple Visit

Looking for an adventure that's packed with culture, nature, and excitement? Look no further than our Vedda Aboriginal Village & Sacred Mahiyanganaya Temple Visit tour!Your day will start with a private pick up straight from your hotel by one of our amazing local guides who will also be your
Why is Sorabora Lake Important?
Sorabora Lake holds immense importance for both locals and tourists. Firstly, it serves as a crucial water source for the surrounding agricultural lands, contributing to the country's farming industry. Secondly, the lake provides a serene and peaceful environment, attracting visitors seeking relaxation and tranquility. Lastly, Sorabora Lake is a testament to the rich history and cultural heritage of Sri Lanka, making it a valuable site for historical and archaeological studies.
Things to Do & See at Sorabora Lake
Boat Rides: Experience the calm waters of Sorabora Lake by taking a leisurely boat ride. Enjoy the scenic beauty of the lake and immerse yourself in the peaceful surroundings.


Photography: Capture the breathtaking views of Sorabora Lake and its surroundings on camera. The stunning landscapes and vibrant flora and fauna provide excellent opportunities for photography enthusiasts.


Picnic Spot: Pack a delicious picnic and relish a delightful meal in the designated picnic areas near the lake. Spend quality time with loved ones while enjoying the stunning natural setting.


Nature Walks: Embark on a leisurely stroll along the lake's perimeter and explore the diverse flora and fauna that thrives in the surrounding area. Enjoy the fresh air and immerse yourself in the beauty of nature.
Aside from these activities, Sorabora Lake is also known for its annual boat race, attracting participants and spectators from all over the country. The race showcases the traditional Sri Lankan sport of boat rowing, adding an exciting element to the lake's charm.
With its serene ambiance, historical significance, and plethora of activities, Sorabora Lake is a must-visit destination for those seeking a peaceful retreat amidst nature's splendor.
Our Top Trending Kandy Tours:
Whether you are captivated by its history, yearning for a relaxing day by the water, or seeking an adventure-filled getaway, Sorabora Lake offers an unforgettable experience for every visitor.
Attractions Details
| | |
| --- | --- |
| 📌 Address | Sorabora Lake Road, Mahiyanganaya, Sri Lanka |
| ⏰ Opening Hours | 8:00 AM - 5:00 PM |
| 💸 Entrance Fee | Varies |
Find it on google maps
Kandy Attractions
Frequently asked questions
Where is Sorabora Lake located in Sri Lanka?

Sorabora Lake, also known as the "Sea of Bintenna," is located in the Mahiyangana area of Sri Lanka's Uva Province, near the town of Mahiyangana.
What is the significance of Sorabora Lake?

Sorabora Lake is a man-made reservoir with historical significance. It is believed to have been constructed during the reign of King Dutugemunu in ancient Sri Lanka and served as an irrigation reservoir for paddy cultivation.
Can visitors engage in recreational activities at Sorabora Lake?

Yes, Sorabora Lake is a popular spot for recreational activities such as boating and fishing. Visitors can enjoy the serene surroundings and the opportunity to engage in these leisurely activities.
Are there any nearby attractions to Sorabora Lake?

While at Sorabora Lake, visitors can explore the Mahiyangana area, which is known for its religious and historical significance. The Mahiyangana Raja Maha Vihara, a Buddhist temple, is a notable nearby attraction.
Is Sorabora Lake accessible to the public, and are there any entrance fees?

Sorabora Lake is open to the public, and there are usually no entrance fees. Visitors can enjoy the natural beauty and tranquility of the lake.