 Petronas Twin Towers
Historical landmark in Kuala Lumpur, Malaysia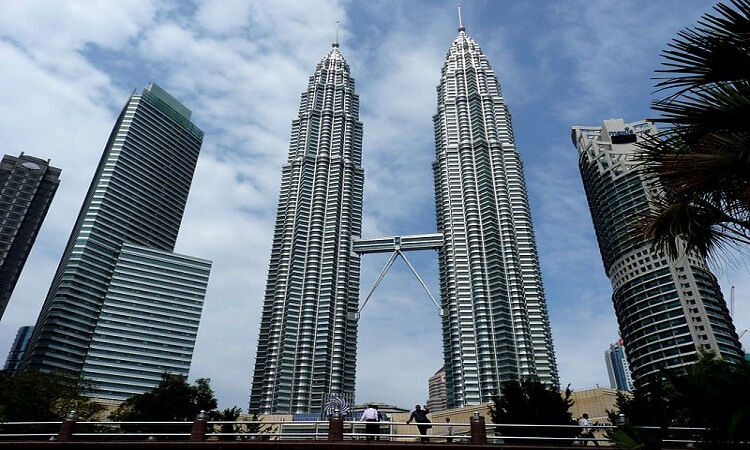 Petronas Twin Towers
Historical landmark in Kuala Lumpur, Malaysia
Attractions Details
| | |
| --- | --- |
| 📌 Address | Petronas Twin Tower, Lower Ground Level, Kuala Lumpur City Centre |
| ⏰ Opening Hours | 10:00 AM - 6:00 PM |
| 💸 Entrance Fee | Free |
Find it on google maps
What is Petronas Twin Towers?
The Petronas Twin Towers are a pair of 88-story super tall skyscrapers in Kuala Lumpur, Malaysia. They were the tallest buildings in the world from 1998 to 2004, when they were surpassed by the Taipei 101. The towers are still the tallest twin skyscrapers in the world.
Visit Petronas Twin Towers on Our:
All-Inclusive

Kuala Lumpur Instagram Tour: Most Famous Spots

No trip to Malaysia's capital is complete without our Kuala Lumpur Instagram Tour. Jam-packed with all the famous spots, our full-day, all-inclusive Kuala Lumpur tour will show you just how incredible this city is. From the National Mosque to the "I Love KL" sign, Dataran Merdeka (Independence Square) to the Batu Caves, this tour has something for everybody. This mesmerizing city and the sights you'll see are sure to make you the envy of all your Instagram followers! Your fun and knowledgeable tour guide will make this KL tour one you'll never forget.
History of Petronas Twin Towers
The Petronas Twin Towers were designed by Argentine-American architect Cesar Pelli and were built by the Malaysian construction company UEM Builders. The towers were officially opened on August 31, 1999, by the Prime Minister of Malaysia, Mahathir Mohamad.
Why is Petronas Twin Towers Important?
The Petronas Twin Towers are an important landmark in Kuala Lumpur and are a symbol of the city's economic and technological progress. The towers are also a popular tourist destination and offer stunning views of the city.
Things to do & see at Petronas Twin Towers
There are many things to do and see at the Petronas Twin Towers. Visitors can take a tour of the towers, which includes a visit to the observation deck on the 86th floor. The observation deck offers stunning views of Kuala Lumpur and is a great place to take photos.
Our Top Trending Kuala Lumpur Tours
Visitors can also visit the Kuala Lumpur City Gallery, which is located at the base of the towers. The gallery offers exhibits on the history of Kuala Lumpur and the Petronas Twin Towers.
In addition, there are a number of restaurants and cafes located at the base of the towers. Visitors can enjoy a meal or a drink with a view of the towers.
If you are looking for a unique and memorable experience, I recommend visiting the Petronas Twin Towers. The towers are a must-see for any visitor to Kuala Lumpur.
Attractions Details
| | |
| --- | --- |
| 📌 Address | Petronas Twin Tower, Lower Ground Level, Kuala Lumpur City Centre |
| ⏰ Opening Hours | 10:00 AM - 6:00 PM |
| 💸 Entrance Fee | Free |
Find it on google maps
Kuala Lumpur Attractions