 Ma Doo Bua
Instagrammable spot in Phuket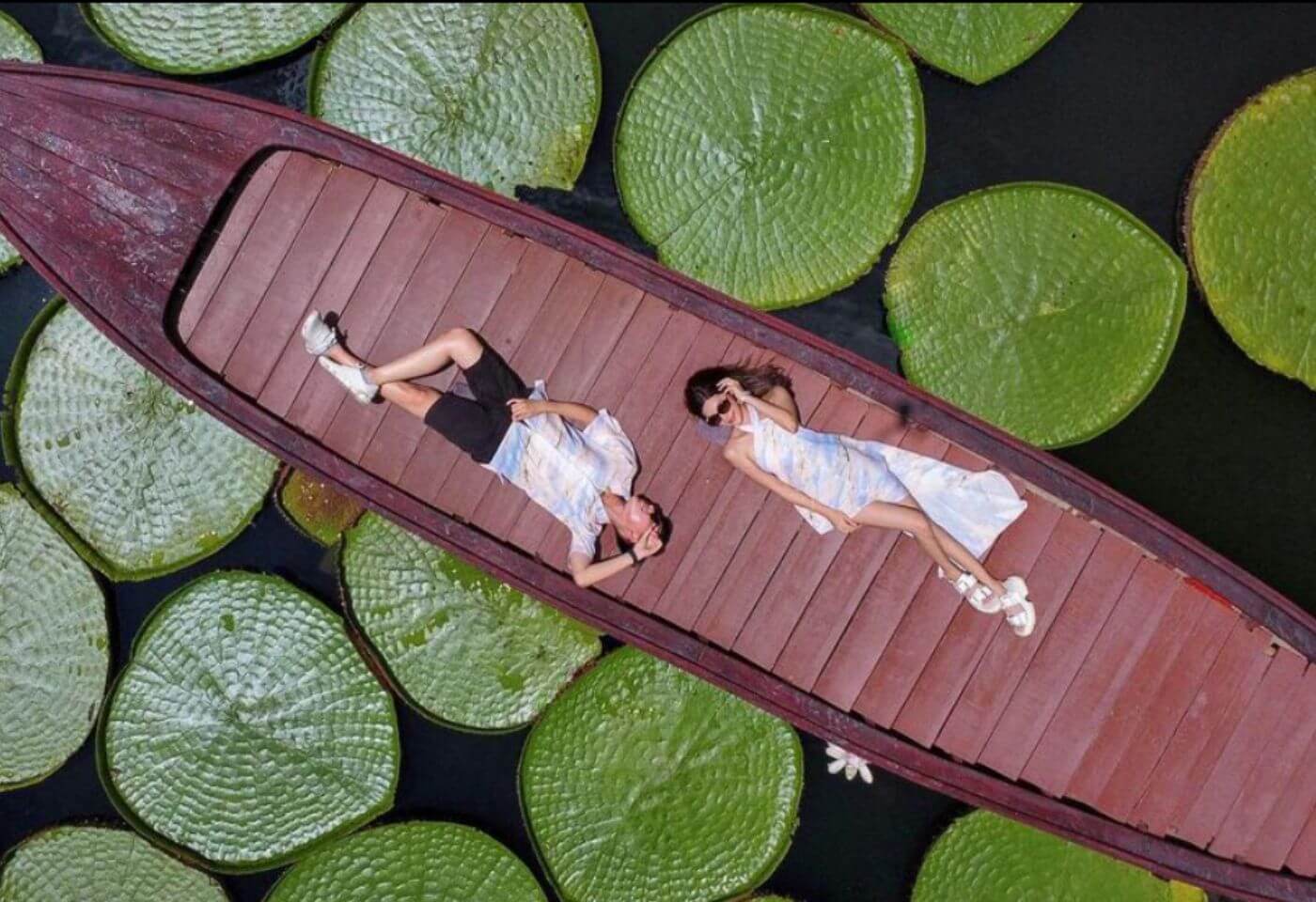 Ma Doo Bua
Instagrammable spot in Phuket
Attractions Details
| | |
| --- | --- |
| 📌 Address | 310 51 M.1 Baandon-Cherngtalay Rd Tambon Thep Krasatti, Amphoe Thalang, Chang Wat Phuket 83110, Thailand |
| ⏰ Opening Hours | 9:00 AM - 8:00 PM |
| 💸 Entrance Fee | Varies |
Find it on google maps
What is Ma Doo Bua?
Ma Doo Bua is a natural attraction located in Phuket, Thailand. Situated amidst lush greenery, this stunning site is known for its beautiful lotus pond and the rare blooming of the sacred lotus flower, also known as the Doo Bua flower.
History of Ma Doo Bua
The history of Ma Doo Bua can be traced back to ancient times when it was believed to be a sacred and spiritual place by the locals. It is said that the lotus pond has been preserved for centuries and is considered a symbol of purity and enlightenment. This is a spot you definitely want to add to your list when planning your next tour in Phuket.
Visit Ma Doo Bua on Our:
All-Inclusive

Phuket Giant Water Lilies and Temple Tour

This Instagram friendly experience is the perfect option if you're looking for Phuket tours with a difference! The all inclusive Phuket Giant Water Lily and Temple Tour takes you to some unforgettable spots, giving you the chance to visit a unique lotus pond with some of the biggest lily pads in the world, take some drone shots for Instagram, visit Phuket's oldest temple and two iconic golden Buddha statues.
Why is Ma Doo Bua Important?
Ma Doo Bua holds great significance for both locals and visitors. It serves as a place of tranquility and spiritual reflection, attracting individuals seeking solace and inner peace. Additionally, the site's natural beauty and the rare blooming of the lotus flowers make it an important ecological attraction.
Things to Do & See at Ma Doo Bua
Lotus Viewing: The main attraction at Ma Doo Bua is the lotus pond, where visitors can witness the breathtaking beauty of the lotus flowers in full bloom. The vibrant pink and white petals create a mesmerizing sight.


Photography: The picturesque surroundings of Ma Doo Bua make it a photographer's paradise. Capture the serene beauty of the lotus pond, the reflections on the water, the giant water lilies and the vibrant colors of the flowers.


Nature Walks: Take a leisurely stroll around the pond and immerse yourself in the peaceful atmosphere. Enjoy the fresh air, the sounds of nature, and the tranquility that surrounds you.


Meditation: Find a peaceful spot and engage in meditation or mindfulness practices. The serene ambiance and natural beauty of Ma Doo Bua provide the perfect setting for relaxation and self-reflection.
Ma Doo Bua is a hidden gem in Phuket, offering a unique and enchanting experience for nature lovers and those seeking a spiritual connection.
Our Top Trending Phuket Tours:
With its tranquil atmosphere, stunning lotus pond, and the rare blooming of the Doo Bua flower, this attraction is a must-visit for anyone looking to escape the hustle and bustle of everyday life.
Attractions Details
| | |
| --- | --- |
| 📌 Address | 310 51 M.1 Baandon-Cherngtalay Rd Tambon Thep Krasatti, Amphoe Thalang, Chang Wat Phuket 83110, Thailand |
| ⏰ Opening Hours | 9:00 AM - 8:00 PM |
| 💸 Entrance Fee | Varies |
Find it on google maps