Ubud Best Hotels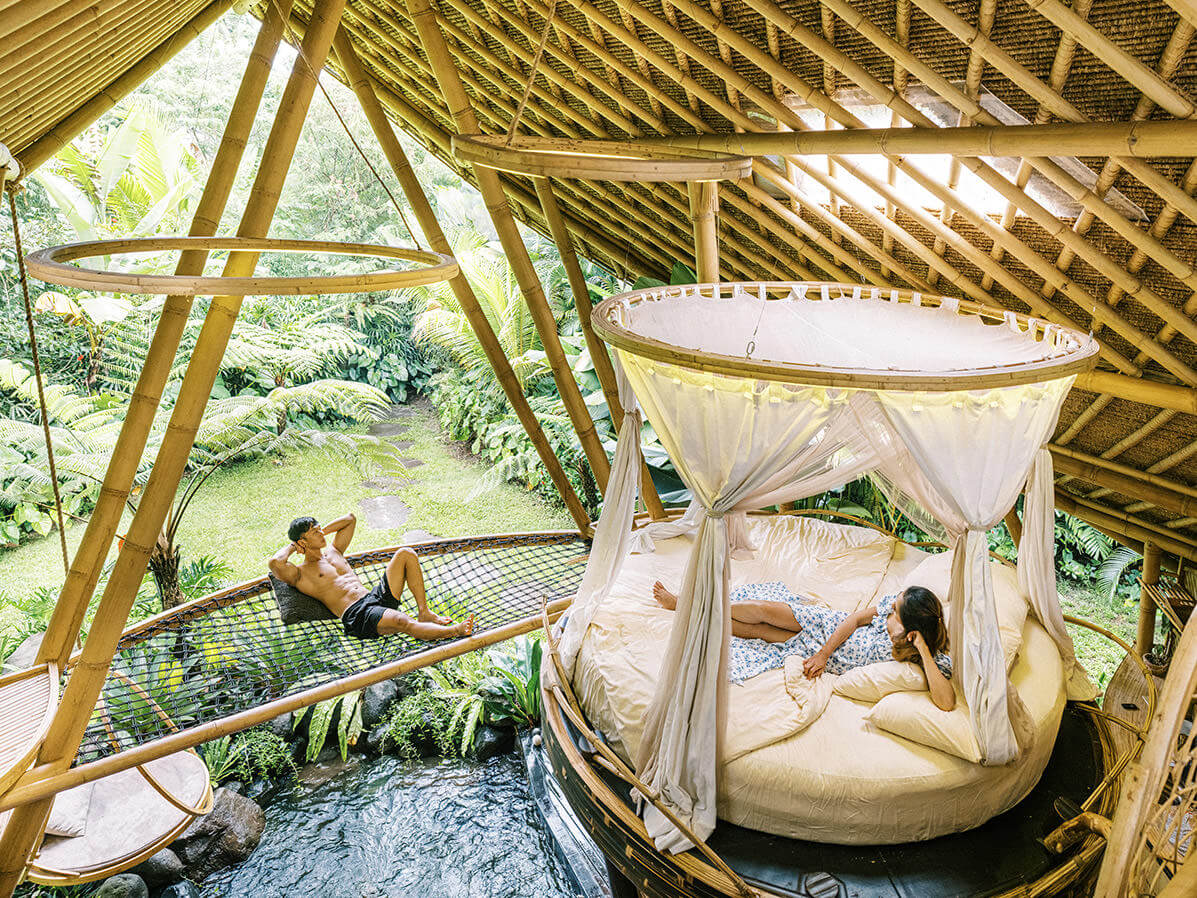 If you're planning a trip to Bali, then a visit to Ubud is an absolute must-have on your itinerary. Sure, we adore the Bali beaches and the feel of sand between our toes but when it comes to Ubud, we gladly trade our sunbeds for a heavenly perch in the heart of the jungle.
Prepare to be enchanted by Ubud's breathtaking rainforests, adorned with jade-hued terraces that stretch as far as the eye can see. As you explore this mystical wonderland, you'll encounter ancient temples shrouded in mystery and discover some of the best restaurants that Bali has to offer. And whether you're a seasoned yogi or a food enthusiast, Ubud has something for everyone!
Our Best Selling Tour
All-Inclusive

Best of Ubud Tour

No trip to Bali would be complete without a visit to Ubud - to say it's a special place would be an understatement! Think hippie markets and meditation, tropical jungle and rice fields, throw in stunning waterfalls and some delicious food and you'll soon think you've stumbled on heaven on earth. Our Best of Ubud Tour really is the best Bali tour around, giving you the opportunity to see the best this town has to offer.
In Ubud you'll be treated to postcard-perfect jungle views! Embrace the laid-back boho vibes that permeate every street, with yoga studios adorning every jalan (that's street in Indonesian!) and an abundance of healthy vegan cafes that will have you spoilt for choice.
But Ubud is not just about indulging in earthly pleasures; it's a destination where art, culture, and spirituality reign supreme. This magnetic combination attracts digital nomads, wellness lovers, and pleasure-seekers from all corners of the globe. Ubud's allure is undeniable, drawing you into a world where creativity knows no bounds and the spirit of exploration is celebrated!
Now, we understand that choosing the perfect place to stay can make or break your island escapade. That's why we've taken it upon ourselves to curate a handpicked selection of the very best accommodations in Ubud.
Whether you're seeking a boutique bohemian hotel or a luxurious jungle bungalow, we've got you covered! No matter your budget, these hotels and resorts will ensure your stay in Ubud is nothing short of extraordinary.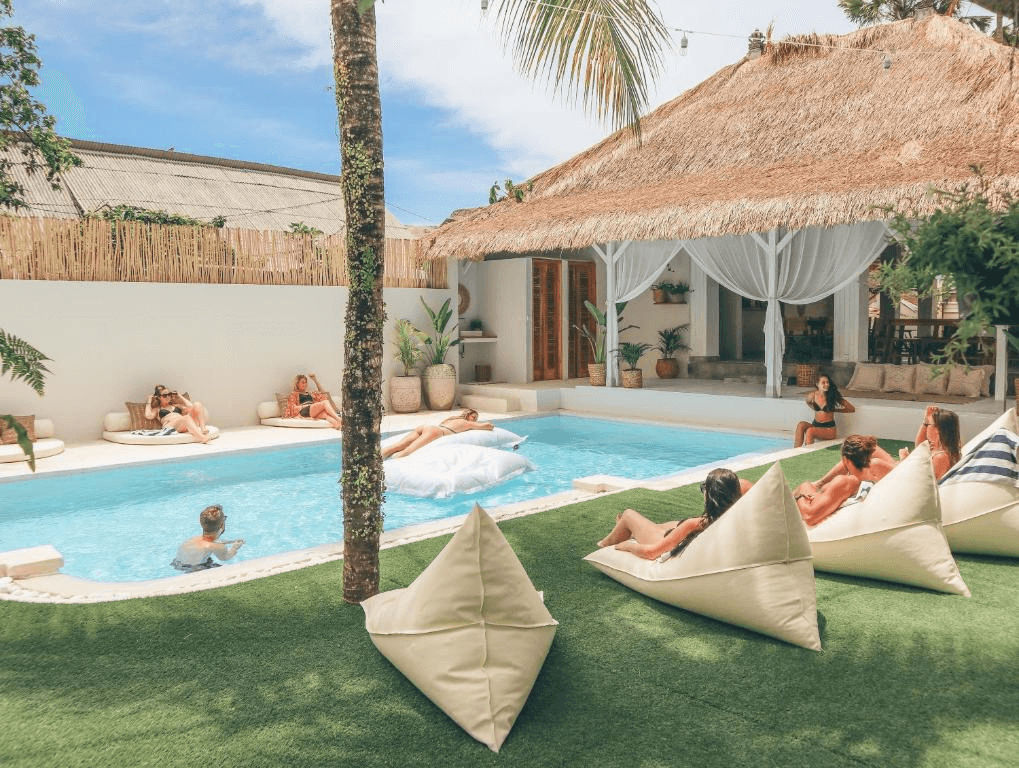 Arya wellness retreat - Luxury hostel experience
We're about to introduce you to a hostel that redefines the meaning of "hostel" in the most extraordinary way. Say hello to Arya Wellness Retreat in Ubud, where the concept of a hostel takes a quantum leap into a realm of luxury, relaxation, and pure indulgence. Get ready to have your expectations shattered because Arya Wellness Retreat is next level!
Yes, technically, it's a hostel, but trust us when we say that it's a hostel on steroids, raising the bar to unimaginable heights. They offer a combination of spa options, yoga sessions,, and let's not even get started on the healthy food options!
Now, let's talk about the rooms. Oh boy, these are not your ordinary hostel rooms. Arya Wellness Retreat takes comfort and style to a whole new level. You'll greeted by sleek and elegant spaces that make you feel like you've stepped into a boutique hotel. The attention to detail, the cozy beds, and the soothing ambiance will ensure that you have the most restful and rejuvenating sleep of your life.
So, if you're looking for a hostel experience that will blow your mind, Arya Wellness Retreat is the place to be!
Price Range: $ - $$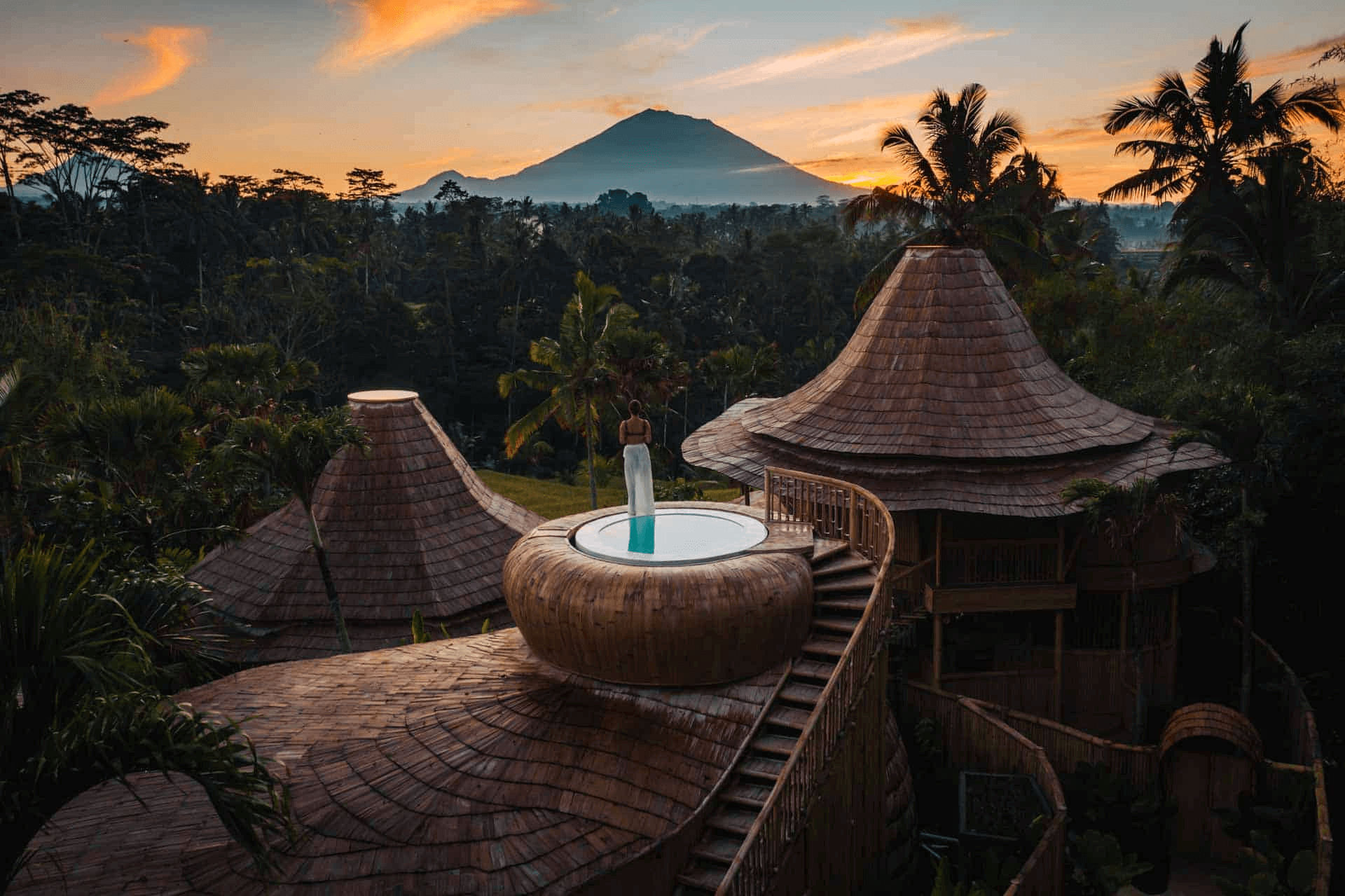 Eco six Bali - Eco friendly bamboo paradise
Brace yourself for an extraordinary experience at Eco Six Bali Resort in Ubud. This bamboo luxury haven is quite possibly the best on the Island of Gods!
Surrounded by the mesmerizing Ubud jungle, enchanting rice terraces, and boasting breathtaking views of Mount Agung, Eco Six is an absolute must-visit during your Bali escapade. This resort offers 1 & 2-bedroom luxury villas, each meticulously crafted from sustainable bamboo and exuding its own creative style and traditional architectural touch - all with their own pool!
As the name of the hotel already might give you a hint, this resort is committed to eco-consciousness and has gone completely paper-free. Check-ins and all your meal and drink orders are done digitally via WhatsApp, minimizing waste and maximizing efficiency.
And to top things off, you can indulge in a delightful dining experience without even leaving your villa. Their on-site restaurant offers in-room dining for breakfast, lunch, dinner, and drinks. Simply order from the menu, choose between tempting Western or authentic Balinese cuisine, and have it delivered right to your doorstep. Talk about convenience and culinary bliss!
Price Range: $$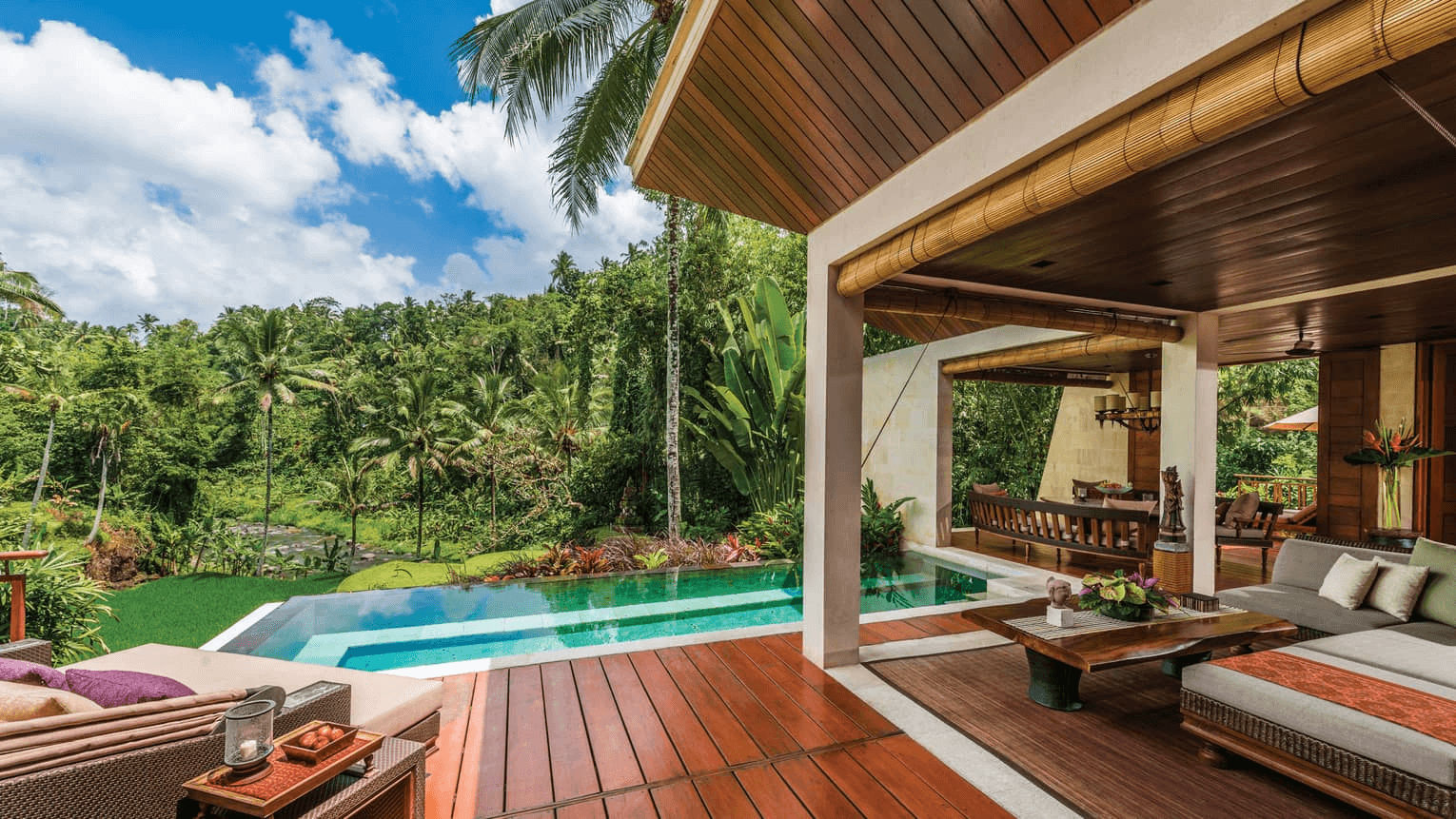 Four Seasons Sayan - Luxury jungle escape
This hidden gem is hands down the most lavish hotel you'll find in the heart of Ubud! So if you're in the mood to splurge and treat yourself like royalty, make sure to put Four Seasons Sayan at the top of your list!
Nestled in a lush jungle setting, between two sacred rivers, and hidden behind a captivating jungle canopy, this six-star sanctuary is top notch! Meander through the enchanting forest, pass by the jungle-facing restaurant, and you'll discover a limited number of suites and private villas that redefine what it means to be VIP. With their own private plunge pools and deep soaking tubs, these accommodations are fit for the crème de la crème.
It's no surprise that the world's most elite, including the Obamas and the Kardashians, have sought refuge in this exceptional retreat. The resort's global reputation speaks for itself, attracting A-List guests who crave the utmost in luxury and sophistication.
Prepare to have your every desire catered to, as the Four Seasons Sayan team of dedicated professionals goes above and beyond to ensure your stay is nothing short of extraordinary!
Price Range: $$$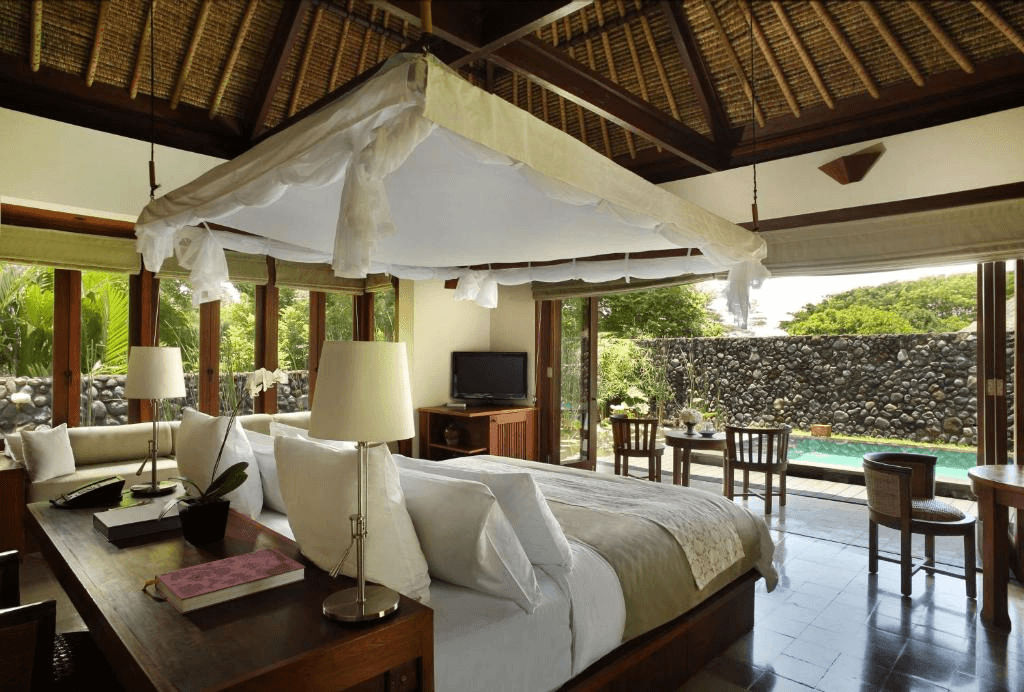 Alila Ubud
Alila Ubud is a stunning 5-star villa resort nestled along the picturesque edges of the Ayung River, just 15 minutes away from Ubud.
Luxury reaches new heights here, where 56 stylish rooms and a plethora of private villas await to provide you with the ultimate indulgence. The beautifully designed rooms, boast spacious balconies and, in some cases, secluded patios that open up to breathtaking gardens. Inside, you'll find all the modern comforts you could wish for, from flat-screen TVs and minibars to iPods and docking stations. But for an experience that transcends ordinary luxury, retreat to one of their dreamy private villas. Each villa has its own private plunge pool, a sophisticated entertainment system, Illy Coffee, and an array of His and Her Alila amenities.
However, the true shining star at Alila is the stunning infinity pool! Set against a backdrop of a plunging valley adorned with lush rainforest, this pool offers unrivaled views of nature at its absolute best.
While it may be tempting to spend all your time in the comfort of your gorgeous room, Alila offers a wealth of activities to keep you entertained. Spend your days lounging poolside, immerse yourself in the in-house art gallery, or join a cooking class. If relaxation is on your mind, head over to the Spa Alila, where skilled therapists will make sure you receive the best massage of your life! And those seeking a mindful start to the day, can join in a fun morning yoga or tai chi class!
Price Range: $$$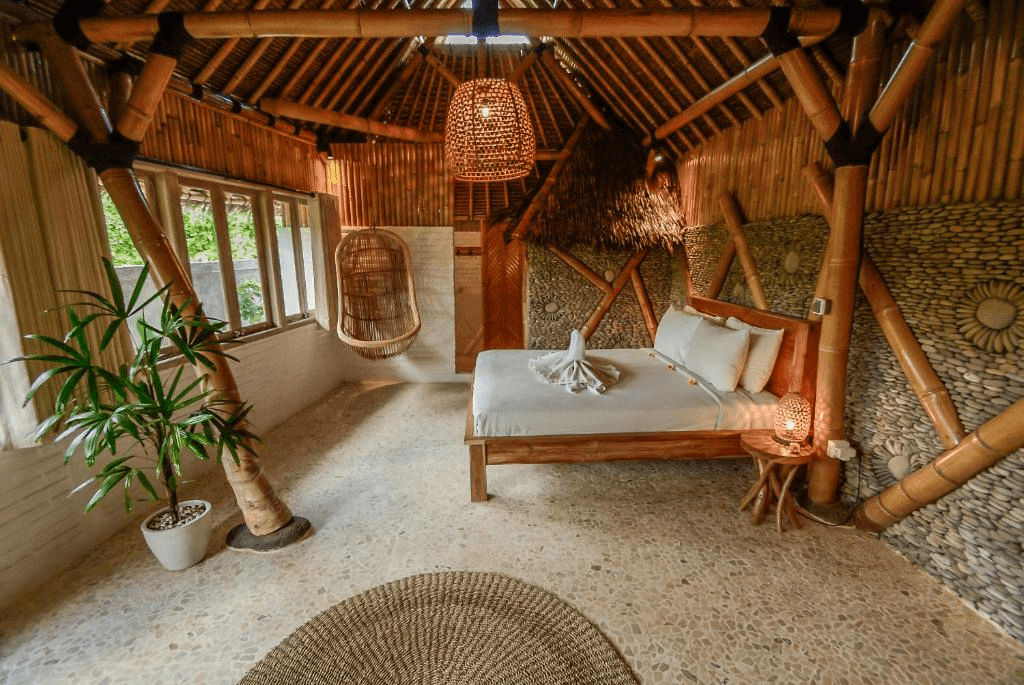 LE SABOT UBUD
If you're searching for the best budget resort in Ubud, look no further than Le Sabot Ubud. This hidden gem offers an incredible value for the price you pay, ensuring a memorable stay without breaking the bank.
One of the standout features of Le Sabot Ubud is its shimmering open-air pool, inviting you to take a refreshing dip and unwind amidst the stunning surroundings. Each unit is thoughtfully designed, providing private baths and showers, ensuring your comfort and convenience throughout your stay.
Not only does Le Sabot Ubud prioritize your comfort, but it also prioritizes your well-being. The hotel takes pride in offering exceptional healthcare and recreational facilities, ensuring that each guest has the opportunity to indulge in a holistic healing experience, both physically and mentally. Whether you're looking to relax, rejuvenate, or explore the local culture, Le Sabot Ubud has you covered!
Price Range: $-$$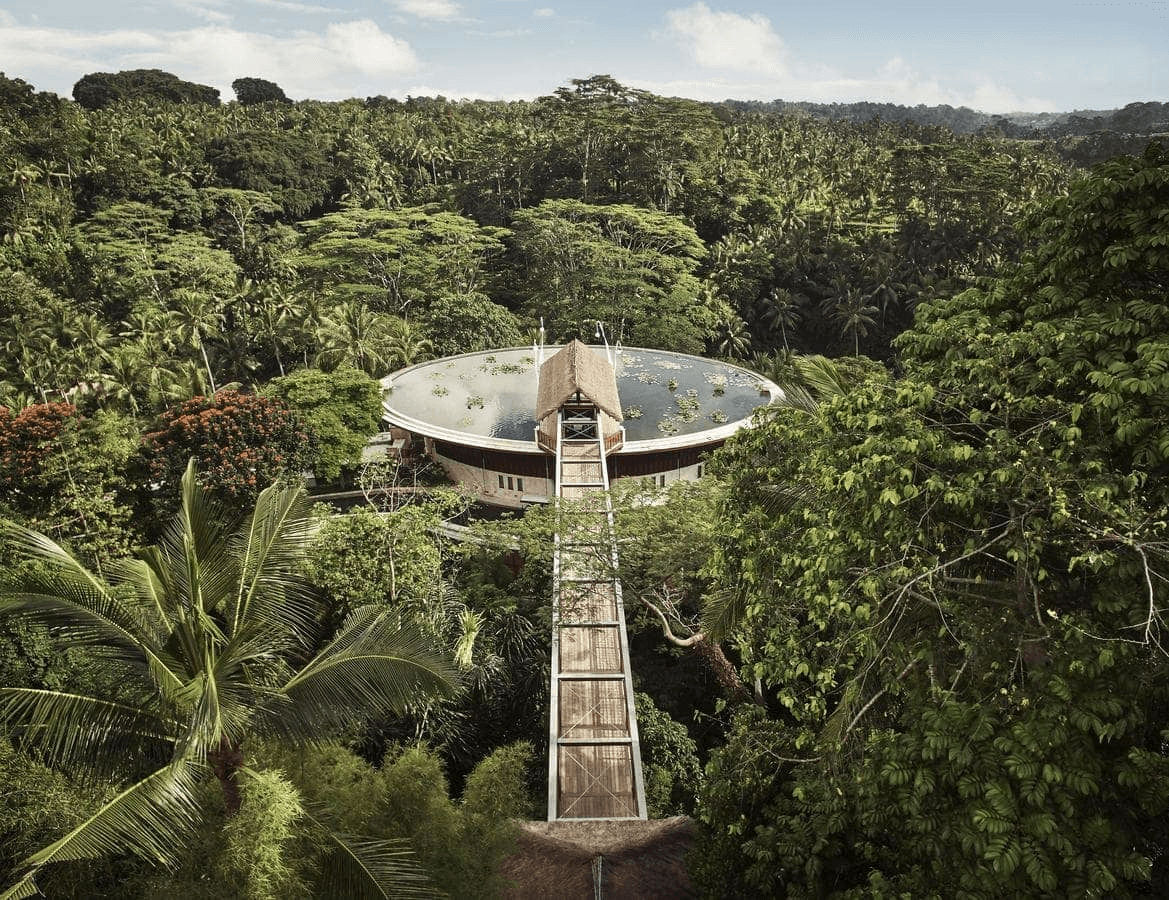 Conclusion:
Sure, it's tempting to stay within the comforts of your hotel, especially if you've invested in a luxurious resort experience. However, it's important to remember that just beyond the confines of your accommodation lies a world waiting to be explored! And what better way to embark on an adventure than by booking a private tour in Ubud?
By opting for a private tour, you can unlock the full potential of your Ubud experience. Imagine being picked up right at your hotel by a knowledgeable and friendly private driver who will serve as your personal guide throughout the day. They will take you on a journey to discover all the amazing landmarks, temples, waterfalls, and more that Ubud has to offer.
A private tour allows you to customize your itinerary according to your interests and preferences. Whether you're a nature enthusiast longing to chase waterfalls like Tegenungan or a culture aficionado eager to visit historical sites like the Ubud Royal Palace, your private driver will ensure that you get the most out of your Ubud adventure.
Beyond the popular attractions, your knowledgeable guide can introduce you to hidden gems, local markets, and authentic dining experiences that will truly immerse you in the vibrant spirit of Ubud.
So, step outside the confines of your hotel and let the world of Ubud unfold before your eyes by taking one of the many Ubud tours we've created for you!
Get your VACATION on!
Expertly curated emails packed full of vacation inspiration, travel tips and more!